Pages 40-49
The History and Antiquities of the County Palatine of Durham: Volume 2, Chester Ward. Originally published by Nichols and Son, London, 1820.
This free content was digitised by double rekeying. All rights reserved.
PARISH OF WASHINGTON.
The Parish of Washington is bounded by Jarrow on the North, by Monk-Wear-mouth on the East, by the river Wear dividing it from Bishop Wearmouth and from Houghton-le-Spring on the South-East and South, and by Chester-le-Street, and the Chapelry of Lamesley, on the West.
The Parish includes the Constableries of, 1. Washington, 2. Great Usworth and North Biddic, 3. Little Usworth, 4. Barmston.
Washington,
A scattered village on irregular broken ground.
Under Boldon Buke, William de Hertburn held the whole Vill, except the Church and Church lands, in exchange for his vill of Hertburn, which he had released to the Bishop, by a free rent of four pounds, and by the service of attending the Bishop's great hunt with two greyhounds. When a common aid was imposed, his taxation was not to exceed one mark.
It seems probable, that either William de Hertburn, or his immediate descendants, assumed the local name, for William de Wessington occurs as a witness in Charters of Bishops Robert de Stichell, and de Insula. William de Wessyngton, Chivaler, had licence to settle the manor on himself, his wife Katharine, and his own right heirs, in 1350 (fn. 1), and died in 1367, seized of the whole manor and vill, by the above mentioned free rent of 4l., leaving William his son and heir, who held by the same tenure under Hatfield's Survey.
Before 1400 the direct male line (fn. 2) expired in another William, whose only daughter Dionisia married Sir William Tempest of Studley, Knight. Dionisia, the elder daughter, and coheir of Sir William Tempest, intermarried with Sir William Mallory, in her right of Studley; and Elizabeth, the younger, became the wife of Richard Norton of Norton Conyers. William, son and heir of Sir William Mallory, Knight, had livery of half the manor of Washington in 1475 (fn. 3); and 1497, Sir William Mallory had licence to grant his moiety of the vill and manor to his son William Mallory (fn. 4). The Mallory's afterwards acquired the whole manor. By Ind. 21 Apr. 7 Eliz. Richard Norton, Esq. conveyed all his moiety of the estate to Sir William Mallory (fn. 5) of Studley, who executed a settlement on his grandson William (son of John Mallory), and Joan, daughter of John Norton, Esq. (fn. 6) In 1590, Sir William Mallory granted three messuages in Washington to Thomas Snawsell of Bilton in the Ainsty, Esq. (fn. 7) whose son William Snawsell reconveyed, for 550l., to William Mallory, Esq. son and heir of Sir John Mallory, 30 June, 1613 (fn. 8). On the 7th July following, Sir John Mallory and William his son and heir, granted to Thomas Caldwell and John Booth for 4000l. "all their manor of Washington, and all their rights upon the great waistes and moors of the Bishops of Durham, adjoining the said Lordship on the North (fn. 9) ". The purchase was on trust for William James, Bishop of Durham (fn. 10), whose reasons for settling the estate on his youngest child, Francis James (the issue of his third marriage) may be seen below (fn. 10). After the Bishop's death (fn. 11), Caldwell and Booth (24 Sept. 1617) conveyed the manor to Edward James, Robert Cooper (one of the late Prelate's officers), and Thomas Surtees, Esq. Trustees for Francis then under age (fn. 12). In 1623, Francis James, Esq. settled the manor on his first marriage with Sarah, daughter of Richard Pyott of Edmonton, Merchant (fn. 13). William James, Esq. son of Francis, died in 1662; and his only surviving son William died in the following year, leaving four sisters his coheirs, 1. Sarah, wife do Wilfrid Lawson, Esq. 2. Dorothy, to Sir Richard Musgrave, Baronet. 3. Elizabeth, who married Robert Millott of Whithill, Esq. and 4. Anne, wife to John Hedworth of Harraton, Esq. (fn. 14) In 1672, John Hedworth, Esq. and Anne his wife, granted their fourth to Dorothy James (fn. 15), widow of William James the elder, who in 1697 (fn. 15), devised the same share to her grandson Richard Musgrave, Baronet. Sir Richard Musgrave was seized of one other fourth in right of his wife; one moiety of the manor was thus vested in the family of Musgrave, and one fourth and two thirds of a fourth, are now held by Sir James Musgrave, Bart. of Barnsley Park, Gloucestershire; the remaining third of a fourth was devised by William Musgrave of Newcastle, Merchant, in 1716, to his widow Grace (Wheler), whose trustees conveyed to John Spearman, Esq. in 1723 (fn. 16).
In 1697, Ralph Mylot, Esq. son and heir of Robert Mylot and of Elizabeth James, sold his fourth of the manor to John Spearman, Gent. whose son, John Spearman, purchased (as above) one third of a fourth from Musgrave. Mr. Spearman (as has been already stated under Hetton, vol. I. p. 214) was ruined by mining speculations. In 1729, John Spearman (son and heir of the last named John), and Abraham Dixon, a mortgagee, conveyed under a Decree in Chancery to John Jackson, Esq. Town Clerk of the City of London, whose only daughter and heir (and also devisee of her uncle the Rev. Walter Good-fellow,) (fn. 17) intermarried with John Shafto of Whitworth, Esq. grandfather of Robert Eden Duncombe Shafto, Esq.
Mrs. Wilfrid Lawson's share still remains in its integrity. The last Sir Wilfrid, by his will, dated May 1802, devised to Thomas Wybergh (fn. 18) (who died May 2, 1812), whose brother Wilfrid Wybergh, now Wilfrid Lawson, (and named next in remainder in the will of Sir Wilfrid Lawson,) is the present owner.
The whole manor of Washington is therefore thus divided:
Musgrave, one fourth and two thirds of a fourth: Shafto, one fourth and one third of a fourth: Lawson, one fourth. And the mines in the same proportion (fn. 19).
In 1704, Sir Richard Musgrave and Dame Dorothy his wife, (then entitled to two fourths of the manor,) Wilfrid Lawson and Sarah his wife, entitled to one fourth, and John Spearman entitled to the remaining fourth, made a division of the estate by lot. Mem. 25 July 1704.
The North Quarter drawn by Sir R. Musgrave. The South Quarter by Sarah Lawson. The West Quarter by John Spearman. The East Quarter by Dame Dorothy Musgrave.
The moors and mines were left undivided. A further division of Washington moor took place betwixt the then proprietors, (Robert Shafto, Esq. Sir Gilfrid Lawson, Bart. and James Musgrave, LL. D.) in 1763.
The Hall, a large gavel-ended old mansion, with windows divided by stone mullions and transoms, stands a little to the South of the Church, and rests undivided amongst the three owners of the manor.
Boundary of the Manor of Washington.
"Beginning at an ancient bounder stone, being the foot of a cross, five yards West of the hedge of the West high Close, and adjoining Birtley Common, hard by Birtley Lough; thence to another bounder stone, with a cross in it, 24 score paces from the former bounder stone, on the West side of the Great Howle, near the Quakers Dam, called Washington Dam; thence to a bounder stone with a hole in it for a cross, near Shaddons hill, viz. on the N. East part thereof, near the road that leads betwixt Newbridge and Gateside-head, and 24 score paces distant from the second bounder stone. Thence Eastward through Washington Lough, to a bounder stone five yards South of Mr. Hylton's hedge on Great Usworth Common. From thence Eastward, over the sike or runner, and on the North side of a saugh tree, near an old coal pitt, West to a thorn-bush growing in the hedge of Great Usworth South field; thence to Great Usworth Street gate, twenty yards distant from the North side of the high Piper close hedge, belonging to Washington; thence Eastward, along Little Usworth Street way, at the bottom of the South field, to a bounder stone with a hole in it for a cross, fifteen yards North of the low Pipers close stile; and from thence Eastward, to Little Usworth lane, to another bounder stone, with a hole for a cross, seven yards North of Reed's field hedge, belonging to Washington; and thence to Barmeston Street Head."
The Church.
The Church still retains some traces of its original architecture. The nave has two regular ailes, each formed by three columns supporting pointed arches. The pillars of the North aile are octagonal; on the South, two are octagonal, and the central pillar round. A large South porch, the burial-place of the old Lords of Washington, opens into the nave, under a pointed arch, and into the South aile, through the remains of a mullioned window (see the will of George Lawson, 1587). The ribbed or groined roof of the Vestry, or North porch, mentioned by Hutchinson, is now covered by plain ceiling. The chancel is divided from the nave by a blunt pointed arch, springing from corbells of human heads, of inferior work. The stalls and rails are removed, and the whole of the old lights are replaced by uniform modern sashes under pointed arches.
Monumental Inscriptions.
On a ridged coffin-lid in the Church-yard, (in Vincent's time,) sculptured with a sword and Cross:
Hic jacet Jacobus Sanderson.
On another stone, an effigy in the sacerdotal habit:
Hic jacet Alexander de Biddicke (fn. 20).
Both these have long since perished; in all probability they had been removed into the burial-yard from the South Porch.
On a brass plate within the altar-rails:

Hic jacet Job'es Jackson . . . . A'no Dom. 1506.
On a wooden tablet in the South Porch:
Will. James of Washington, Esq. departed this life the 5th day of April 1662; at his death he gave to the poor of Washington forty shillings a year, for ten years.
Escutcheon of Arms. 1 and 4, Sable, a Dolphin embowed proper, James. 2 and 3, Ermine, on a chief Gules, three cores crosslets Or, impaling Argent, a bend inter two choughs Sable, charged with two garbs Or; a chief, quarterly, Sable and Gules, guttee Argent; over all, a horse in full course Argent. Crest, on a wreath a Bull's head couped Sable, armed Or, a star Or betwixt the horns.
There were four other Escutcheons in the Porch, viz. 1. The See of Durham impaling James. 2. James quarterly as above, impaling Azure, a fesse Or, charged with a Lion passant Gules, in chief three bezants. 3. James quarterly, and impaling, as on the tablet. 4. James quarterly, as before. It may be added, that the whole roof of this porch was pannelled in compartments with the same arms, and a profusion of gold stars, which made it resemble a sort of Camera stellata; all which was the performance of Mrs. Dorothy James (fn. 21) in the good days when Widows and Spinsters worked the family arms on chair covers, and occasionally changed their hand from decorating the great hall with King Alexander's triumph, or the history of David and Goliath, to illustrating the family Pedigree in needle-work.
On a handsome mural tablet of marble, within the altar-rails:

Near this place rests in hope
Catharine, wife of the Rev. Charles Egerton, A. M.
Rector of this Parish,
who, as far as human infirmity permits,
having faithfully performed her duty
to her Creator, her family, and her neighbour,
was called from this life July 11th, 1801.
Reader,
imitate her virtues,
and expect with her
the reward of eternal life.
On a plain stone in the Church-yard:
Hic jacet corpus Layton Etherington, hujusce Ecclesiæ Pastor, necnon Vicarius de Heighington, qui obiit nono die Octobris annoq. Domini 1718, annoq. ætatis suæ 64.
On other stones:
Thomas Harvey of Gateshead Merchant, æt. 51, 1783. Ann his wife, April 12, 1769. Eleanor their daughter, Aug. 7, 1785, æt. 48.
The burial-place of Thomas and Elizabeth Scourfield of Gateshead; Jane their daughter, Sept. 14, 1728; æt. 12; Thomas their son, Aug. 14, 1730, æt. 18; Eliz. wife of Thomas, Sept. 14, 1750, æt. 69; Thomas Scourfield, March 5, 1776, æt. 95; Wadeson Ward, grandson of Thomas Scourfield, Jan. 17, 1779, æt. 38; John Scurfield, Merchant, ob. 21 June, 1774, æt. 55; Gibson his wife died 14 Jan. 1775, æt. 48.
The Succession of Rectors.
Washington Rectory, the Bishop, Patron. King's Books 18l. Tenths 1l. 16s. Proc. Epise. 10s. Proc. Archid. 2s. Dedication to the Virgin.
William de Clifford, 1279.
Robert de Askelby, 1333.
John de Herlowe, 1339.
John Edriche, 1342, p. res. Herlowe.
Robert de Wartheton, 1353.
William de Winceby, 1366, p. m. Wartheton.
Richard de Penreth, 1374, p. m. Winceby.
John de Weston, p. m. Penreth.
Will. Ingilby, 1406, p. res. Weston.
John Newton, 1408, p. m. Ingilby.
John de Bryteby, 1440, p. res. Newton.
William Bedell, 1464.
Ralph Hamsterley, A. M. 1486 (fn. 22).
Robert Couper, 1 Jan. 1500, p. res. Hamsterley.
Richard Coren (fn. 23), 1521, p. m. Couper.
Christopher Barns, A. M. 8 Oct. 1534.
Roland Pratt, 6 July, 1558.
Ralph Lever, A. M. (fn. 24) 5 Nov. 1565, p. m. Pratt.
John Lever, cl. 23 Feb. 1576, p. res. Lever.
Anthony Garforthe, 3 Feb. 1577.
Hugh Broughton, A. M. (fn. 25) 6 May 1580, p. m. Garforthe.
Henry Ewbanke, A. M. 24 Dec. 1583 (fn. 26).
William Barker, 2 May 1611, p. res. Ewbanke.
William James, A. M. 12 Sept. 1616 (fn. 27).
Robert Lane, S.T.B. 19 July 1617, p. r. James.
Andrew Perne, A. M. 1 Apr. 1622, p. res. Lane.
Thomas Triplet, A. M. (fn. 28) 7 April 1640, p. m. Perne.
—Williamson, an intruder.
Henry Johnson, A. M. 9 March 1661, p. res. Triplett.
Fitzherbert Adams, S.T.B. (fn. 28) 29 Sept. 1683. p. m. Johnson.
Richard Stonhewer, A. M. (fn. 30) 1719, p. m. Adams.
John Gamage, A. M. (fn. 31) Jes. Coll. 4 June 1727, P. res. Stonhewer.
George Talbot, A. M. (fn. 32) 4 Apr. 1728, p. r. Gamage.
Thomas Rudd, A. M. (fn. 33) 7 Jul. 1729, p. r. Talbot
Wadham Chandler, A. M. (fn. 34) 23 Aug. 1735, p. m. Rudd.
Henry Bland, A. M. (fn. 35) 23 Aug. 1735, p. res. Chandler.
Edward Wilson, A.B. 18 Aug. 1768, p. m. Bland.
Charles Egerton, A. M. 4 Sept. 1786, p. r. Wilson.
The Parsonage is an excellent brick house, with good gardens.
Great Usworth,
A straggling village, on rising ground, about two miles to the North of Washington.
Boldon Buke: Great Useworth pays 30s. for cornage, provides one milch cow, and one man for Castle-ward; eight chalders of malt, as many of meal, and as many of oats; each carucate (the demesne excepted) ploughs and harrows two acres. The tenants in villenage perform four Porcations, with twenty-six men to each porcation; and the services which they used to perform at Washington, they now render at Gateshead; further, they carry annually one pipe of wine, and one mill-stone, to Durham.
The Dreng feeds a horse, a dog, bears his part in the great hunt with two greyhounds and five cords of provision, follows the Court of Pleas, and serves on messages.
The mill pays ten shillings rent.
Under Hatfield's Survey, the whole of the services had been commuted into monied payments. Sir William Hilton held two parts of the vill, and Alice de Moderby held the remaining third; and these tenants paid jointly for foreign service (i. e. serving on embassies) 10s., for Castel-ward 20s., for labour at St. Martin's xs., for cornage 30s., for a milch cow 6s., only they still rendered in kind six quarters and two bushels of malt, five quarters and two bushels of oatmeal, and ten quarters and a half of oats, and they carried one pipe of wine (fn. 36).
The family of Hilton retained the manor till the general dispersion of the property, in 1750, when the estate was sold by public auction, in eight farms or lots. Of these, two farms were purchased by William Peareth of Newcastle, Esq. which still remain in his family; two farms by Samuel Shield, Esq. who left three daughters and coheirs, Barbara married to Bernard Shaw, Esq. (fn. 37) Catharine to William Hargrave (fn. 38) of Shawdon, co. Northumb. Esq. and Sarah to Lieut.-col. William Blakeney (fn. 39); the latter family sold their share to William Russell, Esq. One farm was purchased by William Scott of Newcastle, and is now the property of his eldest son Sir William Scott; one was sold to Lord Ravensworth and his Partners (the Grand Allies); and one to—Bowlby, of North Shields: the latter has been since transferred to William Russell, Esq. whose son Matthew Russell, Esq. is the present proprietor, and also holds part of Shield's purchase, derived under Blakeney.
Usworth House, a handsome stone building, of regular architecture, in an open commanding situation, with an extensive prospect to the South and East. The mansion is sheltered by a fine grove on the North and West, and the grounds are scattered over with lofty flourishing evergreens, yew, cypress, and Lusitanian laurel. Usworth House is now the seat of Mrs. Peareth, widow of William Peareth, Esq. (See Pedigree of Peareth.)
Pedigree of Peareth, of Usworth.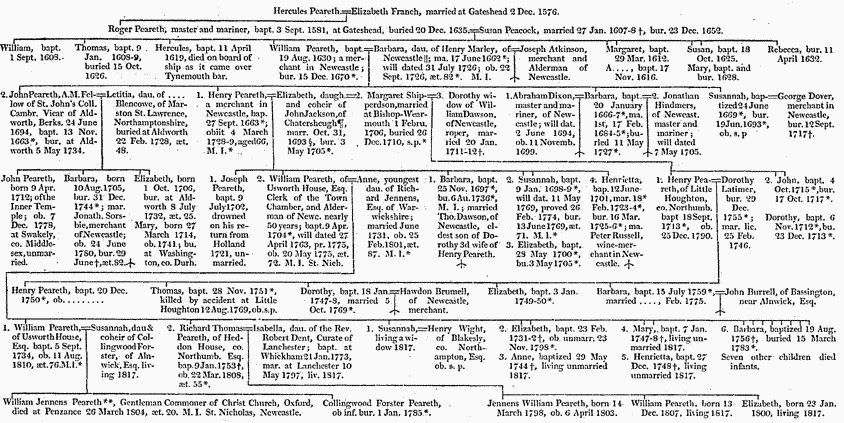 * Reg. St. Nicholas, Newcastle.
† Reg. All Saints, Newcastle.
‡ Reg. St. Andrew's, Newcastle.
§ Reg. St. John's, Newcastle.
| Son of Sir John Marley, Knt. one of the loyal defenders of Newcastle.
¶ By this match the family acquired Chatersheugh; see Harraton, Pedigree of Jackson.
** At this early age William Peareth displayed all the promise of an accomplished scholar and gentleman. A mild and generous disposition, a hearty attachment to his native North, and a deep sense of religious and social duties, peculiarly fitted him to adorn the private but honourable station which seemed prepared for him. Nor have years effaced the feeling of affectionate regret with which his memory is cherished by those who could best estimate his modest and unassuming character. A portrait of William Peareth (a private plate) is engraved from Nicholson's copy of Hoppner's original painting.
*** I am indebted for the compilation of this Pedigree to the care and industry of my friend Sir Cuthbert Sharpe.
Little Usworth.
Boldon Buke: William holds Little Usworth, pays 10s., carries wine with a draught of eight oxen, and attends the great chase with two greyhounds.
Hatfield's Survey: Alice de Moderby holds Little Usworth, by foreign service and ten shillings rent.
The following descents will explain the progress of the manor, and its division into two moieties, from a somewhat earlier period.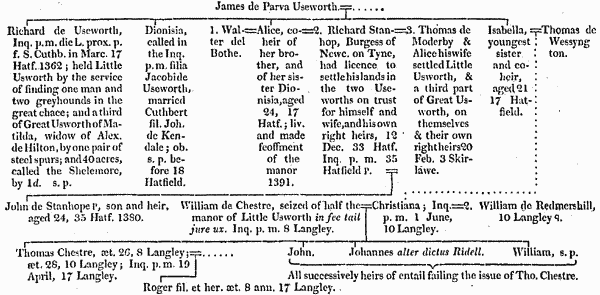 I am unable to trace the further descent of Chestre's portion, originating from Isabel the younger coheiress; but Alice, the wife of three husbands, notwithstanding she had a son John Stanhop, seems to have transferred her moiety of Little Usworth and of the Shelemore, to a family unconnected by any discoverable trace of blood or affinity to her father's house.
By charter 14 R. II. 1391 (fn. 40), Alice, then perhaps a widow for the third time, granted her lands to Adam Fenrother, Clerk, Robert de Whitton and Peter Hedlam, her trustees, who enfeoffed Elizabeth, wife of Gerard Heron and Joan de Ridell, (daughters of Cecily Taillor) (fn. 41); and Dame Elizabeth Heron, who appears to have had no issue, settled as well the manor and tower of Scremerston in the North Bishopric, as her moiety of Lytell Useworth, her half of the water mill, and her half of the Shelemore in Mykel-Useworth, on John Swynnow and Joan his wife and the heirs of Joan. John de Swynnow, of Seremerston, died seized in this form in 1463 (fn. 42), leaving Robert his son and heir, who died in 1469, leaving a son and heir Henry Swinnow, of full age (fn. 43). The heiress of Swinnow married Lawson, but the estate of Usworth was vested before that period in a different family of Lawson, whose descent in the annexed Pedigree explains the subsequent passage of the estate. The last Sir Wilfrid Lawson, Bart. devised to Thomas Wybergh; see Washington, p.42.
The Inq. on Wilfrid Lawson Knight in 1632 (fn. 44), states him to have died seized of the manor of Little Usworth, of lands called Over Shelemore and Nether Shelemore, and of other lands near Usworth, called Strother House or Strother Medows.
The Shelemore, which appears to have originated in that third of Great Usworth which was all along attached to the lesser vill, is constantly stated to be held of the Baron of Hilton, first by a pair of white or steel spurs, and latterly by one penny rent.
An Inspeximus (21 Aug. 5 Eliz.) recites the Charter of Richard de Stanhop; the Inq. on his death 35 Hatfield; the Inq. on William de Chestre 8 Langley; on Christian Redmarshall 10 Langley; and on three successive Swynnows 8 and 11 Booth, and 7 Wolsey; and on Thomas Lawson, Esq. 1 Eliz.;—and the extract from Boldon Book. The evidence was held satisfactory as to the tenure, viz. by 5s. rent, 5s. relief, 5s. common aid; the furnishing of a greyhound in the Bishop's great chase, and the military service of the fourth part of a knight's fee, and an amoveas manus and quitclaim of all other rent or service was issued ex parte Episcopi.—Rot. Toby Mathew.
p Thomas, &c. Sciatis quod nos licene. dedimus dilecto et fideli nostro Ricard de Stanhop Nurgensi de Novo Castro sup. Tynam quod ipse de omnibus terris et ten. suis quæ habet in Magna et Parva Useworth feoffare possit Joh. de Leventhorp et Joh. de Eland capellanos, &c. 12 Dec. 33 Hatf.
Richard de Stanhop occurs Mayor of Newcastle 1365 and 1379, and Burgess in Parliament for Newcastle, 1 Ric. II 1377.
John de Stanhop occurs Bailiff for six years 1361–6, and again 1375.
q William de Redmershill occurs Sheriff of Newcastle, 1401.
Pedigree of Lawson, of Usworth.
Arms: Party per fesse Sable and Argent, a chevron counterchanged.

* The Pedigree, as stated in Thoresby's Leeds, p. 249, is deduced through eight descents (to. Thomas of Usworth) from John Lawson, Lord of Fawkesgrave, co. York, Hen. III.
† 29 Dec. 1587, Will of George Lawson, of Little Usworth, Esq. Desires burial "in the Quier of Washington, over against my grandfather's tombe, where I will that my sonne Thomas Lawson shall cause a window and tombe to be built, and he to bestow ye some of xxl. or xll. at his discretion." "Item, I give to ye maintenance of a gram'er schole in Hexam xxl. in money." "If Mr. Robert Claxton, of whom I purchased the lordship of Burnehall, do paie unto my sonne Thomas 2000l. within ye next yeare, he shall have the lordshipp againe; and I will yat my sonne give him 30l. back. To Mrs. Claxton 10l." "If my brother Willyam Whytehed can procure of the Dean and Chapter of Durham the lease of Merrington, Water Mulen, &c. To my brother Gylfourd Lawson my title in the tytheorne of Sudwick. To my sonne Thomas my lease of Bermston, paying 100l. each to his brethren Robert, George, Rauffe, and Edward; and 3000l. each to his siters Elizabeth and Catherine." "Item, I give unto two of the poorest scollers in Houghton scole, so long as the said scole is maynteyned, xls. per ann. out of my lands in that parish, at the discretion of the Scole-master and Church-Wardens, to by the said scollers bokes and apperill. Mr. Dr. Bellamie doth owe me xiil. ss.; my will is, he shall not paye till he be very well able to paie it, and if he be not very well able to paie it, then he shall never paie it. My mother, Elizabeth Lawson, shall have the fishing in Barwick during her lyfe; and I give unto her my xii sylver spoones, called the xii Apostles, and ye sylver gobler wh I had of Wydow Kyrkhouse. To my sonne Thomas two sylver cannes. To cosin Margaret Claxton my gray nagge at Wineyard. To Umfrey Claxton my dun colte. To George Lawson, of Sheeles, my gray nagg wh I bought in Alston Moore." " I will that my scnne Thomas shall be as good to my servants Thomas Bowman, William Storye, and George Allan, in preferring them, as I was to Lyonel Murtin. To Thomas, son of Willyam Whytehed, xxl. To cosen George Whytehed xl. To William Lawson his wyff, of Sheles, xls. To my cousin Raphe Lawson, of Broughe, my best horse. To his daughter Alice my baie stoned stagge. To Michael Burnskell my gray racking mare. To Thomas Bowlby xls. &c. A cowe to be solde and the money given to the poore of the parish of Gateside. Sl. 6s. Sd. each to the poore of the parishes of Houghton, Bowldon, St. Oswold's in Durham, and Washington. Son Thomas Executor. If he refuse, sonnes Robert and George. Witn. Gilfred Lawson, William Whytehed, George Allan, Humphrey Siddon." Mr. George Lawson, who composed this goodly will, was "homo pius castus frugi;" his son Thomas—a fountain spirting through the air.
‡ 15 May, 1565, Robert Lawson, of Rock, Esq. to be buried in the Quier of Rocke. To son-in-lawe Raufe, son of late Mr. Edmond Lawson; sons Raynold and Lyonel; to son William my golde signet and eighteen gould buttons; nephew George Lawson, of Little Usworth, Esq; to Sir Gilbert Gerard, Solicr to the Q. Matie; to Sir John Forster, Warden of the Marches, &c.
§ See Hutchinson's Cumberland, II. 243; and Burn and Nicholson, II.96.
*** George Lawson, of the Salt Panns, 20 Nov. 1599, "to be buried at St. Hilde's, near my brother William. To my master, Mr. Raufe Lawson; to George Lawson, of Usworth, xl.; to Robert Lawson, of Usworth, vl.; to William, son of Gilford Lawson; to Mr. Roger Lawson my black horse; my master and Mr. Edmund Lawson, his son, Executors. To Mr. William, Mr. James, and Mr. George Lawson, each a French crowne; my cosin Mrs. Hedworth, cosin Mrs. Swinburn."
Usworth Place, the seat of Robert Shaw, Esq. a handsome modern mansion built by Bernard Shaw, Esq. father of the present proprietor, lies about a mile to the East of Great Usworth. Bernard Shaw, Esq. (fn. 45) acquired the estate by marriage with Barbara, daughter and coheir of Samuel Shields, Esq. who had purchased on the sale of the Hilton estates (see p. 23).
North Biddick.
North Biddick lies close on the Wear, a mile to the South of Washington.
Bedyk U1killi, the sixth part of the service of one knight's fee.
John the son of Eustace and Alexander his brother, of West Aukland, who were slaves, "irretiti de servitute," are now free, per pateram. Boldon Buke.
Betwixt the date of this record and the compilation of Hatfield's Survey, North Biddic gave local name to a family, who about the time of Edward III. exchanged the surname of de Biddic, for the patronymic Sanderson. In Vincent's Durham are two rude sketches in trick from monuments of this family, in Washington Church-yard (fn. 46); on these monuments, and on the attestation of several Charters without date by Alexander de Biddic, rests the ancient evidence of the family, from which the Sanderson's of Yorkshire, Nottinghamshire, and Lincolnshire, the ancestors of the Earls of Castleton and Scarborough, and of the learned and pious Bishop Sanderson of Lincoln, deduce their origin (fn. 47). Betwixt Boldon Buke and Hatfield's Survey, there is "ample space and verge enough," for at least eight or nine successive Lords of Biddic; the descendants, it may be, either of Ulkill the Saxon owner of Boldon Buke, or of the emancipated Alexander; but the Survey, whilst it states that North Bedik was held by Sir William Hilton (fn. 48) under the ancient tenure of Boldon Buke, the sixth part of a knight's service, also states, that the vill had been intermediately the possession of John de Yheland. The same William Hilton held jointly with Thomas Gray, an acre lately brought into tillage, called Stanhers, under 12d. rent. Gilbert Hunter held a messuage and garden of half a rood, by 6d. rent. Robert Luddok held a messuage and five acres, and another messuage and twelve acres, once belonging to Roger the son of Thomas, and used to pay 20s., now only 17s.; five acres, once William Jewes 5s. 8d. William de Stele, took eleven acres, three roods and a half of the land called Wodyngdon, formerly Richard de Ulleston's, for the use of the husbandmen of Urpath, and used to pay a rent of 8s. 4d., now reduced to five shillings. Lastly, John Bateson held forty acres called Bedyk-field, under as many shillings rent.
From this period, North Biddic was the property and the occasional residence of the Hiltons for several generations; the tenure is uniformly stated as the sixth part of a knight's service and 53s. 4d. (fn. 49) In the 5th of Bishop Nevill, Sir William Hilton gave his manor of North Bedyk and Bedyk wood, to his son and heir Sir Robert Hilton (fn. 50). The estate was included with Barmston and Usworth, in the great family settlement executed by William Baron Hilton in 1526 (fn. 51); and in 1566, North Biddic was the jointure house of Margery Hilton (widow of William,) who dates her will there.
This estate was alienated on the first dispersion of the Hilton property (occasioned by the imprudent testamentary dispositions of Baron Henry Hilton, and by the loyal sufferings of his heirs); and passed to a branch of the family of Carr of Cocken, whose descent has been already stated (fn. 52). Fortune, sister and heiress of Robert Carr of North Biddie, Esq. intermarried with James Davison, in her right of Biddie, who devised (fn. 53) to his niece Margaret Davison, daughter of his brother Charles. Margaret intermarried with George Errington of Newcastle, who devised to his nephew George Ward of London, whose son George Ward Errington, of Newcastle, who devised to his nephew George Ward of London, whose son George Ward Errington, Esq. is the present proprietor of North Biddick. A frechold rent of 13l. 6s. 8d. was reserved out of Biddick, and 20l. out of Barmston, on the sale of those estates by the Hiltons.
Barmston.
Barmston, an ancient manor of the Hiltons, lies on the Wear, nearly opposite to Offerton. In 1322, Sir Robert Hilton granted to his Chaplain, all the wax and honey of his wild bees in Barmston Park (fn. 54). The Inquisition on the death of Sir William Hilton in 1641, states the tenure at half a knight's fee, held by homage, fealty, and suit, every fortnight at the County Court (fn. 55). By Ind. 3 March 22 Eliz. Sir William Hilton for 500l. paid and 86l.15s. reserved rent, leased his manor of Barmston to George Lawson of Little Usworth, Gent. for a hundred and eighty years (fn. 56). The lease was exemplified in 1633, at the request of Talbot Lisle (fn. 57) of Barmston, Gent. and John Richardson of the City of Durham, Gent. who were then beneficially interested (fn. 58). In 1669, (19 July, 21 Car. II.) John Hilton of Hilton, Esq. granted his manor of Barmston for 2750l., to George Lilburne of Sunderland, Esq. and William Carr of Newcastle, Merchant (fn. 59). In 1681, (19 April, 33 Car. II.) George Ellison of Newcastle, Gent. Isabel Ellison, widow, and William Lilburne of Newcastle, Esq. settled the same manor with lands in Jarroe, on the marriage of George Ellison and Anne Coan, Spinster (fn. 59).
The estate rested in the family of Lilburne till after the year 1700. It was purchased, I believe, by Madam Jane Wharton, whose only daughter by her second husband Richard Wharton, Gent. intermarried with John Tempest, Esq. and it now forms part of the possessions of Lady Frances Emily Vane Tempest.
In 1448 the manor of Barmston consisted of the scite of the mansion, nil valet; 27 messuages, each worth 12d. rent; two husbond-lands of twenty acres each; twenty-four oxgangs, each consisting of ten acres, and each acre worth 6d. rent; ten score and two acres and a half of arable land, each acre worth 4d.; sixteen acres of meadow, each worth 12d.; two acres of pasture, 2d. each; a park of ninety acres, worth 4d. each; two water-mills, nil val. quia totaliter vastantur; and 21s. 1d. rent: all held by half a knight's fee, fealty, and suit of court (fn. 60).
Charitable Benefactions to the Parish of Washington.
Dr. Triplett's Charity. See Whitburn.
Thomas Robinson, of Usworth, Gent. left 5l. poor stock by will dated 4 Sept. 1721; and John Hopper the same sum by will 1732. The present poor-stock amounts to 100l. of which the origin is unknown, but it is presumed to include the two donations above named.