Pages 50-56
The History and Antiquities of the County Palatine of Durham: Volume 2, Chester Ward. Originally published by Nichols and Son, London, 1820.
This free content was digitised by double rekeying. All rights reserved.
PARISH OF WHITBURN.
The boundaries of the Parish of Whitburn are, Jarrow on the North, Boldon on the West, Monk-Wearmouth on the South, and the Sea on the East.
The Parish includes two Constableries, 1. Whitburn, 2. Cleadon.
Whitburn.
Whitburn, a small pleasant village on the coast, near a fine sandy bay with a cheerful prospect to the South, extending beyond Sunderland and Hartlepool, to the high cliffs on the Yorkshire coast (fn. 1). The Lizard (fn. 2), a high dry sheep-walk to the North of the village, commands a landscape not less varied and extensive: immediately to the South-East, Souter point, the most projecting point of land betwixt the Wear and Tyne; the grotesque rocks of Marsdon; and beyond, a fine curve of the shore, and bold jutting headland crowned with the shattered monastery of Tynemouth; and further still, Hartley and the semi isles at the mouth of its rivulet.
The village itself of Whitburn has a much warmer and more sheltered appearance than most of the hamlets on the bare Eastern coast. The Parsonage stands embosomed in a tuft of lofty sycamores; and in the sheltered garden within the Rector's pale, the fraxinella's, cistus's, and lobelia's (fn. 3), may vie with the floral wealth of a Surrey incumbent.
The Rectory, as it lately stood, was chiefly built, or at least enlarged and new fronted, by Dr. Musgrave in 1675, (with 140l. dilapidations received from his predecessor Speed.) Dr. Pye added the new rooms to the East of the late Rectory in 1770, at an expence of 400l., and repaired the house, barns, and offices; from his predecessor he took no money for dilapidation, only 5l. worth of fixtures.
In 1816, the Rectory-house was entirely taken down, and an excellent new mansion erected with a free-stone front, on a plan furnished by the present Rector, and executed by Messrs. Stokoe, architects, of Newcastle (fn. 4).
The Church.
The Church is a neat handsome structure, consisting of a nave with two regular ailes each formed by four round pillars, with rolled capitals supporting pointed arches; a chancel separated from the nave by a wide pointed arch, and a handsome West tower, which should seem to have been built at two different periods.
The Church has been lately thoroughly repaired, and handsomely pewed; the old raftered roof of the nave is now covered by a modern ceiling, and the lights in the ailes are all modern under square labels; one of the lights on the North of the chancel, has a quaterfoil head, the other is under a pointed arch; a portion of the great East window, also under a pointed arch, is closed up in the wall (fn. 5).
Monumental Inscriptions.
The most singular monument is that of Mathew.
On an altar-tomb at the West end of the South aile, lies a recumbent effigy of a plump stout elderly gentleman, in the full stiff dress of 1689; a full periwig, neckloth with square ends, coat with large buckramed skirts, embossed buttons, wide sleeves, and cuffs, doublet, rolled breeches, and squared laced shoes with huge bows of riband; the head rests on a pillow, and the right hand holds a book open at the text, "I shall not lye here, but rise;" there is a skull between the feet. On the uprights of the tomb are represented in bas relief, the same figure kneeling with a lady in a corresponding dress on each side of him; and on the East and West uprights texts of Scripture; at the head, "I know that my Redeemer liveth;" and at the feet, "Wherefore he saith awake ye that sleep, and arise from the dead, and Christ will give thee light." Ephes. v.14.
A tablet with gold letters placed against the wall informs us that this is "The burial place of Mr. Michael Mathew of Cleadon, and his wife, who had issue three sons and two daughters, of which only Hannah survives."
In the Chancel, on a flat slab within the altar-rails:
Johann. Wallis, A. M. Rector de Whitbn, Na. Crew nup. E'po Dunelm. et Hen. Duci Cantiæ Capellanus, obiit anno ætat. 42, A. D. 1728. F. H. E. G.
On a marble tablet fixed to the North-wall of the Chancel:
Jane wife of Edward Hinton, Esq. born at Snow-hill, London, died April 20, 1750, aged 23.
Margaret daughter of Edward Hinton, born in Hatton Garden, London, died May 13, 1753, aged 53.
The said Edward Hinton, born at Witney, in Oxfordshire, died June 6, 1753, aged 31.
Jane daughter of the above Edward Hinton, born at Sheering in Essex, died August 15, 1758, aged 43.
Edward Hinton, A. M. late Rector of Whitburn, son of Edward Hinton, Esq. born in Ludgate, London, Feb. 22, 1698, died April 28, 1769, aged 71. Arms . . . 6fleur de lis three and three.
On a common stone in the floor of the Chancel:

Thomas Dixonus in artibus Magister, obiit Jan. 6, A'no 1631.
Occidit heu subito sed non sine munere vixit
Integer, et pretium jam pietatis habet.
On a marble tablet on the South-wall of the chancel:

Bethia-Anne
daughter of the
Reverend J. Symons, B. D.
Rector of this Parish,
and
Juliana his wife,
died Dec. 16th, 1799,
in the 15th year of her age.
In the Church-yard are memorials of John Wardell of Whitburn West House, Esq. ob. Nov. 2, 1784, aged 42 years. Christopher Harrison of Cleadon, Esq. (father of Jane Wardell, wife of John Wardell, Esq.) ob. July 8, 1785, æt. 80. John Forster of Whitburn, Esq. ob. April 18, 1806, aged 76. William son of John Rawling, æt. 34, 1784. Davis Hewson, ob. 14 March, 1795, æt. 52. And Anne his widow, Oct. 4, 1801, æt. 53.
Succession of Rectors.
Whitburn Rectory—Patron, the Bishop of Durham; King's Books, 39l. 19s. 41/2d.; Tenths 3l. 19s. 11 1/4d.; Dedication to St. [...] (fn. 6); Proc. Episc. 17s.; Archid. 2l.
William de Burgo.
John de Ryegate, 1245.
Richard de Welburn, 1316 (fn. 7).
Thomas Kyrkeby.
John Pulhore (fn. 8).
John de Appelby. 1352, p. res. Pulhore.
Richard de Wynchcomb, 1362, p. res. Appelby.
William de Orchard, 1368, p. res. Wynchcomb.
Peter de Stapylton, 1375, p.m. Orchard.
William Marnhull, p. m. Stapylton.
Thomas de Popylton, 1402, p. res. Marnhull.
Thomas Kirkeby, occurs 22 Sept. 1407, p. m. Popylton.
Thomas Leys, 9 Dec. 1409 (fn. 9).
John Thoralby, 8 Dec. 1410, p. res. Leys.
John Bonour, 10 Nov. 1434, p. m. Thoralby.
John Lounde, LL. B. 1454 (fn. 10).
Thomas Popeley, A. M. (fn. 11)
Edmund Jackson, LL. D. 1507.
Cuthbert Marshall, S. T. P. (fn. 12) 1525, p.m. Jackson.
Richard Clyff, S.T.B. 12 April 1550, p. m. Marshall.
Leonard Pilkington, S.T.P. (fn. 13) 28 Aug. 1563, p. depr. Clyff.
John Hickes (fn. 14).
Thomas Triplet, A.M. after D. D. (fn. 15) 25 May 1631.
Richard Hickes, A.M. 21 Sept. 1662 (fn. 16).
Thomas Dockwray, S. T. P. (fn. 17) 13 Sept. 1667, p. m. Hickes.
Samuel Speed, A. M. (fn. 18) 28 Jan. 1672, p.m. Dockwray.
Thomas Musgrave, A. M. (fn. 19) 22 Aug. 1675, p. m. Speed.
Samuel Eyre, S. T. B. 1686, p. m. Musgrave.
Francis Blakiston, A. M. (fn. 20) 1694, p.m. Speed.
Nathaniel Ellison, S. T. P. (fn. 21) 20 Nov. 1704, p. m. Blakiston.
John Wallis, A. M. (fn. 22) 27 May 1721, p.m. Ellison.
Edward Hinton, A.M. (fn. 22) 1728, p. m. Wallis.
Benjamin Pye, LL. D. (fn. 23) 1769, p. m. Hinton.
Jelinger Symons, B.D. (fn. 24) 1791, p. res. Pye.
Thomas Baker, A. M. of Oriel, Oxford (fn. 25), 19 March 1810, p. m. Symons.
The glebe lies to the West of the village, and contains (besides the scite of the Rectory, gardens, &c.) 188 acres, 3 roods, and 15 poles, according to survey 1770 (fn. 26).
The Rector, before the division in 1718, had four roods in the midst of Mr. Carr's East field; and in the high field, betwixt the West field and Lizards, four riggs, lying East and West, sometime farmed of the Rector by Mr. Carr, for which he paid, and Sir H. Williamson now pays, 10s. per annum.
The Rector is entitled to tithes generally throughout the parish, excepting that a modus of 13s. 4d. is tendered every Easter Monday for Biddick farm, in lieu of all tithe; and 5s. for Pattison's Close, in Cleadon; and saving that the Gilly-tithe lands in Cleadon township pay only the half tithe to the Rector when in corn, but the whole tithe when in hay (fn. 27).
Whitburn Parish Registers begin—Baptisms 22 Jan. 1611; Marriages 1 Nov. 1579; Burials 10 May 1579.
In a Register of Briefs, received and read since 25 March 1730, occur, for the repair of Dunbar Harbour, 1738; for rebuilding St. Mary's Church in Gateshead; 1739, for an inundation at Bobi and Villar, in Piedmont, 4s.; 1743, for the Feversham Fishermen 1l. 1s.; 1757, Brighthelmstone Fortifications 2s.; 1759, Hagen Church, in Westphalia, 1l. 12s.; 1762, Saarbruck Church and School, in Germany, 13s. 10d.; 1762, Nov. for the Colleges in America 1l. 10s.; 1764, Philippen Colony, in Turkish Moldavia, 2s. 6d.; 1766, Fire at Montreal, in Quebec, 11s. 41/2d.; 1767, for the Vaudois Protestants in the valleys of Piedmont and Duchy of Savoy (fn. 28).
Both Whitburn and Cleadon (fn. 28) having been always members of the Bishop's great manor of Chester-le-Street, few freehold estates of any consequence occur in either vill (fn. 30). The Hedworths of Harraton held a small freehold for several descents (fn. 31), which is, perhaps, vested in Williamson; yet in 1681 the only freeholders were John Carr, Gent. and Cuthbert Bainbridge (fn. 32).
About the reign of Elizabeth, Leonard Pilkington, Rector of Whitburn, collected together a considerable copyhold estate in Whitburn, in various parcels (fn. 33), which is now the property of Sir Hedworth Williamson. The estate which was Carr's as late as 1716, is also, I believe, vested by purchase in the same family. The Hall, the seat of the Williamsons since, the desertion of Monk-Wearmouth, a spacious old family-house, fronts to the South, and adjoins the Rectory grounds closely on the West. Some part of the mansion is said to have been built by the Pilkingtons before 1600.
Whitburn West-House — a large single tenement, with a handsome avenue of clms, about half way betwixt Whitburn and Cleadon. It was the property of Jacob Wilson, Esq. and afterwards of his son-in-law, Christopher Harrison, Esq (fn. 34) John Wardell married the only daughter of Christopher Harrison, and devised West House to his second son, Bayles Wardell, who alienated the mansion and about forty acres to Charles Simpson, Esq. retaining the residue of the estate, about seventy acres (fn. 35).
Cleadon,
Anciently Clivedon, a village about a mile and a half nearly West North-West of Whitburn.
Boldon Buke:— There are twenty-eight tenants in villenage in Clevedon and Whitberne, whose tenures, rents, and services, are the same as those of Boldon. Ketel holds two oxgangs of twenty-four acres, pays xvid. and serves on the Bishop's messages. John of Whitberne sixty acres and a toft, and pays viiis. and serves on messages. Roger holds a toft and 40 acres, and pays viiis. Osbert, son of Leising, occupies fourscore acres, and renders one mark. Twelve Cottagers, as those of Boldon. The Punder, as he of Boldon. The two vills pay xxs. cornage, and provide two milch cows. The demesne is on lease, with a stock of five draughts and a half, five harrows and a half, and pays for interest of the two draughts and a half, twenty chalders of wheat, twenty of oats, and ten of barley; and in money, for the other three draughts, sixteen marks (fn. 36).
The sheep, with Estsupra and Clyvedon pasture, are in the Bishop's hand.
Hatfield's Survey—Free tenants. Hugh de Gilmore holds of the gift of Richard Hedworth one messuage for term of life, remainder to the heirs of Richard, and 24 acres by forinsec service, and serves on embassies, and pays viiis. vid. The same Hugh holds a toft and two acres, parcel of lands once of John Thorald, by foreign service, and pays . . . . . . . . Robert Hedworth holds a toft and garden, sometime of Agnes Southwyk, and pays 3s. 6d.; a toft and garden, sometime of Geoffry of Refhop, 3s. 6d.; a toft and garden, once Peter of Clevedon's, under 12d. rent; and a plot of ground, once Robert Mateshey's, 6d. Stephen Whitgray and Robert Potter hold in right of their wives a messuage and 60 acres by foreign service and going on embassies, and pay viiis. John de Kyrkeby holds a messuage and thirty-nine acres, once of John Eyre, 6s. 8d.; a messuage and thirteen acres, once of Robert the Clerk, 6s. 8d.; another messuage and . . . . acres, once of the same Robert, 8s.; a certain plot, once of John Brereton, 8s.; and a plot before his own door, 3d. William Swalwells holds a messuage and forty acres, once of William Crag, 13s. 10d. And the said Robert Hedworth holds a plot, once of John Talbone, and pays 2d. Reginald Wermouth holds twelve acres of the demesne, 32s. 6d. Thirty other tenants hold divers portions of the demesne under proportionate rents.
Bond Tenants.—The same Reginald of Wermouth used to hold a messuage and two oxgangs (of fifteen acres each) by the same services as the bond tenants of Boldon, and all the bond tenants of Whitburne and Clevedon hold alike.
The same tenants hold the windmill, and used to pay . . . . . They also held under certain rents Clevedon pasture, the toft of the demesne (dominicum toftum), the office of Punder, with its augmentation (cum incremento), seventy-two acres on the moor, and ten acres near Blakden. But now the said bond tenants or villans, twenty-eight in number, for sixteen score and sixteen acres of the demesne, and fifty-six oxgangs of bondland, with moor and pasture, pay 1vil.; viz. 40s. each, and exchequer oats, hens, and eggs in kind, and provide for the carriage of a ton of wine, the usual repairs and services regarding the mill, and the carriage of goods belonging to the Bishop or his Seneschal; all which alteration on the old tenure was made by new lease from John Heron, then Seneschal, and others of the Council of Thomas late Bishop, deceased.
The said tenants pay at Christmas 1xviii hens, and at Easter two hundred and forty eggs. [The record then enumerates five cottagers occupying twelve cottages, to each of which were attached twelve acres, and two acres and a half of moor, each separate tenure xvis. rent.]
Exchequer Lands. —The tenants jointly hold the pasturage of a cottage called Colynfield, and pay xls. John fil. Richard holds a plot and two acres of land called Outlawe, once of Simon the Headborough, 2s. William Fayreman and thirteen others hold a messuage, six places, two tofts, and thirty-six acres and a half, under certain rents (not expressed). The Rector holds xx acres, once of John Hoke, xs. Adam Gray, a garden on the South of the Church, which used to pay 2s. now only 12d. The tenants jointly hold one acre, sometime of Emma Watson, 12d. And there are five tofts held by Hugo fil. Robert, Ralph son of Hugh, and Gervase son of the same Ralph, John Stuchy, and John Hobson, which used to pay 8s. 4d. and it is laid on the tenants until . . . . .
William Swalwells pays for all the wastes till a farmer be found [these wastes are very numerous] 26s. 8d (fn. 37).
It has been already mentioned that the Hedworths of Harraton held some freehold estate here and in Whitburn, at least as late as the reign of James I.
In 1339 Matilda de Stafforth died seized of a messuage and 20 acres in Clyvedon, held by 3s. 4d. rent, and thirteen acres by 5s. 9d. leaving John Arger her son and heir (fn. 38). John Coney died seized of a messuage and forty acres, held by fealty and 14s. 10d. leaving Tyok his daughter and heir (fn. 39). In 1383 John de Kirkeby held four messuages and fifty acres, by 14s. rent. (fn. 40).
The chief portion of the vill, however, is copyhold, under the Manor of Chester and See of Durham. The descent of a considerable estate may be traced by a reference to the Pedigree of Chamber.
Pedigree of Chamber, of Cleadon, co. Pal.; and of Dagenham, Essex.
Arms: Gules, a cheverson between three cinquefoils Or, a crescent for difference. CREST: a bear passant and muzzled Sable, collar and chain Or. Visit. of Essex, 1634. No arms entered under Durham 1615.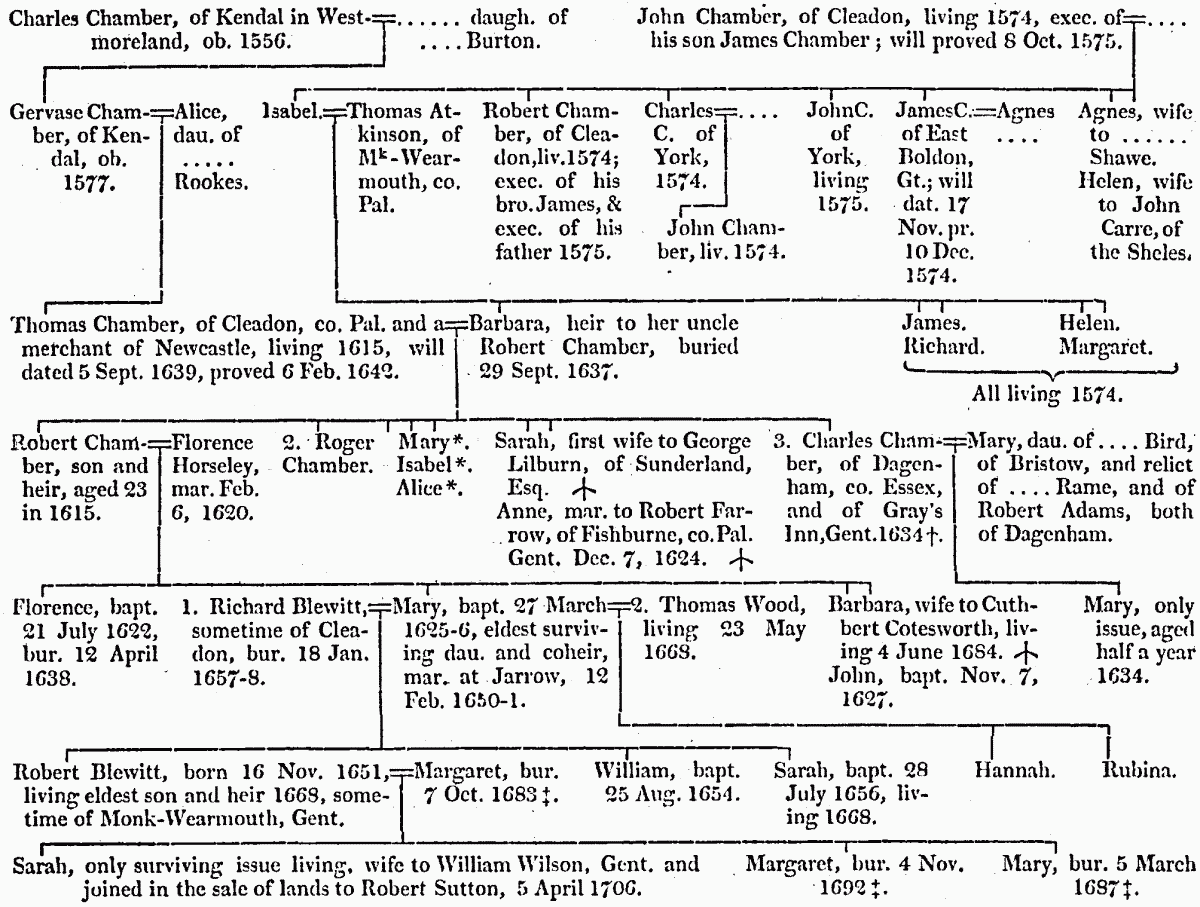 * One of these daughters married Edward Blythman, and had issue living 1639.
† Visitation of Essex, 1634.
† Monk-Wearmouth Register.
Of the two coheirs of Robert Chamber, Mary joined, in 1668, with her second husband, in releasing their right to Robert Blewitt, the son of her first marriage, whose only daughter Sarah intermarried with William Wilson, and 5 April 1706 joined in a sale to Robert Sutton, of Gateshead. The other moiety of the estate was mortgaged by Cuthbert and Barbara Cotesworth to Sir John Duck, for 1500l. 4 June 1684. The mortgage was foreclosed in 1700, for 1975l. and the estate sold to Robert Sutton, 7 Dec. 1703, for 1643 l. Robert Sutton, grandson of Robert, sold the whole estate, Cleadon Tower, and about 180 acres, to William Wingfield, 28 Feb. 1753, for 2650l. By will 5 Jan. 1761, William Wingfield devised to his son George Wingfield, who died May 1774, and left a son George Wingfield (who took the name of Sparrow, in compliance with the will of his great uncle, Richard Sparrow). In 1795 George Sparrow, Esq. sold the estate in Cleadon for 2450l. to Richard Pemberton, of Barnes, Esq. (fn. 41)
This property pays 1l. 4s. 6d. to Kepyer School, being parcel of 6l. payable out of lands in Cleadon, in lien of the half tithe of corn; and 2l. 17s. 7d. out-rent to the Bishop of Durham (fn. 42).
Cleadon Tower, which is mentioned as early as 1587 (and is perhaps rather a rare instance of a tower or fortalice standing on a copyhold estate) was taken down by Richard Pemberton, Esq. about twenty-five years ago. It was a square tower of two stages, leaded, and with a spiral-stone stair-case to the top. It was attached to the East end of the present old mansion, and commanded a very extensive prospect (fn. 43).
The principal mansion, and a small estate in Cleadon, belongs to Bryan Abbs, Esq.
In 1738 Thomas Wood (fn. 44) conveyed to John Dagnia, of South Shields, Gent. for 550l. James Dagnia, the eldest son of John, who built the present mansion, purchased the shares of his brothers Edward, John, and Onesiphorus, and of his two sisters. 24 Oct. 1753 the estate was sold by auction, for 2,400l. to John Cookson, of Newcastle, Esq. who again conveyed, 1 June 1755, to Dame Hannah Grey for 1900l. In 1762 Lady Grey devised to her son Ralph Grey, who died in 1788, when the estate became vested (under settlement) in his sister Elizabeth, wife of Sir James Pennyman, who joined with her husband in conveying the property to Sir Charles Grey, K.B. and Samuel Whit-bread, on trust for younger children. 27 May 1813 the estate was sold, on behalf of the surviving daughters of Sir James Pennyman, to Bryan Abbs, Esq. for 4,350l. (fn. 45)
Biddick Estate, which lies partly in this Parish and partly in Boldon (fn. 46), and to the North-West of cleadon (adjoining Jarrow on the South), was in 1682 the property of George Shipperdson, Gent. whose only daughter and heiress married Francis Middleton, Esq. of Offerton (fn. 47). It was sold by Mrs. Middleton or her heirs to Henry Wilkinson, of Durham, Esq. who devised to Mrs. Milner (daughter of the Rev. William Radley, Rector of Bishop-Wearmouth).
The portion of the estate which lies in Whitburn pays a modus to the rector of 13s. 4d.
The Roman road (Wreken dyke?) from Lanchester to Shields is supposed to pass close by the house of Biddic Barns (see hereafter, under Shields).
Marston Rock. The whole coast from the Lizard Point Northward to Marston is wild and broken. Large insulated masses of limestone are thrown together in confusion, intersected by deep gullies, or scooped into caverns, where the waves dash and foam at high tide:

"Sheets of foam, and clouds of spray,
And groans that rush from the portals grey." Hogg.
One craggy mass, called, præcipue et præ aliis, Marston Rock, stands entirely detached from the coast, at the distance of eighty or ninety yards. The perpetual wash has conquered a passage through the solid rock, and a holiday sailing-boat from Shields or Sunderland has sometimes passed the yawning aperture with more happy success than the adventurous Cocknies of the Anti-Jacobin:

" 'Shoot we the Bridge, 'the vent'rous boatmen cry,
'Shoot we the Bridge, 'th' exulting fare reply;
Whilst drench'd each garb, and clogg'd each struggling limb,
Far o'er the tide the Cocknies sink or swim."
Loves of the Triangles.
Near Marston Rock is found what has been termed flexible limestone, which I recollect to have seen exhibited in the pliant shape of a razor-strop; a species of indurated marle in thin laminæ, which bend of course. A fuller account of this substance may be seen in Thompson's Annals of Philosophy, vol. IV.417.
Charitable Benefactions.
Dr. Triplett's Charity. The Rev. Thomas Triplett, D.D. successively Vicar of Woodhorn 1630, Rector of Whitburn 1631, and Rector of Washington 1640, by deed, dated 10 Jan. 1664, directed a certain perpetual rent-charge of 18l. a year (then subject to his disposition, and vested in ten trustees, in the deed named) to be applied to the putting out boys and girls, born, or to be born, in the parishes of Whitburn, Washington, and Woodhorn, apprentices to such trades as the Trustees, or any three, four, or more of them should think proper, in the following proportions: 8l. yearly for Whitburn, 5l. for Washington, and 5l. for Woodhorn. In the said deed are contained provisions for filling up the number of Trustees to ten, as often as they shall be reduced to four; and authorizing the Trustees to retain reasonable expences incurred in the execution of their trust.
The Trustees soon after sold the rent-charge, and with the purchase money acquired an estate in the township of Stockton on Tees, consisting of nearly 42 acres, with a farm-house and out-buildings. The Trustees are besides possessed of 266l. 13s.d.navy five per cent. stock (1809).
A meeting of the Trustees is held half yearly, near Midsummer and near Christmas. Applications for the benefit of the Charity must be made twenty days previous to either of those periods, addressed to any one of the Trustees, or to the Treasurer, accompanied with a certificate from the Minister, Church-wardens, Overseers, and principal inhabitants of the respective parishes.
Trustees appointed in January 1809: George Sutton, Esq. (fn. 48) of Stockton; Sir Hedworth Williamson, Bart. (fn. 48) of Whitburn; William Watson, Esq. (fn. 48) of North Seaton; John Hogg, Esq. of Norton; William Sleigh, Esq. of Stockton; Henry Stapylton, Esq. of Norton; George Brown, Esq. (fn. 48) of Stockton; Henry Stapylton, Esq. of Norton; George Brown, Esq. (fn. 48) of Stockton; Rev. Christopher Anstey, of Norton; Rev. John Brewster, of Egglescliffe; Rev. H. Cotes, of Bedlington.