Pages 219-236
The History and Antiquities of the County Palatine of Durham: Volume 2, Chester Ward. Originally published by Nichols and Son, London, 1820.
This free content was digitised by double rekeying. All rights reserved.
CHAPELRY OF TANFIELD.
The Chapelry of Tanfield is bounded by the Derwent, dividing it from the Parish of Ryton, on the North, by the Parish of Whickham on the North and North-East, by the Chapelry of Lamesley on the East, by Chester-le-Street on the South-East, by Chester and Lanchester on the South, and by Lanchestcr and the Chapelry of Medomsley on the West.
The Chapelry is divided into two Constableries: 1. Beamish, which includes Tanfield, Tanfield Easter-Leigh, North, South, and Middle Cawsey, Kiphills, Crook, Deansclose, and Burnopfield; 2. Lintz Green, which includes Tanfield, Wester Leigh, Stanley, Shieldrow, Beckley, Andrewfield, Bryan's Leap, Yewyhurst, Northorn, Lintz Hall, Lintz Green, Coves House, Loft House, Steleclose, Priestfield, and High and Low Friarside.
Tanfield,
A scattered village near the Team, on the declivity of a hill sloping from the North (fn. 1).
The manor of Tanfield seems to have been uniformly held by the old Lords of Beamish, of whom a detailed account is given in the sequel. In 1388, Bartram Monboucher held the manor and hamlet of Tanfield of Robert Conyers and Aline his wife (who was the heir of the old De la Leighs, Lords of Beamish and Witton-Gilbert), by one penny at the nativity, in lieu of all service (fn. 2). Eleven years later the younger Bartram Monboucher held the manors of Taumfeld and Cawce of Aline Conyers (fn. 3); and of the heirs of the same Aline in 1462, Bartram Harbotel held the manor of Taumfeld including Cawset, le Croke, and le Legh (fn. 4). Tanfield was included in the forfeiture of Thomas Earl of Northumberland 1569 (fn. 5), and was granted by the crown (inter alia) to Henry Jackman, who alienated the estate in parcels. Tanfield West Demesnes was granted by Jackman in 1598 to Thomas Harbotel, Gent. (fn. 6) who died in 1612 seized of the same estate, held of the Crown by knight's service, leaving Robert Harbotel his son and heir (fn. 7). Rowland Shafto held the East maynes as tenant to the Crown 12 Eliz. 1570 (fn. 8); John Shafto died seized of the same messuage, Tanfield East Demesnes, in 1600 (fn. 9); and 3 Aug. 10 Jac. this same estate was conveyed by Anthony and William Shafto, and William Porter, Gents. to Richard Hickson, who granted two years later to William Kennet, Esq. In 1629 Sir William Kennet, Knt. died seized of the capital messuage called the East Demesnes in Tanfield, held of the Crown by knight's service, leaving William Kennet, Esq. his son and heir (fn. 10).
I am unable to trace the further progress of the estate; a considerable property in Tanfield, with a seat house at the East of the village, was, within the last century, the property and residence of the Dawsons (fn. 11). It is now annexed by purchase to the Beamish estate.
Thomas Wray, Esq. (previous to his alienation of Beamish) sold the coal under Tan-field Moor to George Pitt, Esq. (fn. 12) in whose descendant William Morton Pitt, Esq. M.P. (fn. 13) of Kingston, Dorsetshire, it is still vested.
Tanfield-Leigh.—Under Hatfield's Survey, (mentioned as it should seem under the manor of Lanchester) "William Jonson holds four messuages and six parts of Taumfeld legh, containing eight score acres, once John de Britley's of Twysill, and used to pay 53s. 4d. now only forty shillings. Bertram Monboucher holds seven parts of Taumfeld legh, as they are divided in fifteen parcels (in antiquo rentali) and pays 9s. 4d.; the same Bertram holds the vill of Taumfeld legh and six score and six acres, 39s. 10d. As Hutchinson observes, this description might well seem to include the whole of Tanfield both town and legh, and both seem to have been held by the Monbouchers and Percy's (fn. 14), till they parted company after the crown grant to jackman. In 40 Eliz. 1598, James and Thomas Shafto purchased the Leigh of Jackman (fn. 15).
Pedigree of Shafto, of Tanfield.
Arms: Gules, on a fesse argent three mullets Azure, in the sinister chief a cinquefoil Or.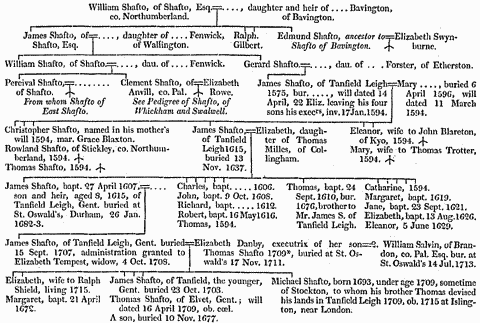 * Elizabeth Danby, now wife of James Shafto, jun. of Tanfield Leigh, administered to her sister Margaret Danby, of Nafferton, parish of Ovingham, co. Northumberland, 2 June 1664.
The estate passed from their descendants to the family of Spearman (fn. 15), and was in the possession of Gilbert Spearman, of Bishop Middleham, Esq. in 1729 (fn. 16). Tanfield Leigh was since purchased by the Simpsons of Bradley (fn. 17), in whom it is still vested.
The Church.
Tanfield constituted the fifth Prebend in the collegiate Church of Chester. The Dean was bound to maintain a Chaplain here, and on the dissolution, some provision was made out of the small tithes for the support of a perpetual Curate; there is no parsonage house nor glebe.
The Chapel is a very neat modern structure, entirely rebuilt in 1749 (fn. 18), with the exception of some portion of the chancel, where a piscina remains in the South wall. The nave is supported by six light pillars; the whole of the windows are modern.
Monumental Inscriptions.
On a marble slab in the floor on the South side of the chancel:

Piæ memoriæ sacrum uxor ejus chara
hoc fecit. Obiit 30 die Decemb. Año Dñi 1628.
63 Ætatis sue anno.
Under this hard marble lies clos'd in clay
The Corps of that worthy Knight S (fn. 19) Williã Wray,
He sent five babes to glory his way to prepare
Moe two soñes two daughters of v'tues rare.
Behind him he left his death to bemone
Dame Jane his wife, three sones, daughters one,
In life, a loving husband, a father decre
The poore man's comfort now lyeth here,
To all a reall friend, a foe to none,
I hope to Æternal life his soule is gone.
Arms: Azure, on a chief Or three martlets Gules, in base a mullet, Wray; impaling, Barry of eight, Or and Sable, Selby.
On a mural monument:

Sub hoc tumulo
sepulta jacent corpora
Timothei et Elizabethae Davison:
haec conjux charissima
Gulielmi Davison de Beamish, Arm.
Ille filius eorum primogenitus
cujus (heu nimium dilecti) mors immatura
etiam secum rapuit matrem
forma adhuc et ætate florentem.
Obiit hic 15 Decemb. An. Dom. 1708, ætat. 6.

Illa inconsolabilis, quotidie moriens, vitam heu miseram
Pro beata immortalitate libenter commutavit
20 Decemb. Ann. Dom. 1712, ætat. 40.
William Davison, Esq.
ob. 27 Aug. 1734, aged 61.
Dulcibella, relict of William Davison, Esq.
ob. 15 June 1737, aged...
Within the altar-rails on a flat stone:
The burial-place of Sir Nicholas Tempest, Bart. Anne Lady Tempest died the 21st December 1733, aged 98. Sir Nicholas died 1 June 1742, aged 78.
On a flat stone, at the entrance of the chancel:
Mr. Ra. Clavering ob. 10 May, 1731, aged 67. Ra. Clavering, Esq. jun. 21 Jan. 1746–7, aged 54. Mrs. Anne, widow of Ralph Clavering, Esq. died 27 Jan. 1757, aged 63.
Arms, Clavering.
On a flat stone:
William Newton, departed this life Nov. 21, 1763, aged 63 years.
On a blue slab on the North of the Chancel:
The burial place of William Rippon. Elizabeth his wife died Feb. 13, 1775, aged 32 years. William Rippon died 18 Mar. 1782, aged 40 years.
Arms, two Lions rampant, endorsed.
On a large altar-tomb in the church-yard, S. E. from the Chancel:
Here lieth the body of Jane Blaxton, wife to Nicholas Blaxton, second son to Sir William Blaxton, of Gibside, Knight, daughter to William Porter, of Sheeldrawe, Gentleman; she departed the 12th of Aprill 1624.
Arms, Blakiston impaling Porter (fn. 20).
Tanfield Perpetual Curacy, not in charge nor certified—Sir Thomas Henry Liddell, Bart. Patron.
Dedication to St. Margaret.
Perpetual Curates.
John Mason, 1409.
William Hardweke, occurs 1562.
Robert Dawson, 1564.
John Armstrong, 21 Jan. 1580, p. m. Dawson.
John Wilson, 7 Feb. 1582.
Hugh David, 11 Jan. 1583, p. m. Wilson.
Thomas Carter, 1608.
John Martin, 1673.
John Aird, 1700.
(The subsequent Incumbents have been also Curates of Lamesley, q. v.)
The Parochial Register begins 1577.
Tithes—The great tithes of the Prebend of Tanfield (parcel of the dissolved collegiate Church of Chester) belong (generally) to the Impropriators; J. G. Lambton, Esq. one half, H. Witham, Esq. and .... Trevelyan, Esq. one other half. Tithe of lamb and wool is paid to the Perpetual Curate of Chester-le-Street; other small tithes are paid generally to the Perpetual Curate of Tanfield.
Beamish.
Beamish stands in the deep wooded vale of Team, which expands itself near the house into a fine level flat or strath, bordered on every side by rising grounds of irregular form, richly cloathed with luxuriant forest trees; a profusion of lofty thriving evergreens are interspersed amongst the nearer plantations. The old park of Beamish lies on upland ground to the South of the Team (fn. 21).
Guiscard de Charron, Lord of Beamish in 1268, left a son of his own name, whose only daughter, Joan de Charron, became about 1309 the wife of Bartram Monboucher, Knight, of Northumberland. In 1388 Bartram Monboucher (son of Joan de Charron) died seized of the manor and mill of Beawmys, held of the Bishop by homage, fealty, ward, and 28s. 8d. exchequer rent; [the manor of Taumfield, &c. and the lordship and services of the free tenants of Pokerley, held of the heirs of Urpath by one clove gilliflower (fn. 22).] Five Bartram Monbouchers successively held the manors of Beamish and Tanfield; and on the death of the last, the right of inheritance devolved on his great aunt Isabel, widow of Sir Henry de Heton, and of Robert Harbotel (fn. 23). In 1450, Bartram Harbotel, grandson of Isabel, entered on the estates on the death of Elizabeth Baroness of Hilton, widow of the fourth Bartram Monboucher.
Sir Guiscard Harbotel, grandson of Bartram, left two daughters and coheirs : Mary, married to Sir Edward Fitton, of Gawsworth in Cheshire, (who had the manor of Sutton on Trent, co. Notts, and Dalton Travers, co. York, on partition (fn. 24) ), and Eleanor, wife to Thomas Percy (brother of Henry Earl of Northumberland) executed at Tyburn for Aske's rebellion in 1537. Dame Eleanor, who had the manors of Beamish and Tanfield, died in 1566 (fn. 25); her son Thomas Earl of Northumberland engaged in the Northern Rising in 1569, and was beheaded at York in 1572. Amongst his other great estates, Beamish and Tanfield were included in the forfeiture, and in 1570 a long crown survey appears of the two manors.
In 1572 the Queen granted to Sir Henry Gate, Knt. (fn. 26). the manor and park of Beamish, and the hamlets of Tanfield and Kibblesworth, (parcel of the possessions of Thomas Earl of Northumberland attainted) to hold by the fortieth part of a knight's service, and 4l. 18s. crown rent (fn. 27).
In 1593, Edward Gate, Esq. son and heir of Sir Henry, granted the manor and park of Beamish and the hamlets of Tanfield and Kibblesworth to Robert Powell and William Nailer (fn. 28), trustees as it should seem for Henry Jackman of London, Esq. to whom a direct conveyance occurs in 1585. In 1597 (fn. 29), Jackman (who alienated Tanfield and Kibblesworth, and some parcels in Beamish, to various individuals) conveyed the capital messuage, park, and manor of Beamish, to John Allen of London, Esq. who in 1601 (fn. 30) again conveyed to Ralph Maddison, Esq. Lastly, 25 Nov. 1605, Maddison granted the messuage and manor of Beamish (fn. 31), and the Park as now impaled, to Sir William Wray, Knt. of St. Nicholas (fn. 32) near Richmond, and his trustees Sir William Fenwick and Sir George Selby, Knts. (fn. 33)
Thomas Wray, Esq. son of Sir William, bore a Colonel's commission in the service of Charles I. After the total ruin of the royal party, he was one of the few gentlemen who refused to make any terms with the usurpers; and in 1651 his manor of Beamish was included in the Act for sale of estates forfeited by delinquents (fn. 34). Few, however, of these estates were entirely wrested from their owners. Colonel Wray was permitted to be the tenant of his own house and lands under the Parliamentary trustees for sale (fn. 35); and on the restoration, like other ruined cavaliers, he re-entered on the wreck of his property under a load of statutes staple and judgements (fn. 36), which seem to have occasioned the ultimate sale of the estate. Thomas Wray, Esq. after some provision for the three children of his only daughter (fn. 37), settled his estates on his brother George Wray (fn. 38), Esq. whose son Thomas Wray sold the manor of Beamish to William Christian, Esq. (fn. 39) of Unerigg, in Cumberland, 23 Feb. 1671–2 (fn. 40). In 1683 (fn. 40), Major Christian conveyed the estate to William Blackett, Esq. trustee for Timothy Davison of Newcastle, whose grandson Morton Davison, Esq. devised his estates to his nephew Sir John Eden, Bart, for life, with remainder to Morton John Eden, Esq. (second son of Sir John Eden) the present owner of Beamish, who has taken the name of Davison.
It has been stated that Henry Jackman sold off some parcels of Beamish—the following:
[1598, 2 Mar. Henry Jackman, Esq. granted the messuage called Newhouse, at Bemishe Parkehead, to Thomas Andrew, Yeoman; Robert Andrew son and heir of Thomas, æt. 10, 8 Jul. 12 Jac.; William Andrew, brother and heir of Robert, 23 Mar. 13 Jac. 1616. In 1627, 5 Oct. 3 Car., the same William Andrew of Newcastle, Boolter, granted the Newhouse at Beamish Parkhead, to William Clavering, of Gateshead, Gent. for 200l. (fn. 41)
43 Eliz. Henry Jackman to Thomas Hall, a messuage called le Croke, parcel of the manor of Beamish; 10 Jac. fine levied of the same messuage between Nicholas Tempest, Gent. plaintiff, and Thomas Hall, Gent. and Beatrice his wife; Thomas Hall died seized of a messuage, 30 acres of arable land, five of meadow, and ten of pasture, called le Crook; 29 Aug. 4 Car. 1628, William Hall son and heir aged 25.
4 Car. 1629, John. Laing died seized of a messuage called Foulbrigg House, parcel of the manor of Beamish. By Ind. 7 Jac. 1609, he settled half the tenement on his son Robert Laing, and Mary, daughter of James Shafto, Gent.; Robert died s. p. vivo patre; John Laing son and heir of John, æt. 17 (fn. 42).
1599, William Porter and Anthony Shafto, Gent. took by fine of John Allen, Esq. 40 acres of meadow in Beamish; 30 Jul. 1611, James Shafto, Gent. and Thomas his son and heir, took by fine of Anthony Shafto, Gent. and Susanna his wife, half of 120 acres in Beamish called Sisterwham; 15 Jul. 1612, James and Thomas Shafto took by fine of William and Ann Porter, and Jane their daughter and heir, half the meadow called Sisterwham.
1 July 1663, Thomas Wray, Esq. confirms to John Harrison, of Brianslope, Gent. the parcel (with the colliery thereto belonging) which Harrison had enclosed from the Moor called Bartram Leazes.]
Descent of Charron, Monboucher, Harbotel, and Percy, Lords of Beamish and Tanfield.
Arms of Charron: Sable, three water-bougets Argent.
Arms of Monboucher: Argent, three ewers Gules.
Arms of Harbottle: Azure, three icicles bend ways Or.
Arms of Percy: Azure, five fusils in fesse Or, but it is always borne secondly quartered with Louvaine, Or, a lion rampant Azure.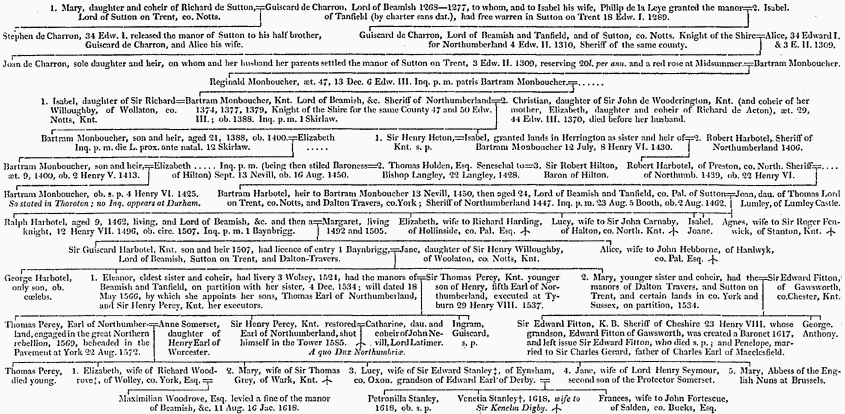 * So stiled by Edmondson, and though it is difficult to assign a more appropriate name to this singular bearing, I am half inclined to suppose the charges were intended for bottles.
† See page 224.
‡ 26 Nov. 1595, Edward Stanley, Esq. and Lucy his wife, and Richard Woodrove, Esq. and. Elizabeth, two of the daughters and coheirs of Thomas Percy, Earl of. Northumberland, for 400 marks, release all their title to Henry Jackman. Fine and Recovery, 4 July 1597.
Pedigree of Wray, of Beamish.
Arms: Azure, on a chief Or, three martlets Gules.
Crest: an ostrich Or.

* His grand-daughter and heir, Elizabeth, married the Honourable Nicholas Saunderson, eldest son of George Viscount Castleton.
† Lamesley Register. The other dates are from Tanfield.
‡ See some extracts from Musgrave Muzzled, p. 179.
Pedigree of Davison, of Beamish.
Arms: 1st and 4th, Erminois a fesse wavy, in chief a rose between two cinquefoils, and the like in base Gules, for Davison (fn. 43); 2d and 3d, Eden.
Crest of Davison: out of a crown vallery Or, a dove with wings elevated Argent, in the beak an ear of wheat Gold.
Crest of Eden.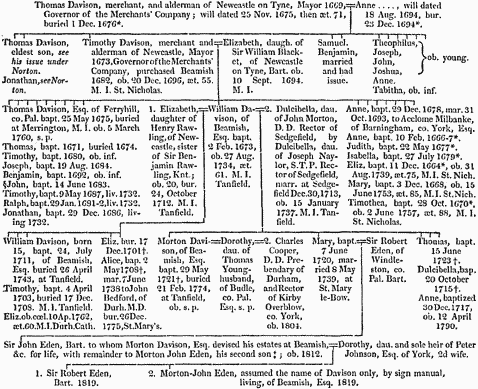 * St. Nicholas Register, Newcastle.
†Tanfield Register.
‡ See the Pedigree of Eden, under Windleston, hereafter.
§ Mr. John Davison, of Beamish, buried 25 April 1719.
Cawsey and Kiphills.
Cawsey (fn. 44) lies to the North West of Beamish, in which extensive manor it was formerly included (fn. 45), and was sold out by Jackman in parcels.
"2 March, 40 Eliz. Henry Jackman to William Carre, a messuage called Kiphills within the vill of Cawsey and manor of Beamishe. 1598, Robert Gibson purchased from Carr (Pardon 3 June, 6 Jac.) and William Wray, Esq. purchased of Gibson.
June, 40 Eliz. Henry Jackman, to Robert Hedley, Yeoman, the messuage called South Cawsey; and Hedley sold to Gibson, 1602, and Gibson to Wray.
Thus these parcels were re-absorbed in the inheritance; and in 1667 Thomas Wray, of Beamish, Esq. died seized of Cawsey and Kiphills, which he directs by will to be sold.
1602, Henry Jackman sold lands called Dobes grene and North Cawsey, to Ralph Harbotel, Gent. (fn. 46) who soon after conveyed North Cawsey and a tenement in Middle Cawsey, to Francis Anderson.
In 1627, William Andrew sold a messuage called Newhouse, at Beamish Parke Head, to William Claveringe, of Gateshead, Gent, ancestor of the Claverings, of Cawsey. (See Pedigree annexed.)
North Cawsey is the property of Sir Thomas Clavering, Bart, with part of Middle Cawsey, (and Cadger Bog). South Cawsey, and another portion of Middle Cawsey, (late Smith's) belong to Morton Davison, Esq. (fn. 47)
"Over the deep and romantic dell of Cawsey burn is a remarkable structure, called Tanfield Arch (fn. 48), built by the Grand Allies in 1729, to obtain a level for the passage of coal waggons. The span of the Arch is 103 feet; it springs from abutments about nine feet high, and, being semicircular, the entire elevation is about sixty feet. It is neglected, and falling to ruins (fn. 49).
Burnopfield, see Brian's Leap.
Pedigree of Clavering, of Gateshead and Cawsey.

* Gateshead Register.
† Tanfield Register.
Stanley,
To the South of Tanfield.
Stanley Hall, an old double gavel-ended house on a wild hill top; a mile to the South, the Stanley burn or Conebeck, flowing through a little valley shaded with birch and alder, divides the Chapelry from the Parish of Chester-le-Street. Twisell Hall stands a little to the left.
The earliest notice of Stanley occurs in the Almoner's book of the Convent of Durham.
Robert de Musters (or de Monasteriis), who himself derived his title from the old De la Leighs, Lords of Witton and Beamish, granted to the Almoner of St. Cuthbert, the land which Ralph de Multon held "between Sheleburn and Smaleburn, near Thamefield (fn. 50)," and Thomas Prior of Durham, and his Chapter, granted this same land to William de Kilkenny, an Irish Clerk, whose collateral descendants were Lords of Stanley.
William, by Indenture with the Convent, covenanted to maintain a Clerk in his Chapel at Stanley, to sing for the soul of Robert de Musters. As the foundations of private Chantries are not always very obvious, the Charter of Stanley Chapel shall be briefly abstracted, with the previous Charter of Philip de la Ley.
Carta Philippi de la Leya, facta Roberto de Monasteriis.
Omnibus, &c. Philippus de la Leya. Sciatis me dedisse, &c. Roberto de Monasleriis pro homagio et servitio suo et escambio terræ suæ de Wittona quam dedi Dom. Will'o de Laton pro pace per finem duelli facienda de terris quas erga me exigebat in territorio de Witton, totam teram quam Radulfus de Multona quondam tenuit inter Shyeleburn et Smaleburn ex meridionali parte aquæ de Thame versus divisas de Stanleigh, habend. &c. reddendo quindecim denarios viz. septem denar. et obol. ad Pentec. et septem et obol. ad F. S. Martini in hyeme. Hanc terrain cum omnibus warrantizabimus, vel escambium ad valorem ipsius terræ in villa de Tamfield. T. Ada de Yeland tunc Senescallo Dunelm. Rogero D'audre, Jordano Hayrun, Will'o Britone, Alex. de Heltun, Jordano de Dalden, Walt. de Monasteriis, Galfr. fil. Galf'r. Rob. fil. Thomæ, Henrico de Ferlington, Reginaldo Basset.
Cyrographum inter Thomam Priorem et Conventum Dunelm. et Willielmum de Kilkenny, de terra juxta Stanley ad inveniendum unum Capellanum.
Omnibus, &c. Thomas Prior Dunelm. (fn. 51) Ecclesiæ et ejusdem loci Conventus, sal. Noveritis nos dedissc, &c. dilecto Clerico nostro Mag. Will'o de Kylkenny, et heredibus suis vel cuicunq. assignare voluerit preterquam Domui religiosæ (fn. 52), totam illam terram quam habuimus de Dom. Roberto de Monasteriis, scilicet illam quam Radulfus de Multon quondam tenuit inter Scheleburn et Smaleburn ex meridionali parte aquae de Thame versus divisas de Stanlay. Et pro hac donatione, &c. Wilts de Kylkenny et heredes vel assignati sui pro salute animae Roberti de Monasteriis, et pro salute animarum predicti magistri, patris et matris ipsius, antec. suorum et successorum, et omnium fidelium, sumptibus suis invenient quendam Capellanum divina celebrantem in Capella dicti mag'ri Willi apud Stanlegh in perpetuum; et si hoc non fecerint Episcopus vel Archidiac. Dunelm. eos possit aretare ad premissa facienda; et quoad hoc p'fatus Mag'r Will'us subjecit, &c. &c. jurisdictioni memorati Episcopi vel Archidiaconi, &c. renunciando, &c.
Counter Charter of Master William de Kylkenny exactly to the same purpose, attested by "John de Rumesey tunc Seneschall. Dunelm. Dom. Roberto fil. Meldredi, Galfr. fil. Galfr. Walter d'Audre."
By fine in the Court of Richard Bury, John de Kilkenny settled his manors of Stanley (and Stotfald) on William de Kilkenny, Chivaler.

In 1391 Isabel, widow of John de Birtley, held the manor of Stanley and the close called the Hagg (parcel of Twisel), leaving Thomas her son and heir (fn. 53), who in 1394 is stated to hold the same manor for life with reversion to Richard de Kilkenny, and charged with ten pounds per annum to Katharine Danyell (fn. 54); the heir of Kilkenny, however, never enjoyed this reversion; the name occurs no more; and Thomas Birtley alienated Stanley to Sir Ralph Lumley, in whose heirs it continued vested for several descents (fn. 55).
The Lumleys alienated to Tempest. In 1539 Nicholas Tempest, Esq. died seized of two tenements, Stanley Byres, and Stanley Old Parke, and of other lands there, all which he had settled by charter, 30 H. VIII. (reserving an annuity of twelve marks) on his brother, Sir Thomas Tempest, of Holmeside, Knt. (fn. 56)
Sir Nicholas Tempest of Stella, grandson of Nicholas of Stanley, was created a Baronet 1622 (fn. 57), and some of his latest male descendants resided at Stanley in the last century (fn. 58).
Stanley is now the property of Peregrine John Townley, of Townley in Lancashire, Esq. (fn. 59)
There is a square entrenchment on the height of Stanley Hill, which I have little doubt is of Roman work. This little station was probably merely a summer camp for the protection of herds of cattle, or possibly of the crop on some arable ground; (a very similar work has been lately fairly proved to have occupied the height of Maiden Castle wood, near Durham, overlooking the deep vale of Wear, probably for the same purposes.)
According to Hunter, a Roman road passes from Gateshead through Lamesley and Kibblesworth fields (then, 1735, unenclosed), and tending South-West over Blackburn Fell, and through the township of Hedley, passes Cawsey (which on this supposition is Calcetum), and ascending the hill, terminates at Stanley (fn. 60).
Shieldrow,
A pit-village a mile to the South of Tanfield.
In 1619, William Porter, of Sheelrawe, died seized of a messuage, forty acres of arable land, thirty of meadow, and a hundred acres of pasture, in Sheeleraw, held of the Bishop by knight's service and fifty shillings rent (fn. 61) son and heir, then under age, died unmarried, and the estate vested in Jane (daughter of the elder William) and her husband Nicholas Blakiston, second son of Sir William Blakiston, of Gibside (fn. 62).
Their grandson William Blakiston (fn. 63) last who was possessed of the estate, died in 1737. The children of his brother Ralph Blakiston fell into abject poverty, and mingled their blood in alliance with the equally ancient and unfortunate house of Conyers (fn. 64).
Northorn. 4 Jan. 16 Jac. 1618, William Porter, Gent. surrendered a parcel called Northorne juxta Shelerawe, to Nicholas Blaxton, Gent. (fn. 65) 1649, William Blaxton, son and heir of Nicholas, took the same lands.
Northorn, parcel of which lately belonged to—Rippon, is the estate of Mr. John Smith.
Pedigree of Porter and Blakiston, of Shieldrow.
Arms of Porter: Gules, on a fesse engrailed Or three bells Sable, a bordure engrailed Argent, charged with eight pellets.
Arms of Blakiston: as Blakiston of Gibside, with difference for the cadet of a younger house.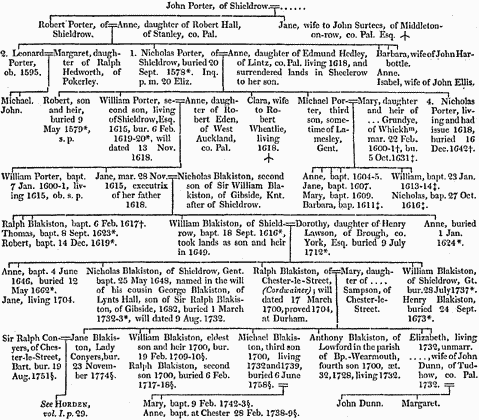 * Tanfield Register.
† Whickham Register.
‡ Lamesley Register.
§ Chester-le-Street Reg.
Lintz.
The ancient manor or vill of Lintz seems to have included the present estates of Lintz Green, Lintz Hall, Lintzford, and probably other separate freeholds.
Lintz Green (which gives name to the Constablery) lies on the very Western verge of Tanfield Chapelry, divided from the Chapelry of Medomsley by the Pontop Burn.
Lintz Hall, the seat of the Hodgsons, lies a little to the South, and Lintzford Northwards on the Darwent.
The Church of Durham had some early grants from the local family of Lintz. The following Charters occur in the Almoner's book (fn. 66).
Omnibus, &c. Will'us de Linz. Noveritis me de consensu Cecilie uxoris mee et heredum meorum dedisse, &c. Deo et B. Cuthberto et Priori et Monachis Dunelm. et domui Elemosinariæ eorum quadraginta acras terræ in campo de Lynz que jacent versus aquilonem a domo Utredi cum uno tofto et crofto in villa de Linz, in puram et perpetuam elemosinam. T. Emerico Archidiacono,
Jordano Escolland, Leonizio Vicecomite, Gaufr. fil. Gaufr., Roberto fil. Meldredi, Roberto de Amundevill, Roberto de Wattevill, Rogero de Audre, Gaufrido de Coniers, Gilberto Hansard, Simone de Hawtorn, Rogero de Punchard. Rogero Burdun, Ranulf. de Fisseburn, Roberto fil. Thome, Walt'o de Feria cum aliis.
Omnibus, &c. Galfr. fil. Willi de Lynce, salutem. Sciatis me caritatis intuitu concessisse, &c Deo et domui B. Cuthberti de Dunelmo xxxii acras terræ cum tofto ct crofto in villa de Lynz scil't illas quas Robertus Marleye tenuit. T. Fratre Johanne de Yharhale, Galfr. fil. Galfr. Will'o de Lynz, Felippo de Geldeford, Ricardo de Holmeside, Adã de Marleye, Roberto de Yoltona, Adã de Lynz, Roberto de Eggisclyve, Daniele fil. Nicholai de Novo Castello, Malgero Clerico, Elia de Byker, Joh'e Clerico, et pluribus aliis qui hanc Cartam audierunt.
Sciant, &c. quod ego Walter Lictelred de Lynce dedi, &c. Fratri Hugoni de Monte alto Elemosinario Dunelm. et succ. suis unum annualem reddit. trium denar. de terris et ten. meis in villa de Lynce. Apud Dunelm. die Jovis prox. p. F. S. Math. Apost. 1310.
Bertram the Prior granted the forty acres (given by William de Linz to Adam fil. Will'i de Linz, a son of the donor) under the moderate rent of twelve pence, payable to the Almoner of Durham on St. Cuthbert's day in September; and the same Prior Bertram granted the thirty-two acres (the donation of Galfrid) to Walter de Byker, under a. like annual rent of twelve pence (fn. 67) x.
In 1350, Richard de Lynce held the vill of Lynce by homage, fealty, common suit, and twenty shillings rent, leaving Joan, Matilda, and Mary, his coheirs (fn. 68) y. Two years later, Bishop Hatfield granted to John de Byrland, the whole lands and tenements which had escheated to the See by the outlawry of Thomas, son of Richard de Lynz, who fled for felony (fn. 69).
The estate of Lynce, be it by descent or inheritance, vested a few years afterwards in the family of Redheugh. In 1391 Hugh, son of Hugh del Redhough, Chivaler, held two parts of the manor of Lynths (fn. 70) (of which Agnes his father's widow had the remaining third in dower (fn. 71) ), held of the Bishop by knight's service, suit every fortnight, and 28s. 8d. rent. Thomas del Redhough, brother and heir of. the younger Hugh, left a son of his own name, who, dying without issue (fn. 72), left the inheritance to his aunts, Mary wife of Henry Butler (fn. 73), and Agnes, whose daughter Ermatrude seems to have held the whole estate: of the two daughters and coheirs of Ermatrude, Agnes carried the estate of Redheugh into the family of White; and Margery, who married William Elmden, seems to have had the manor of Lyntz, which descended to her daughter Agnes, wife of Edward Hedley.
Edward Hedle, living 2 H. VI. (fn. 74) was father of Lancelot Hedley, of Lintz (fn. 75), whose son John Hedley was living in 1559, and was probably father of Nicholas Hedley, living 1588, who entailed his estate, failing his own issue, on several branches of the Hodgson family (fn. 76). Under this settlement, Lintz became the property of Richard Hodgson, Gent. (brother to Robert Hodgson, of Hebborne, Esq.) whose descendants held the estate till the extinction of male issue in Ralph Hodgson, Esq. 1773 (fn. 77), whose only surviving heiress was the wife of Thomas Selby, of Biddleston, co. Northumberland, Esq.
The following scattered notices of properties, all apparently parcels of the old manor of Lintz, occur on the Chancery Rolls :
Lintz Green, Cowles or Coves House, &c. Lyntzford.—7 Sept. 18 Jac. Robert Rowland, of Newcastle, grants to William Cooke, Mariner, lands in Lintz and Nether Lintz, late of Nicholas Hedley, Merchant.
21 Jac. Anthony Trotter, of Helmeden Hall, Gent. and Gertrude his wife, grant by Indenture enrolled to Elizabeth Hedley, of Lintz Green, widow, for 191l all that messuage in Over Lyntz in the tenure of Margaret Shippedson, late the estate of Katharine Trotter (mother of Anthony) sole daughter and heir of one Anne Pikering. Witness, Robert Plcasaunce, Albertus Hodgson.
4 Nov. 21 Eliz. 1578, Mathew Ogle, of Cawsey Parke, Gent. grants to George Gallaley, of Lyntes Grene, Yeoman, a moiety of Lyntesford Mylne. 21 Oct. 1609, Robert Calaley, Yeoman,
settles with remainder to his brother John Calaley. 26 Jul. 8 Jac. John and Robert Calaley grant to Ambrose Dudley, Esq. a messuage, 30 acres of arable, 30 of meadow, 100 pasture, 100 moor, and 20 of woodland in Lintz Grene, and half of Lyntesforde Mylne. Rot. Claus. W. James.
In 1685 Barbara Nicholls, widow, was owner of Cowles House; and from this family of Nicholls, the Rev. William Ellison derives his estate in Lintz Green (fn. 78).
Loft House. By Ind. 19 June 5 Jac. 1607, Anthony Cradocke, of Woodhouses, Gent. and William Williamson, of St. Ellen's, Gent. granted to Robert Cooke, of Newcastle, Merchant, a tenement in Lints Greene called Loft house, parcel of the late dissolved Deanery of St. Andrew's Auckland, granted (inter alia) to Warde and Morgan, and by them transferred to Cradock and Williamson, to hold under eleven pounds crown rent.
Loft house is now the property of the Rev. William Ellison.
High Friarside,
In 1369 John de Birtley died seized of Frerehouside, eight messuages, and eight score acres, held of the Lord of Yeland (fn. 79) by one penny rent, value 20s. (fn. 80)
In 1451 Roger Thornton the elder died seized of the manor of Freresyd (otherwise Frerehousyde), with Lyntes or Colefeld parcell of the same manor, held of the See of Durham by the twentieth part of a knight's fee (fn. 81).
The estate descended in the family of Lumley, till it was alienated by John Lord Lumley in 1562 (fn. 82), to James Rawe, merchant, of Newcastle. George Rawe, son and heir of James, died without issue. Thomas, his next brother, was an outlaw, and died at Flushing in 1603. Matthew and Richard, two remaining brothers, also died without issue, and the estate was divided in fifths amongst their sisters (fn. 83); and of these portions three fifths were united by descent of one share, and purchase of two others, in the family of Harrison, of Byermoor (fn. 84). The two remaining fifths were divided betwixt two different branches of the family of Hancock (fn. 85). The annexed Pedigree explains all that I know of the subsequent descent.
The present proprietors of High Friarside are, Miss Simpson of Bradley, Henry Richmond, Esq. and Rev. J. T. Huntley (fn. 86) (some parcel of which was late Mr. Thomas Jennison's), and John Scafe, of Alnwick, Esq. who has a residence here called the Leazes (fn. 87).
Pedigree of Rawe and Hancock, of Frereside.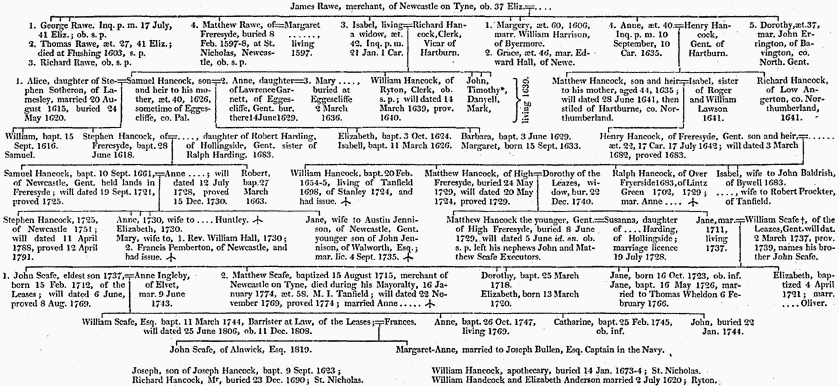 * Tymothy Hancock married Isabell Taylor 12 May 1622; had issue Richard, baptized 10 Nov. 1622; Margaret 1624; William 20 March 1628; William 1629; John 28 Nov. 1632.
† Son of Richard Scafe (and Elizabeth Cheesebrough, see Byermore), descended from a family long seated at Winton Hall in Westmoreland. (See Burn and Nicolson, I. 548.) John Scayfe, Burgess for Appleby, 6 Edw. II. and 1 and 2 Edw. III. Thomas Scayfe represented the same place, 17 E. III. Thomas Scayfe a Juror 4 Edward IV. Miles Skeyffe, a Governor of Kirkby Stephen School, S Eliz. Robert Scaife sold Winton Hall within the last century.
Low Friarside
Lies on the Derwent, to the West of Gibside.
The shell of a small Chapel is still standing in the middle of a large pasture field near the river, unconnected with any other building.
The original foundation of this little Chantry is totally unknown. In 1439 Bishop Nevill annexed the Hospital of Frereside to the Chantry of Farnacres (fn. 88). After the dissolution, the two estates parted company: Thomas Liddell, Esq. (who held the whole Chantry of Farnacres (fn. 89) ) granted Nether Freresyde to Nicholas Tempest, of Stella, Esq. 10 November, 1600; and 16 April, 1606, Sir Nicholas Tempest conveyed to William Blakiston, of Gibside, Esq. (fn. 90) whose lineal representative, John Earl of Strathmore, is the present proprietor.
Priestfield, parcel of the united Chantry of Farnacres and Freresyde. 14 April 1592, Queen Elizabeth granted to Theophilus Adams, and Thomas Butler, of Gray's Inn, Gent. who conveyed 3 Nov. 1600 (inter alia) to Thomas Liddell, Alderman of Newcastle, who immediately after, 9 Nov. id. an. passed Priestfield to Timothy Draper, on trust to convey to Cuthbert Burrell, of Colierly, and Andrew Burrell, of Priestfielde, Yeomen. In 1622 Cuthbert Burrell died seized of the said messuage, parcel of the Chantry of Farnacres, and containing 54 acres, held of the Bishop by knight's service, leaving Anthony Hopper his grandson and heir aged seven, viz. son of Jane (daughter of Cuthbert, &c.) wife of John Hopper, of Colierley, Gent. (fn. 91) which Anthony had livery in 1637 (fn. 92).
Part of Priestfield belongs to the Rev. William Ellison, and other parcel to John Hunter of the Hermitage, in Northumberland, Esq.
Bryansleap and Burnopfield closely adjoin each other. Both are parcel of the original estate of Fryerside, and were allotted to William Harrison in 1608 (on the division amongst the coheirs of Rawe), as Easter Fryerside and Bennetfield William Scafe, Esq. sold a portion of Bryanslcap to Lady Windsor (reserving the mines and the messuage called Bartramleizes): this is now the estate of the Marquisses of Bute and Hertford (fn. 93). Burnopfield was the property and residence of the Newtons (mentioned under Twyzel,): it now belongs to Morton Davison, Esq. of Beamish.
Bryansleap (fn. 94) stands on the heights above Gibside, in a situation sufficiently eminent to render it probable that the name (which is of no high antiquity) was imposed from some tremendous feat or marvellous escape; but the legend is lost.
Beckley and Andrewfield,
To the East of Tanfield, adjoining the Chapelry of Lamesley (fn. 95).
"Omnibus, &c. Christiana filia Adæ de Newhous. Noveritis me dedisse, &c. Alicie sorori mee filiæ predicti Adæ octo acras in Beckley quæ parti mee contigerint post mortem Dyonisiæ matris meæ. T. Dom. Rogero Mauduyt, Will'o de Kyrkenny, Mil. Johanne de Byrteley, Will'o de Merley, Waltro de Gildforde, Johanne de Farnacres, et aliis. Dat. apud Beckley die Jov. prox. post F. Nativ. S. Jo. Bap. 1335 (fn. 96)."
In 1486, John Harbotel, Esq. held the manor of Beckley Hall of the Bishop, leaving John his son and heir (fn. 97). Beckley became the estate of the Porters of Sheelrow. In 161 . William Porter granted his messuages of Beckley Hall and Androwfield, on trust to Roger Tocketts, of UInaby, and Ralph Blakiston, of Gibside, Esqrs. William Tempest, of Thornley, and William Garth, of Headlam, Gents. (fn. 98); and by will 13 Nov. 1618, he devised "the house of Androfield" to his son-in-law Nicholas Blakiston. In the Inquisition on the decease of William Porter, 1619, Beckley and Andrewfield are stated to be held of the Bishop by knight's service, suit of court every fortnight, and 13s. 4d. rent.
These estates now belong to Sir Thomas Clavering, Bart.
Charitable Benefactions To The Chapelry Of Tanfield.
By will, dated 1687, Ralph Harrison, of Brayneslope, Gent. left "to the poor of the Chappelry of Tanfield, 100l. in money as a standing stock, to be put out for their use by the most substantiall men in the said Chappelry."
By will, dated 1732, William Davison, of Beamish, Esq. gave 2l. per annum, to be distributed to eight poor housekeepers.
John Wetherell by will, dated 1748, left 26l., the interest to be distributed to ten poor families (fn. 99). John Hornsby left 20l. the interest to be distributed to the poor (fn. 99) By will, dated 1752, George Trotter left 170l. poor stock (fn. 99).
By will, dated 31 March 1762, Elizabeth Davison of the North Bailey, Spinster, bequeathed to Thomas Davison, Esq. Ann Davison, Robert Lowth, D. D. and John Sharp, D. D. their Executors, &c. the sum of 500l., the interest to be applied "towards the supporting of a school or schools within the Chapelry of Tanfield, for the instructing of poor children in religion, and teaching them to read, and also (if it may be) for and towards the establishing a resident minister at the town of Tanfield, and for the establishing a monthly communion, if the same can be so had." "I also give and devise to the Minister and Church-wardens one hundred pounds, to be placed out at interest upon security in their names with the consent of the vestry; such interest to be distributed upon New Year's day, to and amongst such poor house-keepers within the said Chapelry, (who shall not have the alms of the Parish, or be not named in the poor Schedules) as the said Minister and Church-wardens shall think proper; also (to the trustees before named) 500l. to be applied in such manner as they shall think proper, for the relief of such miserable persons as shall be dismissed from the Infirmary at Newcastle as Incurables." (The Testatrix appoints her brother and sister Thomas and Anne Davison, Executors.)
Indulgentia pro Reparatione et Emendatione Pontis vocati Lamesly Brigg super aquam de Tame.
Universis Sanctæ Matris Ecclesiæ filiis ad quos, &c. Thomas, &c. salutem in omnium Salvatore. Inter cætera opera pietatis constructioni et reparationi pontium viarum et calcetorum subvenire, ex quibus disruptis seu confractis eveniunt frequenter dispendia corporum et pericula animarum, opus caritativum non modicum reputamus: De Dei igitur omnipotentis immensa misericordia omnibus parochianis nostris et aliis qui ad reparationem cujusdam Pontis vocati Lamesley Brigg de el ultra aquam de Tame infra parochiam de Lamesley nostræ Dioc. aliqua de bonis sibi a Deo collatis grata contulerint, legaverint, seu quodammodo assignaverint subsidia caritatis, quadraginta dies indulgentiæ in Domino concedimus per presentes per unum annum a dat. earund. tantummodo duraturas. Dat. sub sigillo nostro in manerio nostro de Stokton 4to die Junii, Ao Dni 1431. Reg. Langley, fol. 180.