Pages 237-258
The History and Antiquities of the County Palatine of Durham: Volume 2, Chester Ward. Originally published by Nichols and Son, London, 1820.
This free content was digitised by double rekeying. All rights reserved.
PARISH OF WHICKHAM.
The Parish of Whickham is bounded by the Tyne on the North, by the Team, dividing it from the Parish of Gateshead, on the East, by the Chapelries of Lamesley and Tanfield on the South and South-West, and by the Darwent, dividing it from the Parish of Ryton, on the West.
The Parish is divided into three Constableries: 1. Whickham-Town; 2. Whickham-Low-Hand, which includes Farnacres; 3. Whickham-Fellside, including Old Axwell, Hollinside, Gibside, Gellsfield, and Byermoor.
Whickham,
A scattered village on a high airy brow, overlooking the vales of Tyne and Team to the North and to the East, and commanding an extensive prospect over the rising grounds across the Tyne.
The earliest mention of Whickham is in the record of Boldon Book. The Bishop had thirty-five tenants in villenage : each tenure consisted of one oxgang of fifteen acres, under sixteen pence rent, and the villan worked three days in every week throughout the year for the Lord; three porcations in autumn, with his whole family, except the huswife, and one other porcation of two men's work, and in this his harvest-work was included mowing and leading of hay, reaping and carrying corn, and besides for every draught he ploughed and harrowed two acres for averipe, and then he was entitled to his corrody or allowance, and during his said harvest-work he was bound to erect for the service of his Lord a booth or cottage forty feet long and fifteen wide, and to load and lead like the villans of Boldon. When the tenants were employed in mowing, reaping, and harvestwork, they were entitled to their corrody. The tenants paid jointly nine shillings for cornage, provided one milch cow, and rendered a hen and ten eggs for each oxgang, and in their usual course of work they laboured at the Bishop's fisheries in the Tyne (fn. 1).
The Prior of Brinkburn holds two oxgangs and one fishery, de elemosina Episcopi.
Gerard the Headborough holds twenty-four acres, the salary of his office; and those acres, before they were so allotted, paid four shillings rent.
The mill used to pay three marks, and the fisheries as much.
The demesne of two draughts was then (fn. 2) in the hands of the Bishop, hut now the whole manor of Quykham, with the demesne, the villan service, and the mill and the fisheries, is on lease, with a stock of two draughts, two harrows, twenty chalder of oats of the Bishop's measure, 26l. rent, and the tenant leads the Bishop's goods from Gatesheved to Durham Southwards, and to Bedlyngton Northwards, and carts one ton of wine annually, and for every horse employed in such carriage he has twopence deducted from his rent.
The Punder has six acres and the thraves of corn, like others of the Bishop's Punders, and renders sixty hens and three hundred eggs, and the twenty-five tenants in villenage provide twenty-five hens and seventeen score of eggs.
Under Hatfield's Survey the tenures and services are detailed at great length; the tenants are divided into free and bond.
Free Tenants: Peter Graper holds in right of his wife a messuage and fourscore acres once of William Fremanby, foreign service and six shillings rent. The heirs of John Patvincocke a toft and a rood, and pay one pound of pepper on the feast of St. Cuthbert in September. William Gateway eight acres, once William de Selby's, 8s. Margaret Gray a certain parcel, 6s. 8d. Robert de Lomeley holds half an acre, once of John Marmeduk, and pays 4d. William Gilson holds a mill at Creswelcrok, 13s. Agnes Farehare, senior, holds the messuage belonging to the demesne, an acre and half and a toft, and pays 2s.
[The rest of the record, as far as regards the rents of the free tenants, relates to Swal-wells, Axwell, Hollinside, and Fugerhouse, all of which were evidently considered as parcel of the original manor of Whickham, though granted out as free estates under reserved rents previous to the compilation of the Survey.]
Bond Tenants, with Tenants of the Demesne : Walter Thomson holds two messuages and two oxgangs, the oxgang consisting of fifteen acres, and two oxgangs of nine acres each; for the two former, which are held in bond or villenage, he pays 16s. 11¼d. and for the two other oxgangs, which belong to the demesne, 4s. Ad. ob. in all 21s. 4d. Twenty-eight other tenants hold forty messuages, thirty-three oxgangs and a half of bond land, and thirty oxgangs of the demesne, and pay in proportion as above and twopence over, ut per antiquum rentale ijd.; and the Bond-tenants carry the Bishop's goods as far as Durham and Bedlyngton with an allowance of twopence for each horse, and cart a ton of wine; the said Bond-tenants occupy amongst them eight tofts built upon, besides twenty-five messuages (attached to the bond-lands) for which they are not charged in rental. The remaining services of the Bond-tenants or Villans are then described as in Boldon Book, excepting that there is an article of grace and exemption from labour during the four principal festival weeks. They provide a milch cow, and they used to perform three fishings in the Tyne, and to pay twenty chalder of oats, all which services were now commuted into six shillings rent.
Cottagers: John Hawyk holds two cottages and six acres, pays sixpence in lieu of works at Martinmas, and 5s. rent. John Gallan and five others hold six cottages and twelve acres, and pay each 3s. 4d. The same tenants occupy amongst them a plot of ground called Freemantill, containing thirty acres, 10s.; six acres called Punderland, 4s. (and for the same Punderland they pay at Easter and the Nativity sixty hens and eighteen score of eggs). They hold the common bake-house under 10s. rent, and all the same tenants jointly render thirty-five hens and eighteen score of eggs.
The Meadow. All the tenants of the vill hold jointly a certain meadow called Grenelonyng, containing an acre and a rood, 4s. 8d.; forty acres of meadow belonging to the office of Headborough, 2s. 4¼d. per acre, in all 4l. 14s. 10d. John Martyne holds three acres called Robertesmedowe, 8s. William Eire holds four acres called Eiresmedowe. Richard Alwode three acres called Genniesmedowe, 2s. 8d. Nicholas Haukwell nine acres, sometime of Adam Scot. William Gategang four acres, once Gilbert Gategang's. Thomas Moderby six acres and a half, sometime Stephen Bridok's. John Brown an acre and a half of Robertesmedowe. All the said tenants hold the demesne meadow jointly (thirty acres), and pay by the old rental 6l. Thirty-six tenants hold eleven messuages, eight tenures, two plots, and one hundred and seventy-five acres under certain rents.
The escheats furnish several notices of trifling parcels of freehold in Whickham, both before and subsequent to the date of the Survey (fn. 3), but the principal portion of the manor has always been, and at this day continues to be, held under the See of Durham, either by lease or copy of court roll.
A division of the North common fields of Whickham was executed by agreement of the various parties interested (above thirty in number) 16 April 1672, and was confirmed by decree in the Bishop's Court of Chancery 3 July 1676.
In 1684 the freeholders in the whole parish of Whickham were, Whickham-Town Constablery, John Watson, of Newcastle, Gent.; Matthew Matfin, Newcastle, Gent. and the heirs of George Shafto, Gent. Whickham Low-Hand, Thomas Liddell, of Farneacres, sold to Esquire Iiddell, of Ravensworth; Thomas Liddell, of Ravens worth, Esq.; John Watson, of Fleats, Gent. (in Newcastle); and Charles Jourdan, Recusant. Whickham Fell, Sir James Clavering, of Axwell, Bart.; Sir William Blakiston, of Gib-side, Bart.; Thomas Brignell, of Gellsfield; and Richard Harding, of Hollingside, Gent. (fn. 4)
The following extracts are thrown together very miscellaneously from the Close Rolls.
16 Jan. 1609. Pardon to Lyonel Maddison, Gen. for acquiring from Richard Hynde, Marshall's lands, and the Paddocks in Whickham (fn. 5). Henry Maddison died seized of Marshall's lands 1633 (fn. 6) leaving Lionel his son and heir (after Sir Lionel Maddison, Knt.)
4 March 1613. Anthony Grundy, of Whickham, died seized of a parcel called Gala Medows; Mary, wife of Michael Porter, Gent. his daughter and heir. There is still a spot near Dunstan called Grundy's Gap.
Rowland Blenkinsop died seized of a, close in the Parish of Whickham, called Newlands, near Blackburne, held of the Bishop by knight's service and 2s. rent; ob. 10 July 1624, Margery his daughter and heir, æt. 13, 1634.
Mines. Bishop Bury granted a lease of the mines under the manors of Whickham and Gateshead to Sir Thomas Gray, Knt. and John Pulhore, Rector of Whickham, for twelve years, under five hundred marks rent (fn. 7). The lease was renewed to the same parties by Bishop Hatfield, "endenture faycte jour de Seynct Martyn, 1356 (fn. 8)." Nicholas Coke, of Newcastle, was appointed by the same Prelate Keener and Vender of the Bishop's coals within the manors of Whickham and Gateside, 24 July, 1367 (fn. 8).
24 July, 4 Edw. VI. 1550, Bishop Tunstall demised to John and Stephen Sotheron (who had purchased Thomlinson's remaining interest) for twenty-one years, with a condition for payment of 10l. on opening every new pit. [At the same time the Bishop leased a fourth of his fishery in the Tyne at Whickham to Roger Symson, for twenty-one years ensuing the decease of Jennet White, widow, 8s. 4d. rent.]
20 May, 1570, Bishop Pilkington leased to Bartram Anderson, of Newcastle, merchant adventurer, the coal-mines within the Cross Moor in Whickham, adjoining the Whagges and Newfield on the North, Gellesfield and Grenleyfield South, the Cross Moor West, and the road from Newcastle to the Streat yate East; three pits only to be opened at once; twenty-one years, 30l. rent.
The manors of Whickham and Gateshead were amongst the possessions of the See extorted from Bishop Barnes in 1582 by Queen Elizabeth. The lease of ninety-nine years was transferred by the Crown, Nov. 12, 1583, to Henry Anderson and William Selby, Aldermen of Newcastle, who granted, in 1591, to thirteen principal Burgesses, on trust for the Corporation, who held the grand lease till its expiration in 1681 (fn. 9). The reversion had been granted by Bishop Cosin to his son-in-law, Sir Gilbert Gerard, and others. Bishop Crewe afterwards leased to Colonel Liddell and his partners, and the manor of Whickham has been since held by their successors, Sir Thomas Henry Liddell and Co. commonly called the Grand Allies.
In the town of Whickham there is a stratum of burnt earth, consisting chiefly of clay and stone. According to tradition, the King's army encamped in the Church lands, below the Church, and in the fields adjoining; the Scots under Lesley lay at Newburn, and on their crossing the Tyne to attack the King's army, the latter fled with such precipitation that they fired their tents: this fire communicated with a small seam of coal, which burned for several years, and at night flames issued from different parts of the village and grounds adjoining. The fire has been long extinguished, and the burnt earth and stones are used for the highways (fn. 10).
The church.
The Church of Whickham retains vestiges of considerable antiquity amidst much of modern repair and alteration. The tower at the West end of the Nave is square, with flying buttresses; the North and South ailes are uniform, each separated from the nave by three short round pillars, with square capitals, supporting circular arches without ornament or moulding. The roof of the chancel is covered with plain ceiling; and the body of the church is crowded with galleries, which fill the West end of the nave and part of the ailes. The chief entrance is through a South Porch; there is a small North door under a pointed arch. The font is an old stone basin of Stanhope marble. The lights are nearly-all modern; a West window under a pointed arch opens beneath the tower; the lights in the South aile are pointed; in the North aile are two modern pointed windows under old square labels. Some grotesque heads may be traced on the old stone spouts.
Monumental Inscriptions.
On a mural tablet of marble in the South aile:
Jacobus Clavering, de Axwell, in comitatu Dunelmensi, Baronettus, ex antiqua familia Clavering de Caloley in comitatu Northumbrian ortus (quae est è nobili familia Domini Clavering de Clavering in comitatu Essexiæ deducta), et Domina Jana uxor ejus, cum liberis eorum, hie jacent.
Dame Martha Clavering died August 16th 1792, aged 66 years.
This monument was erected by her most affectionate husband Sir Thomas Clavering, of Axwell Park, Baronet, who was also interred herein the 17th of October 1794, aged 76 years. He represented this county in four successive Parliaments with the utmost confidence and approbation of his constituents, being a firm friend to the religion, laws, and liberties of his country, and died much respected and lamented.
Arms: Quarterly, 1 & 4 Quarterly Or and Gules, over all a bend Sable, Clavering; 2 & 3 Gules, a cheveron inter three eagles' heads erased Or, on an inescutcheon of pretence Argent a heart Gules, crowned Or, on a chief Azure three mullets of the first, Douglas.
On a marble tablet on the North Chancel wall:

Under
this monument
lies the body, of
Rob. Thomlinson, D. D.
Prebendary of St. Paul's Lond.
Rector of this Parish 36 years,
and sometime.
Lecturer of St. Nicholas
in Newcastle upon Tine.
He died the 24 of March, 1747,
aged 79 years.
Reader if thou wouldst know
the character of ye deceased
learn it
from the following account
of his pious munificence
and charity.
Dr. Thomlinson built and endowed ye Charity school for this Parish at his own expence, save 100l. left by Mrs. Blakiston for that purpose; he also built a chapel at Allonby in Cumberd, and a school-house there, and gave to procure the Queen's bounty to ye said Chap. 200l.; to the col. of Matrons at Wigton in Cunib. 600l.; to the Charity school there 100l.; to Queen's College in Oxfd 100l.; to Edmund Hall there 200l.; and left by his will to ye Societies for propagating ye Gospel 500l.; for promoting Christian knowl. 100l.; for Working Schools in Ireland 100l.; he also bequeathed his Library, a large and most valuable collection of Books in all kinds of literature, to the Corporation of Newcastle, for public use, with a rent charge of 5l. a year for ever as a fund for buying new books.
Arms: Party per pale Arg. and Vert, three greyhounds in course counterchanged, impaling Azure, on a chief indented three martlets Argent. Crest, A greyhound? party per pale as in the coat.
On a mural tablet in the Chancel:
In memory of the Rev. James Wibbersley, A. M. He was 13 years Rector of this Parish; he died 18 April, 1782, aged 63.
On a tablet near the West end of the Nave:
Near this place lieth the body of Mrs. Dorothy Dixon, wife of Mr. Jasper Dixon, of Whickham; she died on the 8th of March 1809, aged 77; a woman endowed with many Christian virtues. Mr. Jasper Dixon died the 27th of August, 1816, aged 87 years.
In the church-yard, on two large flat stones now lying under the West window of the Chancel:
Heare lyeth the body of George Hodgson; he departed this life the 1st of December 1667.
Heare lyeth the body of Aibiah Hodgson, daughter to George Hodgson; she departed the 6th of February 1669 (fn. 11).
These gravestones were removed out of a field at the West end of Whickham, on the 30th day of November 1784, into this church-yard, by order of Mr. Robert Hodgson, of London, druggist, a descendant of the said George Hodgson, and as a memorial that his ancestors were inhabitants of this Parish and had lauds of inheritance therein, as may be seen by the division of lands made in the year 1691 under the name of Luke Hodgson, M. D. grandfather of the said Robert Hodgson.
On other stones:
Here lies the body of the Rev. Edmund Lodge, Curate of this Parish, and sometime Head Master of the Grammar School in Newcastle upon Tine. He died October 15th, 1742, aged 63.
The burial place of Lancelot Harrison of Dunstan Lane. Jane his wife died May 14th, 1768, aged 63 years; Lancelot Harrison died Nov. 25th, 1781, aged 81 years; Ann Harrison Oct. 4, 1782, aged 18 years; William son of William Harrison, 5 March, 1780, aged 17; John Harrison 8 May, 1788, aged 22; Margaret wife of William Harrison, 2 Dec. 1788, aged 52.
Succession of Rectors.
Whickham Rectory—Patron, the Bishop of Durham. King's Rooks, 20l. 8s. 11½d.; Tenths, 2l. Os. 10 3/4d.; Episc. Proc. 13s.; Archid. Proc. 4s.—Dedication of the Church to St. Mary.
Hugo, occurs 1287.
Robert de Baldok, 1313.
John de Windesore.
Thomas de Thwenge, 1344.
John de Pulhore, 8 Aug. 1346 (fn. 12).
Richard Rotore, 1360, p. res. Pulhore.
William Tart, 1399.
Edward Prestwick, p. m. Tart.
John Kent, 1444.
William Nicholson, 1462.
Richard—, 1470.
Thomas Bartram, 1474.
Alexander Skynner, 1483.
Robert Walker.
John More, 1513.
Anthony Belasyse, utr. jur. Doctor, 4 May 1533, p. res. More (fn. 13).
Nicholas Williamson, cl. 1540, p. res. Belasyse.
Claud Rent, cl. 30 Sept. 1558.
John Fernysyde, Preacher of God's Word, 20 March, 1575.
John Allenson, cl.
Henry Ewbanke, A. M. 5 Sept. 1620 (fn. 14).
Robert Brooke, A. M. 23 Dec. 1628, p. m. Ewbanke.
Thomas Wood, A. M. 2 July 1635 (fn. 15).
Nicholas Stote, an intruder.
Thomas Mason, A. M. 12 July 1671.
William Hartwell, S.T. P. 168., p. m. Masons (fn. 16)
William Graham, S. T. P. 1685, p. res. Hartwell (fn. 17).
Robert Thomlinson, S. T. P. 1712, p. m. Graham.
William Williamson, D. D. 1 April 1748, p. m. Thomlinson (fn. 18).
William Radley, A. M. 1763, p. m. William son.
John Wibbersley, A. M. 1768, p. res. Radley.
James Greville, LL. B. p. m. Wibbersley.
Hon. Edward Grey, A. M. Ch. Ch. Oxon, p. res. Greville.
The Rectory-house, which has been greatly improved by the present incumbent, stands at some distance from the Church across the road to the West.
Chantry Lands.
In 1334 Robert Bridoke died seized of five acres and three roods of meadow land in the fields of Quicham, held of the Light of St. Mary of Whickham, by twelve pence rent, in lieu of all service; value per annum 22s. (fn. 19)
By Ind. 23 Feb. 5 Car. 1630, Christopher Skepper of Durham, Gent. conveyed one acre in Whickham called Lampacre to John Heath, Esq. (fn. 20)
29 April 12 Jac. 1614, John Richardson the elder and younger, of the City of Durham, Gents. and Edward Farrales of the same, conveyed to Henry Chapman, Francis Burrell, and Robert Shafto of Newcastle, Gents. for 550l. a full third of the messuage called Gryndley or Grindlawe, in the Parish of Whickham, and of all mines appendant to it, with such right as the Queen lately held therein, being parcel of the dissolved Chantry of Jesus, in the Parish Church of Brancepath, under 8s. 11d. reserved crown rent for the lands, and 24s. 3d. for the mines (fn. 21).
Certain lands, anciently given for the repair of the Church of Whickham, are still vested in the Churchwardens for that purpose; viz. 5 acres and 25 perches on the North side of the church, allotted on the division in 1676, and a small inclosure with a tenement upon it in Swalwell.
The Parish Register begins in 1575. It contains frequently recurring traces of the Plague, or of a disease so termed, imported possibly from the crowded closes of Newcastle, and some vestiges also of the visitation of the Scotch Army, part of which quartered here after the rout at Newburn. Cromwell's army, or some considerable portion of it, lay here on their march towards Scotland in 1648.
July 1610. The plage began at Storye's in the South feild, whereof died Storye and his three children. Several entries follow "of the plage."
Michel Newton perished in the snowe 8 Feb. 1614–15;
Isabel Manelmoos and Hester Mawllower, 13 & 14 Feb. 1614–15; these two perished in the snowe the xth of Feb., and were not found till nowe.
George Watson's 3 children of the plaig this month (August) 1626.
A. D. 1626, one Annas Gaskell, wife to Anthony Gaskell, bore at one birth fower p'fect women children, whereof one had life, &c. the rest all still borne, and Were all buried in one grave the 25th of March.
Jeffrey, son to Jeffrey Morice, slain with the start, at a pitt of Mr. Henry Liddell's in Jacks leezes, the 15th Nov. 1636.
Anton. Mallaburne, which hanged himselfe 31 March 1641–2.
Willfray Fowthropp, Gentleman, 16 April 1642.
George, sonne to John Mathew, slaine betweene the West-end of the towne and Moncefeildgate, the last day of May, per William Nattresse of Whickham, 1644.
A man that was shot bii the Scotish centres in the meadowes, as he was comeing up the water in a boate, 3d Sept. 1644.
Captaine John Cunningame, a Scot, 22 October 1644.
Katheran, wife to John Cousans, hanged in a house at Newfeild, 11 Dec. 1644.
Ann dau. James Harrison in ye plague 16 Feb. 1644–5.
Dead in the plauge in lodges upon the fell since the 28th Aprill to and with the 6th of June. [The number considerable, but strangely confused.]
Ann Hodgson; plague 14 Nov. 1646. Entries of the pestilence still occur in 1647. Robert Moores and a child that was drowned in a pitt on the fell, in the time the people was in the fell in lodges.
A souldier to Lieutenant-Generall Cromwell, 7 Sept. 1648.
A West-country man, 4 May 1649.
Ric. Clayton, a souldier belonging to Coll. Pryde, 31 Sept. 1650.
Raphe Harrison slaine in a grand lease pitt in the leigh, 19 Sept. 1650. John Harrison slaine in a pitt, 18 Oct. 1650.
A woman that was lost in the storme about Raphe Parlaments pitt lodg the 9th of January at night, found and buryed the 10th of January 1650–1.
Dinah Armstrong, belonging to Hexham, supposed to be both hanged and drowned; the Coroners Inquest brought in their verdict wilful murther; she was found at Dunstan, 24 July 1764.
The Rev. Mr. Leeke drown'd by accident in the Teamgut, and had lived at Stanhope of Wear-dale, was 75 years of age, 19 October 1764.
Rev. John Boucher, Curate, 12 October 1765.
Martha Thomlinson, aged 102, 19 Dec. 1769.
Church Plate.—A Cup, "Anno Domini 1622;" two Flaggons, "Ex dono Georgii Bowes, Armiger. Anno Domini 1722;" a Paten, "The gift of John Huet to Whickham Church, 1731."
Dunston-Hill,
A spacious modern house on the brow of the hill to the East of Whickham. Dunston a century ago was the property of the Shaftos, and was purchased by John Carr, father of Ralph Carr, Esq. and grandfather of the late respected owner John Carr, Esq. (fn. 22)
The village of Dunstan lies on the Team.
Farnacres,
Haifa mile to the North-East of Ravensworth Castle; a small rivulet which falls into the Team separates it from the Chapelry of Lamesley.
Boldon Book.—Eudo de Lucels holds one carucate of six score acres, by the tenth part of a knight's service.
Robert de Joltune holds the land of the hermitage upon Darwent, by one bezant or two shillings.
Farnacres was soon after the possession of a family who assumed the local name.
z Bartholomeus de Farnakris occurs witness in charters at a somewhat earlier date.
And as neither Inquisition nor other record appears relative to this William, it is probable that he sold the manor of Farneacres to Robert de Umfravill, who held it under Hatfield's Survey, by knight's service and two shillings rent (fn. 23).
In 1429 Sir Robert Umfrevill, Knight of the Garter, founded the Chantry of Farnacres.
"Une Chanterie d'un Maistre Chapellain et un autre Chapellain a luy associer, chauntantz divines en la Chapell de Fernacres checun jour a l'autre de St. Jean Baptiste et St. Jean l'Evangeliste, pour le bon estat de nouz (Cardinal Thomas Langley) et les ditz Robert Urnfravile, Chivaler, et Isa-belle sa feme, tancome viverons, et pour noz almes apres notre decesse, et pour les almes de Henry Quart et Henry Quint nadgairs Roys d'Engleterre, et pour toute cristens ames au merci de Dieu."
The founder furnished his Chantry, which he endowed with the whole vill and manor of Farnacres, with a set of statutes, of which the principal injunctions are, that the Chaplains shall sing according to the use of Sarum, and shall celebrate regularly vespers, matins, and all canonical hours; and on the day of the Founder's obit Placebo, Dirige, and Mass, "cum nota sicut corpora nostra ibidem presentia existerent," for the souls of all the pious deceased above named, and of all the kith, kin, and kindred of the said Sir Robert, and of all the Knights of the noble order of the Garter of St. George of Wyndesore, and of all the former owners of the manor of Farneacres. The Chaplains shall have bed and board constantly under the roof of the Chantry, and shall renew their apparel, to consist of a sad and sober raiment sweeping to their heels (veste talari) once in two years. No female shall be admitted either as a servant or otherwise within the Chantry; and the Chaplains shall not exercise the office of bailiff, nor any other secular employment, "quia frequenter dum colitur Martha expellitur Maria." The stipend shall cease proportionably on cessation of duty, and expulsion shall follow incorrigible and persevering neglect; but a liberal allowance of two months absence annually, is conceded to each Chaplain. The Chaplain who shall after his institution fall into any bodily or temporal incapacity, shall not be expelled, but shall be required to leave at least a third or a fourth of his goods to the service of the Chantry. The altars, vestments, books, and sacred ornaments shall be preserved and renewed, when necessary, at the proper expence of the Chaplains; and forty marks, which the Founder gave in the first instance, shall be transmitted from Master to Master as a Church stock. The evidences and muniments of the Chantry shall be lodged in a chest with two keys, of which one shall remain with the Master Chaplain, and the other with the Prior of St. Cuthbert; and lest the lapse of time and the mutability of things create aught rotten in the state of Farnacres, the Founder during his life, and afterwards the Bishop of Durham for the time being, is invested with the power of expounding, interpreting, and declaring, in "favorabilem partem," any dark or ambiguous expressions in the said statutes. Dat. at Farneacres, 26 Aug. 1429.
The Chantry was the favourite offspring of a childless old age. "Dierum meorum relliquias recolligere, et deficientis ætatis fragmenta reponere, ac terrena in cœlestia, transitoria in æterna, felici communio desiderans commutare—vespertinum offero sacrificium, non matutinum (fn. 24);"and the Founder, diffident perhaps of the posthumous piety of collateral descendants, executed a charter soon after, by which he gave the perpetual advowson to Cardinal Langley and his successors in the See of Durham (fn. 25).
In 1439, 12 Sept. Bishop Nevill united the Hospital of Frereside to the Chantry of Farneacres (fn. 26); the last appointment of a Chaplain to the united foundation occurs in 1538.
Chaplains.—John Lyster magister, John Barker socius, on the foundation 1429. Alexander Skynner. Robert Hancley, p. m. Skynner 1495 (fn. 27). Robert Claxton, 1 Sept. 1548 (fn. 28), (received a pension of 5l. in 1553.)
The general dissolution of the Chantries followed soon after; and in 1548, Edward VI. granted the Chantry of Farnacres to Alexander Pringell in tail male (fn. 29), on whose death without issue in 1594, the possession reverted to the Crown (fn. 30). In 1592 (fn. 31), Queen Elizabeth had granted the reversion (which became vested on the death of Pringell) to Theophilus Adams and Thomas Butler, who conveyed 3 Nov. 1600, to Urias Babington.
Urias Babington died at London, 26 Feb. 1605, being then a debtor to the Crown, seized of the whole Chantry of Farneacres in the Parish of Whickham, of the capital messuage or scite of the Chantry, a water-mill, and lands called Grcnegarth, Nether Freerside, Priestfeld, Greeneacres, and Greenehouse in Whickham, Tanfield, Wardell, Wolsingham, and Lamesley (fn. 32). But the acquisition and holding of Urias Babington, as was proved on the Inquest, was merely nominal, and on trust for Thomas Liddell; Esq. who afterwards died 17 August, 1619, seized of the same estate, which he had previously settled (saving his own life interest) by indenture with William Sherwood and Thomas Crome, 28 Feb. 1613, on the marriage of his second son Henry Liddell with Elizabeth Jennison (fn. 33).
The line of Liddell of Farnacres was extinguished in Henry, grandson of Henry, and the estate was purchased by the elder branch of Liddell, of Ravensworth, in whose possession it has since rested.
In 1679, the rental of Farneacres amounted to 354l. 4s. 6d., and the Colliery at 12s. per tenn of coals to 80l. "The land is tythe free; upon it are two good Hall houses, (the Upper and the Nether or Lower Hall) (fn. 34)."
The modern house of Farnacres is a neat mansion about half a mile from Ravensworth, occupied at present by the Rev. R. H. Williamson.
Libera Warrena in Farnacres concessa per Thomam Hatfield Episcopum, Roberto de Umframvill, Chivaler.
Thomas, &c. Sciatis nos de gratia nostra speciali concessisse, &c. dilecto et fideli nostro Roberto de Umfremvill, Chivaler, quod ipse et heredes sui in perpetuum habeant liberam warrenam in omnibus dominicis terris suis de Fernacres in com. Dunelm. T. Bertramo Monboucher, Chivaler, Johanne Bartram, Chivaler, Will'o de Dalden, Joh'e de Carrow, Simone de Langton, Will'o de Kirkenny, et m. aliis. Dat. Dunelm. per man. Joh'is de Kyngeston, clerici nostri, 5 Dec. A° consecr. 24°.
Pedigree of Liddell, of Farnacres.

* Whickham llegister.
† Lamesley Register.
‡ "I bequeath my golde ring, having the Claxtons' and Jenisons' arms engraven on it, to my grandchild Henry Liddell, of Farnacres."
Fuger House.—Under Hatfield's Survey, this estate is included amongst the free tenancies of the manor of Whickham. "The Earl of Northumberland holds the manor of Fugerhous, containing a hundred acres of land by estimation, by charter, knight's service, and ten shillings rent."
In 1451 Roger Thornton the elder died seized of the waste called Fugerfeld, (for term of life, of the grant of John Duke of Bedford) containing eighty acres, each acre worth 2d. per annum, and held of the Bishop by ten shillings rent (fn. 35). In 1471 Roger Thornton the younger held the same estate (fn. 36), which his daughter Elizabeth carried into the family of Lumley. Richard Lord Lumley died seized of Fugerfield 1511, leaving John Lord Lumley his son and heir (fn. 37). Fugerhouse is now united to the Ravensworth estate, which it adjoins on the North-West.
The following Charter seems to point out the origin of this estate:
Concessio Terrarum juxta Quickham Willielmo de Feugers.
Omnibus, &c. Robertas Dei gratia Episcopus Dunelm. Noveritis nos dedisse, &c. dilecto et fideli nostro Willielmo de Feugers pro homagio et servitio suo sexies viginti acras terræ de vasto nostro extra boscum nostrum de Quicham in Occidentem terræ dicti Willielmi que vocatur Presthill et sic per metas et divisas versus Austrum, harjend. &c. reddendo quatuor solidos argenti ad quatuor terrninos anni, &c. pro omni servitio consuetudine exactione et demanda. Ita tamen quod tempore warecti homines de viceneto illo habeant communam suam in eodem warecto sine contradictione dicti Willielmi vel heredum suorum. Et ut hæc, &c. Hiis testibus, Galfrido Russel tunc Senescallo Dunelm. Rogero Bernard, Ricarclo de Yeland, Rogero de Applingden, Militibus; Alex, de Bedik, Willelmo de Yolton, Johanne de Merlay, Rob. de Ravenesworth, et aliis. Dat. apud Hoveden die Martis prox. post F. Natal. B. Marie Virginia A. D. 1269. Confirmat. per Priorem et Capit. xvii kal. Junii 1273. Reg (fn. 39) I. pars 2. D. & C. Treas.
Swalwell.
Boklon Hook.—The land of Swalwells pays sixteen shillings; William son of Arnald for an assart of six acres pays one mark.
Hatfield's Survey includes the following description amongst the free tenures. The manor of Whickham—"The tenants jointly hold the mill of Swalwells, the fishery there, and the toll of ale, and used to pay thirty-eight pounds, now only xxli."
In 1403—4 (9 March, 4 H. IV.) William de Swalwell, Burgess of Newcastle, released by charter all his lands and tenements to William Redmershall, of Newcastle (fn. 38). In 1411 William, son and heir of William de Swallowelles, quitclaimed all his father's lands in Swallowelles and Whickham to John Fenwyk, Chaplain (fn. 39), a trustee for Roger Thornton, from whom the estate passed to the family of Lumley, and was alienated by John Lord Lumley to Mathew Ogle, Gent. The subsequent descent of the property is so intermixed with that of Axwell, that it is unnecessary to anticipate it (fn. 40).
The modern village of Swalwell (which lies close on the Darwent near its junction with the Tyne) is almost entirely occupied by the iron-works, first established here about 1690 by Sir Ambrose Crawley; (see a fuller account of the whole settlement under Winlaton). Anchors, and other articles of the most massive kind, are manufactured here, besides hoes, shovels, &c. for country use. The villages of High and Low Team (a little to the South-East in the Parish of Gateshead) are also chiefly occupied by iron works.
There is a bridge of three arches over the Darwent at Swalwell, which forms a handsome object from the grounds of Axwell Park.
Pedigree of Shafto, of Whickham and Swalwell.
Arms: Gules, on a bend Argent three mullets Azure; on the sinister chief a cinquefoil Or for difference.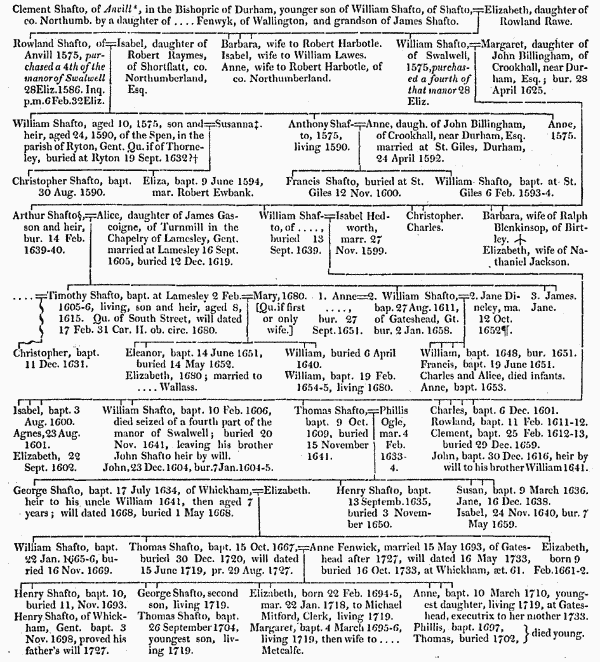 * A single tenement near Lintz.
† William Shafto, of the Eshtree, buried 26 Jan. 1626–7.
‡ Susanna Shafto, of the Spenne, buried Aug. 1598; Blanch Shafto, of Stellay, buried 12 Jan. 1662.
§ Qu. Arthur Shafto and Anne Hely married at All Saints, Newcastle, 14 Jan. 1633—4?
¶ Gateshead Register.
Axwell.
In 1362, William de Birtley held the manor of Axsells of the See of Durham by 13s. 4d. rent, leaving Walran his son and heir (fn. 41). Shortly after, under Hntfield's Survey, "the heirs of Hugh del Redhough held Axsheles, by knight's service and 15s. 4d.;" the same tenure is returned on the death of Hugh son of Hugh del Redhough (fn. 42) 1390. Thomas del Redhough, brother of Hugh, alienated the manor to Roger Thornton, the wealthy merchant of Newcastle, who had a pardon for purchasing without licence in 1411 (fn. 43); the heiress of Thornton (as already frequently stated) Elizabeth, daughter of the younger Roger, intermarried with George Lord Lumley; and in 1511 his grandson Richard Lord Lumley died seized of the manor of Axsheles, held by knight's service and 16s. 4d. (fn. 44)
In 1574, Matthew Ogle, Esq. purchased the manor of Axwell and a tenement in Swalwell from John Lord Lumley (fn. 45), and died in 1599 seized of half the manor of Swalwell with Axwell howscs (fn. 46), leaving John Ogle, of Cawsey, Esq. his heir (fn. 47), who in 1604 (fn. 48) conveyed his capital messuage of Axsheles or Axwell houses, three closes in Swalwell, the Prestes acre, Rose acres, Teadmyres, Peleflatt, Easter dales, Little Spittle meadow, and the Thornes, all within the Parish of Whickham, the mines of coal belonging to the same lands, and the Riding meadow, to Roger Lumley, Gent. a branch of the family of Lord Lumley (fn. 49).
In 1615 (fn. 50), Roger Lumley of Axwell, and John Lumley his son and heir, granted their whole tenement of Axwell houses to William Smyth of Durham, Gent. Thomas Smyth of Walridge, Gent, and Percivall Kenelyside; and in 1629 Smyth alienated the same estate to John Clavering, Alderman of Newcastle, and James his son and heir (fn. 51).
The Claverings re-united some other parcels of the estate by purchase. 29 Jul. 28 Eliz. 1586, William Ogle, then of Bebside, Gent, son and heir of John Ogle, deceased, "in pursuance of former agreements, and for termination of divers differences," granted to William Shafto, of Tanfield, Gent, a full fourth of the manor of Swalwell or Axwellhouses (fn. 52); and by another charter of the same date (fn. 53), he conveyed one other fourth of the manor to Rowland Shafto, Gent, who died seized of the same estate (called a fourth of the manor of Axsheles) 29 July, 30 Eliz. (fn. 54) leaving William his son and heir.
William Shafto, just named, left a son and heir Arthur, who in 1629 (fn. 55) granted his fourth of the manor of Swalwell to John and James Clavering, whose descendants have ever since retained possession. (See Pedigree of Clavering.)
Another branch of the family of Shafto held a portion of the manor at a later date. (See Pedigree of Shafto, of Whickham and Swalwell.)
Pedigree of Clavering, of Axwell.
Arms: Quarterly Or and Gules, a bend Sable.
Crest: Out of a ducal coronet Or a demi-lion issuant Azure.
* Nicholas Register, Newcastle.
† Whickham Register.
‡ Lanchester Register.
* St. Nicholas Register, Newcastle.
† Whickham Register.
‡ Lanchester Register.
§ Ryton Register.
‖ Said in the Baronetages to marry Charles Waite, Gent.
(John Patteson purchased lands in Axwell hawses of Dorothy Lumley, widow, and John Lumley. Thomas Pescodd bought lands of Mr. Roger Lumley in Swalwell. Thomas Grame and George Patteson, bought lands of Mr. Roger Lumley (fn. 56).
Thomas Surties, Esq. of Newcastle, holds a messuage, garden, and two tofts in Swalwell and Whickham, "jure uxoris" which were Mathew Matfen's, being a third part of Dixon's lands. (fn. 57) )
Old Axwell lies to the South of Darwent; part of the old manor house, and of its barns and offices, are still standing a little to the West of Clockburn Lane.
Axwell Park, the beautiful modern seat of the Claverings, lies on the North of the Darwent (fn. 58). The house, built by the late Sir Thomas Clavering from a chaste and elegant design of Payne's, stands open but not exposed, in the midst of a soft wooded park, which slopes gently to the Darwent, and is diversified by perpetual swells and undulations of ground. The Southern view overlooks the rich enclosures and hanging woods of Gibside; the East front commands a view of Darwent Bridge, and extends over part of the vale of Tyne, Newcastle, and the heights of Gateshead.
Hollinside.
Hollinside lies to the West of Old Axwell, and to the East of Gibside, to which estate it is now united.
In 1317 Thomas de Holinside granted his manor of Holinside to William de Boineton, of Newcastle, and Isolda his wife (fn. 59); the local name occurs no more, and the estate was soon after in possession of the Redheughs. In 1391 Hugh, son and heir of Hugh del Redheugh, Chivaler, died seized of two thirds of Holynside, leaving Thomas his brother and heir (fn. 60), who succeeded to the remaining third on the decease of Agnes, widow of Sir Thomas Beke, and of Sir Hugh del Redhough, in 1396; the whole manor was held of the Bishop by knight's service and 6s. 8d. rent (fn. 61). The estate was again alienated soon after, for it is omitted in the Inquisition on the death of Thomas, brother and heir of Hugh, in 1413 (fn. 62); and long after the date of the transaction, a pardon appears to Roger del Outhe, for having purchased the manor of Thomas, son and heir of Hugh de Red-hough, and licence to settle the same estate on himself and his wife for life, remainder to his daughter Elizabeth and her husband Roger Hardyng (fn. 63); and failing their issue, to his second daughter Thomasine, with remainders over to Roger Thornton, Esq. and to Henry Earl of Northumberland (fn. 64).
Richard Harding, son of Roger and Elizabeth, and grandson, as it should seem, of Sampson Harding, one of the Justices itinerant, had livery of the manor of Holynside in 1491. About the beginning of the 17th century, his descendants were falling into poverty and mortgage. In 1621, Ralph Harding, Gent, (on whose estate Katharine Radclyffe, a rich spinster, of Mulgrave Castle, held a mortal grasp) settled his lands, Hollingside, Ridinghouse, and Riding field, on his kinsman and male heir Robert Harding, of Whickham, who undertook to satisfy the debts, and provide for the maintenance of two aged sisters of the settler; but whether it were owing to the heavy incumbrance of the Spinster, or to that general species of mismanagement which almost invariably urges on the fate of a loaded and embarrassed property in the hands of ancient gentry, from this time the "after voyage" of the Hardings "was full of shallows and of miseries;" the family was scattered, not extinguished; and the estate fell about 1730 to the family of Bowes by foreclosure of mortgage and subsequent conveyance, and is now united to the Gibside estate.
The remains of the old house of Hollinside stand on a warm bosky bank above the Darwent. The walls of the building are of great thickness, and many of the windows still retain their stone mullions; one apartment (to the West) has very much the appearance of a domestic Chapel. The whole bank about Hollinside is wild and woody; the holly springs up every where with native luxuriance, and before the
Clockburn Lane, a deep narrow road leading through the ravine on the East of Hollinside, is pointed out as the track by which Cromwell marched with his artillery to cross the Derwent at Winlaton ford, on his Northern route in 1650.
The following Charter affords the origin of the name; the little rivulet which turns the Clock mill seems to be called the Dene burn.
Sciant presentes et futuri quod ego Thomas de Holynsyde dedi, &c. Will'o de Boineton, de Novo Castro super Tynam, et Isolde uxori sue, manerium meum de Holinside cum omnibus terris meis dominicis et serviciis liberorum tenentium una cum molendino meo aquatico quod vocatur Clokinthenns sito super Newes Denborn cum secta ejusdem et totam piscariam rneam in aqua de Derewent Et ego, &c. Hiis testibus, Dom. Richardo Marmeduk tunc Seneschallo Ep'atus Dunolm. Ricardo de Stanlawe Vic. Dunolm., Dom. Roberto de Hilton, Roberto de Nevill, Walt'ro de Wessington, militibus. Jobanne de Britteley, Johanne de Bedik, Ranulpho de Merley, Will'o de eadem, Johanne de Fernacres, et aliis. Dat. apud Holinside die dominica prox. ante F. S. Cuthberti in Mart. Anno gracie 1317, et A° R. Edivardi filii Regis Edivardi undecimo (fn. 65).
The Riding. Noverint, &c. quod ego Robertus de Langeton dedi, &c. Thome de Langeton nepoti meo totam terram meam de Novo Rydynge in Parochia de Quicham quam habui de dono Ricardi de Leycest'r quondam Domini mei. Dat. apud Manton die L. prox. post F. S. Job. ante Port. Lat. A° 19 Edw. filii Regis Edw. T. Johe de Birteleye, Thoma de Vaus, Rad'o Clerico de Quicham, et aliis (fn. 66).
Sciant, &c. quod ego Thomas de Langeton, clericus, dedi Thome de Birteley, et Amabille uxori ejus omnia messuagia mea et tenementa in le Ryding in villa de Merleye. T. Will'o de Merleye, Johe de Guldeford, Walt'ro fratre suo, Ric. fil. Galfr. de Ravensworth, Joh'e fil. Philippi, Ric. fil. Gerardi de Hedley (fn. 66).
The Riding is afterwards mentioned as united with Hollinside (fn. 67).
Gellesfield, or more anciently Gellesrideing, is included in a settlement of the Gibside estates 13 H. VIII. 1522 (fn. 68). 26 Sept. 1578, William Blaxton, Esq. leases to Cuthbert Hunter, of Newcastle, merchant, "all his coal pytts and mynes in Gellesfield, with a convenient way through the said field to the water of Darwen," (which ground of Gellesfield bounders on the Rydyng field, South, the Crosse moor, North, Whickham Common, West, and Hawkden, East) for fifteen years at 10l. rent, reserving the fourth of every pit sunke to be let at will, "doing all neighborhode as is accustomed at the working of coles." 20 Jan. 14 Jac. William and Ralph Blakiston, of Gibside, Esqrs. settle half the close of Gellesfield and half the mines on the marriage of Nicholas Blakiston, second son of William, with Jane Porter, of Shieldrow (fn. 68); and 3 June 1645, Sir Ralph Blakiston, Bart. grants a fourth of Gellesfield Colliery to his brother John Blakiston, Gent. (fn. 68) Gellesfield afterwards became the estate of the Brignells (fn. 39).
Ex scripto fide digno nobis ostens. apud Dunelm. die Martis 9 Aug. 1575.
Robertus dei gracia Rex Scotiæ omnibus, &c. salutem. Cum nos accepimus apud villam nostram de Perthe die confectionis presentium inter Henricurn Hardynge Anglicum appellantem de armis de Gowles cum tribus leporariis de auro citrrentibus collard de Azure et Willielmum Seynt low Scotum appellantem de cisdem armis sine differentia indutis, quo quidem duello permisso predictus Willielmus se finialiter reddidit devictum predicto Henrico remisitq. relaxavitq. et omnino de se et heredibus suis inperpetuum predicta arma cum toto triumpho honore victoria et gloria in audiencia nostra. Quare nos in solio nostro pro tribunali regali stipatus magnatibus Dominis regni nostri personaliter sedentes adjudicavimus et finaliter decretum dedimus per presentes quod predictus Henricus Hardyng et beredes sui de cætero inperpetuum habeant et teneant et gaudeant predicta arma integraliter absque calumpnia perturbatione contradictione nec reclamatione predicti Willielmi seu heredum suorum. In cujus rei testimonium has literas nostras fieri fecimus patentes apud predictam villam nostrarn de Perthe Anno regni nostri septimo A° Dom. 1312.
From a copy of Flower's Visitation of Durham in Coll. Arm. and another copy, 1540 Harl. Mus. Brit.
Pedigree of Harding, of Hollingside.
Arms: Gules, three greyhounds current Or, collared Azure.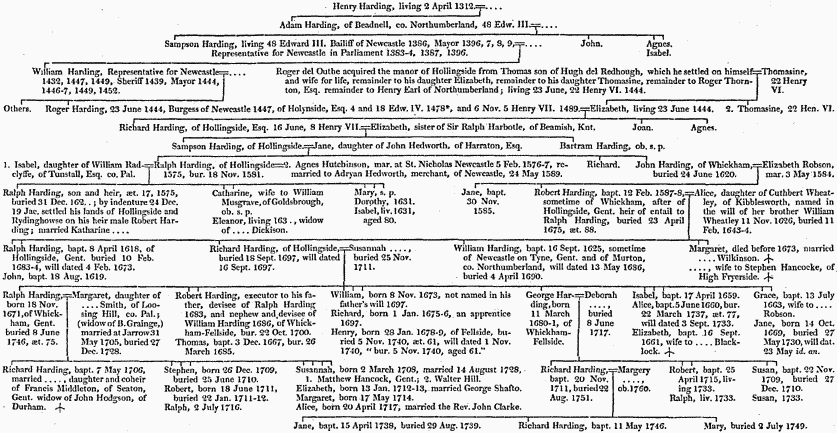 *** The dates, unless otherwise stated, are from Whickham Register throughout.
Besides the persons noted in the pedigree, Robert Harding occurs Sheriff 1473; Robert Harding, Sheriff 1491, William Harding Sheriff 1513.
Gibside
Gibside lies on the Dorwent to the West of Hollinside.
Gibside and Marley Hill, mentioned neither in Boldon Book nor Hatfield's Survey, were the ancient estates of the Marleys, held of the See of Durham in the time of Bishop Bury, by homage, fealty, suit of court, and one mark exchequer rent (fn. 70).
In 1384 Richard de Merley granted his manors of Gybset and Hedley, and his vill of Merley, to Alice de Masham, (whose degree of consanguinity to the grantor is not stated) and on the death of Alice in 1415, the estates reverted to her grandson Robert, ancestor of a second line of Merleys, who held Gibside till 1540. In 1534 the last Richard Marley contracted his daughter Elizabeth to Roger Blakiston, son of William Blakiston of Coxhow; and four years later, the same Elizabeth, then wife of Roger, and then aged only sixteen, was returned heir to her father (fn. 71).
Some of the articles of the marriage contract of Roger and Elizabeth are curious: "the charges for and abowte the said mariage are to be borne indefferentlie betwene the parties;" then, Richerd Marley and Sir Thomas Tempest, Knt. of Holinside, (who had some unexplained interest in the estates) are to pay yearly forty shillings, "towardes the fyndyng and exhibicion of the said Elizabeth," and after the death of Richard, and during the life of Sir Thomas, "sche schall have four pounds more;" Richard Marley is to be allowed to dispose by will of twenty markes and no more for his funerall expences, and for the advantage of his soul. If Elizabeth die having issue, her husband is to have the whole estate for life; if she leave no issue, he is to enjoy only twelve pounds per annum for life, "in recompence of his mony paid for the said maryage;" and if, lastly, Elizabeth die "before yeares of consent, or if the match be broken off by any occation of the said Elizabeth," then William Blaxton (father of the intended Bridegroom) shall have "parcel of Marlay's lands to the clere value of xli," till he receive the whole sum of cxxli in satisfaction of such sums "as he schall have paide for the premisses." Richard Marley shall not hereafter alien, wadsett, or putt away, any parcel of his inheritance; and if Marley Hill be recovered by the death of Elizabeth late wife of Roger Marley, and now of Robert Rawe, then Roger and Elizabeth shall be farmers thereof, paying x marks yerely, "which is the auncient rent of the say me." Lastly, whereas certain indentures between the parties have been made in haste, which "apone the hasty goyng to London to the Parliament of the said Sir Thomas Tempest, (whyche hath had the whole ordre of the premysses) cannot well be amended;" the said Sir Thomas promises "upon his wurship and honestie to cawse the same to be amendyd, accordyng to the trew intent of the parties."
Roger Blakiston, who thus acquired the estate by marriage, was father of William, who in 1607 (fn. 72) devised to his nephew, another William. Ralph Blakiston, son and heir of the second William, suffered severely for his loyalty to Charles I. (fn. 73) and was created a Baronet in 1644. Sir Francis Blakiston, younger son of Sir Ralph, (and heir to his elder brother William) died in 1713, leaving an only surviving daughter Elizabeth, who had intermarried with Sir William Bowes, of Streatlam Castle. George Bowes, Esq. son of Sir William, many years a very popular representative for the County of Durham, made Gibside his principal seat. His grandson, John Earl of Strathmore, is the present proprietor (fn. 74).
It is not easy to convey any adequate idea of the magnificent woodland-scenery of Gibside. The best point of general view perhaps is from Bryan's-leap. Woods, venerable in their growth, and magnificent in' their extent, sweep from the height of the hills to the brink of the Derwent, intersected by deep irregular ravines, and relieved by plots of open pasturage. The whole landscape, to use a painter's phrase, is touched in a broad free stile, and the few artificial objects introduced are sufficiently grand and distinct not to disgrace the noble scenery which surrounds them. Across the Derwent a cultivated country, sloping gently to the water, and variegated with enclosures and scattered woodland, forms a fine bright contrast to the deep forest-masses which almost darken the Southern hank. The house of Gibside stands retired on the Derwent, the chief approach descends for a mile through the forest. On the North a terrace only intervenes betwixt the house and the steep descent into the Lady Haugh, a deep rich area of pasturage, surrounded by a rapid sweep of the Derwent. The South front has been nearly rebuilt in a stile uniform with its ancient architecture, embattled, with deep bay windows, divided by stone-mullions and transoms (fn. 75). In the interior the old drawing-room remains entire. Terms of Sampson and Hercules support a huge mantle-piece, above which are the arms of, the founder of the mansion, Sir William Blakiston, in the reign of James.
The drawing-room contains some excellent paintings (fn. 76), particularly the large piece of Rubens' wife whilst pregnant, in a fruit-shop. The languid, sickly, expressive countenance of the woman (who seems pregnant jusq' au doigts), is rivalled by the keen curiosity manifested in the face of the other principal figure, the hook-nosed, wrinkled old mezza-ruffa whom she is addressing. The collection of fruit is infinite. A monkey is climbing up and oversetting a basket of peaches. This piece cost George Bowes, Esq. 1500 guineas.
A poulterer's shop with dead game, has, perhaps, almost equal merit. The game and a fine rough greyhound are by Snyders, the two human figures by Rubens.
There are several family portraits, of which the principal are: Sir Martin Bowes (fn. 77), three quarters length, black furred gown, a glove in the left hand, a staff in the right; he has a ring on each fore-finger, one seems to include a signet with the arms of Bowes; on the frame is inscribed, "The gift of the Right Honourable Arthur Onslow, Esq. Speaker of the House of Commons."
A portrait, three quarters-length: a stern countenance, pale, dark complexion, and brown bushy beard, black velvet cap, ruff, and dark dress; the hand on the pommel of the sword. Arms of Bowes, anno 1572, ætat. 45. There is another three quarterslength, apparently of the same personage, with the Order of the Fleece; black upper vest, slashed and adorned with fringe and tassels, light vest, and sleeves of a sort of grey or slate colour, a ruff, and black hat; the right hand on the sword-hilt. This personage is generally called Spanish Bowes (fn. 78).
The Column. A Doric pillar, a hundred and forty feet in height (fn. 79), surmounted by a colossal figure of liberty, (the height twelve feet) rises over the woods Eastward of the house, and forms a striking object from the North side of the Derwent, from hence a broad walk or terrace leads a mile Westward to the Chapel, a handsome building, with a dome and portico, intended by George Bowes, Esq. as a chapel and mausoleum. The Earl of Strathmore has completed this structure (fn. 80) as a place of worship, and has endowed the Donative of Gibside with a farm of land worth nearly 100l. per ann. at Laydonfield, in Ravensworth, and 1500l. 3 per cent. stock, vested in trustees, with part of which it is intended to build a residence for the Minister. A plot of ground is enclosed for a burial place. The Chapel was consecrated by the Bishop of Durham, 30 July 1812. The Rev. James Blackburn. A. M. Vicar of Gainford, late Fellow of Trinity College, Cambridge, is the first Chaplain.
Pedigree of Blakiston, of Gibside.
ARMS : Argent, two bars Gules, in chief three cocks of the second.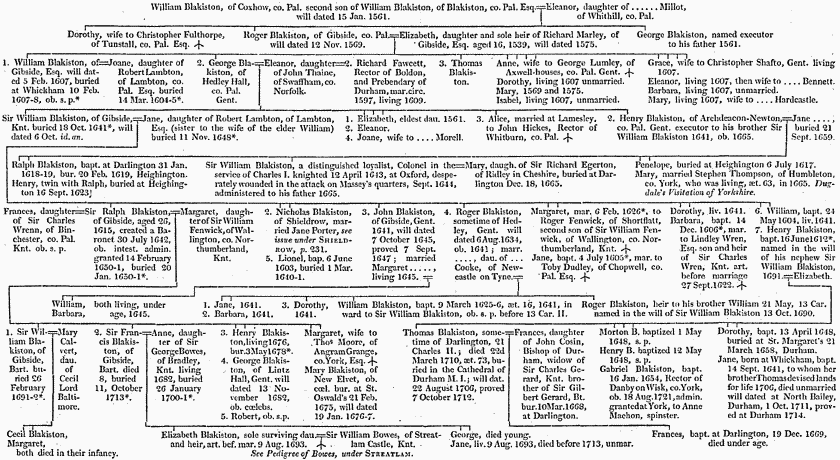 * Whickham Register.
Marley Hill lies to the South of Gibside. In 1380, Gilbert de Merley held the vill of Merley, by homage, fealty, suit of court, and 66s. 8d. exchequer rent (fn. 81).
Carta Willielmi de Merleye.
Sciant presentes et futuri quod ego Willielmus de Merleye frater et heres Ranulphi de Merleye dedi, &c. Thome de Langeton clerico totam terram meam inter terram suam que vocatur Gellesrydyng sicut fossatum ex parte australi juxta viam regiam quæ ducit versus Novum Castrum se extendit per nomen petarii de Merleye, et octo acras suas in le Morlandes in campis de Merleya, ac eciam totam terram meam sicut fossatum idem ab illis octo acris ex parte occidentali se extendit usque ad vetus petarium de Merleye et terram suam de Rydynge, reddendo medietatem libre cumini ad F. S. Cuthb. in Sept. pro omni servicio seculari. T. Job. de Briteley, Thoma fratre suo Joh. de Gildeford, Hugone de Bolton, Walt'ro de Grenelawe, Will'o Freman de Quicham, et aliis (fn. 82).
Pedigree of Marley, of Gibside and Marley Hill.
Arms : Argent, a chevron inter three martlets Sable (fn. 83).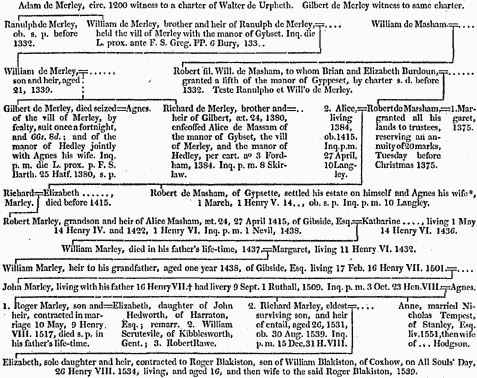 * Sciant, &c. quod ego Robertus de Masham dedi, &c. Mag. Will'o Tarte Rectori Eccles. de Whlkham, tot. mancrium meum de Gybsette, ac omnia, &c. quæ habeo in Episcopat. Dunelm. una cum reversione terciæ partis, &c. quam Alicia de Masham mater mea tenet nomine dotis. T. Will'o Tempest mil. Will'o Gategang, Will'o de Lambton, Johanne de Ravynsworth, Joh. de Gelforth, et aliis. Dat. apud Gybsette 2 die Mart. 1 Henry V.
† 17 Feb. 16 Henry VII. William Marley, Esq. and John Marley his son and heir, demise to Roland and William Forster half the Ladyfeld in Ravensworth, and half of Geliansflatt in Lamesley, 20s. 8d. rent, for thirteen years; and the tenants shall have "beldyng tymber in the wodds of Gibsyde for th' upholdyng the howsings and closings."
Byermoor, to the North of Marley Hill, hear the extreme Western boundary of the Parish of Whickham, and adjoining Briansleap in the Chapelry of Tanfield.
Byermoor appears to have been held by the Gildefords, already mentioned under Collierly; by John de Gildeford in 1385 (fn. 84), by his son John de Gildeford in 1429 (fn. 85), when it is described as Biermore juxta Morley, containing eighty acres of arable, five of meadow, forty of moor, and ten of woodland; it afterwards passed by Joan, the heiress of the Gildefords (fn. 86) to the Hogesons, and was successively held by Thomas (fn. 87) Hugh (fn. 88), and George Hogeson. In 1566, the estate descended to the coheirs of Richard Hodshon. The whole tenure was re-united by purchase in the family of Harrison; and in 1617 William Harrison died seized of the Byermore, (containing a messuage, a hundred acres of arable, as many of meadow, twice as much pasture, forty acres of woodland, and two hundred of moor, held by the 20th part of a knight's service (fn. 89) ) leaving William Harrison his son and heir.
Pedigree of Harrison, of Biermoor and Brian's leap.

* Tanfield Register.
† Whickham Register.
‡ By his said last will he left 100l. to the poor of the Chapelry of Tanfield, 100l. to Ryton, 100l. to Whickham, 100l. to Gateshead, 100l. to Chester-le-Street Parishes, and 100l. to the Chapelry of Lamesley.
a Margery Robinson had issue Robert Robinson, of Burnopfield.
b Mary Cheesebrough had issue John, Ralph, and Anne, who all died s. p.; and Elizabeth, who married Richard Scafe, and had issue William Scafe and Mary. (See pedigree of Hancock.)
c Elizabeth Rawe had a daughter who married Roger Fewster, and had issue William Fewster, and Eleanor, wife to John Bartflower. On the decease of John Harrison without issue, Robinson, Scafe, and Fewst'er, inherited his estates as heirs at law. Title Deeds I. Scafe, Esq.
Charitable Donations to the Parish of Whickham
The Right Reverend Thomas Wood, Bishop of Litchfield and Coventry, (and sometime Rector of Whickham) by will dat. 11 November 1690, gave (amongst many other charitable bequests) as follows: "I give unto the town of Whickham in the Bishoprick of Durham, 100l. besides the 100l. formerly given by me, and both to be layed out unto trustees upon a rent charge for the use of the poor there for ever; and I will that Sir James Clavering, Baronet, James Clavering his grandson, Sir William Blakiston, and Richard Harding, of Hollingside, in the County of Durham, Gentlemen, see the same settled accordingly." Both these sums are in the hands of Sir T. H. Liddell, Bart, at 5 per cent.
By will dat. 1687, proved 1696, Ralph Harrison, of Bryanslope, Gent. left 100l. to the poor of the Parish of Whickham, to be placed at interest for their benefit (fn. 90).
By will dated 6 Dec. 1697, Sir James Clavering, Baronet, gave "every Sunday at twelve after divine service to 24 poor people, 24 penny loaves; 24 coats, petticoats, and Waistcoats of grey russett, to 24 poor men, women, or children, on St. Andrew's day, the 30th of November yearly. 1726, "upon the much lamented death of her only and hopeful son, Sir James Clavering, Baronet, (on the 18th day of May 1726, in the 18th year of his age) Lady Clavering gave to the poor of this Parish 100l., to be put out at interest, or laid out in lands by the Rector and Churchwardens with the consent of the vestry; and the interest or produce to be distributed yearly at Christmas, among such workmen and their families as are the greatest objects of charity and are not in the poor books." [Six pounds is annually paid; as the interest of this sum, by the Marquisses of Bute and Hertford.]
Mrs. Jane Blakiston of the North Bailey, by will dat. 1 Oct. 1711, left 100l. to the Parish of Whickham where she was born, for a fund for instructing poor children. This legacy was paid by Mrs. Blakiston's Executors to the Rev. Dr. Thomlingson, Rector of Whickham, who made such additions to it, as established a charity school, where thirty-six children were educated (fn. 91). (See Dr. Tomlinson's Epitaph, p. 240.)
By will dat. 1725, Samuel Hancock, Gent, left to his cousin Ralph Harding, of Hollingside, Gent, four riggs in the low field bank in Barnard Castle, and two butts over the way in the said field, on trust for the poor of Whickham, in recompence and satisfaction of all poor monies charged or to be charged on his estate in Whickham; but if any such monies are charged, then the said trust to cease; he also devised to his cousins Robert Robinson, of Briansleap, and Mathew Hancock, of Upper Friafside, Gents. a close at Westwick in the County of Durham, for the use of the poor of the Chapelry of Tanfield, on like conditions (fn. 92).)
John Huett, who died 3 Dec. 1738, devised 100l. to charitable uses; viz. the interest of 30l. to be applied in buying bibles and other books for the use of the free school in Whickham, and the interest of the remainder to be employed in binding out annually two apprentices from the same free school. Also 20l. of which the interest is to be applied in clothing the poorest scholar in the free school at Christmas. These sums are in the hands of Sir T. H. Liddell.
The Earl of Strathmore distributes annually on New Years Day an ox and a proportionate quantity of bread. 10l. per annum, a house, and school-room, are allowed by the Earl of Strathmore to a person teaching school at Whickham Fellside (fn. 93).
"There belongs to the Church of Whickham a piece of ground adjoining the Churchyard, containing about four acres, of the yearly rent of 8l. received by the Churchwardens, and expended on the repairs and ornaments of the Church." Terrier, 1788.