Pages 284-297
The History and Antiquities of the County Palatine of Durham: Volume 2, Chester Ward. Originally published by Nichols and Son, London, 1820.
This free content was digitised by double rekeying. All rights reserved.
CHAPELRY OF MEDOMSLEY.
The Chapelry of Medomsley is bounded on the North by the Darwent, dividing it from the Parish of Ryton; by the Pontburn, separating it from Tanfield Chapelry and from Lanchester, on the East; by Lanchester on the South-East and South, by the Parish of Muggleswick on the South-West; by the Darwent, dividing it from Northumberland, on the West; and by the Chapelry of Ebchester on the North-West.
The Chapelry includes three Constableries: 1. Medomsley, with Bradley, Byerside, Darwencote, and Hamsterley; 2. Benfieldside, including Snows-Green, Shotley Bridge, the Law, and other tenements; 3. Conset and Knitsley.
Medomsley,
A village on high ground, commanding an extensive view over the vale of Darwent and the distant hills beyond the Tyne.
Boldon-Buke—Medomsley pays xxiis. Medomsley was therefore at this period a free manor, held by a monied rent. At a subsequent period Ranulph de Medomsley and William Dominus de Medomsley appear as frequent witnesses to the Iveston Charters (fn. 1). The latter was not improbably ancestor of the Feltons, who appear as owners of Medomsley [and of the adjacent manors of Bradley and Hamsterley] at the date of the earliest Inquisitions in the Durham Chancery. In 1360 William de Felton, Chivaler, died seized of the vill of Medomsley, held by homage fealty and 4s. exchequer rent; and of the manor of Hamsterley, near Medomsley, by 4l. rent. William his son and heir (of full age in 1360) (fn. 2) held at his death, in 1367, the whole of both manors (except Tailbois lands and Haddam's lands). There are two conflicting inquisitions on the decease of this younger William, varying both as to the heir and the tenure of the estates. The one states the two vills to be held by 100s. rent, and names John, brother and heir of William, as next of blood (fn. 3). A second Inquisition (fn. 4) states more correctly, that Medomsley paid xxivs. and Hamsterley ivl.; but returns William, and Robert son of Agnes Swyn-burn, sisters' sons, and heirs of William, omitting all mention of John de Felton. A third Inquisition, taken four years afterwards (fn. 5), sets the matter at rest by reciting an entail created by Robert de Felton, under which John, brother of the half blood to the last William, succeeded as heir under the limitations, to the exclusion of Agnes and Alianor, William's sisters of the whole blood. This last John de Felton, Chivaler, died in 1395 (fn. 6), leaving a son and heir, John, who died under age, and a daughter, Elizabeth, who carried the estates into the family of Hastyngs. Edmond Hastyngs, the husband of Elizabeth, by charter, dated 24 Jan. 1444–5, (23 H. VI.) (fn. 7) settled two parts of the manors of Medomsley and Hamsterley on his grandson Edmond Hastyngs, with remainder to his own younger son William Hastyngs, in tail male. Edmond, who was heir to his grandfather in 1448, left a son and heir, Roger Hastyngs, Knt. of Fenwick Tower (fn. 8), who sold his manor and vill of Medomsley before 1 Aug. 1490 (fn. 9), to George Carr, merchant, of Newcastle, ancestor of Carr, of Cocken (fn. 10).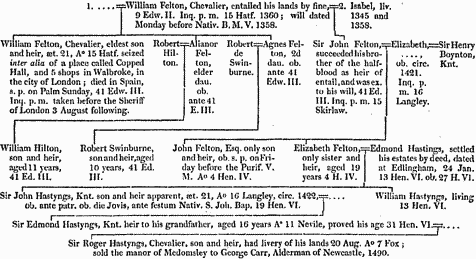 Ralph Carr died seized of the manor of Medomsley, in 1603 (fn. 11), and the estate was still in the possession of his grandson, Ralph Carr, Esq. in 1656.
More than one branch of the family of Hunter have long held property in Medomsley. The mansion-house of John Hunter (fn. 12), of the Hermitage, in Northumberland, Esq. stands towards the East end of the village; that of General Hunter stands towards the West, nearer to the Church (fn. 13).
27 Eliz. 5 Mar. 1584–5, Robert Hull, Gent. grants a messuage in Medomsley to Thomas Hunter, for 36l. 4d; and another messuage to John Hunter, for 35l. 13s. 4d.; and 16 March another messuage to Cuthbert Backworth, of Shotley Bridge, yeoman, and Isabel his wife; and another to John Backworth and Oswald Baker, of Durham; and yet in the same year another messuage to Raphe Hunter, yeoman. 12 Feb. 39 Eliz. John Hunter died seized of a tenement in Medomsley, held by knight's service, value 20s.; ob. 26 Oct. John, son and heir, æt. 26. 11 Sept. 4 Jac. John, son and heir of Thomas Hunter. 2 Aug. 18 Jac. Anthony, son and heir of Raphe Hunter, set. 29. 20 Sept. 7 Car. 1631, Andrew Hunter a messuage and ten acres in Medomsley, by feoffment, of Robert Hull, Gent. ob. 4 Nov. 1626, Cuthbert son and heir, æt. 42.
By Indenture 20 May, 30 Eliz. 1588, Thomas Cowper, of Clifford's Inn, Gent. for 25l. granted to George Lawson, of South Sheeles, Gent. and to Eleanor, late wife of William Lawson, of Norm Sheeles, Gent. all the messuage and tenement in Medomsley [and Kib-blesworth] which Cowper purchased of Sir Henry Weston, of Sutton, in Surrey; and 12 Jan. 1588–9, George and Eleanor Lawson grant the same premises to Andrew and Thomas Hunter.
The Almoner of the Church of Durham held some small parcels in Medomsley at a very early date. The two following charters occur in the Liber Elemosinarii, pp. 16–18. (Mickleton's MSS. Vol. 28):
Universis, &c. Ricardus de Loces. Noverit universitas vestra me de voluntate Quenilde uxoris mee et Wilti heredis sui dedisse, &c. Deo et S. Cuthberto et domui elemosinarie ejus in puram et perpetuam elemosinam pro anima patris et matris mee et pro salute anime mee et uxoris mee et predicti Willelmi heredis sui quindecim acras terre in campo de Medmesleia que jacent propin-quiores terre de Ebbecester-dene versus occidentem et unam dimidiam acram in tofto et crofto, scilt propinquiorem terrc quam Will'us de Herdwic predicte domui elemosinarie dedit. Quare, &c. Hiis T. Americo Archidiacono Magro Walt'ro Decano, Magro Johanne de Lundoniis, Magro Walt'ro de Hadĩgtone, Magro Alano de Richemund, Leonio de Heriz Vicecom. Will'o fil. Will'i Venatoris, Jordano Escolland, Gilberto de Leia, Ranulfo de Fisseburna, Will'o de Laton, Alano Puignant, Ricardo de Ivestan, Rand. Fforster, Will'o de Linch, Roberto Bret, Samuele filio Ededric, Johanne Clerico, Giluelo de Escolland, et m. aliis.
Ommibus Will'us fil. Will'i Venatoris. Noverit. &c. me pro salute animæ patris mei et matris mee Quenilde, et mei, concessise et confirmasse donac'nem quam Ricardus de Loces, &c. scilt quadraginta acras in campo de Medmeslei cum comuni pastura ejusdem ville et cum tofto et crofto. T. Americo Archidiac. &c. [Several of the same witnesses as to the former charter.]
The Church
Consists of a nave and chancel of equal width, without ailes or tower. There are no lights on the North; the nave has two double and one single narrow light on the South, and one small light to the West. There are two small pointed windows, and one double narrow light on the South of the chancel. The East window is formed of three lancet lights, and in the inner wall betwixt them are slender shafts or pillars, belted in the midst, with round bases and capitals. These, as well as the remains of corbeils and ornaments scattered over the chancel, seem to prove that this part of the structure was sometime more highly ornamented—probably whilst a dependent Chapel on the College of Lanchester. A sort of decorated niche is closed up in the South wall. The chancel opens from the nave under a pointed arch, springing from corbeils. The font is an old stone basin with round mouldings, resting on a stone shaft and square pedestal.
Monumental Inscriptions.
On a mural tablet of marble on the North wall of the Chancel:

Near this place
are deposited the remains of
John Hunter, Esq.
and Elizabeth his wife,
Who was daughter and one of the coheirs of
Timothy Whittingham,
of Holmside New Hall, Esq.
She died January 28, 1767, aged 42:
He died January 3, 1781, aged 81
They left issue two sons and one daughter,
viz. John, George, and Margaret.
Margaret died March 24, 1788, aged 24,
and was also interred here.
Arms, Gules, on a fesse Or three buglehorns Sable inter three stags' heads erased of the second. On an inescutcheon of pretence Or, on a fesse Azure. . . . Crest, on a a buck's head erased Or.
On slabs near the West end of the Nave:
Peter Hunter, dyed November 9, 1726.
Here lies the body of Jane, daughter of Robert Hunter, of Medomsley, who departed this life Feb. 16, 1738, aged 18 years.
In the Church-yard, on an altar-tomb, near the South Chancel wall:
Here lyeth the body of John Stevenson, Gentelman, lord and master of Bierside, who departed to the marcy of God the 17th day of September, in the morning, and was buried the 18th day, at night, año Dom. 1639.
Hear lieth the body of Ambreas Stevenson, of Bierside, younger, departed this life the sixt day of October, in the year of our Lord God, 1689.
On an altar-tomb :
Here lyeth the bodies of Emanuel Walton, of Bradley, and Ambrose his son: the said Ambrose departed this life December the 24th, aged 28; the said Emanuel departed April the 5th, 1726, aged 56. Here lieth the body of Eliner, wife of Emanuel Walton, departed this life Septr the 2d, 1748, aged 82. Also William Walton, son of Emanuel, who departed this life the 13th January, 1754, aged 51. Barbary Walton, daughter to Emanuel Walton, departed this life July the 23d, 1737, aged 31.
In the Church-yard are two old stone coffins, of the usual shape. One bears a sword suspended from the cross. The other is ridged, and one side bears an inscription, which may be doubtfully read . . . . Mater Dei, miserere mei.
Curates.
Medomsley, Perpetual Curacy, in the Deanery of Chester, not in charge, pays no first fruits nor procuration.—Patron, the College of Lanchester olim, now the Bishop of Durham.—Dedication of the Church to St. Mary Magdalen.
Robert Wright, occurs 1501.
John Crosby, 1561.
William Strudish, 3 May, 1564.
Sir George Thompson, 14 Aug. 1566.
John Graunger, 22 July, 1578.
Myles Watmough, 7 Feb. 1582.
George Wrightson, occurs 16..
Andrew Leach, A. M. lic. 19 Dec. 1635.
Christopher Collison, clerk.
Jonathan Jefferson, cl. 26 July, 1736, p. m. Collison.
William Ellison, A. M. 1784, p. m. Jefferson.
The Parochial Register begins in 1607. "A Register Booke," &c. for which the churchwardens Anthony Hunter, George Curry, Thomas Merley, and Robert Richardson disbursed "for the parchment, sixtene grotes; and for the covering and byndyng, two shillings and sixpence. Paid unto the hands of John Hall, of Gonsett, Gentleman."
1622. John Stephenson, innosant, buried the 20 December. William Elrington, Gent. who lived at Espersheales, in ye parish of Bywell, died at Ebchester, and was buried at Shotley Bridge, March 5, 1700–1.
Christopher Hunter, M.B.—Christopher Hunter was the only son of Thomas Hunter, of Medomsley, Gent. by his second wife Margaret Readshaw (fn. 14). He was born . . July, 1675, and was sent at an early age to the Free Grammar School of Kepyer, in Houghton-le-Spring (fn. 15). At the age of eighteen he was removed to the University of Cambridge, and was admitted Pensioner of St. John's College in 1692, under the tuition of Mr. Thomas Brown (fn. 16), and of the eminent scholar and antiquary Thomas Baker (fn. 17), whose sister Margaret was the wife of John Hunter, Christopher's elder brother. Distinguished by regularity of conduct and a severe attention to his academical studies, young Hunter soon became a favourite pupil of Mr. Baker; and it may seem probable that from this connection with the venerable antiquary of St. John's, he either imbibed or confirmed that genuine taste for antiquarian pursuits, which, if it did not open the path to worldly profit or distinction, afforded at least a rational and innocent source of amusement during the literary leisure of a long and tranquil life. Mr. Hunter took his degree of B. M. in 1698. He soon after retired to his native country, and fixed himself in medical practice (fn. 18) at Stockton on Tees. In 1702 he was married at Durham Abbey, to Elizabeth, one of the two daughters and coheirs of John Elrington, Esq. of Espersheales. With this lady Dr. Hunter received a considerable landed estate, and he had also a very handsome provision settled on him by his father. To these resources were added the emoluments' of a respectable practice; yet, with the very common fate of literary men, Dr. Hunter seemed destined never to be rich. Like poor Anthony à Wood, "heraldry, [musick, and painting] did so much crowd upon him, that he could not avoid them; and could never give a reason why he should delight in those studies more than in others, so prevalent was nature, mixed with a generosity of mind and a hatred to all that was servile, sneaking, or advantageous for lucre sake". (fn. 19) A few years after his marriage, Dr. Hunter removed from Stockton to Durham, a place much more congenial probably to his habits, both as to society and as to the facilities which he found in indulging his antiquarian taste. Here he revelled in abbey-legers, registers, and chartularies. The library of the Dean and Chapter, stored with sound history and topography, and with expensive books of reference, stood open to him (fn. 20). He corresponded with Gordon, Lister, and Horsley (fn. 21); and he discovered coins and excavated altars (fn. 22); and traced roads and stations at Lanchester and Ebchester. Dr. Hunter had now seriously conceived the idea of compiling a history of the Diocese of Durham; and in 1743 he published proposals for printing by subscription, in two Vols. 4to. "Antiquitates Parochiales Dioces. Dunelm. hucusque ineditæ;" collected from the archives of the church of Durham, the Chancery Rolls there, and the Records in the Consistory Court. With a view probably to the completion of this work, Dr. Hunter was entrusted by Thomas Bowes, of Streatlam, Esq. with the Bowes Papers (which are yet unpublished), containing the correspondence of Sir Robert Bowes, Elizabeth's Ambassador in Scotland, and his brother Sir George Bowes, Knight Marshall. Dr. Hunter's intended work however never saw the light. His actual publications were confined to a republication of "Davies's Rites and Monuments of the Church of Durham, 1733;" (fn. 23) and "An Illustration of Mr. Daniel Neale's History of the Puritans in the article of Peter Smart (fn. 24), A. M. from Original Papers, with Remarks, 1736." (fn. 25) His MS collections for his intended Topographical Work were extremely numerous. Two volumes of transcripts from the Chartularies of the Church of Durham, written in an extremely neat hand, and several loose papers, are in the Cathedral Library. Another volume is in the possession of John Hunter, Esq. of the Hermitage; but it is feared that many more are irretrievably lost.
In the spring of 1757 Dr. Hunter retired from Durham to his wife's estate at Unthank, in the Parish of Shotley, where he died in the night between the 12th and 13th of July following, and was buried in Shotley Church.

Here lye the remains of
Christopher Hunter, M. D.
a learned and judicious Antiquary and Physician.
He was the only child of Thomas Hunter,
of Medomsley, Gent, by Margaret his second wife.
He married Elizabeth, one of the daughters
and co-heiresses of John Elrington, of Aspershields, esq.
by whom he had two sons and a daughter.
He died 13th of July, An. Dom. 1757,
in the 83d year of his age.
Dr. Hunter's wife, to whom he had been married fifty-four years, survived him, as did his eldest son Thomas. John his younger son, and Anne, an only daughter, died long before him.
In his person Dr. Hunter was slender and well formed, somewhat above the middle size; extremely neat and plain in his dress, and of mild and conciliating manners. His life was a pattern of simple and inflexible integrity; and his remarkable moderation in respect of his professional fees, and his extreme disinterestedness in all matters of worldly œconomy, kept and left him poor. In his diet Dr. Hunter observed the strictest temperance After his first settling in the country he had occasionally indulged in conviviality; a severe fall from his horse after an excess of this sort produced an entire reform : he determined on his recovery never to taste any thing stronger than water, and to the end of his life he persevered most religiously in this resolution. Therefore "his age was as a lusty winter—frosty but kindly." To supply the want of fermented liquors he had recourse to the somewhat immoderate use of coffee, drinking frequently twenty-four cups in a day. To this practice were probably owing the slight epileptic fits to which he was subject, which left him in a few minutes as well as before. With this exception Dr. Hunter preserved his health and faculties unimpaired to extreme age (fn. 26), and seems to have completed the full stadium which nature had appointed for him.
Dr. Hunter's library was purchased by Richardson, bookseller in Durham, for about 360l. and dispersed by sale. His collection of Roman Antiquities and Coins (fn. 27), and part of his MSS. were bought by the Dean and Chapter of Durham for 40l. and are now in the Cathedral Library.
Pedigree of Hunter, of Medomsley.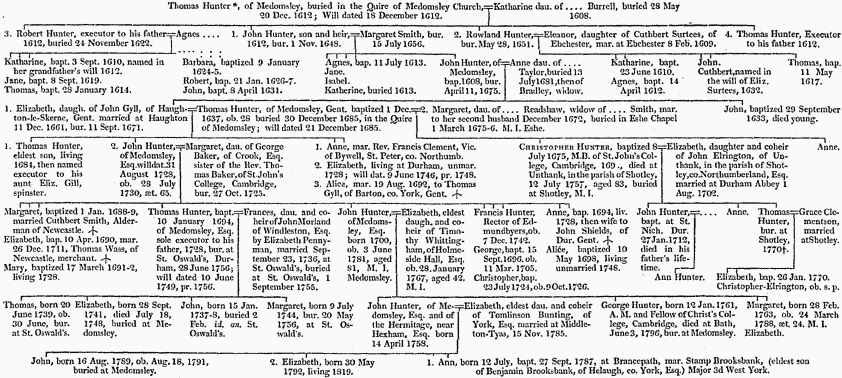 * Probably son of John Hunter, of Medomsley; will dated 13 May 1571. He names only his wife Margaret and son Thomas, whom he appoints Executors. Witnesses, John, and Andrew, and Gylbert Hunter.
† Dec. 28. 1732. Christopher Hunter presented his eldest son Thomas to be a freeman, and gave a new banner and a free supper. Dyers' Boohs, Durham.
*** The dates if not otherwise expressed are from Medomsley Register.
Bradley near Medomsley.
Bradley adjoins Medomsley on the South.
By Inq. 1341 William de Bradley held a messuage and sixty acres of the Lord of Bradley by the service of one rose and half a pound of cumin (fn. 28). In 1377 Goceline Surtees held three messuages and forty acres of the heirs of William de Poole by the service of a rose and 20s. (fn. 29)
1390. Hugh, son of Hugh del Redheugh, held two parts of the manor of Bradley of John de Felton, Chivaler, by suit at the Manor Court of Medomsley (fn. 30). In 1471 Roger Thornton held the manor, which passed by his daughter Elizabeth to the family of Lord Lumley (fn. 31). John Lord Lumley alienated to the Newtons in the reign of Elizabeth.
In 1607 John Newton, Gent, died seized of the manor or capital messuage of Bradley, near Medomsley, held of the Bishop by the service of 12d. de redditu assise, per manum Magistri Forestarii, leaving William his son and heir, aged 28, who is included amongst the Disclaimers at St. George's Visitation, 1615 (fn. 32).
The estate of Bradley, or part of it, was afterwards the property of the Waltons till a late date, when it was purchased by John Simpson, Esq. of Bradley Hall, in the parish of Ryton, and now belongs to his daughter Miss Simpson.
Hamsterley.
Under Hatfield's Survey John de Felton held a hundred and sixty acres, once William de Medemesley's, called Hamsterley, and paid 4l. rent. The heirs of Hugh del Redhugh held six acres of free land under 4d. rent. The same tenure of 4l. rent is returned in all the successive inquisitions on the families of Felton and Hastings, already quoted under Medomsley (fn. 33). Sir Roger Hastings, before 1500, alienated Medomsley to Carr, and Hamsterley (with his Northumbrian manor of Edlingham) to Thomas Swinburne, of Capheaton, whose grandson, Roger Swinburne, of Nafferton, (Inq. 2 Aug. 1568) held the manor of Hamsterley by the ancient service of 4l. leaving Thomas his son and heir, who died seized of the same estate in 1572 (fn. 34). Sir Thomas Swinburne, grandson of the last Thomas, died in 1645 (fn. 35), and his sister, and eventual heiress, Margaret, carried her estates in marriage to William Swinburne, of Capheaton, Esq. (fn. 36) grandfather of the first Baronet. In 1762 Sir John Swinburn, the fourth Baronet, devised his manor of Hamsterley to his brother Henry Swinburn (fn. 37), who, in 1795, jointly with his eldest son, Henry Joseph Swinburn, Esq. suffered a recovery of the estate. Thomas Swinburn, Esq. eldest surviving son of Henry, devised, in 1806, to his wife Frances. Mrs. Swinburn (with the several mortgagees and other parties interested) joined in conveying to Anthony Surtees, Esq. the present proprietor (fn. 38).
Hamsterley Hall, a handsome mansion-house, built by the Swinburns, and much improved by its present owner, lies in a warm sheltered valley on the Pontburn, surrounded by rich woodlands disposed with more than usual taste and felicity (fn. 39).
Byerside.
Byerside, on the Darwent, was long the property of the families of Dalden and Bowes. Under Hatfield's Survey Robert Coigniers (who had married Aline the widow of Robert Dalden) held the manor of Bires freely by charter, of the heir of William de Dalden, containing a hundred acres of arable, wood, and pasture, by knight's service and 40s. The watermill, which used to pay 53s. 4d. was ruinous. John Dicson held a rood of land near the mill for a penny rent, and a spot for his oven for another penny.
Maude, the heiress of the old Lords of Dalden (fn. 40), and widow of Sir William Bowes, of Streatlam, died in 1420, seized of "a parcel of wood and pasturage called Byerside, near Medomsley," held of the Bishop by knight's service, leaving George Bowes her heir (fn. 41). The same estate is returned in all the successive Inquests (fn. 42) till the time of Elizabeth : the tenure is stated at the twentieth part of a knight's fee and 40s. rent, and every acre is valued at 4d. rent (fn. 43). By Ind. 27 April, 2 Eliz. 1560, Robert Bowes, of Dalden, Esq. and Anne his wife, granted their capital messuage of Byerside to William Stephenson, of Blackball, yeoman (fn. 44), who died seized of the estate in 1584 (fn. 45), leaving John his son and heir (fn. 46), father of another John, who in 1624 (fn. 47) settled his estates on the marriage of his eldest son John Stephenson with Mary Dudley, of Chopwell. Their descendants (who were also of Manor-house, in the parish of Lanchester) retained the estate till the failure of male issue in 1741 (fn. 48). Frances daughter and coheir of the last Ambrose Stevenson, died without issue, and Anne her sister (the eventual sole heiress of her family) became the wife of John Hall, of Skelton Castle, Esq. (fn. 49) whose grandson, John Wharton, Esq. M. P. sold Byerside and his other estates in the county of Durham a few years ago. Anthony Surtees, of Hamsterley, Esq. purchased Byerside.
Pedigree of Hall.

* The arms borne by this family are the same as those of Hall, of Newsham, co. Pal. who descended from those of Gretford, co. Linc. See M. I. Crossgate.
Pedigree of Stevenson, of Byerside and Manor-house.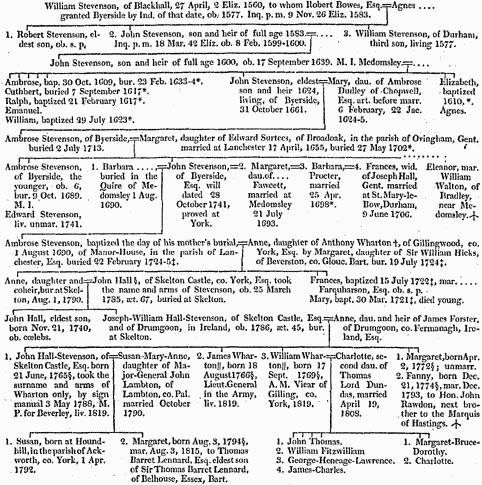 * Medomsley Register.
‡ Lanchester Register.
§ Skelton Register.
† See Pedigree of Wharton in Graves's Cleveland, p. 358. and see Shildon hereafter.
‖ Both James and William took the name and arms of Wharton only by sign manual 13 Nov. 1807.
Darwencote.
Darwencote was parcel of the forfeited estate of John Swinburn, of Chopwell, in 1569. "The tenement called Darwencote, and the water-milne, and the parke, and the wood called Darwencote Hagg, the Midlefield and Ormeside;" all these parcels, by the description, King James granted (inter alia) to Sir William Constable (fn. 50); and in 1614 Philip Constable alienated Darwencote (and the Blackhall) to William Carr, of Cocken, Esq. (fn. 51) In 1660 (fn. 52) (Ind. 13 June, 12 Car. II.) Francis Carr, Esq. granted his manor of Darwencote to Ambrose Stevenson, of Byerside, Gent. Robert Surtees, of Ryton, Gent. and George Surtees, of Broadoak, Gent. who made partition of the estate 6 July 1661 (fn. 52). Darwencote-mill, the Middlefield, the Coney-warren, and the Bankes, being the Easternmost lot, fell to Stevenson; the Mansion-house, the Meadow, Park-heads, the Meadow-close, and the Pig-hill, fell to Robert Surtees; and to George Surtees the Walke-Milnemeadow, the Stanners, and Coult-Parke being the Western portion. Stevenson's share lately passed by purchase from John Wharton, Esq. to Anthony Surtees, Esq. of Hamsterley Hall.
At Colt Parke, or Cronywell, George Surtees (fn. 53) set up his tent and died there in 1683. This portion of the estate is still vested in his descendant Anne, daughter and heir of Robert Surtees, late of Durham.
By Inq. 4 Oct. 15 Jac. 1617, Thomas Marley died seized of the tithes of Darwencote, (et alibi de Rege) held of the manor of East Greenwich, in common socage, by fealty only, and parcel of the whole rent of 3l. 16s. 8d., leaving Robert Marley his son and heir.
Benfieldside.
Hatfield's Survey.—Thomas Brome holds three acres of pasture called Bishopbancks, 18d.; Robert Saddeler a pasture called La Wode, 3s.; John Dicson, le Pighill, 2d.; John de Allerton, in right of bis wife, a place and four acres, sometime of Thomas Gray, called le Stele. 2s.; John Hertes and seven other tenants, thirteen messuages and divers acres under specified rents; the same tenants hold all the ancient wastes (which used to pay 8l. 13s. 8d.) for 3s. 4d. till tenants shall be found to offer a larger rent.
Then follows a note added to the Survey:
John Bateson took the site of the ancient mill called Bisshop-myln, on the Bysshopbanke, with a rood lately cultivated from the waste, with free egress and regress to the mill, for term of life, paying 3s. 4d. at the usual terms, the first payment to commence on the Feast of. St. Cuthbert in Sept. 1433; arid the said tenant shall build and uphold a new mill at his own charges. Sicut contin. in Halmot de Langchestr. tent. vi° die Aug. xxvi. Langley.
The Bishops of Durham have from time immemorial appointed Foresters or Keepers of their woods of Behfieldside, and elsewhere within the Parish of Lanchester.
Officium Custodiæ Boscorum de Benfeldsyde et alibi, infra Parochiam de Lanchester, conccssum Willielmo Baker et Oswaldo filio suo.
Matheus Dei gratia Dunelm. Episcopus. Omnibus, &c. Sciatis quod nos ex mero motu nostro, ac pro et in consideratione boni et fidelis servitii per dilectum servum nostrum Willielmum Baker, impensi et impendendi, dedimus, &c. prefato Willielmo Baker et Oswaldo Baker filio suo naturali officium custodiae omnium Boscorum nostrorum apud Benfeldsyde et alibi, infra Parochiam de Lanchester, necnon ofticium Ballivi Itineraries Scaccarii nostri Dunelm. in com. Dunelm. et Sadberge. Habenda, &c. officia predicta, pro et durante vita naturali et diutius, &c. exercenda per se vel per sufficientes Deputatos, habenda, &c. omnia feoda, vadia, proficua, rectitudines, commoditates, regarda et emolumenta quecunque ad eadem respective officia seu eorum alterurn ab antiquo spectantia. In cujus apud maner. nostrum de Aukland, 14 Febr, Anno Dom. 1590. Teste Thoma Calverley, Arm. Canc, nostro. Reg. V. D. & C. fo. 262.
At Benfieldside one of the first Quaker Meeting-houses in the North of England was established. Turner (on Providence) has a strange story of an apparition of the Devil, who attempted to snatch away the key.
Snows-Green, on higher ground, a mile to the South-East of Shotley-Bridge. (See some account of the tithes under Prebend of Medomsley, Lanchester.)
The Law, a farmhold on the higher grounds above the Darwent, to the North of Snows-Green; was the estate of the Smiths (ancestors of the late Cuthbert Smith, of the Riding, Esq.) at least since the time of Elizabeth (fn. 54).
Shotley-Bridge on the Darwent.—The Chapel of Shotley is in Northumberland, a small village, hangs on the brink of. the river on the Southern side (fn. 55); the surrounding scenery is wild and romantic, and the Darwent, fringed with native wood, wanders through rich haugh grounds, finely contrasted with the heathy hills (now striped with new enclosures) which hem in the vale on the North and South.
At Shotley-Bridge a colony of German Sword-cutlers, who fled from their own country for the sake of religious liberty, established themselves about the reign of King William These quiet settlers, who brought with them habits of industry, and moral and religious principle, easily mingled with the children of the dale, and forgot the language of their forefathers. Few of the original names are now left (fn. 56), but the trade is still carried on, and sword-blades and scymitars of excellent temper are manufactured for the London market. Above the door-way of two decent houses there are German inscriptions (copied also into divers huge family Bibles) attesting the cause which drove these emigrants from their "faderland" to seek, on the green brink of the Darwent, protection under the equal law of that country which has ever proved an ark of refuge to the victims of religious or political persecution.
Consett.
Consett Hall stands on the edge of the vale of Darwent, to the of Allansford; Consett Park lies to the South.
The name has been gradually corrupted from Conkesheved; yet the Conke (or Chester Burn) rises in a very different part, and I am not aware that any water of the same name has its source at Consett.
Boldon Buke.—Arnold Pistor holds Conkesheved in exchange for Trillesden, under 24s. rent.
Hatfield's Survey.—Thomas Gray and William Stokes hold the manor, once belonging to Richard Harpyn and Hugh de Skewland, by foreign (or knight's) service. The estate under the Survey of Boldon-Buke was charged with 24s. but now pays only 22s.
Idoma, granddaughter and heir of Hugh de Skewland (Escolland) alienated Urpath (fn. 57), and probably Consett, to the family of Gray. In 1370 Thomas Gray, Chivaler, died seized of half the manor of Consett, held by homage, fealty, and 11s. (fn. 58) His widow Margaret held this and other estates for life, and remarried Robert Nevill, on whose death, in 1375, the Inquest mentions half the manor, and the Park of Conksheved, held by a pound of pepper (fn. 59). Both parcels descended to Sir Thomas Gray, who was attainted under Henry V. (fn. 60) The family estates were restored by Bishop Nevill to Sir Ralph Gray, who died in 1464, seized of the Park of Consett (fn. 61).
In 1481 Thomas Middleton, Esq. (of Silksworth, see vol. I. p. 245), died seized of half the manor of Consett (fn. 62). Thomas his son and successor held the same estate at his death in 1511 (fn. 63), leaving Anne, an only daughter (the heir general of her family), afterwards wife of Henry Ruthall, whose son Richard Ruthall, of Northampton, sold a moiety of the manor of Consett to Henry Anderson, merchant, 1 Sept. 1572 (fn. 64). 30 Sept. 1579 Robert Blenkinsop, of Newcastle, acquired the same estate from Anderson (fn. 65), and died 17 Nov. 1588 (fn. 66), leaving Charles his son and heir, whose descendants held some property in Consett in 1685.
Consett Parke (mentioned in the Inquest on Sir Thomas Gray's forfeiture 10 Langley) has been for two centuries the estate of the Rippons. In 1635 Charles Rippon had pardon of alienation for acquiring the messuage called Conside Parke, in the Parish of Medomsley, from John and Anthony Hopper (fn. 67).
Another moiety of the manor (Stokes's under Hatfield's Survey and sometime Harpyn's) was vested in 1407 in William Stobbes, probably in right of his wife Alice, and in 1422 vested under settlement in Margaret, grand-daughter of William and Alice, then wife of William Warde, of Hutton (fn. 68), whose representative in the fifth descent, Isabel, intermarried about 1565 with John Hall, of Birtley (fn. 69). In 1689 Michael Hall, Gent. the lineal descendant of John and Isabel, mortgaged his manors of Consett and Birtley (and several copyhold lands) to William Wilkinson, of Durham, mercer; and in 1690 Hall and Wilkinson executed an absolute conveyance of the manor of Consett only, for 1255l. to John Wilkinson, Gent. to the use of William Wilkinson beforenamed, with successive remainders to his younger sons Anthony and Richard (fn. 70). Richard Wilkinson released his reversion to Anthony (fn. 71), who died without making any specific devise of his real estate (fn. 72). Consett descended to his eldest son William Wilkinson, Esq. and afterwards to Thomas Wilkinson, Esq. (second son of William and heir of his brother Anthony), who sold the estate to Robert Curry, of Bishopoak, Esq. (fn. 73)
John Hall, of Gray's Inn, Esq. eldest son of Michael Hall, of Consett, Esq. and of Elizabeth Gyll, is commemorated by Anthony à Wood (Athen. vol. I. p. 455–6) as a gentleman of very considerable talent. He was born (says Wood) in the city of Durham, "of gentile parents, in August 1627, and being fitted for the University, was hindered from going to it by the breaking out of the Civil War. Whereupon giving himself solely up to studies at home, especially in the library at Durham, he improved himself to a miracle." After Oxford was reduced by the Parliament forces in 1646, he was sent to St. John's College, in Cambridge, and in the same year published "Horsæ Vacivæ, or Essayes, with some occasional considerations;" with his picture before them, aged 19; "the sudden breaking forth of which amazed not only the University, but the more serious part of men in the three nations where they were spread." The same year he published his Poems, London, 1646; and with them the Second Book of Divine Poems. After remaining a year at Cambridge he removed to Gray's Inn, where he wrote a romance called "Lucenia," which was smothered by lending it to a friend. Mr. Hall, whose opinions leaned entirely to a republic, now became an author in defence of the Independents. In 1648 he wrote a Satire against Presbytery; and in the next year "An humble Motion to the Parliament of England concerning the advancement of Learning and Reformation of the Universities," London, 6 sheets 4to. These performances procured him a handsome sum of money, and a pension of 100l. per annum from the Independent party. About the same time he wrote four Paradoxes; to which he added two more in 1653, published at London, under the name of John de la Salle, by John Davies, of Kidwelly. In 1650 he was ordered by the Council of State to attend General Cromwell into Scotland, "to make such observations there as might conduce to settle the interests of the Commonwealth." With this view I presume he wrote "The Grounds and Reasons of Monarchy," with an Appendix of "An Epitomy of Scotch Affairs;" both printed at Edinburgh and afterwards in London. About the same time Mr. Hall was called to the Bar, ana in 1651 published a defence of the execution of Mr. Love, called A Gag to Love's Advocates. He also republished the account of the Dutch cruelties at Amboyna, with a preface and remarks in reference to the existing differences betwixt the Dutch and English Governments. He dedicated this volume to General Cromwell, and it was so eagerly read that the States' Ambassador demanded punishment on its author; "but Parliament, thinking it a seasonable service, took no notice of it." Mr. Hall's other political works were, "A Letter from a Gentleman in the Country, &c. 1653, after the dissolution of the Long Parliament," with a view to reconcile the public to that measure. "Answer to the Grand Politick Informer," 1653, folio; which Politick Informer was a virulent libel upon Barbones' Parliament, and Hall was well rewarded out of the Exchequer for his answer. He also translated Longinus's Height of Eloquence, London, 1652, octavo; and Hierocles on the Golden Verses of Pythagoras, published after his death by Davies, of Kidwelly. London, 1657, octavo. Wood mentions also his Lusus Serius, printed 1654, under the name of Mich. Majerus, half of which was done in an afternoon in a tavern, over a glass of wine. Mr. Hall's conduct, it is hinted, was the very reverse of temperance, and his excesses seem to have hastened his premature end. According to Wood he retired to Durham (under the influence of a disease which he never shook off) in July 1655, and dying there on the 1st of August 1656, was buried (in the church of St. Margaret's Crossgate (fn. 74),) near the grave of his father, who died a year before, just after his son's arrival. Such was the premature end of John Hall, who seems to have had credit given him by his contemporaries not so much for what he had done as for what he was esteemed capable of performing; of whom the Philosopher of Malmesbury says, "had not his dehauches and intemperance diverted him from the more serious studies, he had made an extraordinary person; for no man had ever done so great things at his age."
More than one individual of the Hall family seem to have had a turn for literature. John Hall, Esq. who died in 1624 (grandfather of John Hall, already named), compiled a Catalogue of the Bishops of Durham and Lindisfarne, now in the Dean and Chapter's Library.
The Howens or Howmes, a tenement on the edge of the vale of Knycheley.
12 Nov. 1596 Martin Burnop died seized of the Howens, parcel of the manor of Conside, held of the See of Durham by knight's service, and suit at the County Court every three weeks, leaving Richard his son and heir under age (fn. 75), whose brother and heir, William, had livery 19 Sept. 1618 (fn. 76).
About 1690 William Burnop sold the Howmes to the family of Baker, of Crook (fn. 77). It is now the property of George Baker, of Elemore, Esq.
Knycheley.—Hatfield's Survey.—Free land: Robert de Kellowe holds the vill sometime of William de Knycheley by foreign service, and 15s. 1d. rent. Exchequer land : John Todd holds a messuage and four acres called Richardland, 2s.; and there are besides one hundred and two acres and three roods, on Knycheley Moor, which used to pay 34s. 4d. now waste.
In 1380 Sir Thomas Surtees, of Dinsdale, Knt. died seized jointly with Alexander Surtees, his son and heir, of the manor of Knycheley, purchased under licence of alienation, and held by homage, fealty, and suit of Court once in a fortnight (fn. 78).
In 1402 Thomas Claxton, of Old Park, held the manor by the same tenure (fn. 79); and before 1423 it had again changed hands, and is returned in the Inquest on the death of Sir Ralph Eure, of Witton, Knt. in whose successors it rested for some descents (fn. 80).
I am very uncertain as to the further progress of the estate; it is now the property of Viscount Deerhurst.
The chief feature of the estate is a deep hollow gill or ravine, now filled with rising plantations, which follows the course of its little rivulet through some romantic scenery towards the Darwent.
The Convent of Durham held some trifling property in Knycheley appropriated to the Almoner (fn. 81)
Charitable Benefactions.
In 1675 John Hunter, Gent. gave 6l. poor stock; James Cuming gave 8l. poor stock; and Mary Burton 16l. poor stock. The return under the Act of 26 Geo. III. states, that 10l. parcel of the above sums, were in the hands of John Forster, unaccounted for.
Pedigree of Hall, of Consett.
Hall, of Blrtlby.
Or, a chevron Sable, frette of the first, between three demi-lions passant Azure;
on a chief Gules, as many chaplets Argent: a martlet for difference.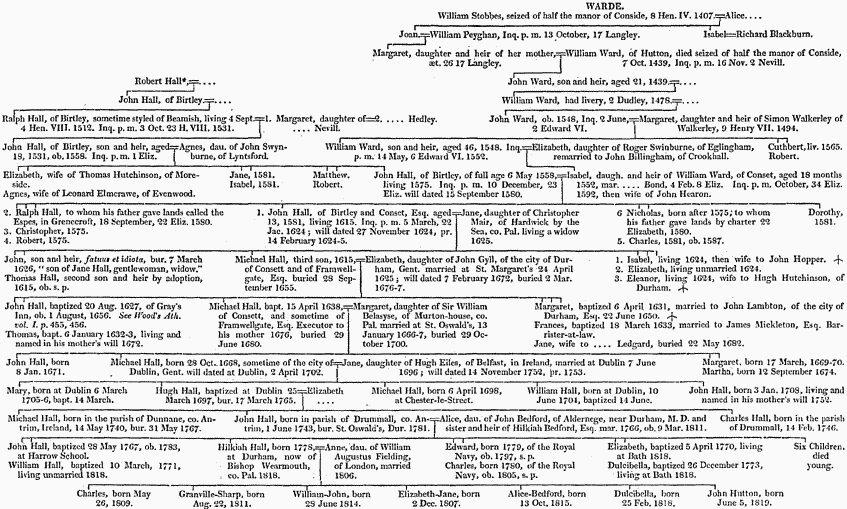 * Qu. if to be identified with Robert Hall, of Greencroft and Stanley, who died 1473? See Greencroft.