Pages 212-220
The History and Antiquities of the County Palatine of Durham: Volume 3, Stockton and Darlington Wards. Originally published by Nichols and Son, London, 1823.
This free content was digitised by double rekeying. All rights reserved.
PARISH OF LONG-NEWTON.
The Parish of Long-Newton is bounded by Bishopton and Elton on the North, by Stockton on the East, by Egglescliffe on the South, by Middleton St. George on the South-west, and by the Chapelry of Sadberge on the West.
The Parish forms only one Constablery, which includes Coatham-stob and part of West-Hartburn, or Goosepool.
Long-Newton,
As the name implies, a long straggling village. The family mansion of the Vanes, which was a large brick-house, is entirely taken down. Long-Newton was an ancient estate of the Baliols, held under, or a member of, their great lordship of Gainford. This tenure of the estate seems to have given rise to long variance betwixt the Baliols and the See of Durham. In 1231 a convention appears relative to Long-Newton betwixt Richard (Poor) Bishop of Durham, and John de Baliol. The Bishop grants that Baliol and his heirs shall hold the vill of Long-Newton as their ancestors held, by homage and service, viz. for one half of the vill the fourth part of a knight's service, and for the other half 10l. sterling, a hundred shillings at Pentecost, and a hundred at the Feast of St. Martin in Winter; and John and his heirs shall give the Bishop ward and scutage of five knights' fees and a quarter, and suit at the Wapontake Court at Sadberge for all their lands within the same Wapontake. Further the same John took his own personal oath to observe this convention, and so did John Fitz-Robert, Eustace de Balliol, Walter de Fountains, and Henry de Baliol, and Nigel de Baliol shall take the same oath; and the same oath and surety shall be made for the Bishop by Ralph Prior of Durham, Ralph Prior of Finchale, Master William the Archdeacon, and John de Rumes the Seneschal; and John de Baliol and those of his party swore faithfully, that they would labour to obtain of the King, that the Bishop may have the homage of Gainford, and of the aforesaid knights' fees which are within the Wapontake of Sadberg, and hold of the Barony of Gainford; and if the King shall direct homage to be done to the Bishop for the premises, he (Baliol) shall readily perform it; and if the King enquire of Baliol as to the said homage, he shall answer according to the truth, as far as enquiry may be made of the best and wisest men of the country; and so soon as the Bishop shall have had Baliol's homage for the same five knights' fees and one fourth, he shall readily give up to Baliol all the ancient charters of the vill of Newton.—At Auckland, 5 Dec. 1231, in the presence of the Archdeacon of Durham, and Robert de Ambian, Jordan Hayrun, Hugh de Capella, Jordan de Dalden, and others (fn. 1).
The infraction of this treaty probably led, under Richard Poor's successor, to the curious fray recorded in the following instrument: "The King to his trusty and beloved John Baylyol, on the complaint of Walter Bishop of Durham. Whereas Balyol's men had intruded into the church of Long-Newton, and occupied the same with armed force: the Bishop excommunicated the offenders, and after they had continued forty days impenitent, caused them, sicut moris est in regno nostro, to be seized by the secular arm; and hereupon Eustace de Balyol, Goceline his brother, Henry Fitz-Ralph, and many others, lying in ambush, armed and provided with horse, in a certain wood which lay on the road of the Bishop and his retinue (fn. 2), sent certain knights and esquires out of the same wood, who seized the Bishop, his clerks, domestics, and with swords and other weapons did irreverently insult and most enormously handle them; and four of the said Bishop's familiars did detain, and to Barnard Castle take, and there imprison them, and do still in prison keep, to the manifest prejudice of the Bishop's dignity, and in breach of our peace, which the Bishop hath within his Franchise Royal betwixt Tees and Tyne: wherefore the King orders John Balyol to release his prisoners, and make competent satisfaction to the Bishop, that we may hear no more of the matter; otherwise we shall be obliged to lay a differing hand to the business (fn. 3). Witness, the King, at York, 13 August."
After all, Long-Newton vested of the Baliol fee, and after the forfeiture of the Baliols was held of the Beauchamps Earls of Warwick, their successors in the honour of Barnard Castle. In 1367 Goceline Surteys died seised of a hundred acres in Long-Newton, called Caldwates, held of the Earl of Warwick by fealty and 13s. 4d. rent, and eight acres held by fealty only (fn. 4). In 1379 Sir Thomas Surteys (the heir of Goceline) died seised of the same lands, but the eight acres were held of William Wawan by as many shillings rent (fn. 5). Alexander Surteys held the same estate in 1381 (fn. 6). At a later date Robert Killing-hall is stated to hold three oxgangs here of Castle Barnard (fn. 7), per quæ servicia ignorant: the tenure did not concern the Bishop, and is therefore not recorded, and for the same reason probably the manor of Long-Newton is mentioned in no escheat before the Episcopal Officers. But perhaps the chief property here was vested in the family of Conyers, of Cotham (mentioned in the sequel). In 1532 a Yorkshire inquest states, that John Conyers, of Cotham, held two messuages and five oxgangs of the manor of Castle Barnard (fn. 8); and amongst the forfeited lands of Ralph Conyers (fn. 9) in 1570, are lands in Long-Newton which paid 13s. 4d. to the Queen's manor of Barnard Castle. In 1573 the Queen granted these lands (inter alia) to Sir Roger Manners, Knt. (fn. 10)
I am ignorant of the origin of the Vanes estate in Long-Newton. Sir George Vane, son of the elder, and brother of the younger Sir Henry, was the first of the family who resided here. The annexed Pedigree contains the descent. The family estate is now the property of the Marchioness of Londonderry (fn. 11).
A considerable estate in Long-Newton belonged to the Collins's, ancestors of the family now of Hurworth.
In 1648 the freeholders were, Lionel Vane, Esq. John Fewler, Gent. Robert Colling, Gent. Robert Newham, William Hobman, in Yorkshire; Robert Thorpe, in Yorkshire; Robert Peart, of Burnhope Poor; Sir Edmund Boyer, of Cotham-stob, and of . . . ., in Sussex; John Colling, Cheefe Constable.
Pedigree of Vane, of Long-Newton.
Arms: Azure, three sinister gauntlets Or.
Crest: On a wreath of the colours a dexter hand in armour, couped at the wrist proper, holding a sword Argent, the hilt and pomel Or.
*** The coat assigned to the Long-Newton branch of the family of Vane, by Dugdale in his Visitation, Ao 1666, is Or, three sinister gauntlets Azure, and a canton Gules. The original bearing has, however, been very properly resumed in later times by this line, and it has been recently exemplified to Lord Stewart on his taking the name and arms of Vane.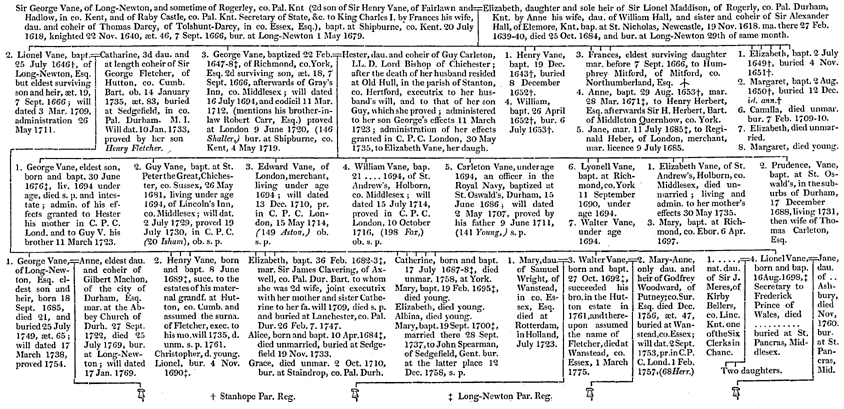 † Stanhope Par. Reg.
‡ Long-Newton Par. Reg.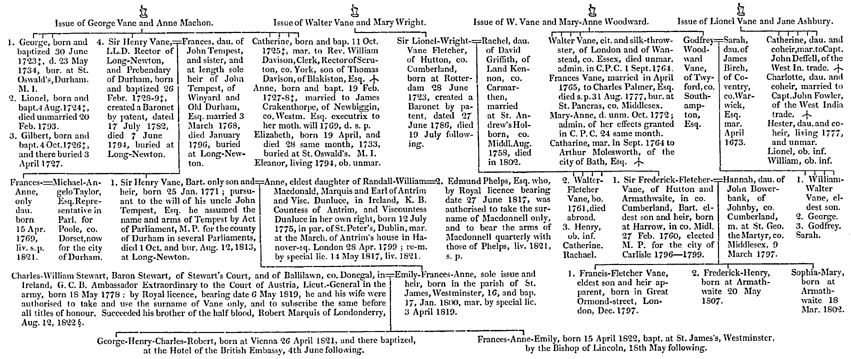 ‡ Long-Newton Par. Reg.
§ By a former marriage with Lady Catharine Bligh, daughter of John Earl of Darnley, the Marquis has issue a son Frederic, born 1805, living 1823.
The Church,
Which was nearly rebuilt in 1806, consists of a nave and chancel of equal width, divided by three pointed arches, which have replaced the original round arch. The nave has two modern lights on each side under pointed arches; the chancel has one light on each side of the same form, but divided by stone mullions and spandrils. The East window has three lights under a pointed arch. The entrance is at the West end of the nave. The whole structure is in extremely neat order. The church-yard is planted with a grove and shrubs, and thrown open as a lawn to the Rectory on the South. The view of the Yorkshire hills from the South-west angle of the church-yard is extremely beautiful.
Monumental Inscriptions.
On a brass plate, let into a marble tablet:

Here Lieth the Body of Sir George Vane, Interred
May the First, 1679, Second son of Sir Henery
Vane, some time Principal Secretary of State
To King Charles the first. He Married Elizabeth
The Heiress of Sir Lyonell Maddison, of New-
Castle-Upon-Tyne, by whom he had Thirteene
Hopefull Children, viz. Foure sons and nine Daughters.
His Honour Wonne I'th Field Lies here in Dust,
His Honour Got by Grace Shall Never Rust;
The Former Fades, the Latter shall Faile Never,
For why, he was Sir George once, B'T St. George Ever.
On a blue slab:

Here lies the body of Dame Elizabeth Vane,
Relict of Sir George Vane, of Long-Newton,
Who Died the 25 Day of October, 1684.
Against the South wall of the chancel:

Here Lyeth Interred the Body of George Vane, of
Long-Newton, in the County of Durham, Esq.
He Married Anne Machon, of Durham, by whom
He had 4 sons and 4 dAughters. He died July 21,
1750, In the 65 Year of his Age.
On a flat stone in the chancel:

Hie conditus est
Thomas Rud,
hujus Parœciae per Septennium
Rector, postquam fuisset Ecclesiæ
Stocktonensis 50 annis
Minister; vir morum simpli-
citate et probitate antiqua
Patriæ, Ecclesiæ, Amicis fidelis,
omnibus benevolus et beneficus,
obiit Julii 15, A. D. 1719,
ætat. 79.
Here lyes the body of the Rev. Christopher Mansell, A. M. Rector of Long-Newton, who departed this life the 28th day of October 1741, aged 55.
In 1819 the matrix of a brass seal was found in Long-Newton Church-yard: sigillum wilelmi de broc; and on the inner circle, g. i. r. e. nomen i' abet. The device is a holy lamb and cross. William de Broc appears as a witness to charters about 1300 (fn. 12).
Succession of Rectors.
Peter de Brandon, 1259.
Adam de Pickering, 1356.
John Attelee, 1360.
William de Corbrigg, 1369.
Thomas de Thorp (fn. 13), occurs 13. . .
Thomas Newham, 1410.
James Oculshagh, 1425.
Robert Wynkethly, 1428.
John Corby (fn. 14), 1433.
Ralph Booth, LL.B. (fn. 15) 1465.
Roger Leyborne, S. T. B. (fn. 16) 1497.
Leonard Hutchinson (fn. 17), 1540.
Robert Dalton, S. T. P. (fn. 18) 1554.
Claudius Rent, A. M. 1556.
Richard Hartburne, A. M. 1558.
Edward Bankes, A. M. (fn. 19) 1562.
William Morton, A. M. (fn. 20) 1588.
Ralph Tunstall, A. M. (fn. 21) 1616, p. res. Morton.
John Oliver, A. M. (fn. 22) 1662, p. m. Tunstall.
Thomas Baker, S. T. B. (fn. 23) 1687, p. m. Oliver.
James Finney, A. M. (fn. 24) 1690, p. depr. Baker.
Michael Fenwick, A. M. 1706, p. res. Finney.
Thomas Rudd, A. M. 1712.
Christopher Mansel, A. M. 1719, p. m. Rudd.
James Douglas, A. M. (fn. 25) 1742, p. m. Mansel.
Sir Henry Vane, Bart. LL.D. (fn. 26)
Charles Plumptre, A. M. (fn. 27) 1794, p. m. Vane.
George Stanley Faber (fn. 28), B.D. Linc. Coll. Oxon, p. res. Plumptre.
Terrier of the Rectory of Long-Newton, taken July 1806.
The glebe-land consists of ten acres equally divided into two closes, (out of one of which is a piece taken off and added to the garden,) bounded on the West and North by the lands of David Burton Fowler, Esq. on the East by the lands of Isaac Sparkes, Esq. on the South, partly by the Rector's garden and stable-yard, partly the lands of Isaac Sparks, Esq. Sir Henry Vane Tempest, Bart. and David Burton Fowler, Esq.; a garden and ground round the parsonage or mansion-house (exclusive of the piece above mentioned) about an acre; the parsonage or mansion-house; a house for the curate, standing on the glebe next the town-street; a barn, a stable, and cow-house, and coal-house, and wash-house, &c. &c. all covered with tiles, and built of brick or stone. The parsonage or mansion-house is built partly of stone, partly of brick, the whole plastered on the outside with rough-cast; containing on the ground-floor, study, with closet, dining-parlour, kitchen, with one small one, and passages; all except the study floored with stone, or plaster, or brick, and the walls plastered; the study, with closet, is boarded and the walls papered. First story—dining-room, three bed-rooms and two closets: floors boarded. Second story—four small bed-rooms, three closets, two servants' garrets, all boarded floors. Furniture of the church—A blue cloth cover for the pulpit, desk with cushion, blue cloth cover for the communion-table, one large table-cloth and napkin, a small thin silver cup, two old pewter flaggons, one pewter plate, large Bible, three large Common Prayer-books; the book of homilies, and an octavo collection of the occasional services. The fences of the church-yard are kept in repair by the parish, excepting the West fence, which is repaired by David Burton Fowler, Esq. All manner of tithes is due to the Rector in kind, except that the farms at West Hartburn pay among them one shilling and four pence per ann. only for tithe of hay. The Rector receives seven shillings per ann. for seven oxgangs at Sadberge (an old terrier speaks of fourteen oxgangs). Also eight shillings per ann. from the Rector of Haughton. In the church-yard are two large sycamore-trees. Several others of different sorts, planted for ornament, and being of young growth, in the church-yard and ground about the house, and a few small ash-trees in the hedge-rows of the fields.
Charles Plumptre, Rector.
William Dryden, Churchwarden.
The Parochial Register begins 1564. The following extracts are from some leaves of an old parish-book:
To him that drewe the King's Armes, 1l. 5s. For drinke and coales to him, 2s. To whippinge of dogs out of the church, 1s. John Ward for writing the sentences (i. e. the texts), 1s.
Cothom-Conyers,
Or Cothom-stob, to the South-east of Long-Newton, an old gavel-ended manor-house, near broken ground, on a small water, and almost hid in a grove of elm and abeille. Within are rooms pannelled with old wainscot; over the chimney in the chief lower apartment is a hunting-piece on the pannel, the stag at bay, executed with great spirit. An upper room is hung with tapestry (fn. 29).
In 1379 Sir Thomas Surtees, Knt. died seised of 6s. rent, issuing out of the manor of Cotom, near Long-Newton (fn. 30). In 1390 Robert Conyers, Chivaler, held the same manor of Cotom (with remainder to his heirs male by Julian his wife) of Thomas, son and heir of Alexander Surtees, by knight's service (fn. 31). The estate not being held immediately under the Bishop, does not occur in the Inquests before his officers, and it is difficult to state at what exact period it became the appanage of a cadet of the house of Sockburne. The late owners of Cotham-Conyers are traced in the Yorkshire Eschaets till Ralph Conyers forfeited the estate by engaging in the rising of the Northern Earls in 1569 (fn. 32). The Queen (15 Eliz.) granted the manor of Cotam-Conyers, otherwise Cotam-Stubbs, or Cotham-Hall, (and the advowson of the church of Elton, except the bells, leads, and spouts (fn. 33),) and lands in Long-Newton and Elton, parcel of the possessions of Ralph and Robert Conyers attainted, to Roger Manners, Esquire of the Body, to hold the lands in Long-Newton, of the manor of Castle Barnard in common socage, the manor of Cotham-Conyers by the fortieth part of a knight's fee, and 13s. 4d. to the Bailiff of Long-Newton. The estate was afterwards granted to Sir John Ramsay, Knight, James's preserver in the Gowrie conspiracy; for, 30 April, 13 Jac. a pardon occurs to Thomas Moore and Thomas Spetchley, for acquiring the manor of Cotom-Conyers from Sir John Ramsay, Viscount of Haddington, on trust for Edward Cropley, of London, Esq. (fn. 34) In 1684 it belonged to Sir Edmund Bowyer, of Leighthorne, in Sussex; in 1720 to Joseph Micklethwaite (fn. 35), Esq. (created Viscount Micklethwaite (fn. 36), of Ireland, in 1725 (fn. 37) ); and is now the property of John Dennison, Esq. of—, in Yorkshire.
Pedigree of Conyers, of Cotham-Conyers.
Arms: Azure, a maunch Or, with due difference. Crest: on a wreath, a demi-vol Gules.

* Long-Newton Par. Reg.
*** 8 April 1566. Robert Conyers, of Cotom wn ye parishe of Long-Newton, to be buried in the churche there. My sonne Rauffe Conyers shall inherit ye maner and lordshippe of Cotam; the profitts to be reserved till my thre daughters Anne, Cecil, and Margarete, rèceave eache one hundrethe pounds. To my sonnes James, George, and Rycharte, the rent of my lands in Elton, to be divided amongst them, being vil. xvid. with the third gift of the Vowson of the Churche of Elton. To my sones Edward and John, and the longer liver, the rent of my lands in Long-Newton towne and fields, paying my uncle, Edward Conyers, xiii nobles during life. To my son William 40l. out of my goods, and xx nobles out of Long-Newton yerely. To my son James, who is base begotten, my leases in Hartlepool. To Isabel my daughter xx nobles; and if it chance that John Jeffrayson do marry her, a yocke of stotts, or a cople of whyes towards her marriage, and yf it be that he refuse to marry her, I will, that after his yeares are expired, neyther he nor any of his shall hold any comoditie or profit within the same lease.
The premises above written were pronounced playnely and distinctly by the said Robert Conyers, with a livelie voyce and perfect remembrance, and these thyngs hereafter following was propounded to him when he had layd speeche through the grievousnes of sicknes, and he as it seemed with good remembrance gave his consent by signes. Item, to my mother fower markes yerely during life, to be guided by my brother John Conyers. My brothers John and Edward tutors to my children. I make all my chyldren that are lawfully begotten myne executors, which are these, Rauffe, James, George, Edward, John, Rycharte, Will'm, An, Cycell, Marget. Wytness, Edward Conyers th' elder, George Conyers, Gent. Richard Morey, Edward Bankes.
The 6th day of July A. D. 1600. I John Conyers, of London, Esq. to be buried in the vault where my wife is buried. To 40 of the most poorest and most neediest men dwelling wthin ye parish of St Bottolphes Without Aldersgate, everie one of them a gowne. To my ladie Allet and Mrs. Sotherton either of them a ringe. To Mr. Baron Sotherton, who hath shewed me many curtesies and kindness, 20 angells. To my sister Pymm, my dau. Conyers, my sonne Chomeley and his wife, my sonne Sotherton and his daughter, my sonne Williams and his wife, my neece Palmer, my sister Conyers, my nephew Andleby and his wife, my nephew Smith and his wife, my late trustie servant Frauncis Gofton, and to Frauncis Shawe and his wife, everie one of them a gowne cloth; and to mother Rogers and my maide. To my clerk and my butler, each a gowne. To my poore niece Andleby 4l. a-yeare, to be paid out of the manor of Walesby, in co. Lincoln. To my grandchild Katherine Chomley 100 marks, to make her porc'on 1000 markes of my guift; and to her sonne 40l. To my dau'r-in-lawe, 40l. and to her 3 dau'rs 1000l. according to a bonde wherein I stand bounde to one Brian Askwith, of Osgarby, in the coy of Yorke, deceased. To my brother Edward Conyers' children, viz. Raphe Conyers, and to his two sisters Smith and Symons, 5l. a piece. To my poore neece Andleby's children, 5l. a-piece; and to my son Williams' children, and my niece Palmer's children, everie one 5 marks. To my grandchild Katherine Ellyot, whose mother and she were always kindlie towards me, 10l. and to her sonne, 5l. To my sonne Williams, 10l. My frende Mrs. Shawe, 10l. To my clerk, Thomas Hutton, who has served me faithfully and painfully manie years, 20l. To John Wotton, 20 marks. To my grandchild Katherine Conyers, her grandmother's chaine. To the mending of the high waies in Bedfordshire, 100l. according to the Lady Gascoigne her will (fn. 38), soe as my sonne may quietly enjoy her landes in Yorkshire without anie more suite or trouble. 100l. towards forming the conduit for bringing the water in leaden pipes from the fields to Aldersgate-street, if finished wn 7 yeares, and I desire my son to look towards it. To my sonne Sotherton 20l. and I make him supervisor of my will, praying him to be aiding and assisting my sonne whom I make sole ex'or. To my brother Edward Conyers' 2 dau'rs, 5 marks a-piece. Item, I bequeath unto my sonne one of my poor niece Andleby's children to be brought up. Proved 25 Jan. 1604–5, by Thomas Conyers, the son and sole exer. Reg. Hayes in C. P. C. Lond. Q. 3.
West-Hartburn, or Goosepool.—Three farms, parcel of the ancient vill of West-Hartburn, are generally esteemed to be in the Parish of Long-Newton, and pay tithes to the Rector, but join with Middleton St. George in the poor-rate. The early history of these lands, which formerly belonged to the Surtees's, will be found with the remainder of the vill under Middleton.
In 1568 Ralph Paule died seised of one tenement, forty acres of arable, twenty of meadow, and sixty of pasture, held of the heirs of Surtees, as of their manor of Dinsdale in free socage (fn. 38), leaving William his son and heir. In 1615 Francis Paule, Gent. died seised of the same estate (fn. 39), leaving his two sisters, Elizabeth, wife of George Warde, and Jane, wife of Ralph Marshall, his heirs (fn. 40).
Pedigree of Paule, of West Hartburne.

* Grindon.—Agnes Paullc, bapt. 22 May 1593. Emma Paulle, 15 March 1595–6. Her sister Margaret mar. Germane Oglethope, of Newsham, co. Pal.
† Long-Newton.—Richard Paule, bur. 17 Feb. 1579.
*** 18 Aug. 1592. Robert Paulle, of Hartburne, Gent. "to be buried in my parishe churche, or where shall best please my friends. Not being able to provide convenient porc'ons for my children, nor lyke means to dischardg my debts, yet in some sort to satisfy the same in best maner I may, I give to my loving frendes Anthony Wytham, of Clyffe, Esquier, John Burnett, of Dalton, and Chr'ofer Wilson, of Yarum, yomen, two parts of all my lands in Hartburne, Thorpthewles, and Yarm, to hold till my sone Francis accomplish 21 years. Daughters Elizabeth and Jane. To my sone Francis my armor, my fower greatest puther chardgers, my golde ringe, my sylver spoones, my dapple-gray colte, my spitts and rackes. To my mother halfe a crowne in goulde. To Margerie Browne and Dorothye Thompson, two of my aunts, iiis. iiiid. each. To uncle Thomas Paule's daughter my hawked whie. To a childe of my aunte, Anne Harrison, that I christened, my redde belled whie. To John, son of Anthony Wytham, a gray fillie. vis. viiid. to the poore of my parish, and the like to the poore prisoners in Duresme. If I have any sone or sones born, &c. to have equal portions, &c. Wife Annes.
But the estate did not descend to the daughters of Francis. In 1620 Henry Pawle, of Nafferton, co. York, Gent. and Christopher his son and heir, granted, for 1,200l. the chief messuage of Pawles Hartburne, or West Hartburne, to Robert Ellis, of Rudston (fn. 41), co. York, whose grandson, Robert Ellis, of Beverley, M. D. left three daughters his coheirs. In 1729 Robert Raikes Fulthorp, of Northallerton, Esq. and Mary his wife; William Dent, of Sunderland, Gent. and Margaret his wife, and Elizabeth Ellis, spinster, sold the estate to Elizabeth Hall, of Haughton, widow, who devised, in 1733, to her only son, William Sleigh (fn. 42). In 1778 William Sleigh, Esq. devised this property to George and William Hoar, Esquires, on divers trusts for his grand-children; and the estate was sold in 1795, by William Hoar, Esq. and other parties interested, to the trustees of the monies produced by sale of the Cocken-woods, to the uses limited under the will of Ralph Carr, Esq. (fn. 43)
Charitable Benefactions to the Parish of Long-Newton.
The only benefactions to the Parish of Long-Newton are, 20s. per annum, left by Thomas Barker in 1686, and charged on the farm of Newbiggin East, to be paid to the Rector, and distributed by him on Candlemas Day; and 2s. 6d. being the interest of 2l. 10s. left by Mr. Carter, and vested in the hands of the Rector for the time being.