Pages 221-229
The History and Antiquities of the County Palatine of Durham: Volume 3, Stockton and Darlington Wards. Originally published by Nichols and Son, London, 1823.
This free content was digitised by double rekeying. All rights reserved.
PARISH OF MIDDLETON ST. GEORGE.
The Parish of Middleton is bounded by Haughton-le-Skerne on the North, by Long-Newton on the North-east, by Egglescliffe on the East, by the Tees on the South, and by Dinsdale on the West.
When King Richard gave the Wapontake of Sadberge to Hugh Pudsey, the son of Godfrey Baard owed the service of two parts of a knight's fee for Midelton and Hertburn (fn. 1). The tenure probably included the whole modern Parish of Middleton St. George, but before the commencement of the records at Durham, under Bishop Lewis, the family had granted their lands in Over-Middleton to the Surtees's (fn. 2), and held only half the manor. In 1320 Rowland Bart died seised of half the manor of Nether Middleton and Hertburn, held by homage, fealty, suit at the Wapontake Court of Sadberge once in three weeks, and 2s. 3d. leaving Ralph his son and heir (fn. 3). In 1364 another Rowland Bart held the same estates and half the advowson of the church of Nether Middleton by the same services, and left another Ralph his heir (fn. 4). Another ancient name held lands here. In 1337 Robert de Cambe held half a messuage and thirty acres in Nether Middleton, by homage, fealty, suit at the Court of Sadberge, and 13d. for castle-ward; John his son and heir (fn. 5). In 1384 Matania de Came held a messuage and twelve oxgangs by the same services, and Walter de Came was heir of his brother John, and aged thirty (fn. 6).
The records afford no evidence by what means the manor of Nether Middleton passed, soon after, to the family of Killinghall. John de Killynghall, the first of his name who appears in the Palatinate, occurs as a Justice Itinerant under Cardinal Langley in 1413, and at his death, in 1417 (fn. 7), held (besides various estates for term of life in right of his wife, a coheir of Hoton of Herdwyk,) several messuages in the Bailey and in Kingsgate, and the manor of Nether Middleton, of the Bishop by 9 1/4 d.; and four messuages and eight oxgangs in Over Middleton, held of Thomas Surteys, Chivaler. These Durham burgages, and this fair estate on the Tees, were probably purchases of a prudent lawyer, the homo propositus, and founder of the Killinghalls (fn. 8), whose possession has endured almost to our days. There is a break however in the line. Francis Killinghall, the lineal heir of the Justice John, sold his estates, and in the reign of Elizabeth died an officer in the garrison of Berwick (fn. 9); but there was a junior branch who seem to have had vested in them, under some family settlement, a third of the manor of Middleton; and John Killinghall, Esq. who died in 1574, a prudent and wealthy man, was the father of the second line of Killinghalls, who held the chief estate in Nether Middleton till the decease of the last male heir, John Killinghall, Esq. in 1762. William Pemberton, Esq. son and heir of William Pemberton (fn. 9) (who was the heir at law and devisee of his cousin John Killinghall), devised this estate to his maternal aunts.
Low Middleton Hall stands close on the Tees, surrounded by rich warm inclosures (fn. 10). In the gardens is a very handsome cross, said to be brought from Nesham Abbey (fn. 11). The dispersion of the family estate by Francis Killinghall gave rise to several independent freeholds, which shall be as briefly traced as possible from the Close Rolls.
9 June, 11 Eliz. 1569, Francis Killinghall, Esq. sold the manor of Middleton St. George, and the parcel called County Flatt and County Acre, in Trefford, to Ralph Taylboys, of Thornton, Esq. (fn. 12) 1 Sept. 15 Eliz. 1573, Ralph Taylboys sold the manor for 660l. (subject to the dower of Katharine, wife of Francis Killinghall,) to Rowland Johnson, of Berwick-on-Tweed (fn. 13); and the same Rowland died seised of two parts of the manor and advowson, leaving Cuthbert Johnson his son and heir, who had livery 26 Eliz. 1584 (fn. 14), and it seems built here; for 20 Nov. 39 Eliz. 1596, Richard Madockes, of London, goldsmith, (203l. 13s. 4d.) grants to Thomas Bank, of Middleton George, Gent. four closes called Whinney-houses, and one chief messuage called the Red-house or New-hall, lately builded by Cuthbert Johnson, Gent. and was purchased by Richard Madokes of the same Cuthbert, or of Ninian Girlington, Gent. with warranty against Rowland and Edward, brothers of Cuthbert Johnson, and Richard Madokes and his wife Isabel. 6 July, 3 Jac. 1606, pardon to William Allenson for purchasing the Red-house or Newhall, and Whinney-closes, from Thomas Bancke. 4 Feb. 6 Jac. 1608, John Gaynes died seised of a chief messuage in Nether-Middleton, and of the Foggfield, the Banckes, Bambrough-close, Featon-close, Conyngham-close, Bullen's-close, Dent's-close, and Old-close, parcel of the manor of Low Middleton; ob. 17 Nov. 1596; livery to Christopher his son and heir, 6 Sept. 1615.
9 March, 41 Eliz. licence to John Girlington, Gent. to grant the manor and advowson of Middleton St. George to Richard Heighington, Gent. (fn. 15)
29 Aug. 8 Jac. John Girlington, Esq. and Nicholas his son, granted to Christopher Wyvill, Bachelor of Lawes, and William Carr, of Cockayne, Esq. the chief messuage called the Grange, in Middleton George. 10 June 1614 (fn. 16), Wyvill and Carr sold to Sir Conyers Darcy, of Hornby Castle, Knt. (fn. 17)
But the bulk of the manor seems to have been re-united in the Killinghalls, by re-purchase from Madokes; for 3 July, 4 Jac. 1606, Richard Madox (reciting an Indenture 18 March, betwixt himself, Henry Killinghall, and Anne his wife, Sir William Mallory, Knt. and William Mallory, of Studley, Esq. Charles Layton, of Sexey, and John Aclom, of Mooresby, Esq. Katharine Moore, widow, and William Killinghall, and Susan his wife,) grants the manor of Middleton George (fn. 18) to Henry and Anne for life; remainder to William and Susan and their heirs (fn. 19).
Pedigree of Killinghall, of Middleton St. George.
Arms: Quarterly, 1. Gules, a bend raguly Argent between three garbs Or, Killinghall. 2. Or, a maunch Sable between three martlets Gules: Qu. Herdwyck? 3. Sable, a fess between three lambs Argent, a trefoil Gules on the fess for difference, Lambton. 4. As the first.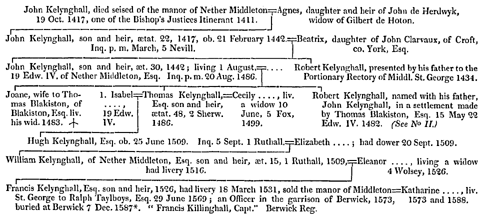 * Francis Killinghall, Capt. bur. 7 Dec. 1587. Berwick Par. Reg. Hugh Killinghall, bur. 7 Sept. 1580. Henry, son to Henry K. bur. 22 Jan. 1589. Ibid.

Lancelot, son of Marmaduke Killinghall, bur. 29 Nov. 1621.
Margaret, dau. bur. 16 Sept. 1622.
Reg. of St. Mary-le-Bow, Durham.
* Middleton St. George Par. Reg.
† Hurworth Par. Reg.
‡ 1636. Office in the Spiritual Court of Durham against Mr. Francis Killinghall, for a clandestine and unlawful marriage with Margery, his pretended wife.
§ Sockburn Par. Reg.
‖ William Killinghall and Margaret Pepper, mar. at Middleton St. George 11 July 1635.
¶ Haughton Par. Reg.
** Darlington Par. Reg.
†† John Killinghall et Anna Billingham, connupt. 12 July 1618. Darlington. Ann Killinghall de Stockley, vidua, sepult. in Ecclesia de Brancepath 28 July 1635.
‡‡ She is called Anne, daughter and coheir of Robert Layton, of Scatterscelfe, co. Ebor. in Dugdale's Visitation.
§§ On a grey slab in Cleasby Church: "Heare lieth the bodie of George Killinghall, of Middleton St. George, in the county of Durham, Gent. who dyed the 16th dav of Maye, the yeare of our Lorde, 1695."
The Church,
A small structure, consisting of a nave and chancel, stands on high ground to the South-east of the village of Middleton (fn. 20).
On a marble tablet in the chancel:

Sacred
to the memory
of William Pemberton, Esq.
whose hospitality and social temper
made him
the delight of his friends;
whilst
his benevolent and charitable disposition
justly gained him the character
of
a friend to the poor.
He died the 11th March 1801,
aged 28 (fn. 21).
As early as 1312 the Church or Parsonage of Middleton St. George is stated to be divided into two portions, the one free from all ecclesiastical burthen, "ab omni onere liberam et immunem nomine Personatus," which portion was then held by William, of London, Chaplain, on the presentation of Ralph Bart; and the other portion charged with all the burthen of the Vicarage, "cum omni cura et onere nomine Vicariæ in Ecclesia de Middleton George;" to which John de Cambe had presented his son John Cambe, Priest. Bishop Kellaw, on the appeal and hearing of all parties interested, confirmed this partition, which, I presume, accounts for the division of tithes in the Terrier (fn. 22).
Terrier of the Rectory of Middleton St. George, 23d August 1792: — Imprimis, two inclosures, containing about fourteen acres of meadow and arable land near Oaktree, with a barn upon it built with bricks and covered with tiles. Item, a moiety of the church-yard, containing about an acre. Item, a moiety, or full half, of all tithes within the said parish in their proper kinds, except a modus of 4l. 13s. 4d. in lieu of the tithes arising from two farms belonging to William Pemberton, Esq. called Low Middleton and Oaktree-house farms; and a moiety of a modus of 16s. in lieu of the hay and small tithes of Forster-house, or West Hartburn farm; and a moiety of a modus of 22s. in lieu of all tithes arising upon Gingerbread farm, belonging to Hall Wharton, Esq.; and a moiety of a modus of 20s. in lieu of all tithes arising from Whitehouse farm, the property of Mr. William Wrightson (fn. 23). These moduses are all payable at Michaelmas: the church-yard fence is repaired by the tenants of the parish (fn. 24). John Whaley, Rector; William Addison, trustee to William Pemberton, Esq.; George Chambers, Thomas Richardson, Churchwardens.
Succession of Rectors.
Middleton St. George Rectory.—Elisha Cocks, Esq. Patron.—A discharged living in the Deanery of Stockton.—Pays no first fruits or tenths.—King's Books, 3l. 13s. 1½d; Tenths, 7s. 3¾d.; Episc. Proc. 4s. 6d.; Archid. 2s.—Dedication to St. George.
John de Cambe, 1312.
Alan de Shutlington, 1359.
William de Meryngton, 1365.
William Sadler, 1466.
John Todd, 1501.
William Rippon.
James Orpyn (fn. 25), 1531.
Marmaduke Myers (fn. 26), 1598.
William Casse (fn. 27), 1613, p. m. Myers.
William Harrison, 1636.
Marmaduke Wetherell (fn. 28), 1677.
Richard Scruton (fn. 29), 1690, p. m. Wetherell.
William Raine, 1693.
John Lambton (fn. 30), 1705, p. m. Raine.
William Noble, A.M. (fn. 31) 1722.
John Whaley, A. M. (fn. 32) 1746.
William Addison, A. B. (fn. 33) p. m. Whaley.
William Addison Fountaine, A. B.
[But it has been noted that there was another Rectory of Middleton, a sinecure, as settled by the Concordat of 1350; and to this also, which is now, 1 presume, a mere lay Rectory, there occur some institutions:—"Middleton St. George Rectory.—Portionary.—King's Books, 4l.; Tenths, 8s.; Proc. Episc. 4s. 6d.; Synod. 2s." William de London, 1350. Robert Bolton, . . . . . . Robert Kelynghall, p. m. Bolton, 1434. Christopher Conyers, . . . . . Robert Redemayn, LL.B. (fn. 34) 27 Jan. 1570, p. m. Conyers. Joseph Cradock, A. B. 1625, p. m. Redemayn].
The entire advowson of the Church of Middleton St. George (fn. 35) was purchased with or attached to that third of the manor, which, it has been stated, belonged to the junior line of Killinghall, ancestors of the latest owners of Low Middleton; and the right of presentation has been constantly held by the Killinghalls and Pembertons, or by patrons claiming under them.
The Parsonage-house, with all its outworks, is represented as totally ruinous, "in vita et tempore mortis Ricardi Scruton."
The present Rector has built a handsome mansion-house upon his own estate within the parish.
Over-Middleton, or Middleton-on-Row (fn. 36).
By Inq. 23 Apr. 29 Langley, Sir Thomas Surtees (fn. 37), Knt. died seised of the whole vill of Over-Middleton, held of the Bishop by fealty and 4s. 6d. rent, and of Pountes-mill. The same integral estate rested in his descendants till the division of the family estates (fn. 38) betwixt the heirs general of the whole blood, and Marmaduke Surtees, the heir male of the half blood (fn. 38). By the Indenture of 1552 (fn. 38), the manor of Over Myddelton (with half the manor of Morton) was allotted to Marmaduke. In 1598 Thomas Surtees, Esq. grandson of Marmaduke (fn. 38), sold the manor of Over-Myddleton to Anthony Felton (fn. 39) ", of—Jarrowe, Gent. who again conveyed in 1608 to Arthur Aldbrough, of Aldbrough, Esq. (fn. 40) and he, in 1612 (fn. 41), granted to Christopher and Alan Ayscough, whose descendants held lands here for several descents (fn. 42).
[Various other parcels all originated under the same estate of the Surtees's. In 1566 Marmaduke Surtees, above named, granted two messuages and gardens, and nine oxgangs, in Over-Middleton, to John Hedworth and Cuthbert Musgrave, in trust for John, son of Richard Hedworth, of Whickham, and Anne his wife, grand-daughter of Marmaduke (fn. 43). 3 Aug. 10 Jac. 1612, Christopher Place, of Dinsdale, Esq. acquired a messuage, cottage, garden, orchard, twenty acres of meadow and forty of pasture, from Anne Hedworth, widow, and Ralph her son. 1620, licence to Ralph Hedworth to grant Middleton High Moore and Swyneflatt to Francis Forster, Gent. 1619, Ralph Hedworth and Eleanor his wife, two messuages, gardens, and orchards, sixty acres of land, fifty of meadow, and one hundred of pasture. By fine, 4 July, 39 Eliz. 1597, George Meers, William Wetherell, Lancelot Hodshon, and Samuel Hindmers, acquired from Thomas Surtees, Esq. five messuages, tofts, and gardens, one hundred acres of land, one hundred of meadow, and two hundred and sixty of pasture, in Middleton-one-Rowe. 17 May, 12 Jac. livery to Francis, son of Lancelot Hodshon, of Middleton-e-Rawe, yeoman; and 4 July, eod. ann. pardon to John Sadler, of Aldbrough, for acquiring a messuage, toft, and three oxgangs in Middleton-e-Rawe, of Francis Hodshon. 17 April, 8 Jac. pardon to James Dale for a messuage, three cottages, fourteen acres, twenty of meadow, and fourteen of pasture, and a free fishery in the Tees, from Marmaduke Androwe and Jane his wife (fn. 44). 9 Sept. 1623, pardon to Cuthbert, John, and James Potter, for a messuage, toft, garden, and thirty acres in Middleton-Rawe, from Henry Andro and Constance his wife. 6 Car. 1630, William Killinghall, Esq. a messuage, toft, and two closes from Cuthbert Potter, of Bayle-house, in Grisby, and James his son (fn. 45).]
But some parcels of the manor had been alienated at an earlier period. In 1558 William Wren, of Billyraw (who also held lands in Sadberge, Egglescliffe, Newbiggin, and Hartburn,) died seised of a messuage and four oxgangs in Middleton-Raw, held of the heirs of Thomas Surteys (fn. 46). In 1595, 37 Eliz. Roger Wilson, Clerk, Vicar of Kelloe, acquired these lands of Anthony and Charles Wrenn, Esquires, son and grandson of William. Roger Wilson (fn. 47) left a son and heir, Marmaduke Wilson, who was described of Stoday Closes, in 1675.
West-Hartburne may be termed an extinct village, for the very name is almost forgotten. The vill included the farms called Goosepool, in the Parish of Long-Newton, and Foster-house, and Gingerbread-house (fn. 48), and possibly other lands in the Parish of Middleton.
Two rows of cottages, with a well in the centre, near the North-eastern verge of the Parish of Middleton, are the remains of the ancient village; but, according to tradition, the chapel (fn. 49) and burial-ground stood within Long-Newton, at a little distance from the cottages.
Hartburn is seldom distinctly called a manor; but the lands here seem to have been held with and under the manor of Nether Middleton. In 1320 Rowland Barte died seised of half the manor of Nether Middleton and Hartburne, by homage-suit at the County Court of Sadberge, and 2s. 3d. rent, leaving Ralph his son heir (fn. 50). In 1367 Goceline Surteys held one oxgang in Hertburn, of Ralph Barte, by 1s. 6d.; and six acres by 4s. rent; and one oxgang of the heirs of John de Cambe, by fealty only (fn. 51). Sir Thomas Surteys, nephew and heir of Goceline, held the same lands of William de Walworth in 1379 (fn. 52).
The Killinghalls, of Middleton St. George, held another principal estate here. In 14 . . Thomas Asseby held an oxgang and nineteen acres in West Hertburn, of John Killinghall, by knight's service and 3s. rent; and eighteen acres in East Hertburn, of Sir Robert Conyers, by services unknown (fn. 53). In 1486 John Killinghall died seised of one hundred and forty acres, called West Hartburne, held of the Bishop by knight's service and suit at the Court of Sadberge (fn. 54); and this estate, latterly sometimes stiled the manor of West Hartburn, descended (according to the line traced under Middleton) till Francis Killinghall (fn. 55) sold it to the Wrenns. 3 June, 1 Eliz. William Wrenn, of Billyhall, died seised of half of West Hartburn, held by knight's service, leaving Anthony his son and heir (fn. 56), whose grandson Lindley Wren sold this estate to Francis Forster, Gent. in 1628 (fn. 57). John Forster, Gent. held these lands in 1694.
John Forster, Gent. held these lands in 1694, a part of which have acquired from him or his family the name of Forster-house. This is now the property of the Rev. William Addison Fountaine, Rector of Middleton (fn. 58).
In 1684 the freeholders within the whole Parish were, Francis Ayscough, Gent. in Yorkshire; Cuthbert Garth, Gent. at Richmond; Jane Wilson; William Killinghall, Esq.; Thomas Cunningham; the heirs of Robert Young; Thomas Thoroton, in Yorkshire; — Bearman, Gent. in London; Christopher Ward, draper, in Darlington.
Charitable Benefaction to The Parish of Middleton St. George.
A rent-charge of sixteen shillings out of lands called the Scrogg Farms, paid annually to the Minister and Churchwardens for the use of the poor of the Parish of Middleton St. George; paid from time immemorial, but its origin unknown.
Pedigree of Ayscough, of Middleton-one-Row.
Arms: 1. Sable, a fess Or, between three asses passant Argent, a crescent for difference, Ayscough; quartering, 2. Or, a bend Azure, for Caythorpe; 3. Gules, a chevron between three talbots seiant Argent, Hungate; 4. Argent, a cross moline Sable, Fulthorpe.
Crest: On a wreath an ass's head crased, Argent.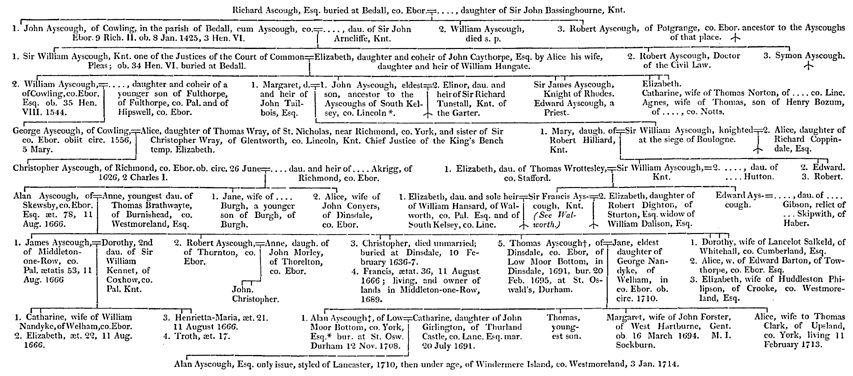 * From Bills in Chancery.
† "Upon whose marriage the lands in Dinsdale were settled by Indentures bearing date 10 Apr. 1656, and 20 Nov. 1660. Ao 12 Car. II."
‡ "A man of an indolent, easy disposition, spent much of his time in prison."
Pounteys (fn. 59) Bridge.—This was probably the first arch that was thrown across the Tees, and may be fairly referred to the Saxon period. No charter reaches its origin, but it is named soon after the Conquest in a manner which leaves little doubt of its long anterior establishment. The passage of the river, and the straight undeviating road which leads from the ancient Pounteys to Sadberge, and so to Stainton in the Street, were probably used by the Romans. The defences on each side of the river prove the importance which was attached to the pass, and as long as Sadberge retained any consequence, this probably continued to be the chief entrance into the county from the South. The following are its early evidences:
Ralph Surteys (fn. 60) gave to the Convent of Durham all the land betwixt the road which tends from Pounteys (a Ponte Teyse) towards Sadberge and Gildussit, and from Gildussit ascending by the runner (fn. 61) betwixt Morkerflatt and Castellarium, as far as the same road, free from all secular tax or service, for the establishment on the same land of a house of hospitality and charity.
These lands were, I think, assigned to the Sacrist, and the House of Durham appointed Keepers or Guardians of the Bridge; and allowances of expence for the support and repair of the structure occur in the Sacrist's Book (fn. 62).
Walter de Cadamo, whose charter is attested by Sir Ralph Surteys before named, gave to St. Mary and to Pountay's Bridge, and to the Wardens of the Bridge, an oxgang of land in Hertburn, which he had purchased of Rowland, son of Pagan, ad operationem et reparationem ejusdem Pontis.
Cecily, daughter of Gilbert de Heworth, gave to the Church of Durham the service of Thomas, son of Thomas de Wodom, arising from half the vill of Wodom, for the support of one Chaplain at Tees Bridge; and the said Thomas did his homage to the Prior in full Court.
The Chapel of St. John then was on or near the Bridge, a provision which was usual in most similar situations for the spiritual solace of travellers. Several presentations occur to this Chapel (fn. 63), which is mentioned as early as the time of Bishop Philip (fn. 64), Capella de Puntasia; but it was not the only religious establishment at Pountays. The following document proves that there was also a hermitage near the Bridge (fn. 65) :
Joh'nes Prior Eccl. Cath. Dunelm. dilecto nobis Wilłmo Byndelawes de Burton in Lonesdale Heremite, salutem. Tibi locum heremitalem de Pountese juxta aqu' de These, vacantem, et ad nostram collac'onem spectantem, cum suis juribz, &c. conferimus, &c.—6 Dec. 1426.
There was a Chantry, moreover, of St. Mary in the Church of Dinsdale (fn. 66); and when, in 1380, Sir Alexander Surteys increased the endowment, he charged the Chaplains with an annual rent of one mark, ad reparac'onem Pontis de Pountays. I know not what lands exactly passed under the name of Pounteys; but to add to the picturesque scenery of the old Bridge there was a mill, of which the site is still remembered, immediately above the Bridge, and which is always very particularly mentioned in the Dinsdale Evidences (fn. 67).
The date of the total destruction of Pounteys Bridge does not appear. The decay of Sadberge (once the capital of a district, where the Bishop's Courts were regularly held), and the increasing afflux of travellers, clerk and lay, to the shrine of St. Cuthbert and the city of Durham, threw the chief passage on to the modern and more open line of road by Croft-bridge; whilst the old High-street, passing through the deep woody vale of Tees, became gradually deserted, in some measure, it is said, on account of the frequent robberies committed in the wet hollow pass of Countys-lane, whilst the perpetrators found a safe refuge in Dinsdale-wood (fn. 68). The foundations of the old Bridge may be still distinguished about three hundred yards below the Sulphur-well. The lower courses of masonry which formed the abutments on each side still remain; vast quantities of squared stones cramped with iron were removed when the Bath was built, and at earlier periods; some of these seemed to have formed one of the pillars of the bridge. The ground on the Yorkshire side bears strong marks of a regular tête du pont. From the Bridge the road Northwards climbs the hill in as direct a line as possible; and immediately on the brow (fn. 69) is a large tumulus (fn. 70), or artificial mound, surrounded by a fosse, and commanding the ascent. Just opposite to this work, in the front of a farmhold belonging to William Hoar, Esq. the ground has been terraced, and extensive vestiges of foundations appear on the level above (fn. 71). The road proceeds "with a truly Roman pertinacity" to Sadberge, and thence to Stainton-in-the-Street (fn. 72).
The ford near the Bridge is called County-ford, the lane Northwards County-lane, and the flat on the Yorkshire side (in the estate of High Dinsdale) County-flatt. But some parcel of land on the Durham side was also called County-flatt, and is oddly enough stated to be within the manor of Trefford, which lies far to the East.
By Inq. 1385, Goceline Surteys died seised of fifteen acres, and one acre of meadow called Counts-flatt, parcel of the manor of Trafford (which manor is held of the Bishop by fealty, two shillings, and a pair of spurs), leaving Ralph his son and heir, an infant of six months (fn. 73); which Ralph (sometime in ward of John Wyke, Esq. (fn. 74) ) died under age (fn. 75), seised of the same lands, held of Isabella Tempest, Lady of Trefford. In 1387 Richard de Stonacle and Alice his wife, next of kin and heir of Ralph Surteys, came into Court, and acknowledged that Countsflat, parcel of the manor of Trefford, was held not of Tempest, but of the Bishop of Durham, by fealty, 2s. and a pair of spurs (fn. 76).
This land, called County-flatt, afterwards belonged to the Killinghalls.
Carta Ricardi de Super Teysam.
O'ib[us], &c. Ricardus de Super Teysam, Sal. Noverit, &c. me concessisse, &c. Deo ct S. Cuthberto et Priori et Mõchis Dunelm. totam terram inter viam que tendit â Ponte Teyse versus Sadberie et Gildusset, et de Gildusset ascendendo per siketum subter Morkarflatt et Castellarium, usq. ad predictam viam, in puram et p'pet. et liberam elemosinam, ad faciend. in eadem terra domum caritatis et hospitalitatis. T. Dño P. Dunelm. Ep'o, Americo Dunelm. Archid. Leonie de Heriz, tune Vic. Wilłlmo de Brus, Wilłms de Bardolf, Rob. fil. Meldredi, Wilłlmo Britone, Petro Caron, Rogero fil. Hugonis, Rogero fil. Gerardi, Rad'o Bard d' Hartburne, Rad'o Bard de Mideltona, Walt'ro et Rob. de Cadamo, Jolano de Langtona, Wilłlmo Postel, Joh'e et Wilłlmo Personis de Mideltona (fn. 77), Witto de Hathona, Ric. de Broc, et aliis.
Carta Walteri de Cadamo (fn. 78) de terra in Hertburn, concessa ad Pontesbrigg.
Omnibus, &c. Walterus de Cadamo, &c. Sciatis me dedisse, &c. pro salute anime mee et uxoris mee et antecess. et succ. meor. Dco et S. Marie et Ponti de Pountays, et custodibus ejusdem Pontis, illam bovatam terre in Hertburn, cum tofto et crofto, et omnibus infra villam et extra, quam emi de Rolando, filio Pagani, habendam ad operac'onem et reparac'onem ejusdem Pontis in puram et perpetuam elemosinam. T. Radulfo de Sup'tays, Johanne de Mundevill, Will'o Britone.
Ex. Orig. in Thesaur.
Om'ib[us], &c. Cecilia, filia Gilb'ti de Heworthe, Saltm. Sciatis me dedisse, &c. in mea viduitate, Priori et Monachis Sci Cuthberti de Dun'lo ad sustentac'one' unius Capellani ap'd Pontem Tesie p' salute a'i'e mee, et an'cessor. hedu' m'or. servicium Thome, filii Thom. de W'dom', de medietate ville de W'dom' cu' p'tinenciis q'm medietate' idem Thomas et antecessores sui de me et de antecessorib's meis tenueru't p' dimidiam martham annuatim reddend'. Hoc autem p'd'c'm servic. &c. et ad majorem securitatem p'dc'us Thomas p' p'ceptu' meu' in plenis placitis P'oris p'dco P'ori homagiu' fecit, ut ad hec mea, &c. Hiis testib's, Rob'to fil. Meldredi, Galf. fil. Galfri, Jurdano Hayrun, Will'o Briton, Gilb'to de Feriby, Gaufr. de Parco, Ric. fil. ej', Alano de Petindu', Will'o fil. ej', Walt'o de Selebi, Nigello de Rungeton, Will' Buche, et multis aliis. 3, 11ae Sacristae.