Pages 252-264
The History and Antiquities of the County Palatine of Durham: Volume 3, Stockton and Darlington Wards. Originally published by Nichols and Son, London, 1823.
This free content was digitised by double rekeying. All rights reserved.
PARISH OF HURWORTH.
The Parish of Hurworth is bounded by the Tees and by a small portion of the Parish of Sockburn on the South, by Dinsdale on the East, by Haughton-le-Skerne on the North, and by the Parish of Darlington on the North-west and West. The Parish includes two Constableries: 1. Hurworth; 2. Nesham.
Hurworth,
A beautiful village scattered along a steep bank above the Tees, and commanding a rich though bounded landscape Southwards, extending over a fertile plain, washed by a gallant sweep of the river: the swift rise of the Yorkshire grounds closes the prospect.
Hurworth was the lordship of Tailboys from an early date. An extract from the Testa de Nevill shews the origin of this estate:
Ivo Tailleboys tenet in capite de Rege Thenagium, quod fuit Walfi fil. Gilberti per Elizabet. uxorem suam, et reddit per annum, xls. Ric. de Kurtenay et Rog. de Butemont habent duas sorores predicte Elizabet. et faciunt servicium per manum predicti Ivonis pro parte sua.
This refers to Sadberge. Afterwards, when the Wapontake was granted to the Bishop, these lands were held of the See of Durham.
The heir of Robert Tailbois held the estate in 1333 (fn. 1). In 1365 William Tailbois, chivaler, died seised of a third part of the manor, and of two parts of the advowson, leaving Henry his son and heir, who died four years (fn. 2) later, seised of the manor of Hurworth and of five oxgangs, held of the Bishop by the twentieth part of a knight's fee, and suit once in three weeks at the Court of Sadberge; and of three cottages and eleven oxgangs, held by fealty and custody of the gaol of Sadberge; leaving a son, Walter Tailboys (fn. 3), whose male descendants held the manor lineally (fn. 4) till the decease of Robert Lord Tailbois without issue in 1540 (fn. 5). His sister Elizabeth, wife of Thomas Wimbysh, of Lincolnshire, Esq. and afterwards of Ambrose Earl of Warwick, was his heir. She also died without issue; but by Ind. 4 Dec. 4 Edw. VI. 1550, Thomas Wimbysh (fn. 6), of Kyme, Esq. and Elizabeth Lady Taylboys his wife, granted the manor of Hurworth and the advowson to Sir Leonard Beckwith, of Selby, co. York, Knt. for 266l. (fn. 7) By Ind. 29 July 1577, Roger Beckwith, of Selby, Esq. son and heir of Leonard, for 330l. conveyed the manor of Hurworth, late the inheritance of the Lady Tailbois, to Henry Lawson, of Nesham, Esq. and George Ward, Gent. (fn. 7)
In 1607 Henry Lawson, of Nesham, Esq. died (fn. 8) seised of the moiety of one manor in Hurworth, and of the moiety of the advowson, parcel of the possessions of the Lord Tailboys, and since of Roger Beckwith, Esq (fn. 9); and of another manor in Hurworth; and eight oxgangs, late of William Inglebie, Esq. called Inglebie's Manor, held of the Bishop by fealty in common soccage; and of one oxgang called St. Oswald's Land, one acre called Lampe-land, and one acre and a half called Ladye-land (fn. 10). James Lawson, grandson and heir of Henry died under age; and his aunts Frances, wife of Richard Braithwaite, Esq. and Anne, who married Henry Jennison, of Winyard, Esq. became his coheirs (fn. 11); but the whole centered by purchase in Jennison, and in 1727 John Jennison, of Nesham Abbey, Gent. sold the manor of Hurworth (fn. 12) and half the advowson to John Bland, of London, merchant.
Ingleby's Manor, as it is termed in the Inquest of 1607, arose by sub-infeudation under Tailbois. Henry de Ingilby, Clerk, died seised of lands in Sadberge 1382 (fn. 13), which descended to his brother John de Ingelby; and John in 1409, besides the lands in Sadberge, died seised of thirty-one oxgangs and seven acres of meadow, six messuages, and seven cottages in Hurworth, held of Walter Tailboys by fealty. These lands descended lineally to Thomas, William, John, and William Ingleby, and were it seems united by purchase with the old Tailboys manor.
It must be recollected, however, that Lawson had only half the Taylboys estate. A moiety of the manor rested in Warde, and other freeholds existed independent of either of these, in part derived from the spoils of Nesham Abbey, and probably from other sources. In 1702 a fourth of the manor is stated to be vested in Robert Hilton, Gent. (fn. 14)
The following extracts are thrown together as briefly as possible from the Close Rolls:
5 Feb. 39 Eliz. pardon to George Ward, of Hurworth, yeom. for acquiring one oxgang from John Robinson, yeom. held of the Bishop by knight's service, val. 20s.—12 Jan. 45 Eliz. pardon to George Dodsworth, Robert Gibson, and Christopher Warde, for acquiring four messuages and cottages, five tofts and crofts, 60 acres of arable, as many of meadow, as many of pasture, of George Warde.
10 Feb. 1596, William Wormeley, Gent. purchased of John Syme, Gent. and Joane his wife, two messuages, tofts, gardens, and orchards, 70 acres of arable, 60 of meadow, 100 of pasture, and two acres of woodland, held of the crown in chief, 1634. Pardon to Sir John Lister, Knt. for acquiring by fine 4 Aug. 10 Car. lands in Hurworth-on-Tease, from Robert Wormeley and Margaret his wife, and William Wormley and Dorothy.
Richard Thompson died seised of two messuages and thirteen acres, held of James Lawson, Esq. as of the manor of Hurworth; and of five oxgangs and a half, parcel sometime of Ingleby's Manor, leaving Thomas Thompson, Clerk, Rector of Hurworth, his son and heir, æt. 37. Eschaet 4 Car. 1629.
In 1684 the freeholders in Hurworth were, Benjamin Lister, Esq. Barrister; John Burnett, of Croft, Gent. (fn. 15); William Jennison, Gent. of Neasham Abbey; Ann Byerly, widow, at London; Judith Richardson, spinster; Hamond Beaumont, Clerk; Ann Marley, widow; Thomas Bromley, Gent. of Monk Heselden; George Slany, of Middleton-Tyas; Thomas Bulman, Gent.; William Ward, aged; Michael Harrison, Gent.; Robert Smith, Gent. of Durham; Ninian Gresham; Robert Warde, of Darneton; Cuthbert Bore, of Skipbridge-house; Timothy Kitchingman, at Baulke, in Yorkshire; Francis Buckle, William Walker, and James Hamilton.
The property, I believe, is scarcely less divided at present. The family of Warde have long held considerable lands in Hurworth. The Miss Wardes (owners also of High Dinsdale) have a handsome mansion-house in Hurworth, and in their garden is preserved the Greystoke Knight, the most interesting existing relique of Nesham Abbey (fn. 16). There are several other handsome houses, especially those of Robert Colling, Esq. and Thomas Wilkinson, Esq. Within the township also are Pilmore-house, near Croft, the seat of Gordon Skelly, Esq. and Newbus-Grange, the property of B. Dunn, Esq. lying on the river betwixt Hurworth and Nesham.
Descent of Tailbois, Lord of Hurworth.
Arms: Argent, a saltire Gules, on a chief of the second three escallops of the field.
Crest: On a wreath of bull's head couped Argent.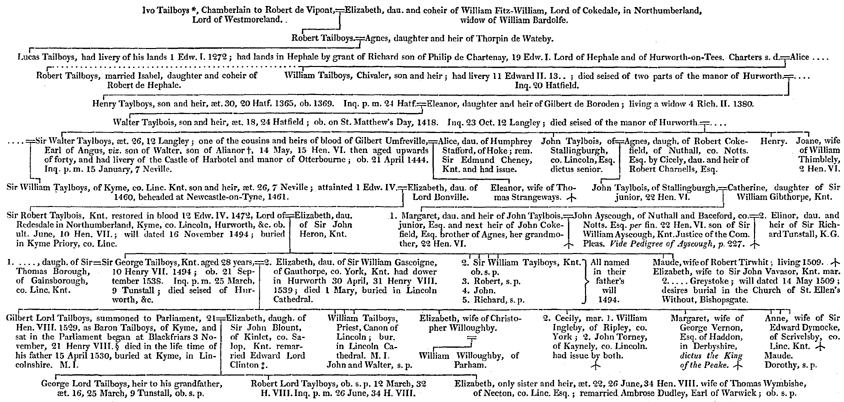 * The name is evidently a personal appellative, like Taille fer, and from some feat probably of personal strength.
† See Pedigree of Umpreville, vol. II. p. 325.
‡ This is the Lady Taylboys who was mother of Henry Fitzroy Duke of Richmond, base son of Henry VIII.
§ Dugd. Sum. to Parl. p. 497. edit. 1685.
The Church
Stands immediately on the brink of the river-bank. The structure consists of a chancel, nave, North porch, and low West tower. The nave has regular ailes, each formed by three pillars supporting round arches: two of the pillars of the South aile are plain cylinders; the rest are octagonal. The East window is square, divided into eight lights by a transom and mullions; the other lights are modernised or irregular. The nave is separated from the chancel by a pointed-arch springing from brackets. On the West front, under the tower, are three armorial shields; the dexter Nevill, the central coat Taylboys, and the sinister Dacre (fn. 18).
Monumental Inscriptions.
On a mural monument of white marble against the North wall of the chancel:

Near this place
are interred the remains of
James Bland, late of this parish, Esq.
And of his son James.
The Son
a youth, who from the natural endowments
of his mind,
improved by a polite education
and adorned with a dutiful disposition,
promised to fullfil all the hopes
which the tenderest parents had formed;
But
was snatched from their expectations
by the attack of a violent fever,
of which he died on the 4 of July 1769, aged 18.
The Father,
Broken with the loss of a beloved son,
and labouring under a like disease,
died on the 28 of March 1770, aged 45.
In him was lost to the world
a man
who in the character of
a Gentleman, a Magistrate,
a Friend, a Father, and a Husband,
has left few equals, none superior.
The afflicted mother,
The disconsolate widow (fn. 19),
caused this monument to be erected
in testimony of their virtues
and her grief.
On the base of the same monument:

Near this place
are also interred the bodys
Of Henry Bland, late of this parish, Esq.
and merchant of London,
who died on the 22 Nov. 1729, aged 55;
and
of Barbara his wife,
who died on the 9 of April 1755, aged 69,
father and mother of the above-named James Bland, Esq.
On a white marble against the wall on the left side of the East window in the chancel:
John Johnson, LL.D. Vicar of Mansfield, Rector of Hurworth (fn. 20) (in his own right (fn. 21) ), Prebendary of Durham, Domestic Chaplain to Caroline late Princess of Wales, and Justice of the Peace for the County of Durham and North Riding of Yorkshire. Died 14 Oct (fn. 19), 1761, in the 84th year of his age, much and deservedly lamented.
Dorothy his wife dyed 9th June, 1736. Anabella his daughter 11th Sept. 1724. Ralph his son 1st August 1742. Elizabeth his daughter 22d Dec (fn. 19) 1760. This monument was erected by his son and daughter James and Dorothy Nicholson, 1762.
Against the North wall of the chancel (on a brass plate):
Near this place lies interr'd the body of Mrs. Jane Ferrand, daughter of Edward Ferrand, of Hardenbeck, in ye parish of Bingley, and county of York, Gent. An unaffected piety towards God, a modest freedom of conversation, with all the accomplishments necessary to compleat a good Christian, were her genuine qualifications. She died, esteemed and lamented by all who knew her, the 13th day of May, Anno Dom. 1720, ætatis suæ 21.
Against the South wall of the chancel, on a white marble:
Underneath lieth interr'd the remains of James Nicholson, Clerk, A. M. who departed this life on the 3d of May 1771, aged 58 years. His life was steady, pious and exemplary, being active in useful goodness. There was no vice which he did not look upon as a reproach, nor any virtue which he did not esteem as an ornament to human nature. His friends have lost a social and edifying companion; the poor a constant and ready helper; and the world a useful member of society. His afflicted widow Dorothy, daughter of John Johnson, Clerk, LL.D. hath erected this monument of her gratitude to the affectionate husband and the honest man.
Also the said Dorothy, who died the 31st Jany 1772, aged 58, much esteemed and greatly lamented.
On a plain slab:

Underneath
lie interr'd the remains of
Judith Routh,
widow of Cuthbert Routh,
late of Dinsdall, Esqr.
She departed this life
in the 81st year of her age,
on the 4th day of December
1775.
In her the relative and social virtues were so happily united with her religious duties, as to be the fruitful source of much human felicity. Her heart was ever ready to direct her liberal hand, and unequivocal benevolence was her true characteristic: she liv'd a life of reason, and died the death of the righteous.
The Rectory of Hurworth is one of the comparatively few livings within the Southern portion of the Diocese which are in lay patronage. The old lords of Hurworth were the early patrons, and the advowson passed with the manor till the sale to Lawson and Warde in 1607. Lawson's moiety descended to Jennison; and the other moiety, in 1708, was the property of the Byerleys, of Midridge Grange (fn. 22). Jennison's share was not sold with the Hurworth estate to Bland, but separately to Dr. Johnson, Rector of Hurworth. Byerley's moiety was alienated to Carr, of Cocken, and descended under the family settlements to Sir Ralph Milbanke, Bart, who conveyed to Robert Hopper Williamson, Esq.
Succession of Rectors.
Hurworth Rectory in the Deanery of Stockton.—Patrons, alternis vicibus,—Johnson, Esq. and Robert Hopper Williamson, Esq.—King's Books, 27l. 5s. 5d.; Tenths, 2l. 14s. 6d.; Episc. Proc. 12s.; Synodal, 2s.; Archid. 2s.—Dedication to All Saints.
William Persona de Hurdeworth (fn. 23).
Robert de Balderston.
John Brumell, 1363.
Guy de Rouclyff, 1369, p. m. Brumell.
Richard Lokyngton, 1377, p. res. Rouclyff.
Thomas Orston, occurs 1431.
William Gregson (fn. 24), Clerk, 1478.
John Cutteler (fn. 25), occ. 1499.
George Tailer, occ. 1561–1577.
George Hall, 1584.
Nicholas Hilton (fn. 26), 1591.
Thomas Thompson, A. M. 1617, p. m. Hilton.
John Hamilton (fn. 27), 1645, p. m. Thompson.
Leonard Wastell, A. B. (fn. 28) 1651.
Cuthbert Chambers, B.D. (fn. 29) 1712, p.m. Wastell.
John Johnson, LL.D. 1714, p. m. Chambers.
George Bramwell, A. M. (fn. 30) 1761, p. m. Johnson.
John Theakston (fn. 31), 1784.
The parsonage-house stands pleasantly, with a good garden on the bank of the river. The Rector is lord of a small copyhold manor. The glebe consists of about sixty-three acres. The Parochial Register commences in 1559.
1645. Dominus percussit hie tres et quadraginta populos in hac mense Julii, omnes fere in hoc oppido, viz. Hurworth.
"In Hurworth lived and died that great and self-taught mathematician William Emerson (fn. 32), whose name and writings are so well known to the public. His person was robust, rough, and masculine; his dress slovenly and mean; his manners studiously vulgar and abrupt; his way of life as singular as his person, frequently descending to the meanest labour and occupation (fn. 33). Amidst these singularities he was acknowledged to be the first genius of the age in mathematics, in which line he was communicative and liberal; and though he would assume an air of negligence touching his abilities, as if not conscious of them, he had infinite pride therein. He affected an appearance of infidelity in religious matters, and was an example to the vulgar not a little reprehensible. He was a great contributor to the Ladies' Diary under the signature of Merones, and for many years unknown till a transposition of letters discovered his name. Mr. Cloudsley, of Darlington, surgeon, has a fine portrait of him in crayons, for which he sat to Mr. Sykes, and which is a most striking likeness (fn. 34)." Hutch, vol. III. p. 158.
On a head-stone in Hurworth church-yard, placed against the West wall of the nave:
(fn. 35) [Hebrew text]
Quod sub pedibus sepultum et neglectum jacet aliquando fuit Gul. Emerson, vir summæ integritatis, rarissimi ingenii, quantus fuerit mathematicus, si scripta ejus perlegeris, quorsum narraret saxum: Si non perlegeris, perlege et scies. Ob. 21 Maij, 1782, æt. 81.
Juxta sepulta jacet Elizabetha uxor, quæ ob. 27 Martij, 1784, æt. 76.
Nesham,
One mile to the East of Hurworth. The village stands close on the Tees, near a broad safe ford.
The manor of Nesham was held by the Greystokes by subinfeudation under the old lords of Hurworth. William Baron of Greystoke held the manor of William Taylboys, Chivaler, by 20s. rent, in 1360 (fn. 36); and the estate descended lineally through the heiress of Greystoke to Dacre (fn. 37), and through the coheir of Dacre to Howard (fn. 38). In 1611 the manor of Nesham is enumerated amongst Lord William Howard's estates, and valued at 26l. 18s. 4d. per ann. But a large portion of the Greystokes lands had been given to Nesham Abbey, of which they were the reputed founders.
In 1670 (fn. 39) the manor of Nesham is stated to belong to Lord St. Johns, that is to say, Lord St. John, of Basing, afterwards Marquis of Winchester. The Marquis sold to Sir William Blacket, Bart, who again conveyed, in 1698, to Charles Turner, of Kirkleatham, Esq. for 11,000l. In 1752 Cholmley Turner (son and heir of Charles) devised to his wife Jane for life; with remainder to William Turner, of Clintz, the testator's brother, and to Charles, son of William, afterwards the first Sir Charles Turner, Bart, whose son and heir, the second Sir Charles, sold the manor of Nesham to William Wrightson (fn. 40), Esq.
Nesham Abbey.
The patrimony of St. Cuthbert spread so wide betwixt Tyne and Tees, that little room was left for any other religious establishment to take root and flourish. St. Edmund's, on the very Northern limit of the Palatinate, and Nesham, on its extreme Southern verge, were the only Monasteries that stood independent of the powerful Church of Durham.
"Nesham (saith Tanner, who places it by mistake in Northumberland), a Benedictine Nunnery, dedicated to the Virgin." Lord Dacre, he adds, was accounted the founder or patron; and it does appear, that this little monastery, which contained only eight female votaries, was founded by Lord Dacre's ancestor, one of the old Barons of Greystoke. The original charters of the House of Nesham have been preserved by the family of Lawson, to whom the monastery was granted at the Dissolution. The earliest evidence apparently is a charter of Henry II. confirming the foundation.
H. Rex Angl. Dux Norm, et Aquit. et Com. And. Archiepis. Epis. Abbibus, Justic. Vic. Baron. Ministr. et om'ib's fidelib' suis tociũ Ang. franc. et Angl. Salt'. Sciatis me cõcessisse et cõfirmasse ī p'petuã elemosinã Deo et S'ce Marie de Nessham, et S'cs monialibs ibidem Deo servie'tib's, locũ cũ domũ earũ situ, ē unã carucatã tre' q'm Emma de Teisa dedit p'dicte Ecclie de dominio suo de Neshã, cõsensũ Radi fil. sui, et unã carucatã tre' ī hurdewurda ex dono Engelaise sororis Eme p'dicte, et ex dono Alani fil. Torfini t'ram q'm h'nt in tore'tona, ex dono Alani de Eggescliva duas bovatas tre' in Nessham, sic' cartæ sup'dictor, donator, testant'r: h'ec et alia q' p'dicte Eccl'e rõabilit'r data s't, vel ī fut'm dabunt'r, ei et monialibs loci ej'dem cõcedo et cõfirmo. Et volo et firmit. p'cipio q'd omnia p'dicta fiant et teneant fir. et ī pace libe' et qũete et honorifice, cũ om'ib' p'tinciis suis, ī bosco et piano, ī p'tis et pascuis, ī viis et semitis, in aquis et molend. ī piscariis cũ om'ib' rebs, et locis cũ om'ib' libtatibs ad eã p'tinentibs, cũ mañ Bis. Dapif. Henr'o de Oilleo, W. de Lanval, Witto de Belmo'te, ap'd Jarũ (fn. 41).
The next charter is that of Ralph Fitz-Ralph, who confirms to the Nuns of Nesham the grant of Emma his mother, viz. the place and scite of their house, and the cultivated land, culturam, which lies betwixt the Mill of Kent and the Abbey, and one plot called Sadelflat, and a carucate of land, with the meadow belonging to it. The charter is attested by Hugh Bishop of Durham.
William Fitz-Ralph confirms the charter of his father Ralph Fitz-Ralph, and adds one toft in Scottune (fn. 42), next the toft of Ernald Gentil, Westward, towards the moor and pasture for two hundred sheep. T. D'no Will'o Bardouf, Jordano Hairun, Ricardo sup. Teisam.
Another charter of the same William Fitz-Ralph gives the Nuns the right of grinding at his manor-mill without multure.
T. Ric'o sup. Tayse, et aliis.
Then Ralph Fitz-William, lord of Nesham, gives to the Nuns the whole spot (placeam) called the Milne-hills of Kent, lying betwixt Kent and the Nun's land in the village of Nesham, in breadth and in length from le Croke, betwixt the said spot and Hurtheworth lands, to Kent-bridge. Witness, D'n's Lucas Taylboys. Seal, white wax, Barry; over all three chaplets.
Then follow two charters of the same Ralph Fitz-William; the first gives an annual rent of one mark out of his mill of Nesham. (T. D'no Rad'o Surtays, D'no Ric'o Chartray, &c.) The second confirms the privilege of the Nuns to grind their corn free of multure, and orders the miller to grind the Nuns' corn well and take nothing; but when the Nuns grind their hard corn, granum durum, they shall pay to the miller one such small white loaf as a Nun hath for her daily allowance, and one small pain grossier; and when they grind their barley, they shall give the miller two flaggons of ale.
Earlier than the last cited charters, and in the time of Bishop Hugh, Roger, son of Roger de Coiners, for the good estate of his own soul and that of Maude his wife, gave to St. Mary of Nesham seventeen acres in Bishopton, with such right of common as belongs to one oxgang of twenty-four acres (fn. 43).
The magnificent Bishop Hugh himself contributed to this foundation two acres at Wayngate-letch.
In 1258 Innocent Domini Papæ Scriptor, Procurator of the Church of Halghton, released to the Nuns of Nesham all right in the tithes of Little Burdon. Bishop Richard Poor confirmed their right in 1234. In 1276 Edward I. ratified a grant of ten marks annual pension out of the Rectory of Washington, given to the Nuns of Nesham by William de Clifford, sometime Rector (fn. 44). Pope Gregory VIII. confirmed them in possession of both tithes and pension, facultatum Monasterii tenuitate pensitata (fn. 45).
It may be sufficient to extract very briefly the later donations and acquisitions which accrued to the House of Nesham.
Patric de Nesham gave one acre at Lake-landes; and Thomas, the son of Patric, the toft and croft which Margaret held in Nesham.
In 1325 Amabill, daughter of William de Hertilpoll, sold an oxgang of land in Little Burdon to the Nuns of Nesham for six marks, under a licence from Bishop Beaumont.
Richard dictus Machoy de Hartilpol, gave 10s. out-rent, charged on two burgesses in Hartlepool.
Hugh Foster, by licence of Bishop Nevill, gave a rent-charge of 5s. out of a burgage in North Auckland; and 4s. out of another burgage, 12 May 1450.
John Middleton, of Canswicke, Esq. and Ellen his wife, gave two acres at Appiltrelands, in Ellyngstryng, lying betwixt the land of the Abbot of Jorvaux on the North, and lands called le Burghraner on the South, which the same Elen had of her father William Killome, Esq. 20 Nov. 4 Hen. VII. 1488.
Sir Richard Conyers, Knt. gave an oxgang in Nether Conscliffe, 24 Feb. 14 Hen. VII. Thomas Smyth, Chaplain of South Cowton, a messuage and nine acres in Hoton, nigh Schereff Hutton, 3 June, 14 Hen. VII. 1499. Robert Wensley, Clarke a tenement in Wyndliston, condition, that Robert shall receive the rents for life, 10 June 1524.
18 Hen. VII. 22 Aug. Thomas Aslaby, Gent. and Richard his son and heir, acknowledge the right of the Prioress of Nesham, to an out-rent of six marks issuing out of a messuage, five tofts, ten oxgangs, and the third part of the milne in Hurworth-on-Tees.
Few historical evidences can be collected relative to Nesham Abbey. Dame Margaret was Prioress in 1350 (fn. 46). Joan de Egleston resigned in 1428, and the Nuns, under a licence from Cardinal Langley, proceeded to chuse a Prioress. The electors were:
Dame Joan de Lympton, D. Alice Bewloff, D. Margaret Hawyk, D. Margaret de Wytton, Dame Agnes de Tudhowe, D. Beatrix de Kellowe, D. Joane de Blaykston.
Their choice fell on Dame Margaret Danby, who had letters of induction 20 Dec. 1428 (fn. 47).
Dame Elizabeth Naunton occurs Prioress in 1488–1499; and the House, fast verging to its fall, still flourished under Dame Elizabeth, and increased its revenues (fn. 48).
Dame Joan Lawson, the last Prioress, surrendered up the House of Nesham (fn. 49) to the King 29 Dec. 1540, before Thomas Legh, one of the Commissioners.
In 1553 the following pensions were paid: to Joan Lawson, late Prioress, 6l.; to Elizabeth Hooper, Margaret Trollop, Joan Lowick, Barbara Middleton, and Elizabeth Hugill, 1l. 6s. 8d. each; and to Margaret Dawson, 1l.
The revenues of the House stood as follows:
Prioratus Monialium de Nesham.
Temporalia, videl (fn. 47) in Ep'atu Dunelm.
Scitus dicti Prioratus cum Pomario, Gardino, et viii bovatis terræ in manerio dicte Priorisse, occupat. p' ann.
xls.
Reddit. firmar. diversa. villar. et villat. subscript. viz. Villa de Nesham, xlvijs.; Hurworth, iiiil.; Lyttyl Burden, cvs. iiijd.; Shilldon, xxxiis. vijd.; Washington, vjl. viijs. iiijd.; Hotton, xxijs.; Bushopawkland, viiis.; Bushopton, vs.; Lang-Newton, iiis. iiiid.; Consclyff, vs.; Derlyngton, vs. (fn. 50); Ayndale, xs.; Wyndelston, xxs.; Sadberg, iijs. iiijd.; Gatished, ijs.—In toto Tempalia, viz (fn. 47) in Com. Ebor.
xxivl.
is.
xid.
Reddit. firmar. in villis subscripts, videlicet: Yarome, iis.; Skelton, ijs. vjd.; Ellyngstryng, iiis, iiiid.—In toto
viis.
xd.
Summa valoris Temporalium Prioratus Monialium predict.
xxvil.
ixs.
ixd.
Reddit. resolut. videlt in Repris.
Denar. annuatim resolut. Dño Ep'o Dunelm. de terris et tenementis in Parva Burden, lvs.; eodem Dño Ep'o pro terris in Hurworth, vs.; Lancelot Eshe pro terris in Hotton, vid.
lxvs.
vid.
Feodum Rob. Bowes, Senesc. Terrar. dicti Prioratus, xxvis. viiid.; Nicholai Clybborne Ballivi et Receptoris terrar. et tenementor. dicti Prioratus, xxs. in toto
xlvis.
viijd.
Et valet clare
xxl.
xvijs.
vijd.
Decima pro inde
xlis.
ix ¼d.
No imputation seems to have been thrown on the inmates of the maiden Monastery (fn. 51). The Prioress survived the dissolution of her house near twenty years. Her will bears date at Nesham, and it was probably her singular fate to be an honoured guest in those very halls where she had once presided over her little train of female votaries.
The site of Nesham Abbey is known, but not one stone remains on another. Just to the West of the village and near the ford a small runner falls into the Tees, and here in a level grass field, close on the river, some traces of foundations are still distinguished. A house by the road side seems partly built out of the large squared stones of the ruined Abbey. Some scattered memorials of Nesham Abbey still remain in the immediate neighbourhood. A handsome cross in the garden at Low Middleton; a piece of sculpture fixed in the wall of Mr. Ward's house at Nesham-hill top, which seems to represent the Marys weeping at the foot of the cross; and, lastly, a very gallant monumental effigy of a Baron of Greystoke, preserved in Miss Ward's garden at Hurworth. The effigy is, as usual, recumbent; the hands elevated and clasped on the breast; the sword hangs from a rich baldric ornamented with quaterfoils; the shield on the left arm represents a barry coat seme of chaplets: the legs are mutilated, but rest on a lion, which seems in the act of defending himself against several dogs.
Nesham Abbey must be henceforth considered as a lay inheritance. By Letters Patent, 1 Sept. 32 Hen. VIII. 1540 (fn. 52), the King granted to James Lawson, merchant, of Newcastle, for 227l. 5s. the house and site of the dissolved Monastery of Nesham, the church-bells, and burial-ground (fn. 53), and all the houses, granges, barns, buildings, curtilages, gardens, and orchards, within or adjoining the site and circuit of the Monastery; and, nominatim, one curtilage called the Base-court, containing a rood of land; and the closes called Saddle-flatt, Maiden-crofte, Stony-flatte, and Calfe-crofte; one orchard, one dovecote, and the Duffecote-garth, containing eight acres; and ley demeane londes (a hundred acres) in Nesham townfields; and all that waste of one acre opposite to the Abbeygate, on which nine cottages stand (fn. 54), and the messuage in the tenure of Thomas Blacksston, and the cottage late in the tenure of John Stevenson; and all that grange of Little Burdon in the tenure of the same James Lawson, with all the buildings, lands, pastures, &c. and all tithes, &c. (fn. 55); and all that messuage called Hynden, in the parish of Cockfield; and two closes called Ewdell Closes, being within the lordship of Detynsall; and those two messuages late in the tenure of Richard Clarke, in the village of Hurworth; to hold of the Crown in chief, by the service of the twentieth part of a knight's fee, subject to a crown-rent of 25s. 3d. at the Feast of St. Michael the Archangel only. Henry Lawson, Esq. (a younger son of James) died seised of Nesham Abbey in 1607 (fn. 56), and of all the premises just recited (and of Ingleby's manor and half Tailbois's manor in Hurworth). James, son and heir of Henry, died in 1627 (fn. 57), leaving an infant grandson, another James, his heir; on whose death, in 1644, the inheritance devolved on his aunts Frances and Anne, daughters of the elder James. Frances married Richard Braithwaite (fn. 58), of Burnishead, Esq. in Westmoreland; and Anne was the wife of Henry Jenison, of Winyard. But the estate seems to have reverted under the old entail of 35 Henry VIII. to Sir John Lawson, of Brough, Baronet, representative of Edmund, eldest son of James Lawson, the first purchaser; for in 1666, 4 April, Sir John Lawson (fn. 60), Bart. granted to John Ramsay, Esq. and Nicholas Pearson, Gent. "all that dissolved Monastery of Nesham" as to two full parts to Ramsey and his heirs, and as to one third to Pearson, who appears to have been a trustee for Thomas Jenison (fn. 61). 10 Feb. 1672, Thomas Jenison, of Nesham, Gent. Jane Jenison, spinster, and Nicholas Pearson, Gent. (son of Nicholas, deceased), grant the same third part to Thomas Cooper, of Sedgefield, chirurgeon (fn. 62), who, in 1702, devised to his wife Mary for life; remainder to Ralph Hargrave and his issue male; remainder to Margaret Low, Jane Hargrave, and Sarah Hargrave, equally. Ralph Hargrave died without issue. Sarah Hargrave married John Rawling, and also died without issue. Margaret Low died unmarried. Jane married Thomas Holme, and had a son Thomas Holme, Gent. in whom, by purchase or descent, the whole interest centered (fn. 63).
I have no means of tracing the descent of the two thirds of Nesham Abbey, which Sir John Lawson, in 1666, conveyed to Ramsay. The manor derived from Graystock and Howard has been already mentioned; but some portions of the Abbey-lands appear to have been severed from the chief estate, and are probably the origin of several independent freeholds.
By Inq. 8 Oct. 1619, William Greenwell, of Nesham, yeoman, died, in 1596, seised of nine selions of arable and pasture in Somerfield, of two acres of meadow called Abbot's-close, parcel of the dissolved house of the Nuns of Nesham, and of a messuage and fifty acres in Nesham, held of the heirs of Thomas Surtees, Esq. as of his manor of Middletone-Rowe. Greenwell left two daughters, who sold the estate to Ralph Lambton, Gent. (fn. 65)
In 1684 the freeholders within Nesham were, Sir John Lawson, Bart. (Yorkshire); Robert Burnett, Gent. in Yorkshire; Miles Garry; the heirs of George Sayer; Noah Pilkington, of Darlington; the heirs of Thomas Lumley; John Waite, and Thomas Mowrey.
The following extracts relate to the whole Parish:
Apud Sadberge, die Venis, 23 Aug. 1644.
Lawson's lands in Hurworth 200l. and 100l. and Neesham 150l. 60l. late belonginge to James Lawson, an infant, ætatis 16, deceased, is now descended upon two coheirs, viz. 1.—Braithwait, in Westmoreland, plenæ ætatis; and 2.—Jennyson, sonne of Mr. Henry Jennyson, ætat. 14 or 15. Mother of the said heir James Lawson, deceased, is married since to Philip Doleman, and is a papist: there is 20l. a-yeare paid out of these lands to an ideot.
Matthew Elwood, Papist, farmeth 50l. a-yeer of these lands. William Wartinge, of Neesham, a Papist, is seised of lands there. Rob. Wormeley, of Hurworth, Gent. a Papist, holds 3 oxgangs of land in Hurworth, whereof part is mortgaged to Sr Jn Litster, in Yorkshire, and part to Mr. Thompson, Rector of Hurworth. Laurence Sayer, of Worsall, Esq. is seised of xxl. a-year land in Nesham. Richd Gresham, Francis Anderson, Chr. Thompson, John Sympson, of Hurworth; Anthony Steavenson, Edmund Preston, Edm. Chappyloe, of Neesham; are named Sequestrators of the estates and goods of Philip Doleman, Mrs. Braithwaite, Lawr. Sayer, Esq. Sir Francis Howard, Knt. delinquents; and of Math. Elwood, William Wartinge, Robert Wormley, Gent. Papists, in Hurworth, Neesham, or elsewhere.
Rental of Sir Francis Howard, Knt. in Nesom, 28 Febr. 1644, letten for one-third, abated 229l. 9s. 4d.
Braithwaite's and Jennison's lands 150l. per ann. Philip Doleman's lands jure ux. 60l. the tenant hath abandoned the land. Laur. Sayer, Esq. lands 20l. William Wartinge's free rent to Sir Francis Howard, 4s. Marmad. Wilson for Stoddoe free rent 2s. Letten to John Simpson, of Hurworth, Cuthbt Appleby's land (a delinquent) in Hurworth-on-Tease, rent xx marks, 28 Febr. 1644.
The only charitable benefactions belonging to the Parish of Hurworth are, 6l. 10s. arising from lands, and said to be left by Thomas Barker; and the interest of 20l. left by the will of William Andrew in 1783.
Pedigree of Coundon, of Nesham, co. Pal. and of Willerby, co. York.
Arms: Gules, a fesse Argent, a martlet .....
* Inq. p. m. 12 May, 18 Tunstall. Lands in Cotom-Mondevyll, Aclyff, Darlington; one chief messuage and six oxgangs in Nesham, held of Marmaduke Surteys. Settled lands by charter 18 Apr. 27 Hen. VIII. on George and William Layton, Gents. on trust for Anne his wife for life, &c. Al. Inq. de cod. 12 May, 2 Edw. VI.
Pedigree of Wyvill, of Nesham.
Arms: 1. Gules, three chevronels braced in base vaire, a chief Or, Wyvill. 2. Sable, three pickaxes Argent, Pigot. 3. Azure, a chief indented Or, Fitz-Randall. 4. Azure, a bend Or; over all a label if three points Argent, Scroop.
Crest: on a wreath, a wivern with wings endoesed Argent, spouting flames proper.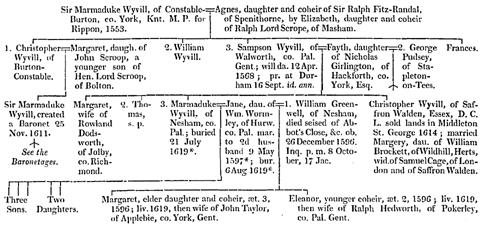 * Hurworth Par. Reg.
Pedigree of Jenison, of Hurworth and Nesham Abbey.
Arms: Azure, a bend Or between two swans Argent.
Crest: Out of a ducal coronet Or a dragon's head issuant Azure.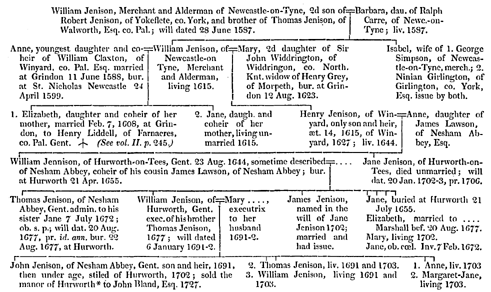 * That is, Jenison's manor, or portion of the manor.
Pedigree of Lawson, of Nesham Abbey.
Arms: Argent, a chevron between three martlets Sable, Lawson; 2. Barry of six, Argent and Azure, in chief three annulets of the second, Cramlington.
Crest: on a wreath two arms, vested Ermine, holding in the hand, proper, a ring Or, gemmed Argent, encircling a sun of the third.
Motto: Rise and shine.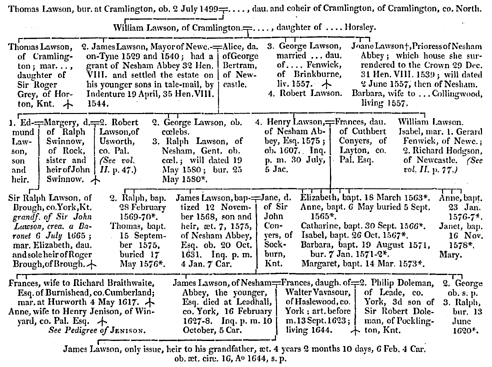 * Hurworth Par. Reg.
† The will of an abdicated Prioress is possibly of rare occurrence. The following instrument contains a curious mixture of worldly wealth and religious feeling. Four of the sisters of Nesham, it will be observed, were still living and noticed in the will of their Prioress in 1557.
"In the name of God the Father Almightye, Amen. The seconde daye of June, in the yere of our Lord a thowsand fyve hundreth fyftye and seven, I, Jane Lawson, of Nesham, within ye countye of Durysme, not knowing ye hour of my deathe, provydethe for my soule's healthe, makyng my last will and testamente as followeth: fyrst I forsake this myserable worlde, the pompes, and all the glorye of it, and I gyve wth a free wyll my soule to the Father of Heaven, besechynge him for his gret mercy's sake, and for the love of his Sonne Jesus Christe, to have mercy upon me, pardon and forgyve me all my synnes that ever I have commytted and done agaynst the goodnes of God and all the worlde, which worlde I yet and ever more forsake, and I beseche the Blyssed Virgin Saynte Marye the Mother of Christe, and all the heavenlye companye in heaven, to praye for me; and I gyve my bodye to tlie earthe from whence it came, and to be beryed before the high aulter withyn the quyre of Hurworth Church; and also I gyve to the forsayd hyghe aulter one vestemente of blak velvet; and also my will is, that Sir John Fawcett, prest, pray and singe for my soule the space of one holle yere at Hurworth Church; his wages shall be vil. xiiis. iiijd. Item, I give and bequeathe to Robart Lawson, in the name of his chylde's porcyon, which is in my hands, xlvjl. one fether bedd, with shetts and all other clothes belonginge to the same, and sexe sylver spones. Item, I gyve to Barbara Midl'ton vil. xiijs. iiijd. two kye and ther calfes, and ij kuyes and calfes, or ells they being wth calfes. Item, I bequeth to my brother, George Lawson, two oxon, two kye, and iijl. vis. viijd. Item, I gyve to Marjare Lawson, dowghter to Thomas Lawson, in recompence of all such goods as [which] I had of hirs in my hands, xxvil. xiijs. iiijd..; and also my wyll is, that the forsayd Robart Lawson and Margaret Lawson and ther goodes, shall be at the order and government of my lovinge cosinge Henry Lawson unto they come to yers of full age, prayinge him to be specyall good frinde to them at all tymes, as my truste is in him. And also I bequethe to my eosinge Henry Lawson all my interest and ryghte of my lease at Cramelington endureinge my yeres; and also all my corn sowen upon tharthe at lytle Burdon, with the holle draught of oxen, with other things belonginge thereto husbandrye; and also I give him the best fether bede I have, with th' appurtenances belonginge therto, and six sylver spoones, and a mattresse, two shetts and other clothes belonginge unto a bede, for his servante. It'm, I bequithe to my cosinge William Middleton one meare which he will choise, and four oxon, and xxl. and one fether bed with gere belonginge thereto. Item, I gyve to my cosinge Edward Lawson xls. Item, I give to Elizabeth Harper, vis. viijd.. Item, I bequithe to Margaret Trollope vis. viijd. Item, to Jane Lowyck vis. viijd. To Elizabeth Hewgall vis. viijd. Item, I gyve to my syster Elizabethe xiijs. iiijd. Item, to her sone Francis one felye; and I gyve to my syster Annes xiijs. iiijd.; and I gyve to my syster Barbara xiijs. iiijd. Item, I gyve to my cosinge George Lawson, for a token, xxs. Item, to Elizabeth Fenwyke iijl. vis. viijd. Item, to Barbara Kyllyngworthe xs. Item, to Annes Rede xxs.; and to his doughter a cowe. Item, to my cosinge Morgayne one whye wth calfe. Item, to my syster Barbara Colingwode two oxon; and to Margaret Colingwode vis. viijd.; and to Sir Willm Melmerbye, for to praye for my soule, iijs. iiijd.; and to Dorate Staynton xs. Item, to Maryon Staynton xs. Item, to Allison Morgayn two yows and ther lames; and I gyve to ev'y servante in my house dwelling xiid. Item, I gyve to Mr. Redman's doughter which I helped to christen, xxs. Item, to John Kendall xxs.; to Rob'te Barker xxs.; and I gyve to ev'y one of my Godharnes within Hurworth Parish xiid.. This done, my debts paid and funerall expences maide, I gyve the reste of my goodes not bequested, frelye unto my right trustie and wel-beloved cosinge Henrye Lawson, whome I ordayne and make my holl executor of this my last will and testament, and he to dispose all things, as my singular trust is in him, to the pleasor of God and the helthe of my soule. In wytness hereof John Claxton, Sr Willm Melmerby, curat, Sir Robert Clerke, preste, wth others mor." Seal of red wax, a large oblong with a female figure. Qu. The Seal of the House of Nesham?