Pages 279-290
The History and Antiquities of the County Palatine of Durham: Volume 3, Stockton and Darlington Wards. Originally published by Nichols and Son, London, 1823.
This free content was digitised by double rekeying. All rights reserved.
PARISH OF MERRINGTON.
The Parish of Merrington is bounded by Brancepath and by a portion of the Parish of St. Oswald on the North, by Kelloe and Bishop-Middleham on the East, by Aycliffe on the South, by St. Andrew's Auckland on the West, and by the Chapelry of Whitworth on the North-west.
The Parish includes four Constableries: 1. Merrington; 2. Ferryhill; 3. Hett; 4. Chilton.
Merrington.
"On the Eve of the Assumption of the Virgin, William (Cumyn (fn. 1) ) gathered together his men at the Chapel of St. John (of Meringtoun), distant about five leagues from Durham, and began to turn the same church into a castle. Three Barons of the Bishopric, to wit, Roger de Coismers, Gaufrid Escolland, and Bertram de Bulemer, understanding of this sacrilege, and preferring death to the profanation of God's altar (fn. 2), collecting what force they hastily might, pricked to the spot to stay this lewd enterprize. William's men did not sustain the onset. Some fled headlong; other part barred themselves into the church, round which they had nearly compleated the fosse; and, manning the tower and the outworks which they had finished, vainly strove to drive off the assailants with darts and arrows (fn. 3); but the besiegers, reckless of wounds or death, forced their way through the windows, and, hurling firebrands on the defenders, were speedily masters of the place." There are no traces of the fosse; but the situation was well chosen either for defence or speculation. At Westerton, a mile West of Merrington, a broad limestone-ridge commences, rising with a gradual ascent from the North and South, and trending due East till it is abruptly broken below Cleves-cross and Ferry-wood by the marshy valley, which has the source of the North Skerne. The Church of Merrington occupies the centre of the ridge, and its lofty tower, rising on the horizon, is seen far to the South and East, an ancient familiar landmark, mingling in the landscape from every surrounding point. The prospect from this lofty station is bounded on the North of the ridge by the parallel line of heights across the Wear; but it includes the river-valley, the huge white towers and bastions of Brancepath, and Durham on her seven hills garlanded with woods, and beyond these, still Eastward, the lofty summits of Penshaw and Wardon-law rising on the horizon. But Southward the view extends unbounded by any nearer barrier than the Yorkshire hills. A hundred villages and farmholds are scattered over the fore ground; the Western horizon is formed by the dusky heights above Barningham; the level plain of Thirsk stretches to the South; and the long chain of the Hamilton and Cleveland hills, with the æstuary of the Tees, and a wide expanse of sea, terminate the prospect Eastward.
The village of Merrington is scattered along the ridge to the West of the Church. The very South-western point commands one of the noblest views of the Yorkshire hills, with the woods and lawns of Windleston on a soft fore ground, sloping gently to the South.
Bishop William de Carileph gave the manor of Merrington to the Church of Durham, and there it has ever since rested. At this day nearly the whole of the lands (fn. 4) are held by lease under the Dean and Chapter.
The Church
Retains several traces of early architecture; it was perhaps one of the first parochial structures built by the Convent of Durham. The chancel opens under a narrow circular arch. The tower rises near sixty feet, springing from the centre of the nave, on two heavy round Norman arches. The West arch is plain, resting on buttresses; but the Eastern arch springs from clustered pillars, with rude capitals; the tower is finished with crockets and open battlements, and has on every face double round-headed lights. A large South porch opens from the nave under a blunt pointed-arch; this is called Lawrence's Porch, possibly from some forgotten altar or chantry. Many of the original lights have been closed or altered. The East window has three lights, with some tracery under a pointed arch. There is another ancient window of three lights on the North of the nave. The chief entrance is by a South door, which has had pillars, with grooved or fluted capitals supporting an arch ornamented with zigzag; this is curtailed or covered by a modern porch. The whole interior is heavily stalled with old wainscot, and a wooden screen divides the nave and chancel.
Monumental Inscriptions.
The most remarkable inscription relates to the family of Brass. On an altar-tomb:

Here lie the bodies of
John, Jane, and Elizabeth, children
of John and Margaret Brass,
who were murdered the 28th of Jany 1683,
by Andrew Mills, their father's servant;
for which he was executed and hung in chains.
Reader, remember, sleeping
we were slain;
and here we sleep till we must
rise again.
Whoso sheddeth man's blood, by man shall
his blood be shed.
Thou shalt do no murder.
Restored by subscription in 1789 (fn. 5).
On an altar-tomb near the above:
1703. Margaret Brass (fn. 6), Wife of John Brass. In Peace Therefore Lie Downe Will I, Takeing my Rest and Sleep; for Thou Only Wilt Me, O Lord, Alone in Safety Keep. Dun by Me, A. Kay.
Here Lieth the Body of John Brass, of Ferry-Hill, Who Departed this Life Jan. 22D Day, 1722 (fn. 6).
On the same stone:
Here lieth the body of Elizabeth Buston, who departed this life Nov. 19th, A. D. 1758, aged 86.
This strange tragedy, briefly recorded in the epitaph, seems to have originated neither in revenge nor avarice, nor in any of the common springs of human passion; but was probably acted under the unresisted influence of a sudden insane impulse. According to constant tradition, Mills, previous to the fact, was esteemed a quiet unoffending lad, yet, it is generally added, of somewhat deranged or deficient intellect; and it is said that he had shewn particular attachment to the youngest victim of his mad paroxysm. The master and mistress of the house were absent on a Christmas visit, and Mills was left at home with the younger family. According to the murderer's own confession (and on this point no other evidence could be had), neither provocation nor cause of quarrel had arisen (fn. 7); and he persisted to the last in stating, that he had acted on an immediate suggestion of the enemy (who according to some accounts appeared to him bodily). The eldest girl struggled with him for some time, and he did not murder her till after he had broken her arm, which she had placed as a bolt to secure the door of the inner chamber, where the younger children were sleeping. He then entered that inner room, murdered the younger girl with a blow of an axe as she slept, and was, it seems, leaving the house, when a voice or impulse fell on him, bidding him return and spare none: he went back, dragged the youngest child from beneath the bed, and completed his bloody business. He made no attempt to escape, but remained amongst his bleeding victims, and awaited the return of the miserable parents.
Mills was executed on what was then a common by the road side, about half a mile to the North of Ferryhill, in full view of the scene of his murder (fn. 8); and was afterwards hung in chains. A portion of the gibbet, or, as it was called, Andrew Mill's stob (fn. 9), remained a few years ago; but the spot is now ploughed and enclosed.
Such is the substance of the prevailing traditious respecting this domestic tragedy, which still thrills the hearts of the peasants round a Christmas fire; but the following narrative, written at the time, perhaps approaches nearest the truth, and will at least serve to confute several very idle and barbarous additions which have been made to a tale already too horrible:
Jan. 25, 1683–4. A sad cruell murther, comitted by a boy about eighteen or nineteen years of age, nere Ferryhill, nere Durham, being Thursday at night. The maner is by report:—When the parents was out of dores, a young man, being sone to the house, and two daughters, was kil'd by this boy with an axe, having knockt ym in ye head, afterwards cut their throats; one of ym being asleep in ye bed, about ten or eleven yeares of age; the other daughter was to be married at Candlemas. After he had kil'd the sone and the eldest daughter, being above twenty yeares of age, a little lass her sister, about ye age of eleven yeares (fn. 10), being in bed alone, he drag'd her out in bed, and killed her alsoe. This same Andrew Millns, alias Miles, was hang'd in irons, upon a gybett nere Ferryhill, upon the 15th day of August, being Wednesday this yearc, 1683.
Bee's Diary.
On an altar-tomb:
Here lyes William, the third son of John Howe, of Ferryhill, who was the last of five sons that dyed by excessive bleeding, in the 17th year of his age. Interred August the 25th, 1708.
On a flat stone:
Here lieth the body of John Howe, of Ferryhill, a person of probity, sagacity, and industry, who, after an active life, left to his family a fair reputation and a handsome estate. He dyed. . . . A. D. 1721 (fn. 11).
On an altar-tomb near the South porch:
Near this stone is interred the body of George Wood, Gent. of Merrington, who died the 25th of May 1785, in the 75th year of his age.
The memory of the just is blessed.
Near this place are interred the remains of Mr. Robert Wood, of Merrington, who died the 9th day of July 1774, in the 69th year of his age.
Also of Mary Wood his wife, who died the fifth day of April 1781, in the 72d year of her age.
And under this table-monument lie the remains of Mr. George Wood, their son, who was the Senior Proctor of the Consistory Court of Durham. He died the 27th day of September 1799, aged 60 years (fn. 12).
On a head-stone:
Thomas Wood, of Hill-house; died May 23, 1701.
On an altar-tomb:
Here lies interred the body of Thomas Davison, Esq. third son of Timothy Davison, Esq. of Newcastle, and Beamish in this county, by Elizabeth his wife, daughter of Sir William Blacket, Baronet. He was born on the 15th of May 1675, and died on the 5th of March 1760. He had many more virtues and much fewer foibles than are often found in one man; and though he lived to a great age, he had the uncommon felicity of living universally esteemed and regretted by all who knew him, as well rich as poor. His strict integrity, his unaffected piety, together with a most agreeable and cheerful temper, rendered him truly amiable to the former; his great humanity and most extensive generosity made his life a blessing, and his death an irreparable loss, to the latter.
The following sentences are engraved on his tomb by his own desire:

Do justly;
love mercy.
Walk humbly with thy God,
and that will bring thee peace at the last.
On an altar-tomb near Brass's tomb.
Underneath are deposited the remains of John Buston and Anne his wife, late of Ferryhill. To their memory their only surviving son, the Rev. R. Buston, Vicar of Roxton and Barland, in Bedfordshire, as a tribute of filial affection and gratitude to the kindest and tenderest of parents, erected this stone.
He
died
Aug. 31, 1780, æt. 80
She
Jan. 15, 1800, æt. 65
John,
Two of their sons, died
Sept. 5, 1765, æt. 8.
Thomas,
Aug. 6, 1768, æt. 3.
On other stones:
Jane, wife of Thomas Buston, departed April 10, 1766, aged 50. Thomas Buston abovenamed, March 9, 1785, æt. 84. Jane Buston, their daughter, June 10, 1808, æt. 64. Roger their son, May 19, 1817, æt. 71. Humphrey their son, Sept. 4, 1817.
Roger Buston, ob. Oct. 1740.
On a head-stone:
Near this place lie interred the remains of Ann, wife of the Rev. John Bacon, by whom he had two sons, viz. George and Joseph, who both died in the prime of life, and here their bodies lie. The said Ann Bacon died Nov. 9, 1790, aged 32; Joseph died Sept. 1, 1811, aged 26; George died Feb. 3, 1814, aged 32.
On altar-tombs:
Hic jacent exuviæ Roberti Dunn, nuper de Chilton, obiit vicmo nono die Feb. Anno Dom. 1727, ætatis 70.
Here lies interred the body of James Dunn, Esq. of Great Chilton, who departed this life the 19th day of April 1779, aged 57.
Here lie the remains of John Mason, late of Chilton, who departed this life the 5th of January, 1813, aged 77 years.
Eleanor Mason, wife of Christopher Mason, of Chilton, who died July 20th, 1817, aged 48.
To the memory of Mr. Thomas Tiplady, late of Ferryhill, who died the 12th of December 1780, æt. 53.
Also in memory of Mrs. Jane Tiplady his wife, who died the 10th of April 1809, aged 74.
Three or four ridged stone coffins lie in the Church-yard, without device or legible inscription: but one flat sepulchral stone, which lies to the West of the Church, has a rude cross with a sword on the dexter and a spade on the sinister side, the supposed insignia of Roger de Ferry. (See Cleves-Cross.)
There are no monumental inscriptions in the Church. A fine slab of Stanhope shell-marble lies in the chancel.
*** In the Harl. MSS. (No 1105, fo. 11.) a grant of arms occurs to Thomas, son of Robert Hobson, of Merrington, in the Bishoprick of Duresme, Gent. 16 Jan. 1648, viz. Argent, a chevron Azure between three harts; a chief of the second. Crest: On a wreath a griffin's head couped Argent, between two wings elevated Azure.—Fortitudine Dei.
In Bushey Church:—"Hie jacet depositum Thomæ Hobson, natalibus probi Merringtoni, in agro Dunelmensi nati qui scribatum in officio parvæ Bagæ 42 annos cum laude gessit, et spe lætæ resurrectionis, anno salutis 1651, ætat. 59, 6° Janu. obdormivit; qui dum vixit fuit pietate insignis, amicis charus, omnibus sincerus, re medioeri cumulatus, pauperibus bonus, moribus casta beatus uxore nomine Barbaria, Rob. Blakwell, de Busheii, armigeri, filia, ex qua susceperat liberos novem, quatuor fœminas, et quinque mares, quorum unus, cui Robertus erat nomen, in curia Banci Regis Clericus, quo officio honeste fungebatur, et anno D'ni 1661°, ætat. 28°, 8 Janu. hanc vitam cum immortalitate mutavit."
Clutterbuck's Hertfordshire, vol. 1. p. 342.
Succession of Vicars.
Merrington Vicarage, in the Deanery of Darlington, a Peculiar belonging to the Dean and Chapter of Durham. — King's Books, 14l. 4s. 9d.; Tenths, 1l. 8s. 5 3/4d.; Episc. Proc. 9s.; Synod, 11s.—Dedication to St. John the Evangelist.
Richard de Fenrother, 1343.
Thomas de Morpeth, 1350, p. m. Fenrother.
William Fraunces (fn. 13), 1377, p. m. Morpeth.
William Reson, 1405.
Thomas Roos, 1407.
William Soulby occurs 1470.
Thomas Dobeson, 1490, p. res. Soulby.
John Walker, 1494, p. res. Dobeson.
Christopher Wardell, LL.B. (fn. 14) 1505.
Robert Wensley, 1513, p. res. Wardell.
Christopher Barnes, A.M. 1517, p.res. Wensley.
William Melmerby (fn. 15), 1558.
Thomas Burton, LL.D. (fn. 16) 1583, p.m. Melmerbye.
Francis Brakenbury (fn. 17), p. res. Burton.
William Selbye, A. M. (fn. 18) 1609.
Cuthbert Welles, A. B. 1610, p. m. Selbye.
William James, A. M. 1629, p. m. Welles.
John Sadler, an intruder, occ. 1658.
James Thompson, A. M. 1660.
Charles Cowling, A. M. 1673, p. res. Thompson.
Charles Elstob, A. M. (fn. 19) 1676, p. res. Cowling.
Edward Emerson, 1680, p. res. Elstob.
Thomas Knaggs, A.M. (fn. 20) Eman. Coll. Cambr. 1682, p. m. Emerson.
Robert Leake, A. M. 1720, p. res. Knaggs.
Robert Blakiston, A. M. (fn. 21) 1726, p. M. Leake.
John Skelley, A. M. (fn. 22) 1745, p. m. Blakiston.
Ralph Gelson, A. B. 1760, p. res. Skelley.
James Smith, 1775, p. m. Gelson.
Joseph Watkins, A. M. (fn. 23) St. John's Coll. Camb. 1779, p. m. Smith.
Edward Parker, A. M. (fn. 24) Mag. Coll. Oxon. 1795, p. res. Watkins.
Percival Frye, A. M. (fn. 25) Oriel Coll. Oxon. 1809, p. m. Parker.
Patrick George (fn. 26), 1812, p. res. Frye.
Thomas Ebdon, A. B. Trin. Coll. Cambr. 1822, p. res. George.
The Parsonage-house, with a small garden, adjoins the Church-yard on the West. The glebe consists of the Church-yard, and Ducket or Dovecote Garth, computed together at three acres; the Todd-hills eight acres; and Parson's Glebe, four acres. The Vicar is generally entitled to all small tithes in the township of Merrington, and to all small tithes, excepting hay, in Ferryhill, Hett, and Chilton. Ferryhill pays a modus of 10s. 6d. for hay; Hett a modus of 8s.; and Chilton 19s. for hay (fn. 27). Terrier 1788.
In 1400, at the Array of the Clergy on Gilesgate-moor, the Vicar of Merrington was charged with one archer.
The great tithes of the whole Parish are assigned to the Deanery of Durham.
The Parochial Register begins in 1578. The ravages of the plague are recorded in 1599. The disease, whatever it were, was at this time prevalent in Durham, and in a great portion of the surrounding country, and wherever it was introduced, swept off whole families. It first reached Ferryhill, where 26 individuals died in August and September. In Merrington only two houses were infected, but the whole of both households perished. "John, Janet, Elizabeth, Robert, Richard, and Allison Coltman; and John Arrowe, his wife, his childe, his syster."
"Katherine White, a Scottishwoman, being a stranger, having a passe to travel, fell sicke by the way; and being brought hither upon a barrow from Windleston extream weak, died here, and was buried 12 Feb. 1615." The Register contains many similar entries. Several of these distressed wanderers are stated to have died "in the Bakehouse (fn. 28)."
July 16, 1616. Mr. William Barker, Parson of Washington, coming from another living wh he had, viz. Forcet, and intending to go to Washington, fell sicke by the waye, and lyinge at the inn in Merrington, here dyed, and was here buryed, a little within the entrance into the chancel.
1616. Mrs. Margaret Burbeck, widow, died at Little Chilton, and was buried here Sept. 16, in the body of the church, next before the entrance into the chancel.
Richard Shuttleworth, Esq. and Mrs. Margaret Tempest, married July 28, 1664.
The information of John Dowthwaite.—These were the words which John Widdifield spake against the King's Majtie: he said the King was a bastard, and the Queen his mother as follows (fn. 29); and if the King were there, he would stab him with his knife, and wash his hands in his blood; and for that Papishly rogue, Dr. Cosins, he hoped to see him hanged.
Ferry-Hill,
Two miles to the East of Merrington, a considerable village on the great North road. This is a member of the manor of Merrington. The Convent had here at an early date their Court-house, Curia; their Chapel, infra Curiam, dedicated to St. Ebbe and St. Nicholas; and their wood, marsh, swannery, and fish-pool. The situation has been already partially described (fn. 30). The village occupies the same lofty ridge with Merrington, and commands a portion of the same extended prospect. A quarter of a mile to the East of the village the ridge terminates; its steep declivity is covered with the remains of the old wood of Ferry, down to the edge of the marsh, which, sweeping round the base of the hill Southward, and then Westward, divides the ancient estate of the Church from the free vills of Mainsforth and Thrislington. By various grants, of which, perhaps, the most important is the charter stated under Thrislington (fn. 31), by much the greater portion of the marsh became the property of the Church. The dam-head of their swan-pool was where the present forced road from Ferry-hill to Mainsforth crosses the marsh (fn. 32), and the remains of the old swan-house, now a sort of troglodyte building half practised in the rock, still exist on the South-eastern point of the hill (fn. 33). An old grey stone (fn. 34) (said to be the remnant of a cross,) on the height of the hill near the farm of Cleves-cross (fn. 35), is said to commemorate the successful adventure of Roger de Fery.
The Boar or Brawn of Brancepath was a formidable animal, which made his lair on Brandon-hill, and walked the forest in ancient undisputed sovereignty from the Wear to the Gaunless. The marshy, and then woody vale, extending from Croxdale to Ferry-wood, was one of the brawn's favourite haunts, affording roots and mast, and the luxurious pleasure of volutation. Near Cleves-cross, Hodge, of Ferry, after carefully marking the boar's track, dug a pitfall, slightly covered with boughs and turf, and then toling on his victim by some bait to the treacherous spot, stood armed with his good sword across the pitfall,—

"At once with hope and fear his heart rebounds."
At length the gallant brute came trotting on his onward path, and seeing the passage barred, rushed headlong on the vile pitfall. The story has nothing very improbable (fn. 36), and something like real evidence still exists. According to all tradition, the rustic champion of Cleves sleeps beneath a coffin-shaped stone in Merrington Church-yard, rudely sculptured with the instruments of his victory, a sword and spade on each side of a cross. It was not unusual, either in England or abroad, when a man had slain a boar, wolf, or spotted pard, to bear the animal (fn. 37) as an armorial ensign in his shield. The seal of Roger de Ferie still remains in the Treasury, exhibiting his old antagonist, a boar passant. The seal of Maude his daughter, wife of Alan of Merrington, has the boar's head couped.
Omnibus, &c. Rogerus de Ferie, Sal. Noverit universitas vestra me concessisse, &c. dilectis Dominis meis Priori et Conventui Dunelm. totam culturam meam in villa de Ferie que jacet propinquior Porte Curie predictor. Dominor. meor. in eadem villa. T. Waltro de Ferie, Alano de Pitingdun, Jolie Longo, Witto fil. Turstani, Witto genero Turstani, Robto Capellano de Merington, Witto de Biscoptun, Robto de Birkinside, et multis aliis.
Sciant, &c. qd ego Matilda quondam uxor Alani de Merington, dedi, &c. Waltro filio Emme, in libero maritagio cum Iveta filia mea duodecim acras (fn. 38) terre in campo de Ferie, cum tophto et crophto. T. Dno Witto Vic. de Merigtun, Witto Clerico de Fery (fn. 39).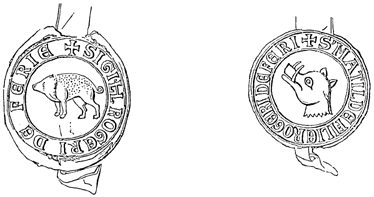 A mass of charters in the Treasury relate merely to transactions betwixt the Church and their tenants (fn. 40); or contain releases of common, or grants of small portions of the marsh from neighbouring proprietors, for enlarging the Monks' swannery. Richard, son of Sir John of Chylton, granted to St. Cuthbert and to Prior Hugh, all his land and marsh betwixt the High-street, which leads from Fery to Middleham, and the wood and marsh of the Convent, which lies on the North of Mainsforth-mere. Hugh Gubyoun, Knight, lord of Tudhow, released all common of pasture in Fery, Kirk Merynton, Midlest Merington (fn. 41), and West Merington (fn. 41), in 1303 (fn. 42). A similar release occurs from Peter of Trillesden, and another from Christian, daughter of Isabel Kellaw, of Hette, of all common right in Spennyngmor, viz. in Fery, and the Merringtons, 1329. Thomas de Bonevill and Alice his wife release all their land of Thurstantun (fn. 43), et nominatim, one acre and a half which lies within the enclosure of Fery-mere, infra clausuram Stagni de Fery. Some early agreements occur relative to coal. In 1354 Thomas, fil. Richard de Fery, leases to John, Prior of Durham, all his coals and seams of coal in the North part of the vill of Fery, viz. in those lands which lie betwixt the King's High Street from Durham to Ferry South, and the path called Hopesiderode East, for thirty years, with licence to sink pits and drifts for carrying off water (fn. 44), and with sufficient way-leave (fn. 45); and the Prior bargains, that during the same term Thomas and his heirs shall have one half cart load (fn. 46) of coals every week in which coals shall be there won and worked.
Alice, widow of Richard de Fery, released this same coal district, and her dower or life-rent of four marks, to the Prior in 1354.
The following evidence explains something of the customary tenures and services under the Prior:
Thomas the Prior, &c. to Robert de Fery and his heirs, we grant three oxgangs and one toft and croft, to hold under 10s. rent; and at Boonherc, if he have a whole draught, he shall plough and harrow two acres; and if he have half a draught, one acre. He shall work four days in each year with a one-horse harrow; and then he shall have his meat once in the day, and a sheaf of oats at even-tide; and he shall mow four days in harvest, and during those four days shall find one man to look to the mowers, ad custodiendum Messores, and he shall work at Manor-mill (fn. 47), and shall pay the thirteenth part multure, and shall give merchet and heriet and metrich (fn. 48) and aid, when an aid is laid on the Churche's lands, and shall follow the Prior's Court of Pleas (fn. 49).
As to the Chapel of St. Nicholas and St. Ebbe, Henry de Ferie, Parson of Heighington, for the good estate of his own soul, and for the rest of Bartram II. (fn. 50) sometime Prior of Durham, assigned fourteen shillings issuing out of the house of Henry, the taillour, (which is next the house of Master Arnald de Auclent,) and one house purchased from WalterdeHeth, in Millnpath, and two tofts purchased of Ralph Pinchegambun and Bertram his son, near St. Oswald's Church, for the support of one Chaplain celebrating in the Chapel of St. Nicholas and St. Ebbe, in Ferie (fn. 51), within the Court-house of the Prior; the same fourteen shillings to be paid for this behoof to the Almoner of the House of Durham. And the said Almoner shall satisfy to the heirs of Alan de Bruntoft (for Henry the taillour's house) a pair of gilt spurs or a groat on the Feast of St. Cuthbert, in September; and one penny to Walter de Heth; and for the two tofts to the Hostillar of Durham, twelvepence. Witness, Richard Vicar of Acle, Jordan Hairun, Adam the Chaplain, and William de Ferie (fn. 52).
The freeholds in Ferry-hill are not considerable, either in number or extent. The old name of Ferry occurs at a late date. By Ind. 25 Nov. 17 Eliz. George Ferrey, yeoman, grants all his lands in Ferry-on-the-hill to Thomas Lambton, of New Malton, Gent. By Ind. 10 Nov. 18 Eliz. Thomas Millot, of Mayland, Esq. for 120l. grants his lands in Ferry-on-the-hill to Robert Hull, of Ousterley, Gent.
The chief mansion-house in Ferry-hill, a spacious gavel-ended house, with a large pleasant garden, laid out in regular walks and parterres, with hedges of clipped evergreens, was the residence of the Shawes. This is now Mr. Arrowsmith's, and to it is attached the beautiful plot of dry pasturage on the Southern slope of the hill, the ancient Mill-close.
Hett,
A scattered village about four miles to the North-east of Merrington, and about half a mile from the great road.
William de Hette died seised of the manor of Hette, and of half the vill, held of the Prior of Durham by homage, fealty, suit of Court once in a fortnight, and 13s. 4d. rent, leaving Thomas his son and heir, in 1388 (fn. 53), on whose death, in 1394 (fn. 54), the half manor of Hette and four oxgangs in Trillesden fell to Robert, son of Nicholas de Haukeswell and of Elizabeth, sister of Thomas de Hette, and to Alice, another sister of Thomas, wife of William Blaykiston. Robert de Hawkeswell died without issue (fn. 55), and the whole inheritance centered in his cousin Joane, wife of Nicholas Gower, and daughter of Alice Blaykeston.
In 1430 "the heirs of William de Hette and of Joane Gower hold of the Prior two parts of the manor of Hette, and about half the vill, and half of the waste and common of pasture, by knight's service and suit of every fortnight, and they repair the mill-pool and carry mill-stones and timber for the repair of the manor-mill, and provide straw to cover the mill as often as it shall need, and pay 13s. 4d. (fn. 56) "
Nicholas Gower died seised of half the manor (fn. 57) held by the same tenure in 1497, leaving Thomas his son and heir, whose grandson, William Gower, was his heir in 154.
In 1407 an agreement occurs betwixt the Sub-Prior of Durham, the Commoner of the House of Durham, and Sir William Blakiston, Knt. to cut a drift or trench (fn. 58) at their joint expense, for carrying off the water, and winning the coal in their lands of Hette; all coal won by the said drift or trench to be in common to the three contracting parties.
In 1415 the Prior and Convent of Durham, Impropriators of the Church of Merrington, obtained a decree against Thomas Blakiston, Esq. for tithe of coal in Hette.
In 1685 the freeholders in Hett were, Nicholas Wood, Gent. John Wood (fn. 59), and Robert Dubbleday (Recusant Quaker).
A large proportion of the township is held by lease under the Dean and Chapter of Durham. The freehold estate of the Woods is now the property of Mrs. Phillis Wood, widow of Mr. John Wood, of Auckland.
Chilton.
The Constablery includes Great Chilton and Little Chilton, the distinction betwixt which seems to have been established at a very early date.
Great Chilton,
A small village, two miles to the South-east of Merrington. The mansion-house, which has been enlarged and almost rebuilt by the present owner, occupies a fine swell of dry sandy soil, commanding a beautiful view Westwards over Windleston Woods. From the higher ground in front of the house, the prospect includes a vast sweep of cultivated country, bounded by the long range of distant hills; whilst Eastward, Mainsforth on her kindred sand-hills, divided only by the narrow level of the marsh, rises over her scattered woods and hedge-rows.
Great Chilton was the estate of the ancient Herons. The Treasury at Durham contains the earliest evidence. By charter without date, Jordan Hairun gave to the Monk-Cook (Monacho Coco), two oxgangs of land in Chilton, to hold by the service of one sparrow-hawk on the feast of St. Cuthbert in September. The charter is followed by confirmations from Jordan Hairun and from Ralph, sons of the elder Jordan.
Jordanus Hairun, omnibus homibz etamicis suis Anglis et Francis Sal. Noveritis me concessisse, &c. Monacho Coco pro homagio et servitio suo illas duas bovatas terre qs Jordanus pater meus ei dedit de Chiltona per liberum servitium unius nisi sori annuatim in F.S.Cuthberti in Septembri. T. Rob. de la Mare, Rob. fil. Meldredi, Galfr. fil. Ricardi, Jordano Escolland, Rob. Amundevill, Rog. Daudre, Gilberto Haunsard, Witt de Herlsheia, Thomæ d' Amund., Gikello de Smithetun, Witto Hay, Witto fil. Rob. Dni de Midelham, Witto de Cornford, Siward Stot, et aliis.
Radulfus Hairun, omnibus, &c. Noverit universitas vestra me concessisse, &c. Monacho Coco, servienti Dni Hug. Dunelm. Epi, illas duas bovatas quas Jordanus pater meus ei dedit in Chiltona.
The Monk-Cook, whose proper name seems lost in the dignity of his profession, gave the two oxgangs to the Church of Durham (fn. 60); and about the same date Gikel de Smithe-tun gave to Saint Cuthbert one carucate in Chilton, which he had of the gift of Jordan Hairun, viz. that carucate of which William, son of Pagan, held two oxgangs; Richard, son of Seve, two oxgangs; William, son of Norman, two oxgangs; Adam Fergus and Wilmer one oxgang and twenty-four acres, near the culture of Stochwelle-flatt (fn. 61). John Heron, the descendant of these ancient lords, died without male issue; and on the death of Alice his widow in 1351 (fn. 62), the inheritance descended to his two daughters Agnes, wife of John Boys, and Idoma, who married Robert de Dalden, and left an only daughter Maude, who married Sir William Bowes. The manor is stated to have been held by Heron of the Countess of Lincoln, nuper media inter Episcopum et Johannem (fn. 63); but by the death of the Countess without issue it was held in chief of the See of Durham by fealty and the third part of a knight's service. The manor continued long vested in moieties in the heirs-general of Heron.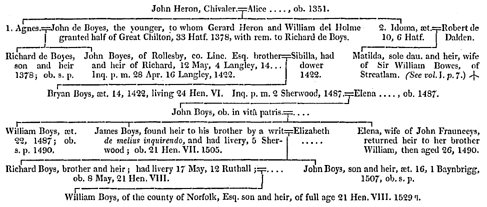 q Of this ancient line of gentry Bryande Boyes, of Ricknell Grange, labourer, makes his will 17 Jan. 1584:—to his son Anthony Boyes a kowe; sons John, Richard, and Lancelot; brother Arthur and sister Isabel Boyes; to Anthony a goulde ringe.
By Ind. 19 Nov. 9 Eliz. 1567, William Boyss, of St. Peter Hoveton, in Norfolk, Esq. for 540l. granted to John Blakiston, Esq. his moiety of the manor of Great Chilton (fn. 64). The descent of Dalden and of Bowes has been already traced (fn. 65). Sir George Bowes, of Dalden (fn. 66), the lineal representative of Idoma, the younger coheir of Heron, left three daughters, of whom the eldest Elizabeth intermarried with that same John Blakiston, Esq. to whom Boys conveyed half the manor of Great Chilton, and who thus seems by purchase, marriage, and concession from the two other coheirs of Bowes, to have reunited the greater portion of the estate.
But Humphrey Blakiston (brother of John Blakiston, Esq.) acquired two messuages and ten oxgangs in Chilton from Robert Bowes, Esq. (fn. 67); and in 1613 William Blakiston and Thomas his son and heir (son and grandson of John), granted five messuages, &c. 140 acres of land, 200 of meadow, 350 of pasture, 200 of moor, and 100 of furze and whin, to Edward Blakiston, son and heir of Humphrey (fn. 68), Edward Blakiston, of Great Chilton, died in 1639 (fn. 69), leaving two daughters his coheirs, of whom Thomasine died without issue; and Anne, wife of Christopher Hall, of Newsham (fn. 70), carried with her the whole inheritance. By Ind. 30 April, 19 Car. II. 1667, Christopher Hall, the elder, Lodowick Hall, of Chilton, Esq. his son and heir, and Christopher, George, Francis, and John, sons of Lodowick, conveyed the moiety of the manor of Great Chilton to John Jeffrayson and John Morland, Esquires, who immediately conveyed to John Lord Bishop of Durham.
The Bishop purchased the estate for the purpose of creating several rent-charges for various charitable purposes. By Ind. 12 Aug. 1668, between the same Lord Bishop of the first part; Charles Lord Gerard, of Brandon, Sir Heneage Finch, his Majesty's Solicitor-General, Sir Gilbert Gerard, Bart. Sir Nicholas Cole, Bart. and George Davenport, Clerk, Rector of Houghton-le-Spring, of the second part; and Dame Mary, wife of Sir Gilbert Gerard, of the third part; the Bishop settled the estate on trust, for the sole and separate use of his daughter Dame Mary Gerard, her heirs and assigns, subject to the following charges for ever:
£
s.
d.
To the Master and Fellows of Peter-house, Cambridge (fn. 71), per ann.
58
0
0
To the Master and Fellows of Caius and Gonville College (fn. 71)
28
0
0
To the Poor and Impotent Sicke in the Hospital on the Pallace-green, in Durham
70
0
0
To the Keeper of the Bishop's Library on the Pallace-green, twenty marks, or
13
3
8
In all, per ann.
£. 169
3
8
In 1697 Dame Elizabeth Gerard, relict and devisee of the real estate of Sir Samuel Gerard, of Brafferton, Knt. and Thomas Owen, of Gray's Inn, Esq. conveyed their manor of Great Chilton to William Greenwell, of Whitworth, and Robert Dunn, of Church-Merrington, yeoman (fn. 72). In 1698 Greenwell and Dunn made partition; the Eastern moiety being assigned to Greenwell, and the Western share to Dunn (fn. 73). James Dunn, of Chilton, Esq. eldest son of Robert, devised in 1767 to his nephew James Dunn, Esq. who in 1777 devised this estate to his nephew John Hardcastle, of Haughton-le-Skerne, Gent. who conveyed in 1791 to Mr. John Mason, father of the present proprietor.
As to Greenwell's moiety—in 1732 William Greenwell devised the East moor to his son Thomas Greenwell, and the chief messuage in which he lived (the old hall of the Blakistons) to his daughters Anne and Mary Greenwell. In 1784 William Greenwell, son and heir of Thomas, granted the East moor to Mr. Edward Wylam, who in 1803 conveyed to Robert Surtees, of Mainsforth, Esq. (fn. 74) Mary, the younger daughter of William Greenwell, became the wife of Cuthbert Smith, Gent. (fn. 75) whose brother and devisee, Ralph Smith, of the Riding, Esq. devised the reversion (after his wife's decease) to Robert Surtees, of Milkwell-burn, Gent. who in 1804 conveyed his undivided moiety to Christopher Mason (fn. 76). Anne Greenwell, the elder coheir, married Joseph Walton, who devised in 1768 to his daughter Anne Walton, who intermarried with Robert Botcherly. In 1805 Mr. Robert Botcherly and his two daughters, Ann Wetherell and Mary Botcherly, coheirs of their mother, granted the remaining undivided moiety of these lands to Christopher Mason (fn. 77). When both moieties had been acquired, Mason conveyed a portion of the lands lying nearest Mainsforth and East-house to Surtees (fn. 78).
But it must be remembered, that the descent of a portion only of the estate has been traced as derived from Humphrey and Edward Blakiston. An integral half of the manor descended from John Blakiston, Esq. to his son Sir William, who in 1613 (fn. 79) (with Dame Alice his wife and Thomas Blakiston his son and heir,) conveyed this portion to Marmaduke Wilde, of Hunton, in Yorkshire, Esq. In 1633 John Wilde, Esq. died seised of [the manor of Ketton] and half of Great Chilton, which estates he had settled by Ind. 14 Oct. 1632 [with his manors of Hunton and Barden in Yorkshire,] on his three nephews Robert, John, and Christopher, sons of Robert Wilde, of East Cowton, in successive tail male (fn. 80). In 1641 Robert Wilde, of Hunton, Esq. died seised of half the manor of Great Chilton, leaving two infant daughters his coheirs, Dorothy, aged one year and ten months, and Isabel, aged nine months. These coheirs sold to the wealthy family of Milbanke; and in 1798 Edward Milbanke, Esq. conveyed to Christopher Mason and the Rev. Robert Waugh. The purchase was divided; the larger portion rests with C. Mason, Esq.; and a farm, called Kay's-hill, was sold by Waugh to Sir H. V. Tempest.
In 1685 the freeholders in the Constablery of Great Chilton were, Sir Gilbert Gerard, Bart. John Hodshon, and Sir Marke Milbanke, Bart.
Little Chilton.
The estate adjoins Great Chilton on the North-east. Its early owners were of knightly rank, and took the local name. Richard, son of Sir John, of Chilton, gave to the Prior all his marsh betwixt the High-street from Ferry to Middleham, and the wood and the marsh of the Prior North of Mainsforth-mere (fn. 81). To this same Richard of Chilton, Prior Hugh, in 1271, gave licence to have a private chapel within his manor-house of Chilton (fn. 82). I am at a loss to trace the further progress of this estate, unless it were that portion (though styled in Great Chilton) which the De la Poles held with Bradbury and the Isle, and which passed by purchase to Thornton, the rich merchant of Newcastle (fn. 83). If this were not the property, I can find no trace of it till 3 Aug. 16 Jac. 1619, when Thomas Emerson and Jane his wife granted the manor of Little Chilton to Edward Cropley, Alderman of London, whose descendant, Sir John Cropley, Bart. devised his estate, about 17 . ., to Thomas Micklethwayte, Esq. whose brother and heir, Joseph Lord Viscount Mickleth-waite, of the kingdom of Ireland, was owner of Little Chilton in 1720 (fn. 84). The estate now belongs, in undivided moieties, to John Dennison, of Assington, in Nottinghamshire, Esq. and his brother Edward Wilkinson, Esq. (fn. 85)
Charitable Benefactions.—Various benefactions towards forming a poor-stock (of which it is difficult to procure a correct account (fn. 86) ) have been thrown together in the purchase of a small farm, situate in the township of Merrington, and of which the present rent is 20l. per ann. 1l. is received from a farm in Thinford-lane, and 1l. is paid annually by the tenant of Brass's house. The poor of Hett township are also entitled to the interest of 3l. 15s. (fn. 87); each of the other three townships had a similar sum, but at Ferryhill and Chilton the principal has been expended; and at Merrington a poor cottage was purchased, which is termed a poor-house. Hett is stated to have had other 10l. in money, which is lost or expended.