Pages 291-302
The History and Antiquities of the County Palatine of Durham: Volume 3, Stockton and Darlington Wards. Originally published by Nichols and Son, London, 1823.
This free content was digitised by double rekeying. All rights reserved.
CHAPELRY OF WHITWORTH.
The Chapelry of Whitworth is bounded by the Wear, dividing it from Brancepath on the North; by Tudhoe, in the Parish of Brancepath, on the East; by Merrington on the South-east and South; and by St. Andrew's Auckland on the South-west and West.
The Chapelry forms only one Constablery, which includes Old Park.
Whitworth.
The house of Whitworth stands near the river. A handsome deer-park, sprinkled with luxuriant oaks, stretches to the South and East. The view opens only Eastward, over the vale of Wear; the soft upland slopes of the park, and the high grounds towards Merrington, confine the prospect on the South.
The house was nearly rebuilt a few years ago on the old site, and is now one of the best family mansions in the county (fn. 1).
Thomas de Acle held Whitworth at the period of Boldon Book by the free service of the fourth part of a knight's fee. Yet a charter of Bishop Philip, who succeeded Bishop Hugh, states, that he changed the tenure of the vill from drengage to knight's service; and that for this concession Thomas de Acley granted to the Bishop the land and the grove from the dyke of the Old Park, as far as the fish-pond, towards Auckland: "terram et nemus quod fuit a veteris Parci fossato usque ad vivarium versus Auckland," and six score marks (fn. 2). The descendants of Thomas de Acley perhaps assumed the local name. In 1335 Alexander de Whitworth (who was also Lord of Woodham) died seised of the vill, held of the Bishop by homage, fealty, the fourth part of a knight's service, suit at the County Court, and five marks rents to the Exchequer, leaving Thomas de Whitworth his son and heir (fn. 3), father probably of a second Alexander, who left John de Whitworth his brother and heir in 1356 (fn. 4).
John is named in Hatfield's Survey, and is stated to hold the vill of Whitworth by knight's service, together with 14s. 10d. rent, sometime of Marmaduke Muschame, for a certain portion of two parts of the manor of Whitworth; and John pays to the Bishop's exchequer four pounds and eighteen pence.
The manor is mentioned no more till it occurs in the possession of the Nevills, who probably acquired it by purchase, as they did Binchester, Byres, and several adjoining estates. In 1420 Bishop Langley granted licence to Ralph Earl of Westmoreland to impark forty acres of his land in Whitworth, the land in Bires which he had of the gift of Richard del Park on the East of the road from Binchester to Willington, and his woods of Whitworth and Tudhow (fn. 5). The estate rested in the Nevills (fn. 6) till the attainder of Charles Earl of Westmoreland, after the Northern rebellion in 1569.
The capital messuage and the chief portion of the manor was purchased of the Crown by Watson, a tenant on the estate under the Earl. His grand-daughter married William Baxter, who alienated to Mark Shafto, Esq. in 1652.
Other portions of the estate, vested by Crown grant or subsequent sale in Trotter and Adamson, were purchased by Mark Shafto, Esq. or by his son Sir Robert Shafto, ancestor of Robert Eden Duncombe Shafto, Esq. (fn. 7) the present sole proprietor of the estate.
Pedigree of Watson and Baxter, of Whitworth.

* Whitworth Par. Reg.
The Chapel,
A small neat structure (fn. 8), was rebuilt on the old foundations (fn. 9) about twenty years ago.
Two ancient monuments lie in the Church-yard; one of these represents a knight with his vizor closed (with only a transverse gash), the sword in the right hand elevated to the vizor, the shield on the left, and the legs crossed, resting on somewhat like an angel with a human face; a couchant hound is sculptured near the sinister leg; the arms on the shield are perfectly distinct, . . . . two bars . . . . within a bordure, charged with tor-teauxes (fn. 10). The other figure, a female, with the arms raised, and the hands clasped on the breast, has nothing remarkable.
Monumental Inscriptions.
On a mural monument of marble on the North of the altar:

Hie infra terræ mandatum est
Quod mori potuit Marci Shafto, Arm.
Hujusce Comitat. Palat. per multos annos Vicecom.
Juxta Margaretæ, uxoris suæ, exuvias,
Filiæ natu maximæ Guil. Ingleby de Ripley,
In agro Eborac. Baronetti,
Aliquot ante annos hic depositas;
Ex qua quinque liberos suscepit,
Quorum tres, tantum superstites,
Tam chari patris interitum etiamnum lugent.
Vir erat in omni vita amabilis,
Et Exemplum
Pietatis erga Deum,
Liberalitatis in Egenos,
Hilaritatis inter Amicos,
Humanitatis erga omnes,
Facilius laudand, quam imitandum,
Posteris reliquit.
Hydrope extinctus est xxviii die Decembris,
Anno ætatis LXII. Sal. vero Christianæ MDCCXXIII.
Monumentum hoc Pietatis ergo posuit
Robertus Fil. natu maximus et hæres.
On a blue slab on the right of the altar:
Here lyeth Margaret, wife of Mark Shafto, of Whitworth, Esq. eldest daughter of Sir William Ingelby, of Ripley, in the county of York, Baronet, who died Sept. ye 12th, 1715, aged 51; she left issue two sons and one daughter, Robert, John, and Catharine.
Arms: Shafto, impaling, . . . . a star of six rays, . . . . Ingleby.
On a head-stone in the Church-yard:
In memory of Mr. John Gordon, who departed this life Aug. 8, 1773, aged 87. He was steward to the Shafto family for upwards of 60 years, and acquired the esteem and regard of all who knew him, as a charitable and friendly neighbour, an honest man, and an exemplary Christian. He left an only son, John Gordon, Clerk.
On a marble tablet against the East wall:
Sacred to the memory of Anne Platt, of Windlestone, who departed this life, the 22d day of March 1816, in the 83d year of her age. This stone is erected by those who truly esteemed her many virtues, and who feel a grateful remembrance of her disinterested kindness and affection towards them.
In memory of John Farrow, of Westerton, who departed this life Dec. 15th, 1813, aged 76.
On a head-stone:
The Rev. James Deason, Minor Canon of Durham, died on Easter Eve, April 21, 1810, aged 82. Mildred, his infant daughter, was buried in the church 1772. Charlotte, daughter of the Rev. James Deason, died Jan. 12th, 1812, aged 35. Eleanor, widow of the Rev. James Deason, died Feb. 4, 1815, aged 81.
Succession of Curates.
Whitworth Perpetual Curacy.—Not in charge, nor certified.—Episc. Proc. 2s. 6d.—The Dean and Chapter of Durham Patrons.
William Stayndrop, occurs 1427.
Thomas Meke, occ. 1458.
William Heryson.
Robert Richardson, 1557, p. m. Heryson.
John Ducket.
Robert Crawforth, 1578.
Robert Prentisse, 1583.
Richard Dearhurst, 1584.
John Philpot, 1599, p. res. Dearhurst.
John Browne, A. M. 1618, p. m. Philpot.
Stephen Hegg, A. M. (fn. 11) 1628, p. res. Browne.
Richard Wakelin, A. M. 1661, p. m. Hegg.
Thomas Dixon, A. M. 1662, p. m. Wakelin.
Sir George Wheler, Knt. S. T. P. (fn. 12) 1703, p. m. Dixon.
Robert Forster, A. M. 1711, p. res. Wheler.
Robert Leeke, A. M. (fn. 13) 1714, p. res. Forster.
Robert Blakiston, A. M. (fn. 13) 1726, p. m. Leeke.
Edward Gregory, A. B. 1746, p. m. Blakiston.
Richard Dongworth, A.M. (fn. 14) 1755, p. m. Gregory.
Thomas Randal, A. B. (fn. 15) 1760, p. res. Dongworth.
James Deason, 1768, p. res. Randal.
James Deason, A. M. 1796, p. res. Deason.
According to an ancient evidence in the Treasury, "the old lords of Whitworth founded the Church of Whitworth, and endowed the same Church, nomine glebœ, with a messuage and twelve acres in Whitworth-field."
According to an old Terrier the glebe consists of "a pasture of about six (fn. 16) acres joining the Oxe-close, on the East side of the town; the Beets (fn. 17) joining the Park; a little yard and garden behind the parsonage-house; the West-close of about two acres on the right-hand of the highway to Bier's-green; on the Moor, the Fall, of about four acres."
The Parsonage-house stands on an isolated plot of ground, surrounded on every side by Mr. Shafto's park.
The Parochial Register begins in 1569.
1635. The church-yard walled, being before a hedge. 1636. The church repaired in seats, flagging, leading, and other particulars. 1667. The church was leaded by the Parish, and the chancel by the Dean and Chapter.
1645. July 27, James, son of Ambrose Bell, of Juddo, was the last baptism with the book of Common Prayer in this parish.
Charles II. proclaimed at London May 8th, and at Durham 12th May 1660, on which day I, Stephen Hegg, began to use again the book of Common Prayer.
John Robinson, of Coundon, found drowned the 23d day of August 1637. He was a piper.
Thomas, son of Mr. Timothie Perkin, of the Old Parke, was unfortunatlie drowned in Whit-worth-ford August ye first, and was buried August ye 8th, 1659.
Pedigree of Shafto, of Whitworth.
Arms: Gules, on a bend Argent three mullets Azure.
Crest: On a wreath a salamander reguardant Vert, in hte midst of flames proper.


Pedigree of Shafto, of Benwell, co. Northumberland.

* St. Nicholas' Par. Reg.
† St. John's Par. Reg.
‡ MSS. of the Rev. W. Cole, of Milton, vol. IX. p. 104
Spenny-Moor,
An ancient waste or common, stretching, it may seem, nearly from Auckland-park or the foot of Westerton-hill betwixt Merrington and Whitworth, and betwixt Hett and Tudhow, till it approached the Wear near Sunderland-bridge (fn. 18). In 1279 Hugh Gubyoun, lord of Tudhow, granted that the Prior's tenants of Merrington should hold in severalty certain portions of Spennyng-more which had been brought into tillage, viz. twenty acres in Bradescoate, seven acres betwixt Bradescoate and Barker Meldrit, and sixteen acres at the head of Midel Merington ; saving to Hugh and his men of Tudhow their right of enter-common after the crops were carried; and for this concession the Prior grants that Sir Hugh Gubyoun may turn his mill-race belonging to Tudhow-mill, into its ancient channel (fn. 19); and moreover, Sir Hugh and his men shall dig marle wheresoever they will within the Prior's lands, so that they do no damage in the corn nor in the meadows (fn. 20).
In 1366 John, son of Thomas, of Whitworth, lord of the vill of Whitworth, grants, that whereas there hath been strife and controversy, &c. that the Prior and his tenants of Hett, Ferry, East, West, and Middle Merrington, shall have common in Gellesmore and Wiverpece as far as Uddesake, and from Uddesake as the old dyke (fossatum) runs to Wormedene; saving that all lands sown with corn shall remain in severalty till the crops are cleared.
In 1446 Ralph Earl of Westmoreland released to the Prior all common-right which he or his tenants of Whitworth and Tudhow held in forty acres in West and Middle Merrington, and in eighty acres in the South part of Spenny-more, which the Prior's men had reclaimed and inclosed.
Several charters mention the East and West Pools or Fish-ponds on Speny-more, reservoirs which have, I think, totally disappeared. Tudhow-mill race flowed from the East Pool (fn. 21).
In 1615 there was a general muster upon Spenny-moor of all the men able to bear arms within the Bishopric, betwixt the ages of fifteen and sixty.
Since the inclosure, the name is confined to a single house and farmhold (parcel of the Whitworth Estate) at the intersection of the Auckland turnpike, and the road from Merrington to Whitworth (fn. 22).
Old Park.
The manor and estate of Old Park adjoins Whitworth on the South-west. "Thomas de Acley released to Philip Bishop of Durham the grove and the land which was betwixt the dyke of the Old Park and the fish-pool, towards Auckland. The Prior of Durham did not renounce his right; so that place (the Old Parke to wit, within the Parish of Whitworth) remained as before (fn. 23). The Bishops of Durham began to cultivate and improve that spot, and granted to Galfrid del Park that meadow near the Were which Richard del Park now holds; and the Prior of Durham from that time to this day has peaceably received the tithes of that meadow, as he formerly did when it belonged to the lords of Whitworth; because that rivulet which is called Fulpeth-bourne, which descends from the fish-pool, formerly ran through that meadow, and so fell into the Were (fn. 24)."
Bishop Kellawe probably granted this estate to his own relatives; for in 13 . . Richard de Kellawe, on the day on which he undertook his journey to the Holy Land, was seised of the manor of Ald Parke, held of the Bishop by homage, fealty, the fortieth part of a knight's service, and 60s. exchequer-rent, and William was his son and heir.
Under Hatfield's Survey Thomas Claxton (younger son of Lyon Claxton, of Claxton, and brother of Sir William, of Horden,) held the manor of Ald Parke (late of Peter de Kellawe), containing eight score acres, by knight's service. In 1402 he left a son and heir of his own name, in whose descendants the estate rested till the reign of Elizabeth. In 1458 Thomas Meke, Chaplain of Whitworth, for the love that he bore to William Claxton (fn. 25) and Elizabeth his wife, granted licence to Thomas Claxton, Under Sheriff of Durham (father of William), to have a private oratory within his Chapel of Old Park, wherein the said Dan Thomas had sometimes celebrated mass, and did purpose to continue the same at his own good liking and opportunity; without prejudice, however, to the rights of the Chapel of Whitworth (fn. 26).
An eschaet in 1472 describes the estate as consisting of the manor-house, which contained a hall, a kitchen, and three chambers, roofed with stone; a stable, hay-house, kiln, granary, and ox-house, thatched with straw; two orchards, one hundred and sixty acres of arable, worth 13s. 4d.; and two acres of meadow, worth 2s. per ann.; and the close called Knighton-field, or Penret-field, in Byres, containing a hundred acres, held by 20s. rent, worth 3s. 4d. (fn. 27)
Robert Claxton, Esq. engaged in the rebellion of the Northern Earls in 1569, and was included in the Act of Attainder; but his life was spared, and he died at Old Park in 1587 (fn. 28). His son, Sir John Claxton (knighted by King James), resided at Nettlesworth; but he had no interest in Old Park. The estate was forfeited, and granted by the Crown, together with Hardwick, to George Frevill (fn. 29), Clerk of the Ordnance to the Earl of Sussex's army. The Frevilles, or some intermediate owner, sold Old Park to the family of Parkin (fn. 30), from whom it was, I presume, purchased, before 1670, by Thomas Wharton, M. D. ancestor of the present proprietor.
The house of Old Park stands retired, about half a mile from the Wear, shaded by large elms, and fenced on the South by a moat, beyond which is the Old Park, a piece of weeping ground, sloping towards the house. The shell of the old mansion of the Claxtons was repaired (with some additions) in the monastic style, by the late Dr. Wharton. The sequestered situation suits well with the style; the modest, quiet front, with its panes of stained glass, and the cross rising in the centre, is seen dimly glimmering through the huge elms. The neglected grounds, once trim as Abbot's garden, are still sprinkled over with evergreens and matted with periwinkle. The whole neglected spot affords an interesting specimen of the taste of Dr. Wharton and of his friend the poet Gray, whose genius may, I think, be plainly traced in the style of the building, and in the sequestered character of the grounds (fn. 31).
Pedigree of Claxton, of Old Park.
Arms: Gules, a fess between three hedgenhogs Argent. Crest: On a dueal coronet Or, a hedgehog Argent.
* St. Andtrew's Aucklan Par. Reg.
1567. Robert Claxton, of Over Throston; wife Agnes; sons George, Christopher, and Thomas; daughter Isabel.
Cuthbert, son of John Claxton, Esq. bur. Sept. 20, 1631.—Reg. St. Giles.
John Claxton, of Chester, Gent. will dat. 18 March 1615.—"To Sir George Waynewright, of Rye; to cousin Sir John Claxton, of Nettlesworth, Knt.; to Robert Catcheside, of Birtley; cozen Jane Marshall, in service with Mr. Conyers, of Layton; to John Claxton, of Darlington, 200l.; my brother Sir George Claxton, Minister at Cawod, in Yorkshire; young Thomas Scott, son of Thomas Scott, son of Thomas Scott, of Allerton, sadler, sole executor."
John Claxton, of Chester, bur. 5 April, 1615.
15 Jan. 1563. John Claxton, of Darlington, Gent. to be bur. at Hurworth, near my wife. Son, George Claxton, to whom he leaves care of John, Margaret, and Mary Claxton, whose grandfather was Edmund Hogeson. Witness, James Stranguiss, Richard Claxton, sen. Richard Claxton, jun. To his mother, and old angell.
Thomas Claxton, of Windleston, Gent. My nephew William Claxton to suffer my brother William C. to dwell with him. My brother John. Sister Jenet Chipehase. Nephew John Crofte. Nephew Henry Willye. To Jenett, wife of Mr. Robert Eden, of W. A. one old angell My cousin Mr. Robert Claxton, of the Old Parke. Mr. John Eden and Robert his son, supervisors, 11 Oct. 1579.
20 July 1584, Robert Eden, of West Aukland, leaves, ister alia, "to my unkle Claxton, one French crowne to make him a ringe on; to my cousynges Fraunces and Ane Claxton; to my cousynge John Claxton, 33s. 4d. yerely till he be utter Barrister."
Pedigree of Wharton, of Old Park.
Arms: Sable, a maunch Argent, a canton Or.
Crest of the Kirby line: One a wreath a bull's head ereased Argent, Horned Or. The family of Old Park bears the same charged with a trefoil.—N. B. There is o crest annesed to the arms of Wharton of old Park, in Dugdale's Visitation of Durham 1666.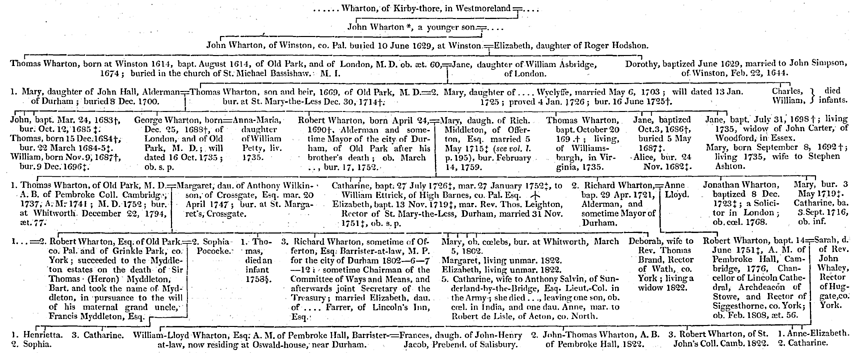 * Said in some Pedigrees to be a younger son of John Wharton, of kirby Thore, co. Westmoreland, Esq. by Elizabeth his wife, daughter and coheir of sir Henty Fenwick, of Fenwick, co. Northumberland, Knt. and relict of Sir Charistoper Moresby, of Moresby, co. Cumberland, Knt.
† St. Mary-the-Less Par. Reger.
‡ St. Nicholas Par. Reg.
§ See Gray's Letters, p. 269, No 32.
Uxor Wharton, buried Jan. 4, 1587. Anne Wharton, April 3, 1588. Eleanor Wharton, Dec. 3, 1635. Henry Warton, June 29, 1640. Elizabeth Wharton, March 12, 1646. William Wharton, of Winston, April 7, 1679. Catharine Wharton, of Winston, widow, July 12, 1717. William Wharton and Katherine Langstaff, mar. April 7, 1676. Winston. Mr. Thomas Slack, Mrs. Emma Wharton, mar. Feb. 22, 1676. Whitworth.
Anthony a Wood (Athen. vol. II. p. 382,) states, that Dr. Wharton "was descended from the antient and gentile family of his name living in Yorkshire (fn. 32)." Before the civi' wars broke out, he retired from Pembroke Hall to Trinity College, in Cambridge, "being then tutor or governor to John Scrope, the natural and only son of Emanuel Earl of Sunderland." When the Rebellion broke out he retired to London, and practised physic under Dr. John Bathurst. After the garrison of Oxford surrendered to the Parliament, he returned to Trinity, and was created Doctor of Physic early in 1647, by virtue of letters from General Fairfax; was admitted Candidate of the College of Physicians the same year, Fellow in 1650, and was for five or six years Censor of the College, "being then a person of eminent esteem and practice in the city." Anthony has not noted the most honourable and distinguishing circumstance of Dr. Wharton's history. On the first appearance of the plague in 1666, Dr. Wharton had determined to remain in London and attend his patients, as well as the poor in St. Thomas's Hospital, of which he was Physician; yet, when the mortality increased to a great height, his resolution began to waver, but he was induced to persevere in his hazardous line of duty, by a promise from Government, that if he would persist in attending the Guards, who as fast as they fell sick were sent to that hospital, he should receive the first vacant appointment of Physician in Ordinary to the King. Soon after the plague had ceased, a vacancy in the promised office happened, and Dr. Wharton went to Court to solicit the fulfilment of his engagement; but was answered that his Majesty was under the necessity of appointing another person his physician; yet, to shew his sense of Dr. Wharton's services, he would order the Heralds to grant him an honourable augmentation to his paternal coat of arms. From Dr. Wharton's notes, in a Diary preserved in the family, it appears that he paid Sir William Dugdale a fee of ten pounds for this augmentation (a canton Or in the dexter quarter); the sole reward which Dr. Wharton ever received for his services (fn. 33). Dr. Wharton was the author of "Adenographia, seu Glandularum totius Corporis Descriptio," London, 8vo. 1656, reprinted at Amsterdam 1659; which, besides containing a more accurate description of the glands than had yet appeared, pointed out their real and important uses; with an admirable account of the several diseases of the glands, and particularly of their affections from struma or scrophula. According to Wood, Dr. Wharton died at his house in Aldersgate-street, in October 1673. His epitaph, however, is in the church of St. Michael Bassishaw, on a tablet affixed to the East wall, on the South side of the altar (fn. 34).
Siste pedem, Viator,
Quisquis es, ac venerare. Thomæ Wharton, M. D. C. L. M. S. quod fuit mortale heic juxta situm est, qui Winstoniæ apud Dunelmenses natus, Cantabrigiæ apud l'embrochianos educatus, non ipsius natalis soli, non academiæ, sed in commune humani generis commodum, natum se educatumq. factis comprobavit.
Vir justus, probus, pius, omnimoda eruditione, cæteris hominibus hac solummodo conditione impar, quod omnes sui seculi medicos facile antecelleret. Grassante infami illa Londiniis Peste hoste infestissima, Anno MDCLXVI. rebus ad Triarios jam plane perductis receptuiq. aliis canentibus, fixis aquilis adhæsit immotus, saluti publicæ velle asserens prospicere, alienæ appetentem, suæ profusum. Natus An. MDCXIV. obiit MDCLXXIII.
Limites Parochiæ de Whitworth.
Sciendum est quod antecessores Domini de Whitworth, a tempore cujus memoria non existit, de consensu Episcopi Dunelm, et capituli ibidem, Ecclesiam de Whitworth fundaverunt, ut foret Ecclesia Parochialis illius villæ, et dederunt nomine glebæ unum messuagium in villa de Whitworth, et duodecim acras terræ in campo ejusdem villæ, et limites dominii, de Whitworth, ut forent limites Parochie ubique, et ut fuerunt quum Ecclesia illa fuit fundata, Limites Dominii de Whitworth tune temporis erant: A le Warenegappe juxta Parcum de Aukland, usque ad aquam de Were, ex parte occidentali de Whitworth, prout rivulus ille qui ibi intrat descendit ad vivarium Episcopi, et de vivario usque ad pratum Richardi del Parke, et per pratum illud secundum quod antiquitus currere solebat usque in Were, similiter a le Warrengappe ex parte australi secundum quod illud magnum fossatum quod ibi incipit et modo dividit inter dominium Episcopi et dominium Prioris, se dirigit versus orientem usque ad le Dene que dividit dominium de Whitworth a dominio de Tudhoe, et sic per rivulum illum descendendo usque aquam de Were. Limites iste dividebant pacifice Parochiam de Whitworth, a Parochia de Branspeth, et a Parochia de Merrington, et a Parochia de Auckland, in omni loco a tempore cujus memoria non existit usque ad septimum annum Antonii Episcopi.
The family of Shafto may be traced much higher than William Shafto, with whom the Pedigree commences on p. 294. Cuthbert Foliott, second or younger son of Sir John Foliott, had a son Thomas Foliott, who is said to have first assumed the name of Shafto, from his residence at Shafto Crag. From him proceeded lineally, Ewen, Reynald, Thomas, John, and Henry, whose son William (p. 294) married the heiress of Babington, of Babington (fn. 35) (Bavington); from James, William's eldest son, descended the Shaftos of East Shafto, the last of whom devised his estate to — Vaughan, about 172 . . Edward, said to be fourth son of William, had the maternal estate of Bavington: the descendants of his younger son Mark are given in the text. From Cuthbert, his eldest, descended the Shaftos of Bavington, who held the estate till it was forfeited by William Shafto's attachment to the house of Stuart in 1715 (fn. 36). The estate was purchased by Admiral Sir George Delaval, who devised it to the right heir of line, his nephew George Delaval Shafto, Esq. M.P. for Northumberland, whose grandson, of the same names, is now owner of Bavington.
Some little incidental proof of the rank which these old Lords of Shafto held on the border, may be gathered from song and tradition. At the "Raid of the Redswire" in 1575, when the Scottish and English Wardens quarreled at a meeting on the border, one of the English war cries was "A Schaftan and a Fenwick." The Scots had the honours of the day, and amongst the many English who were led prisoners or wounded,

Young Henry Schaftan he is hurt,
A souldier shot him with a bowf.
Order for the Watch and Ward on the Middle Marches, 6 Edward VI.:—"The watch at Wodehouse and Ernyshaugh, &c. setters and searchers, Oswold Tweddail and Reynold Shaftoo; Overseers of these watches, John Shaftoo and Rauf Widdrington (fn. 37).
In St. George's porch, in the church of St. Nicholas, Newcastle-upon-Tyne:

Hic sitæ sunt exuviæ
Roberti Shafto, Equitis Aurati,
nec non ad legem servientis
et hujus municipii proprætoris.
In desideratissimi patris memoriam
hoc marmor posuit unicus defuncti filius.
Marcus Shafto, de Whitworth,
in comitatu Dunelmensi, Armr.
Obiit Maii xxi.
A. D. MDCCV.
vixit annos LXXII.
Arms: Gules, on a bend Argent three mullets Azure, Shafto; impaling, quarterly, Argent and Gules, a bend Sable, Widdrington.
Sir Robert Shafto was a steady and consistent Whig; he was displaced from his office of Recorder in 1685, on the accession of James II. but was restored to his office at the Revolution.
Sir Robert is said to have made considerable genealogical and antiquarian collections relative to Northumberland: these are not, however, in the possession of his descendants.