Pages 303-324
The History and Antiquities of the County Palatine of Durham: Volume 3, Stockton and Darlington Wards. Originally published by Nichols and Son, London, 1823.
This free content was digitised by double rekeying. All rights reserved.
PARISH OF HEIGHINGTON.
THE Parish of Heighington is bounded by St. Andrew's Auckland on the North, by Aycliffe on the East, by Haughton-le-Skerne on the South, and by Gainford on the West.
The Parish includes seven Constableries: 1. Heighington; 2. Redworth; 3. Midridge-Grange; 4. School-Aycliffe; 5. Coatsay-moor; 6. Walworth; 7. Killerby.
Heighington.
The village forms a large square, inclosing an open green, on the Southern slope of a dry limestone-hill, commanding a rich and varied prospect to the South and East.
Under Boldon Book.—In Heighington there are sixteen tenants in villenage, each of whom holds two oxgangs; they pay two chalders of malt, and the same quantity of meal and of oats, and sixty-four chalders of aver-malt, according to the measure of Heghyngton-hall; and they carry eight woodlades, and render thirty-two hens and one thousand eggs, and pay 26s. for cornage, and provide one milch cow, and find one man for Castle-ward. Two cottagers hold each fifteen acres, and work two days in every week the year round for the lord, and contribute with the villans their part of scats, and of the milch-cow, and of Yole Wayting (fn. 1). Three other cottagers hold each four acres, and work for the lord two days in the week from the Feast of St. Peter ad Vincula to Martinmas, and from Martinmas to the Feast of St. Peter aforesaid, one day in each week. The villans and cottagers weed (sarclant) all the Bishop's growing corn within the vill; and for each oxgang give one day's mowing in every week in harvest; and they till four portions of land with all their household, except the huswife, and then they have a corrody. Each of the villans ploughs and harrows one acre, and has then a corrody; and all the harrows in the town harrow one day for the Lord. The sixteen villans pay sixteen shillings for Michelmet (fn. 2), and sixteen shillings for Yol wayting.
Simon Hostiarius holds his old land, with an addition which the Bishop gave him, extending to sixty acres, and pays one bezant. Thomas the Clerk holds four oxgangs for half a mark, and tills three portions, and serves on embassies. These lands are now in the hands of the Bishop. Thomas de Penie holds two oxgangs, once of Hugh Boun, and pays 2s. rent and 2s. for cornage. One toft is in the Bishop's hands.
The mills of Heghyngtonshire pay twelve marks (fn. 3). The punder has six acres, and has his thraves like other punders, and renders fourscore hens and five hundred eggs. The demesne is on lease, with a stock of three ploughs and a half and three harrows and a half, and pays for two ploughs, sixteen chalders of wheat, and as many of oats, and eight chalders of barley; and for the remaining plough and half plough five pounds. All the villans and cottagers of Heghyngtonshire mow the Bishop's meadows, and load the hay and make the fence (clausuram) of the Bishop's Court-house and of the Verge of the Court (fn. 4). Besides, the villans lead the Bishop's grain off the demesne-lands to whithersoever he will betwixt Tees and Wear; and each provides one cord (fn. 5) at the Bishop's great chace; and the Bishop provides for the proportion of Heighington-hall fifteen cords.
Thus in every principal manor the Bishop had his court-house and his hall, the residence of the steward, or, when the demesne was leased, of the principal tenant; and the hospitality of the Bishop's various residences was provided for by the reservation of stipulated quantities of corn, oats, and barley, which the villans and cotters were to carry to any of the manor-houses which the Bishop ordered. The services of the tenants were sufficiently oppressive; but the several parcels leased out under monied rents indicate the progress of a new system, under which the most burthensome of the personal services were commuted for payments, which, in course of time, came to bear no proportion to the real value of the tenures.
Under Hatfield's Survey the free tenants had increased considerably. "Robert Gileth holds a messuage and two oxgangs, each of fifteen acres, by knight's service and 8d. John Chilton a messuage and two oxgangs, 1s. 4d.; and for two messuages and four oxgangs, which Simon Hostiarius once held, one bezant. Robert Menvile and John Couhird, in right of their wives, a messuage and two oxgangs, 3s. William North one oxgang by suit of court and 1s. 6d. John of Nottingham two acres, called the Berlis, 2s. Two others held three messuages, two oxgangs, and three acres, in all 12s. 8d. Exchequer-lands—Seven tenants under certain rents. Richard Scrope, Chivaler, a hundred acres, called The Brakkes, without rent. The free tenants and the tenants of the tofts in Heighington pay altogether 4s. for cornage at the Feast of St. Cuthbert in September. [Richard Blank holds Scole Acley by knight's service and a free rent of 26s. William Bruys holds the vill of Heworth by knight's service and 15s.] The service of the cottagers is stated as in Boldon Book; but the whole was commuted for payments (fn. 6). Then follow the bond-tenants, whose services were also commuted. Amongst these the Vicar holds a messuage and two oxgangs for 10s. 1d. obol. Walter Bryghous the same quantity and rent; and seven other bonds eight messuages and fifteen oxgangs, ut supra. Five messuages and a half and eleven oxgangs, which used to do services like the bond-tenants, are in the Bishop's hands, and leased with the Grange (fn. 7). The water-mill pays 4l. 13s. 4d. Peter Gerard two messuages and four oxgangs of bonds, 20s. 4d. The same tenants hold amongst them five acres called the Steweland, which used to pay 10s. now only 20d. The tenants of the whole vill hold the six acres, called Punderland, to which a thrave of oats and other grain is paid from every ploughland, 13s. 4d. rent. The common smithy pays 6d. and the common bake-house 12d..
Certain tenants hold certain tofts and lands by the name of Exchequer-lands, under annual rents only. The farmers of the Grange hold four parcels. The bond-tenants hold four acres (cum augmento) at Helleflake, 10s. A plot of three acres, called Calgarth-croft, lying under Shellerdown-lawe, used to pay 3s.; it is now waste, and depastured by the tenants of Heghyngton, Redworth, and Newbiggin, for which the Headborough pays 2s. William Smith a messuage and four acres, and makes the iron-work for two ploughs, the Bishop providing iron, and the iron of four [harrows?] and this service the farmer now performs. [Then follows a note, that Walter Brighous took before John Heron, the Bishop's Seneschal, Ao 36 of the same Bishop, a messuage and a half, and three oxgangs, and two gardens, lying near the Halyerde, of which one oxgang had been in the tenure of John Gerard and two of Peter Gerard, for six years at Penyferme, 30s. rent, the first payment to be on St. Cuthbert's Day, in March 1382, prout patet per Rotul. Halmot apud Auckland.] The Survey then describes the manor-house. "There is one manor-place, with one oxgang of land and two granges (granaries, nil val. ultra repriss.); one curtilage, of which the herbage is said to be worth 12d.; twenty-eight oxgangs of demesne, each of fifteen acres, and each acre 5d. per ann.; eight acres of meadow, of which five acres are worth 12s. and lie in the Estker, nigh Kyngesker; and three acres worth 3s. lie in Colbrigmere; in all valor manerii, xl. xiiis. iiiid."
The freeholds in Heighington, at every subsequent period, have been divided amongst numerous small proprietors. The lords Scrope (fn. 8) held for several descents a pasture called Freeman's-brakes (mentioned in the Survey). The Wyots, Ferys (fn. 9), Hunters (fn. 11), Even- woods (fn. 12) and Del Norths (fn. 13) were all early freeholders. The lands of a family who assumed the local name of Heighington seem to have lain in Redworth.
In 1685 the freeholders in Heighington were, William Morley, John Fewler, John Chaytor, of Richmond, Thomas Dobson, Anne Lawson, Christopher Runthwaite, John Atkinson, Robert Tewart, John Rain, William Runthwaite, Richard Robinson, William Wilkinson, William Cooke, John Tewart, Christopher Surtees (fn. 14), Christopher Richmond (fn. 14), John Richmond (fn. 14), William Richmond (fn. 14), Thomas Richmond (fn. 14), and James Dobson (fn. 14).
The Church.
The Church stands on high ground on the North side of the Green. The structure consists of a nave, chancel, South aile, and West tower. The tower seems coæval with that of Merrington, and has four early Norman windows, each consisting of two round-headed lights, divided by a rude circular column. The nave opens under a round arch, springing from pillars with heavy Norman capitals; the head of the arch is ornamented with the plain billet moulding. The South aile is formed by two octagonal pillars supporting pointed arches. The Church is crowded with heavy galleries on the West and North. The pulpit is a curious specimen of old carving, having five pointed compartments with delicate tracery: round the mouldings is cut in wood in the Gothic letter, Drate p'a'i'b's Al . . . dri Fletchat et Agnetis uror cius.
Monumental Inscriptions.
On a brass plate, let into a black marble against the North wall of the chancel:
Anthonius Byerley, De Midridge-Grainge, Armiger, Olim Chil, Sub Excell, Gulielmo Marchione Novi Castri Imperatore Exercitus in Partibus Septentrionalibus Augustissimi Regis Caroli Primi Hic Humatus Jacet. Obiit 22 Aprilis, An'o Dom, 1667, ætatis Suæ 45.
Arms: Or, a cross-crosslet Gules, Byerley; impaling, Argent, on a fesse Sable three bucks' heads caboshed Or, Hutton. Crest: on an Esquire's helmet a cross crosslet.
On a blue slab within the altar-rails, which has been robbed of its ancient brasses (fn. 15) :
Lydie, the wife of Mr. George Hilton; died Nov. 4th, 1745, aged 77.
Sub hoc marmore jacet corpus Lance. Marg. et Thomæ Hilton: L. sepult. Jun. 20, 1675. M. Aug. 25, 1697. T. Apr. 26, 1718. Et
Corpus Georgii Hilton, de Killerby, sepult. undecimo die Maii, Anno Domini 1723.
Alexander Hilton, died March 20th, 1732.
Another slab in the middle of the chancel has also been robbed of its brass, an ecclesiastic kneeling, with a scroll issuing from his mouth.
On a blue slab in the South aile:
Mr. John Darch, marchant-adventurer, of Dewcastell-upon-Tyne, Iyeth heare. He dep'ted the 8th of March 1590; and his brother Mr. Robert Darch dep'ted the . . . . . .
Wavy in chief, quarterly, 1 and 4, a lion passant; 2 and 3, two roses (the arms of the Merchant-adventurers Company of Newcastle).
Against the wall to the South of the pulpit, on painted wood, with the arms and letters in bas relief:
Mr. George Crosyer, Aged 88 Years, Was Buried the 19th Day of December 1669.
Arms: Azure, a fesse Argent, charged with three Cornish choughs Sable, inter three crosses of St. Julian Or.
On a slab near the above:
Eleconora, uxor Georgii Crosyer, Gen obiit vicesimo septimo die Februarii, Anno Dom. 1710, et prefæt. Georg. Crosyer, Gen. obiit vicesimo primo die Februarii, Anno Dom, 1717, ætat. suæ 80.
Arms: Crosyer as before.
On a marble table at the East end of the South aile:
To the memory of Robert Surtees, born at Newbiggin, in the parish of Heighington, the 12th day of May, Anno Dom. 1694; died at Redworth the 6th day of March, Anno Dom. 1785; interred the 10th, aged 91 years.
Arms: Ermine, on a canton Gules an orle Or. Crest: out of a ducal coronet a plume of three ostrich feathers.
On a blue slab in the chancel:
Here lies the body of the Rev. John Warcop, Clerk, M. A. He was born at Gabenby, in the parish of Burniston, in the county of York, July 19th, 1712, and died December 2d, 1782, aged 72 years.
Remember now thy Creator in the days of thy youth, whilst the evil days come not, nor the years draw nigh when thou shalt say, I have no pleasure in them.
It is appointed to all men once to die; but after that the judgment. In the hour of death, and in the day of judgment, good Lord deliver us.
On a mural tablet of marble:
Sacred to the memory of Hannah O'Callaghan, who died the 31st of March 1817, aged 50 years. Forgive the wish that would have kept thee here.
On a mural tablet of marble, near the West end of the South aile:
William Jepson, who died 12 June 1776, aged 76. Ann, his wife, 3 June 1756, aged 38, and their children.—Ann Jepson, died 23 Sep. 1741, aged 1 year. James Jepson, died 12 Nov. 1753, aged 2 months. Elizabeth. 7 Sept. 1754, aged 9 years. William, 18 Sept. 1757, aged 15 years. John, 31 July 1769, aged 30 years. Eleanor Cumby, 3 April 1771, aged 24 years. Sandford Jepson, 15 Oct. 1791, aged 35 years. Ann Jepson, 30 Apr. 1799, aged 56 years. Anthony Jepson, 10 April 1807, aged 58 years. Dorothy Haswell, died 27 May 1819, aged 68 years.
On stones in the church-yard:
Robert Page, died May 17, 1777, aged 87. Also his wife, three sons, and five daughters.
To the memory of William Page, of School-Aycliffe, who died Sept. 22, 1793, aged 75 years.
On an altar-tomb:
John Tewart, departed this life 3d April.....
Anna vidua Johannis,..... Johannes filius Johannis, ob. 8o die Maii, A. D. 1712.
Christopher Richmond, died 28th Sept. 1794, aged 80 years. Sarah, his daughter, died 18th Nov. 1790, aged 38 years.
Christopher Richmond, died May 13, 1710.
Elizabeth Richmond, wife of William Richmond, of Hope, died the 13th of April 1763, aged 33. William Richmond, July 14, 1790, aged 63 years. Elizabeth, wife of George Richmond, of Cockerton, ob. 26 Apr. 1801, æt. 72. John Richmond, of Redworth, May 26, 1729. Ann, ....1776.
Story, son of Thomas and Mary Richmond, of Durham, ob. May 30th, 1789, æt. 4 years. Thomas Richmond, of Durham, Nov. 4, 1792, æt. 40. Ann Richmond, Dec. 18, 1799, aged 47 years.
Two figures, which seem to represent females, lie in the church-yard to the East of the chancel.
Heighington was anciently a Rectory. Only the following incumbents occur: John de Roma, 1239. William de Kilkenni, 1249 (fn. 16), during whose incumbency Bishop Walter gave the Church of Heighington to the Prior and Convent of Durham, on condition of maintaining a perpetual Vicarage, with an endowment of thirty marks per annum (fn. 17).
Succession of Vicars.
Heighington, a Vicarage in the Deanery of Darlington, and a Peculiar to the Dean and Chapter of Durham.—King's Books, 12l. 14s. 9 1/2d.; Tenths, 1l. 5s. 3 3/4d.; Episc. Proc. 9s.—Dedication to St. Michael the Archangel.
Roger, 1262.
William de Novo Castro, 1279.
Henry de Ferie, 1290.
Richard de Harcden, 1303.
Richard de Vaus, de Abingdon, 1325, p. m. Hareden.
William de Burdon, 1360, per depr. Abingdon.
John de Mitford, 1376, p. m. Burdon.
Thomas de Kellawe, 1377, p. res. Mitford.
Robert Chapman, 1394, p. m. Kellawe.
John Gell, 1395.
Thomas Wyhot, 1400, p. res. Gell.
John de Catton, 1401, p. res. Wyhot.
John Holdernesse, 1419, p. m. Catton.
John Corbrigg, 1422, p. m. Holdernesse.
Robert Dale, 1439, p. m. Corbrigg.
John Stayndropp, 1463, p. res. Dale.
William Tonge, LL.B. 1499 (fn. 18).
William Richardson, 1513, p. m. Tonge.
Ralph Aldwodde, 1524, p. res. Richardson.
William Whytehed, A. M. 1529, p. m. Aid-wodde.
William Hardinge, 1576, p. m. Whytehed.
Francis Kaye, A. M. 1584, p. m. Hardinge.
Giles Garthwaite, A. M. 1593, p. res. Kaye.
Christopher Leaver, 1613.
John Cradock, S. T. P. 1624, p. m. Leaver.
Ferdinando Moorcroft (fn. 19), A. M. 1625, p. res. Cradock.
James Moorcroft, A. M. 1639.
Gilbert Wildbore (fn. 20).
Arthur Squire (fn. 21), an intruder.
Richard Wrench, S. T. P. (fn. 24) 1661, p. m. Wildbore.
John Wood, A. M. p. res. Wrench.
James Thomas, A. M. 1673, p. m. Wood.
Edward Kirkby, A. M. 1684, p. m. Thompson.
John Milner, A. M. 1685, p. res. Kirkby.
Layton Etherington, A. M. 1705, p. m. Milner.
Barnabas Salkeld, A. B. 1718, p. m. Etherington.
Chilton Wilson, A. M. 1727, p. m. Salkeld.
William Forster, A. M. 1749, p. m. Wilson.
Richard Brewster, A. M. 1764, p. m. Forster.
Samuel Viner, A. M. (fn. 25) Magd. Coll. Oxon. 1772, p. m. Brewster.
Samuel Gamlen, A.M. Bal. Coll. Oxon, p. m. Viner 1815.
The Vicarage-house stands near the Church. The glebe is confined to the garden and premises adjoining, and the Church-yard.
The townships of Heighington and School-Aycliffe pay tithe of hay and small tithes to the Vicar in kind. Redworth pays tithe of hay and all small tithe, excepting that certain lands belonging to Messrs. Brown, Richmond, Wetherell, Robert Surtees, Esq. and others, pay moduses or prescripts in lieu of hay-tithe, amounting altogether to 5s. 7d.
Newbiggin pays small tithe, and a modus of 5s. in lieu of hay. West Thickley pays 40s. in lieu of all vicarial tithes. Walworth pays small tithe, and a modus of 26s. 8d. in lieu of hay. Killerby small tithe, and 8s. in lieu of hay.
The corn-tithes of Heighington belong to the ninth Stall in Durham Cathedral; those of School-Aycliffe to the third Stall; of Redworth to the second; and of Walworth to the eighth Stall in Durham Cathedral.
Redworth,
A mile to the North-west of Heighington, a scattered village on the Northern side of a lofty swell of limestone.
Redworth-house, the seat of Robert Surtees, Esq. commands an extended prospect to the North and East. On the West it is backed by higher grounds, particularly by Shackleton-hill, now planted to its summit. The elevation is very considerable, and commands a wide soaring view; but I will affirm nothing as to "the three distinct Danish terraces," which wind round this mount of speculation (fn. 26).
Under Boldon Book sixteen farmers held as many oxgangs, and paid for every two oxgangs 5s. and two hens; and for every oxgang tilled three portions in autumn with eight men, and led hay one day with eight wains, and gave one day's ploughing. Three cottagers held twelve acres, and worked [exactly as those of Heighington].
Ald Thikley, which was carved out of Redworth, pays one mark at the Feast of St. Cuthbert in September, for cornage.
Under Hatfield's Survey the whole vill was held by free tenures. Richard Redworth two messuages and thirty-four acres by knight's service and 5s. 8d.. William Heighington three messuages and seventy-five acres, 13s. 4d. Six other tenants eight messuages and a hundred and three acres. William Elmeden a messuage and twenty acres, which was an escheat in the time of Bishop Thomas, predecessor of the Bishop that now is, and given by the said Lord Thomas to one John of Middleham, in simple fee, 3s. 4d. William Hunter and Richard Hetheworth a messuage and five acres, an escheat to the Bishop from John Storour, who was indicted, and fled; for the free-rent 10d. and for the arrears, &c. John Smale four acres which escheated, being purchased by Simon fil. William, who was the lord's neif (fn. 27); free-rent 8d.
The service of each oxgang [as in Boldon Book (fn. 28) ]. John Smale and five others hold certain tofts, acres, and messuages, called Exchequer-lands, under certain rents. John Smale for an increment to Simeon fil. William's land, 3s. 4d. and for an increment to Storour's land, besides the free-rent, 4s. 2d..
A variety of small freeholds have originated under the estates named in the Survey. The Redworth (fn. 29) and Heighingtons held lands for several descents. The Eures, of Witton, held some small parcels, and the Lord Scroop (fn. 30) held a parcel called Rawmore.
John, of Heighington, held lands in Redworth in chief of the See of Durham in 1339 (fn. 31), and left a son William, named in the Survey. Joan, the heiress of the line, was the wife of John Croser, but died childless in 1466, leaving William Heighington her heir, who died in 1467 (fn. 32), leaving a son, Thomas Heighington; and William, son of Thomas, had livery in 1500. An heiress of this second line married March, whose Pedigree stands in the Visitation.
Pedigree of March, of Redworth.
Arms: Sable, a fess countercompony Or and Gules, in chief a cross-croslet fitchée of the second between two lions' heads erased Argent, in base a lion's head erased of the last, between two cross-croslets fitchée of the second.

In later days the Brabants (fn. 33), Todds, Richmonds (fn. 34), Dobsons (fn. 35), and Adamsons (fn. 36), were stout yeomen in Redworth. The Surtees's estate was partly acquired by purchase from the two last named families.
* See Epitaph. In his will he names his cousin William Marche.
† Heighington.
‡ Livery to the three sisters and coheirs of John Marche, 5 Nov. 1598.
§ Licence to William Bell and Jane his wife to grant two messuages, toft, and cottage, 40 acres of arable, 30 of meadow, 120 of moor, in Redworth, to Christopher Rayne, 5 Jac. Christopher, son and heir of Christopher Rayne, æt. 3 years 10 months, 1636.
In 1685 the freeholders in Redworth were, George Trotter, Gent. of Byer's-green; Thomas Dobson, Christopher Todd, Christopher Raine, Thomas White, sen. Thomas White, jun. John Richmond, Thomas Richmond, James Dobson; George Crosyer, Gent. (Newbiggin) at Wearmouth.
Newbiggin.
The estate lies on the North-western verge of the Parish. Boldon Book shews its origin:
Guy of Redworthe holds the New Vill next Thickley, in exchange for Redworth, and pays one mark, and gives twelve days' reaping, or reaps one day with twelve men, and works at the mill-pool and dam of the manor-mill, and goes on embassies, and carries the Bishop's wine betwixt Tyne and Tees with a wain of four oxen.
Under Hatfield's Survey John of Nottingham held the New Vill, near Thickley, by the same services and rent. Henry Staynesby held one messuage, and certain lands lately brought into culture, 5s.; and William Heighington held one parcel on Newbiggin-moor, which had belonged to Ifignaime, the son of Roger, 1s.
The next account of the estate is, that Ralph Lord Nevill gave the manors of Scole-Acle and Newbiggin to Robert de Bynchestre and Katharine his wife (fn. 37). Richard de Bynchestre, son and heir of Robert, died in 1420, seised of the manor of Newbigging, near Redworth (of the gift of John Drawles, Chaplain of St. Helen's Auckland), in fee tail, with remainder, failing his own issue, to William Forster, of North Auckland, and Joane his wife (fn. 38); but Beatrix, wife of Richard de Burnynghill, was sister and heir of Richard (fn. 39), and was possessed of the manor of Newbigging, which she granted by charter 10 Jan. 23 Hen. VI. 1445 (fn. 40), to her daughter Elizabeth, and her husband Nicholas Croyser. The same Elizabeth died seised of the manor (held of the Bishop by knight's service) 17 Hen. VII. 1502, leaving Nicholas Croyser her grandson and heir. From this time there was an uninterrupted succession in the family of Crosier till the line terminated in heiresses, daughters of the fourth George Croyser, who died in 1714.
Edward Surtees, who married Jane Crosier, the youngest coheir, purchased some of the other shares; and the chief portion of the estate is still vested in his representative, Robert Surtees, of Redworth, Esq. A smaller portion of Newbiggin was settled by George Surtees, Esq. on his nephew Robert (son of Hauxley Surtees, merchant of Newcastle). This was sold some years ago in various lots to White, Bowser, and others.
Tewart's share descended to Billings, and Shawe's to Forster (see the Pedigree).
The old house of Newbiggin stands low, near some wild broken ground, with a small brook or runner in front. The walls are of solid masonry, and the chief staircase of stone. There are, or were, the remains of something like a peal or tower on the West. The approach is by a long dreary lane from Redworth.
Old Thickley or West Thickley (to distinguish it from East Thickley or Thickley-Punchardon (fn. 41) ) is said in Boldon Book, "to be of the territory of Redworth, and to pay one mark for cornage at St. Cuthbert's Day in September." Under Hatfield's Survey "John Gregory and three others hold sixty-two acres of demesne-land, under one shilling per acre. There are seventy-four acres and half a rood in Widehopleys, formerly occupied by the tenants of the demesne lands (as appears by the particular in an ancient rental), which used to pay 12d. per acre, but now are out of lease for want of tenants: but the farmer of Midrich-Grange occupies the said lands as parcel of the Grange. John Shepherd holds one cottage under 4d. rent, and certain services now commuted for 12d.—Bond-lands. Robert Hunter three messuages and eight oxgangs, sometime Walter Denton's, and thirty-five acres in le Wodfeld, which used to pay 35s. now 70s. 8d. Five others hold six messuages, fourteen oxgangs, and nineteen acres, of bond-land, and one acre of meadow. In the same vill of Thikley are eight bond-tenants, each of whom holds a messuage and two oxgangs (which contain thirty acres), for which they pay scat (or tribute) of meal, oats, and malt, and render hens, and do service, and plough, harrow, hoe corn, and win and carry hay (opera f$oeni) of ancient custom, exactly as the bond-tenants of Heighington; and now they are rented at penyferme as above; and each bond-tenant pays for half a man for castleward, and loads four wains of wodlades. The tenants pay for a milch-cow at Martinmas 4s.; for cornage in September 16s.; for Michelmet, 8s.; and for Yol-wayting, 2s. 8d. Eight tenants hold one messuage, three tofts, one croft, one tenement, two gardens, and thirty-six acres of land under certain exchequer rents."
West Thickley belonged to the family of Tonge in 1575 and 1615. (See Denton and Pedigree of Tonge hereafter.)
Pedigree of Bynchestre, Burnynghill, and Crosier, of Newbiggin.
Arms of Crosier: Azure, on a fess Argent, between three crosses of St. Julian placed saltierwise Or, as many Cornish choughs Sable.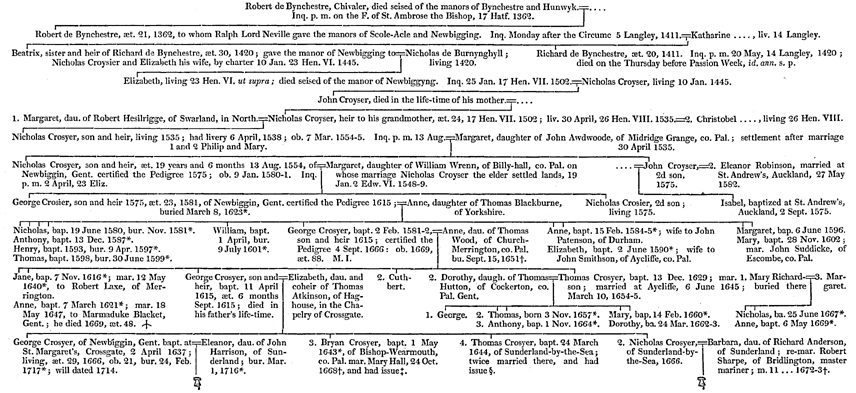 * Heighington Par. Reg.
† Bishop Wearmouth Par. Reg.
‡ George, son of Bryan Crosier, bapt. Aug. 4, 1669. Margaret, Oct. 14, 1671. Nicholas, May 24, 1673. Mary and Ellen, 22 Sept. 1677. Mary, bur. Oct. 1, 1684. [Qu. Nicholas Crosyer, of Witton-Gilbert; will dated 3 April, 1725. Sister Margaret Crosyer, sole executrix.]
§ Thoams Crosier and Rebecca Baker, mar. Oct. 13, 1666. Thomas Crosier and Anne Watt, mar. April 18, 1669. Anne, daugh. of Thomas, &c. bur. 1669. Sarah, bur. 14 Nov. 1667. George, bapt. 1669. Thomasine, Nov. 11, 1671.

* Heighington Par. Reg.
† Bishop Wearmouth Par. Reg.
‖ Edward Surtees married, 2d, Dorothy, widow of Richard Reed, of Stranton (see vol. I. p. 110, and vol. II. p. 267); the issue of which marriage is extinct.
¶ See Pedigree of Hilton, of Hilton, in the parish of Staindrop.
*** An Inquest to prove the age of Christopher Moresby, Esq. occurs 10 March, 4 Booth, 1461. Nicholas Crosier, then aged 55, deposes that he was present in Cockermouth Church, with the Rector, when Christopher Moresby was baptized on the Feast of Thomas a Becket, 1439. The Crosiers were a numerous clan, inhabiting the debateable land on the Middle March, but belonged perhaps rather to Cumberland than to Liddesdale. They occur in the Roll of Border Clans returned to the Scottish Parliament in 1587. (See Border Antiquities, Appendix, vol. I. p. lxxxix!)
Midridge-Grange (fn. 42).
The village of Midridge is in the Parish of St. Andrew Auckland; the Grange only stands in Heighington (fn. 42). Referring therefore the extracts from Boldon Book and the Survey to Midridge (fn. 43), it may be sufficient to state, that the Grange is first named in Hatfield's Survey. "There is a manor-place built, and consisting of a grange (granary or storehouse), and an ox-house, with one chamber and a sellar for the bailiff next the gate, and is not valued, because it exceeds not the reprises." To this Grange were attached
xxi oxgangs, each of xv acres, vid. per acre:
viil.
iiiis.
ixd.
cxiii acres of meadow where the scythe sweeps, lying in different plots, iiis. per acre
xvil.
xixs.
Diverse pasture-grounds
lvis.
viiid.
A pasture in Wydhopley, clxxx acres, which was once arable, and leased for xiid. per acre, now altogether
xls.
Summa valoris
xxviiil.
ixs.
vd.
The Survey names a wood, called Drighthop, said to be on the Bishop's soil and common pasture, but which William de Lilburn claims to be his, and hinders the Bishop's tenants from depasturing their cattle. The Grange and all the premises are let on lease to William Hunter for xxl. xiiis. iiiid. (fn. 44)
It need only be added (fn. 45), that Midridge-Grange became in after-times the seat of the Byerleys—of the loyal Colonel Anthony Byerley, who commanded a regiment in the service of King Charles, and compounded for his loyalty by a fine of 2,000l.; and of his son, Robert Byerley, Esq. who represented the county in several Parliaments. The estate passed (according to the line traced in the Pedigree) to Carroll; and in 1812 Sir John O'Carrol, Bart. sold Midridge-Grange to Lord Viscount Barrington, the present proprietor.
Midridge-Grange is a spacious, treble, gavel-ended house, with an old walled garden. A row of aged elms skirts the road from the South; to the West the prospect commands the opposite rising grounds and the village of Redworth. This ancient hall is said to have been garrisoned (fn. 46) by the loyal Colonel Byerley (fn. 47). It could not be capable of any regular defence; but as the Colonel's neighbour Loyzelure, of Coatsay-moor, bore a Captain's commission under the Parliament, it might be necessary to keep a few buff-jackets and bandeliers in the house of Midridge (fn. 48).
The freehold tithes of Midridge belong to.....Lookup.
Pedigree of Byerley, of Midridge Grange.
Arms: Or, a cross-crosslet Gules. Crest: On a wreath two lion's paws couped and erect Or, supporting a cross-crosslet Gules.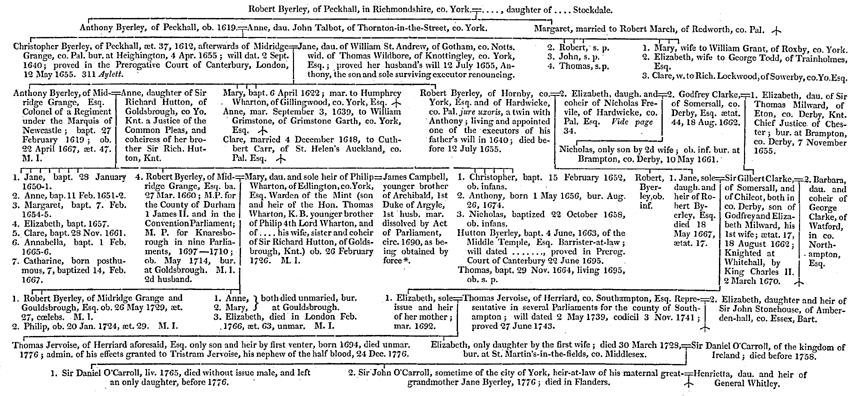 * Several persons accessory to this forcible marriage were executed for their participation in the fact.
School-Aycliffe,
A small village, scarcely a mile to the North-east of Heighington.
Boldon Book.—Sculacle (fn. 49) pays two marks.
Hatfield's Survey.—Exchequer rents. The vill of Scholacley, which Richard Blank holds by a free rent and knight's service, 26s. 8d. (two marks.)
The manor was afterwards held in moieties, as is evident from the apportioning of the rent.
The odd-sounding name of Scolacle (fn. 50) continued here till 1446. In 1431 John Scolacle died seised of half the vill, held by 13s. 4d. (fn. 51), leaving Roger Scolacle his son and heir, in whom the male line ended; for on the death of Agnes, widow of John, in 1446, her daughters and coheirs were, Alice, wife of John Waynman, and Isabel, wife to William del Hill, of Gateshead (fn. 52). Alice Waynman in 1482 left a daughter, Elizabeth, wife of William Stayndropp (fn. 53), her heir.
Ralph Lord Nevill gave the manor of Scolacle (but evidently only a moiety held by one mark) to Robert de Binchestre. William Forster and Joane his wife were heirs of entail to Richard de Bynchester, who died in 1421; but Beatrix, wife of Richard de Burnynghill, was sister and heir at law of Richard.
10 Feb. 23 Hen. VI. 1445, an award made by Robert Danby, Serjeant-at-law, Robert Rodes, William Hoton, and John Stafford, Esquires, "apon the right and possession as well of the manoir of Newbiggyng as of the manoir of Scolacle," betwixt Nicholas Croyser on one part, and Thomas Forester; decrees that Nicholas Croyser and Elizabeth his wife shall have the manor of Newbigging, and Forester and Margaret his wife shall have the manor of Scolacle, to them and the heirs of the bodies of Elizabeth and Margaret, with cross remainders (fn. 54). Thomas Forester had a son William, who died in his father's lifetime, and left a daughter Joane heir to her grandfather (fn. 55) in 1467.
In 1541 Cuthbert Menvill, of Malton, co. York, died seised of half the manor of Scole-Acliffe, held of the Bishop by 1s. 4d. His nephew Thomas, son of Robert Menvill, was his heir (fn. 56), and died in 1563, leaving another Thomas his son and heir, under age (fn. 57).
In 1502 Arthur Nevill, Esq. died seised of a messuage and forty acres in Scole-Acle, leaving Ralph his son and heir (fn. 58). In 1563 Arthur Nevill, of Whesnopburn, in the parish of Stanhope, in Weardale, Gent. granted to William Smythson, of Newsom, in the parish of Kyrkeby-on-the-hill, yeoman, all his close in Scole-Acle, lying betwixt the lands of Thomas Menvill East, and Nicholas Yonge West; and two other closes, one of which lay North of a water called Meatles-burn (fn. 59).
In 1554 Edward Wydmarpole, of Alne, in Yorkshire, Gent. and William his son and heir, who was heir also of Isabel, late wife of Edward, granted to the same William Smythson, yeoman, the moiety of five messuages and a hundred and forty acres in Scole-Acle (fn. 60). A considerable portion of the estate was thus vested in Smythson; and in 1562 an arbitration occurs betwixt Arthur Nevill, Nicholas Yonge, Thomas Menvell, and William Smythson, "to make partition of lands undevyded in the arable fields in Scole-Acle." In 1587 William Smythson gave all his lands in Scole-Acle to his son George Smythson (fn. 61), who conveyed in 1606 to Francis Foster, of Darlington, for 360l. (fn. 62); and in 1635 (fn. 63) Foster granted (for 960l.) all his lands in Scole-Aycliffe and Coatsa-more to Fer- dinando Moorcroft, Prebendary of Durham, and James his son. In 1669 Ferdinando Moorcroft settled this estate on the marriage of his son James Moorcroft with Frances Suddick; which Frances re-married Gilbert Wilbore, Vicar of Heighington; and to him (whose wife already had an interest for eighty years in the estate) the heirs of Moorcroft (fn. 64) granted at least a portion of the property in fee. Wilbore left five daughters his coheirs. I am unable to trace the further descent of the property with any accuracy.
But 20 June, 39 Eliz. John, son and heir of Henry Heighington, late of Fishburn, Gent. conveyed to Christopher Gaynes, son and heir of John Gaynes, his three messuages in School-Aycliffe, which Henry Heighington had formerly purchased of William White-head, of Monk-Wearmouth, Gent. and Thomas Whitehead, brother of William. In 1659 Christopher Gaynes, of School-Aycliffe, Eleanor his wife, Francis Gaynes, Gent. and Sarah his wife (who was daughter of Ferdinando Moorcroft), conveyed the Mill-field to Richard Bowser, of Auckland, Gent. (who had married one of the coheirs of Gilbert Wilbore).
In 1685 the freeholders were, Thomas Sheppard, Gent.; Frances Wilbore, widow; Thomas Thursby (fn. 65), Gent.; John Walker, of Great Aycliffe; and William Romforth, of Heighington.
A considerable property has belonged for some time to the family of Page. This is said to have been Gaynes's. There is a small old mansion-house, with gavels and mullions, which has evidently been the residence of a race of moyen gentry.
A leasehold township under the Bishop, two miles to the South of Heighington. This has long been the estate of the Loyzelures (fn. 67), and of their heirs the Wilkinsons.

*** The dates are from Heighington Register.
q Constant, wife to Nicholas Loyzelure, bur. 21 Sept. 1663.
r Commission for a Lieutenant of a Horse Regiment 30 Aug. 1644, granted by the Committee for the Militia of the County of Leicester, signed Francis Hacker, Thomas Heselrige, William Stanley, V. Ludlam. Lieutenant of Horse, 5 Mar. 1649, signed Fairfax, Francis Hacker. Captain of Foot in Sir Arthur Heslerigg's Regiment, 9 July 1659, signed by Lenthall, Speaker. The original Commissions are in the possession of Thomas Wilkinson, Esq.
Walworth.
The ancient manor and estate of Walworth, lies three miles to the South-west of Heighington.
The Hansards are the earliest owners on record (fn. 68); but it is evident that the founder of the line was a cadet of the house of Raby (fn. 69), Gilbert le Halsart (fn. 70), son of the younger Meldred, and brother of that Robert Fitz-Meldred who married the heir of Neville. His descendants held Walworth in long lineal succession. In 1466 an escheat describes the manor as including,
One chief messuage, with divers outhouses, two granaries, a stable, and sheepfold, value per ann. xiiis. iiiid.; twelve cottages, xxxs.; 400 acres of arable land, xxiiiil.; 200 acres of pasture, cs.; 20 acres of meadow, xxiiis. 4d..
There were two great courts held in the year, viz. at Easter and St. Michael the Archangel, with other lesser courts held from three weeks to three weeks, of which the profits were 2s. per annum (fn. 71).
Cardinal Wolsey granted the wardship of Elizabeth, heiress of the last William Hansard, to Sir William Ayscough, of South Kelsey, in Lincolnshire, Knt. who married her to his own son, Sir Francis Ayscough (fn. 72). In 15 . . William Ayscough, Esq. Anne his wife, and Edward brother of William, sold the estate to Thomas Jenison (fn. 73), Esq. whose descendants were owners of Walworth till a late period. On the death of John Jenison, Esq. in 1680, the estate was divided under a decree in Chancery. Robert Jenison (fn. 74), the eldest surviving son of John by a first marriage, had High Walworth and the chief portion of the property; and Low Walworth was allotted to John, the son of a second marriage, together with a mansion which had been built for the jointure-house of his mother Catharine Pearson. Robert Jenison sold High Walworth to his distant relative Sir Ralph Jenison, of Elswick, in Northumberland, Knt. whose descendant Ralph Jenison, Esq. Master of the Buck Hounds (or his widow) alienated the estate (under an Act of Parliament for payment of the debts of Ralph) to Matthew Stephenson, Esq. who soon after conveyed (fn. 75) to John Harrison, Esq. Anne, only daughter and heiress of John Harrison, Esq. intermarried with Arthur Aylmer, Esq. General in the Army, who is the present owner of Walworth.
Francis Jenison, Esq. the descendant of John, of Low Walworth, alienated his estate (fn. 76) and went to the Continent. In 1776 he was appointed Chamberlain to the Elector Palatine; and in 1791 received a diploma of a Count of the Holy Roman Empire, a dignity which is now enjoyed by his grandson Francis Count Jenison, the Bavarian Resident at the Court of Naples (fn. 77).
The house of Walworth, a handsome spacious mansion, is said to have been reared from its ruins in the reign of Elizabeth, by Thomas Jennison, an Auditor in Ireland, who purchased from the Ayscoughs. The chief front, a straight curtain betwixt two circular towers, looks Southward over soft even grounds, richly sprinkled with wood, and sloping gradually to the Tees. The North front looks upward against the hill. Its windows, with stone mullions and transoms, seem of earlier architecture: the stained glass mentioned by Hutchinson is removed (fn. 78).
Two gallant branching chesnuts are perhaps the remains of an avenue to the North front. The larger of these measures eighteen feet in circumference at two feet from the ground, and twenty-two feet at seven feet from the ground, where the branches begin to spring: the lesser tree measures sixteen feet and a half at two feet, and twenty feet at seven feet from the ground. Both trees branch out nearly to the same distance, the extreme boughs of each touching the ground at sixty feet from the stem or hole, thus forming a dense shade of 120 feet in diameter; the branches in the centre are completely intermixed. The larger tree is the male.
King James rested at Walworth on his first progress into England, April 14, 1603. The house was then the residence of Mrs. Jenison, the widow of Thomas Jenison, Esq. (fn. 79)
The Eshes, and after them their descendants the Smythes, long held an estate in Walworth, which was alienated by Sir Edward Smythe, Bart. about thirty years ago, to Henry Hopper, Esq. It is now the property of Thomas Hopper, of Durham, Esq.
Heighington-School.—In the 43d year of Elizabeth, Elizabeth Jennison, of Walworth, widow of Thomas Jennison, Esq. founded a School, with an annual stipend of 10l. part of a rent-charge of 11l. issuing out of lands in Bishop Middleham (fn. 80). The articles and ordinances declare, that the School shall be free for the children of all the inhabitants of the parish, and those born or kept therein; the free scholars to pay 4d. entrance, and two-pence a-quarter (fn. 81). The Master not to be absent above twenty days in one whole year, without licence from the Bishop (or from the Dean and Chapter, in a vacancy of the See). The election of Schoolmaster, after the persons therein named, to be in the Dean and Chapter, and on their default by two months, the Bishop to have the nomination, or his Chancellor during a vacancy of the See. The ordinances are directed to be written in a book, to be kept by the Churchwardens of the Parish (fn. 82).
Edward Kirkby, A. M. Vicar of Heighington, gave 70l. towards advancing the income of the School; and with this sum and other benefactions, certain leasehold lands within the township of Heighington were purchased, of which the rent in 1820 amounted to 26l. (fn. 83)
A handsome new School-house was erected in 1812, at an expence of nearly 300l. (fn. 84) The new School was opened 9 June 1813.
Pedigree of Hansard and Ayscough, of Walworth, co. Pal. and of South Kelsey, co. Lincoln.
Arms: Gules, three mullets Argent. Crest: On a wreath a cubit arm erect, vested Or, cuff Argent, holding in the hand proper a mullet of the second.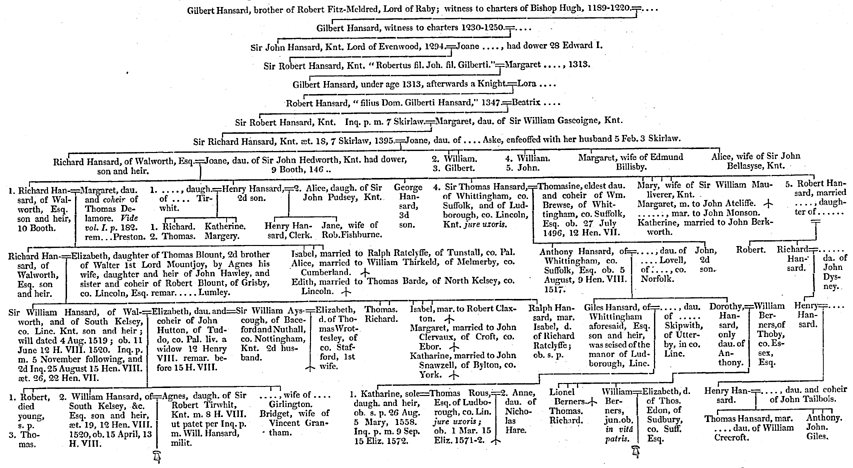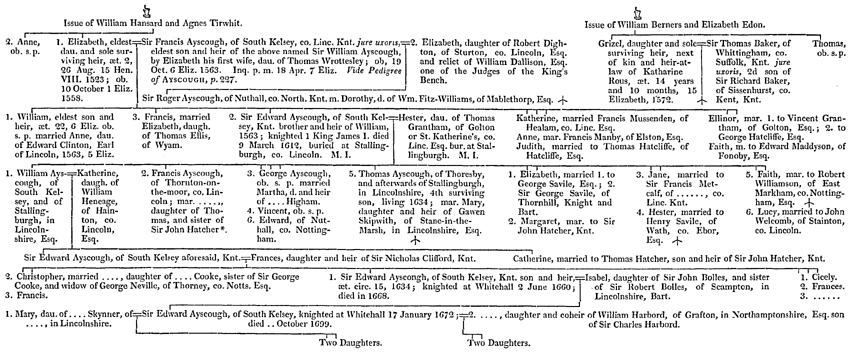 *** The Pedigree in Vincent's Lincoln, in Coll. Armor. states five descents previous to the first Sir Robert, viz. Gilbert; a second Gilbert, who married a daughter of Lord Raby; Sir John; Sir Gilbert; Sir John; Sir Robert, &c.; to this Gilbert Adam de Montbegon, his uncle, is said to have given Kelsey, Thornton, and Biskerthorpe, the Lincolnshire estates of the Hansards. See some evidences relative to the earlier descents in the Addenda.
* He had a son John Ayscough residing in the city of York, æt 54, 12 Sept. 1666, who married Elizabeth, daughter of John Sherwood, of Cambridge, and had issue Francis, John, Elizabeth, Catharine, Jane, Elizabeth, and Sarah, who all died in infancy before 1666.
Pedigree of Jenison, of Low Walworth
Arms: Azure, a bend between two swans Argent. Crest: Out of a ducal coronet Or, a dragon's head issuant Azure.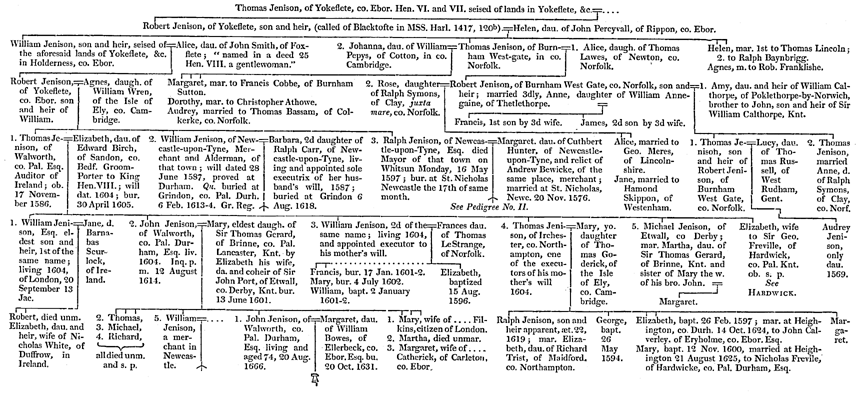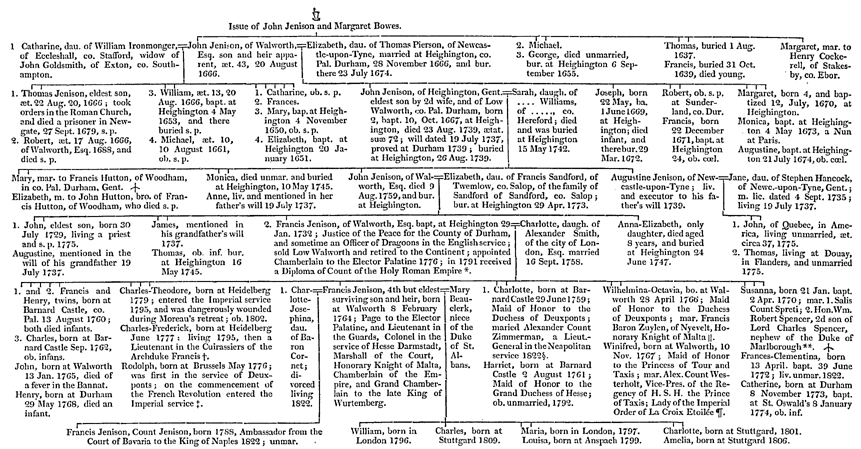 * The descents from henceforward were communicated by Francis Count Jenison to George Pearson, Esq. from Heidelberg, 20 Nov. 1792, and by Count Jenison, Ambassador at Naples, to Sir C. Sharp, 1822.
† Left the Austrian military service and married a Hungarian lady, by whom he has several children.
‡ Now in the service of H. S. H. the Prince of Taxis; mar. Henrietta Baronne de Speth, of Marchthal, by whom he has two sons and two daughters.
§ Died at Naples, March 1822; left a son now a Captain in the Neapolitan service, and four daughters; the eldest is the widow of Don Edmonde Pasquale; the second mar. the Marchese Barbaro di San Viorgio, at Malta.
‖ Died at Ratisbon 1818, leaving a son, Alexander, unmar. and two dau. Matilda, the wife of Baron Clement, in the Imperial service; and Emma, wife to Baron Oberkirk, in the service of the Prince of Taxis.
¶ A son Charles, Chamberlain to the King of Bavaria; mar. 1819 Harriet, dau. of the Hon. William Robert Spencer, second son of Lord Charles Spencer; and two daughters.
** No children by the first husband. By the second, Aubrey, Charlotte, and Harriet, who married Count Charles Westerholt; William, George, and Frederic, unmarried.
Pedigree of Jenison, of Elswick, co. Northumberland.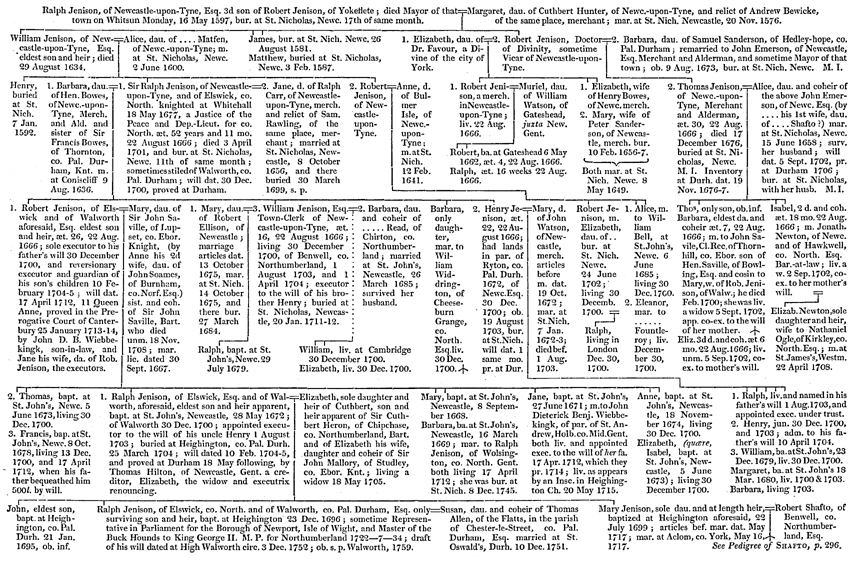 Killerby,
A detached member of the Parish of Heighington, surrounded by the Parish of Gainford.
Under Boldon Book twelve tenants in villenage held each two oxgangs, and paid eight chalders of malt, of meal, and of oats, and forty-eight chalders of aver-malt by the measure of Heighington-hall, and led six woodlades, and rendered twenty-four hens, but no eggs; they paid 26s. for cornage, provided one milch-cow, and one man for castle-ward, and paid 12s. for Michaelmet, and 4s. for Yole-wayting. Their services are as those of Heighington: two cottagers pay 1s. 6d. for two tofts and crofts, and work for the lord six days in autumn. Simon the Door-ward (Hostiarius) holds one carucate by the twelfth part of a knight's service.
The tenures had undergone little change at the date of Hatfield's Survey. John of Killerby held the carucate of Simon Doreward (now called a messuage and sixty-one acres) by the twelfth part of a knight's service. John Robertson held a messuage and twenty-six acres and a half; and Hugh Herreson, in right of his wife, an acre and a half, both by knight's service. There were still twenty-four oxgangs of bond-land (in the tenure of Henry Burdon and eight others); each oxgang was fifteen acres, and two oxgangs made a bond-land. For each of these the tenant paid 8s. led seven woodlades, tilled three portions in autumn, led three great lades betwixt Tyne and Tees, led corn four days, weeded the Bishop's growing corn, mowed two days in every harvest week, ploughed and harrowed one acre, and tilled one portion with all his men, and other services and carriages for the mill, as the tenants of Heighington. The whole twelve bond-lands paid four quarters of wheat, eight quarters of oats, and forty of malt. (The payments for cornage, metrich, castle-ward, michelmet, and yole-wayting, exactly as in Boldon Book.) Every bond-tenant pays for every single oxgang one hen at Christmas, and all the tenants carry loads betwixt Teys and Were at the Bishop's pleasure, and each provides one cord at the great chace. A note, perhaps of later date, seems to state, that all the personal services were commuted. "De operibus xii bond. viz. pro qualibet bovata, iis. viiid. ob. q'ter. ad F. Mich . . . lot, lxvs. vid." Adam Banes held one cottage with a curtilage, and tilled three portions in autumn, and paid 8d. Reginald Webster held one cottage (which used to pay 3s. 9d.) for 2s. and no other service.—Exchequer-lands. William Fitz-Ralph, Peter Fitz-William, Thomas Hode, and Henry Fitz-William, held twenty-two acres, cum mensura, in Wydop, and used to pay 22s.: this is now out of lease, but the farmer of Midrich Grang takes the profits. John Killerby for a plot of Exchequer-land called Buttes, 1d. and a rood and a half of the waste near his Estmed, 9d. The tenants pay for a forge 12d.: the bakehouse is not occupied. The tenants hold the water-mill, valued, with Heighington-mill, 11s.
John of Killerby, who held Simon Doreward's land, left a son, Harsculphus de Killerby (fn. 85), whose heir, in 1441 was Elen Banestre (fn. 86).
A younger line of the Brakenburies of Selaby (fn. 87) had lands in Killerby. Oliver, who was son and heir of Martin Brakenbury, in 1591 sold his chief messuage in Killerby to Richard Birkbeck (fn. 88), of Morton-Tynmouth (fn. 89).
In 1537 William Pudsey died seised of a messuage, five cottages, fifty acres of arable, ten of meadow, and twelve of pasture, in Killerby, leaving Peter Alwent and Jerome Grene, his collateral kinsmen and heirs (fn. 90). The coheirs of Alwent married Bainbridge and Hilton: the latter family long held lands in Killerby (fn. 91), which afterwards belonged to the family of James, of West Auckland. In 1619 John Bainbrigg, Gent. Florence his wife, and Anthony their son and heir, granted to George Garth the chief messuage in Killerby, the East Kiln-close, the West Kiln-close, the Grenes, the Howle-close, and North and South Bradley (fn. 92).
Charitable Benefactions to the Parish of Heighington.
"Mr. John March, late of Redworth, merchant-adventurer, of Newcastle-upon-Tyne, departed this life the 8th day of March, Anno Dom. 1590, did by his last will and testament give and bequeath unto the Poor of the Parish of Heighington, five pounds yearly for ever (fn. 93)."
Elizabeth Jennison, widow, left a rent-charge of eleven pounds per ann. issuing out of lands in Bishop Middleham; 10l. to be applied to Heighington School (see School), and 20s. to be paid to the Churchwardens, to be distributed to the poor, at their discretion (fn. 94).
By will, dated 17 April 1612, Hercules Brabant, of Redworth, charged 20s. per ann. for ever on his freehold lands in Redworth, "to be paid on Great Monday after Penthecost and Great Mondaie after Martynmas, by equal porc'ons to the handes of the Vicar and Churchwardens, to be distributed by them, with the consent of Mr. Anthony Byerley, George Crosyer, Gent. Thomas Todd, and Christopher Raine; and when any of the fore-mentioned persons fortune to dye, the survivors to chuse some substantial man or men, well devoted in religion (fn. 95)." [And 20s. in like manner to the poor of Brancepath, and 20s. to the poor of Staindrop.]
By will, dated . . 1652, — Nattrass, widow, left a rent-charge of 4s. John Dobson, by will, 1654, a rent-charge of 6s. Cuthbert Pickering, 1655, 19s. Widow Ayrey, 1666, 4s. Thomas Dobson, 1732, 5s. — Morley, widow, 1732, 11s. (fn. 96)
*** Lands belonging to Rivington School.—12 Nov. 7 Dudley, 1483, John Swynburne, Esq. quit-claimed to John Kelyng, Chancellor of Durham, lands called Catheral Frith, in Heighington, late of John Redworth. "Io. Swinbourne gave all his landes in Heighington and Redworthe to ye then Bishop of Duresme and one Henry Gyllowe; these landes did descend to Raphe Gyllowe, kinsman and heire to Henry, which Raphe did surrender the same to William Tompson, Clarke, Deane of the Colledge of Aukland, and to his successors, and Wm. did fyne for the same in the Bps. Courte at Auckland. By succession, Thomas Patteson, Deane of Aukland, did fyne for the same, and he was the last Deane there. Att the dissoluc'on of Colledges, these landes did fall to ye Bp. of Duresme; but the then occupants kept the same concealed, untill James Pilkington, Bp. of Duresme, by inquirie found out the same. He by good conveyance did convey the same to the Governors of Rivington School, and the Governors did fyne for the same (fn. 97)."
20 June, 11 Car.—Robert Shaw, Esq. and the other Governors of Rivington School, demised to Christopher Rayne and James Trotter the herbage of one part of a parcel of meadow called the Cathedral fallow, (Catheral Frith?) in three parts divided, for 21 years, 6s. rent; another demise from the Governors, of same date, to Richard Chilton, of a cottage and gardens, &c. 4s. rent.
The Trustees of Rivington school have a power, by their Statutes, to sell "on condition they buy as much good land or better than they put away." Some years ago they sold, under this power, their lands in Heighington and Redworth (fn. 98). See Vol. I. p. lxxx.