Pages 325-335
The History and Antiquities of the County Palatine of Durham: Volume 3, Stockton and Darlington Wards. Originally published by Nichols and Son, London, 1823.
This free content was digitised by double rekeying. All rights reserved.
PARISH OF AYCLIFFE.
The Parish of Aycliffe is bounded by Merrington and Bishop-Middleham on the North, by Sedgefield and Great Stainton on the East, by Bishopton on the South-east, by Haughton-le-Skerne on the South, by Heighington on the West, and by St. Andrew's Auckland on the North-west.
The Parish is divided into four Constableries: 1. Aycliffe, which includes Heworth; 2. Brafferton, which includes Ketton and Newton-Ketton; 3. Preston-le-Skerne, which includes Grindon and Howhills; 4. Woodham, which includes Nunstainton and Copelaw and Ricknell.
Aycliffe,
A large village on the great North road, five miles to the North of Darlington.
The two Aycliffes (fn. 1) (Aclet duo (fn. 2) ) were amongst the villages which Bishop Aldune mortgaged or pledged for a time to the Earls of Northumberland (fn. 3). Aycliffe (Alclit) was given or restored to the See when King Canute Dane made his bare-foot pilgrimage from Trimdon to the holy sepulchre (fn. 4); but at a later date, according to the registers of the Church (fn. 5), Scot, the son of Alstane, gave Aycliffe to St. Cuthbert, to which Bishop William de Carilepho added Cattun (fn. 6). The same Bishop William gave the church of Aycliffe to the Convent; and Bishop Nicholas de Farnham granted the Monks a charter of free warren. The Church had licences to acquire lands in Aycliffe in 1379, 1388, and 1484. As the Church covered so much ground, there was no room for any extensive freehold estate in Aycliffe. The Claxtons of Old Park held for some descents sixty acres, called Le Croceflatt, held under Brus of Heworth. Conyers of Sockburne and Bulmer of Tursdale also held some hereditary parcels of freehold. In 1622 Sir Bertram Bulmer and William his son granted all their lands in Aycliffe to John Atkinson.
In 1685 the freeholders were, John Whitfield, William Simpson, John Walker, Thomas Thursby; John Atkinson, aged and blind; Richard Richmond, Robert Byerley, Esq. (Heworth); and William Richmond, of Dry-close. The manor belongs to the Dean and Chapter of Durham.
The remains of the old Oak-wood of Aycliffe were not totally destroyed till the Civil Wars (though it was one of the woods which King James's letter in 1606, accuses the Dean and Chapter of having spoiled and wasted).—"11 Sept. 1644. Warrant from the Committee of Sequestration to the Keepers of Aycliff-wood, to deliver to the Greeve of Billingham four waine loads of wood, wh was cut down for the use of Captaine Gascoigne Eden, to be by them employed in the necessary repaire of certaine bridges and highwaies now in decay." Signed by Coll. Clem. Fulthorp, Geo. Lilburne, Thomas Shadforth (fn. 7).
The Church,
A handsome structure, with a tall West tower, stands on rising ground, at a little distance from the village, on the left of the great North road. The chancel opens under a pointed arch, with the nail-head ornament. The nave has regular ailes, each formed by cylindrical columns with plain capitals, supporting three arches. The arches of the South aile are pointed, those of the North semi-circular, with a head slightly ornamented with zigzag. The tower springs from four pointed arches, supported towards the East by heavy clustered pillars. The arch betwixt the nave and the belfry is closed by a wooden screen, with the arms of Charles I. The pulpit, the desk, and stalls of oak, carved with considerable taste, seem of the same date.
There were formerly in Aycliffe Churchyard two Saxon crosses, standing upon rough square pedestals. At some period probably of rebuilding or repairing Aycliffe Church, these crosses had been taken down; the one was converted into the inner lintel, and the other into the outer lintel, of a square-headed door in the North wall of the Church. One of the crosses has been lately replaced on the original pedestal, which, with part of the broken shaft, remained in the church-yard. This, which appears to be the elder and ruder of the two, has no figures except a snake and some other animal: the transept or cross-limb is broken off. The second cross, which is not yet restored, is richly sculptured with figures in compartments, separated from each other by the most delicate Saxon tracery and ornaments. One compartment represents the crucifixion, and the soldiers piercing the Saviour's side; three rude figures above are possibly intended to represent the Trinity. In another department are two figures, one wearing a pall; and a fourth subject is perhaps Peter crucified with his head downwards (fn. 8). A knightly effigy of gigantic proportion lies in the Church-yard, on the South side of the Church. The hands are elevated and clasped on the breast, the sword sheathed; a plain shield on the left arm; the legs are crossed, and the feet rest on a couchant hound.
A flat slab within the altar-rails, divided by a line into two compartments, is sculptured with two plain crosses; by the side of the dexter cross is a pair of shears; near the sinister, a sword, a mallet, and some other instrument, and a cross patée.
Monumental Inscriptions in Aycliffe Church-Yard.
Here lyeth the body of John Bennet, who departed this life the 24th day of February, Anno Domini 1691, aged 38 years (fn. 9).
From other stones:
Hannah, wife of Mr. William Jackson, of Coatham, died Sept. 10th, 1762, aged 66. Also, on the 22d of May 1776, was interred, the above Mr. William Jackson, aged 76.
Thomas Hodgson, of Aycliffe, Gentleman, died April 26th, 1783, aged 49 years. Mary his wife, youngest daughter of William Norton, Esq. Nov. 8, 1798, aged 61 years. William, their son, died at Acorn-bank, in Westmoreland, March 18th, 1808, in his 29th year. Their grandsons, William Mowbray Boazman, and William Hodgson Boazman, died infants, and were the sons of John and Mary Boazman, by whom this tomb is erected 1812.
Eleanor, wife of the Rev. James Robson, Vicar of this place, died the 1st January 1784, aged 35 years. James Robson, 32 years Vicar of this place, died 12th Oct. 1805, aged 76, deeply and deservedly lamented.
John Brabant, 24th January 1691, aged 32 years (fn. 10).
Anthony Arrowsmith, died Aug. 27th, 1711, aged 34 years. Jane his wife, May 4th, 1762, aged 83.
William, son of the Rev. Brian and Margaret Lancaster, of Trimdon, died Oct. 5th, 1767, aged 18 years.
Ann, wife of John Greeveson, of Aycliffe Moor-house, Jan. 6th, 1795, aged 90 years. Thomas Greveson, Feb. 17th, 1796, aged 95 years.
Eliz. Thompson, daughter of the late Rev. James Thompson, Vicar of Bishop-Middleham, died July 12th, 1799, aged 53 years.
Ann, wife of George Ord, of Newtown, Oct. 23, 1744, æt. 65. Jane, daughter of John and Jane Ord, æt. 3 weeks, 1747. Elizabeth, daughter of George and Ann Ord, Oct. 7th, 1756, aged 50. Eliz. Bewton, March 19th, 1755, aged 70. John, son of George and Ann Ord, March 31st, 1760, aged 62. George Ord, May 20th, 1761, aged 90. Elizabeth, daughter of John and Jane Ord, Sept. 30th, 1770, aged 37. Jane, daughter of John and Jane, Feb. 28th, 1780, aged 27. Thomas, son of George and Ann, Sept. 26th, 1780, aged 84. Jane Ord, March 31st, 1780, aged 68. Bewton Ord, April 19th, 1789, aged 76.
There was a Guild or Fraternity connected with the Chantry of the Virgin in the Church of Aycliffe. In 1508 Bishop Baynbrigg granted a pardon to Robert Thirkeld, Esq. Alderman of the Guild; William Brown, Vicar of Ayclyffe; George Strangeways, William Popeley, and Thomas Tolres, for acquiring without licence all the lands of Edward Serle within Brafferton (fn. 11). The Guild also held a tenement, two cottages, and nine acres in Ayclyffe (fn. 12). George Towers, the last incumbent of St. Mary's Chantry, received a pension of 2l. 13s. 4d. in 1553 (fn. 13).
Aycliffe was originally a rectory. Aldreda, the Preeost of Acle, occurs 1085. In 1129 Gamul Clericus de Acle accounts to the Treasury for two marks of silver, pro duello hominis sui. Thomas Persona de Acle occurs as a witness in the time of Archdeacon Aymine, and is probably the same Thomas de Acle who granted the manor of Greystanes to John of Ketton. The Church of Durham soon after impropriated the Rectory and established a Vicarage. Bishop Richard de Marisco confirmed the impropriation in 1218.
Vicars.
Ayclyffe, a Vicarage in the Deanery of Darlington, and a Peculiar to the Dean and Chapter of Durham.—King's Books, 20l.; Tenths, 2l.; Episc. Proc. 10s.; Dedication to St. Andrew.
Richard, 1212.
Alan, occ. 1776.
John de Horton, occurs 1306.
Robert de Wolveston, 1320.
Richard de Hoton, 1323.
Henry de Luttryngton, 1329.
William de Allerton, 1342.
Robert Karles, 1357.
John de Acley, 1383.
William Barton, 1396.
William Doncaster, 1419.
William Paxton, 1420, p. res. Doncaster.
John Taylor, 1424.
Thomas Redclyze, 1443, p.m. Taylor.
William Blemesley, 1446.
Robert Hartipole, 1461.
Robert Hoode, 1475.
Ralph Hamsterley, 1476.
William Browne, 1488.
James Hareson, 1508, p. m. Browne.
Thomas Patenson, 1510.
Christopher Werdale, LL.B. 1520, p. m. Patenson.
Cuthbert Marshall, S. T. P. (fn. 14) 1533, p. m. Werdale.
Lancelot Thwaits, LL.D. 1550, p. m. Marshall.
William Bennet, S.T.P. (fn. 15) 1554.
Robert Throckmorton (fn. 16), 1584.
Ralph Richardson, A. M. 1619, p. m. Throck-morton.
Thomas Carr, S. T. P. 1632.
Peter Smart, A. M. (fn. 17) 1641.
— Carwardine, 1644.
— Wilkinson, 1648.
George Spooner, A. M. (fn. 18)
Francis Blakiston, A. M. (fn. 19) 1679, p. m. Spooner.
John Lisle, A. M. 1694, p. res. Blakiston.
William Forster, A. M. (fn. 20) 1723.
Bryan Turner, A. B. 1725, p. res. Forster.
Thomas Richardson, A. B. 1738.
Abraham Gregory, A. M. (fn. 21) Ch. Ch. Oxon. 1755.
James Robson, A. M. Line. Oxon, 1773, p. m. Gregory.
Dickens Haslewood, A. M. Ch. Ch. Oxon. 1805, p. m. Robson.
Patrick George, 1822, p. m. Haslewood.
The glebe is confined to the vicarage-house and garden, and a small orchard.
The great tithes of Aycliffe and Brafferton are assigned to the third stall in Durham Cathedral; and the tithes of Preston-on-Skerne, Ketton, and Ricknell, to the eighth stall.
The Parochial Register begins in 1558. "Jane Lesley, daughter of ye Lord of Lundoris, bap. 12 July 1655."
Heworth,
A mile to the North of Aycliffe.
Boldon Book.—Gilbert holds Heworth for three marks, and is acquitted of the ancient services which he owed for his tenure in Thenage, for Rikenhall, which he quit-claimed to the Bishop.
Under Hatfield's Survey William de Brus held the vill by knight's service and 15s. rent.

y Pardon of Alienation, 30 Langley.
Robert de Bruys, sold the estate in 1435 to William Hoton, of Herdwyk (fn. 22), who, in 1441, conveyed (under a licence from Bishop Nevill) to trustees for the Convent of Durham (fn. 23). A part, however, of the estate descended in Hebborne, who married the coheir of Hoton; for in 1572 the Queen granted to Sir William Drurie and Ralph Scudamore (inter alia) a messuage and six closes in Heworth, and a messuage called Hill-house, parcel of the possessions of Anthony Hebborne, of high treason attainted, and Croceflatt, in Heworth, parcel of the lands of Robert Claxton, attainted, to hold of the manor of East Greenwich in free and common socage (fn. 24). Thomas Salvin, Esq. died seised of the same lands (which he is stated to have purchased from Robert Bowes and John Hebborne) in 1611 (fn. 25), leaving John Salvin his son and heir (afterwards of White Hurworth), who sold the estate to Christopher Byerley, Esq. The Byerleys conveyed before 1700 to the wealthy family of Milbanke; and in 18 . . Sir Ralph Milbanke, Bart. sold Heworth to Mr. James Watson, the present proprietor.
Brafferton,
A village a mile to the South of Aycliffe, on the East of the Skerne.
Boldon Book.—Bradferton pays 23s. 3¼d. for cornage, provides a milch cow and a man for castleward, and renders five chalders of malt, of meal, and of oats. The thene attends the great chace with two greyhounds and five cords of provision (and follows the Bishop's Court of Pleas); but is neither charged with feeding horse nor dog.
Under the Survey, the services were commuted, for a milch cow 6s., for a castelman 15s., for cornage, 22s. 6d., and for scat (or exchequer-grain) seven bushels of wheat, seven of malt, and one quarter six bushels of oats.
There was a family who bore the local name de Brafferton. In 1368 Thomas de Brafferton, "extreme sick in the time of the late visitation," passed to Robert Carles and John of Brafferton, Chaplains, two messuages, and a hundred and eight acres of land, held of the Bishop, with intention that the same trustees should enfeoff Thomas, son of Thomas, at his full age, which conveyance was made in fraud and collusion, to gainsay the Bishop of his right of wardship (fn. 26).
The estate was held by homage and suit of Court, 18s. exchequer-rent, and to the manor of Cothom 12d. and three bushels and a half of wheat, the same of malt, and seven bushels of oats, to be delivered at the manor of Auckland.
But the chief family connected with Brafferton were the Chauncelers.

e Thomas Chaunceler, &c. one mess. seven acres in Brafferton, called Scaterland; remainder to Margaret, sister of Thomas, wife of William Claxton, Esq.; the Colt-close and 40 acres, held of John de Brafferton; a messuage, 64 acres in Brafferton, and one messuage and 80 acres in Shildon, after the decease of Alice, that was wife of John Osborne, of le Sheles, daughter of Alice Middleton, daughter of Beatrice, sister of Thomas, &c.; the manor of Wodyfield, near Witton, &c. 24 Hen. VI. gave lands in Housetre, Pyktre, and Pelton, to Richard Raket, Esq. William Chaunceller, Richard Chaunceler, and William Baermanson, Chaplains; lands in Bursblades, and Kynolech; a close in North Auckland; a burgage in Clayporth; Corplace in the North Bailey.
The coheirs of Chaunceler alienated the inheritance in very different parcels. 1 Nov. 4 and 5 Philip and Mary, Ralph and John Hedworth sold lands to Robert Tempest and Edmund Perkinson; and 10 March, 5 Eliz. Perkinson conveyed to Anthony Wilson. The Hansards' portion of the estate descended to Ayscough; and in 1557 Francis Ayscough and Elizabeth his wife (heiress of Hansard) sold Scaterland and other parcels to John Thursbie and Thomas Pickering (fn. 27).
It were endless to trace the variety of small freeholds in Brafferton, which were vested in Eure (fn. 28), Forster (fn. 29), Kelynghall (fn. 30), Aslakby (fn. 31), and Wrenn.
The Thursbyes, Searles, and Wilsons, were the yeomen of Brafferton in the days of James and Elizabeth.
In 1615 Anthony Wilson died seised of a messuage and lands purchased of Edmund Perkinson; of a messuage and parcels purchased of William Ayscough, Esq.; a messuage purchased of Charles Wrenn, Esq.; and a messuage, parcel of the Chantry of St. Mary in the Church of St. Nicholas, in Durham, held of the manor of East Greenwich in socage; leaving Thomas Wilson his son and heir (fn. 32).
14 Nov. 1588, Edward Searle (fn. 33) died seised of fifty acres of arable, thirty of pasture, and ten of meadow, once William Heighly's, held of the manor of East Greenwich, in socage, leaving Edward his son and heir (fn. 34).
11 Feb. 1586, John Thursbie held a messuage and two hundred acres by 2s. 6d. to the Grange of Cothom; William, his son and heir, of full age (fn. 35). Livery to William 12 Tobic Matthew. Richard Thursby, Clerk, brother and heir of William 1633.
In 1685 the freeholders were, William Wilson, of Durham, Gent.; Edward Searle, Gent.; Richard Thursby, Gent.; Ralph Tunstall, Gent. Attorney; and Sir Mark Milbanke, Bart. (Ketton.)
Ketton,
Two miles to the South of Aycliffe. The house stands on rising ground above the Skerne, to the East of the great road.
Bishop William de Carilepho gave this place (fn. 36) to the Convent; one half he had acquired from Maldred in exchange for Winloctun, the other he purchased from Edmund, the son of Elstan (fn. 37).
Yet, under Boldon Book, Adam de Holmed is stated to hold on lease (of the Bishop) the demesne of Ketton, with a stock of four ploughs and four harrows, and with the acres that are sown, as in his indenture, and with the grange and oxhouse, and the other buildings within the court, which court is enclosed with a dyke and hedge; 20 marks rent.
The Convent however had afterwards an uninterrupted possession. Ketton was assigned to the Almoner, and leased out to hereditary tenants under an easy monied rent (fn. 38).
This was one of the estates which was not restored to the New Cathedral by letters patent, 9 July, 5 Edw. VI. 1551. The King granted (inter alia) to Sir Arthur Darcy, Knt. the manor of Ketton, and the tithes of grain and corn, and half the tithes of hay of the same manor, and two cart loads of hay (fn. 39), which the tenants used to pay to the Monastery of Durham, to hold in fee and common socage, by 48s. 7d. rent (fn. 40).
In 1557 Sir Arthur Darcy alienated (fn. 41) to Sir William Belasye, of Newbrough Abbey (fn. 42), whose descendant, Sir Henry Belasyse, conveyed the same estate in 1607, to Marmaduke Wilde, of East Cowton, co. York, Esq. In 1632 John Wilde, of Hunton, Esq. settled the estate (with half the manor of Great Chilton) on his three nephews, Robert, John, and Christopher (sons of his brother Robert), in successive tail male (fn. 43). Before 1684 the estate was alienated to Sir Mark Milbanke, Bart whose descendant, Sir Ralph Milbanke, sold Great Ketton some years ago to the Rev. Henry Harding, Rector of Stanhope, who devised to his eldest son, the Rev. Charles Harding.
Mr. Harding also purchased Little Ketton (which I presume originated under the same title) from Mr. Robert Botcherby, of Darlington.
Newton-Ketton, which adjoins Ketton on the North, is entirely leasehold. John Trotter, Esq. has an estate here.
Preston-on-Skerne,
A village to the North-east of Aycliffe, on the East of the Skerne.
The Nevills were probably the early lords of the whole vill. The De la Poles held under them for several descents. William de la Pole, the mercantile founder of the noble house of Suffolk, had free warren in Preston, Bradbury, and the Isle in 1347. His widow, Katharine, in 1381 (fn. 44), died seised of a messuage, three tofts, twenty oxgangs, five acres of meadow, and Preston water-mill, held by knight's service, and by three suits at Lord Nevill's Court of Brancepath. Michael, Earl of Suffolk, who died before Harfleur, held the same lands in 1415 (fn. 45) of the Earl of Westmoreland; and they descended under the same description and service, according to the line pointed out under Bradbury and the Isle, and with those estates were sold to Roger Thornton, the merchant of Newcastle. William de Walworth also, and after him Olive de Walworth, held a messuage and six oxgangs in Preston of Lord Nevill, by fealty, and one penny rent on the birth-day of their landlord (fn. 46).
By charter 15 July 1384, John Nevill, lord of Raby, granted all his lands (inter alia (fn. 47) ) in Preston-on-Skyrne to Thomas Claxton, Esq.; and in this line of Claxton, of Old Park (fn. 48), this estate, called the manor of Preston, descended till 1626, when Sir John Claxton, of Nettlesworth, granted to John Conyers, of Horden, Esq. the Low-farm, and divers closes in Preston; and in 1627 John, son and heir of Sir John Claxton, sold to Conyers, Pearson's house and garth on the Brook, Nevill's house, the Brooks Milne-hill, and other parcels (fn. 49). In 1767 Henrietta Maria Wollascot, Teresa Countess Dowager of Traquair, Charlotte Guastaldi, widow, and Elizabeth Conyers, spinster, the four daughters and coheirs of Sir Baldwin Conyers, of Great Stoughton, co. Hunts, Bart. (fn. 50) and their trustees (fn. 51), sold the manor of Horden, the Greens, Pearson's House, Nevill's House, &c. in Preston, and lands in Little Thorp, to Rowland Burdon, Esq. for 20,000l. (fn. 52)
Another portion of the vill was granted, in 1653, by James and John Clement to Richard Stephenson, of Preston, yeoman, who granted to his son John Stephenson in 1676; and he in 1705 settled the estate on the marriage of his son John Stephenson with Anne Arrowsmith. In 1727 John the father, John the son, and John the grandson, conveyed, for 1,030l. to Francis Pewterer, Gent. who, in 1737, devised to his son Nathaniel Pewterer (fn. 53). In 1764 Nathaniel Pewterer (and Anne, Mary, and Caroline Pewterer, and Frances Bacon, his sisters,) conveyed to Robert Chaloner, of Auckland, Esq. who again sold the premises in Preston to Rowland Burdon, Esq. in 1771, for 2,100l.
Mr. Paul Watson, of Bradbury, purchased from R. Burdon, Esq. the whole estate that was Chaloner's, and part of the lands derived from Conyers (fn. 54) a few years ago. Some other portion was sold to — Teasdale.
But there is still another ancient estate in Preston, not devised under either of these titles, which belonged for several descents to the Wyclyffes (fn. 55), and since to the Withams and Tunstalls. This estate was lately alienated by Thomas Tunstall, Esq.
In 1685 the freeholders were, Sir Christopher Conyers, Bart. William Wycliffe, Gent. John Stevenson (fn. 56), — Wytham, Gent. and — Cropley, Gent. in London (Grindon or Howe-hills).
Grindon,
An obscure manor, to the South of Mordon Carrs, now better known as the Howhills (fn. 57). This was probably originally carved out of the Nevill's lordship of Preston-le-Skerne. In 1561 Rowland Mordon (fn. 58) died seised of the manor of Grindon, and of a cottage and three acres in Preston, held of the Earl of Westmoreland by fealty only, and suit at the Manor Court of Brancepath, leaving William his son and heir (fn. 59). In 1564 this William Mordon contracted Isabel, his only daughter and heir, to Thomas Trollope, son and heir of John Trollope, of Thornley: the marriage proved fruitless, and she was living a widow in 1569 (fn. 60). The attainder of the Earl caused the manor to be held of the Crown. In 1610 Robert Moor purchased Grindon from Thomas Emerson and Richard Coudall; and two years later Moor sold to Edward Cropley, of London, whose descendant, Sir John Cropley, bequeathed this and other estates to Thomas Micklethwaite, from whom they descended to his younger brother Joseph, created Viscount Micklethwaite, of Ireland 1727. I am ignorant by what channel this and the other estates derived from Cropley, are now vested in — Dennison and Edward Wilkinson, Esquires.
Woodham,
A small village on the great North road, with a bridge of one arch over the Skerne.
Thomas de Acley was Lord of Woodham (and Whitworth) in 1291 (fn. 61). Cecily, daughter of Gilbert de Heworth, gave the service of Thomas Fitz Thomas de Wodom, arising from half the vill of Wodom, to the support of a Chaplain at Pounteyse-bridge (fn. 62). The same Cecily gave the service of Thomas de Wodom arising from the other half of the vill, to the Monks of Durham, ad fabricam Ecclesiœ (fn. 63). The Whitworths (not improbably the descendants of Thomas Wodom (fn. 64), who had changed their name with their residence,) afterwards held both manors (fn. 65). In 1335 Alexander de Whitworth held Woodham under the Prior of Durham by fealty, 16s. 8d. and suit at the Prior's Court; he paid the twentieth part multure to the manor-mill of Aycliff with all his tenants, gave common aid, and found a man for every house except his own hall, to mow the Prior's hay at Akley (fn. 66). Thomas Whitworth, his son and heir, bore knightly degree, and was, I presume, father of Alexander, whose brother, John of Whitworth, was his heir in 1356 (fn. 67); but Woodham is not named in the escheat, and, as being held under the Prior, the place seldom occurs in the Bishop's records. The chief property, perhaps, descended from the coheirs of Hoton to Hedworth and Ayscough. In 1558 Sir Francis Ayscough, Knt. and Elizabeth his wife (the heiress of Hansard), granted all their lands in Woodham to William Heighley (fn. 68) and Christopher Johnson, yeomen. Yet another considerable portion of the vill was vested in the Jenisons of Walworth, who probably also derived their title from Ayscough. The manor of Woodham (so termed) is included in a settlement of the Jenison family in 1615.
17 Dec. 36 Eliz. John Hedworth, Esq. sold a fourth part of the manor of Woodham for 340l. to Timothy Hutton, of Bishop Auckland, Esq. In 1633 Robert Hutton, of Cockerton, Gent. died seised of a sixth part of the manor of Woodham, held of the Dean and Chapter of Durham by fealty and 2s. 4d. rent, leaving Francis his grandson and heir, whose descendants held lands here till a very late date. (See Pedigree of Hutton.)
In 1685 the freeholders were, Francis Hutton, Gent.; the heirs of Richard Greeveson, of Rushyford; the heirs of Richard Heighley; John Skelton, Esq. (Ricknall Grange) in Yorkshire; and Thomas Hutton, Gent.
Woodham-moor appears to have been the usual place for the County Races in the reign of James I. (fn. 69)
Mem. quod Thomas Robson, de Bushop Auckland, Gen. et Johannes Bainbrigge de Whetley-hill, Gen. venerunt coram Ricardo Hutton, Servienti ad Legem, Cancellar. Dunelm. et recogn. se debere Georgio Selbie et Carolo Wrenn, militibus, centum marcas legalis monete Angliæ, &c. 20 Dec. 11 Jac. 1613.
The condic'on of this recognozance is such, that whereas divers of the knights and gentlemen of this countie have delivered over into the handes and custodie of the above bounden Thos. Robson, the sum of fiftie poundes as a stock collected and provided for the yearely bringing in of a peece of plate for a hunting prize, to be ridden for at Woodham Stowpes yearely, upon the Tuesday next before Palme Sunday, and soe to be contynued. If, therefore, the above bounden Thomas Robson and John Bainbrigge, or either of them, their heires, &c. shall yearelie during the life of the above bounden Thomas Robson, bring and present, or cause to be brought and presented, to the now usuall weighing-place upon Woodham-moore, yearely upon the Tuesday next before Palm Sunday, a peece of gold and silver plate in the forme of a bowle or cupp, or such like forme, of the value of seven poundes at the leaste, for a hunting prize, to be ridden for at Woodham Stowpes, there to be disposed of, according to articles thereof made and agreed, &c. and also the next Tuesday before Palm Sunday, wh shall happen after the death of the above bounden Thomas Robson, &c., and also shall bring and present the same day, the some of fiftie pounds of lawful English money, being the stock aforesaid, to be paid over to the said Sir George Selbie and Sir Charles Wrenn, or the survivor, &c. to be further disposed of as they the said Sir George and Sir Charles, or the survivor, &c. shall think fitt for the contynuance of the said prize, accordinge to the true meaning and intent of certeyne articles made and agreed upon by the knights and gentlemen of this county, for the contynuance and tryall of the said prize; and if anie controversie doe arise touching the premisses, if then they and evy of them doe performe such order as by the Temporall Chauncelor of this County shal be sett downe,—then this recognizance to be void, &c. (fn. 70)
Note—That no ale was brewed for the King at Durham Castle till the fifth day of April (fn. 71), 1617; and on Saturday the tenth of the same April, the King came to the Castle; and on Monday next following the King travelled from the Castle to Woodham-moor, to a horse-race (fn. 72), which was run by the horses of William Salvin and Master Maddocks (fn. 73), for a gold purse, which was intended to have been on the 8th of April, but on account of the King's coming, was put off till the 21st, which match the King saw. The King made six knights at Durham, and on St. George's Day went forward to Newcastle (fn. 74).
Mr. Topp Heath, of Eden, Gentleman, dying upon Mainsforth-moor, coming fro' a horse-race, was buryed the first day of Aprill 1620 (fn. 75).
Pedigree of Hutton, of Woodham.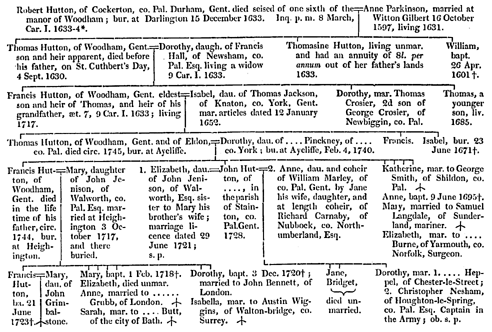 Anne, dau. of Mr.Thomas Hutton, bapt. 1 Jan. 1655. Philip Champneys and Mrs. Anne Hutton, mar. 8 March 1701.
* By Indenture, 20 April 21 Jac. he settled his lands on trustees, (George Parkinson, of Hagghouse, Gent. and William Parkinson, of Northforth, co. York, Gent.) and they, 13 Aug. 7 Car. enffeoffed Francis Hall, of London, Goldsmith, and Edward Parkinson, of Hagghouse, Gent. to use of Robert Hutton for life, Anne his wife for life, and to pay 8l. per annum to Thomasine Hutton, daughter of Robert, and subject thereto, to Thomas Hutton, son and heir of Robert, and his heirs.
† Aycliffe Par. Reg.
Ricknall Grange.
Ricknall Grange and Mill, on the Skerne, a little above Preston.
Boldon Book does not notice Old Rickenhall; but says in New Rickenhall there are twelve tenants in villenage; each holds one oxgang of nine acres; they work for the Bishop three days in every week from the Feast of St. Peter ad Vincula to St. Martin, and from St. Martin to St. Peter two days, till four portions, and each renders two hens and twenty eggs. The demesne, with four ploughs, the meadow, pasture, and sheep, is in the Bishop's own occupation. Hatfield's Survey repeats the same; but the whole was commuted, and William Tedy, of Akley, held the vill with all the services on farm for 106s. John del Loge held the Grange, with the demesne of four carucates (each carucate eight oxgangs, and each oxgang twenty acres,) 20l. rent. The Prior of Durham pays for the site of Acley-mill 12d. Several small parcels had arisen out of the wastes under monied rents (fn. 76). The estate is still leasehold, under the See of Durham (fn. 77).
Nun Stainton,
Two farmholds on a green hill side, sloping to the South, certainly occupy the very site of the old Manor-house and Chapel. The Skerne, flowing through its marshes, separates the estate from Bradbury; to the South-west it touches the Isle, and to the North and North-east Chilton and Bishop-Middleham.
Bishop Hugh (fn. 78) confirmed to M. Prioress of Monketon and the Nuns the whole vill of Staynton-upon-Skyren in Haliwerfolc, as freely as Iveta de Arches, sister of the Prioress, gave the same, with consent of her husband and her heirs. And further he confirmed to the same Prioress and Nuns all the privileges which John de Amundevill held in the Chapel of Staynton, of which he was the founder, viz. that the Church of Acley shall provide a Chaplain to celebrate in the same Chapel of Staynton, three days in every week; and that the Nuns and their men of Stainton shall enjoy in their said Chapel,' baptism, confession, and the Viaticum, and all Christian rites, saving to the Church of Acley their tithes and oblations; and moreover, John of Amundevill gave two oxgangs for support of the same Chapel: "and we the more heartily grant and confirm these privileges, because of the difficulties and great perils which the folk of Staynton might incounter in the long distance which lies betwixt them and the mother Church (fn. 79). Wherefore we will and enjoin," &c.
In 1306, in a cause betwixt the Nuns of Monketon and John de Orton, Vicar of Acley, the Official of the Court of York confirmed the right of the Nuns (which the Vicar had interrupted) to have a Chaplain to perform service for their people and tenants, three days in the week, and to enjoy all Christian rites, except burial only; and the Vicar was fined twelve marks for expences of the suit.
In 1276 another Vicar of Aycliffe disputed the Nuns' exemption from certain tithes which they claimed under an indulgence of the Apostolic See. Sic lis conquievit:—the Nuns shall be free of all tithes arising from their gardens, and from animals reared by them, "tam de hortis quam de nutrimentis animalium;" but for the tithe of hay and of the manor-mill (fn. 80) they shall pay 10s.
It need only be added, that after the Dissolution the estate was granted to Lord Latimer (fn. 81), and he immediately conveyed to the Smythes, who had been tenants under the Nuns of Monketon (fn. 82). In 1594 George Smythe died seised of the manor of Nun Staynton (fn. 83), held of the Crown by knight's service. The descent of the family has been traced under Eshe. In 179 . . Sir Edward Smythe, Bart. sold Nun Stainton to Major-General John Lambton, of Lambton; and the estate has been again alienated very lately by J. G. Lambton, Esq. to the Earl of Eldon.
Charitable Benefactions to the Parish of Aycliffe.
Thomas Gibson, of East Hartburne, yeoman, by will, dated 3 February 1702, left a small field, called the Mill-Home, adjoining the village of Great Aycliffe; the rent to be applied to the purchase of white bread, for such of the Poor of the township of Great Aycliffe as shall have attended the divine service of the Church in the morning of the Sabbath, and to be given to them, at the altar-rails, immediately after the service is ended by the Minister of the Parish of Aycliffe on every Lord's day throughout the year. A School-house was built by voluntary subscriptions about the year 1745, on the waste belonging to the Dean and Chapter of Durham: the building was enlarged in 1814. The School is conducted nearly on Dr. Bell's system, under the superintendence of the resident Minister. An endowment of 4l. 13s. 2d. being the interest of funded property, was left to Aycliffe School by the will of William Bell, late of Newcastle (fn. 84).
Carta Thomæ de Whitworth de Molendino de Staynton.
Omnibus, &c. Thom. de Wytew'd, miles. Noveritis me dedisse, &c. pro salute anime mee et Matilde uxoris mce, et omnium antecessorum meorum, Deo et Ecclesie B. Marie de Munckton, et Marie Priorisse, et Monialibus ib'm Deo servientibus, in puram et p'petuam elemosinar' sex acras prati in Milncrooke in territorio de Wodũ, incipientes per divisas subscriptas, viz. a filo aque usque Stawelsike per metas usq. ad terram Symonis, fil. Rogeri, qui quondam de me tenuit, et à dicta terra que se extendit versus partem australem in basso prato usque ad viam de Mylnrod, et à dicta via per metas et divisas verus partern orientalem usque ad calcetum Molendini de Staynton. Preterea concedo et remitto, &c. dicte Priorisse et Monialibus duos solidos annui reddit' quos percipere solebam pro firmac'one dicti stagni dicti Molendini de Staynton. Preterea remitto pro me et hered. meis illud jus quod habui ad impediend, dictum molendinum molere per unum mensem anni, scilicet per quindenam ante ad Vincula Bĩ Petri, et per quindenam post idem festum, ita quod liceat dicte Priorisse et Monialibus, per totum annum, de dicto molendino commodum suum facere sine impedimento, &c. T. Mag'ro R. Archid. Dunelm. Dño P. de Brus, Dño G. Hansard, Dño G. Russell tune Senescallo Dunelm. J. de Must. R. de Must. W. Herũ, J. de Elaund, et multis aliis (fn. 85).
Seal of white wax: S. Tome De Witewrd: a griffin passant.