Pages 350-377
The History and Antiquities of the County Palatine of Durham: Volume 3, Stockton and Darlington Wards. Originally published by Nichols and Son, London, 1823.
This free content was digitised by double rekeying. All rights reserved.
PARISH OF DARLINGTON.
The Parish of Darlington is bounded by Haughton-le-Skerne on the North, by Heighington on the North-west, by the Parish of Conscliffe and by the Tees on the West, by Hurworth on the South, and by Hurworth and Haughton-le-Skerne on the East.
The Parish includes four Townships: 1. Darlington; 2. Blackwell; 3. Cockerton; 4. Archdeacon-Newton.
Darlington is again subdivided into four Constableries: 1. Darlington Borough; 2. Bondgate; 3. Prebend-Row; 4. Oxenhall, or Oxen-le-Field.
Darlington in its modern state is a populous thriving borough-town on the great North road, surrounded by a rich fertile country. The site is on the gradual Eastern slope of a hill, whose foot is washed by the water of Skerne. The main body of the town forms a spacious square, of which the Collegiate Church, with its tall beautiful spire, occupies the low or Eastern side. Several streets branch from the square or market-place: North-gate, Blackwell-gate towards the South, and Bond-gate Westward, Skinner's-gate runs parallel with the high side of the square; and Hun-gate is parallel with the South-row. Prebend-row and Tubwell-gate (fn. 1) lead towards the Skerne. A bridge of three arches crosses the Skerne near the Church, and communicates with the Yarm and Stockton roads.
Excepting the Bishop's manor-house (described in the sequel), and the old houses of post and pile in Prebend's Row, there are few ancient buildings remaining in Darlington. There is a rude sculpture of a bull on the corner house of a wind leading from the market-place into Hund-gate: this is said to have been the Nevills. A view of Darlington in Mr. Bowes's possession, represents the shops in the market-place as open booths or stalls The old toll-booth was removed, and the present town-hall erected a few years ago.
Soon after Aldune had established the Episcopal See at Durham, "Styr, the son of Ulphus, obtained licence of King Etheldred that he might give Dearningtun (fn. 2), with its dependencies, to St. Cuthbert; and the donation was solemnized at York before the Archbishop Wulstan (fn. 3), Bishop Aldhune, and the other Nobles who attended the King, with a heavy curse on all who should violate the patrimony of the Saint (fn. 4)." Nothing more is known of Darlington till after the Conquest, when William de Carilephe (1082) restored Durham Abbey to the Monastics; this was one of the places assigned to the expelled Secular Clergy (fn. 5). A century later the magnificent Bishop Hugh built a mansion-house at Darlington, on the banks of the Skerne, which was frequently the occasional residence of his successors. The present beautiful church is said to owe its foundation to the same Prelate; and it is evident from Boldon Book, that he made some alteration in the constitution of the Borough which already existed, and which now claims its privileges by prescription. "In Derlington there are forty-eight oxgangs, which the tenants in villenage hold as well under the old as the new Bailiwick, and pay for each oxgang 5s. They are bound to mow the whole of the Bishop's meadow, and to win and lead his hay; and they have a corrody once; they maintain the fence of the plantation and the court, and they perform the usual services at the mill; for every oxgang they lead one wain-load of wood, carry loads when the Bishop travels, and fetch three lades annually of wine, salt, and herrings. Twelve farmers hold as many oxgangs, and render rent as the villans; but perform no services, only they go on the Bishop's embassies. Osbert Bate holds two oxgangs, pays 22d. and serves on embassies. The sons of Wybert hold two oxgangs, for which Gilbert used to pay 8s.; now they pay for the same, with an addition of 10s. and serve on embassies. Odo holds a toft and thirty-three acres of the culture of Ubert,.....were sown, and pays 10s. only, without services; and in another place twenty-six acres and a half, and for these he pays 10s. till Robert, son of William de Mowbray, who is his ward, attains to age. Galfrid Joie twenty acres, 40d. and serves on embassies. Lambert holds six acres for 12d. rent. The smith holds eight acres at the will of the Bishop, on condition of providing the iron-work of the ploughs of Little Halcton (fn. 6), and the small iron-work necessary about the court (or hall) of Derlyngton. Four cottagers pay 4s. for their tofts, and help in making mullions (fn. 7) of hay, and carry fruit and work at the mill. The Punder has nine acres and the traves, like other Punders, and renders fivescore hens and five hundred eggs. The Borough, the Dyers, and the Rents (firmi) pay ten marks. The mills of Derlyngton, Halghton, and Ketton pay thirty marks (fn. 8)."
The Bishop evidently, at the date of the record, kept at least an occasional household here, and the tenants in villenage were charged with the carriage of wood, wine, and (what I do not recollect to have seen so specially noted elsewhere) herrings and salt, the first probably from Hartlepool, the other from Seaton, or the old Saltworks at the Teesmouth. These may seem light articles, but the deep meadows of the Skerne would furnish the beeves and muttons that were to be salted for winter store; and, except wine and firing, there was little else to lead for the hospitality of the house. A provision, it will be observed, is made for transporting such articles of use or luxury as the Bishop might require when he moved from manor to manor "in itineribus." One of the most curious conclusions is, that the tolls (if I mistake not the term) of this ancient and prescriptive Borough were on lease (fn. 9), and that at this early date there were dyers in Darlington.
In 1291 Edward I. was at Darlington, and from thence issued his summons to fifty-seven of the chief military tenants in the North, to repair to the wars of Scotland.
Hatfield's Survey enumerates "Thirty-nine free-tenants, who hold fifty-seven parcels of ground and messuages by divers several rents, payable at the four usual terms. The tenants hold amongst them certain lands, viz. Calfhous, Swater-gate, Elesbankes, Sadbergate, Cokyrtongate, Bathel-gate, Duresm-gate, Crest-gate, and Hurworth-gate, by ancient custom, as is said, from which the lord receives nothing, notwithstanding that these are parcels of the lord's ancient and proper waste. Fourteen tenants hold ten oxgangs of the demesne under 20s. rent per oxgang. There is a plot of ground in the occupation of the Vicar of Derlyngton, worth, as is said, 12d. per ann. There is a place within the inclosure of the manor, with a curtilage on which a house is built, in which the Janitor dwells, worth per ann. as is said, 3s. 4d. Ralph, of Eseby, holds two messuages and two oxgangs, and pays for each oxgang 5s. [the services exactly as those of the tenants in villenage under Boldon Book;] in all 10s. Thirteen other bond-tenants hold twenty messuages and thirty oxgangs on the same terms. [Of the services of the bonds nothing is said here, quia postea in Villa de Cokirton.] The tenants jointly hold the common forge; 4d. rent at the four terms. For toll of ale from the tenants in villenage, 12d.; for toll of ale from the burgesses of Derlyngton, 2s. William de Hoton and John de Tesedale hold the whole fishery by metes and bounds in the field, and pay 2s. The same tenants pay for the office of Punder 53s. 4d. to which office appertain nine acres of land and meadow, viz. in Besfield three acres, in Dodmersfeld half an acre, in the Westfeld half an acre, within the verge (virgultum) of the manor half an acre of meadow, at the end of Ellyngmedowe half an acre, in Polinpole one acre of meadow, and one acre of arable. In the toll of the market and market-place, with the profits of Derlington, Blackwell, and Halughton Mills, the suit of the tenants of Quessowe, the bakehouse, the assize of bread and beer, the profits of the Borough Court, and the Dye-house, 94l. The same bond-tenants render thirty-five hens at Christmas; and for wodsilver at the same festival, 2s. Twenty-seven tenants hold divers messuages, tenements, and cottages, with certain acres of land, under the name of Exchequer-lands. All the tenants of Exchequer-lands render the services due from four cottages, viz. in making hayricks, carrying fruit, and working at the mill, until it be made to appear which individual cottages should be charged with those services. Ingelram, Gentill (fn. 10), and his partners hold the Borough of Derlyngton, with the profits of the mills, the dye-house, and other profits pertaining to the Borough, under fourscore and fourteen pounds, 6s. rent."
In 1327 "Archibald Douglas took grete prayes in the Bisschopricke of Duresme, and encountred with a band of Englischmen at Derlington, and killed many of them (fn. 11)."
In 1504 the Princess Margaret of England, then affianced to James IV. King of Scotland, was entertained at Darlington on her progress Northward, and slept in the Bishop's manor-house there.
The xixth day of the said moneth (July) the Quene departed from Allerton, in fair aray and nobill company. After sche drew to Darneton to hyr bed; and three mylle from the same place cam to hyr Lord Lomley and hys son, accompanyed by many gentylmen and others welle apoynted, ther folks arayed with their liveray and well mounted, to the nombre of xxiiii horses. At the village of Nesham she was mett by Syr Rawf Bowes and Syr Willyam Aylton (Hilton) well apoynted, with a fayre cumpany arrayed in their liverays, to the nombre of xl horsys, well apoynted and well horst. In the saide place of Nesham was the sayd Quene receyved with the Abbasse and religyonsis with the crosse without the gatt; and the Byschop of Durham gaffe hyr the said crosse for to kisse. At two mylle ny to the said towne of Darneton, mett the Quene Syr Willyam Boummer, Sheriff of the Lordship of Durham. In company with hym was Syr William Ewers, and many other folks of honor of that contre, in fayr order, well appoynted of liverays and horst, to the nombre of six score horsys. By the said company was sche conveyed to Darnton; and at the gatt of the church of the said place war revested the Vicayr and folks of the church, wer doing as sche had done on the dayes before sche was led to the manayer of the said Bischop of Durham for that nyght. The xxth day of the said moneth the Quene departed from Darnton in fair aray (fn. 12)," &c.
In 1537 Sir Ralph Sadler was sent into the North, just after the suppression of "the Pilgrimage of Grace." In a letter from Newcastle, 28 Jan. he gives an account of the still agitated state of the country through which he had just passed. The following very dramatic scene occurs at Darlington:
Syr,—I saw no likelihood of any lygtness or desyre of devision amongst the people throughout the whole Bishopricke, which is a gret countrey, savyng in one towne, which is called Daryngton; and there I noted and perceyved the people to be very fikell. My chance was to come into the towne in the evenyng, about vi of the clocke, or somewhat afore; and when I alighted at my lodging, I think there was not passing iii or iiii persons standing about the inne doore, assuring your Lordshipp, that I was scant ascended up a payre of steres into my chamber, but there was about xxx or xl persons assembled in the strete afore my chamber windows, with clubbs and batts; and there they cam rooninge out of all quarters of the strete, and stode together on a plompe (fn. 13), whispering and roundinge together. Whereupon I called unto me myn host, who seemed to be an honest man, and I asked him what the people meant to assemble so together? He answered me, that when they saw or harde of any comyng out of the South, they used always so to gather together to here newes. I told him it was ill suffered of them that were the heddes of the towne to let them make such unlawfull assemblies together in the strete, and that it was a very ill example, and hard to judge what inconveniencys might followe, or what attemptats they wold enterprise when such a number of light felowes were assembled. He answered me by his faith, that the heddes of the towne could not rule them, nor durst, for their lyves, speke any fowle words to them; but, quod he, I thinke myselfe to be in som credite with them; and, quod he, ye shall see that I shall cause them to scatter abrode, and every man to go to his home by and by. Marry, quod I, if ye do well, ye shoulde set some of them by the heles. No, quod he, God defende; for so might we bringe a thousande on our toppes within an hower; but, quod he, ye shall see me order them well ynough with fayre words; and thereupon he went to the route in the strete, as they stode whispering together, and with his cappe in his handes, prayed them to leve their whispering, and every man to go home; and there came they all about him, and asked him who I was? whense I cam? and whither I wold? Myn hoste told them, that I was the kyng's servante, and going from his Highnes in ambassade into Scotland: whereunto one of them replyed and sayed, that could not be true, for the Kyng of Scoth was in Fraunce. Nevertheless, in fine myn host so pacyfyed them, that every man went his way; but moche ado he had, as he told me, to persuade them to beleve that I went into Scotland; and they all with one voyce asked when my Lorde of Norff. wold com, and with what company? and so myn host cam to me as a messenger from them to know the trewth; and I sent them word that he wolde be at Danncaster on Candlemas Even; and that he brought no more with him but his owne houshold servants; which pleased them wondrous well; and so every man departed, and I harde no more of them (fn. 14). I assure your Lordship the people be very fykell, and methinketh in a marvellous strange case and perplexite, for they stare and look for thinges, and fayne wold have they cannot tell what.
In the latter part of the same reign of Henry VIII. the laborious Leland journeyed "from Sokburn to Neseham-on-Tese, a three miles: and then a five miles to Darington, by pure good corne. Darington-bridge of stone is, as I remembre, of three arches; it is the best market-town in the Bishoprick, saving Duresme."
"There is an exceeding long and fair altare-stone, de vario marmore, hoc est de nigro albis maculis distincto, at the high altare in the Collegiate P'roche Chirche of Darington. There is a Dene longging to this College, and . . . . Prebendaries. The Bishop of Duresme hath a praty palace in this toune (fn. 15)."
In 1640, when the King's troops retreated before the Covenanters after the defeat at Stellahaugh, and abandoned Durham and Newcastle, the Earl of Strafford issued an order from Darlington (April 30), to cause "all such quantities of butter, bread, cheese, and milk," as could be possibly furnished, to be brought into Darlington by four o'clock on the next day, for victualling his Majesty's army; to break or bury all the upper millstones, and to remove the goods and drive the cattle before the approach of the Scots (fn. 16).
Some local passages of less consequence will be found amongst the extracts from the Parish Books in the sequel.
Descent of Property.—The ancient freeholds in Darlington were so minutely subdivided, that it would be endless to trace their descent. Thomas, son of Jolanus de Morton, held two burgages by three suits of court at the Toll-booth, and eight pounds of wax to Darlington Church (fn. 17). Richard, of Denton, held a messuage, four oxgangs, and four acres, by homage, fealty, and 27s. 4d. and one burgage by fealty and three suits at the Toll-booth, leaving William, son of Richard of Denton, Chaplain, his heir (fn. 18). John Bruys held a messuage and one acre by 3d. rent; his daughter Emma, and his grandchild Cecily, daughter of Alice, of Thorpe, were his heirs (fn. 19). Maude, widow of John Underwode, held three acres and a half by knight's service, and 15d. and two burgages by fealty and three suits of court, and Emma Bruys was her sister and coheir with Cecily, of Thorp (fn. 20). The Pudsays (fn. 21), the Eures of Witton, the Surtees (fn. 22), the Danbys (fn. 23), and the Nevills (fn. 24), all hold hereditary parcels in Darlington. In 1338 John, son of William Benet, held a messuage and four oxgangs by fealty, 20s. and three suits at the County Court; Simon Benet was his son and heir (fn. 25). In 1353 William de Walworth, jointly with Olive his wife, held seven messuages, fourscore and fifteen acres, and three acres of meadow, of which nine acres and the meadow were once John Benet's, held of the Bishop by fealty and 9s. (fn. 26) William was her son and heir, and was heir to Olive his mother in 1359 (fn. 27). These lands, called from their early owners, Benet's Lands, were afterwards long held by the Eltofts, a family of Yorkshire gentry. Ralph Gower, Gent. bought Bennet's lands of Edmund Eltofts, Esq. in 1567 (fn. 28). In 1624 Isaac Knipe, Gent. died seised of a third part of Bennet-fields in Darlington (parcel of the possessions of John Gower, Esq. of high treason attainted), held of the manor of East Greenwich in common socage, leaving William his son and heir (fn. 29). At a later date the Wardes, Oswalds (fn. 30), Glovers (fn. 30), Forsters, and Nicholsons (fn. 31), were the prevailing yeomanry of Darlington.
The few following extracts are thrown briefly together from the Close Rolls.
Licence to John Lord Lumley and Jane his wife to grant to John Killinghall, Gent. six messuages, tofts, and cottages, one dovecote and orchard, 100 acres of arable, 40 of meadow, 20 of woodland, and 100 of pasture, as many of moor, as many of furze and whin, in Darlington and Bondgate, 10 July, 8 Eliz.
20 Sept. 20 Eliz. Robert Branson, yeoman, two messuages, forty acres of arable, fifteen of pasture, and five of meadow, in Darlington, from Robert Wyclyffe, Gent. and Jane his wife.
Anthony Branson to Richard Stockdale, Gent. three messuages, sixty acres of land, six of meadow, 80 of pasture, in Darneton, 16 Aug. 44 Eliz.
1 Oct. 29 Eliz. John Barnes, Clerk, fourteen acres in Bondgate from Henry Killinghall, Gent.
William, son and heir of John Marshall, of Darlington, releases to William Marshall, of Cockerton, a messuage and oxgang in Bondgate, 4 Dec. 9 Sherwood.
Pardon to Timothy Barnes, of Thornton, Gent. for acquiring from Robert Bellamye, M. D. Henry Appleton, Gent. Thomas Stanbancke, and Christopher Richardson, two closes, called Hunden-closes, in Bondgate, late of John Barnes, of Haughton, Clerk, 12 Jan. 1594.
7 Jac. pardon to Brian Thadie and Alice his wife, for acquiring from Cuthbert Storie (by Ind. 5 Aug. 24 Eliz.) lands in occupation of Dale; and a close on the West of Dodman's-field.
Pardon to William Warmouth for acquiring from Francis Storie 20 acres, 20 pasture, in Bondgate and Derlington, 20 Aug. 8 Jac. Pardon to the same for six acres from Edmond Bland, 20 Aug. 4 W. James.
28 April 1619, William Wearmouth, Esq. grants 20 acres, called Nicholson's Hill, to Francis Forster. 29 April 1619, Francis and Henry Storie a close in Darlington 14 acres; aliter in Bermeton, called Croceflatt, to Francis Forster.
In 1685 the Freeholders within Darlington were,
Borough—Nathaniel Middleton, Gent. at Durham; Matthew Lamb, Gent. (fn. 32); John Raine; Prudence Grayston, in Yorkshire; William Morley, at Heighington; Arthur Sheppard, Gent.; William Ward, Gent.; — Newton, widow; Henry Shaw; Richard Skaife (fn. 32); Michael Blackett, Gent. (fn. 33) at Newcastle (dead); John Richardson; Joshua Middleton (Quaker); — Glover, widow; Cuthbert Bore, at Skipbridge, near Hurworth; Oswald Comyn, Gent. at Durham (fn. 32) (sold); Robert Coarson; — Bolton, widow, at Barnard Castle; — Rain, Gent. at Newcastle; Edward Fisher (Quaker); — Johnson, widow; Oswald Fawcett; Margaret Browne; Henry Kendall; Thomas Johnson; Arthur Prescott, Gent.; Francis Bell, Gent.
Bondgate—Robert Ile, Gent. at Newcastle; Richard Forster, of Hill-house, Gent. (sold to — Harle); William Richardson, at London; Elizabeth Raine, widow; — Robinson's heirs, in Newcastle; Ralph Bainbridge, at Thickley; Isabel Ward; John Crosby, Gent. (Attorney); Sir John Lowther, Bart. in Westmoreland; Sir George Fletcher, Bart. in Cumberland (fn. 34).
Pedigree of Barnes, of Darlington.
Arms: Party per pale Or and Vert, a fesse Sable charged with three stars of six rays Or, a crescent for difference.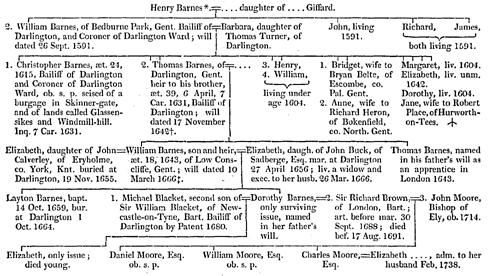 * Said in the Pedigree entered in 1615 to be elder brother of Richard Barnes, Bishop of Durham, which is probably incorrect. See Pedigree of Bishop Barnes, vol. I. p. lxxxii.
† Thomas Barnes, Gent. will dated 17 Nov. 1642; "son William Barnes; son Thomas, an apprentice in London; to William Place, my sister Place's eldest son; My sister Elizabeth Barnes; brother-in-law Rauff Pudsey, Esq.; brother-in-law Anthony Watson; Rowland Place, of Dinsdale, Esq. and Nicholas Chaytor, of Haughton-field, Esq. Supervisors."
‡ William Barnes, of Low Conscliff, Gent.; "to friend Leonard Pilkington a 22s. peece of gould; to Robert Cuthbert, of Darlington, my little Galloway marc; to kinsman, William Chaytor, of Croft, Esq. five angells of gould; the same to Mr. Ralph Willey, of Cockerton; kinsman Mr. William Place, of Darlington, my lease of the tolls of Darlington Burrow; to Mr. Christopher Place and his sister Anne; to my friend Edward Dunwell, of Darlington, my best Spanish suite, lined with red ribbins; my only daughter Dorothy Barnes, executrix; William Place and William Chaytor, supervisors; to William Smith, of Stappelton, and Joane Trotter, 20s. each in gould. Witness, Elizabeth Tunstell."
Pedigree of Ile, of Darlington.

* "George Fenye, of Darlington, poticary; daughter Elizabeth Bellamye; her children Cuthbert, Thomas, Margaret, and Elizabeth; daughter Alice; daughter Mald Forster; her children Francis, Margaret, Jennet, and Christofer; to nephew Christofer Ilee 4l. per ann. out of Clarybutts; nephew Robert Ilee a house in Darlington; brother Christofer Fenny a goulde ringe. Witness, George Lassells, Thomas Wilson, Thomas Elstobb, Rowland Lassingby, Robert Ilee, Thomas Radclif."
† Besides the persons named in the text, he mentions "his cousin Clement Ile; his aunt, wife of Mr. Robert Surtees, of Durham; and his kinsmen Sir Peter Ridell and Mr. Robert Shafto."
‡ "Bulmer Isle, of Newcastle, merchant, to be buried in the South porch, lately builded of St. Nicholas Church, under my own blew stone which I bought from a quarry at the Heugh, in Northumberland; 40s. to the poore of St. Nicholas parish, and 4l. to the church-worke; 4l. to the church-worke at Darlington; wife Anne a burgage in the Side; son Robert one silver beare bowle, a booke called Jerrard's Herball, and one gunn called Harquebus de Crack; son James a burgage in the side and closes called Darlington Waistes, which I had from Mr. William Warmouth, Alderman, a book called Turner's Herbal; to daughter Anne the Bull Inne in Darlington, and a garth on Brankyn-more; daughter Marie; daughter Anne a wine-bowle, with the Sarrazain's head upon it; father-in-law Mr. Laurence Pollard; brother Richard Pollard; brothers John Lunn and John Smyth; to Anthony Normane, scrivener; wife Ann and son James executors." Dat. 22 Jan. 1638.
§ In 1666 Robert Ile begins the entry at the Visitation, with "Robert Ile, of Darnton, acknowledged by Lisle, of Felton, to be a descendant of that family;" respite for proof of arms. On Bulmer Ile's stone (on which he is called "Apothecarie and Grocer"), the arms are, ...., a fesse inter three escallops ...., a mullet difference; impaling, Ermine, a cross engrailed .... (Pollard). Crest, a demi-lion rampant, holding in his paws an escallop.
Pedigree of Gifford, of Darlington.
Arms: Gules, three lions passant guardant in pale Argent.

* His descendants are traced in Baker's Northamptonshire, vol. I, p. 151.
Pedigree of Forster, of Darlington.

* Qu. If not eldest son, and by a former wife? "My son George is content I should make saile of lands in Blakwell, for keping you at Cambridge and paying my debtes; but I have done nothing wh shall be p'judiciall to you in that behalfe; desire him to be good brother to Barbarie, Margaret, and Jenet."
The Borough.—It has been already stated, that Darlington is a Borough by prescription, and that its privileges existed at least earlier than the Pontificate of Hugh Pudsey. The Borough comprises the whole of the market-place, the Bull-weind, the Post-house Weind, and Tubwell-row (with the exception of some houses on Bakehouse-hill, which are within the copyhold manor of Bondgate), Hungate, Blackwell-gate, Paradise-row, as far as the Catholic Chapel (which adjoins the Academy of the Society of Friends), the garths and gardens between the pleasure-grounds of Mr. Jonathan Backhouse, jun. and road leading to Barnard Castle, Skinner-gate (with the exception of a few houses at the North end, which are within the manor of Bondgate), Prebend-row and Priest-gate, the East end of Bondgate, as far on the South side of that street as a house belonging to Miss Crishop, and on the North side as far as a road leading into Union-street, Commercial-street, and Prospect-place (including the Sun Inn), North-gate (with the exception of a few houses which are in Bondgate), and the greatest part of the new street called Albion-row, which leads into Northgate, the East part of Clay-row, three farms called Branken-moor, Geneva-house, and Dog and Gun, and a field adjoining to Geneva-house farm, belonging to John Trotter, Esq. The copyhold manor of Bondgate extends over the remainder of the township of Darlington.
The Borough is governed by a Bailiff, appointed by the Bishop (fn. 35).
The property within the Borough is entirely freehold; in Bondgate freehold and copyhold.
The Bishop's Bailiff is also Coroner of Darlington Ward, and receives rents from divers townships in lieu of Coroner's Oats, viz. from Blackwell, 14s. ½d.; Byer's Green, 7s. 6d.; Cockerton, 14s.; Heighington, 13s. 8½d.; Killerby, 14s. 1d.; Midridge, 13s.; Coundon, 8s. 6d.; West Auckland, 7s. (fn. 36)
The tolls of Darlington-market and the Town-house are held under the See of Durham by lease for three lives. In 1807 these were purchased from John Wetherell, Esq. of Field-house, the then lessee, by a number of the respectable inhabitants, who have since rebuilt the Town-house.
The following exercise of authority relative to Darlington-market occurs on the Rolls of Bishop Cosin:
Durham.—Whereas we are credibly informed, that the inhabitants of our towne and borough of Darlington have of their owne heads, without any authority, in late levyed and erected a new markett in the said towne, for the sale of all manner of cattell in the season of the year unaccustomed, to wit, from the fortnight day next before Christmas to Whitson Monday then next after, and do with much violence resist the opposers thereof by us appointed for that purpose, to the disgust of the people, and prejudice of other neighbouring faires and marketts; which illegal practice being by us considered of, we do hereby prohibit the same, and discharge them from keeping or continuing the said markett for cattle at the said time unaccustomed; and do hereby require the Sheriffe of our said county Palatine, or his Under Sheriffe, that publique proclamation may be by them caused to be made in the open and accustomed markett-place of the said towne of our pleasure therein.—Given at our Castle of Bishop Auckland, the 2d day of Aprill 1664.
To the Sheriff of the Countie of Durham and his Officers.
J. Duresme.
The old Toll-booth was taken down, and the present building erected in 1807. The old Market-cross was built by Lady Brown, the heiress of the Barnes family, who had long held the office of Bailiff (fn. 37).
There is a market for cattle and sheep on every alternate Monday, and a quick corn-market every week on the same day.
The Bishop's Manor-House stands close on the Skerne. In 1669 Charles Gerard, Esq. Bishop Cosin's son-in-law, resided here. During the last century it has been totally neglected (fn. 38). It was purchased from the See of Durham under the Act for the Redemption of the Land-tax, and is now used as the Parish Workhouse.
The Park was on the East side of the Skerne; it is now divided into fields, chiefly held by lease for years under the See of Durham (fn. 39).
There were two manorial-mills within the manor, at Darlington (fn. 40) and Blackwell. (See Extracts from Boldon Book and Hatfield's Survey.) The following minutes relative to the services of the tenants occur at a later date.
Darlington and Blackwell-mills, manor of Bondgate.—The Verdict of the Jury impanelled and sworn at the Court held of the manor of Darlington, the 6th day of August 1647, before us John Coulson, Esq. Steward, and Christopher Mickleton, Gent.
Mem.—By custom we find that the tenants of that copyhold land which is called Town-land, are to carry and lead to the manor-house of Darlington, for the use of the lord of the manor, wood, lime, and stone, not exceeding a tunn weight, in a wain, for the repair of the toll-booth of the Burrough of Darlington, and for the mills and bake-house in Darlington; and the tenants are to have 2½d. a mile, not exceeding seven miles from the manor-house, nor going out of the county; and they are to have drink in their flaskets, meat in their wallets, and their dinner when they come home. Witnesses, George Bowbank, æt. 57; Ra. Collin, æt. 60; Robert Branson, æt. 60; Wm. Maine, æt. 56; Wm. Helcott, æt. 60.
These customs existed in 1592 (Thomas Calverlee, Esq. Steward); 1609 (John Calverley, Esq. Steward).
A Verdict of the Jurors of Blackwell, Cockerton, and Bondgate, in Darlington, this 2d of Oct. 1667, given unto Samuel Davison, Esq. Steward of the Halmot Court, holden the day and year aforesaid:
First, whereas there was a return made in the Halmot Court, holden at Darlington the 23d of April 1633, the copyholders were to have but twopence a mile for the leading of wood, stone, and lime, we find it an absolute mistake in the clerk that then was; and we have proved it by some of the Jurors of the said Jury and other witnesses, viz. John Sober, George Garnett, and Thomas Ronter, who were sworn that 2½d. a-mile is the customary due for every draught, wh was always paid, or ought to be paid, time out of mind; and that they are to have meat in their wallets, beer in their flasketts, and dinner on their return; and that they are not to exceed or go above seven miles from the manor-house, nor out of the county. Witness, Thomas Dobson, Greeve; John Lodge, Greeve; Wm. Prescott, Greeve. Jurors, George Garnett, Wm. Cornforth, Cuthbert Cornforth, Wm. Middleton, John Dennis, Francis Blakey, Matthew Thompson, Edward Robinson, John Marshall, Robert Nicholson, Robert Coarson, Ralph Collin.
1677, April 5. We whose names are hereunder written have taken the length and breadth of Blackwell-mill as she doth stand now; and we find her side works to contain eleven yards and a half in length; and also we find the two gavells to be in breadth six yards and a half; and also we find the side walls to contain in height two yards and a half. In witness, &c. Wm. Middleton, John Simpson, Wm. Harrison.
Blackwell and Bondgate.—To prove that they never used to carry mill-stones nor found thatch. That they kept their corn several days unground. That by custome for Blackwell they are only to have one 16th part of such corn as they fetch, and a twentieth part of such corn as the tenants of Blackwell carried themselves. That by custome they are not bound to go above seven miles from the manor-house, nor out of the county, to fetch wood, lime, and stone; and that they are not to carry above a ton weight; and that they are to have flaskett and wallet, and 2½d. for each mile. And that the copyholders in Blackwell work a day in each year, to repair such breaches as are made in the dam-head; and the copyholders in Bondgate know their parts they are to scour; that the wood and stones brought by the tenants were applied according to the custom; that the rent of the Relator's mills is not lessened, but are still worth 80l. per annum. For grinding malt the miller is to take but half the moulter he takes for hard corn. The miller's moulter dish is to be according to Winchester measure, and to be produced to the Steward and Jury at every Halmot Court holden at Darlington. This regulation is by a Decree of the Court of Chancery at Durham.
Several disputes formerly existed betwixt the inhabitants of the Borough and the tenants of Bondgate relative to the right of pasture on Branken-moor and the West-moor.
For appeysing of variauncies depending betwixt ye burgesses and ye inhabitaunts of ye Burgh of Dernton of that oone partie; and ye husbondmen and inhabitants of Bondgate, in Dernton, of that other partie; of and for the use of common of pasture in Brankinmore and on the West-more in Bondgate, with other pastures that the said burgesses claymeth to have within the said Bondgate; it is ordered and determinyd by Master Willyam Frankeleyn, Clerk, Chaunceller of ye Bysshoprick of Duresme; Sr Willyam Bulmer ye elder, Knight, Sheriff of ye same Bysshoprick; Sr Wm Eure, Knt.; Sr Thomas Tempest, Knt. Steward of ye Bisshoprick; Robert Bowes, Esquier; and other Councillors to my Lord of Duresme, in form following, that is: that ye inhabitaunts and burgesses of the Burgh of Dernton, shall have and occupie the common pasture in the said ground called Brankinmoor, wth the inhabitants and tenants of Blackwell and Hurworth; and that the inhabitaunts and husbondmen of Bondgate shall from hensfurth clayme, have, nor use, any common of pasture within Brankinmore; and that the inhabitaunts and husbondmen of Bondgate shall have and use the pasture called the West-more and Bondgate, and all other their pastures in the said Bondgate, without any clayme or interruption of the burgesses, &c.; and the said inhabitaunts and husbondmen shall have to ferm a ground called the Battelfeld, paying for the same as hath been accustomed, with the pasture to ye same belonging, without interruption or lett of the burgesses, &c.; and eyther of the said parties shall stond to and obey this direction and order, upon payne of imprisonment, and to make fyne at my Lord Grace's pleasor. Rot. Wolsey, B. No. 10.
Then follows an order 25 Aug. Ao Pont. Dom. Thomæ Cardinalis 4to. 1526, by William Frankleyn, Chancellor; Sir William Bulmer, Sheriff; Sir William Eure; William Strangways, Clerk, his Grace's Surveyor; and John Bentley; Councellors of his Grace, within the Bysshoprick of Duresme:
That the inhabitants of the Burgh of Darnton shall have in severaltie, without interruption of the tenants of Blackwell and Hurworth, all theis parcels of ground lying betwixt Fyrthfeild and Dodmerfield, and oone other parcell of ground lying upon a leche unto a stone brigge, and from thence unto Gawtmyre, and from thence extending unto the South side of Fraunce-howse; and that ye inhabitants of Hurworth and Blackwell schall from henceforth use ne occupye eny comon within ye precincts of ye said ground assigned unto the Burgh of Dernton unto tyme that they shewe a lawfull tytle why they ought to have comon, &c.; and that unto that tyme ye inhabitaunts of ye said Burgh schall have and use ye said parcels, &c. in severaltie, and may enclose at their peril, unto tyme the mater is otherways discussed. And all ye inhabitaunts of ye said Burgh shall from hensforth geve their attendance upon my Lord's Grace his Scheriff and his Baylly of Derlington for ye tyme being, and thei ne ony of them schall not be reteyned to serve eny other, upon peyne of forfeiture of ye penaltie conteyned in the Statute of Reteynours; and also upon payn of forfeiting all such liberties and profitts as they or eny of them claymeth or be entitled to have by reason of ye said Burgh or otherwise.
Trade.—It has been seen that there were dyers in Darlington in the early days of Hugh Pudsey. I am little able to trace the various periods of advance or declension which the Borough may have experienced; but the place, situated in a rich grazing country, famous for its large woolly sheep, and supplied in plenty with every necessary article of food, has been always well situated for manufacture, and has been, as far back as memory or tradition extends, noted for its manufacture of camblets and other woollen goods; and still more so for its linen manufactures of huckaback, diapers, sheeting, and checks. The woollen articles manufactured when Hutchinson wrote were, tammys, moreens, harrateens, &c.; but this business was in a great measure superseded by the linen manufactures, in which a capital of nearly 150,000l. was employed a few years ago. This trade has also declined, the manufacture of the heavier description of linens being chiefly transferred to Barnsley and Knaresborough; whilst the finer diapers are principally manufactured in Dumferline and in the North of Ireland. The principal employment of the labouring classes in Darlington is in the combing, and other occupations connected with the spinning-mills. The worsted produced is applicable to every common purpose, as well as for the finest imitation India shawls, Brussels and other carpets, &c. Messrs. Edward and Joseph Pease and Messrs. Backhouse are the principal persons engaged in the woollen manufacture. Messrs. I'anson, Toulmin, and Ord are owners of a newly-erected mill for flax-spinning. It should be observed, that Mr. John Kendrew, an inhabitant of Darlington, was the ingenious inventor and patentee of the machinery for spinning flax, hemp, tow, &c. now of such importance to the manufacturing interest. The mill at Haughton-le-Skerne for spinning flax was originally established by Mr. Kendrew. His partner, Mr. Thomas Porthouse, established a similar concern at Coathom-Mundeville, and both are now prosperously carried on by the successors of Kendrew and Porthouse. Mr. John Kendrew was also the inventor of an ingenious machine for grinding and polishing spectacle and other optical glasses, which is now in general use.
Messrs. Backhouse's Bank was established in Darlington in 1774, and now has branches at Durham and Sunderland. There is also in Darlington a branch of the Stockton Commercial Bank.
The Railway.—As long ago as 1767 a navigable canal was projected to lead from Stockton to Winston, with various side cuts, from Darlington to Croft-bridge, from Thornton to Piers-bridge, and from Cothom Stob to Yarm. The line was surveyed by Messrs. Brindley and Whitworth, who estimated the whole expence, including the purchase of lands, at 63,722l. The whole length of the canal was calculated at thirty-three miles, and the fall in the whole distance 328 feet (fn. 41). Either from want of capital or from some adverse influence, or from both causes, the plan at this time fell to the ground; but the leading idea of opening a communication betwixt the Western Collieries and the South-eastern district of the county was never totally lost sight of. In 1812 Mr. Rennie, whose abilities as an engineer are well known, was employed to make another survey; but before he had delivered his report, the commercial disasters which occurred in the county of Durham, rendered any further proceedings at that time hopeless (fn. 42). Hitherto every plan which had been proposed, had adopted the line by Darlington; but in 1818 the public attention was again drawn to the subject by Christopher Tennant, Esq. who proposed forming a navigable canal from Portrack below Stockton to the Western coalmines, in a more Northern direction, leaving out Darlington, and crossing the country by Mordon, Bradbury, Windleston, and near West Auckland, to the Gaunless at Even-wood-bridge (fn. 43). This plan was opposed by the wealthy individuals interested in the commerce of Darlington, as well as by several principal landholders in the same district, who insisted on retaining the line by Darlington. The interest, which might have been sufficient if united to carry the undertaking through on either plan, was divided, and so the Northern project fell to the ground (fn. 44). Meanwhile the advocates of the line by Darlington determined to proceed; "but, in the course of their enquiries they were led to believe, that a rail-way or tram-road would prove of more benefit than a canal (fn. 45)." The line of rail-way was surveyed by Mr. Overton, and in 1821, 2 Geo. IV. an Act of Parliament was obtained "For making and maintaining a Rail-way or Tram-road from the River Tees at Stockton to Witton Park Colliery, with several branches therefrom, all in the County of Durham." The length of the main rail-way is twenty-six miles, passing through the parishes of Stockton, Egglescliffe, Long-Newton, Middleton St. George, Haughton-le-Skerne, Aycliffe, Heighington, and St. Andrew's Auckland; the summit of the line is near West Thickley. A portion of the rail-way is already executed, but it is proposed, in consequence of the suggestions of Mr. George Stephenson, an Engineer of rising reputation, to make several important alterations in the original line, which will require the sanction of Parliament (fn. 46).
The population of Darlington in 1801 was 4,670; in 1811, 5059; in 1821, 5748.
The Collegiate Church.
It has been stated, that when William de Carileph displaced the secular clergy from Durham, he removed a portion of them to Darlington (fn. 47); but the Church received its collegiate form and constitution, or at least was new modelled, by Hugh Pudsey. The foundation charter is lost; the College consisted of a Dean, or rather Vicar, and four. Prebendaries, Darlington, Blackwell, Newton, and Cockerton. Under the Lincoln taxation the whole revenues of the College are stated at 73l. 6s. 8d. Bishop Nevill materially altered the constitution of the Collegiate Church. In the preamble to his ordinance he states, that the Church of St. Cuthbert of Darlington was graced with a number of prebendal stalls, amply endowed (Prebendas facultatibus affluentes); yet that none of the Prebendaries either resided or provided a Deputy, leaving the whole parochial cure charged on the Vicar, Master Richard Wytton, who was no longer able to support the burthen, his revenues being minished and brought low, as well by the pestilence (fn. 48) which was rife amongst the people, as by other misfortunes and accidents; and moreover, on account of his exile revenues, the name of Vicar was little honoured amongst the people (fn. 49). On the petition, therefore, of the said Vicar, and in gracious consideration of the premises, the Bishop instituted an inquisition (fn. 50) into the revenues of the same Church; the return to which writ of inquest reported, "that there were four prebends in the Church of Darlington, of which the first in order is named the Prebend of Derlington, the second of Cokerton, the third of Newton, the fourth of Blackwell. The Prebendary of the Prebend of Derlyngton has annexed to his Prebend ten tenements within the vill of Derlyngton, then on lease as affirmed, for 117s.; he has also two oxgangs of arable land, with the meadows pertaining to them, worth 26s. 8d. per ann. and these are certain and settled, and form the Corpus (fn. 51) Prebendœ. He receives also of uncertain matters (fn. 52), the tithes of hay and grain of Derlyngton, which he shall hold of three successive years, if he shall so long live; and during each of those three years he shall pay to the Prebend of Cokerton 40s. to the Prebend of Newton 40s. and to the Prebend of Blackwell 4l.; and when the same three years are elapsed, the Prebendary of Derlyngton is to transfer and betake himself, as to the perception of tithes, to the Prebend of Blackwell, and to receive the tithes of hay and corn of Blakwell for three successive years; and for the next three of Newton; and for the next three of Cockerton; till having completed his cycle, he returns to Darlington." The Prebendaries of Cockerton, Newton, and Blackwell succeed each other in order, and each enjoyed the tithes of Darlington three years in twelve.
The Prebendary of Cokerton had for his Corpus Prebendœ two granaries leased for 26s. 8d. and two oxgangs of arable land, 26s. 8d. per ann.
The Prebendary of Newton has one new granary and three tenements leased for 30s. 6d. and two oxgangs, 26s. 8d.
The Prebendary of Blakwell has one granary, two tenements, and a parcel of waste, sometime leased for 24s. and two oxgangs 26s. 8d.
The Prebend of Darlington with all its appurtenances is worth 18l. per ann.; the Prebend of Cockerton 16l.; the Prebend of Newton 12l.; and the Prebend of Blakwell 20l.
The said four Prebendaries are only charged with the repairs of the chancel, and with the Royal Tenth when it shall happen (Decima regia cum advenerit), viz. each of the above Prebendaries is then charged with 18s. ratione Prebendœ suœ.
And upon these premises, after mature advice, and with the consent of the Prior and Convent of Durham, Bishop Nevill ordained, that the name of Vicar should cease and be changed into that of Dean; and for the support of such decanal dignity he erected and established one additional Prebend, to be perpetually held conjointly with the said Deanery; which Prebend was ordained to consist of the oblations, mortuaries, alterage, and offerings, which the Vicar then held, together with his ancient manse; and further, whenever it shall happen that the Prebend of Darlington shall become vacant by death, removal, or resignation, all the tithes of grain and hay whatsoever of the said Prebend shall become integrally attached to the Deanery; and the Prebendary who shall be collated to the Prebend of Darlington shall rest content with his two oxgangs of land, and his pension of 40s.; and after the said Dean shall have held the tithes of Darlington three years, he shall then give up the said tithes, and, betaking him to the next Prebend, according to the cycle in the said Collegiate Church established, shall receive the tithes of Newton, Cockerton, and Blackwell in succession, each for three years, and so return to Darlington. 8 Nov. 1439, confirmed by Pope Eugene IV. 6 id. Jan. 1441 (fn. 53).
Another ordinance follows, 21 May 1443, that every Prebendary shall provide one officiating clerk, or shall in default pay five marks to the Dean.
A third ordinance of the same Prelate in 1451, on the petition of Roland Hardgyll, Dean of Darlington, stating that it is inconvenient and prejudical to the decanal hospitality to exchange his prebend in course, "tam in vecturis et cariatione decimarum quam in gravitate expensarum," orders that in future the Prebendaries of Darlington, Blackwell, Cockerton, and Norton, shall claim no pension from the Prebendary occupying the tithes of Darlington, and that when the Dean next goes in course to Darlington, he and his successors shall perpetually thereafter keep the said Prebend, and remain there, leaving the other three Prebendaries to their usual course of rotation (fn. 54).
In 1292 the revenues of the College are stated at 73l. 6s. 8d.; in 1535 only at 53l. 6s. 11d. viz. the Deanery of Darlington, 36l. 13s. 4d.; Prebend of Cockerton, 5l.; Prebend of Blackwell, 5l.; Prebend of Newton, 5l. 0s. 3d.; Prebend of Rowe or Prestgate, 1l. 13s. 4d. (fn. 55)
Vicars.
Robert de Royeston, 1309.
Richard de Hadyngton (fn. 56), 1344.
William de Welton, 1354, p. m. Hadyngton.
Robert de Hunmandby, occurs 1361.
William Hoton, occ. 1398.
William Hesel, 1411.
Stephen Austell, occ. 27 March 1416.
Richard Wytton (fn. 57), 1428, p. res. Austell.
Richard Bicheburn, 1436.
Richard Witton, first Dean.
Deans.
Richard Witton, nominated by Bp. Nevill 1439.
Roland Hardgyll, occurs 1451.
Robert Symson, 14 Aug. 1466.
Ralph Lepton, 9 Nov. 1497, p. m. Symson (fn. 58).
The Collegiate Church was dissolved in 1550, and the whole of the lands and tithes vested in the Crown, reserving only a small monied stipend for an officiating Minister.
The grant of a revenue for life to Queen Henrietta-Maria (fn. 59) includes "all that annual rent or fee-farm of 36l. 13s. 4d. issuing out of the Deanery of Darlington, and out of the tithes of lamb, wool, and calves; and all that annual rent of 11s. 5s. 4d. issuing out of the Prebends of Cockerton, Blackwell, and Prebend Rawe."
Subject to these Crown rents, the greater part of the lands and tithes belonging to the Deanery are vested in the Earl of Darlington (fn. 60).
The lands and tithes of the other Prebends are dispersed in very various hands.
There were four Chantries within the Church of Darlington: 1. the Chantry of St. James, whose annual revenues were valued at 6l. per ann. at the Dissolution. William Wighteman was the incumbent in 1501. Ralph Swalwell, 1523, with a salary of 60s. paid by the Bishop; 2. All Saints Chantry, yearly revenue at the Dissolution 4l. 19s.; 3. Marshall's Chantry (See the Grammar School); 4. St. Mary's Chantry. John Coman occurs Chaplain in 1344. Ralph Byrd 1424.
Besides these, there was the free Chapel or Chantry of Badelfielde, or Battlefield, situate within the manor and parish of Darlington, and in the patronage of the Bishop, who paid an annual salary to the Chantry Priest out of the Exchequer. The origin of the foundation is unknown, and the name of Battlefield is probably a corruption; for in Boldon Book, under Blackwell, Adam is said to hold the herbage of Bathela; and Hatfield's Survey mentions the same place, Le Castle Hill cum herbag. de Bathley.
The Church,
A stately elegant pile, forms a regular cross, with a central tower, surmounted by a tall light spire (fn. 61). The nave has regular ailes, each formed by four pillars supporting pointed arches. The first pillar of the North aile is clustered, the second cylindrical, the next octagonal, and the last a plain cylinder. On the South the first pillar is clustered, the second and fourth octagonal, and the third cylindrical: one of the arches of the South aile is deeply fluted. The central tower springs from four arches deeply fluted and ornamented with the nail-head, rising from light fluted columns, with richly banded capitals. The two capitals towards the chancel are ornamented with rich foliage. The transept extends to an equal distance on each side of the tower; the end of the South limb is more richly ornamented than any other portion of the structure; in particular, circular ornaments of great beauty are introduced betwixt the spandrils of the middle window. A high graceful arch divides the nave from the chancel, but beneath this a low pointed bridge-formed arch of three ribs has been introduced to support the rood-loft, which has given place to the organ. On the North of the altar is a recess under a blunt pointed arch, surmounted by an embattled canopy, with foliage in the spandrils. The arms of Cardinal Langley are on the stalls in the chancel. The East end of the chancel is modern. The best idea of the exterior will be formed by a reference to the plate. With the exception of the windows in the North and South ailes, which are under square labels, the whole structure, externally and internally, is ornamented with a regular series of blank and open windows, of the earliest date of pointed architecture, with connecting belts and deep dripstones. The chancel has two rows of these lights, of which two in the lower tier on each side are richly ornamented with roses and zigzag. The chief entrance is at the West end of the nave, under a pointed arch, with several deep mouldings and a canopied niche above. Above are two tiers of blank and open pointed lights.
Monumental Inscriptions.
On a marble tablet against the wall of the chancel:

Choro Cœlesti
Beatarum Virginum accessêre
Dorothea et Anna
Georgii Allan, de Blackwell Grange, Arm.
filiæ;
illa anno 1760, æt. 38,
Fæminarum dulce decus, et invidia major;
hæc Anno 1785, æt. 66,
pauperum Solamen, omnium deliciæ,
utraque Christianis Virtutibus eximia;
has erga, et in memoriam
Annæ suæ conjugis charissimæ,
Anno 1787, æt. 46, abrepta,
hoc grati animi pignus
posuit
Geo. Allan de Darlington.
On a flat stone near the West door:

Siste, Viator, et respice paululum,
si quid amica Mater, si Matrona modesta,
si uxor amantissima, si intacta pudicitia
redolens Virtutem
ad quod respicias, habeat,
hic jacet Anna Holmes, uxor Francisci Holmes
in hoc oppido Mercatoris,
honestis nata parentibus, honestis digna
parentibus:
Multis flebilis occidit, uxorio flebilior Marito,
in cujus memoriam hoc reposuit marmor.
Obijt illa 27 die Aprilis, Anno Dom. 1722,
ætat. 34.
Near the West door:
At the foot of this tablet lies the body of Mrs. Elizabeth Smith, the widow of Capt. Anthony Smith, and daughter of Richard Hilton, Gent. After having fulfilled the severe duties of a good wife, a good friend, a good neighbour, and, to compleat the character, of a good Christian, she exchanged this life, we trust, for a better, on the 28th day of November, in the 51st year of her age, of our Lord 1729.
It will be hard to exceed her; but if thou art a woman, go and do like her.
On a flat stone in the floor near the above:
Here lieth the body of Mary, the wife of Henry Forth, Esquire, who departed this life the 18th Dec. 1728. Henry Forth (fn. 62), Esquire, died June 17, 1746, aged 72.
Against the wall near the West door:
In memory of Newby Lowson, who died January 1st, 1781, aged 40 years.
Lucy, daughter of Lucy and Newby Lowson, died March 4, 1778, aged four years.
On a mural tablet in the North aile:
Sacred to the memory of the Rev. William Sissons, A. M. who lies buried in this Church. He was Rector of Markshall and of the Donative Church of Patswick in the county of Essex, Vicar of Norton in this county, and Chaplain to the Garrison of Berwick-upon-Tweed. He departed this life Jan. 27th, 1778, aged 75.
On a mural tablet in the South aile:
Sacred to the memory of Mr. Francis Holmes, of this town, Gent. Ann his wife and John their son, who are buried in the middle isle of this church. This monument was erected in the year 1776, by Francis Holmes, as a testimony of duty towards his parents and affection towards his brother.
On a flat slab:
Here lieth the body of George Thomson, D. D. Minister of Darlington, and Vicar of Conscliffe, who departed the life March 21, Ann. Dom. 1711, ætat. 47. Jane his wife 29 May 1715, æt. 37. Michael Hodson, ob. Feb. 1742.
On a mural tablet on the South side of the chancel:
Near this place lies the body of John Trotter, M. D. an honest and humane man, who, during a residence of 23 years in Darlington, practised medicine with reputation and success. He departed this life Feb. 8th, 1781, aged 53.
On a flat stone in the South transept:
In memory of John Garth. He died at Cockerton on the 9th day of March 1810, aged 88 years.
In the Church-yard:
Lieut. Patrick Gibson, who served his king and country 44 years, chiefly in the 8th regiment; ob. 25th March 1806, in his 69th year.
On a head-stone:
Sacred to the memory of Mark Cade, who died 21 June 1751, aged 59 years. Also Elizabeth his wife, who died 27 Aug. 1761, aged 66 years. Also Leonard Cade their son, who died 14 June 1762, aged 30 years. Also John Cade their son, who died 12 Dec. 1806, aged 72 years. Also Elizabeth Cade their daughter, who died 14 Oct. 1812, aged 82 years.
Perpetual Curates.
Darlington Perpetual Curacy, not certified nor in charge.—The Earl of Darlington Patron.—Dedication to St. Cuthbert.
Sir John Claxton, occurs 1561.
James Thornton, 1571.
John Welshe (fn. 63), 1571.
John Woodfall, 1584.
Robert Gesford, 1601.
Robert Tomlinson, 1602.
Isaac Lowden, 1606.
Bryan Grant, A. M. 1612.
Robert Hope, A. B. 1622.
Thomas Clapperton, A. M. 1640.
William Parish.
George Bell (fn. 64), 6 Sept. 1661.
George Thompson, S.T.P. 1693.
John Hall, 1712, p. m. Thompson.
Cornelius Harrison, A.M. 1727.
Andrew Wood, A.M. (fn. 65) 1748, p.m. Harrison.
Henry Hemington, 1772.
William Gordon.
On the Dissolution of the College, a small stipend was reserved for the officiating Minister, viz.
To the Vicar of Darlington, 24 marks, 16l.; to the Assistant Curate, 12 marks, 8l.—Total 24l.
Deductions claimed at the Exchequer:
Poundage at 5l. per cent. 1l. 4s.; for two debentures at 3s. 8d. each, 7s. 4d.; for each debenture more, 1s., 2s.—In all 1l. 13s. 4d. Remains de clare 22l. 6s. 8d.
Since the Dissolution the Minister is styled perpetual Curate, holding no share of the lands or tithes of the ancient Church. The endowment consists of the above reserved pension of 22l. 6s. 8d.; 10l. per ann. an augmentation left by Lord Crewe; and a small farm lying partly in the parish of Darlington, and partly in Haughton-le-Skerne; consisting of thirty-six acres, divided into nine closes, which was purchased about 1735 for 800l. one half of which sum was raised by subscription, and the other contributed by the Governors of Queen Anne's Bounty.
"According to tradition there was formerly a Vicarage-house which stood at the Southwest angle of the Church-yard." The tradition is perfectly correct; for the charter of the Patriarch Anthony is still extant in the Treasury, granting to the Church of St. Cuthbert, of Derlington, and to Robert de Roveston, Vicar, and his successors, "that messuage in Derlington, near the gate of the Bishop's manor, which Adam de Stokesley and Cicely his wife sometime held, and one venell which sometime led to the well or fountain in Hundegate, by taking in of which venell the same messuage was enlarged, and is on one side bounded by it; to hold in frank and perpetual almoign." This fell into lay hands at the Dissolution (fn. 66).
The Church Plate consists of two large silver flaggons, two plates, and a chalice with a cover, given by Mrs. Hannah Eden and Mrs. Ann Allan: "Vasa sacra Deo et Ecclesiœ S. Cuthberti in Darlington humillime offerunt Hannah Eden et Anna Allan, Anno Domini 1772." On the plates, "Donum Parochianorum de Darlington, A. D. 1775, Hodgson Thornhill, Thomas Pickering, Gubernatores (fn. 67)." It appears that in 1709, a bookcase and books, to the amount of 21l. 2s. were given to this Church, a catalogue of which books is inserted in the Register, with the rules prescribed for the preservation of parochial libraries (fn. 68). The Church has six bells; four of these were cast new in 178 .., and cost 188l. 9s. 7½d.: the whole weight of the six bells is 58 cwt. 1 qr.
The following extracts are from the Parish Books:
1630. Item, for rushes at the coming of the Judges, xvid.. For ringeing at my Lo. Bpp's (Merton) first coming, iis. vid. To Mr. Goodwine, a distressed scholer, iis. vid. Rogue Money, xliiis. iiiid.
1631. Given to a poor Scholler, xiid. Given to Mrs. Kath. Russell, a Scotch gentlewoman, who had the King's Maties decretory passe, and was in great distresse, is. Given to Mary Rigby, of Hauret West (fn. 69), in Pembrokeshire, in Wailes, who had the Earle of Pembroke passe, . . . To an Irish Gentleman that had fouer children, and had Earl Marshall's passe, xiid. (fn. 70)
1632. To ringers at my Lo. Bpp's going out of the countrey, iis. viid. To Mr. Windfield, a preacher, who preached 3 sermons, iiis. iiiid. For ryngynge for the Kynge, iis. iiid. To a poore preacher, xiid.
1634. To George Longstaffe for valuing the organ, is. (fn. 71)
1635. To a souldier which came to the church on a Sunday, vid. (fn. 72) To three Irish people who were in want, vid.
1639. For Mr. Thompson, that preached the forenone and afternone for a quart of sack, xiiiid. To a poore Minister's wife that was robed, iis.
1648. To three companies of Irish, September the 24th, is.
1649. To a gentlewoman that came from Ireland with a passe, 6d.
1650. To three companyes of Irish travellers (fn. 73), 1s. For sixe quarts of sacke to the Ministere that preached when we had not a Ministere, 9s. For defaceing the Kinge's armes, 1s.
1651. Payd the ringers when Worcester defeate was, 5s.
1653. For a primer for a poore boy, 4d.
1654. To the lasse which went to Newcastle, 7s. 6d.
1660. To the ringers upon p'claminge ye Kinge, and for a sacke of cooles, 8s. 3d. To John Deniss for ye drawinge ye King's armes, 1s. 18s. 6d.
1666. For one quart of sacke bestowed on Mr. Jellett when he preached, 2s. 4d.
1667. For ale and cakes in Rogation weeke for the schollars, 1s. 6d.
1668. For taking down the great bell, 1l. 10s. For hanging her up, in all, and wages, 10s.
1669. For lousing us from good behavor (fn. 74), 14s. 4d.
1670. Collected upon a petic'on from one John Ridall, of Northumberland, 3s. 3½d.
1678. Given the Arch Bp. of Sames (Samos) in Greece, having a com'on from the King 5s. (fn. 75)
July 8. Paid the ringers at ye Duke of Monmouth his return (fn. 76), 5s.
1684, Feb. 16. To ringers when King James II. was proclaimed, 10s.
To the parson's order given to a man both deafe and dum, being sent from minister to minister to London, 6d. To Mr. Bell for a letter from London with the names of the Royal Family, 6d.
1685. Paid at the Visitation for the proclamation concerning the rebells, prayer-bookes and court-fees, 7s. 6d.
1688. To ye ringers on thanksgiving day for ye young Prinse, in money, ale, and coles, 7s. 4d. 14 Feb. For tarr-barell, coles, and ringing a peele, 2s. 6d.
1689. Ringing for King William's victory.....
1690. For coales, tar-barrells, and ringing on ye victory in Ireland, 6s. 4d.
1691. For a pint of brandy when Mr. George Bell preached here, 1s. 4d.
When the Dean of Durham preached here spent in a treat with him, 3s. 6d.
For a stranger that preacht, a dozen of ale, 1s.
Plea of Oyer and Terminer, 27 May 1509, Ao Pont. Thomæ (Ruthall) 9o. The Jurors on the second Presentation found that
John Watson, late of Warkworth, in the county of Northumberland, yeoman, did on the third day of March, in the first year of Thomas Lord Bishop, &c. at Derlyngton, in the county of Durham, about the hour of midnight, break and enter, vi et armis, into the church of Derlyngton, and into a certain house within ye said church, called the Tresor-howse, and did from thence feloniously steal, take, and carry away thirteen silver zones, parcel gilt, called our Lady Jewells, of the value of ten pounds; one stagg of goulde, with a precious stone, called a sapphire, set in it, of the value of ten marks; one golden eagle, of the value of xiiis. iiiid.; one silver tabernacle, parcel gilt, of the value of xiiis. iiiid.; one jewel, called an Agnus Dei, with a broche of silver-gilt, of the value of vis. viiid.; and one silver image, of the value of vis. viiid.; being the goods and chattels of the said church, and then in the custody of John Thomson and Wyllyam Stapelton, against the peace of the Lord Bishop, &c.—Hunter's MSS.
Die Sabbi, 20 April 1594. Offic' against Robert Atkinson, William Bower, Robert Nicholson, Francis Oswald, Miles Guy, John Fawcett, Michael Jefferson, William Huetson, Geffrey Holume, Peter Collon, Laurence Elgy, William Helcot, Laurence Warde, John Dobson, Anthony Elgey, Laurence Catherick, William Marshall, Robert Emerson, James Daile, John Atkinson, Richard Stockdale, Peter Glover, George Lassels, William Cornefourth, Richard Prescott, John Middleton, James Rokebie, Robert Branson, parishioners; Ric. Stockdale and James Daile, churchwardens; and all the other parishioners, declared contumacious for non-appearance; and the said churchwardens summoned to appear and shew what they had done touching the re-edifying of their clock in Darlington church, heretofore commanded to be done by the Rt. Honble Henry Earl of Huntingdon, Lord President of the North, and ye Lord Bishop of Durham; which day the same Richard Stockdaile appeared, and alledged that assessment was already made, according to a particular then by him shewed to the Judge, and desired ye Judge would ratify the same, &c.
Oxenhall, or Oxneyfield,
On the Skerne, two miles to the South of Darlington. Under Boldon Book, William holds Oxenhall, viz. one carucate and two portions (fn. 77) of tillage (culturas) within the territory of Derlyngton, which Osbert de Selby used to hold under fee-farm, in exchange for two carucates of the land of Ketton, which his father and himself used to hold in drengage, and which he quit-claimed for ever to the Bishop and his successors. He ought also to have a horse-mill (molendinum equorum), and is quit of multure (he and his land), and of service at the Bishop's mills, and pays 60s. per ann. Besides, he performs the fourth part of the service of one drenge, i. e. he ploughs and sows, the Bishop providing seed; and harrows four acres and tills four portions in autumn, viz. three with his whole family except the housewife, and the fourth with one man from every house on his holding, except his own proper house, which shall be free. He keeps the Bishop's dog and horse a fourth part of the year, carries wine with a wain of four oxen, and performs Vaware (fn. 78) when it shall be needful within the Bishopric.
The same tenure is recited in the Inquest on Nicholas de Oxenhale, who died seised of the manor in 1337, leaving Richard his son and heir (fn. 79). The local name occurs no more. John Lord Nevill and John Fairfax, Clerk, acquired the manor from John, son of Roger de Belgrave, before 1378 (fn. 80).
Under Hatfield's Survey Lord Nevill held the manor by the old service in drengage, and the estate continued in his descendants till the attainder of Charles Earl of Westmoreland in 1570. By letters patent, 2 July, 16 Eliz. 1574, the Queen granted to Thomas Brickwell and Andrew Palmer, all that messuage called Oxnetfield Grange, parcel of the possessions of Charles Earl of Westmoreland attainted, to hold of the Crown in chief, by the fortieth part of a knight's fee (fn. 81). In 1602 Andrew Palmer released to Thomas Brickwell, and in the same year Brickwell sold to William Bore (fn. 82). (See Pedigree of Bower). Before 1700 Oxneyfield was purchased by the Milbankes, and is still parcel of the entailed estate.
Pedigree of Bower, of Oxenfield.
Arms: Gules, a human leg, couped at the thigh, Or, vulned and tranfixed by a spear broken chevron-wise, the point downwards to the sinister, proper; on a canton Azure, surmounted by the dexter half of the spear, the arch of a bridge embattled of the third, thereon a castle triple towered of the second.
Crest: On a wreath, a human leg, couped at the thigh, proper, charged above the knee with a plate, and distilling there-from drops of blood.

* Inq. p. m. William Bore, 23 Sept. 1623, by Ind. 28 Nov. 11 Jac. He settled a third of his hamlet or grange of Oxnetfield on Francis Anderson and Roger Anderson, to uses; and by Ind. 22 Dec. 16 Jac. he settled another third on Sir Robert Jackson, Knt. and William Bore, junior.
*** 18 Aug. 1646, William Bower, of Darneton, yeoman, "to be buried in the churche, in my uncle's grave; son William 160l.; son Robert 100l.; daughter Elizabeth 140l.; son Cuthbert and daughter Elizabeth executors. Witness, William, Thomas, and John Corneforth." (Cuthbert Bore was living at Skipbridge, near Hurworth, in 1685).
Within the farm of Oxenfield are the well-known pools called Hell-kettles. These pools are four in number, three of them are near each other in the second field from the road, betwixt the second and third mile-stone; the fourth and smallest pool is in the field next the turnpike. The diameter of the three larger pools is about thirty-eight yards each, and their respective depths 19½ feet, 17 feet, and 14 feet; the diameter of the fourth and separate pool is 28 feet, and its depth only 5½ feet. All these pools are nearly round; the water stands to the brim, is quite cold, and impregnated with sulphur, curdling with milk, and refusing to mix with soap. Though near the level of the Tees, their waters are never affected by any flood or other variation of the river; and notwithstanding the story of Dr. Bellazes and his duck (fn. 83), there seems no reason to suspect any communication with the Tees. Various have been the conjectures as to the formation of these singular pools. Coal-works wrought out and drowned, lime-pits, alum or marle pits, have been all brought forward; but the circumference of these pools seems too large for old coal-works, besides that no coal is ever known to have been wrought in this neighbourhood; and if indeed these pits be the work of the human hand, the idea of old marlepits seems nearer the truth.
Though the pools are near the level of the river, they are never influenced thereby in great floods, which would otherwise shew a sudden rising, falling, agitation, or boiling up, if the water of the river was forced thither, up any level, or by virtue of siphonical operations and exhausted air in some subterraneous tube: the depth of the largest is only 19 feet and a half, the next 17 feet, the next 14, and the least 5 feet and a half. Most of our lime-works, marle-pits, and alum-pits are wrought much deeper than six yards; water standing in hollows, from whence marle has been gotten, will taste pungent on the tongue, curdle milk and soap: we know of no alum being wrought here, though it abounds in Cleveland, not many miles distant; but the use of marle was very early, and it is probable these were marle-pits; they resemble the workings in other counties, where marling is still practised. Marle was known to the Romans, and by them exported hence to foreign countries; we have statues mentioned by our antiquaries, dedicated to Nehallennia, or the new moon, particularly some inscribed by Negociator Cretarius Britannicianus, a dealer in marle, chalk, or fuller's earth, to the British territories: and these being called Nehallennia's Kettles, or of Nie-hel, in the old German tongue, from the trader's dedication, might be corrupted to or called Hell's Kettles (fn. 84). Hutch, vol. III. p. 191.
After all, perhaps the story in the old Chronicle, which attributes their formation to a rising of the earth, caused by subterraneous fire, has its fair claim (fn. 85). "On Christmas Day, 1179, a wonderful matter fell out at Oxenhale, viz. that in the land of Lord Hughe, Bishop of Duresme, the ground rose up to such a height, that it was equal to the tops of the highest hills, and higher than the spires and towers of the churches, and so remained at that height from nine of the morning till sun-set. But at the setting sun the earth fell in with such a horrid crash, that all who saw that strange mound and heard its fall, were so amazed, that for very fear many died, for the earth swallowed up that mound; and where it stood was a deep pool." Lord Lyttelton, however, remarks, that only one pit is mentioned, whereas the Hell-kettles are four (fn. 86). On the rolls of Bishop Skirlaw, 13 . ., certain lands are mentioned, called Hell, which afterwards belonged to the Eures of Witton: ["three acres, called Helle, in Darlington, by fealty and twelvepence (fn. 87)."]

— Then I do bid adieu
To Bernard's battelled towers, and seriously pursue
My course to Neptune's Court; but as forthright I runne,
The Skern, a dainty nymph, saluting Darlington,
Comes in to give me ayd, and being prowd and ranke,
Shee chanc'd to looke aside, and spieth neere her banke,
(That from their lothsome brimms do breath a sulpherous sweat)
Hell-kettles rightly cald, that with the very sight
This water-nymph, my Skerne, is put in such affright,
That with unusuall speed she on her course doth hast,
And rashly runnes herselfe into my widened waste.
Polyolbion, 29th Song. Tees loquitur.
The following plants are found at Hell-Kettles:
Hippuris Vulgaris, Mare's-tail. Chara Hispida. Utricularia Vulgaris, Common Hooded Milfoil. Schœnus Mariscus, Prickly Bog-rush. Potamogeton Pectinatum, Fennel-leaved Pondweed. Lemna Trisulca, Ivy-leaved Duck-weed; and Carex Stricta.
Blackwell,
On the Tees, one mile to the South of Darlington.
Boldon Book.—In Blackwell are forty-seven oxgangs, which the tenants in villenage hold, and they render rent and service in all points as the villans of Darlington. Five farmers hold four oxgangs, and pay rent and do service like those of Derlyngton. Thomas Fitz-Robert holds an oxgang and pays 40d. Four acres, which were once of John Rufus, pay 16d. Adam, son of Ralph de Stapilton (fn. 88), holds four oxgangs, and one parcel of tillage of sixteen acres and three roods, 5s. 4d. and he shall look to the performance of the Bishop's autumn tillage, and he serves on the Bishop's embassies; the same Adam pays for the herbage of Bathela 32d. Ten cottages pay 5s. and assist in making ricks of hay, and carry fruit, and work at the mill. Robert Bland pays for a little plot of land near the Tees, 6d. Hugh Pundere pays for one acre 12d. and there is one toft waste.
Hatfield's Survey.—John Middleton holds in right of his wife, one messuage and five oxgangs, which were once John of Blackwell's (fn. 89), and were granted by charter, to hold by knight's service and the sixteenth part multure, et cooperabit molas supra le Louthre, 23s. 8d. rent: the same John holds a parcel of tillage called Gromball, containing sixteen acres and three roods; and two parcels of tillage called Lynholme and Elstantoftes; and one tenement, called the Castle-hill, with the herbage of Bathley, containing four acres of meadow and pasture: also the same John holds one plot or parcel, which is built upon, and half an oxgang; a toft, with a croft of half a rood, 12d.; and the toft which was once William of Oxenhall's, with a croft of one acre, by charter, 2d. William Strygate, Chaplain, holds one acre at Ellestantoft by knight's service and 4d. Emma Morrell three acres at Spyklyt (fn. 90) by knight's service, 15d. Peter Thomesson, in right of his wife, half an acre and half a rood in Oxenhal-flat, 16d. Four other tenants hold certain lands by knight's service, and pay.......—Bond-lands. John Verty holds one oxgang [the rent and services exactly as those of the Bond-tenants of Darlington]. Nineteen others hold twenty-four messuages and thirty-nine oxgangs and a half on the same terms. The same tenants hold amongst them five oxgangs, which was once bond-land, and pay at the Feast of the Purification, as it is said, ten quarters of wheat, and five quarters of barley, and fifteen of oats. [For the services of the bond-lands nothing is said, quia postea in villa de Cokerton.]—Cottagers. John Pothow and Peter Thomesson hold one cottage, make hay-ricks, carry fruit, and work at the mill, and pay at the four terms 21d. Three other cottages owe the same services.—Exchequer-lands. Twenty-five tenants hold certain tofts and crofts, tenements and lands by the name of Exchequer-lands, free of all service (sine operibus), only paying divers annual rents. All the Exchequer-lands answer for the services of five cottages, till it be seen on which lands those services should be charged. The bond-tenants hold an acre called Punder-land, 2s. 6d. The same bond-tenants pay for the office of Punder 10s.; for wodlades at the Nativity of St. John 11s. 9d.; for toll of ale 3s.; and they hold a pasture called Rathel (Bathel?) 10s. 8d. The same tenants hold the tenement once Roger Stapelton's, 8d. From the whole vill is received for an increment of one toft, 18d.; for a pasture called the Langdraght, 16s.; for wodsilver at Martinmas, and for a hen at Christmas, 2s. The watermill is in the hands of the tenants of Derlington, with the rent.
The family of Middleton, who derived their title from the heiress of Blackwell (fn. 91), long held lands here (fn. 92). The Eures of Witton (fn. 93), and the Bowes (fn. 94) of Streatlam, also held some hereditary parcels; but the chief property, and which is latterly often termed the manor, belonged to the Earls of Westmoreland. John Nevil, Chivaler, died seised of a messuage and nine acres, held by fealty only, in 1388 (fn. 95). Ralph Earl of Westmorland died seised of the manor of Blackwell in 1425 (fn. 96). His descendant, Henry Earl of Westmoreland, sold lands in 1563 (fn. 97) to Edward Perkinson, of Beaumond-hill, who left Henry his son and heir in 1567 (fn. 98). In 1609 Bartholomew Garnett died seised of the lands sometime Perkinsons, held by knight's service and 24s. 10d. rent, leaving Robert his son and heir (fn. 99), who conveyed in 1620 to Thomas Wyse and Joseph Cradock.
By Inq. 23 Eliz. 1581, Gilbert Mayson died seised of one tenement, held by the hundredth part of a knight's fee and 2s. leaving John his son and heir. 37 Eliz. 1594, Thomas Maison purchased from Gilbert and John Maison.
By Inq. 6 June, 9 Car. John Bringhurst, Thomas Bringhurst, and Thomas White, formerly purchased from Isaac Bringhurst half of a chief messuage and six oxgangs in Blackwell, held of the Bishop by knight's service, value 10l. per ann.; and Elizabeth Stacey, William Nelson, and William Wiggins, purchased the other moiety of the same messuage and oxgangs from John Stacey.
In 1637 Robert Place, of Dinsdale, Esq. granted to Peter Bowerbank, third son of Peter Bower-bank, of Cockerton, one oxgang in Blackwell, and twelve acres, sometime of Christopher Place, Esq.
The Corneforths were ancient copyholders within Blackwell. 28 Aug. 37 Eliz. William Cornefurthe took lands which are stated to descend from a remote consanguinity with Wolfehill, viz. William Cornforthe, son of Robert, son of William, son of Richard Cornforthe, who was son and heir of Catherine, daughter and heir of Richard Wolfehill, viz. Topcliffclose. Rot. A. Tobie Mathew, 57 in dorso.
In 1685 the freeholders in Blackwell were, William Richardson, Gent. in London; Whayre Fawcett, Gent.; Thomas Garthorne (sold to Peter Hutchinson, who lives at Cornforth).
At a later date the family of Hill had an estate and a handsome mansion-house in Blackwell, which was sold by Thomas Hill, Esq. to George Allan, of Grange, Esq.; and he again conveyed the seat-house and a portion of the estate to John Allan, Esq.
The village occupies a fine swell of ground rising over the river, and commanding the deep meadows and green levels of the Tees, which form an amphitheatre of three or four miles, hemmed in by rising wooded grounds.
Castle Hill, which is named in the Survey, is a parcel of ground opposite to Mr. Allan's house; but there is no trace of foundations or entrenchments (fn. 100).
The property of the Allans in Blackwell was, at least in a great measure, derived from the Prescotts:

George Allan, Esq. (who married Thomasine Prescott,) built Blackwell-Grange. His last surviving daughter, Anne Allan, who died in 1787, devised the estate to her cousin, James Allan, of Darlington, grandfather of the present proprietor, George Allan, Esq. (fn. 101)
The Grange, a handsome spacious mansion of brick, stands about a mile to the South of Darlington, on rising ground betwixt the Tees and Skerne, commanding a rich and varied prospect over Darlington and the adjacent country. A fine avenue of aged branching limes forms the approach from the great road.
Of George Allan, and of the topographical stores which his indefatigable and fortunate industry accumulated at Grange, some account has been given in the Introduction (fn. 102). Here were deposited the collections of the laborious Randal (fn. 103), including many of the papers of Gyll and Hunter. To these Mr. Allan added a vast mass of charters, transcripts of Visitations (fn. 104), and legal and genealogical collections, on which Hutchinson's History of Durham was in a great measure founded. Mr. Allan had an early and decided taste for topography, and the strong bias of his mind was towards amassing materials for the illustration of the history of his native County; but his ardour as a collector was by no means confined to provincial antiquities. At the splendid price of 700l. he became the purchaser of Mr. Tunstall, of Wyclyffe's (fn. 105), collection of British Birds, which are still in a most respectable state of preservation. The birds, including some foreign specimens, were the basis of the collection (fn. 106); but the Museum also included a large miscellaneous collection of English (fn. 107) and Roman antiquities, querns, altars, crosiers, seals, coins, and Roman pottery, with a considerable arrangement of fossils, reptiles, insects, and Chinese and Indian curiosities. To many of these departments Mr. Allan made considerable additions. Paintings were not forgotten: these filled every pannel, gradually insinuated themselves along the passages, and cloathed the walls of the great staircase. Of the portraits some of the most remarkable are, Anna Boleyn, by Holbein; Sir Henry Wotton, by Sir P. Lely; Lady Castlemaine, by Lely; William Earl of Pembroke and his Lady, by Jansen; Margaret, sister to Henry VIII. when young, by Maubeuge; and a gallant portrait of Lord Fairfax, the Parliament-General, by Lely; a Lion Hunt, by old Wyke; a Landscape, by Teniers; and the Head of a Corpse, horribly expressive, by Caracci. The collection included several admirable crayon-drawings by Francis Place—Philip Wolrych, Esq. a fine head of Charles II. and William Penn and his wife (fn. 108).
The Library at Grange was rich in English Topography, and included several illustrated copies (fn. 109). The Law Library was also extensive. The productions of the private press at Grange have been always highly valued by collectors. The following catalogue is not perhaps exactly correct (fn. 110) :
The earliest in point of time, though undated, is, "The Charter granted by Queen Elizabeth, for founding the Free-Grammar School at Darlington, 1567;" which is accompanied by the appointments of four successive Upper Masters—Cuthbert Allan, B. A. 1747—Thomas Cooke, B. A. 1748—Robert Metkirke, M. A. late of Icklefield, Herts, 1750—Thomas Morland, Clerk, 1755—and of John Dixon, Under-master, 1758. Annexed to it also are, "Statutes, Ordinances, and Decrees, Feb. 3, 1748;" confirmed by Bishop Chandler in June 1749. The School Seal, a figure of Queen Elizabeth, is given in an engraved vignette.
"Inspeximus of the Surrender made by Hugh Whitehead, Prior of the Cathedral Church or Monastery of St. Cuthbert at Durham, to King Henry the Eighth, December 31, 1540."
"The Foundation Charter of the Cathedral Church of Durham by King Henry the Eighth, 12th May 1541. The Endowment of the same, 16th May 1541. And other Papers relating to the Dean and Chapter of Durham."
"Rules and Orders to be observed in Actions and Proceedings in the Court of the County of Durham."
"Collections relating to St. Edmund's Hospital at Gatesheved, in the County of Durham; shewing the Foundation thereof by Nicholas Farnham, Bishop of Durham, about the year 1247; and afterwards dissolved by a General Act of Parliament, 26th Henry 8th, 1535; but again refounded by King James 1st, 4th January 1610, by the name of `King James's Hospital in Gateside;' together with several Charters, Grants, &c. concerning the said Town and Church of Gateside, so far as can be collected from Registers, Close Rolls, authentic Records, Wills, and other Instruments in MSS. and Print.—`Gather up the Fragments that remain.' 6 John, v. 12.—Printed in the year MDCCLXIX."
"Collections relating to Sherburn Hospital, in the County Palatine of Durham; shewing the Foundation therof by Hugh Pudsey, Bishop of Durham, about the year 1181; and what alterations it has since undergone, by an Act of Parliament incorporating the same 27 Queen Elizabeth, 1585; and several Charters, Grants, Benefactions, Visitations, Inquisitions, Rules, Ordinances, and Masters thereof, so far as can be collected from Registers, Close Rolls, authentic Records, Wills, and other Instruments in MS and Print. Printed in the year 1771." [With a View of Sherburn Hospital; R. Hutchinson del. Bailey sc. 1771, and a Vignette of the Seal of the Hospital.]
"Collections relative to the Hospital of Gretham, in the County of Durham; shewing the Foundation thereof by Robert Stitchehill, Bishop of Durham, about the year 1272; and afterwards re-founded and incorporated by Letters Patent of King James I. 20th July 1610, by the Name of `Master and Brothers of the Hospital of God in Gretham, in the County Palatine of Durham. Together with several Charters, Grants, Visitations, Inquisitions, Rules and Ordinances, concerning the said Hospital and Church of Gretham, &c."
"The Recommendatory Letter of Oliver Cromwell to William Lenthall, Esq. Speaker of the House of Commons, for erecting a College and University at Durham; and his Letters Patent (when Lord Protector) for founding the same (fn. 111). With the Address of the Provost and Fellows of the said College to his son Richard (when Lord Protector) on the Death of his Father."
"A Letter from William Frankeleyn, Rector of Houghton-le-Spring, to Cardinal Wolsey, Bishop of Durham, about certain Coal-mines at Whickham, and other Rights and Privileges of the Bishopric, and the Cardinal's Mint there for Coinage of Money."
"An Address (fn. 112) and Queries to the Public, relative to the compiling a complete Civil and Ecclesiastical History of the antient and present State of the County Palatine of Durham, 1774." 4to.
"Antiquarian Tracts;" selected from the "Archæologia, &c."
"A Sketch of the Life and Character of the Right Honourable and Reverend Richard Trevor, Lord Bishop of Durham; with a particular Account of his last Illness. Darlington, 1776." 4to. [and his Portrait by R. Hutchinson, engraved by J. Collyer.]
"The Legend of St. Cuthbert; or the Histories of his Churches at Lindisfarne, Cunecascestre, and Dunholm. By Robert Hegg, 1626. Darlington, printed by George Smith, 1777," with a Vignette View of Lindisfarne, 4to. (fn. 113)
Mr. Allan executed several publications for Mr. Pennant from the Grange Press: these are also of great rarity. One of them is a thin volume of "Miscellanies," without title-page, but consisting of "Ode occasioned by a Lady professing an Attachment to Indifference; Chester, March 1769." "On a Lady chosen on the same day Patroness of a Book-Society and a Hunting-Meeting; Chester, Sept. 20, 1771;" "Two Letters, copied from the Chester Courant, 1781;" "American Annals, 1775–1778; or, Hints and Queries for Parliament Men;" "Flintshire Petition, 1780;" "An Account of several Earthquakes felt in Wales, 1780, by Thomas Pennant, Esq. F. R. S.; read Jan. 25, 1781, before the Royal Society." Another is entitled, "Of the Patagonians; formed from the Relation of Father Falkener, a Jesuit, who had resided among them thirty-eight years; and from the different Voyagers who had met with this tall Race. Printed, by the friendship of George Allan, Esq. at his private press at Darlington, 1788," 4to.
A much more detailed memoir of Mr. Allan, and of his antiquarian pursuits and private habits, may be found in Nichols's (fn. 114) Literary Anecdotes, vol. IX. pp. 351–368, communicated by his son George Allan, Esq. (fn. 115) I will only add, that in 1763 Mr. Allan had serious thoughts of publishing an elaborate Copper-plate Peerage, and actually circulated his proposals; but after engraving at least four large plates, he declined prosecuting the undertaking, partly deterred by the hazard and expence, and partly declining competition with two similar works published about the same time by Jacob and by Edmondson. In 1764 Mr. Allan had an offer of the place of Richmond Herald, a situation which, though in earlier life it might have been very acceptable, was then refused as incompatible with Mr. Allan's established professional connexions and future prospects in his native county. In 1790 Mr. Allan retired entirely from the pursuit of the law (on his father's death), and chiefly devoted the leisure of his remaining years to the amusing labours of his private press, and to the forwarding of his favourite scheme of a County History of Durham. Mr. Allan died (after a second paralytic attack) May 18, 1800. There is an excellent likeness of Mr. Allan, seated in council with his colleague Hutchinson, prefixed to the 9th volume of Literary Anecdotes.
Mr. James Allan, brother to the subject of the above short memoir, was also a considerable collector of legal papers and other local materials respecting Darlington and its neighbourhood. These MSS. are now in the possession of John Allan, of Blackwell, Esq. (fn. 116)
Pedigree of Allan, of Darlington and Blackwell Grange.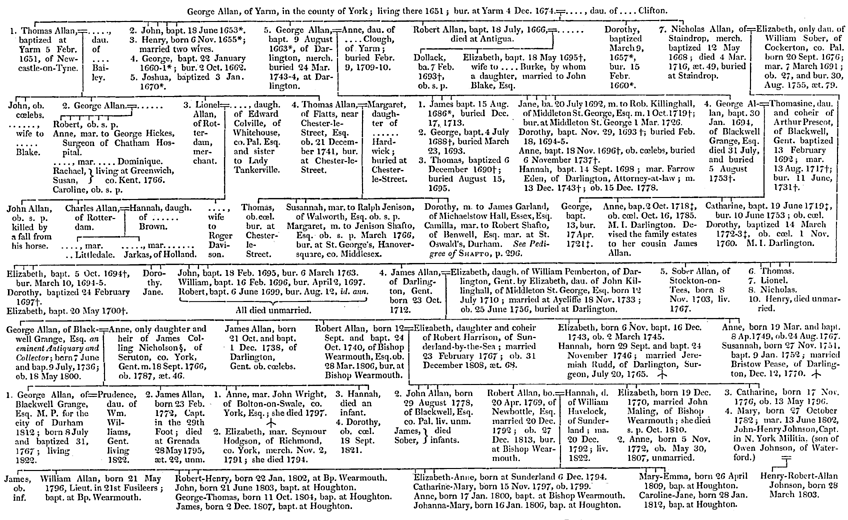 * Yarm Par. Reg.
† Darlington Par. Reg.
‡ Stockton Par. Reg.
§ Mr. Colling took the additional name of Nicholson by direction of his uncle the Rev. Thomas Nicholson, Rector of Stainton-le-Street, co. Durham.
Cockerton,
A scattered village one mile to the North-west of Darlington, on a small stream which falls into the Skerne, a little to the South of Darlington (fn. 117).
Boldon Book.—In Cockerton the tenants in villenage hold forty-seven oxgangs, and pay rent and do service in all points as the villans of Derlington. Five farmers hold three oxgangs and a half, and perform the same services as the farmers of Derlington. Six cottagers pay 3s. 10d. and work in all points as those of Blakwell.
Under Hatfield's Survey several free-tenants are mentioned. John of Morton a messuage and four oxgangs, by knight's service and 20s.; and one parcel, once of Margaret Ralph, 12d. Geoffrey Kellaw a messuage and oxgang, and renders one hen at the Nativity and one farthing at Michaelmas. John Dowe holds one tenement, which he acquired from John de Morton, 12d.—Cottagers. John Dow a cottage and garden, containing half an acre of meadow-land; he pays 3s. 4d. per ann. and shall drive cattle (fugabit animalia) to the Bishop's manor-house, when required; and he cleans the houses within the manor-place of Derlyngton against the coming of the Bishop or his officers. Three others hold cottages on the same terms. All the tenants of the cottages make hay-ricks, carry fruit, and work at the mill.—Bond-lands. John Cornforth holds two messuages and oxgangs [the rents and services exactly as Ralph de Esseby and the bond-tenants of Derlyngton]. Eighteen others hold thirty-seven oxgangs and twenty-nine messuages on the same terms. The bond-tenants pay for wodlades at the Feast of St. John, 11s. 10d.; for the office of Punder 10s.; for toll of ale 2s.; and they answer for the rent of one plot near the gate (juxta portam) which was once Stephen the Punder's, 16d.; and for an increment of a toft and croft, once of Robert Fitz-Ralph, 2s. For the bond-services of Bondgate, Blakwell, and Cokerton, viz. for five score and thirteen oxgangs, for each 15d. and more for the whole 2s. 4d. at Michaelmas.—Bond-lands on Penyferme. Eleven tenants hold eight oxgangs, paying 18s. 9d. for every such oxgang, at the four terms.—Exchequer-lands. Thirteen tenants hold nine tenements and other parcels under certain annual rents. All the tenants of the Exchequer-lands, except those who are charged with services as above, perform amongst them the services due from two cottages, untill it be shown from whom those individual services are due.
In 1338 Thomas, son of Jolanus de Morton held a messuage and four oxgangs (by the courtesy of England) by homage and 19s. 10d. rent (fn. 118). Thomas his son and heir died in 1368, leaving John his son and heir (fn. 119). In 1362 Margaret, wife of Robert de Orleyenes, died seised of a messuage and fifteen acres, held by the service of paying one penny farthing towards the reparation of the mill and the mill-cogs of Darlington-mill, and one hen called a wode-hen at the Nativity, leaving William her son and heir (fn. 120). The Nevils held a messuage and four oxgangs for several descents (fn. 121). In 17 Langley Sir Ralph Eure held a messuage and parcel of ground by fealty and 12d. 10 Ruthall, William Bettye held a messuage and oxgang by the service of one wode-hen; Anne, Jane, Elizabeth, and Catherine, his daughters and coheirs. At a later date the Perkinsons of Whessoe (fn. 122) and Beamond Hill, held free lands in Cockerton, which passed by sale to the Shepherds (fn. 123).
19 Feb. 42 Eliz. William Helcoat held one oxgang, late Edward Perkinson's, by knight's service, leaving Michael his son and heir, who alienated to Marshall (fn. 124), Smith (fn. 125), and Lewlin (fn. 126).
John Marshall died in 1634, seised of twenty acres of meadow, as much of pasture, and as much of arable, leaving Robert his son and heir, æt. 38.
9 Jan. 14 Jac. 1616, Thomas Radcliffe, Gent. died seised of three oxgangs in Cockerton. 4 Dec. 35 Eliz. Thomas his son and heir died under age, leaving an only sister, Anne, who married Leonard Dykes, of Warthol Hall, in Cumberland, Esq. and had livery 10 Oct. 1618. Dykes and his wife sold to Robert Perkinson 3 Aug. 10 Jac. (fn. 127)
In 1685 the freeholders in Cockerton were, Arthur Shipheard; Lancelot Shippard, of Whessoe, Gent.; and John Robinson, of Cockerton (fn. 128).
Field-House, or Cockerton Field-house, to the South of the village and of the beck, was the estate of the Hodgsons in 1650 (fn. 129). It lately belonged to John Wetherell, Esq. and is now the property of Richard William Johnson, Esq. solicitor in Darlington.
Archdeacon-Newton,
A separate Constablery, on the North-western verge of the Parish, and bounded by Walworth, in the parish of Heighington, on the North-west; Greystones, in the Parish of Haughton, on the North-east; and by the Parish of Conscliff on the South-west.
The township is chiefly held by lease under the Archdeacon of Durham. Lord Redesdale (by descent from the family of Freeman (fn. 130), of Batsford, in Gloucestershire,) is the lessee of the principal portion of the estate (fn. 131).
Tithes.—Cockerton, Blackwell, and Newton.—11 May 1615, by Ind. enrolled in Chancery, Francis Morice, of London, Esq. and Robert Smith, of the same, Gent. conveyed to Robert Crompton, of Skerne, co. York, Esq. and Elizabeth Courte, of St. Botolph, Aldgate, widow, all those tithes of grain and hay of the township of Newton, late received by William Carter, late Prebendary of the Prebend of Newton, of the yearly annual value of 4l. 12s. 17 June 1618, Elizabeth Courte, widow, executrix of William Courte, conveys to Sir Richard Darley, of Buttercrambe, co. York, Knt. and Robert Crompton, of Skerne, co. York, Esq. all that her moiety of the tithes of the Prebend of Newton; and also her moiety of the portion of Robert Bushell, late Prebendary of the Prebend of Cockerton; and her moiety of the portion of John Hewes, late Prebendary of the Prebend of Blackwell (each being of the annual value of 4l. 12s.); and her moiety of the portion of Simon Binks, late Prebendary of the Prebend of Prebend Row, value 33s. 4d. per ann. as amply as the same tithes of Newton were granted to Morice and Smith, under the seal of the Duchy Court of Lancaster, 18 April, 13 Jac. and as Morice and Smith granted to Crompton and Courte, &c. and as amply as the King, 10 Oct. 5 Jac. granted all the other premises in Cockerton, Blackwell, and Prebend Rowe, to George Ward and Robert Morgan, of London, Gents, and as Ward and Morgan, 10 Dec. 5 Jac. granted to William Courte, (except two oxgangs in Darlington, late belonging to the Prebend of Blackwell, of 8s. rent, which were heretofore granted to Gillie, Meyrick, and Henry Linley; and except two oxgangs in Darlington belonging to the Prebend of Cockerton, of 8s. rent, also granted to the said Meyrick and Linley); to hold in common socage, under 4l. 12s. reserved rent for the Prebend of Blackwell, 4l. 12s. for the Prebend of Cockerton, and 33s. 4d. for Prebend Rowe. 4 July, 9 Car. 1633, Sir Richard Darley and Robert Crompton grant to Robert Ward, of Over Dinsdale, co. York, yeom. the entirety of the tithes conveyed to them by Elizabeth Courte [except the two oxgangs in Cockerton, the two oxgangs in Blackwell, and except certain burgages, parcel of the Prebend of Prebend Rowe, heretofore granted to Simon Gifford and others]. Same date, Richard Forster, of Stokesley, Esq. grants all the same premises to Robert Ward. William Ward, of Cockerton, Esq. the descendant and representative of Robert Ward, and Mary Wharton, of Gillingwood, spinster, a mortgagee, in 1744, conveyed the tithes of Cockerton to George Allan, of Blackwell Grange, Esq. on trust for Carleton Carr, of Houghton, Esq.; Robert Sober, Gent.; John Hardcastle, Gent.; Cordelia and Anne Place, spinsters; Edward Goddard, of Durham, Gent.; Anne Milner, of Heighington, widow; John Headlam, of Stockton; Andrew Richardson, Thomas Baxter, William Shepherd, Thomas Worthy, Joseph Downes, Mathew Owram, of York; William Waistell, of Great Burden, Gent.; Michael Hodgson, of Field-house, Gent.; and Francis Lowson, Gent.; who purchased on behalf of themselves and the other proprietors of lands within the township of Cockerton (fn. 132).
Mr. Ward also sold the tithes of Newton to the family of Wheler, a moiety of these tithes was very lately conveyed to Lord Redesdale, by William Taylor, Esq. (fn. 132)
Charitable Benefactions to the Parish of Darlington (fn. 133).
John Pape, of Darlington, by his will, dated 9 June 1599, gave four horse-cart loads of coals, to be distributed amongst the Poor People of Darlington; and also 3s. 4d. to be distributed in bread, yearly, at Easter, amongst the Poor of Darlington: and the Testator charged those charities on houses in the Head-row, in Darlington, which now belong to Mr. Jacob Brantingham.
Francis Forster, of Darlington, Gent. by Indenture, dated 9 March 1631, conveyed to Trustees, two houses in Northgate, Darlington, to be appropriated as Almshouses, for six poor Men or Women, born in Darlington, or who have been resident there three years: and he also conveyed to Trustees, by Indenture dated 20 Nov. 1641, a field, called Carleton-close, situate in the township of Darlington, and adjoining the North side of Yarm-lane; the rents of which are to be paid to the most poor, aged, and impotent persons in Darlington, who have been resident there three years. This field contains about two acres and one-third, and is let to Mr. Perkin Hind, at the yearly rent of 9l.
James Bellassis, of Owton, Esq. by his will, dated 10 Nov. 1636, gave a piece of ground in Blackwell-gate, 20l. in money, and materials for the erection of several buildings, in which the Testator directed a Linen and Woollen Manufactory should be carried on, under the superintendence of the Head-men of the Borough of Darlington, for the benefit of the towns of Blackwell, Darlington, and the country adjoining: and the Testator also gave a copyhold farm, called Poor-Howdens, in the township of Darlington, to the Burgesses and Head-men of that Borough; for the establishment of a Linen and Woollen Manufactory, to be carried on in the houses directed to be built.—Particulars of Endowment of J. Bellasis, Esq.: buildings for carrying on the linen and woollen trade in Blackwellgate; East Field (fn. 134), 7 acres and 20 perches; Middle Field (fn. 134), 5 acres 3 roods and 3 perches; West Field (fn. 134), 4 acres, 1 rood, and 3 perches; West Field Bottoms (fn. 134), 2 acres 2 roods and 24 acres.—Total 19 acres 3 roods and 9 perches.
William Middleton, of Blackwell, in 1659, conveyed to the Churchwardens and Overseers of Darlington, a copyhold field, called Poor-moor, containing six acres, situate in the township of Blackwell; the yearly rents of which are appropriated to the placing out poor Boys as apprentices. It is now let to Mr. R. Scott, at the yearly rent of 18l.
Thomas Barker, by will, dated 22 May 1686, gave to the Churchwardens of Darlington 20s. per ann. charged on an estate at East-Newbiggin, in the county of Durham, now belonging to the Marchioness of Londonderry, to be paid amongst poor people.
George Buck, Gent. by his will, dated 18 July 1704, gave to Trustees 100l. to be invested in the purchase of land; the rents of which he directed to be distributed amongst the most indigent Poor of the parish of Darlington, and of the township of Sadberge, in the county of Durham, in the following proportions, viz. three-fourths to the Poor of the parish of Darlington, and the residue to the Poor of the township of Sadberge. This sum was invested in the purchase of a copyhold field, called Buck's Close, adjoining the South-east end of Northgate-bridge, Darlington.—Land belonging to G. Buck's Donation: one field, containing 1 acre 1 rood and 39 perches, tenants J. Backhouse and Co. 9l.; one field, containing 1 acre 1 rood and 30 perches, tenants J. and W. I'anson, 10l. 10s.; one field, containing 3 roods and 4 perches, tenant William Grey, 4l.—Total, 3 acres, two roods and 24 perches, 23l. 10s.
Arthur Prescott, of Blackwell, Gent. by his will, dated 2 Feb. 1705, gave the sum of 40l. to Trustees, and directed the same to be placed out at interest, one half of which to be yearly distributed amongst the Poor Widows of Darlington; and the other moiety of the interest to be distributed yearly amongst the Poor of the township of Blackwell. 20l. of this money was in Mowbray and Co's bank.
Matthew Lamb, Gent. by Ind. dated 1 May 1714, granted to George Allan, of Darlington, merchant, and the Churchwardens of Darlington, and their successors, an annual rent of 12s. charged on houses in Blackwellgate, now belonging to Samuel Greaves, to be paid to twelve Poor Widows yearly on Good Friday.
Catherine Catherick, of Darlington, by her will, dated 20 May 1720, charged her two copyhold houses and orchard in Bondgate, Darlington, now belonging to Francis Kipling, with the yearly payment of 2l. 12s. to the Minister and Churchwardens of Darlington, for ever; to be by them laid out in the purchase of bread, and distributed amongst such Poor People in Darlington as they should think proper, at the rate of twelve-penny worth every Sabbath-day.
Dame Mary Calverly, widow of Sir John Calverly, of Eryholme, by Ind. dated 19th April 1715, assigned to Trustees a bond for 1,000l. which sum she directed to be invested in the purchase of lands, the rents of which were to be applied in the maintenance of a Charity, to be called the Blue Coat Charity School (which has since been established in Darlington). There is now remaining of this sum 1,392l. 9s. 3 per Cent. Consolidated Annuities, producing 41s. 15s. 4d. per annum.
In 1820 Mrs. Mary Pease, widow of the late Mr Joseph Pease, of Darlington, woollen-manufacturer, erected four Alms-houses in the Post-house Weind, in Darlington, for the residence of four Poor Widows, of the age of fifty years at the least, and of good moral character and reputation, to be nominated from time to time by the Society of Friends, assembled at one of their monthly meetings, to be holden either at Darlington, Stockton, Staindrop, or Yarm. Trustees of these Alms-houses are to be appointed as vacancies occur, by the Society of Friends.
There are certain rents arising from divers houses in Head-row, Houndgate, Blackwellgate, Bondgate, Northgate, &c. called St. Paul's Rents, amounting to 3l. 10s. 3d. per annum; which sum is distributed amongst the Poor.
The Grammar-School.—By charter, dated 15 June 1567, Queen Elizabeth, on the petition of Henry Earl of Westmoreland and James (Pilkington) Bishop of Durham, so moving her on behalf of the inhabitants of Darlington, founded a Grammar-School, to be called "The Free Grammar-School of Queen Elizabeth," in Darlington, with one Master and one Sub-master; and endowed the same with divers lands in Heighington and Darlington, and in Thornaby, in the county of York, being all parcel of Robert Marshall's Charity, lately dissolved. The charter constituted the four Churchwardens of Darlington for the time being Governors, with power to elect and remove the Master and Undermaster, and to let and manage the possessions of the School, and to make statutes and orders for the government of the School, with consent of the Earl of Westmoreland and the Bishop of Durham for the time being. When any of the Governors shall die, the twenty-four of the Parish shall elect his successor. The School-house stands near the Skerne.—Rental: lands in Heighington, 74 acres 1 rood and 11 perches, 143l.; lands in Thornaby, 25 acres 3 roods, and 17 perches, 20l.; houses in Tubwell-row, Skinnergate, and out-rents from houses in Head-row (fn. 135), 44l. 18s. 6d.—Total 207l. 18s. 6d.
In 1769 the rental was, Heighington, 55l.; Thornaby, 9l.; Tubwell-row, &c. 28l. 8s.—92l. 8s.