Pages 378-384
The History and Antiquities of the County Palatine of Durham: Volume 3, Stockton and Darlington Wards. Originally published by Nichols and Son, London, 1823.
This free content was digitised by double rekeying. All rights reserved.
PARISH OF CONSCLIFFE.
THE Parish of Conscliffe is bounded by Heighington on the North, by Darlington on the East, by the Tees on the South, and by Gainford on the West.
The Parish includes two Constableries: 1. High or Upper Conscliffe; 2 Low Conscliffe.
The manor of Conscliffe was from high antiquity (fn. 1) the inheritance of the old Lords of Greystoke, who exercised here their own peculiar jurisdiction. In 1292 Lord John of Graystoke had "within Cunoisclyve Gallows and Ingfangenethef, and chattels of felons condemned in the court of the same franchise, and free warren in all his lands there (fn. 2). The manor was held of the See of Durham by the service of one knight's fee, and 13s. 4d. exchequer rent (fn. 3)." A subsequent Inquest states the tenure at half a knight's fee: "the manor extended over Nether Conscliff and Over Conscliff. In Nether Conscliff was the scite of the manor-house and twelve messuages, value 20s.; thirty oxgangs of arable land, each oxgang of sixteen acres, 6s. 8d. per oxgang; twenty acres of meadow, 40s. The Hall-garth, six acres, 20s.; six cottages, 20s.; two hundred acres of moor, 40s.; 20s. rent issuing from a house, and a hundred acres belonging to John Veyse, and 13s. 4d. out of the messuage and lands of Thomas Mayson. In Over Conscliffe there were twelve messuages, value 40s.; ten cottages, 20s.; thirty oxgangs, 10s.; twenty acres of meadow, 2s. per acre; ten acres of wood, 20s.; a water-corn-mill, 40s.; forty acres of moor, 20s.; and 6s. 8d. rent out of the messuage and lands of Lyde Shephird (fn. 4)." The heiress of Greystoke, Elizabeth, daughter of Robert, and grandchild of Ralph Lord Graystoke, carried the large possessions of her line into the house of Dacre (fn. 5). The three sisters and coheirs of George Lord Dacre (great grandson of Thomas Lord Dacre, who married Elizabeth Greystoke,) were in the wardship of Thomas Duke of Norfolk, who married them to his three sons. The manor of Conscliffe was allotted to Elizabeth, who was the wife of Lord William Howard (fn. 6); and the estate is still held by their lineal descendant Henry Howard, of Corby, Esq. The manor-house, as appears from the Inquest of 1436, stood in Low Conscliff, now a small village near the Tees.
High Conscliff, or Church Conscliff, a mile and a half higher up the water, stands on the brink of a long stretch of limestone rocks, which have been wrought and quarried to the very walls of the houses. The Church, with its cemetery, is almost insulated by these deep workings, and its tower and spire are seen from a distance rising over perpendicular cliffs, which glitter in the sun like the white walls of some giant fortress.
The Earls of Westmoreland held a messuage and twenty acres in Nether Conscliffe, under the Greystokes (fn. 7).
The Church
Consists of a chancel, nave, North aile, and West tower. The chancel is separated from the nave by a lofty pointed arch, rising from pilasters whose capitals are ornamented with foliage. The North aile is formed by four low round pillars, with heavy capitals supporting pointed arches. The West tower is embattled, and surmounted by a stone spire. The East window consists of three lights, under a square moulding; the chancel has three other narrow lights to the South, and one to the North; the nave has four irregular lights on the South, and three on the North.
Monumental Inscriptions.
On a mural monument of marble against the North wall of the chancel:

To the memory
of his very kind father
Sir Francis Bowes,
of Thornton, Knight, who died April ye xxiij, MDCLXXXVII. aged LXVI years. And of his loving mother, Margaret, (second daughter and coheir of Robert Delaval, of Cowpan, in Northumberland, Esq.) who died in labour August the vth, MDCLII. aged 33 years. They had issue Francis, Robert, and Mary. His first wife Eleanor, daughter of Ralph Maddison, Esq. by whom he had Henry, who died young, June 14th, MDCXXXVI. and lies buried at the entrance of this quire. His second wife, Catharine, daughter of Sir George Tonge, Knight: And of his most dear wife, Lucy, eldest daughter of Sir George Fletcher, of Hutton, in Cumberland, Bart, who lived with him VIII years, XXIII days, and had issue Lucy (who lived IV months), Margaret, Alice, Francis (who lived IV years, and died August 17th, MDCLXXXIV), Catharine (who lived VIII days), Mary, her twin-sister, and Lucy, whose birth she survived only 19 days. She died Oct. 11th, MDCLXXXIII. aged 27 years, much lamented by all,

by none more than
Francis Bowes,
the mournful survivor of so many relations
buried here,
who caused this monument to be erected
Ao D'ni MDCLXXXIV.
On a stone in the quire:
Here lyeth the bodys of Francis Bowes, Knight, and Margaret his wife.
Arms: Bowes, impaling Delaval.
Within the altar-rails:
Here lyeth interred the body of Francis Salkeld, Gent. who departed this life the 22d day of September, Anno 1638.
Arms: .... fretty .... a chief ....
Christopher Vasie, senr, buried the 16th of May 1678.
Here lyeth the body of John Vesey, Gent. who departed this life the 17th day of Feby, Anno Dni 1723-4, and in the 58th year of his age. Also, the body of Elizabeth, youngest daughter of the aforesaid Mr. John Vesey, who departed this life the 17th day of June, Ano Dni 1724, aged one year and six months. Also, the body of Mary, the elder daughter of the aforesaid Mr. John Vesey, who departed this life the 19th day of April, Anno Domini 1738, aged 17 years and seven months.
Arms: Argent, a plain cross Sable, in the first quarter a martlet.
On an altar-tomb in the church-yard:

H. S. E.
Radulphus Robinson, A. M.
quondam hujus Ecclesiæ per annos ferme xxxviii Vicarius, vir
summa pietate et eruditione insignis, pauperumq. munificentissimus
Alumnus, annum ætatis suæ agens LXXVImum mundo valedicens, in
Christo Jesu sancte obdormivit 23 die Novembris Ao Dni MDCXCIV.

Item
Petrus Robinson,
de inferiore Conscliffe, dicti Radulphi patrui dignissimi nepos
non indignus, obiit 13o die Julij, Ao ætatis suæ LXXVIo, salutis vero
humanæ MDCCXXXIIo.
A brass plate removed from the Church (now in the Cathedral Library at Durham) commemorates one of the old bailiffs of Conscliffe, under the Lords Greystoke:
Drate p'a'i'a Will'm' Brewys, quond'm valiv' de Conscliff, q'i oviit decimo die Dove'br, A$$ D'ni D$$, U$$. IJI. L'm D'nicalis b.
The Church of Conscliffe was originally Rectorial. Pope Alexander IV. 1254–1261, under whatever title, gave the impropriation to the Monastery of St. Alban's. Robert, Bishop of Durham, disputed this disposition, and by consent of both parties, Master Roger Seton, Canon of York (elected arbiter), decreed, that the Parsonage of the said Church of Over Consclive should consist of the manse, houses and buildings, and of the tithes of grain and hay of the whole parish, excepting the tithes of grain and hay of Thornton, and except all the small tithes of the whole parish; and this Parsonage or Rectory was to remaint henceforth to the said Monastery of St. Alban's; and the resident Vicar for the time being was to perform all the ordinary duties, and answer to the Diocesan in all spiritual matters. The decision was not satisfactory, for it seems that further dispute sarose betwixt the Abbot of St. Alban's and the Barons of Graystoke, and moreover between the said Abbot and the Bishop of Durham, till Bishop Richard Kellaw being minded to put an end to the dispute, by his charter, dated at Middleham, 30 Aug. 1315, ratified the former arbitrament, and left the impropriate Rectory to St. Alban's, reserving only to himself and successors the right of collation to the Vicarage of Conscliffe (fn. 8).
Succession of vicars.
Conscliffe Vicarage in the Deanery of Darlington.—The Bishop of Durham Patron.—King's Books, 7l. 18s. 1 1/2d.; Tenths, 15s. 9 3/4d.; Epis. Proc. 7s.; Synodals, 2s.; Archid. 2s.—Dedication to St. Edwin.
Peter Morland.
Adam de Harwold, 1351, p. res. Morland.
William de Middleton, 1360, p. res. Harwold.
John de Horneby, 1362, p. res. Middleton.
William de Gillyng, 1371, p. res. Horneby.
Bernard Warde.
Richard Gardner, 1419, p. res. Warde.
William Fowkes, 1437.
Thomas Bell, 1501.
William Walker.
Henry Plomber, 1541, p. m. Walker.
Thomas Wheaton, 1570, p. m. Plomber.
William Calam (fn. 9), occurs 1596.
William Richardson, A. M. 1618, p. m. Calam.
Ralph Robinson, A. M. (fn. 11) 1662.
William Mascall (fn. 12), 1695, p. m. Robinson.
George Thompson, A. M. 1703, p. m. Mascall.
John Stackhouse, 1712, p. m. Thompson.
Henry Porter, A. M. 1718, p. m. Stackhouse.
William Chaloner, 1722, p. m. Porter.
John Warcop, A. M. 1751, p. m. Chaloner.
Henry Richardson, 1782, p. res. Warcop.
James Topham, 1820, p. m. Richardson.
The Parochial Register begins in 1591.
There was left and made fast in a window of Cuthbert Smith's, of Nether Coniscliffe, on Munday in the morning, being the last day of Jany 1602, a man-childe, new-borne, with a Ire and xs. in a kerchiefe, fastened about the childe, neither father nor mother, nor the bringer of it thither, knowne. The said childe was christened on Candlemas day following, being the second of February, in Coniscliffe church by Mr. Wm. Calam, Vicar there, who was one of the godfathers, and Xtofer Richardson, the younger, the other, wth Cuthbert Smith's maide, the godmother, and he was named Tychicus. [This individual, who seems never to have acquired a second name, died at Durham in 1671. "Tichicus buried 21 December 1671." St. Oswald's Register.]
Mr. Thomas Howard, Colonell, buried 2 December 1642. [Colonel Howard, of Tursdale, youngest son of Lord William Howard, slain at the skirmish at Piersbridge, Dec. 2, where Captain Hotham disputed the Marquis of Newcastle's passage over the Tees (fn. 13).]
Margaret, the wife of Peter Robinson, of Nether Consliff, buried the 20th of August 1676, whose eyes being blinde, God Almighty opened a yeare before her death. Glory be to God in the highest.
Mr. Robert Blakiston, Mrs. Margaret Marshall, married 5 May 1631.
Anthony Daker, Elizabeth Grey, married 21 Nov. 1641.
Mrs. Mary, wife of Mr. George Hemsworth, of Roche in Yorkshire, buried 8 Sept. 1637.
There was a Chantry founded at the Altar of St. Mary the Virgin in the Church of Coniscliffe, the yearly revenue of which, at the Dissolution, was 5l. 8s. John Vesey, the last incumbent, received a pension of 20s. in 1553. Five other Chantries appear also to have been dissolved: Birtry's Chantry, 6s. 4d.; Our Ladye Masse, 4l. 9s. 2d.; St. Katharine's, St. Helen's, and the Chantry of the Twelve Apostles, 6l. 11s.
Some stray branches of Old Westmoreland or Cumberland families, Salkeld, Thirkeld, and Vasey, seem to have been long established as gentry in Coniscliffe, probably through some connection of kindred, or of service with the Greystokes and Dacres.
John Veyse, it seems, held lands here under a free-rent to Lord Greystoke in 1436 (30 Langley). The following imperfect Pedigree probably relates to his descendants.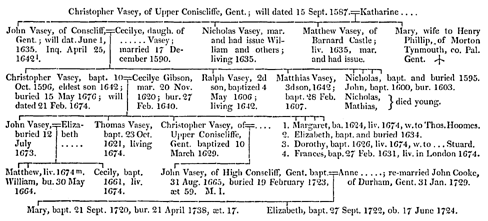 Inventory of John Vasey, Gent.:—Six kyne, 24l.; purse and apparel, 20l.; 47 sheepe, 20l.; goods in the parlor, 5l.; kitchen, 6l.; hall, 6l.; buttery and milk-house, 4l.; painted chamber, 3l.; greene chamber, 12l.; plough geare, 7l. beernes, 1l.; pantry, 1l.; one bugle horn, 10s.; his armour, 7l. 10s.; 12 London drinking-glasses, 7s. "To my brother Nicholas Vasey and his son William the back-house for life. To my brother Matthew Vasey's daughter, of Barnard Castell, 6s. 8d. 5l. per ann. to my son Ralph, on condition he do not make sale of it," &c.
*** Alexander Vasey and Alice Robinson, mar. 19 April 1731. Matthew, son of Alexander, bapt. 1733. Christopher, 1735. John, 1739. Alice, 1742. Jane, 1744. Conscliffe.
Salkeld.—"1 Feb. 1625, ye office of his Majesty's Commissioners against Thomas Salkeld, of Cunscliff, charged to be a very dangerous Popish Recusant, to entertain a Popish Priest, and to have been present at divers and sundry masses. 20 April 1626, Mr. Thomas Salkeld sworn on the Holy Evangelists, to make direct answer to the articles, and entered into a recognizance of 50l. with sureties in 30l. more, to appear on 8 June; and in the mean while to repair at several times to Mr. Richardson, Vicar of Conscliff, or Mr. Burrell, Curat of Gainford, and to propound his doubts on points of religion, and conferre with them, and certifie such conference; and 8 June Mr. Richardson and Mr. Burrell did certify that Mr. Salkeld had conference with them, but was not conformable. Order to confer again, to deliver in his reasons of departure from ye Church of England. 13 July 1626, further conference, but could not yet perceive any hope of conformity, he being very peremptory in divers superstitious points of the Romish religion." At length Mr. Salkeld's Catholic soul was wearied out of all patience by appearances and conferences, and 28th Sept. 1626, the messenger reporteth, "that Mr. Salkeld is removed from his house (fn. 14), and that he cannot discover whither he is gone; whereupon his recognizance is declared forfeited."
"At the West end of the stone before the Quire-doore, in the grave against the end of it, some halfe a yard from the stone's end, was found a stone coffin in the earth, in wh Mr. Salkeld was laid (fn. 15)."
Lancelot, son of Thomas Salkeld, bapt. 7 Febr. 1612-13. Jane, daughter 12 May, 1614. Mary 10 Sept. 1619. Margaret, 10 Sept. 1619. Thomas Salkeld, Mary Copeland, mar. by licence 10 Nov. 1620. Nicholas, son of Mr. Thomas Salkeld, bapt. 13 Dec. 1621. John, 14 Dec. 1620. Robert, son of Mr. Thomas, bur. 31 Dec. 1628. Ann. daughter, &c. 7 Sept. 1635. Mr. Nicholas Salkeld, bur. 20 Oct. 1638. Mrs. Mary Salkeld, bur. the day after Ascension Day 1669. Francis, son of Mr. Thomas Salkeld, bur. 1 Sept. 1671.
Thirkeld.—Richard Threlkeld, of Coniscliffe, to be buried at Coniscliffe. To the Church of Melmorbye, wher my father and mother lyes, xxs. I gyff and legget to one honeste preste to singe a twelve moneth for my sawle and my good friends, iiiil. My son Willyam, his wyfe and children. My friends and kinsfolk William Threlkeld, Christopher Threlkeld, and Agnes Nawton. To William Threlkeld, of Burgh, and Lancelot Threlkeld, my brother's children. To Agnes Emer- son, my sister's daughter. My loving Master, Thomas Dacre; my Lorde his sonne; my godson, Richard Bellas; my son Richard; my wyfe Catheran; to William Wren, my wyfe's sone; cosen George Warcoppe; sister Elizabeth Sympson. My brother Sir Roland Thirkeld, Clerk, and my son Richard, execrs. Ao 1546."
John, son of Brian Thirkell, bapt. 6 June 1591. Lancelot, son, 8 May 1596. Ann, dau. of Francis Thirkeld, bapt. 8 Dec. 1614. Dorothy, bapt. 16 Nov. 1628. William, 14 Aug. 1631. Elizabeth, 4 Feb. 1634.
10 Feb. 1630, Christopher Richardson died seised of one oxgang in Nether Conscliff, held in socage of the manor of East Greenwich. Christopher his son and heir died in 1638, leaving John Richardson his son and heir, aged 26 years (fn. 16).
Thornton Hall,
A large neglected mansion fast falling to decay. The arms of Tailbois, its owners, as late as the reign of Elizabeth, are on some of the cielings: the house is surrounded by deep rich meadows.
A younger branch of Tailbois of Hurworth (fn. 17) is said to have derived this manor from marriage with the heiress of Thornton of Thornton (fn. 18); but I am unable to trace the descent with any accuracy. The last Tailbois of Thornton (who married the daughter of Barnes, Bishop of Durham,) died a prisoner in Durham gaol in 1606. The estate was soon after the property of Thomas Salvin, Esq. a younger son of Gerard Salvin, of Croxdale, who died (fn. 19) in 1609 (fn. 20), leaving John Salvin his son and heir. Before 1636 Thornton Hall was in the possession of Henry Bowes, merchant, of Newcastle, whose son, Sir Francis Bowes, resided here in 1666. His descendants by heirs-general still hold the estate. (See Pedigree of Bowes).
Pedigree of Bowes, of Thornton.

Ralph Taylboys, of Ulnaby, buried 3 Jan, 1605.
Richard Dearham, Clerk, and Hester Taylboys, mar. 8 Oct. 1598.
Christopher Berthram, of Thorneton, bur. 27 April 1592, Conscliffe.
*** Will of Robert Taylbois: wife Elizabeth; brother William Tailboys; to Christopher Glover, my keeper, for my dyet in the gaole, and for my other expences after the rate of xs. weekely since the sixth day of Februari 1603; to my brother John Barnes for my wyfe's dyet for three years, the 41st, 42d, and 43d of the late Queen's Majestie, at 30l. yearly; to my brother Knowsley; brother Barnabas Barnes; my books and manuscripts to my brother John Barnes.—No date; proved 28 April 1606.
15 Eliz. the Queen grants to Ralph Tailbois, Esq. the manor of Skirmingham (inter alia), subject to the life interest of Elizabeth, wife of Anthony Taylboys, sometime wife of Thomas Norton. 11 Nov. 1584, Ralph Tailbois, Esq. and William Tailbois, Gent. administer to Anthony Tailbois, deceased.
George Taylboyes, bur. 14 June 1597, St. Mary-le-Bow.

Bartram Bowes, master and mariner, bur. 6 July 1630.
Dorothy, wife to Bartram, &c. bur. 25 May 1602. All Saints.
Thomas Bowes, merchant, bur. 31 Jan. 1582-3.
Richard Bowes, 23 May 1602.
Robert Bowes, merchant, 9 Dec. 1621.
...., wife of Robert Bowes, 10 Feb. 1613.
Henry, son of Robert Bowes, bapt. 11 Sept. 1608. St. Nicholas
Anne, dau. of Robert Bowes, merchant, 7 May 1614.
Robert, son of Thomas Bowes, merchant, bapt. 24 Nov. 1616. Ralph, 11 Jan. 1617. Elizabeth, 20 May 1619.
Children of Henry and Elinor Bowes:—Elizabeth, bap. 1635; Ralph, 23 Jan. 1637; Henry, 4 Dec. 1639; William, 7 June 1644; John, 27 December 1645; Barbara, 4 November 1646; Sarah, 17 July 1648. St. Nicholas.
Henry Bowes and Ellinor .... mar. 17 Dec. 1633.
+ R Conscliffe Par. Reg.
++ Qu. Robert Bowes, of Thornton, Esq. bur. 4 April 1734?
*** The dates not referred to are from St. Nicholas, Newcastle.
Carlbury
Was part of the ancient estate of the Nevills, and is included with Somerhouse and Ulnaby in a settlement on the marriage of Charles Earl of Westmoreland with Catherine Manners 4 April, 1 Philip and Mary, 1553. By Letters Patent 20 June, 15 Eliz. 1573, the Queen granted to Ralph Taylboys, Esq. (inter alia) the manor of Carlburie, parcel of the possessions of Charles Earl of Westmoreland, of high treason attainted; to hold by the fortieth part of a knight's fee and 13l. 5s. rent, and subject to a rent of 41s. 8d. to the Bishop of Durham. Ralphe Taylboys alienated Carlbury in 1580 to Thomas Jenison, of Walworth, who died seised of this estate in 1588 (fn. 20a), leaving William Jenison his son and heir. In 1616 Carlburie is included in a settlement in the Jenison family (fn. 21).
This estate belonged to Childers Welbank Childers, Esq. of Cantley Lodge, co. York, who sold it above thirty years ago to George Bainbridge, of Bread-street, London, merchant, the present proprietor (fn. 24).
Ulnaby
Belonged to the Nevilles, and after the forfeiture was granted to Tailboys of Thornton Hall. Miles Staveley and Henry Withes, Gents. acquired the manor from Robert Tailbois, Esq. before 28 June 1598 (fn. 25). By Ind. 25 May 1608, Edward Withes, of Copgrove, co. York, Esq.; and Charles his son and heir granted the same estate to William Wycliffe, Esq. George Mann, of Elvet, and Christopher Bulman, who immediately (8 June id. ann.) conveyed to Roger Tockets, of Tockets, co. York, Esq. (fn. 26) In 1629 Roger Tockets and Jane his wife granted the manor of Ulnabie to Francis and Stephen Thompson, Gents. (fn. 27) The estate was afterwards re-united to Thornton-hall, and is now held by the Rev. Robert Croft and Thomas Thoroton, Esq. in right of their wives, the coheiresses of Bowes.
In 1685 the freeholders in the Parish of Conscliffe were, Francis Bowes, of Thornton, Esq.; Stephen Thompson, of Ulnaby, Gent.; John Vasey, of High Coniscliffe, Gent.; William Gibson, of the same, Gent.; and Francis Oswald, of Low Conscliffe, Gent. (fn. 28)
Charitable Donation.—The Return under the Act 26 Geo. III. states, that in 1734 Robert Bowes, Esq. left a tenement and lands, the rent to be distributed by the Ministers and Churchwardens to the Poor of the townships of High and Low Conscliffe not receiving parochial relief; annual receipt 1785, 5l. 10s.