Pages 183-203
The Environs of London: Volume 4, Counties of Herts, Essex and Kent. Originally published by T Cadell and W Davies, London, 1796.
This free content was digitised by double rekeying. All rights reserved.
ROMFORD.
Situation.
Etymology.
This town lies on the great Essex road, at the distance of twelve miles from Whitechapel. Its name is Saxon, and signifies the broad ford.
Boundaries.
Soil.
Land-tax.
Romford was formerly esteemed one of the wards of Hornchurch, but is now, as far as relates to the civil jurisdiction, a separate parish (fn. 1); consisting of four wards, distinguished by the names of Romford-town, Collier's-row, Harold's-wood, and Nokehill wards. The parish of Romford is bounded by Dagenham, Hornchurch, Southweald, and Havering. Its extent I have not been able to ascertain. The land is, for the most part, arable; the soil various, but principally gravel. Romford-town ward pays the sum of 418l. to the land-tax; Collier's-row, 211l. 2s.; Harold'swood, 244l.; Noke-hill, 134l. 16s.: the proportion in the pound is about 2s. 6d. in each ward.
Market.
Fair.
This town had a grant of a market on Wednesdays, as early as the year 1247 (fn. 2); this is the general market: there is a market also on Mondays for calves, and on Tuesdays for hogs. The markethouse and court-house were repaired at the expence of the crown, in the year 1768. There is an annual fair on Midsummer-day.
Liberty of Havering.
The parishes of Romford, Hornchurch, and Havering, (being originally one only,) form a district called the liberty of Havering atte Bower; the quarter-sessions for which are held at Romford. Commissions for trying felons within this liberty may be obtained by a small payment to the crown; but no commission of this kind has been applied for of late years.
All the manors in this parish are held of the King, as of his manor of Havering atte Bower (fn. 3).
Manor of Romford, alias Mawneys.
The manor of Romford is first mentioned in a record of the year 1299, when it was held of Adam de Cretinge, by Henry de Winchester, a Jew convert (fn. 4). Sir Walter de Manny, who died in 1372, was seised of the manor of Romford in right of Margaret his wife, daughter and coheir of Thomas Brotherton, Earl of Norfolk, and widow of John Lord Seagrave (fn. 5). The inheritance went to Elizabeth, daughter of Margaret's first husband, and wife of John de Mowbray; whose son, Thomas Duke of Norfolk, died seised of it, 1400 (fn. 6). John, the fourth Duke of Norfolk of this family, dying without male issue, in 1477, his estates were divided among his coheirs; and this manor of Romford, otherwise Mawneys (fn. 7), became vested in James Lord Berkeley, whose son, William Marquis of Berkeley, is said to have sold it, in 1487, to John Bishop of Lincoln (fn. 8). Robert Dacre died seised of it in 1544 (fn. 9); his son, George Dacre, in 1573, conveyed it to John Lennard and his heirs (fn. 10). Francis Fuller was in possession of this manor as early as 1627. From him it descended to the Osbastons; and, by the intermarriage of an heiress of that family, came to John Milner, Esq. (fn. 11); whose devisee William Lloyd, Esq. sold it, about the year 1759, to Richard Newman, Esq. (fn. 12), grandfather of Richard Newman, Esq. the present proprietor.
Manor of Gedy-hall, Guyddy-hall, or Giddea-hall.
The manor of Gedy-hall, Geddy-hall, or Guyddy-hall, or Giddea-hall, is supposed to have belonged formerly to the church of Westminster (fn. 13). In the reign of King Edward IV. it was the property of Sir Thomas Coke, Alderman, and some time Lord Mayor of London; who died seised of it in 1478 (fn. 14). From him it descended to Sir Edward Coke, Knt. who died in 1625, leaving two daughters coheirs, Ann, wife of Sir Edward Sydenham, and Vere, wife of Sir Charles Gawdy. These coheirs joined with Sir Hercules Coke (brother of Sir Edward) and others, in conveying the manor of Guyddy-hall, anno 1657, to Richard Emes (fn. 15); who, in 1664, sold it to John Burch, Esq. Mr. Burch devised it, after his wife's decease, to his sister Rebecca Hothersall; whose grandson Thomas, by his will, bearing date 1707, directed it to be sold. The sale took place in 1710, under a decree in Chancery: the purchasers were, Benjamin Haskins Styles and John Hunter: from them it came to Sir Francis Eyles, Bart. (fn. 16); who, in 1745, sold it to Richard Benyon, Esq. governor of Fort St. George in the East Indies, whose son Richard Benyon, Esq. M. P. is the present proprietor.
Giddea-hall.
The old mansion called Giddea-hall, or Gedy-hall, was begun by Sir Thomas Coke about the year 1467, when he obtained a licence for fortifying and embattling it (fn. 17); but falling under the displeasure of the Court, to the great injury of his fortune, he completed only the front: the remainder was built by his grandson Sir Anthony, (one of the preceptors of King Edward VI.) who entertained Queen Elizabeth at Gedy-hall, during her progress in 1568 (fn. 18). Mary de Medicis, mother of Queen Henrietta Maria, lodged at Gedy-hall, then the seat of Lady Coke, (widow of Sir Edward,) the night before her arrival in London (anno 1638). The King, who had met her at Chelmsford, lodged the same night at his neighbouring palace of Havering. An account of the Queen-mother's progress through England (in which there is a view of old Gedy-hall) was published in 1639. This ancient structure was pulled down about the year 1720, and the present mansion built by Sir John Eyles. The grounds and plantations have been much improved by the present proprietor. The manor of Gedy-hall is of considerable extent.
Manor of Marks.
The manor of Marks (in Romford-town ward) was the property of Thomas Urswyck, recorder of London, who died seised of it in 1479, leaving five daughters, coheirs (fn. 19). The next owner upon record is Sir George Hervey, Lieutenant of the Tower of London, who died seised of it in 1605 (fn. 20). Sir Gawen Hervey, his only surviving son, bequeathed it to Carew Mildmay, Esq. second son of his sister Margaret. It is now the property of Sir Harry Pawlet St. John Mildmay, Bart. in right of his wife Jane, daughter and coheir of Carew Mildmay, Esq. of Shawford; whose name, in consequence of that alliance, he assumed, in addition to that of St. John (fn. 21).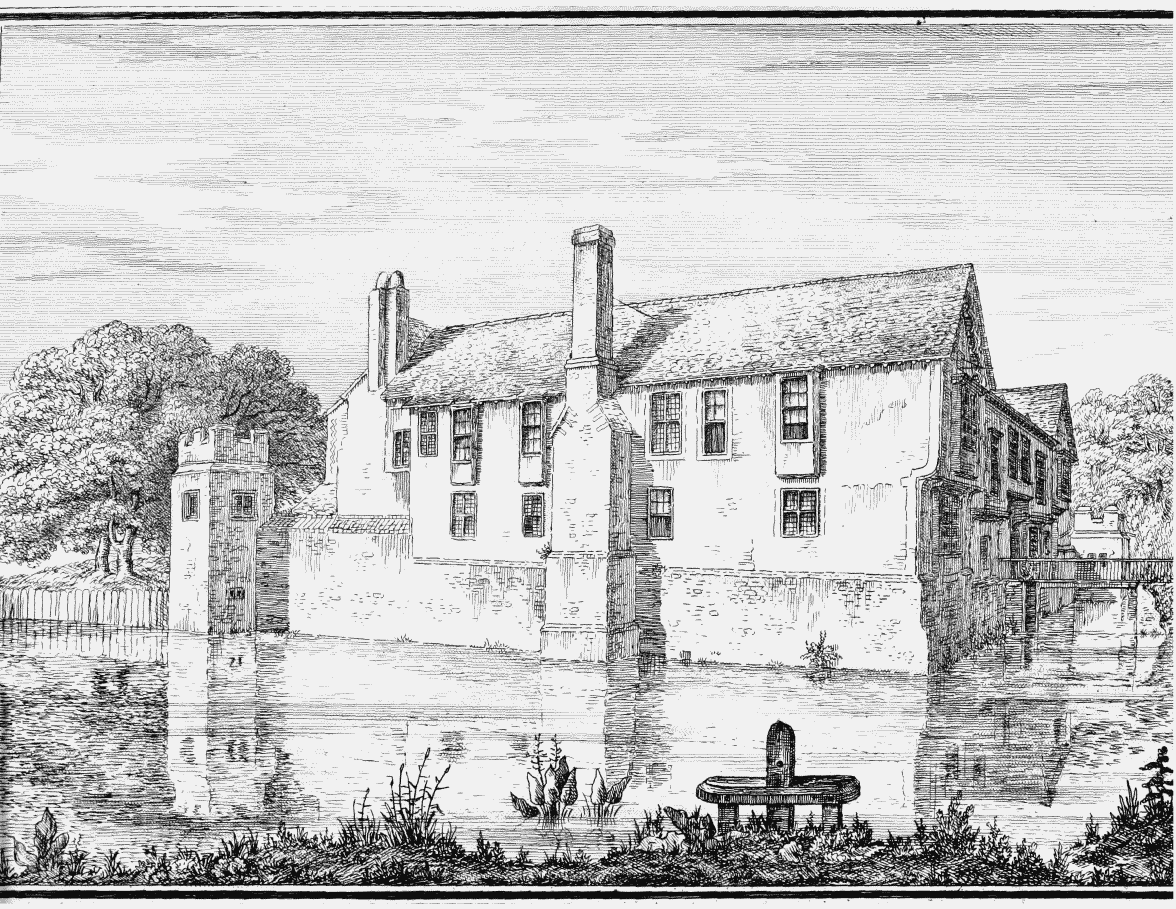 Marks-house.
The manor-house, of which a plate is annexed, stands about two miles west from Romford. It is a very ancient structure of timber and plaster, forming a quadrangle. It is surrounded by a moat, at two corners of which are square brick towers embattled. The house has not been inhabited for several years, and is now unfurnished, but some of the family-pictures still remain; among which are, Sir Thomas Hervey, Knt. Marshal to Queen Mary; Matthew Honeywood, Esq. a very good picture, in Cornelius Jansen's manner; Dr. Michael Honeywood, Dean of Lincoln; three or four of Mrs. Mary Honeywood, celebrated for her numerous progeny and descendants (fn. 22); P. Honeywood, Esq. aged 96; and several others of the Honeywood and Mildmay families.
Manor of Stewards.
The manor of Stewards in Romford-town ward was the property of Marcellinus Halys, Esq. who died seised of it in 1561 (fn. 23). In 1565, Thomas Halys conveyed it to William Cade, Esq. who, with his wife Iscah, aliened it, in 1588, to James Quarles, Esq. Sir Robert Quarles, his eldest son, had issue James, whose only daughter Hester married William Holgate, Esq. Their son William, in 1708, conveyed this manor to John Wood, Esq. of Bramshot, Hants, who died in 1761, having bequeathed it to William Gill, Esq. of Eashing in Godelming, and John Leach of Lea in Witley. Mr. Gill is the present proprietor of one moiety, and John, son of the abovementioned John Leach, of the other. About 250 acres of land have passed with this manor.
Manor of Easthouse.
The manor of Easthouse in Colliers-row ward was formerly vested in the Cokes. Sir Thomas Coke died seised of it in 1478 (fn. 24). In the early part of the last century it belonged to the Osbastons, from whom it came to the Mildmays, and is now the property of Sir H. P. St. John Mildmay, Bart.
Manor of Uphaveringe, or Gobions.
The manor of Uphaveringe, or Gobions, was parcel of the possessions of Thomas Urswyck, recorder of London, who died in 1479 (fn. 25). Sir William Roche died seised of it in 1549; Thomas Legatt, Esq. in 1555. In 1636, it was the property of Sir Richard Minshew. The next possessor was Joachim Matthews, Esq. whose son Sir Philip Matthews, Bart. is supposed to have sold this estate to William Curwen. John Curwen, Esq. (son of William) aliened it Sir Philip Hall. It appears, that when Morant wrote his history of Essex, whence this account is chiefly taken, it was the property of Philip Hall, Esq. son of the last purchaser (fn. 26). The present proprietor is William Perkins, Esq.
Manors of Bedfords and Earles, otherwise Nearles.
Sir Thomas Coke died seised of the manors of Bedfords and Earles, otherwise Nearles, (in Harolds-wood ward,) in 1478 (fn. 27). From him they descended to Sir Edward Coke, who died in 1625. His daughters and coheirs (fn. 28) sold them, anno 1657, to Richard Emes, citizen and cooper, for the sum of 9000l. Mr. Emes conveyed them, in 1659, to Joachim Matthews, Esq. of Great Gobions, who died the same year. His son Sir Philip Matthews, Bart. sold these manors, in 1668, to Simon Rogers, merchant, of whom they were purchased, in 1678, by Robert Wooley. In 1706, John Wooley sold them to Robert Bristow, Esq.; and in 1710, the trustees acting under Mr. Bristow's will conveyed them to Wight Wooley, merchant; whose son Houlton Wooley, dying in 1752, bequeathed them to his cousin Nathaniel Houlton of London, merchant; of whom they were purchased, in 1771, by John Heaton, Esq. the present proprietor (fn. 29).
Manor of Redencourt.
The manor of Reden-court in Harolds-wood ward was held under the manor of Havering, by the service of finding litter for the King's chamber. The first time it occurs in record is in 1422, when Joan Swinnerton, sister and heir of Thomas Newenton, died seised of it (fn. 30). Sir Thomas Coke died seised of it in 1478 (fn. 31). It con tinued for several generations in the Coke family. In the early part of this century it was purchased by John Hopkins, Esq. (fn. 32) He died in 1732, and was succeeded by his nephew of the same name; who, by his will, bearing date 1771, bequeathed it to John Dare, Esq. whose widow (now the wife of John Marmaduke Grafton, Esq.) is the present proprietor (fn. 33). The remainder is in her son John Dare, Esq.
Manor of Goseys, or Goosehays.
The manor of Goseys, or Goosehays, in Harolds-wood ward, was the property of John de Dover, who died, anno 1334, seised of a messuage in Gosaye, with certain lands and rents, which continued some time in his family (fn. 34). John Chaterton died seised of the manor of Goseys in 1445 (fn. 35); Alured Cornburgh, or Cornbury, in 1486 (fn. 36); Thomas Legatt, Esq. in 1555 (fn. 37); Thomas Moreton, in 1591 (fn. 38); Richard Humble, in 1616 (fn. 39); Elizabeth, daughter of Richard Humble, married Richard Ward, and, on the death of her brother without issue, succeeded to this estate. Sir Humble Ward was created a baron in 1644, and married the niece and heir of Lord Dudley. His son Edward Lord Dudley and Ward rebuilt the manor-house of Goosehays, and afterwards sold the estate to the Mead family. About the year 1750, it was purchased of Sir Nathaniel Mead by William Sheldon, Esq. the present proprietor.
Manors of Dagenhams and Cockerells.
The manors of Dagenhams and Cockerells (fn. 40), in Noke-hill ward, lie at the extremity of the parish towards South Weald. Henry Percy, Earl of Northumberland, died seised of them in 1454 (fn. 41); as did Sir William Husee, in 1495 (fn. 42); Peter Christmas, in 1517 (fn. 43), and Thomas Legatt, Esq. in 1555 (fn. 44). In the year 1637, Lawrence Wright, M. D. had a charter for disforesting the manor of Dagenhams. His son Henry was created a baronet by Cromwell in 1658, and by Charles the Second in 1660. His only son Henry succeeded to his title and estates, but died in 1681, at the age of nineteen, when his sister Anne became his sole heir. She married first Edmund Pye, Esq. son and heir of Sir Robert Pye of Berkshire, and secondly William Rider, Esq. Her estates being solely at her own disposal, and her children (fn. 45) well provided for, she devised these manors to her friend and relation Edward Carteret, Esq. Postmaster General. In 1749, Mr. Carteret's daughters and coheirs (Anne, relict of Admiral Cavendish, and Bridget Carteret) sold them to Henry Muilman, Esq. who, in 1772, conveyed them to Richard Neave, Esq. (now Sir Richard Neave, Bart.) the present proprietor. This estate is ancient demesne (fn. 46).
Sir Richard Neave having pulled down the old house, which was built by Sir Henry Wright, and repaired and altered by Mr. Carteret (fn. 47), has erected a large and elegant mansion on a new site. Cockerells is now a farm-house adjoining to the park.
Romford chapel.
The old chapel of Romford was built about the year 1323, a quarter of a mile east of the town. In 1407, it was pulled down, and another of larger dimensions erected on the present site. At the same time, the Pope's bull was obtained, empowering the inhabitants to bury the dead in an adjoining cemetery, instead of carrying them, as heretofore they had been obliged, to Hornchurch (fn. 48). The chapel, which is dedicated to the Virgin Mary and St. Edward the Confessor, consists of a chancel, nave, and north aisle. At the west end is a square tower.
Figure of Edward the Confessor.
In the east window of the chancel is a figure of Edward the Confessor (fn. 49) in stained glass; the arms of that King, and another coat. The figure of King Edward was formerly in the east window of the aisle, with those of two pilgrims, alluding (according to Weever) to a story of two pilgrims who came from Jerusalem, and foretold the day of his death; they gave him, as the tradition goes, a ring, which he had bestowed not long before upon a poor man who solicited his charity. The same tradition attributes the etymology of Havering to this circumstance.
Monuments of Sir George Hervey and his sister Anne Carew.
Monument of Sir Anthony Coke.
On the south wall of the chancel is a monument of alabaster, with the effigies of the deceased and his lady in kneeling attitudes, to the memory of Sir George Hervey, Knt. (fn. 50), Lieutenant of the Tower, who died in 1605; and near it another, with the effigies of the deceased, recumbent, to the memory of Anne, his sister (fn. 51), wife of George Carew, Esq. (fn. 52) (third son of Edmund Baron of Carew,) who died the same year. On the floor are brass plates in memory of Arthur, son of William Gray of Marks, 1528; Nicholas Cotton, yeoman, and Sarah, daughter of Richard Cotton, merchant of London, 1584. On the east wall of the north aisle is the monument of John Badger Weller, Esq. (fn. 53), 1757. On the north wall is the monument of Sir Anthony Coke of Gedy-hall (fn. 54), one of the preceptors of Edward VI., with the effigies of himself and his lady in kneeling attitudes. He is represented in armour (fn. 74). On the floor of this aisle is the tomb of Thomas Freckleton, Esq. of Brake's-place, 1722. Over the door in the south porch is the monument of James Hotchkis, curate, 1734.
In the Essex visitations in the Heralds College (fn. 55) are recorded the tombs of William Carde, 1456; Avery Cornburgh, Esq., Beatrice, his wife, and John Crowland, D. D. who all died in 1480 (fn. 56); Elizabeth Hamys, sister of Avery Cornburgh (no date); and Margery, daughter of Sir Thomas Mountfort, 1487. The brass plates, which belonged to these tombs, have been taken away.
In the adjoining cemetery are the tombs of Mary, daughter of William Comyns, and wife of Henry Corbet, 1665; William Comyns, 1668; Mr. William Markham, 1685; Samuel Brett, 1690; Margaret, wife of Richard Lazell, surgeon, 1712; Thomas Gilman, 1715; Mr. John Coleman, 1728; Mr. William Grafton, 1730; Betty, his daughter, wife of Edward Kinaston, Esq. 1765; Capt. William Sandford, 1730; Joseph Bosworth, 1730; Richard Field, surgeon, 1746; and Samuel Skinner, Esq. 1786.
Donative.
Proposed division of Hornchurch.
Romford is a chapel of ease to Hornchurch. The benefice is a donative: the advowson of which is vested in the warden and fellows of New College in Oxford, who are ordinaries of the place, it being exempt from the bishop's jurisdiction. The great tithes of the whole parish of Hornchurch belong to the college; a portion of the small tithes is annexed to this chapel. Morant says, that it was customary, when the inhabitants paid their tithes at Christmas, that they should be treated with a bull and a brawn, that the boar's head was wrestled for, and that the poor had the scraps (fn. 57). This custom has grown into disuse. It was recommended to the commissioners appointed to inquire into the state of ecclesiastical benefices, anno 1650, that in a division of the parish of Hornchurch, the wards of Romford-town, Colliers-row, and Harolds-wood should be annexed to Romford chapel (fn. 58). In consequence of this recommendation, a bill was brought into parliament, in 1658, for dividing the parish and vicarage of Hornchurch into several parishes and vicarages, and for raising an additional maintenance for the minister or vicar of Romford (fn. 59).
Dr. Gloster Ridley, of whom some account has been already given (fn. 60), had the donative of Romford. The present incumbent is Charles Bathurst, M. A. who succeeded Nathaniel Alsop Bliss, M. A. in 1796.
Guild and chantries.
There was formerly a guild in Romford chapel, dedicated to the Virgin Mary, to which John Ongar gave five marks per annum. The lands belonging to this guild (valued at 4l. 10s. 2d. per annum) were granted, anno 1549, to Thomas Reve and John Cotton (fn. 61).
Avery Cornburgh, who died in 1480, founded a chantry in this chapel, and endowed it with 10l. per annum to the priest for his chamber-fee, and 3l. per annum more: 20s. for an obit; 6d. each for twelve priests, who should officiate at it; 4d. each for six clerks; 40d. for the poor in bread, cheese, and ale; 40d. for the bailiffs and wardens of the town; and 40d. for the curate, for mentioning the names of the founder, his sister, and John Crowland, in his bederoll every Sunday (fn. 62).
Meeting-house.
The independents have an old established meeting-house in Collier-row-lane, endowed with a house for the pastor, and about 20l. per annum. There is another at Havering-well, which at present is not used.
Parish register.
The earliest date of the register of baptisms, burials, &c. is 1561.
Comparative state of population.
| | | |
| --- | --- | --- |
| | | |
| | Average of Baptisms, | Average of Burials |
| 1580–9 | 47 2/5 | (imperfect) |
| 1634–43 | 47 9/10 | 62 3/10 |
| 1680–9 | 52 | 78 |
| 1730–9 | 64 1/2 | 77 3/5 |
| 1780–4 | 72 2/5 | 92 3/5 |
| 1784–9 | 84 2/5 | 77 |
| 1790–4 | 84 2/5 | 82 |
The present number of houses is about 450.
Plague years.
In 1603, there were 122 burials at Romford; in 1625, 131; in 1665, 90.
Extracts from the Register.
"Feb. 20, 1585, bap. fuit Thomas, filius Magistri Sakeford, filii et hæredis Domini Buckhurst."
Family of Coke.
Mar. 1579–80, bapt. Edwardus, filius Magistri Antonii Coci; Edwardus, fil. Edwardi Coci, Militis et Senescalli, sepult. Dec. 1, 1609; Anne (fn. 63), daughter of Sr Edward Coke, baptized Sep. 25, 1610; Vere, his daughter (fn. 64), baptized July 4, 1612; Sr Edward Coke, buried July 20, 1625; the Lady Martha Coke (fn. 65), buried Ap. 27, 1643."
Francis Quarles.
John Quarles.
Family of Quarles.
May 8, 1592, bapt. fuit Franciscus, filius Magistri Jacobi Quarrilus." This was Francis Quarles the poet, well known by his Book of Emblems. His father was clerk of the Board of Green Cloth; he himself was cupbearer to the Queen of Bohemia, and afterwards secretary to Archbishop Usher, with whom he went to Ireland. He suffered much in his fortune for his loyalty during the civil war, and was plundered of his books and MSS.; the loss of which is thought to have hastened his death, which happened in the year 1644. He was author of a comedy called the Virgin Queen; and several poems. His son John, who is said to have been born at Romford in 1624, (though his baptism is not to be found in the register,) was a captain in the Royal army, and author of Elegies and religious Poems. He died of the plague in 1665. "The Lady Quarles (fn. 66), buried Sep. 9, 1612; Anne, daughter of Sr Robert Quarles, Knt, bap. Oct. 5, 1616, buried Oct. 14; the Lady Quarles, wife of Sr Robert, buried Nov. 12, 1616; Priscilla, his daughter, June 3, 1625; Sr Robert Quarles, Feb. 2, 1638–9; Mr James Quarles, his son, Nov. 16, 1642."
William Cooper, the dwarf of Gedy-hall, buried Aug. 6, 1616."
Families of Lyttelton,
Henry, son of Sr Thomas Littleton (fn. 67), baptized Nov. 13, 1623; Catherine, his daughter, Mar. 15, 1624–5; Edward Littleton, Knight, buried Aug. 3, 1657."
Sr Gawen Hervey, Knt, buried Feb. 22, 1626–7."
Cheke,
Thomas (fn. 68), son of Sr Thomas Cheke, baptized Oct. 9, 1628; Cheke, Charles, Feb. 21, 1629–30; Edward Cheke, Esq. a minor, the only remain of the family of Pirgo, buried Feb. 16, 1712–3."
Sr Robert Cock, Knt, buried Mar. 16, 1633–4."
and Mildmay.
Sr Thomas Mildmay, Knt, buried Sep. 15, 1657." There are many other entries relating to the Mildmay family.
The Lady Martha Norfolk of Romford-town, buried Jan. 3, 1670–1; Mr John Norfolk, son of Sr James Norfolk, Knt, buried June 18, 1675; Sr James Norfolk (fn. 69), Nov. 18, 1680.
The Hon. Lady Anne Wright of Dagenhams, relict of Sr Henry Wright, Bart (fn. 70), and sister of the Right Revd Father in God, Nathaniel Ld Crew, and Ld Bishop of Durham, buried at South Weald, Oct. 2, 1708."
Richard Mead, Esq. son of Sr Nathaniel Mead, buried Dec. 1, 1718; William, his son, Dec. 14, 1724; Lady Martha Mead, Sep. 16, 1779."
The Hon. Dame Anne Tipping, buried at Pirgo, Jan. 29, 1727–8."
Instances of Longevity.
Mrs Catherine Emes, aged 93 years, buried Oct. 25, 1708; Thomas Green, aged 95, Oct. 25, 1712; John Tuttle, aged 91, July 6, 1714; William Shuttleworth, aged 96, Sep. 15, 1719; Jane Armiger, aged 90, Aug. 25, 1720; Hannah Wainscott, aged 94, May 1, 1722; Richard Seabrooke, aged 96, Nov. 9, 1724; Robert Ireland, aged 100, Oct. 7, 1727."
Roger Reede's alms-houses.
Roger Reede of Haveringe, by his will, bearing date Feb. 15, 1482–3, left his new-built place in Joys-mead, as an habitation for five poor men (not common beggars, or blasphemers of the name of Almighty God, but such as have been of good governance, and fallen into poverty); the saddest and wisest to be the ruler, to take care of the repairs, to see the men once a day, either in the church, or at their dwellings, busy at their prayers; and when at church, that they be about his sepulchre, praying for his soul, and his wife's, and all his good friends' souls; the alms-men, after being chosen, to wed no wives, but keep themselves sole; if any of them should have been married before his election, and should afterwards leave a widow, (being of the age of 50 winters,) she should have a chamber in the house, and 6s. 8d. yearly, out of the pension of her husband's successor. The founder endowed this alms-house with lands in Havering and Dagenham, and with certain other lands in Romford, on failure of heirs from Thomas Lawrance and his wife Alice, and Richard Hetholf, son of the said Alice. During the life of his wife, there were to be but four alms-men, one of whom she was to nominate: the alms-men to have 1s. 6d. per week, each, and after the death of his wife, a load of wood, each, from the Havering estate. The remainder of the profits of the estate (after deducting the expence of repairs) to be distributed among the poor during Lent, in pease, salt fish, &c. The ruler of the alms-house to have 6s. 8d. per annum, and the Redynfield and pitt, he keeping the mounds in repair, and paying chiefrents (fn. 71). The trust of these alms-houses is vested in sixteen feossees, which number is to be filled up, when reduced to four or five (fn. 72). The present rent of the estates, which form the endowment, is 211l. per annum. The alms-houses were rebuilt in the year 1784.
Schools.
There is a school for forty boys, and another for twenty girls, in this parish, instituted about the year 1728. Benefactions to the amount of about 850l. have been given to these schools, by various donors (fn. 73); in addition to which fund, there is an annual voluntary subscription, and two charity sermons.
Various Benefactions.
Donors Names.
Nature of Donations.
Use.
Mildred Lady Burleigh,
120l.
To be lent to poor tradesmen in sums of 20l. This stock still remains, and is applied according to the donor's intention.
Anne Ellesdon,
A house called the Halfmoon,
Bread.
James Simpson,
Houses let now at 18l. per annum,
Six poor men.
Lewis Betts,
40s. per annum, and 20s. per annum,
Eight poor men. To repair a foot-path.
Anne Reynolds,
3l. per annum,
Poor.
Mr. Armstrong,
2l. per annum,
Poor.
Margaret Birch,
80l.
Poor.
Joachim Matthews,
100l.
Poor.
Richard Collet,
20l. per annum,
Poor widows of Harold's-wood ward.
Richard Bauton,
10l. per annum,
To repair the highways near or upon Romford bridge.
The dates could not be procured.
Act for the regulation of the poor.
The management of the poor of this parish is vested (by an act of parliament, passed anno 1786) in certain directors or guardians, being thirty in number; besides the churchwardens for the time being. These directors are elective, and must consist of persons rated at the sum of 10l. or upwards to the poor rates: they divide themselves into committees of three, who transact business by rotation. All the donations in the foregoing table, which are not appropriated to any specific purpose, are vested, by the said act, in the directors, for the benefit of the poor. A new workhouse was built under the powers of the same act in 1787.
Barracks.
Barracks of wood, for six troops of horse, were built in the year 1795, adjoining to this town; a part of them was burnt down, whilst building, by a fire, which happened on the 27th of May.