The Court of Chivalry 1634-1640.
This free content was Born digital and sponsored by AHRC and University of Birmingham. CC-NC-BY.
138 COXE V GREAVES
Causes of office promoted by John Coxe and his brother Robert Coxe of St Clement Danes, co. Middlesex v Edward Greaves of the Inner Temple, London, gent, Humphrey Nicholls, Nicholas Vavasour, Samuel Payton, Henry Middlemore and John Marsh of the Middle Temple, London, gent
May 1636 - October 1638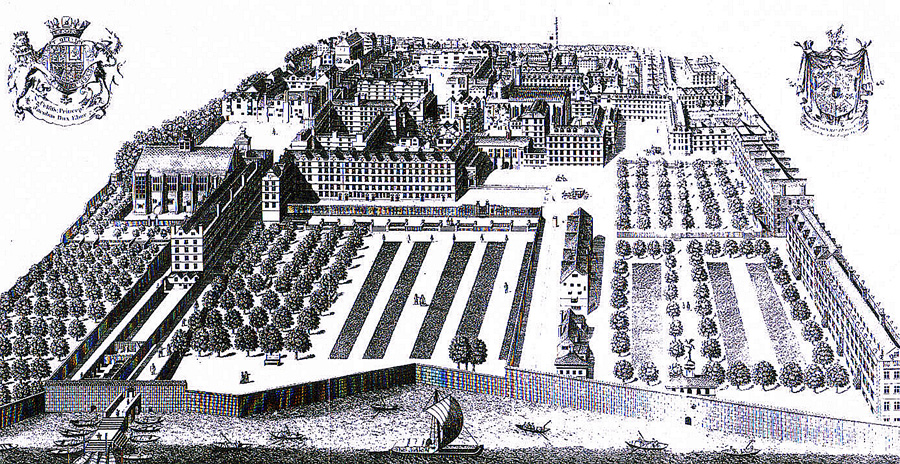 Abstract
These proceedings appear to be several causes of office initiated by John Coxe, the Earl Marshal's messenger, and his brother, Robert, against a number of lawyers, including Edward Greaves, Humphrey Nicholls, Nicholas Vavasour, Samuel Payton, Henry Middlemore and John Marsh. The cause of the disagreement remains unclear and no sentences survive. Proceedings were under way by May 1636. On 25 July 1637 John Coxe sought an attachment against Nicholls and sought another attachment on behalf of his brother, against Greaves, concerning 'the temple business'. Three days later Robert Coxe indicated he had reached an agreement with Vavasour and dropped his cause against him. The following February Marsh entered bond to pay Robert Coxe £15, and on 12 April 1638 Coxe promised to drop his case against Marsh if the remainder was paid. Proceedings were continuing against Greaves in October 1638.
Initial proceedings
3/5, Letter
'Good Mr Dethicke
I desire you will be pleased to let me have an attachment against Humphrey Nicholls the younger for I have found out a gentleman that will undertake the serving of it for me: I giving him a letter of deputation which I intend to do. The reason that I trouble you at this time is because the gentleman goes for Cornwall tomorowe.
Thus desiring your favor, I rest
Arundellhouse
25 July 1637
Your faithful servant
John Coxe
Likewise my brother desires an attachment against Mr Edward Graves concerning the temple business.'
Sentence / Arbitration
3/6, Letter
'Mr Dethick, I desire you that you would be pleased to take notice that Nicholas Vavasour and I are agreede concerning our business in the Lord Martiall's Court, wherfor I intreate you that you would dismisse the cause and discharge the partie and this shalbe your warrant this 28 of July 1637
the marke of
Robert Coxe'.
4/22, Undertaking of Robert Coxe
'Whereas there is now depending in the Court Military, before the right honourable Thomas Erle of Arrundell and Surrey Erle Marshall of England, a certain cause of contempt promoted by me Robert Coxe of the parish of St Clements Danes in the county of Middlesex against John Marsh of the Middle Temple London gent.; and whereas John Marsh hath entered into one bond or obligation of the penalty of Thirty poundes bearing date the eighth day of February 1637 for the payment of xvl of lawful money of England to me Robert Coxe, att such time and place, and in such manner, as in the condition of the bond is specified. Now know all men by these presents that I, Robert Cox, have received the sume of xl of lawful money of England of John Marsh. And I do hereby promise that if John Marsh shall pay the said sume of fifteene poundes according to the condicon of the bond then I, Robert Coxe, will procure John Marsh to be discharged from the suit and will procure the cause by me commenced in the Court Military against John Marsh to be dismissed out of the court.'
12 April 1638
Signed by Robert Coxe [his mark]
Sealed and delivered in the presence of John Watson.
Summary of proceedings
Dr Duck acted as counsel for the Coxes, Dr Eden for Marshe and Dr Lewin for Greaves. Proceedings of a cause of office instigated by Robert Coxe began around April 1636. Middlemore and Greaves were attached on 11 February 1637. On 29 April 1637 Vavasour was warned to appear to respond to the articles, and Marsh was warned to appear on 18 November 1637. Proceedings against Marsh continued through January and February 1638, and witnesses were produced against him. The last surviving proceedings were when Greaves was summoned to appear on 20 October 1638.
Notes
John Marsh of the Inner Temple, gent, may have been the John Marsh of London, gent, mentioned in the Visitation of 1634 as the son of Robert Marsh of London, grocer, and Florence, daughter of a Mr Greene of co. Salop.
J. J. Howard and J. L. Chester (eds.), The Visitation of London, 1633, 1634 and 1635, vol. I (Publications of the Harleian Society, 15, 1880).
Humphrey Nicoll, second son of Humphrey Nicoll of St Tudy, co. Cornwall, esq, was admitted to Lincoln's Inn on 22 May 1631. John Marsh, son and heir of Thomas Marsh of Denton, co. Kent, gent, was admitted to the Middle Temple on 11 June 1634. Edward Greaves, son of Sir Richard Greaves of Moseley, co. Worcester, was admitted to the Inner Temple in November 1630.
J. Foster and W. Pailey Baildon (eds.), Records of the Honourable Society of Lincoln's Inn, vol. 1: Admissions, 1420-1799 (London, 1896), p. 213; H. A. C. Sturgess (ed.), Register of Admissions to the Honourable Society of the Middle Temple, vol. 1, 1501-1781 (London, 1949), p. 129; W. H. Cooke (ed.), Students admitted to the Inner Temple, 1547-1660 (London, 1877), p. 264.
Documents
Initial proceedings

Letter of John Coxe: 3/5 (25 Jul 1637)

Sentence / Arbitration

Letter of Robert Coxe: 3/6 (28 Jul 1637)
Undertaking of Robert Coxe: 4/22 (12 Apr 1638)

Proceedings

Undated proceedings: College of Arms MS. 'Court of Chivalry' (act book, 1636-8) [pressmark R.R. 68C] (hereafter 68C), fos. 64r-67r (c. Apr 1636?)
Proceedings before Maltravers: 68C, fos. 74r-83v (7 May 1636)
Proceedings: 68C, fos. 23r-36v (11 Feb 1637)
Proceedings: 68C, fos. 1r-11r (16 Feb 1637)
Proceedings before Maltravers: 8/27 (14 Oct 1637)
Proceedings before Maltravers: 8/29 (18 Nov 1637)
Proceedings before Maltravers: 1/5, fos. 1-15 (27 Jan 1638)
Proceedings before Arundel: 1/5, fos. 23-35 (3 Feb 1638)
Proceedings before Arundel: 1/5, fos. 38-56 (12 Feb 1638)
Proceedings before Arundel: R.19, fos. 434r-449v (20 Oct 1638)
People mentioned in the case
Coxe, John
Coxe, Robert
Dethick, Gilbert, registrar
Duck, Arthur, lawyer
Eden, Thomas, lawyer
Greaves, Edward, gent (also Graves)
Greaves, Richard, knight
Greene, Florence
Greene, Mr
Howard, Henry, baron Maltravers
Howard, Thomas, earl of Arundel and Surrey
Lewin, William, lawyer
Marsh, Florence
Marsh, John, gent (also Marshe)
Marsh, Robert, grocer
Marsh, Thomas, gent
Middlemore, Henry
Nicholls, Humphrey (also Nicholl, Nicoll)
Nicholls, Humphrey, esq (also Nicholl, Nicoll)
Payton, Samuel
Vavasour, Nicholas
Watson, John
Places mentioned in the case
Cornwall
Kent
London

Inner Temple
Middle Temple

Middlesex

Arundel House
Lincoln's Inn
St Clement Danes
Strand

Salop /Shropshire
Worcestershire
Topics of the case
cause of office
inns of court
reconciliation