The Court of Chivalry 1634-1640.
This free content was Born digital and sponsored by AHRC and University of Birmingham. CC-NC-BY.
29 BANNESTER V NICHOLLS
Sir Robert Bannester of Passenham, co. Northampton, knt v William Nicholls of St Clement Danes, co. Middlesex, gent
June 1639 - February 1640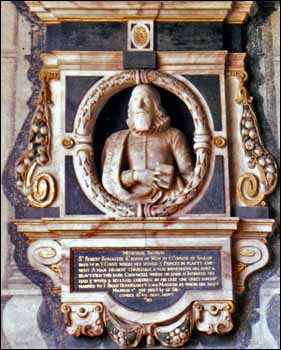 Abstract
Bannester claimed that between June and August 1638 in the parish of Water Stratford, Buckinghamshire, Nicholls had called him 'a base fellow' and addressed him by the insulting nickname of 'trunckes' [sic]. Bannester claimed ancient gentility of three hundred years standing and had been a J.P. himself for thirty years. A former official of the Court of the Green Cloth responsible for purveyance, he was a controversial figure in Northamptonshire, supporting the Laudian clergy and
Nicholls alleged that five years earlier, Bannester had enclosed a part of Passenham manor which included lands belonging to the defendant's brother, Thomas Nicholls, whom he then had imprisoned for debt thus enabling him to let his estate to other tenants. Bannester's conduct infuriated William Nicholls, who admitted to saying in the presence of John Frankish, the under sheriff, and his wife, that 'the basest fellow that ever was would not have used a poore man soe'. On 4 February 1640, Nichols was fined £15 damages and 20 marks expenses and ordered to perform a submission at the next Buckinghamshire assizes.
Initial proceedings
6/83, Plaintiff's bond
27 June 1639
Bound to appear 'in the Court in the painted Chamber within the Pallace of Westminster'.
Signed by James Lloyd of the Inner Temple, London, esq, on behalf of Bannester.
Sealed and delivered in the presence of Humphrey Terrick.
6/84, Petition to Maltravers
'Within twelvemonths last past the petitioner was much abused by many injurious and opprobrious words used by William Nicholls gent and amongst other wordes Mr Nicholls said that the petitioner was a base fellow and that he was a trunckes, thereby provokeing the petitioner to duell.'
Petitioned that Nicholls be brought to answer.
Maltravers granted process on 29 June 1639.
6/98, Defendant's bond
6 July 1639
Bound to appear 'in the Court in the painted chamber within the Pallace of Westminster'.
Signed by William Nicholls.
Sealed, subscribed and delivered in the presence of John Watson.
20/3b, Libel
1. Bannester had been a J.P. for up to 30 years, while his family had been gentry for up to 300 years.
2. Between June and August 1638 in the parish of Water Stratford, co. Buckingham, Nicholls said 'that I was a base fellow and called me by the name of Truncks and said he had as good friends as I had'.
3. These contemptuous words were provocative of a duel.
No date.
Signed by Arthur Duck.
Plaintiff's case
14/3s, Defence interrogatories [damaged]
1. What was the witness's age, occupation and condition? Who called witness to depose in this cause and what was he promised for doing so? Had he been instructed how to depose?
2. What was he worth in goods with his debts paid? Where had he lived during the last seven years? Was he a relation or household servant to either party? Was he indebted to either party?
3. 'Whether he or she hath had any conference with any, howe or in what manner hee or she should depose in this cause, and what the said conference hath byn, and with whome, and what other instructions and directions the witness hath had and received concerninge his or her examination in this cause'.
4. Whether 'the defendant being much grieved at the hard dealing of Sir Robert towards his brother, and treating thereof with John Frankish and his wife, did not say that the basest fellow that ever was would not have used a poore man soe as Sir Robert had used his poore brother, and noe otherwise andc'?
5. Was the witness present at the speaking of the 'pretended words'? Why were they present? At what time 'and upon what occasion' were the 'pretended words' spoken? Upon whose persuasion was Nicholls present or desired to stay, and what business had Nicholls there?
6. Did the witness know Thomas Nicholls, the defendant's brother, and for how long? Whether Thomas Nicholls 'for divers years last past was not seized of certaine landes, vizt. two houses, two cottages and diverse acres of land with commons thereto, belonging within the manor of Passenham, of which Sir Robert Banister... is Lord.' Whether about 5 years ago Bannester enclosed the commons belonging to the land, and some of the land itself of Thomas Nicholls 'as the pretended witness doth knowe'?
7. Whether Thomas Nicholls and George Thorne 'a man of good sufficiency' became bound to Banister for the repayment of various debts; and although Nicholls had received very little of the original money Banister 'procured a judgement against him being a very poore man... and was it not a plot between Sir Robert and George Thorne'?
8. Whether William Nicholls 'out of a desire to free his brother from the arrest [Thomas Nicholls having been arrested] did pay downe all the said principall and Nicholls was set at libertie. And whether immediately after Thomas Nicholls' release... made as aforesaid upon the bond of fortie pound did not the defendant William Nicholls tender unto all the debt, interest and charges due upon the foresaid bond of £20 for the payment of £10 and did Sir Robert refuse to receive the same'? And had the witness also heard Banister say that 'he would have all his judgements'?
9. Whether, following the events described in interrogatory 8, 'did not Sir Robert send to *John Frankish* the then undersheriff for warrants upon both the executions (although that of £40 were discharged as aforesaid) and caused Thomas Nicholls (Sir Robert's men being named for bailiffs on the warrants) to be carried to gaole on a Sunday and whether Thomas was not detained in prison *upon the said warrant onlie* for the space of about ten months then following... And did Sir Robert take all of the execution money upon the bond for £10 being £22 10s for £10 principal?'
10. Whether 'during the time that Thomas Nicholls was imprisoned did not Sir Robert seize upon and take into his possession all Thomas his estate, houses and lands and had let thereof to tenants and received the rents and profits thereof and yet keepeth Thomas Nicholls out of possession to the utter undoing of Thomas and his children (as the witness doth know or believe or hath credibly heard)?'
11. Whether 'Jane the wife of John Frankish, *at such time as the defendant Nicholls was at Frankish house*, did call Sir Robert Bannister Trunks, saying that her former husband Mr Dunne called him, Trunks, and gave him that name and never called him otherwise; and withal telling of diverse passages of differences which had been betweene Sir Robert and her husband Dunne still terming Sir Robert by the name of trunks... How and by what meanes Sir Robert was soe termed or called, and by whome and when, where and upon what occasion, and in whose presence?'
No date.
Signed by Joseph Martin.
Summary of proceedings
Dr Duck acted as counsel for Bannester, Dr Martin for Nicholls. On 4 February 1640, Nichols was fined £15 damages and 20 marks expenses and ordered to perform a submission at the next Buckinghamshire assizes.
Notes
Sir Robert Bannester appeared in the Visitation of Buckinghamshire in 1634, married to Mary, daughter of Sir Thomas Peyton of Knolton, co. Kent, knt.
W. H. Rylands (ed.), The Visitation of the County of Buckingham, 1634 (Publications of the Harleian Society, 58, 1909), p. 6.
For Bannester's activities as ship money sheriff in which he also became embroiled in a dispute with John Cartwright of Aynho, see CSP Dom. 1636-7 , pp.434, 471, 501, 510; CSP Dom. 1637 , pp.18, 53, 259, 333-4, 386, 401, 429; CSP Dom. 1638-9 , p.396 and Nigel Jackson, 'The Collection of Ship Money in Northamptonshire, 1635-1640', (University of Birmingham, M Phil thesis, 1987).
For Bannester as a Laudian patron and Arminian sympathiser, see John Fielding, 'Conformists, Puritans and the Church Courts: the Diocese of Peterborough, 1603-1642', (University of Birmingham, PhD thesis, 1989).
Documents
Initial proceedings

Plaintiff's bond: 6/83 (27 Jun 1639)
Petition to Maltravers: 6/84 (29 Jun 1639)
Defendant's bond: 6/98 (6 Jul 1639)
Libel: 20/3b (no date)

Plaintiff's case

Defence interrogatories: 14/3s (no date)

Proceedings

Proceedings before Maltravers: 8/31 (4 Feb 1640)
People mentioned in the case
Bannester, Mary (also Bannastre, Banister)
Bannester, Robert, knight (also Bannastre, Banister)
Cartwright, John
Duck, Arthur, lawyer
Dunne, Mr
Frankish, John, under sheriff
Howard, Henry, baron Maltravers
Lloyd, James, esq
Martin, Joseph, lawyer (also Martyn)
Nicholls, Thomas
Nicholls, William, gent
Peyton, Thomas, knight
Terrick, Humphrey, lawyer
Thorne, George
Watson, John
Places mentioned in the case
Buckinghamshire
Kent
Middlesex

St Clement Danes
Westminster

Northamptonshire

Aynho
Passenham
Peterborough
Topics of the case
Arminian
assizes
Court of the Green Cloth
denial of gentility
high sheriff
inns of court
justice of the peace
Laudian
nicknaming
office-holding
other courts
Puritan
ship money
under sheriff