The Court of Chivalry 1634-1640.
This free content was Born digital and sponsored by AHRC and University of Birmingham. CC-NC-BY.
466 NICHOLSON V COXE
George Nicholson of Seal, co. Kent, gent v William Coxe of the same
June 1635 - January 1636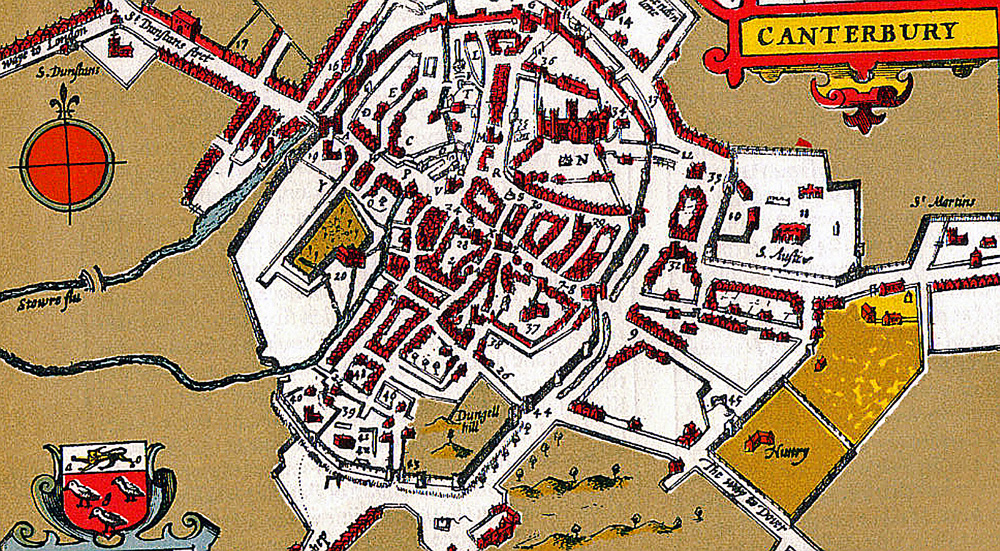 Abstract
Nicholson complained that Coxe gave him the lie in the presence of several gentlemen, and said 'if he had a redd coate on his back he were as good a man'. Coxe was attached to appear in June 1638 and in October admitted the charge and apologised to the Earl Marshal, claiming he had been provoked. On 12 November he was fined 20 marks in damages and £15 in expenses; then on 12 January 1636 he performed his submission before the justices of the peace at the quarter sessions at Canterbury castle.
Initial proceedings
R.19, fo. 10v, Summary of libel
'Nicholson and his ancestors for above 200 yeares past is and have bin gentlemen of an ancient family. And that Coxe before many gentlemen and others gave Nicholson the lye and said if he had a redd coate on his back he were as good a man, thereby to provoke and c.'
1635
No signature.
Sentence and Submission
10/10/3, Defendant's petition to Arundel
'There is a suit depending before your lordship in your Honor's Court, wherein George Nicholson, gentleman, is plaintiff against your petitioner, touching scandalous and disgraceful words by him uttered to the disparagement of Mr Nicholson. Your petitioner humbly acknowledging his offence, and being hartely sorry for the same, and for that the words were unadvisedly spoken in his passion, and through much provocation on Nicholson's part.
He most humblie beseecheth your good lordship to take him into your favourable consideracon. And in regard your petitioner hath a great charge in the countrey, and his attendance here will be much hinderance to him, that your lordship will be pleased to give a final end to this cause (as in your Honor's great wisdome shall be thought fitt) your petitioner humblie submitting himselfe to such order as your lordship and this honorable court shall sett downe therein.'
20 October 1635.
No signatures.
4/4, Submission
2 November 1635
Coxe's submission to be made between 2 and 3pm on the first day of the next general sessions in Kent before the J.P.s standing bareheaded in his ordinary clothes.
'I, William Coxe, do stand convicted to have used and spoken divers disgraceful and unbefitting words of and against Mr George Nicholson, gent., and to have given him the lye. I, William Coxe, do acknowledge that in so doing I did much forget my self and my duty and the respect I did and do owe to the gentry of this kingdom in generall, and also to Mr George Nicholson in his own particular. I doe humbly pray him to remitt my error and oversight in that behalfe, and doe promise hereafter to carry myselfe with all due respect towards all the gentry of this kingdom, and to George in his own particular'.
Coxe was to certify performance of his submission to the High Court of Chivalry at the first court day of the next term.
Noted: 'delivered the originall to Mr Carleton of Sevenoaks.
9/1b, Plaintiff's sentence
Coxe had accused Nicholson of being a liar. He was fined 20 marks and required to pay £15 in expenses.
Dated 12 November 1635.
Signed by Arthur Duck and Arundel.
9/1d, Plaintiff's bill of costs
Trinity term, 1635: £7-16s-8d
Vacation following: £9-10s-0d, inc. £8-10s-0d for expenses of the notary and the commissioners.
Michaelmas term, 1635: £11-6s-8d
Total: £28-13s-4d
Dated 12 November 1635
Taxed at £15-0s-0d
Signed by Arundel and Surrey.
18/1c, Certificate of submission
Text as in the submission above, 4/4
Cox was required to certify his performance on the first court day of the next term.
Signed by Gilbert Dethick, 2 December 1635.
'Kent at the general sessions of the peace holden at the Castle of Canterbury the 12th day of January 1635 William did make his submission according to the tenor of this order'.
Signed by John Howberie, clerk of the peace.
This was returned and introduced to the court on 30 January 1636.
Summary of proceedings
Dr Duck acted as counsel for Nicolson. On 9 June 1635 Coxe was attached to appear to answer the charges, appearing in custody on 20 June 1635. Coxe nominated Thomas Sciliard, esq, Thomas Pett, gent, Robert Baker, clerk, and Anthony Carleton, gent, as commissioners for the examining of witnesses.
Notes
Neither George Nicholson nor William Coxe appear among the Kent Visitations of 1619-21 nor 1663-8: R. Hovenden (ed.), The Visitation of Kent, 1619-21 (Publications of the Harleian Society, 42, 1898), G. J. Armytage (ed.), A Visitation of the County of Kent, 1663-8 (Publications of the Harleian Society, 54, 1906).
Documents
Initial proceedings

Summary of libel: R.19, fo. 10v (1635)

Sentence and Submission

Defendant's petition to Arundel: 10/10/3 (20 Oct 1635)
Submission: 4/4 (2 Nov 1635)
Plaintiff's sentence: 9/1b (12 Nov 1635)
Plaintiff's bill of costs: 9/1d (12 Nov 1635)
Submission and certificate of submission: 18/1c (2 Dec 1635)

Proceedings

Proceedings before Arundel: 8/24 (9 Jun 1635)
Proceedings before Huntingdon: 8/25 (20 Jun 1635)
Undated proceedings: R.19, fos. 390-399 (c. Jun 1635?)
People mentioned in the case
Baker, Robert, clerk
Carleton, Anthony, gent
Coxe, William, gent (also Cox)
Dethick, Gilbert, registrar
Duck, Arthur, lawyer
Hastings, Henry, earl of Huntingdon
Howard, Thomas, earl of Arundel and Surrey
Howberie, John, clerk of the peace
Nicholson, George, gent
Pett, Thomas, gent
Sciliard, Thomas, esq
Places mentioned in the case
Kent

Canterbury castle
Seal
Sevenoaks
Topics of the case
apparel
comparison
giving the lie
insult before gentlemen
other courts
quarter sessions