The Court of Chivalry 1634-1640.
This free content was Born digital and sponsored by AHRC and University of Birmingham. CC-NC-BY.
710 WILCOCKS V COWLAND
Thomas Wilcocks of Tottenham High Cross, co. Middlesex, esq v Francis Cowland of Brightlingsea, co. Essex
June 1635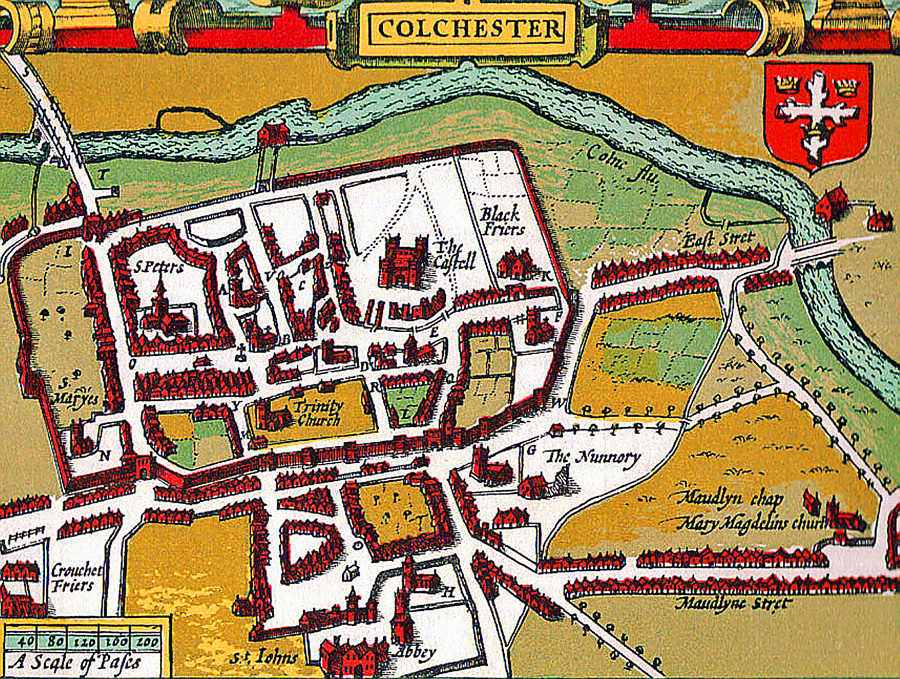 Abstract
Cowland was attached to appear in June 1635 at the suit of Wilcocks for scandalous words likely to provoke a duel. A commission headed by John Eldred, gent, was appointed to meet to examine witnesses at the King's Head in Colchester, Essex, from 7 to 9 January (probably 1635/6). But no further proceedings survive.
Initial proceedings
7/65, Appointment of commissioners
No date
John Eldred, gent, of Colchester
Stephen Nettles, clerk
Francis Wheeler of Brightlingsea, gent.
John Danett of Colchester gent.
To meet at the Kings Head at Colchester, on 7-9 January.
Summary of proceedings
On 9 June 1635 Francis Cowland was cited and attached to appear at the suit of Thomas Wilcocks to inquire into scandalous words provocative of a duel. The cause came before the Earl of Huntingdon, Lord Maltravers, Sir Henry Marten, Sir Francis Crane and Sir Henry Spelman on 20 June 1635.
Notes
Thomas Wilcocks of Brightlingsea, co. Essex was named in the 1634 Visitation of Essex as an esquire for the body of Charles I in 1634 was the eldest surviving son of Richard Wilcocks of London, gent (d.1624), and Alice, daughter of George Parkehurst of Ipswich, co. Suffolk. Thomas Wilcocks married Mary, the eldest daughter of John Wakering of Kelvedon, co. Essex, esq.
W. C. Metcalfe (ed.), The Visitations of Essex (Publications of the Harleian Society, 13, 1878), vol. 1, p. 523.
Documents
Initial proceedings

Appointment of commissioners: 7/65 (no date)

Proceedings

Proceedings before Arundel: 8/24 (9 Jun 1635)
Proceedings before Huntingdon: 8/25 (20 Jun 1635)
Undated proceedings: R.19, fos. 390-399 (c. Jun 1635?)
People mentioned in the case
Cowland, Francis
Crane, Francis, knight
Danett, John, gent
Eldred, John, gent
Hastings, Henry, earl of Huntingdon
Howard, Henry, baron Maltravers
Howard, Thomas, earl of Arundel and Surrey
Nettles, Stephen, clerk
Parkehurst, Alice
Parkehurst, George
Spelman, Henry, knight
Wakering, John, esq
Wakering, Mary
Wheeler, Francis, gent
Wilcocks, Alice
Wilcocks, Mary
Wilcocks, Richard, gent
Wilcocks, Thomas, esq
Places mentioned in the case
Essex

Brightlingsea
Colchester
Kelvedon

Middlesex
Suffolk
Topics of the case