Pages 212-217
The History and Antiquities of the County of Suffolk: Volume 1. Originally published by WS Crowell, Ipswich, 1846.
This free content was digitised by double rekeying. All rights reserved.
Homersfield, or St. Mary South Elmham.
The name of this village, as written in Domesday Book, is Humbresfelda; which signifies the land of Humbre: whence it would appear that some Danish rover, sailing up the broad channel of the Waveney, had seized on this bold promontory, and established himself in the demesne of the Saxon bishop, by compromise or the strong arm. In either case, he has left his name to posterity, as an evidence of his occupancy.
At the time of the Norman Survey, this village comprised two manors; two endowed churches, a mill, and the hamlet of Linburna—the modern Limburne. William, Bishop of Thetford, held a manor, which Bishop Almar had possessed in Saxon days, in which was a church, endowed with twelve acres of glebe, and the mill. The bishop claimed the soc and the sac of Stigand's tenants, and also of the lands of Limburne, belonging to Bury Abbey, for which he had the testimony of the Hundred Court; and he was in possession of a grant, of the time of Edward the Confessor, whereby he was entitled to the exercise of sac and soc over the lands of St. Edmund and his tenants. In Saxon times, the woods on this manor were large enough to fatten six hundred swine, but they had been so reduced as to maintain only two hundred when the Survey was made.
A free-man of Bishop Almar still retained a manor with a church and thirty acres of glebe land, then valued at 9s. and 4d. The Saxon owners of this estate seem to have been undisturbed in their possessions here, for it is further recorded that twenty-three free-men still held 80 acres of land, which formerly had been worth 40s., but were now valued at only 30s. This manor was one leuca in length, and half a leuca in breadth, and paid 20d. land-tax.
Saint Edmund, that is, Bury Abbey, held thirty acres of land in Linburn, with five bordars, or labourers, two acres of meadow, and the fifth part of a mill: the whole was worth 10s., but it is expressly stated that the Bishop of Thetford had the soc and sac. (fn. 1)
The manor and advowson of Homersfield remained with the bishops of the diocese till the reign of Henry VIII., when they passed to the Norths, as parcel of the manor, &c., of South Elmham, and now belong to Sir Robert Shafto Adair, Bart.
In the collections of the late Thomas Martin was a confirmation of six acres and a half of land in Homersfield to Robert de Sandcroft, ancestor to Archbishop Sandcroft, which Robert Husbond, tenant or servant to John of Oxford, Bishop of Norwich, gave him; and of three acres and a half, which Gervaise, son to Robert Husbond, sold to the aforesaid Robert de Sandcroft for 4s., and released and abjured it in the bishop's own chamber at Homersfield; to be held by the rent of 16d. a year to the bishop's manor of Homersfield, and 5d. to every aid, or tax, laid on that town.
In the reign of Henry III., the Bishop of Norwich obtained a license for a market and fair to be held at Homersfield. (fn. 2) The former is obsolete, but there is still a small annual fair, held in May.
Walter de Suffield, Bishop of Norwich, gave the third part of the tithe of his demesne in Homersfield to the Norman's Spital, or St. Paul's Hospital, in Norwich. (fn. 3)
Linburna, or Limburne, which signifies a contributary stream, appears to have been alienated by the Abbot of Bury soon after the Norman Survey was completed; for Roger Bigot confirmed to the nuns of Bungay "his lands of Limburne" in 1160; though the Abbot always retained an interest in it, and at the dissolution of Bungay Nunnery, when the rental of the manor of Limburne was £3. 13s. 3½d., had an annual payment of one shilling. The site of this manor was held in farm, before the dis- solution, by Robert Middleton, Gent., of Middleton Hall, in Mendham. Being parcel of the possessions of Bungay Priory, it was included in the grant of that establishment to Thomas, Duke of Norfolk, by Henry VIII. In the seventh of Edward VI., it was held by John and Thomas Wright; but in the seventh of Elizabeth was again in the Norfolk family, when the rental amounted to £4. 10s. 7d. In 1564, or the following year, Richard Wheatley, Rector of this parish, died seized of this manor; and about 1567, James, son of Edward Berdewell, of Mendham, as heir male of his family, released it to Bassingbourn Gawdy, Esq.; and in 1569, Sir Bassingbourn Gawdy, Knt., of Middleton Hall in Mendham, died seized of it. In the thirty-seventh of Queen Elizabeth's reign, Bassingbourn Gawdy, Esq., and Dorothy, his second wife, daughter of Sir Nicholas Bacon, Knight, are described as Lord and Lady. In 1696, John Rayner, Gent., held his first court; and in 1709, James Whiting, of Homersfield, was lord. It was soon after purchased by Alexander Adair, Esq.; and Sir Robert Shafto Adair is the present lord, in whom all the manorial tenures are merged. Kirby says, "there are but few or no tenants belonging to this manor, and it would scarce be known, if it were not for the water-mill, which still retains the name of Limber Mill." This mill was sold some years since to Aldous Arnold, of Lowestoft, Esq., and is at present the property of the Rev. Richard Aldous Arnold, Rector of Ellough.
The manor of Wadker's in Wymondham, in Norfolk, extended into Homersfield, and was held by the family of Hare. (fn. 4) This ancient race sprung originally from a branch of the illustrious family of Harcourt of Lorrain, in France, and came into England with William the Conqueror. (fn. 5) The armorial cognizance of this family was gules, two bars or: to which an augmentation of a chief indented of the second was given to Sir John Hare, who married Ann, daughter of Eustace Crew, Baron of Montalt. Hugh Hare, of Homersfield, (fn. 6) was living in the first of Henry the Seventh's reign, and was succeeded by Nicholas Hare, of Homersfield, Esq., who had issue, by Margaret his wife, two sons, John, and Thomas, who was a Doctor of Civil Laws and Chancellor of Norwich.
A branch of the Bateman family had an estate in Homersfield in the 17th century, which they held for some generations, till they moved to Mendham. There is a bridge in this parish over the river Waveney, which was built in 1763 by William Adair, Esq., who was the lord of the manor of South Elmham, and had a right of toll on passing and repassing this bridge, and which right exists at this day. (fn. 7) It appears from records that the lands of this village, which are of a light and gravelly nature, were formerly field lands, marked with meres and doles, laying open as a common field, and in a variety of ownerships. (fn. 8) The place, some centuries ago, contained so many alehouses as to give rise to the following distich, which is now, happily, inappropriate.
"Denton in the dale, and Arbro' in the dirt,— And if you go to Homersfield, your purse will get the squirt." (fn. 9)
Homersfield contains 981 acres of land; of which nine only are glebe, though eight hundred years since there were forty-two. (fn. 10) At the time of the last census the population amounted to 291 souls; eighteen persons being included in this number who were then dwelling in tents and the open air.
The Church
at Homersfield is an ancient structure, very picturesquely situated on a bold knoll of land, encompassed on the west and north by the meanders of the Waveney. The spot is so admirably adapted to the ancient plans of fortification, that had not the manor been the property of the church at the time of the Conquest, it would, undoubtedly, have been selected as the site of a castle by some of the Norman barons, among whom our soil was parcelled out. The lands of the great ecclesiastics and the abbeys were, however, uninvaded by the Conqueror,—a measure resulting from policy, I apprehend, rather than from religious motives. The fabric, which comprises a small nave and chancel, with a square tower containing three bells, is in a very dilapidated state. The walls, however, appear firm and sound, except in one place where the ivy has been permitted to penetrate, and a judicious architect might effect much here, at a comparatively small expense. Our ancient churches should never, but in extreme cases, be removed to make way for modern erections. Their walls are time-hallowed, and they are dear to us from the associations connected with them.

Passing through a very elegant little chancel door, we enter the interior of this edifice, which, though neatly kept, is very indifferently furnished. There is a Norman font, resting on five pillars, and one or two very ancient windows. Humble as this fabric is, it was once adorned with stained glass: the legend has disappeared, but the figure of a bishop remains in the upper part of the east window, in a sitting posture, having his mitre on his head, his pastoral staff in his left hand, and his right hand elevated as in the act of pronouncing the benedicite: the colours are much faded. In the south wall of the chancel is an elegant double piscina, of early English character.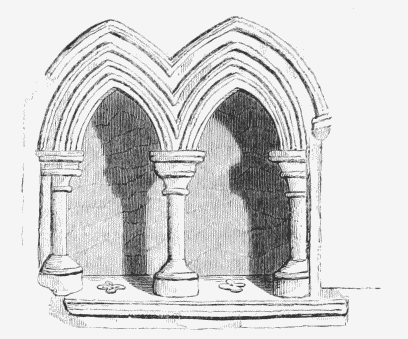 Monuments.—On the floor is a grave-stone with the arms of Bateman, sab. 3 crescents erm. within a bordure engrailed argent, thus inscribed. Barnabas Bateman, Gent., died 25 March, 1655.
John Bateman, Gent., died 1649, aged 66.
Thomas Le Grys, Rector of this parish and Sandcroft, died June 10th, 1722, aged 58.
There is an old stone in the nave with an illegible inscription and these arms . . . . . . 3 greyhounds' heads erased . . . . collared . . . . . with a crescent for difference, impaling per pale . . . . . and . . . . . 3 eagles displayed . . . . .
The rectory of Homersfield was consolidated with Sandcroft on the 19th of June, 1767. The date of the oldest register is 1558. The tithes have been commuted for £143.
Rectors of Homersfield.
Rectors.
Date.
Patrons.
Robert de Haustede
1311
The Bishop, pleno jure.
Richard de Notyngham
1320
Id.
William de Lopham
1329
Id.
William de Rammesholt
1350
Id.
John Newman
1391
Id.
John Salyng, alias Algar
1394
Id.
John Hanwille
1394
Id.
Walter Wardeboys
1395
Id.
Nicholas Abel
1399
Id.
William Hebbe
1405
Id.
Thomas Kensale
1408
The Bishop, pleno jure.
Thomas Foxton
1410
Id.
William Wode
1411
Id.
Thomas Waytelove
1412
Id.
John Lingeford
1418
Id.
Thomas Eppes
1420
Id.
Edward Sperhawk
1422
Id.
Adam Kede
1449
Id.
Richard Faukys
1455
Id.
Oliver Warner, alias Wetherale
1466
Id.
Andrew Smith
1466
Id.
William Sutton
1484
Id.
Roger Mundes
1501
Id.
John Yate
1513
No patron mentioned.
William Overey
1541
Edward North, Esq.
Henry Carter
1560
Id.
Richard Wheatley
1563
The Bishop, by lapse.
Robert Downes
1565
Roger, Lord North.
Edward Ellesley
1566
Id.
James Levytt
1585
John North, Esq.
Thomas Dorington
1594
Id.
Valentine Dey
1612
Assig. of Lord North.
Christopher Spendlove
Thomas Pye
1662
Wm. Lisle, Esq.
Thomas Le Grys
1693
Mary le Grys, p. h. v.
William Smith
1722
William Smith, p. h. v.
Estimatur ad viij marc.
Robert Downes, M.A., instituted Rector of this parish in 1565, was installed fourth Prebend of Norwich Cathedral, February the 8th, 1576.
Charities.—Two acres and a half of copyhold land, held of the manor of South Elmham, were left by Sir Nicholas Hare for charitable purposes. They are held by trustees, and produce about 50s. per annum, which are distributed among widows and other poor persons at Christmas time.