Pages 217-221
The History and Antiquities of the County of Suffolk: Volume 1. Originally published by WS Crowell, Ipswich, 1846.
This free content was digitised by double rekeying. All rights reserved.
St. James South Elmham.
As a member of the lordship of South Elmham, the manorial history of this parish has been already detailed. It lies at the south-west angle of the demesne, and comprises 1301 acres of land, of which nine are glebe. The tithes have been commuted for a rent-charge of £384. 10s.; and the population in 1841 amounted to 289.
There is a small estate in this parish, containing about 15 acres, and let for an annual rent of £20, given by Catharine Skarffe, widow of Andrew Skarffe, formerly of St. James's, who by her last will and testament, bearing date December 21st, 1479, gave all her messuage, tenement, and lands belonging, for certain pious and charitable uses, and for repairing the parish church, &c. vested in the hands of feoffees for the fulfilling the intent and uses of her will; but as part of the uses were abolished with the change of religion in this realm, by an inquisition taken of all charitable and other donations, in the reign of James I., it was settled and decreed that the rents and profits arising from the premises should be applied towards the reparation of the parish church, and the overplus expended in aid of the parish rates. There were also £10 given by William Grudgfield, Gent., to be vested in the churchwarden's hands for the time being, for him to render 10s. per annum, as interest; to be given away yearly, at the discretion of the churchwarden, to the poor of the said parish for ever. (fn. 11)
The farm in this parish called St. James's Park was anciently a paled enclosure, with a mansion in the centre, and was, most probably, emparked by royal license. It was formerly the property of Robert Palmer, Esq., from whom it passed to Wolfran Lewis, Esq. (fn. 12) It now belongs to his son, the Rev. John Lewis, Rector of Gillingham, in Norfolk.
The Church
is a spacious edifice, lofty and well proportioned, though it has not altogether escaped neglect and inappropriate reparations. It comprises a nave, opening by a fine arch into a square tower, in which hang four bells; a chancel, and a south aisle; the east end of which was formerly appropriated as a chapel, and dedicated to St. John. Andrew Taylor, who died Rector of this parish in 1474, and whose will was proved on the 9th of January, 1475, desires his body to be buried in this church, before the altar of St. John Baptist; "coram alt: S. Jo'is Bapt:" (fn. 13) Three octangular pillars, with plain moulded capitals, support the like number of arches, and to the west of these is a fourth arch, of like character, but of greater height and span. There are the remains of three sedilia, but the piscina is closed, and the canopies of all have been destroyed.
Considerable care and expense must have been bestowed on this fabric in olden times, as is apparent in every part of it. The chancel door is of very fine workmanship, and the stone employed of superior quality. Though full six hundred years old, the edges of the mouldings remain sharp and uncorroded. The north door of the nave requires also a particular notice. It is pointed, but the architraves are wrought with the Norman billet moulding. Fragments of stained glass in the windows attest the presence of this enrichment in earlier days, when almost all our parish churches were beautified with its tinted, solemn gloom.
The west end of the aisle formed the ancient vestry, and is enclosed by a screen of oak of early English character, which, though simply cut in boards, produces considerable effect. Like every thing in the interior of our churches, it is covered with a wash of lime. At the foot of the western arcade stands a large and very ancient font of Norman construction, sustaining a canopy of oak, richly carved, but of much inferior date. Like the old screen, it is incrusted with whitewash, while the font itself is coloured yellow— a barbarism the more to be regretted as it is carved out of Purbeck marble, a stone which bears the highest polish.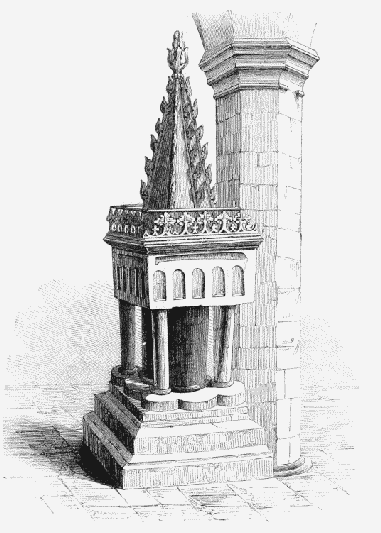 Tombs.—On the floor of the nave lies a small brass plate, about five inches long and two wide, bearing the following laconic inscription:

There are two brass effigies, of ordinary character, lying in the nave, about a foot long.
Hannah Greene, widow of John Greene, and daughter of William Aldrich, of Rumburgh, Gent., buried 6 May, 1712, æt. 65. John Greene, Gent., died 4 March, 1688, æt. 67. Thomas Greene died x day of May, 1615: he married Agnes Warde, and had 3 sons and 3 daughters.
On a brass plate is the following record:
Here lyethe buried the body of William Grudgfield, who had to wife Elizabeth Battely. He deceased ye 2 of June, anno 1601, which Willia' gave x pounde to be payed by his executors to ye church-wardens wthin 2 yeeres after his decease, for ye byinge of 5 milsh kyne to be let out to ye use of the poore of this parish for ever.
In the church-yard, against the west end of the aisle, is a tomb to the memory of George Norman Cracknell, who lost his life while bathing in the river Orwell, 11th of Aug., 1834, aged 16 years.
Rectors of St. James South Elmham.
Rectors.
Date.
Patrons.
Robert de Stratton
1334
The Bishop.
Joēs de Hoo
1335
Id.
Roger de Stow
1337
Id.
Joēs Waynflet
1337
Id.
Robert de Foston
1345
Id.
Simon Gyzoun de Linford
1349
Id.
Joēs de Wynston
1349
Id.
Thomas Walton
1349
Id.
William Sillecok
1357
Id.
Robert Day
Joēs Spendlove
1370
Id.
Joēs Bredford
1390
Id.
Richard Elyngton
1394
Id.
Joēs de Norton
1397
Id.
Henry Yokflete
Robert Somerby
1402
Id.
Thomas Audemer
Joēs Covyn
1414
Id.
Henry Edward
1419
Id.
Thomas Robyn
1431
The Bishop.
Andrew Taylor
1436
Id.
Thomas Ocley
1474
Id.
Robert Mawnus
1475
Id.
Nicholas Kyrshawe
1511
Id.
Robert Betts
1523
Id.
Joes Radwiche
1557
Edward, Lord North.
William Riccarde
1566
Id.
John Guthrie
1617
Sir John Tasburgh.
Samuel Knapp
1622
Thomas Knapp, p. h. v.
Richard Sadler
1665
John Gooch, Esq.
Francis Booty
1684
Thomas Baxter, Gent.
John Birch
1705
John Tasburgh, Esq.
Samuel Birch
1706
Baldwin Conyers, Esq.
Thomas Fuller
1737
Anthony Ellys, D. D., p. h. v.
Francis Turner
1743
Bishop, by lapse.
Thomas Barne
1790
Alexander Adair, Esq.
Archibald Brice
1795
Id.
Courtenay Boyle Bruce
1828
Id.
Estimatur ad xii marc.