Pages 114-115
Memorials of the Guild of Merchant Taylors of the Fraternity of St. John the Baptist in the City of London. Originally published by Harrison, London, 1875.
This free content was digitised by double rekeying. All rights reserved.
XX. THE MACE (fn. 1) AND YARD (fn. 2) OF THE COMPANY.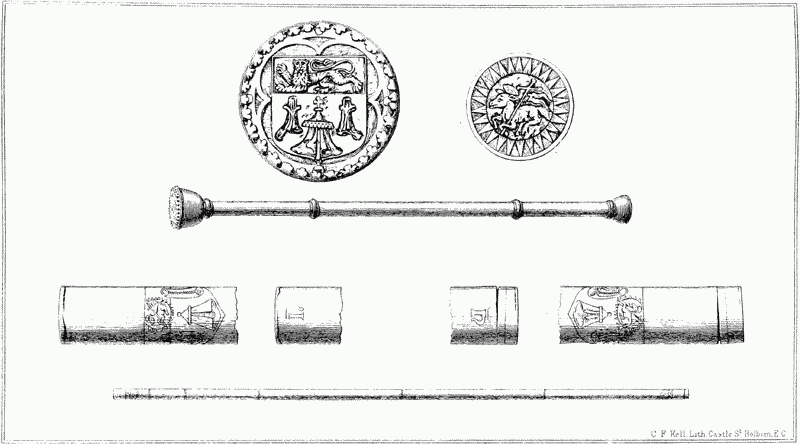 The Mace (the emblem of the Master's supreme authority) and the Yard (the London measure of cloth used in the search) are drawn on the opposite page, and this entry relates to them:—
"A Petition of Edward Thruxton, (fn. 3) late Beadle of the Company, stating that in the time of Mr. Kympton (1596–7), while Thruxton's wife was in the country, 'the Silver yard and Mace were at that tyme both stolen forth of my house. Since wch tyme I have made them both new agayne much fairer than they were before, att my owne prop coste and charges as may be judged by those who did knowe the other before, I am bold to send your Worshipps note what the coste and chardges did stand me in,' &c., &c., here follows the statement of the cost and reference to some articles of fixtures left in his late residence:—
"A note of the Yard and Mace.
£
s.
d.
"The 20th June 1597, paid Mr. Duckett, Gouldsmith, for 7 and ½ ounces of Silver to make the Mace, at 5s. the oz.
1
17
6
"For making the Mace
0
10
0
"For gylding of it
0
4
0
£
s.
d.
2
11
6
"The 10th August 1597, paid more to Mr. Duckett for 11 and ½ oz. of silver to make the yard at 5s. ye oz.
2
17
6
"For making the yarde
0
15
0
3
12
6
6
4
0
"It was fully agreed that the some of 20 nobles (6l. 13s. 4d.) is thought to be a sufficient satisfaction for the same as for all other matters, &c."—[21st October 1598.]