Pages 128-130
Ancient and Historical Monuments in the County of Gloucester Iron Age and Romano-British Monuments in the Gloucestershire Cotswolds. Originally published by Her Majesty's Stationery Office, London, 1976.
This free content was digitised by double rekeying and sponsored by English Heritage. All rights reserved.
WILLERSEY
(24 miles N.N.E. of Cirencester)
For relationship between Buckle Street and Ryknild Street, see p. xlv.
(1) Hill-Fort (SP 117379), Willersey Hill, probably bivallate, unexcavated and partly destroyed, lies on the summit and N. scarp of the hill, 1¼ miles S.E. of the village. A modern farm obliterates the relationship between banks on E. and S.W. There is no indication of banks defining a N. side.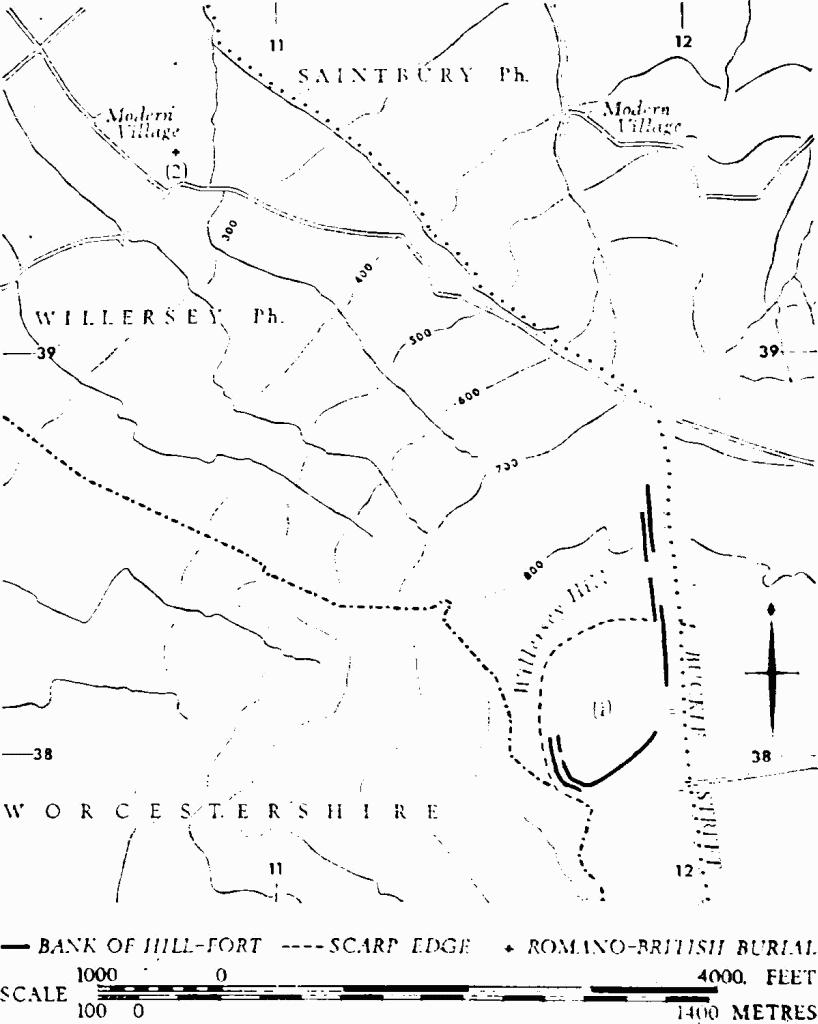 The two close-set banks with a ditch between them are about 85 ft. wide overall. The inner bank, set along the highest part of the summit at S.W., rises 2 ft. above the interior and 8½ ft. above the present surface at the bottom of the ditch. The outer bank stands 4 ft. above the exterior; there is no sign of an outer ditch. The S. side is defined only by the inner bank, here standing 6 ft. high and skirting the head of a narrow combe. The double banks on the E. side drop northwards from the summit, down a slope of about 5°, steepening beyond the scarp edge to about 17°.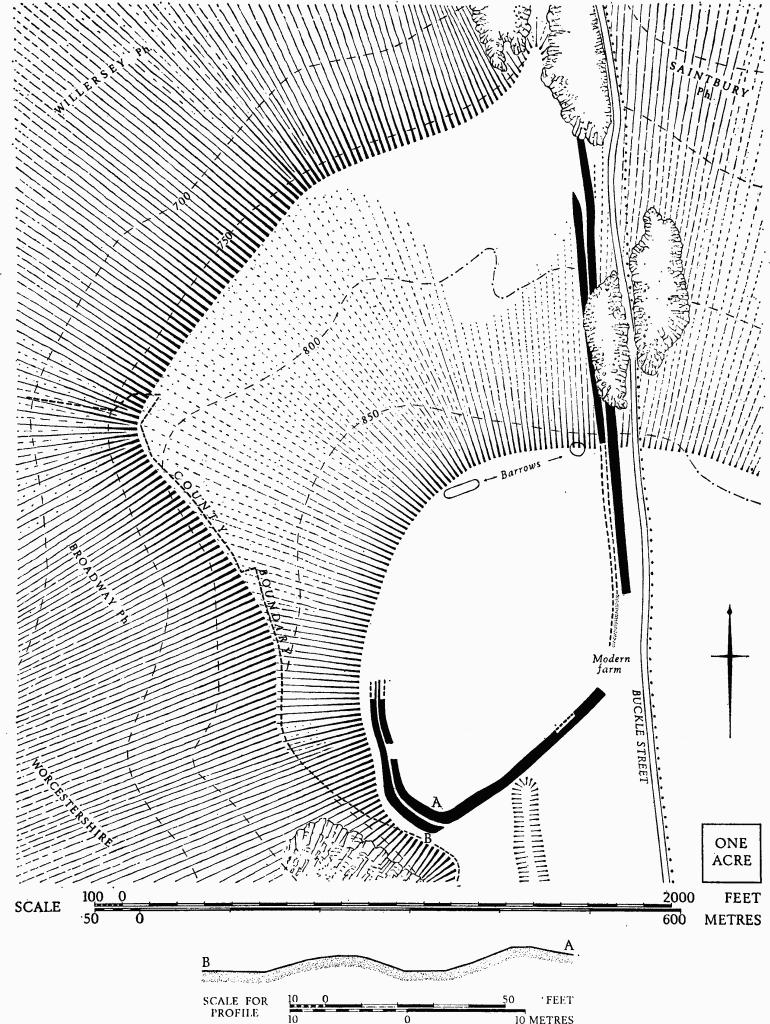 Isaac Taylor's map (1777) displays a complete subrectangular enclosure, some 40 acres in area. Bryant's map (1824) delineates the E., N. and N.W. sides of the enclosure, but it omits the extant S.W. and S. banks. Witts (1883) found no defences on the N. The area, formerly farm land and extensively disturbed by quarries, has undergone further alteration in the construction of a golf-course.
Rudder (1779), 823. Playne (1876), 207, No. 2. Witts (1883), 52, No. 107.
(2) Burials and Coin-hoard (SP 10743950), Romano-British, at Hill Farm, were found during construction work in 1968. Near a stone-lined grave containing two skeletons were 56 silver coins of the 4th century and a silver ring. The ring and two coins are in B.M.; the other coins are in Cheltenham Museum.
TBGAS, 90 (1971), 120–3.
(3) Probable Settlement (SP 09584165), Romano-British, near Willersey Barn, lies on a low ridge in the vale, less than 200 ft. above O.D.
A Dobunnic silver coin inscribed BODVOC, Roman coins, a fibula and pottery are recorded as having been found in an arable field. The Dobunnic coin is in a private collection; the Roman finds are in Worcester Museum.
D. F. Allen, in Bagendon, 121. Malkin MS., site No. 10.
(4) Romano-British Settlement (SP 09914023), Badsey Lane, lies on a slight ridge in the vale, about 200 ft. above O.D. Abundant pottery, fragments of flue and roof tiles and other building debris are recorded from ploughsoil.
Malkin MS., site No. 40.