Pages 14-16
Ancient and Historical Monuments in the County of Gloucester Iron Age and Romano-British Monuments in the Gloucestershire Cotswolds. Originally published by Her Majesty's Stationery Office, London, 1976.
This free content was digitised by double rekeying and sponsored by English Heritage. All rights reserved.
BISLEY WITH LYPIATT
(8 miles W.N.W. of Cirencester)
A Dobunnic gold coin inscribed Comvx is recorded from the parish. (fn. 1)
Roman altars and votive plaques have been found in such numbers as to suggest a religious centre or centres. (fn. 2) Finds have come from two sites about 1½ miles apart. In c. 1861 an altar of equestrian Mars and one of Silvanus or a native counterpart, and a plain fragment, were dug from under the S.W. corner of the tower of St. Mary's church, together with calcined stone; Roman pottery was later reported from the churchyard. (fn. 3) At Custom Scrubs (about SO 894081) quarrying of 'Roman Tump' c. 1800 revealed gabled reliefs of a genius and of Mars, both with cornucopiae and both inscribed, the first Marti Ollvdio. (fn. 4) An uninscribed relief of a warrior with a shield was found c. 1851. (fn. 5) Another altar, with a ramheaded serpent, is believed to have been found on the Lypiatt estate. (fn. 6) Six further altars, said to have been recovered from a mound on 'Bisley Common', are probably from Chalford (q.v.).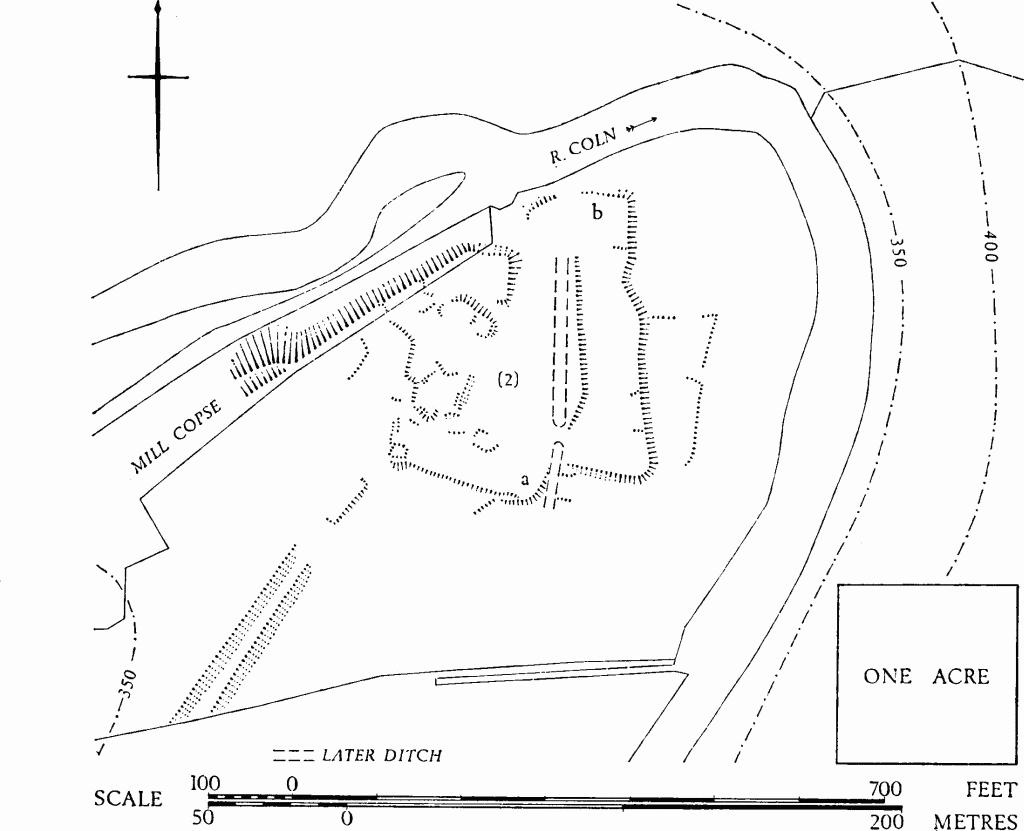 A Roman coin and a brooch have been found in a field about 500 yds. S.E. of villa (1), about SO 916040. (fn. 7)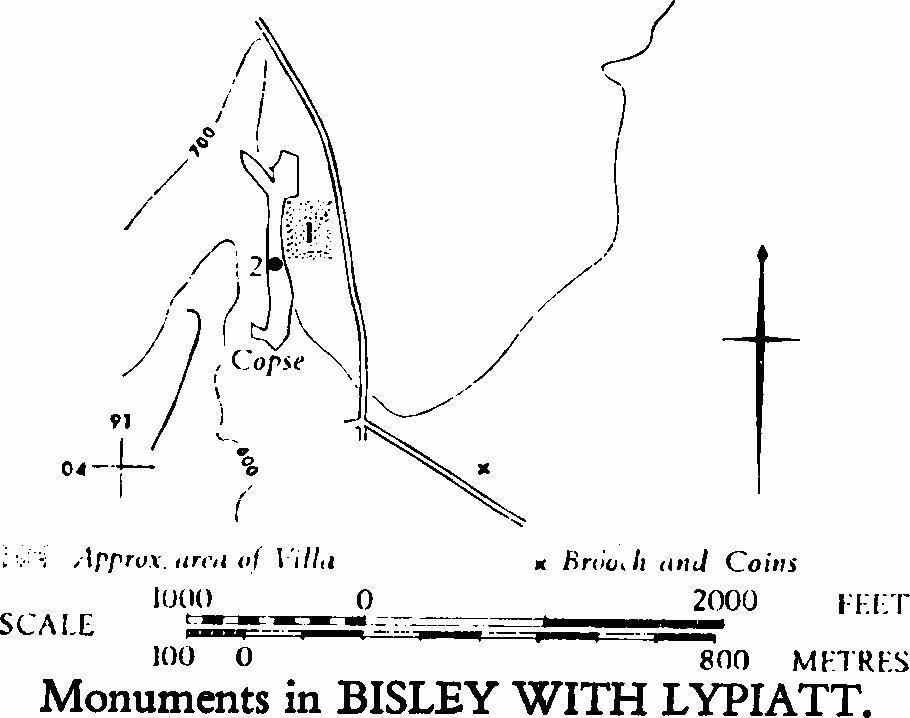 'The Trench', SO 929046, extensively quarried, is basically a geological phenomenon.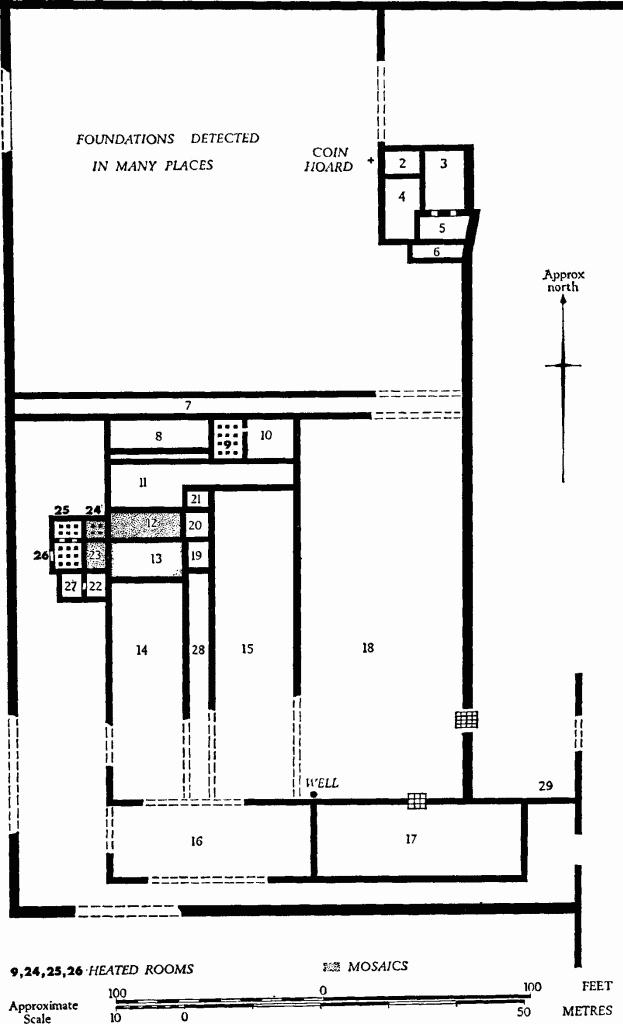 (1) Roman Villa (SO 91320438), Lillyhorn, Bournes Green, discovered and partly dug by T. Baker in 1841–5, lay in the N. half of an arable field called Church Piece, which slopes gently W. from the present Oakridge— Bisley road towards the steep scarp edge at 700 ft. above O.D.; it is now almost obliterated. The villa extended over the entire width of the field, covering about 3 acres. Some rooms were only partly cleared by Baker and large areas were investigated by random probing. The whole site has been very extensively robbed, much Roman building material being incorporated in the field walls. A mound (2) containing Roman debris and burials lies just W. of the villa site, below the scarp edge. The spring-line is 150 ft. below this, at the head of a steep combe.
No mosaic patterns survived. Wall plaster, window glass, large iron nails, hexagonal stone tiles and tiles stamped TPFA, TPFC and TPFP were noted. There were two 'stone bases', on natural soil where the floor was broken in room 12. The wall bounding the complex on S. was 5 ft. thick; that on W., 4 ft. thick. Pottery included samian ware. 'Implements' and animal bones were found.
A hoard of 1,223 3rd-century coins, found in a pot buried close to the N.E. cluster of rooms, included 629 of the Tetrici and 353 of Victorinus. About a third of the collection survives in Stroud Museum. An incomplete catalogue and notes on the dispersion of the coins are in the Baddeley Collection, loose paper 98, Gloucester City Library. Other finds are in Cirencester and Stroud Museums. Some tiles and other material are built into a summer-house at Watercombe House (SO 925049).
Arch J, II (1845), 42–5. JBAA, I (1846), 44–5. JBAA, II (1847), 324–7. TBGAS, XXIX (1906), 173–80. JRS, XLIV (1955), 68–72 (stamped tiles).
(2) Long Mound or Rubbish-Dump (SO 91250440), Roman, at Lillyhorn, in a plantation immediately W. of the villa (1), consists of rubble and occupation debris in which at least four burials had been made. The irregularly shaped mound lies N.—S., along the slope just below the scarp edge. One of the skeletons was female.
TBGAS, 60 (1938), 351–2. MS. notes in Stroud Museum.
(3) Probable Settlement (SO 936049), Romano-British, N.W. of King's House, is suggested by samian and coarse pottery, sandstone and part of a glass bracelet found in ploughsoil. Finds in Stroud Museum.
Archaeol. Review, 4 (1969), 38.