Pages 13-14
Ancient and Historical Monuments in the County of Gloucester Iron Age and Romano-British Monuments in the Gloucestershire Cotswolds. Originally published by Her Majesty's Stationery Office, London, 1976.
This free content was digitised by double rekeying and sponsored by English Heritage. All rights reserved.
BIBURY
(6 miles N.E. of Cirencester)
Romano-British pottery was reported (fn. 1) during ploughing in 1946 close to platforms, themselves unploughed and undated, at SP 12050672, 200 yds. N.W. of a Roman villa (2).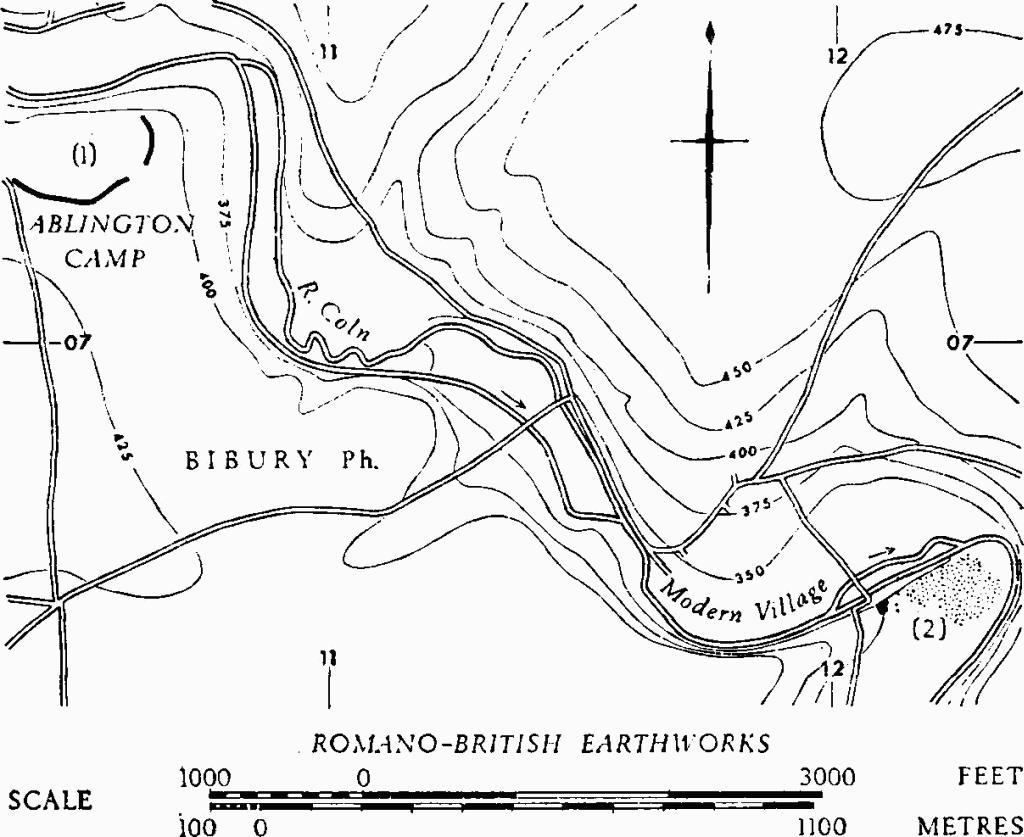 (1) Ablington Camp (SP 105074), univallate hill-fort of Iron Age type, unexcavated, encloses 8 acres at 400 ft. above O.D. on the edge of the plateau above the R. Coln. Most of the area has been ploughed. On the E. side, linear quarrying of unknown date lies inside the partly preserved bank; there is no other visible ditch at this point.
The N. side is marked only by the natural scarp, dropping steeply to the river. On W. and S. the bank is about 27 ft. wide and not more than 1 ft. high, being sliced by the modern road at S.W.; on the E. it is up to 5 ft. high, but N. and S. of the surviving bank there are only short stretches of low scarp. Signs of a 'wall' were noted after ploughing in 1881 (Witts (1883), 2). The entrance was apparently on the S.E. where there now is a gap 100 ft. wide. There is also a narrow gap in the N.E., between the bank and the natural scarp. On the N.W. the bank stops short of a broad gully at the upper end of a hollow-way leading to the river.
Witts (1883), No. 2, 'Ablington Camp'. Bryant's Map of Gloucestershire (1824), 'Rawbarrow Camp'.
(2) Roman Villa (SP 122065), near Bibury Mill, is contained within a loop of the R. Coln and is sheltered, particularly from the E., by ground rising steeply from the river; it was first recorded c. 1670. The site, disturbed by a variety of diggings, is marked by earthworks which suggest the possibility of a range of buildings extending S. from 'b' for 300 ft., and of another range extending W. from 'a'. Small platforms, probably for individual buildings, are inset into the gentle N.W. slope between these two long platforms. A further small platform of uncertain date lies across the N.E. end of a terrace-way, otherwise rounded by ploughing, which approaches the earthworks from the S.W. This terrace-way is 12 ft. wide where it is undisturbed (to the S.W. of the area shown on the plan). Rectangular areas defined by very low scarps, E. of the main earthworks, are immediately above an area of low ground intersected by drainage channels. A ditch about 3 ft. deep and presumably of recent date has been cut through the earthworks W. of 'b'. Plan, p. 15.
Accounts refer generally to mosaic pavements, baths, pottery and coins. More recent casual discoveries include finds of glass and substantial masonry footings.
R.A.F., VAP 106G/UK 1721: 4273–4.
J. Pointer, An Account of a Roman Pavement lately found at Stunsfield in Oxfordshire . . . (1713), 37. Camden, Britannia (ed. Gough, 1789), I, 282. TBGAS, II (1877–8), 24 (coins exhibited, no details). Witts (1883), 55, No. 1, 'Bibury Villa'.
(3) 'Celtic' Field Traces (SP 097089–SP 099095), on Ablington Downs, are suggested by air photographs over some 30 acres of ground falling gently E. between 450 ft. and 400 ft. above O.D. Scarps visible in the area have been ploughed almost flat.
R.A.F., VAP 106G/UK 1721: 6276–7.