Pages 2-3
Ancient and Historical Monuments in the County of Gloucester Iron Age and Romano-British Monuments in the Gloucestershire Cotswolds. Originally published by Her Majesty's Stationery Office, London, 1976.
This free content was digitised by double rekeying and sponsored by English Heritage. All rights reserved.
ALDSWORTH
(10 miles N.E. of Cirencester)
(1) 'Celtic' Fields (SP 180093) covering some 70 acres are recognisable on the limestone pasture of Bibury old race-course and on the arable ground immediately to the S., the whole area being flat or gently sloping. In the W., the fields which lie S. and S.E. of earthworks 'a' (SP 178092), which appear to be contemporary, are remarkably well preserved although others have been broken or obliterated by ploughing, some of it marked by low plough-ridges 5 yds. wide. The fields formerly continued in all directions; they are similarly orientated and were probably continuous with the fields in Eastleach (3), 300 yds. to the S.E. (Plans, pp. 1 and 2.)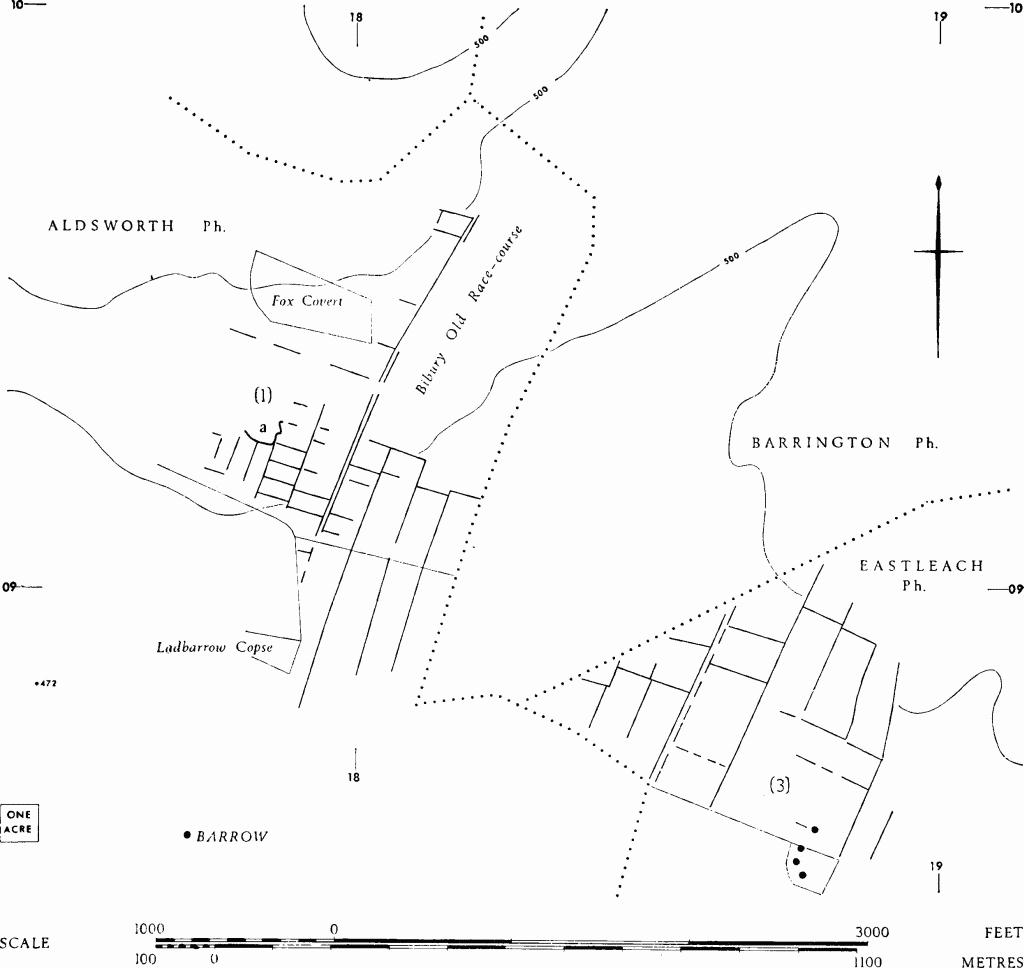 The fields are bounded by stony banks up to 20 ft. across and 1 ft. high, probably collapsed walls, and by lynchets 1½ ft. to 3 ft. high. A double line of collapsed walls about 4 yds. apart, suggesting a track, runs for nearly ½ mile N.N.E. through the fields, approximately parallel with and some ½ mile away from a less well-defined but probably similar line in Eastleach. The banks are regularly arranged in parallel lines, resulting in individual fields between 58 yds. and 62 yds. long. Areas vary from about ⅓ acre to ½ acre. The fields S.S.E. of 'a' are not less than 80 yds. long and one of them is only 25 yds. wide. The earthworks at 'a', from which these fields extend, are undated and incomplete; their surviving stony banks are up to 15 ft. across and 2 ft. high above the accompanying silted ditches.
R.A.F., VAP 106G/UK 1721: 6262–3.