Pages 4-5
Ancient and Historical Monuments in the County of Gloucester Iron Age and Romano-British Monuments in the Gloucestershire Cotswolds. Originally published by Her Majesty's Stationery Office, London, 1976.
This free content was digitised by double rekeying and sponsored by English Heritage. All rights reserved.
AVENING
(9 miles W.S.W. of Cirencester)
Earthworks extending over 10 acres in Hazel Wood, about ST 864987, were called 'Hazlewood Copse Camp' by Witts (1883, 25, No. 49), following an illustrated account by Playne (PCNFC, V (1870), 284–5). The earthworks survive, much disturbed; they are slight, make no coherent plan and are of unknown date.
Air photographs show large enclosures, possibly Iron Age, 530 yds. S.S.E. of Star Farm, at ST 891964. (fn. 1)
Casual Roman finds reported from imprecise locations are in private hands. For an altar possibly found in Hazel Wood, see King's Stanley.
(1) Romano-British Settlement (ST 86909835), immediately S. of the old line of Shipton's Grave Lane, in a small area of arable on the ridge top above 550 ft. O.D., was indicated by a score of sherds, including samian, small fragments of brick or tile, some imported sandstone and a concentration of fire-reddened limestone. The sherds are in Gloucester City Museum.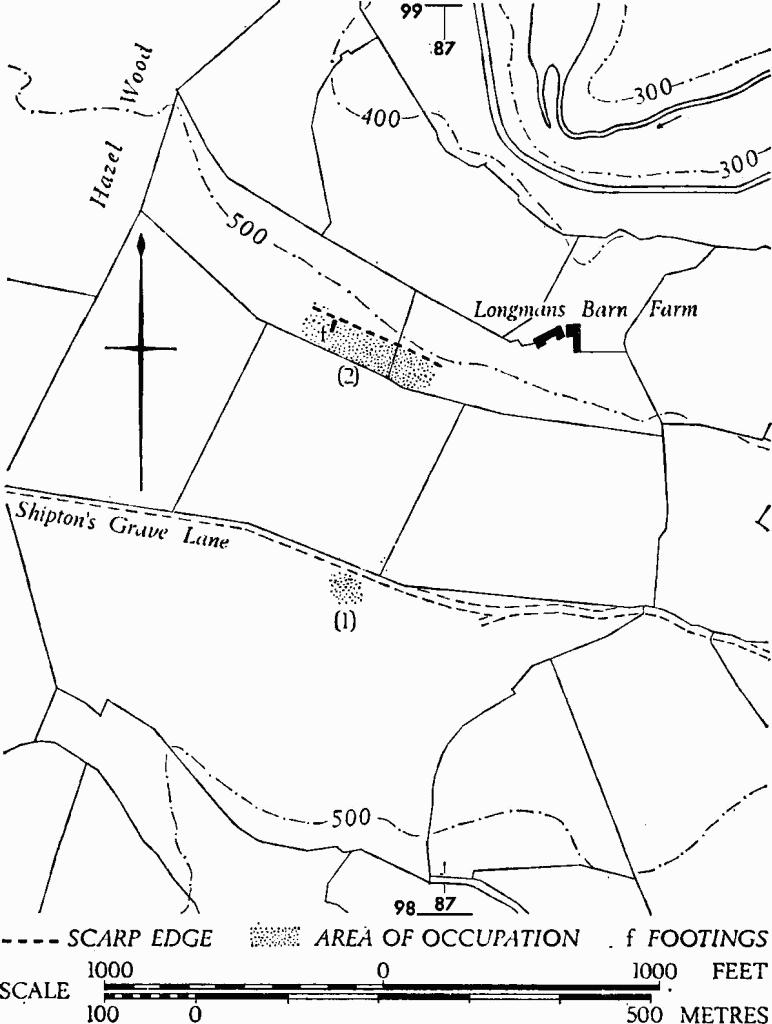 (2) Romano-British Settlement (ST 869986), near Longmans Barn Farm, 270 yds. N. of (1), (see foregoing map), occupies a terrace about 60 ft. wide, with traces of platforms, banks and depressions over at least ½ acre. The present spring-line is around the 400-ft. contour, more than 200 yds. to the north.
Footings, 3 ft. wide, of a building 14 ft. wide internally and at least 42 ft. long, possibly of Roman date, lie on the terrace some 70 yds. W. of the field wall at ST 86949860; the N. end has collapsed over the edge of the steep scarp. At the foot of the scarp is a partly buried block of dressed limestone, 2 ft. by 1½ ft., with a groove and a square socket cut into one face.
Above the terrace, on the S., scoops have been dug into the 30-ft. high scarp for a length of more than 100 yds. Most of them are small and irregular, and some have sloping bottoms.
Finds, now mostly in Stroud Museum, include twenty-four 3rd and 4th-century coins, samian and other pottery, the former with potters' stamps, and imported stone; most of these have been found over a number of years in the crumbling steep scarp on each side of the modern field wall below the terrace (ST 86969860). Occupation debris and blackened earth were exposed when post-holes were dug for the erection of a gate in the wall on the terrace.
TBGAS, 87 (1968), 203, No. 3.