Pages 5-6
Ancient and Historical Monuments in the County of Gloucester Iron Age and Romano-British Monuments in the Gloucestershire Cotswolds. Originally published by Her Majesty's Stationery Office, London, 1976.
This free content was digitised by double rekeying and sponsored by English Heritage. All rights reserved.
BADGEWORTH
(13 miles N.W. of Cirencester)
A skeleton, probably Iron Age, found in gravel on the N. side of Crickley Hill (SO 926162) c. 1883, (fn. 1) was accompanied by iron articles which have recently come to light and comprise a pot-hook, a bracelet and two short pointed rods. (fn. 2)
Six 3rd and 4th-century Roman coins, found after ploughing in the Dryhill area, are in Gloucester City Museum. (fn. 3) A fragment of Romano-British pottery from Badgeworth churchyard (902192) is in Cheltenham Museum.
Romano-British pottery was noted in 1920 in a copse to W. of Barrow Wake (SO 92851523) (map, p. 40), on a steep slope near the foot of the escarpment (O.S. records).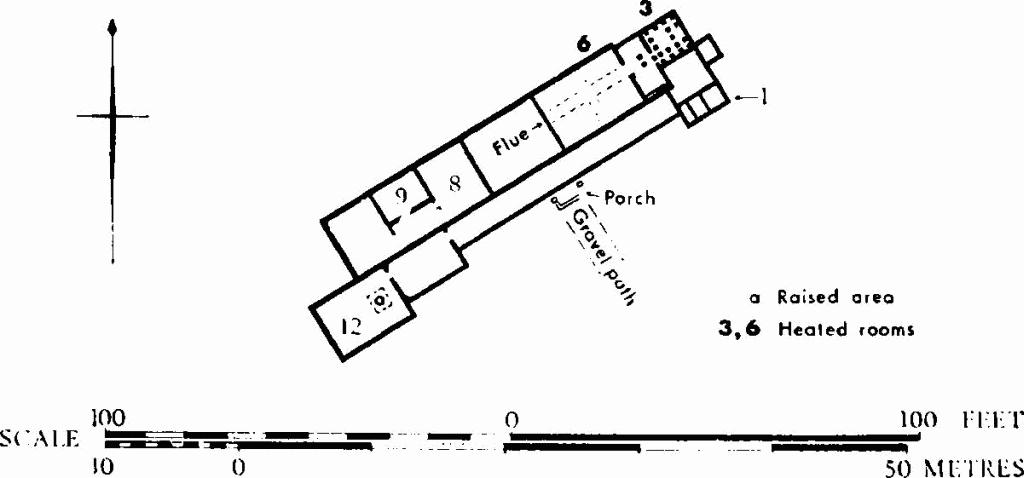 (1) Roman Villa (SO 93171689) at Dryhill (map, p. 40), in arable on a broad terrace near the foot of the escarpment, lies 150 yds. S. of a small brook and about the same distance N.E. of a spring. Excavation in 1849, following discovery during ploughing, revealed the Oolite walls, up to 3 ft. high, of a corridor building which faced the escarpment. Alterations were noted in room 1, a 'bath' with stuccoed walls and a flagged floor, and also where the walls of room 9 had been built on the floor of room 8. Painted plaster was found on the inner faces of walls. The few surviving floors were of opus signinum or sandstone; the roof had been covered with rhomb-shaped stone tiles. A slightly raised area (a) in room 12 was plastered, like the surrounding floor, with opus signinum; a hole nearby, filled with bones and charcoal, contained a coin of Valentinian. A column base was found in the corridor area, and the plan suggests a pillared entrance. The villa is said to have been destroyed by fire.
Coins dating from Constantine I to Valens were found beneath the disturbed floor of room 9. The earliest reported coins, found elsewhere on the site, were of Tetricus. Other finds included a stylus, the handle of a glass jar, a millstone, a stone trough, Kimmeridge shale, coal in the arched flues under room 6, and a tile said to have been stamped 'PRC' (perhaps a misreading of RPG). All finds appear now to be lost.
W. H. Gomonde, Notes on Cheltenham, Ancient and Mediaeval (privately printed, 1849), 7–13. The text is reproduced without illustrations in Norman's History of Cheltenham (ed. J. Goding, 1863), 20–3. Witts (1883), 60, No. 10. JRS, XLV (1955), 72, No. 20 (tile).