Pages 202-203
An Inventory of the Historical Monuments in the City of Cambridge. Originally published by Her Majesty's Stationery Office, London, 1959.
This free content was digitised by double rekeying and sponsored by English Heritage. All rights reserved.
Selwyn College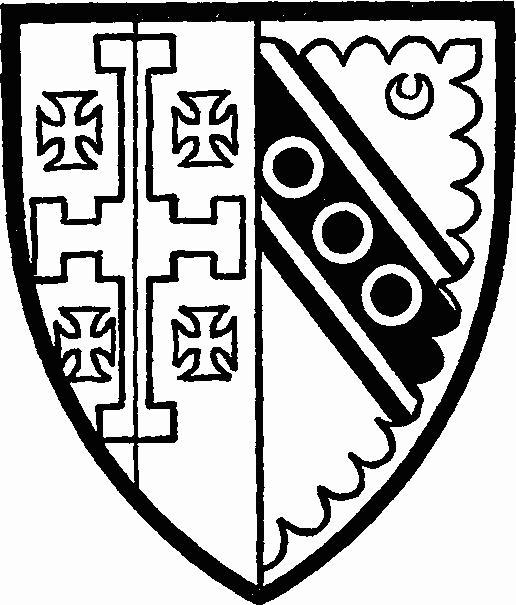 (38) Selwyn College, at the corner of Grange Road and Sidgwick Avenue, was begun in 1881. The early 20th-century Hall contains, on the back wall of the dais, reset woodwork given in 1914 in memory of E. W. Benson, Archbishop of Canterbury, by A. C. Benson. It consists of the reredos from the English church of St. Mary at Rotterdam and was brought over by Benson in 1913, the year the church was demolished.
Description—The reredos extends the width of the W. wall; it is of oak, with coupled pilasters at each end and a central pedimented feature with freestanding columns, all of the Corinthian order, on low pedestals. The pilasters support a plain entablature, the columns an enriched entablature with dentils and modillion-cornice; on the pediment are two urns. The lining is of fielded panelling, with short returns on the side walls flanked by plain pilasters with stylised capitals and carrying simple entablatures. The rest of the 18th-century panelling in the Hall is partly fielded, partly plain, with a cornice. The woodwork is considerably restored and much of the panelling is modern.
A pamphlet, An Account of the Money Collected for the English Church at Rotterdam, published in two parts, in 1702 and 1706 (University Library), records that in 1702 the draft for 'erecting a convenient and ornamental building' was submitted to the Duke of Marlborough and the Magistrates. The list of contributors is headed by Queen Anne. The last page has a list of contracts but concludes, the 'inward work not yet contracted for'. The reredos is stylistically of the early 18th century.