Pages 167-170
An Inventory of the Historical Monuments in the County of Cambridgeshire, Volume 1, West Cambridgshire. Originally published by Her Majesty's Stationery Office, London, 1968.
This free content was digitised by double rekeying and sponsored by English Heritage. All rights reserved.
28 LITTLE GRANSDEN
(O.S. 6 ins. aTL 25 N.E., bTL 25 S.E.)
Little Gransden is a village rather more than 11 m. W. of Cambridge; the companion village of Great Gransden, with which it is nearly continuous, lies to the N. and is in Huntingdonshire (M. W. Beresford and J.K.S. St. Joseph, Medieval England (1958), 76–8).
The parish of 1920 acres, almost square and covered generally with boulder clay, is bisected from S.E. to N.W. by the Gransden Brook, which drains ultimately into the Ouse at St. Neots. This brook with its tributary has cut into the underlying greensand to form what in places is almost a miniature ravine. The relief, otherwise without incident, varies between 270 ft. above O.D. in the S.E. to less than 150 ft. where the Brook leaves the parish.
The village falls into two distinct parts: a typical nucleus around the church; and a N. and S. street now about ½ m. in length along the W. bank of the Brook. This street was almost twice as long in 1813 when enclosure was enacted, but the S. half, then sparsely populated, has since completely decayed. At that date the road already left the Brook at N.G. TL 27355433 to follow the line of the old access way at the back of the crofts on the W. side of the valley. Surviving houses along the street are preponderantly of the 17th century, and a number of comparatively uniform small bridges (not listed) in sandstone rubble crossing the Brook suggest a concerted plan. No trace of earlier buildings has been found. Nevertheless the evidence is hardly sufficient to allow firm conclusions as to the origins of this distinctive and interesting lay-out.
The enclosure map shows an area of old enclosure, of some 300 acres or more, in the upland S.E. corner of the parish, including Hayley Wood. The mid 13th-century Ely Coucher Book (Ely Diocesan Registry) does not reflect any settlement at that time and the only house, Gransden Lodge (Monument (14)), is a comparatively late rebuilding, incorporating timbers from an earlier house.
Ecclesiastical

a(1) Parish Church of St. Peter and St. Paul stands on the N.W. slope of a hillock; the churchyard is an irregular enclosure bounded on the W. by a low wall, now ruinous. The fabric consists of a Chancel with modern organ chamber on the N.; Nave with Aisles, and modern N. porch; and West Tower. The walls are of fieldstones and carstone rubble with dressings of clunch and freestone; much of the material is reused. The roofs are covered with tiles and slates.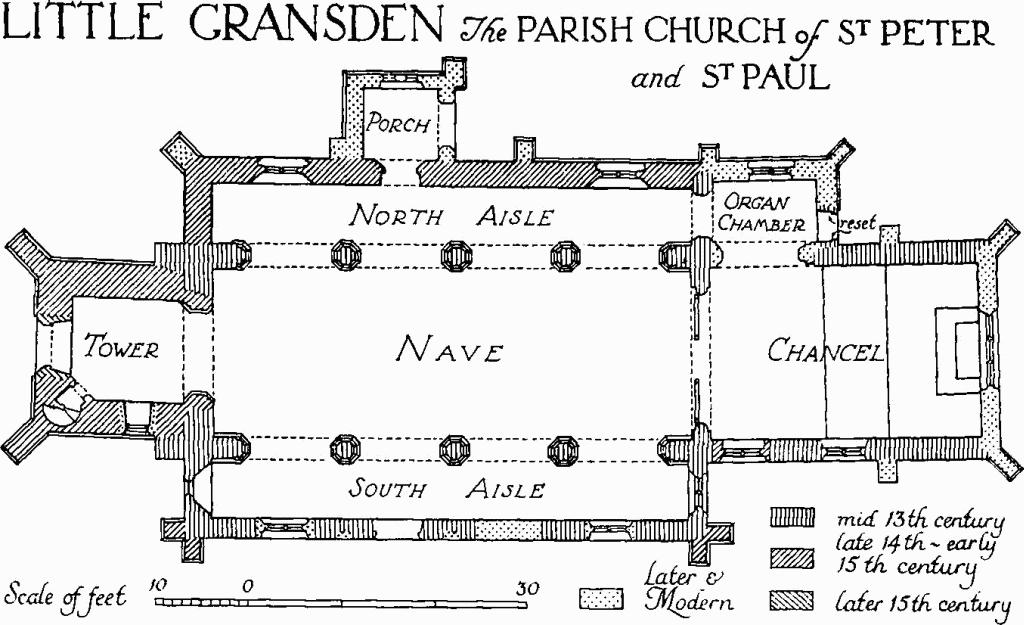 Fragments reset in the S. wall point to a 12th-century or earlier stone church. The present building, apart from the late 14th- or early 15th-century tower, is of mid 13th-century origin. The chancel was restored in 1858 and 1875, and the whole church under J. P. St. Aubyn, at a cost of £700, in 1885–8. Some of the renewals and alterations are not easily distinguished from old work, but from the account by J. H. Parker (Ecc. Top. Cambs., § 34) it is evident that restoration has been heavy.
Architectural Description—The Chancel (28¾ ft. by 18½ ft.) has a 19th-century E. window, raised in 1885–8; the label looks old. The N. wall, otherwise blind, has a modern archway into the organ chamber, which incorporates some older voussoirs. A doorway, of 13th-century character, which may have come from the N. wall is now in the E. wall of the organ chamber. On the S. side are two windows, both partly restored: the first, of two uncusped lights with a plate quatrefoil and rebated externally, is of mid 13th-century origin; the second (Plate 10) is mid to late 14th-century in style, of two cinque-foiled lights with a quatrefoil in the head between vertical bars. The 13th-century chancel arch, of two chamfered orders, has semi-octagonal responds, the moulded caps and bases of which have been mutilated; a label on the W. has also been cut away.
The Nave (51 ft. by 18 ft.) has rebuilt or heavily restored 13th-century arcades, each of four arches of two chamfered orders carried on octagonal piers and similar responds with moulded caps and double chamfered bases; both arcades have labels towards the nave. The clearstorey has a 15th-century window over each arch, of two cinque-foiled lights with a quatrefoil in a four-centred inner head; the square outer head has spandrels filled with blind tracery; all are more or less restored. The North Aisle (6 ft. E. to 6½ ft. W. wide) though of original dimensions appears to have been rebuilt in the late 14th or 15th century. At the E. end a mutilated window opens into the organ chamber. Two windows in the long wall resemble those of the clearstorey but have unusually wide splays. Between them a late 14th- or 15th-century doorway has moulded jambs, four-centred inner and square outer head with traceried spandrels and a moulded label. There is no opening in the W. wall. The South Aisle (6¼ ft. wide) is of the 13th century but was heightened and remodelled later in the middle ages. It has an E. window of mid 13th-century origin, similar to the first window on the S. side of the chancel, but almost entirely restored. In the long wall are two windows similar and opposite to those in the N. aisle, but with the mouldings in the jamb omitted because of the thinness of the wall. The doorway between them is of two continuous chamfered orders with a restored label and is 13th-century; it was probably set under a gable. In the W. wall is a largely original 13th-century lancet, rebated externally.
The lofty West Tower (11¾ ft. by 11 ft.) is in three stages with a moulded plinth and embattled parapet; it was built up on the W. wall of the nave about the end of the 14th century; the buttresses of this wall flank the E. corners of the tower and serve as the substructure for its corresponding angle buttresses. The W. buttresses of the tower are diagonally placed and of five stages, reaching to the bottom of the bell chamber; the fourth and fifth stages terminate in gables, respectively cusped and panelled. The 15th-century W. doorway has moulded jambs, inner and square outer head with spandrels enclosing blank shields, and a moulded label. The restored W. window is of three cinque-foiled lights with an embattled transom, vertical tracery and a moulded label; the rear arch has shafted splays and an internal label. In the second stage there are win dows to the N., S. and W. each of a single cinque-foiled light with a moulded label. In each wall of the bell chamber is a much restored window of two cinque-foiled lights with a quatrefoil in the head flanked by vertical bars. At the head of the second stage, on the W. only, is a frieze of cusped panelling. The parapet has small gargoyles at the angles.
The tall tower arch is of two moulded orders with moulded responds stopped some distance above the chamfered bases and moulded imposts. The stair is entered through a doorway in the S.W. corner and there is a further doorway at each of the upper stages. Squinch arches at the top corners of the tower, three of which have been repaired in brick, suggest a spire.
Fittings—Bells: three; 1st, with undeciphered inscription, probably 17th-century; 2nd, inscribed in black-letter 'Sancte Necolane Ora Pro Nobis' with shield depicting a bell between the initials 'T b', ascribed by Raven (Church Bells of Cambs., 41) to Thomas Bullisdon of London, early 16th-century; 3rd, dated 1616, probably from the Stamford foundry. Bell frame: with pits for four, inscribed 'T 1657'. Book: Certain Sermons or Homilies . ., London 1726. Brass: in chancel, of William Knight, Rector, 1623, rectangular panel with Latin hexameter inscription. Chair: in rustic Sheraton idiom, 18th-century. Chests: (1) some 7 ft. long, of oak planks with crude iron furniture, divided across the middle and with two lids, perhaps 16th-century; (2) with three run-through panels in front, 17th-century. Churchyard cross: octagonal to square plinth with spur stops at the angles and socket about 10 ins. square for shaft; mediaeval. Communion table: with turned legs, painted in imitation graining, and modern top, 17th-century. Font: octagonal limestone bowl, clunch stem with moulded necking and base, 13th-century.
Monuments and Floor slab. Monuments: In chancel, on S. wall (1) of Rev. W. Gower, Rector, 1808. In N. aisle, on N. wall (2) of George Golding, 1781, and Sarah, his wife, 1798; (3) of Ann Blain, 1811. In churchyard, on S. side (4) of Rev. James Musgrave, 1747, Catherine (Perrot) his wife, 1721, '. . . She bore six sons and three daughters, some of wch lye here'; also to Jane, his second wife, 1741; vault covered by a low gabled structure in limestone ashlar. Floor slab: In chancel, on S. side, of Mary Ann Norris, 1846, and her father, Rev. Frederic Norris, (date obliterated). Painting :: on N. outer order of last arch of N. arcade, checker pattern in red; mediaeval. Plate: includes a 16th-century cup, and a paten, inscribed '1582', both with maker's mark JH; and a paten, London 1724, inscribed and presented in 1724; pewter plate by Robert Dean. Pulpit: of six sides, remodelled from one of octagonal shape; each side is in three heights, the middle with jewelled arches, the top one with carved foliage; 17th-century. Royal Arms: affixed to N. wall of tower, in carved wood; of 1801–1816. Screen: in six bays, two of which form the entrance. The side bays, two on either side, are in two heights; the lower one solid with a central mullion and tracery in the head; the upper one an undivided opening with inner ogee head, double-cusped, spired and crocketed beneath vertical tracery in the outer head. The entrance has a depressed four-centred and sub-cusped inner head and open work above uniform with the side bays. The uprights are worked towards the nave with attached shafts the capitals of which support modern statuettes of standing angels; they may originally have terminated in a cove. Lavish modern paint makes it difficult to assess the amount of restoration but the cornice is presumably also modern; remainder 15th-century. Miscellaneous: reset low on the outside of the S. wall of the S. aisle, E. of the doorway, fragments of a voussoir enriched with cheveron and of a nook shaft with spiral cable and beading; 12th-century. Other reset stonework includes a number of old dressings incorporated in the buttresses of the tower.
Secular
a(2) House (Class K), single-storeyed with attic, framed and plastered, with gable-ended thatched roof. The central chimney stack is inscribed 'ICD, 1676' and the building is presumably of that date, although some timbers exposed internally are clearly reused. These include an elaborately moulded fireplace bressummer and a length of moulded beam scarfed into a later one.
a(3) House (Class L), two-storeyed, framed and plastered, with roofs covered with asbestos slate, hipped at the junction. The chimney stack, rather narrow and placed across the ridge, is rendered, but old photographs in the house show that it is of red brick, with a roll mould at the base. The principal ground-floor room at the S.E. end of the house has a ceiling divided into four panels by a stop-chamfered cross beam with axial secondaries having broach stops except at the N.W. end against the chimney. The adjoining room has a stop-chamfered axial beam. Only the ground floor was examined. 17th-century.
a(4) House, formerly an ample rectory, substantially of the 19th century, in Tudor idiom with battlemented parapets and windows having marginal glazing bars and square labels. There is an older, possibly mediaeval, nucleus much altered, which includes one moulded and one chamfered ceiling beam and an elaborately moulded fireplace bressummer; these may be in situ.
a(5) School and School house, forming a single T-shaped building of red brick with white brick dressings and slated roofs in Tudor idiom, built 1845. The School, an open hall of three bays, is entered by a porch against the E. bay, but this replaces a central feature. The School house is two-storeyed and forms a cross wing to the school; a chimney between the two serves fireplaces in the corresponding corners of the ground-floor rooms.
a(6) House, a N. and S. range approximating to Class K on plan, single-storeyed with attic, framed and plastered, with thatched roof, half-hipped to the S. and hipped to the N., the fourth room being little more than a narrow outshut under the lower end of the hip. The next room is a large one and may have been open to the roof. Probabaly 18th-century.
a(7) House (Class J), single-storeyed with attic, framed and plastered, with thatched roof, gable-ended; 17th-century. The unheated E. end of the house has lower eaves suggesting that it was open to the roof. Axial beams on either side of the chimney have elaborate stops. A bread oven N. of the chimney is covered by an extension of the main roof supported on two posts.
b(8) House, approximately L-shaped, partly two-storeyed, partly of one storey with attic, framed and plastered, with some brick replacement, roofs tiled; of 17th-century origin, but altered. The lower rear range may have been wholly or partly open to the roof.
b(9) Rose Farm, a late 17th-century house consisting of a main range (Class I) of one storey with attic, framed and rough-cast, with tiled roof; and a single-storey wing at right angles in similar materials; the whole forming an L. The internal chimney with L-shaped stack and the end chimney of the wing with a single diagonal flue may be original. The ceilings of the two main ground-floor rooms are carried on cross beams.
b(10) House (Class L), two-storeyed, framed and plastered, with corrugated iron roof; probably of the second half of the 17th century. The red-brick internal chimney has two diagonal flues. S. of it are remains of a bread oven. Much structural timber is exposed internally and is of rather meagre scantling. A holding said to be of about 3 acres goes with the house; most of it lies across the brook and is reached by a bridge on the N.; there are remains of a second bridge, of red brick, nearer the house, which may have been coeval with it.
b(11) House (Class L), two-storeyed, framed and plastered, with thatched roofs; early 18th-century. The internal chimney has a stack of two separate flues with conjoined capping.
b(12) House (Plate 30), consisting of two E. and W. ranges in line; that to the E. being of one storey with attics, that to the W. of two storeys with chimneys at either end; framed and plastered, with thatched roofs; inside, some chamfered and stop-chamfered beams; perhaps late 17th-century.
b(13) Fuller's Hill Farm (N.G. TL 267533), house, two-storeyed, of red brick with slated roofs gabled and hipped, in the Georgian tradition, c. 1840. The plan form is basically Class-T but includes a porch projection of full height on the S. front and a service wing with end chimney to the N.
b(14) Gransden Lodge (N.G. TL 288535), on the S. side of the road to Longstowe, occupies a site which in 1826 was adjoined on the S. by a block of old enclosures which included Hayley Wood.
The house, L-shaped and of the 17th century, is two-storeyed and was originally framed, but the outer ground-floor walls have been rebuilt in brick; the roofs are tiled. Much reused material is incorporated including a number of late mediaeval or Tudor joists with double-ogee moulding, some stopped, others worked at the ends in such a way as to suggest that the building for which they were designed had outside walls of masonry or brick.
(15–21) Houses, mostly framed and plastered, with thatched roofs, and of internal-chimney design (Classes I and J); of one or two storeys, some with attics; several have been curtailed or modified; 17th-century and later.
Earthworks
(22) Cultivation Remains. Ridge and furrow survives mostly in old enclosures on either side of the village street. The ridges are 90 yds. to 200 yds. long, 7 yds. to 10 yds. wide and 9 ins. to 1 ft. high with headlands of 8 yds. to 12 yds.
Traces of open-field type ridge and furrow can be seen on air photographs, especially S.E. of the village, with curving furlongs abutting against each other. Straight ridge and furrow in rectangular fields (as around N.G. TL 275548, E. of Rose Farm) and curved ridge and furrow in small fields with curving boundaries (as around N.G. TL 269548, S.W. of the village) are also traceable. The remains and traces thus fall into three groups: old closes ploughed within their limits; old closes formed directly from the open fields and ploughed in the same way; and open-field remains.
(Ref: enclosure map 1813 (C.R.O.); air photographs 106G/ UK/1635/1465–8; 106G/UK/1490/4014–6.)