Pages 55-59
An Inventory of the Historical Monuments in the County of Cambridgeshire, Volume 1, West Cambridgshire. Originally published by Her Majesty's Stationery Office, London, 1968.
This free content was digitised by double rekeying and sponsored by English Heritage. All rights reserved.
10 CONINGTON
(O.S. 6 ins. aTL 36 N.W., bTL 36 S.W.)
Conington is a small and now rather dispersed village 9 m. N.W. of Cambridge. The parish is a compact one of 1522 acres, predominantly of Ampthill clay. Although none of it is fenland it is generally low-lying, barely attaining 100 ft. in the S.E. corner. Drainage is to the N. The boundary with Boxworth to the S.E. and with Fenstanton in Huntingdonshire to the N.W. is indented and no doubt follows old fields; to the S. against Elsworth it is relatively straight. The Cambridge to Huntingdon road divides Conington from Swavesey and Fen Drayton to the N.E.
The church stands on a small patch of river gravel somewhat W. of the centre of the parish. Close by to the N.E. is an old crossroad, the S. arm of which is a decayed hollow-way called Town Street, with a second hollow-way parallel to it some 200 yds. further W. Here was once part of the village, if not its actual nucleus (see Monument (8)). Today most of the houses, none of which is older than the 17th century, are scattered to the N. and E. between the church and the park. A small group (Monument (3)) on the S.E. edge of the park appears to represent a rehousing scheme necessitated by extension of the park.
General enclosure was by act of 1800, the award being made in 1804.
Ecclesiastical
a(1) Parish Church of St. Mary consisting of a Chancel, Nave and West Tower stands in a rectangular churchyard bounded on the N. by a low stone-coped wall. The second hollow-way mentioned in the introduction must at one time have passed close to the tower. The nave is of red brick. The lower stages of the tower are stuccoed; the top stage is of field stones and the spire is ashlared. The roofs are covered with tiles and lead. Fragments lying loose in and around the church or reset in its walls include a stone carved with interlace ornament (see Miscellaneous below) and the head of a 12th-century pillar piscina (see Piscinae (2) below). These point to a church earlier than the present one which retains no work prior to the 14th century. The nave was rebuilt and the tower buttressed under the patronage of Dingley Askham c. 1737 (see Monuments and Floor slabs, Monument (4)). The chancel was rebuilt in 1871, and there were restorations in 1902 and 1911.
Architectural Description—The Chancel (29½ ft. by 13¾ ft.) and organ chamber are modern. The Nave (42½ ft. by 19¾ ft.) is of red brick with a white brick plinth and a parapet. There are three round-headed windows in each side wall with rusticated jambs and arches, in stucco except for the imposts and keystones which are of ashlar; the cornice and parapet coping are of stone also. The windows are flanked internally by elliptical-headed recesses with plain keystones. Against the S. side of the nave and partly above ground level is a family vault of c. 1740 which has red brick walls and a curved lean-to roof. The West Tower (10½ ft. square) has massive sloping 18th-century red brick buttresses at the corners. Between the W. buttresses is a rusticated doorway with flat-arched head, bold keystone backed by a pulvinated frieze and broken pediment clasping a small oval window (Plate 91). This composition, which is in clunch and freestone, has obliterated a mediaeval W. window, but parts of the S. splay and N. jamb with springing are visible. Above, in each face of the belfry, is a restored 14th-century window of two trefoiled lights with a quatrefoil in the head. The original tower parapet had gargoyles of grotesque human form at each corner; that to the N.E. has broken away and that to the S.W. appears to be a modern replacement. Behind and inset from the parapet an octagonal spire with roll-moulded angles rises to a finial. There are gabled windows in the cardinal faces, those to the E. and W. being set lower than those to the N. and S.; the gables are trefoiled and are flanked by grotesque stops. At the base of the spire in the S. face is a doorway similar in form to the windows just described.
Fittings—Bells: 1st, recast in 1911, reproducing a 15th-century inscription 'Sancta Maria Ora Pro Nobis' and retains a reset shield of the Bury foundry; 2nd, inscribed in Lombardic capitals with ornamental initial stop 'asumta: est: maria: in: celum: gaudent: angeli: laudantes: benedicunt: do' with the additional letters 'minum' added higher up on the shoulder. J. J. Raven (Church Bells of Cambs., 12–13) has suggested that this bell was cast c. 1376 by William Brasier of Norwich in the course of his migration from Nottingham; 3rd, inscribed in capitals 'Milo Gray me fecit 1635'; 4th, recast in 1911, reproduces original 15th-century inscription 'Virgo: Coronata: Duc: Nos: Ad: Regna: Beata' and retains a reset shield of the Bury foundry. The inscriptions on the 1st and 4th were in black-letter with Lombardic capitals before being recast. Book: Folio Prayer Book and Bible, 1715. Brass indent: at W. end of nave for rectangular inscription panel. Chests: (1) plain hutch, apparently designed as an almsbox with small lid set in a fixed top and perforated slot, 17th- or 18th-century; (2) resting on two sleepers with clawed ends, the lid and base moulded, the sides, front and lid bound with parallel iron straps, 17th- or 18th-century. Doors: In W. doorway of tower (1) in two leaves each of eight fielded panels, c. 1737; reset in partition below tower gallery (2) in two leaves each of three fielded panels, 18th-century. Gallery: In tower, with front of turned balusters, c. 1737, probably reset. Glass: In second window on N. side of chancel, a few 14th-century and later mediaeval fragments reset.

Monuments and Floor slabs. Monuments: On E. wall of organ chamber (1) of Rev. Thomas Brown, rector, 1829, signed 'Ino Soward London'. In nave, on E. wall N. of chancel arch; (2) of Philip Thomas Gardner, 1838, and other members of family; in niches on N. side; (3) of Rev. Philip Gardner, D.D., 1826, and Harriet his wife, daughter of Sir Thomas Hatton of Longstanton, 1822, inscription panel with sarcophagus and urn in white marble; (4) of Dingley Askham, 1781, white marble inscription panel flanked by pilasters carved with leaves surmounted by a cornice and urn; the inscription relates that 'In the Year 1737 he rebuilt this Church'; (5) of Frances, wife of Dingley Askham, 1783, in white and grey marble, oval inscription panel on a rectangular background with fluted frieze above and broken pediment enclosing an urn; (6) of Ann, eldest daughter of Dingley Askham, 1784, white marble tablet with shaped grey apron, moulded cornice and urn; in niches on S. side; (7) of Robert Cotton (Plate 14), aged 14, 1697, only son of Sir Robert Cotton of Hatley St. George and great-grandson of the founder of the Cotton Library; the monument is of white marble and consists of an oval medallion with portrait bust in high relief framed in a garland of foliage and flowers and surmounted by a quarterly shield of arms flanked by cherubs; below the medallion an inscription panel in the form of carved drapery flanked by freestanding badges; the signature 'G. Gibbons fecit.' is incised on a palm leaf at the base of the medallion; (8) of Alice Cotton (Plate 14), 1667, only daughter and heiress of John Constable of Drumondby, Yorks., and wife of Thomas Cotton; of white marble, comprising an inscription panel surmounted by a portrait bust in high relief set in an oval recess having frame carved with a swag and three shields of arms; immediately above the foregoing in the same niche (9) of two infant daughters of Sir Robert Cotton and his wife Gertrude, one at birth, 1665, the other, Frances, 1667; black inscription panel with shaped side pieces and cornice topped by a cartouche of arms; (10) of Thomas Cotton, 1729, and Ann, his wife, 1744, marble inscription tablet with broken pediment enclosing a cartouche of arms; (11) Frances and Mary Askham (Plate 90), daughters of Dingley Askham, 1748, 'by a contagious fever', inscription tablet with pair of small portrait medallions, surmounted by a pediment and urn. In the churchyard, N. of nave; (12) of Thomas Sawyear (Plate 15), 1728, headstone with inscription arranged in two leaves beneath a panel carved in low relief with ladder, cross, claw hammer and three nails, representing the emblems of the Passion. There are a number of other 18th-century headstones in the churchyard with inscriptions partly or wholly indecipherable. Floor slabs: In nave—(1) of Robert Cotton, 1697, with shield of arms; (2) of Gertrude, wife of Sir Robert Cotton, 1701, with shield of arms; (3) of Ann Cotton, 1721, with shield of arms. Piscinae: In S. wall of chancel—(1) with stop-moulded jambs and cinque-foiled ogee head, 14th-century, reset; (2) head of a pillar piscina treated as a water-leaf cap, 12th-century, reset. Plate: includes a cup and cover paten, London 1570; and an inscribed cup and a paten, London 1696. Rainwater heads: five, lead, of c. 1737. Miscellaneous: Loose in the church: stone fragment carved on one face with interlace ornament, 11th-century; gargoyle carved with a bull's head, damaged by fire and cut down for re-use, perhaps 12th-century; stone bowl, fashioned for setting in a wall, of limestone marble repaired in cement, with moulded fore edge, mediaeval. Loose stonework in the churchyard, partly overgrown with vegetation, includes below the third window on the N. side of the nave a gargoyle carved as a grotesque half figure, 14th- or 15th-century.
Secular
a(2) Conington Hall, consisting of a house, stables and grounds, is about ¼ m. N. of the church on the edge of the village and parish.
The House was described by Cole as 'a very handsome new house' in 1745 (B.M. Add. MS. 5809, 65), but may be of comparatively early 18th-century origin; the Master's Lodge at Peterhouse, built in 1702 for Dr. Charles Beaumont, fellow of the college, is similar in design and could have served as prototype. The plan is almost square and consists of two parallel N.E. to S.W. ranges linked by the primary and secondary staircases arranged in line and entered by recessed doorways between the ends of the ranges. The structure seems originally to have been of three storeys in addition to the basement but was reduced to two in the earlier 19th century and reinforced by buttresses. A new third storey was added to the S.E. range in 1876. The walls are of red and white brick, much patched and rendered, and the roofs are slated.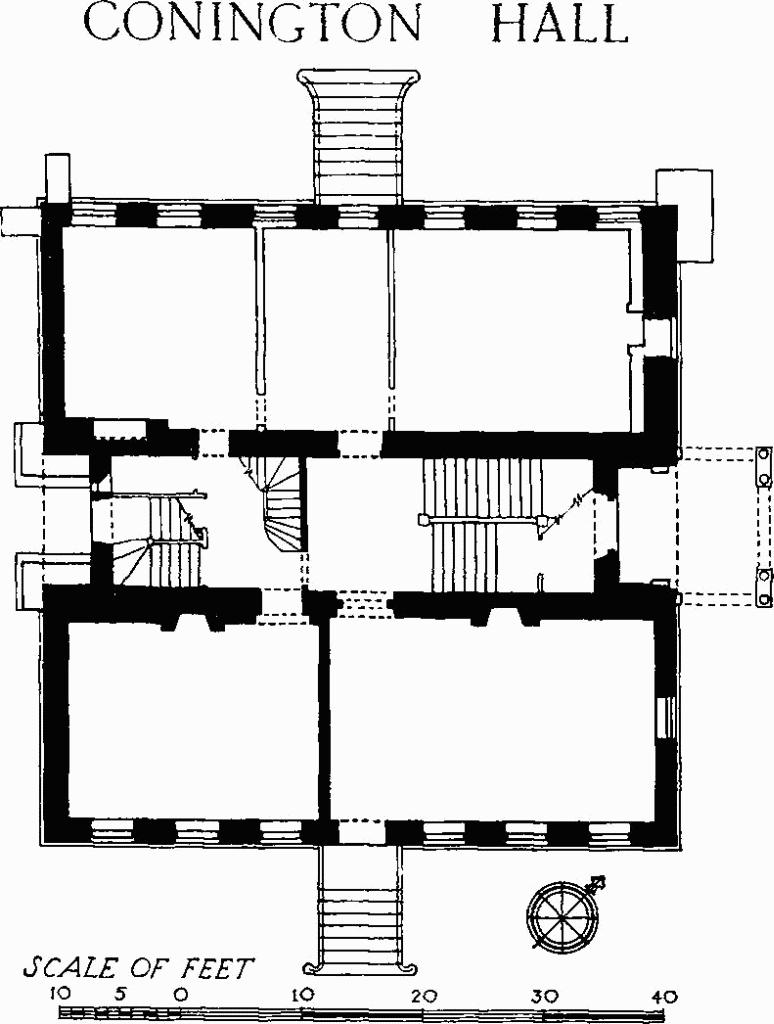 The symmetrical three-storey S.E. elevation is in seven bays and has a central doorway, approached by stone steps, with moulded stone architrave and broken pediment enclosing a cartouche of arms of Cotton. The N.W. elevation is generally similar but of two stages only,each of seven sash windows under flat-arched heads with painted key blocks. The centre window on the ground floor, approached by stone steps, is set in an irregular area of white brick and doubtless replaces an original feature. In the end elevations the recesses between the ranges have both been arched over just below the eaves level of the N.W. range. The N.E. recess has a Venetian window, with modern internal casing, lighting the stair hall; below it is the front door which has a 19th-century stone portico. N.W. of the entrance is a semi-external chimney stack, also of the 19th century, corbelled out at first-floor level. The heavily buttressed S.W. end has in the recess between the ranges an original doorway with moulded wooden architrave and a narrow hood supported by console brackets; above it are two original sash windows.
The original main staircase (Plate 39) is of deal and rises in two main flights, separated by two half-landings with a short intermediate flight, as far as the first floor. It has twisted balusters, square panelled newels, close string and a panelled dado at the wall. The secondary staircase (Plate 39) which rises the full height of the house is also original, but may have been in part rearranged; it has turned balusters and plain square newels with ball finials. For the rest much of the internal detail is of the 19th century but earlier features include some simple 18th-century panelling and original marble fireplace surrounds.
Immediately S.W. of the house are the altered remains of original Stables. N.W. of them is a kitchen garden enclosed by 18th-century walls. The Grounds include a 'Wilderness' to the N.W. of the house with two oblong ponds in line with it at approximate distances of 150 yds. and 200 yds.; the first is parallel to the house, and the second at right angles. The park and garden contain a number of mature specimen trees.
a(3) Houses (Plate 35), group of four semi-detached estate dwellings to varying designs in a Tudoresque idiom, each of two storeys, built of red and white brick (some reused) with tiled or slated roofs. One is dated 1849.
a(4) The White Swan (Class H), public house, of red brick with tiled roofs, is similar in style to the foregoing and of about the same date.
a(5) Marshall's Farm consists of a framed N. and S. range of two storeys, partly under-built in brick, with tiled roof. The S. end is a 19th-century extension. The remainder is perhaps of 17th-century origin, although some timbers, including an ovolo-moulded beam on the ground floor at the N. end, have been reused.
a(6) School and School House, built of white brick with tiled roofs in 1840 (Gardner's Directory, 348), were altered and extended not long after. The School consisted of a single class-room open to the roof. The School House, placed at right angles to it like a cross wing, is of two storeys with sash windows, first-floor platband and dentilled eaves cornice.
a(7) Rectory (Class T), now alienated, has a main range of two storeys and attic, with lower kitchen wing at right angles to the rear; both are of plastered studwork with tiled mansard roofs. It was probably built c. 1800. The principal elevation, to the S., is symmetrically designed in three bays with central front door beneath a fan-light, triple sash windows in the side bays and three set-back dormers. A two-storey block in white brick was added to the E. c. 1840 and at the same time the original stair hall and stair, in the re-entrant between the main range and the rear wing, was altered.
Earthworks
a(8) Village Remains. There are two areas of remains, both on dry and level sites of Ampthill clay: (a) around N.G. TL 320660 (only the two main hollow-ways are on O.S.) S. of the church; and (b) around N.G. TL 321665 (not on O.S.), E. of the Hall.
(a) Two hollow-ways run S. from School Lane and continue as footpaths towards Elsworth. The W. hollow-way is 550 ft. long, 28 ft. wide and 1 ft. to 4 ft. deep, with a bank 12 ft. wide and 2 ft. high along the E. side at the N. end. The E. hollow-way 450 ft. to the E., known as 'Town Street', is 30 ft. to 40 ft. wide and 2 ft. to 3 ft. deep. A third hollow-way, 250 ft. from the N. end of the W. hollow-way, runs E. from it for 200 ft. and then fades out; it is 25 ft. wide and 4 ft. deep at the W. end. Between the two main N. and S. hollow-ways is a disturbed area with many banks, scarps and ditches, none of which can be clearly interpreted but which probably represent former house sites and gardens. To the E. of 'Town Street' a disturbed area with several scarps 1 ft. to 2 ft. high corresponds to the site of a house which was standing in 1800 (enclosure map 1800, C.R.O. and B.M.).
(b) In the Park to the N. of High Street are slight remains of at least eight closes, 100 ft. to 150 ft. wide and 200 ft. long, separated from ridge and furrow to the N. by a S.E. scarp 9 ins. to 1 ft. high. In the S.E. part of the third from the W., among a number of scarps and mounds, is a circular bricklined well, 6 ft. in diameter; similar scarps and mounds occur in the other closes. In 1800 the western four closes contained houses, probably replaced later in the 19th century, when the Park was enlarged to its present extent, by the estate houses on the opposite side of High Street.
(9) Cultivation Remains. Ridge and furrow 50 yds. to 220 yds. long, 7 yds. to 15 yds. wide and 6 ins. to 1 ft. high, with headlands of 5 yds. to 11 yds., exists in and around the village at N.G. TL 318661, 322664 and 322661 (not on O.S.), all in old enclosures. In the Park at N.G. TL 320667 are three blocks of curving ridge and furrow, of open-field type, with an access way 20 ft. wide leading to a block of five ridges 13 yds. to 15 yds. wide. N. of Ebb's Gore Bridge (N.G. TL 326652) a large bank 10 yds. wide and 4 ft. to 5 ft. high, steeper on the S.E. side, runs N.E. and S.W. between two open-field furlongs of which it was the common headland.
The traces visible on air photographs over most of the rest of the parish appear to be of normal open-field type arranged in abutting furlongs. In three fields S.W. of Friesland (around N.G. TL 342661) the traces fit exactly into the field boundaries; in 1800 these were old enclosures presumably taken from the open fields. Before enclosure the parish was already divided into six large 'Fields': 'Down', 'Marsh', 'Mill', 'Sand', 'Smee' and 'Stepshill'.
(Ref: enclosure map 1800 (C.R.O. and B.M.); air photographs: CPE/UK/1952/4005–8.)