Pages 132-133
An Inventory of the Historical Monuments in Dorset, Volume 1, West. Originally published by Her Majesty's Stationery Office, London, 1952.
This free content was digitised by double rekeying and sponsored by English Heritage. All rights reserved.
56 LEWESTON (E.b.)
(O.S. 6 in. XII, S.W.)
Leweston is a very small parish 3 m. S. of Sherborne. The chapel and Leweston House are the only monuments.
Ecclesiastical
(1) Chapel of the Holy Trinity stands just N.E. of Leweston House. It was built in 1616 by Sir John Fitzjames on the site of an earlier building and is, with its fittings, an interesting example of 17th-century ecclesiastical work.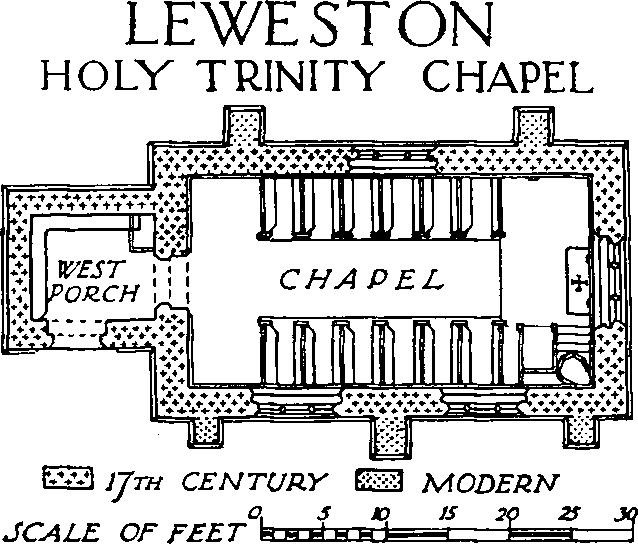 Architectural Description—The Chapel (32¾ ft. by 17¼ ft.) has an E. window of three pointed lights with vertical uncusped tracery in a two-centred head with moulded reveals and label. In the N. wall is one and in the S. wall are two windows each of three four-centred and graduated lights with moulded reveals and label stepped up over the middle light. The W. doorway has moulded jambs and four-centred arch in a square head. In the W. gable is a round window, now blocked; the moulded label has roses as stops and above it is a shield with the date 1616. On the gable and corbelled out to the E. and W. of it is a stone bell-cote with a gabled roof; the side walls have strapwork panels and the E. and W. ends are open and have three rosettes in the gable; the ends of the side walls form fluted pilasters.
The West Porch is gabled towards the W. The S. wall has a doorway with moulded jambs and four-centred arch in a square head with a label and returned stops; above it is a panel, with a label, enclosing a cartouche-of-arms of Fitzjames and the words "Trinite Chappel" in an enriched border; above the panel is a string-course with jewel ornament and a frieze enriched with swags and other enrichments and with the letters "Sir Io. F." for Sir John Fitzjames; the parapet above has a semi-circular central pediment with a ball-terminal and enclosing a lozenge with the initials Ihs and other enrichments.
The Roof of the chapel is of pointed barrel-form with moulded plates, purlins and principals forming six bays; there are bosses at the intersections carved with foliage, shields of the arms of Fitzjames and the letters Ihs. The roof of the porch is of similar form and has two foliage-bosses.
Fittings—Communion Table: modern, but incorporating some early 17th-century panelling. Door: In W. doorway, modern but incorporating original lock. Floor-slab: In chancel—to Sir George Strode, Serjeant at Law, 1701, with achievement-of-arms. Font: In porch—with hemispherical bowl and cylindrical stem with moulded capital and base, 13th-century. Gallery: In porch—to support clock of 1616, now renewed, gallery carried on moulded beams and joists, with low panelled front on outer face. Glass: In windows— running inscription beginning on N. side, but all renewed except one small quarry, inscription reads— "Johannes Fitz James me struxit in honorem Sanctæ Trinitatis pro antiqua capella dilapidata per multos annos huic domui pertinenti". Panelling: In chancel— round walls to a height of 6½ ft. with moulded cornice and fluted Ionic pilasters at the angles and at W. end of side-walls; in middle of E. wall, three pilasters, two fluted and the middle one enriched, supporting three enriched frieze-panels, and between them two large rosettes. In nave—round walls to a height of 5½ ft. with moulded cornice, seven pilasters on each side-wall and pilasters flanking W. doorway. In porch—round clock-weight pit, with fluted corner-post. Pulpit: (Plate 101) hexagonal with two ranges of enriched and carved panels and enriched cornice; standard, in angle of chancel at back, of two bays with two ranges of panels, lower with enriched arches and dolphins and upper with strapwork; sounding-board, hexagonal with moulded cornice, pendants at angles, soffit with radiating panels and pendant in middle; clerk's desk in front of pulpit, on enriched feet, front with three enriched Ionic pilasters supporting a bracketed entablature with enriched frieze-panels and enriched bookrest, ends with fluted pilasters and similar frieze panels; enclosure of stair to pulpit, with enriched upper panel to door. Seating: In nave—twelve benches and two desks with panelled backs and moulded rails, bench-ends with rounded shoulders and circular heads, faces of bench-ends and heads carved with geometrical designs.
Secular
(2) Leweston House, 30 yards S.W. of the chapel, is of two storeys with basements; the walls are of ashlar. It was built probably about the end of the 18th century for William Gordon who died in 1802, replacing an older house which was standing in 1774; shortly before 1938 it was completely remodelled internally. The house is rectangular on plan with shallow project ing bays in the middle of the E., N. and S. sides; there is a N. porch. A number of bay-windows have been inserted during the recent alterations, and the W. and N.W. wings are modern. The elevations are of symmetrical design with stone plinth, round-headed windows, entablature with deep frieze and balustraded parapet with ball-finials; the projecting bays on the N. and S. fronts finish in pediments which break through the parapet, that to the north containing a cartouche-of-arms of Fletcher quartering Wansey, granted 1868. The entrance to the porch is flanked by fluted pilasters with cornice, balustrade and urns. The interior of the house retains no original features.