Pages 133-135
An Inventory of the Historical Monuments in Dorset, Volume 1, West. Originally published by Her Majesty's Stationery Office, London, 1952.
This free content was digitised by double rekeying and sponsored by English Heritage. All rights reserved.
57 LILLINGTON (E.b.)
(O.S. 6 in. XI, N.E.)
Lillington is a parish 3 m. S. of Sherborne. The church is the principal monument.
Ecclesiastical
(1) Parish Church of St. Martin (Plate 3) stands at the N. end of the parish. The walls are of local rubble with dressings of the same material; the roofs are covered with stone slates. The Nave was built late in the 13th century. The West Tower was added in the 15th century and the Chancel was rebuilt perhaps in the same period. The North Porch was added or rebuilt in the 17th century and the South Chapel is perhaps an 18th-century addition. The church was extensively restored by Withers, architect, of Sherborne, in 1848, when the gallery under the tower was altered.
Architectural Description—The Chancel (18½ ft. by 12½ ft.) has a restored 15th-century E. window of two trefoiled ogee lights with uncusped vertical tracery in a two-centred head with a label. In both the N. and S. walls is a 15th-century window of two cinque-foiled lights in a square head with a label. The chancel-arch, probably of the 18th century, is segmental and moulded and springs from moulded responds each with an attached shaft with a moulded capital.
The Nave (30¾ ft. by 13 ft.) has, in the N. wall, two windows, the eastern of the 15th century and of three cinque-foiled lights with vertical tracery in a two-centred head with moulded reveals and label; the western window is of uncertain date and of one square-headed light; the 15th-century N. doorway has chamfered jambs and two-centred head. In the S. wall is a plastered archway of uncertain date with chamfered jambs and two-centred arch; at the W. end of the wall is a late 13th-century window of two lancet lights with a quatrefoil above; the blocked S. doorway has a two-centred head.
The South Chapel (11¾ ft. by 9¼ ft.) has an 18th-century or modern E. window of two elliptical-headed lights. In the S. wall is a window, perhaps of the 18th century, of one trefoiled light with a label.
The West Tower (9½ ft. square) is of the 15th century and of three stages with a moulded plinth and an embattled parapet with gargoyles and pinnacles at the angles and in the middle of each side. The tower-arch is two-centred and of one continuous moulded order; the soffit and reveals have a single line of trefoil-headed panels. The W. window is of three trefoiled ogee lights with vertical tracery in a two-centred head with moulded reveals and label and stops carved with the initials W. and N (?); the W. doorway has moulded jambs and four-centred arch in a square head with ribands in the spandrels and a label with returned stops. The second stage has in the S. wall a square-headed window. The bell-chamber has in each wall a window of two trefoiled ogee lights with a quatrefoil in a two-centred head; the lights are filled with stone grilles of pierced quatrefoils.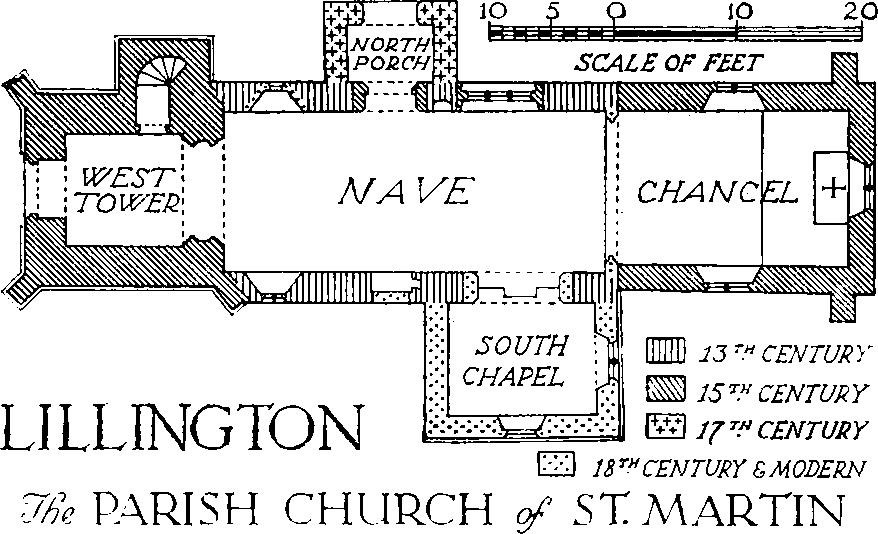 The North Porch has a 17th-century outer entrance with chamfered jambs and semi-circular arch with a key-stone.
The Roof of the nave is of late 15th-century date and of plastered barrel-form; it is of four bays, each of four panels, with moulded plates and ribs and carved bosses at the intersections, mostly foliage; the central bosses are modern. The ceiling of the ground-stage of the tower has 15th-century moulded beams.
Fittings—Bells: five; 3rd by William Warre, 1590; 4th by William Knight, 1718; 5th from the Salisbury foundry, c. 1400, and inscribed "Ave Gratia" and a reversed inscription below. Bier: In tower—of oak, with sliding carriers, probably 17th-century. Consecration Crosses: On chancel—on E. jamb of S. window; on nave—on E. jamb of N.E. window; on W. jamb of N.W. window; on sill of S.W. window; on S. chapel— on sill of S. window; formy crosses in circles, five in all, late mediæval. Communion Table: with turned legs and enriched top-rail, 17th-century. Door: In N. doorway—of nail-studded battens, with moulded ribs, strap-hinges, wooden lock and old key, 15th-century. Font: octagonal bowl with quatre-foiled panel in each face enclosing shields and roses alternately, moulded underside, octagonal stem with trefoil-headed panels and moulded base, late 15th-century. Cover, of oak with central post and knob with four scrolled supports, modern knob at each angle of cover, 17th-century. Monuments and Floor-slabs. Monuments: In chancel— on N. wall, (1) to Jane, wife of Thomas Gollop, 1824, white marble wall-tablet with cornice, urn, shield-of-arms and crest; (2) to Thomas, second son of Thomas and Jane Gollop, 1821, wall-tablet of white and gray marble shaped as a sarcophagus; on S. wall, (3) to Thomas Gollop, 1793, wall-monument of white and veined marble with apron and cornice with pyramidal slab above containing the arms and crest of Gollop. In nave—on S. wall, (4) to Samuel Whetcombe, 1739, his son Robert, 1737, and other children later, marble wall-monument with pilasters and consoles supporting a broken pediment, with a moulded shelf and apron containing a cartouche-of-arms. In churchyard—E. of chancel, (5) to Edward Jeffery, 1712, headstone; (6) to Elizabeth . . ., 1695, headstone; (7) to Edward Jeffery jun., 1712, and to Richard Car . . ., headstone; N. of chancel, (8) to Dorothy, wife of Edward Jeffery, sen., 1705–6, headstone; on S. of church, (9) to Nekles Riol, 1693, and Allse his wife, 1693, table-tomb; S. of tower, (10) to George Hankins, 1671, and Frances his wife, 1696, table-tomb. Floor-slabs: In chancel—(1) to Ralph Gollop and Thomas Gollop, 17 . ., with defaced shield-of-arms; (2) to Susannah, wife of Thomas . . ., 18th-century. In nave—(3) to Lawrence Cole, 1669, and Mary Parry, 1708 (?), with shield-of-arms; (4) defaced, with date 1662. Panelling: In nave—some reused 17th-century panelling, one piece with the initials S.W.C. Plate: includes a cup of 1715, given by Mary Parry in 1716, and a paten of 1707. Royal Arms: In tower-gallery—painted wood panel with Stuart arms and initials C.R. Seating: In tower—two coffin-stools with turned legs, 17th-century. Stoup: In E. splay of S. doorway—recess with two-centred head, mediæval; E. of N. doorway, recess with rounded head. Miscellanea: In towergallery—on S. wall, boards painted with date of erection of the gallery, 1763, and names of churchwardens.
Secular
(2) Manor Farm, barn and fishpond, W. and S. of the church. The Barn (Plate 55) is of rubble with freestone dressings and the roof is of stone slates. It was built c. 1600 and is of seven bays with N. and S. porches. The entrances have moulded jambs and oak lintels with stone string-courses above them. The barn has loop-lights and three buttresses on the S. side. The roof (Plate 50) is of collar-beam type with curved braces and curved wind-braces. The Fishpond, S. of the church, has a dam at the S. end but is now nearly dry.
Monuments (3–6)
The following monuments, unless otherwise stated, are of the 17th century and of two storeys; the walls are of rubble and the roofs are covered with thatch or tiles.
(3) The Old Rectory, 150 yards N.N.E. of the church, was burnt down in 1945.
(4) Cottage, 150 yards W. of the church, retains some original three-light windows with moulded wood frames and mullions.
(5) Cottage, 530 yards N.W. of the church, has quoins of ashlar; there are some original two and three-light windows with wood frames.
(6) Cottage, 60 yards N.E. of (5), with cementrendered rubble walls, was built about 1700. There is a central chimney. It retains some original wood-framed windows of two and three lights.
Little Bredy, see Bredy, Little.