Pages 297-300
An Inventory of the Historical Monuments in Dorset, Volume 3, Central. Originally published by Her Majesty's Stationery Office, London, 1970.
This free content was digitised by double rekeying and sponsored by English Heritage. All rights reserved.
53 WINTERBORNE HOUGHTON (8104)
(O.S. 6 ins. ST 70 NE, ST 70 SE, ST 80 NW, ST 80 SW)
The parish covers 1,974 acres and lies entirely upon Chalk between 350 ft. and 870 ft. above sea-level. The village stands at the head of the Winterborne stream and dry tributary valleys extend from it to W. and N.W. The most important monument is (9) a Romano-British settlement site near Meriden Wood, about 1 m. W. of the village. The well preserved remains of a mediaeval Deer Park (7) are found in Park Bottom, to the S. of the same settlement. Winterborne Houghton may well be represented among the numerous Domesday entries for the eastern group of Dorset Winterbornes.
Ecclesiastical
(1) The Parish Church of St. Andrew was built in 1861, and fittings from the old building, which was then pulled down, were transferred to the new church.
Fittings—Bells: three; treble inscribed 'Hen. Framton C.W., Anno Domini 1717, W.K., B.F.'; 2nd inscribed 'Sancta Mari' in Lombardic capitals, 15th century; tenor dated 1596. Font: of Ham Hill stone, with octagonal bowl, hollow-chamfered underneath, on octagonal stem; each side of bowl with quatrefoil panel enclosing leaf boss, each side of stem with trefoil-headed panel, 15th century. Font-cover, octagonal ogee wooden dome with turned finial, 18th century. Monuments and Floor-slabs. Monuments: Externally, on E. wall of N. vestry, (1) of Gabriel Ayscough, 1746, stone cartouche with cherub-head finial and acanthus scroll-work. In churchyard, six paces N. of vestry, (2) of William Toffen, 1723, shaped headstone with incised scrolls and hour-glass. Floor-slabs: In nave, W. of chancel step, (1) of Richard Lawrence, rector, and Margaret Lawrence, both 1782, and Mary Humber, 1781; (2) of Mary Anne Langdon Joyce, 1808. Plate: includes 16th-century silver cup and cover-paten by Lawrence Stratford, of usual Elizabethan form, cover-paten inscribed 1574. Paten of 1714 (Nightingale, 144) gone. Tables of Creed and Decalogue: Wooden panels with two-centred heads, 19th century.
Secular
Monuments (2–6)
The following are 18th-century cottages of two storeys, or single-storied with attics; they have walls of cob or of banded brick and flint, and thatched roofs.
(2) Cottage (81630424), 480 yds. S.W. of the church, was originally single-storied; the upper storey was added in the 19th century.
(3) Cottage (81860445), 180 yds. W. of the church.
(4) Cottages, range of three, immediately E. of the foregoing, are of the late 18th century.
(5) Cottage (81980452), 120 yds. N. of the church, is of the late 18th century.
(6) Cottage (82250455), 275 yds. N.E. of the church, is of the late 18th or early 19th century with a somewhat later extension to the W.
Early 19th-century monuments include Higher Houghton Farm (80720479), house, with a symmetrical S.E. front of three bays hung with 'mathematical' tiles, and gabled end walls of banded brick and flint; a range of three Cottages, 50 yds. N. of the church; Manor Cottage, 100 yds. N.W. of the church; a Cottage 160 yds. W. of the church, and a range of three Cottages 220 yds. W. of the church.
Mediaeval and Later Earthworks
(7) Deer Pale (796048–801042–804047) lies just over 1 m. W. of the village. A deer park is mentioned in 1294 (Cal. Inq. Misc. Vol. I, 1219–1307, No. 1662) but almost nothing is known of its subsequent history. The pale encloses some 94 acres of land in and around Park Bottom, a deep re-entrant valley orientated N.W.– S.E.; the pale consists of a bank 10 ft. to 15 ft. wide with an inner ditch 8 ft. to 10 ft. wide. On the S.W. where it coincides with the parish boundary the bank is only 1½ ft. high; in the N. it is 6½ ft. high in consequence of being built on top of a 'Celtic' field lynchet; elsewhere it is 2 ft. to 3 ft. high. The original entrance cannot be identified. On the N.E. the pale cuts across a Romano-British settlement (9) and obliterates part of a bivallate track that led into the settlement.
(8) Cultivation Remains. In 1776 four open fields still remained partly unenclosed (Map of Winterborne Houghton, D.C.R.O.); they were named North Field, Little Field, Croft Field and Whiteway Field. Elsewhere, other isolated strips remained within enclosed fields. On the S. side of the Winterborne valley (810036–818043) ten contour strip lynchets are arranged in four end-on furlongs up to 250 yds. long; at their S.W. ends they run into 'Celtic' fields (see Group (53)); in 1776 they were strips in Whiteway and Croft Fields. The strips have been partly erased from the map of 1776 but are faintly visible. Some 300 yds. N.N.W. of the church (818047) are fragmentary remains of contour strip lynchets; these, with others now destroyed, were strips in Little Field in 1776. About 500 yds. E. of Higher Houghton Farm (811047) is a scarp 12 ft. high and 260 yds. long, with two right-angle bends; in 1776 it was the riser of one of two strips within an enclosed field.
Roman and Prehistoric
(9) Settlement, Romano-British, on Meriden Down (801049), is integrated with a system of tracks and 'Celtic' fields (Group (53)) and is one of the best examples of its type to survive in Dorset. The site lies between 650 ft. and 750 ft. above O.D., in a relatively sheltered position, on a spur that drops E. from a high Chalk ridge between the upper valleys of the Milborne and the Winterborne. The nucleus of the settlement, covering about 3½ acres, is bounded to N.W. and S.W. by a bank and external ditch; in the S. part it is intersected by the bank and ditch of a mediaeval deer park (7). The main part of the nucleus, N. of the park pale, is covered with levelled platforms and embanked areas that indicate the sites of structures and 'working areas'. Three embanked loops, presumably the compounds around three larger buildings, project S. of the park pale. Four roads, from W., N. and S.E., lead into open spaces outside the nucleus; the open space on the W. is V-shaped in plan (cf. Turnworth (7)) and has four small mounds of unknown purpose within it. There is evidence of expansion outside the nucleus, especially on the S., where settlement features appear to lie over the remains of 'Celtic' fields. The track (d) coming from the S.E. lies over fields which continued in cultivation after its construction. At its fullest extent the settlement may have covered more than 5 acres (see map facing p. 300).
(10) Settlement, N. of Bully Wood (803042), probably Romano-British, lies on the spur immediately S. of (9), at a similar height and in a similar position. An embanked and lynchetted trackway, clearly integrated with 'Celtic' fields, runs from E. to W. along the S. side of the site, widening at the W. end into an open area, on the N. side of which is a small bow-sided enclosure. A branch track runs N. between fields to an area defined on the S. and W. by straight, clear-cut lengths of bank and ditch meeting at an acute angle; that on the S. is built on a 'Celtic' lynchet. The bank is about 12 ft. across and 1½ ft. high; the ditch is of similar width and depth. Within the enclosure are faint traces of platforms, presumably for buildings. The track continues for a short distance along the E. side of the enclosure, but quarrying has removed all traces of the N. side.
(11) Bank and Ditch (80500379–80480370), probably a cross-dyke, runs almost N.–S. at nearly 700 ft. above O.D. across the narrow spine of a N.W.–S.E. ridge. The earthwork is about 100 yds. long, with a bank 20 ft. across and 2 ft. high and with a ditch on the E. side, 15 ft. wide and nearly 3 ft. deep. The modern road has cut the S. end of the earthwork and a recent bank, with a ditch on the W., lies on top of it. The earthwork lies among 'Celtic' fields (Group (53)) but direct relationship cannot be established, owing to disturbance; it is possibly a boundary associated with settlement (10).
'Celtic' Fields, see p. 337, Group (53).
Monuments (12–21)
Ten mounds, most if not all of them Round Barrows, are noted in the parish; the majority are scattered in the S. and S.W., at over 600 ft. above O.D., on Houghton South Down. J. C. Mansel-Pleydell opened four barrows in 1863 (Dorset Procs. V (1883), 32–3); three of them were unproductive and one of these, probably (19), had been disturbed in the centre; it was composed almost entirely of flints. The fourth, probably a barrow at 80980581 that has now been completely destroyed, was composed mainly of mould; it was 38 ft. in diameter and 5 ft. high. At the centre, 1 ft. down, was a 'flint cist' with five urns containing cremations; a sixth urn with a cremation lay nearby; at least three of these urns were globular (Arch. J. CXIX (1962), 57). Two Wessex biconical urns in D.C.M. (Nos. 143, 144) are probably from the same barrow.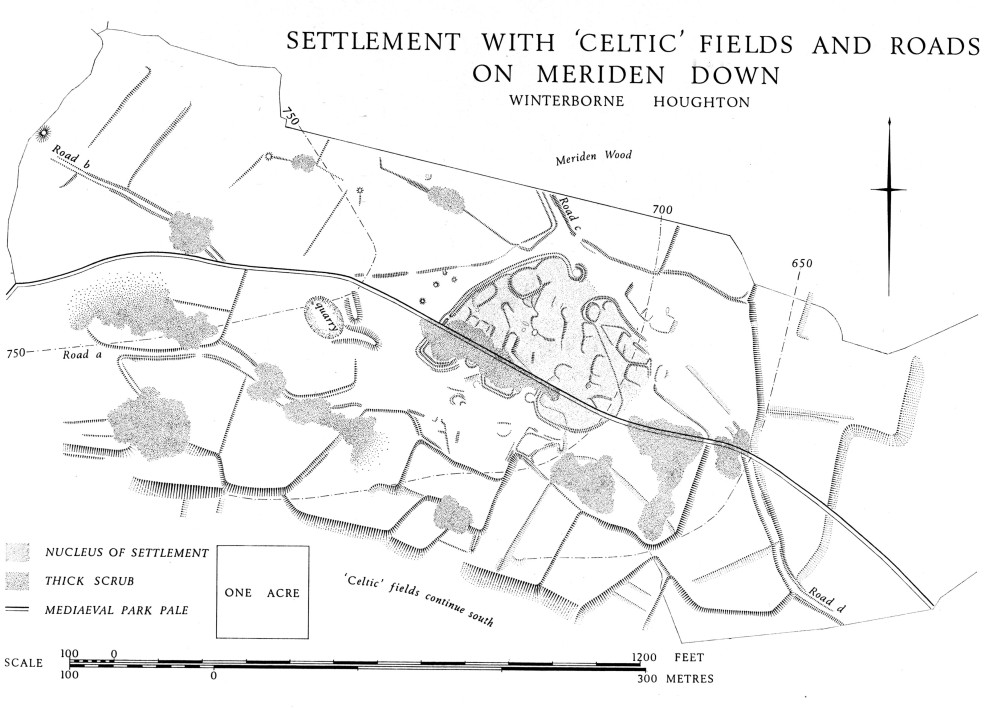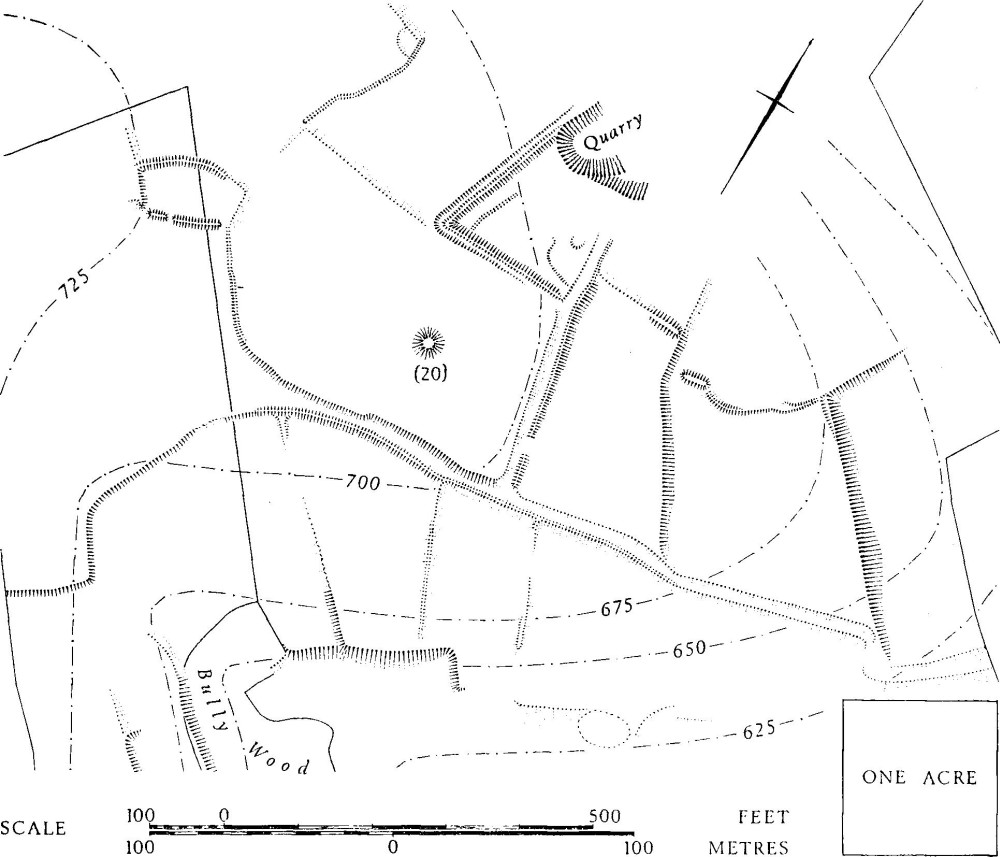 (12) Bowl (80700330), W. of Houghton Down Clump. Diam. 75 ft., ht. 2½ ft.
Three small mounds lie on the crest of a N.E.-facing slope in an area of rough ground; nearby are other less regular mounds. The mutilated remains of 'Celtic' fields with a possible settlement area occur a short distance to the S.E. To the N., where the chalk has a gravel cap, gravel diggings are found.
(13) Barrow ? (80620371), 450 yds. N.N.W. of (12). Diam. 21 ft., ht. under 1 ft.
(14) Barrow ? (80640372), 23 yds. N.E. of (13). Diam. 20 ft., ht. 1 ft.
(15) Barrow ? (80650371), 20 yds. S.E. of (14). Diam. 15 ft., ht. under 1 ft.
Three mounds lie on a spur of downland that juts N.E. from Houghton South Down; all of them have been disturbed, possibly in 19th-century excavations, and they appear to be composed largely of flints.
(16) Bowl (80920375), 290 yds. E.N.E. of (15) on the N. slope of the spur, is now an irregular flinty heap, thickly overgrown. Diam. about 18 ft., ht. 1 ft., asymmetrical on slope.
(17) Barrow ? (81030372), 125 yds. E.S.E. of (16) on a S.E. slope, is an irregular mound, angular in profile and much disturbed. Diam. 40 ft., S.W. to N.E., 30 ft. N.W. to S.E., ht. 4 ft.
(18) Barrow ? (80980384), 135 yds. N.N.W. of (17) on the steepening N. slope of the spur, is almost cone shaped, probably as a result of disturbance. Diam. 29 ft., ht. 4 ft.
(19) Bowl (82000382), 150 yds. N.N.E. of Dunbury, lies on the crest of Houghton South Down overlooking the village and is thickly overgrown. The mound is a flinty cairn with its centre removed almost to ground level. Diam. about 35 ft., ht. 2½ ft.
(20) Bowl (80350415), S.E. of Park Wood at over 700 ft. O.D., lies on top of a broad spur jutting eastward. The mound, a disturbed cairn of flints, lies within the area of the settlement (10). Diam. 35 ft., ht. 3 ft.
(21) Bowl (79800505), S. of Ochill Wood at over 775 ft. O.D., on the top of a broad spur falling gently eastward towards the village, lies in an area of 'Celtic' fields (Group (53)). The mound has a hole dug into its centre and is thickly overgrown. Diam. about 40 ft., ht. 4½ ft.