Pages 112-114
An Inventory of the Historical Monuments in Dorset, Volume 4, North. Originally published by Her Majesty's Stationery Office, London, 1972.
This free content was digitised by double rekeying and sponsored by English Heritage. All rights reserved.
31 TARRANT RUSHTON (9305)
(O.S. 6 ins., ST 90 NW, ST 90 SW, ST 90 NE, ST 90 SE)
The parish, covering 2,073 acres, lies on the E. side of the Tarrant valley, all on Chalk; the land slopes gently down from a maximum altitude of 310 ft. in the N., south-westwards to the R. Tarrant and southeastwards to dry tributary valleys of the R. Allen.
The parish contains two mediaeval settlements, Preston Farm in the S., formerly part of Tarrant Crawford, and the present village of Tarrant Rushton in the N., comprising a scatter of cottages along the R. Tarrant. The scarcity of buildings earlier in date than the 18th century is explained by a note in the 1664 Hearth-Tax Returns: 'this thithing the dwelling houses were burnt down and not yet rebuilt' (Meekings, 104, 122).
Ecclesiastical
(1) The Parish Church of St. Mary, on the N. of the village, has walls of rubble and flint with ashlar dressings of Greensand and Heathstone, and tiled roofs. The Nave and chancel arch preserve the form and part of the structure of an early 12th-century building, which appears to have been extended westwards later in the 12th century. In the first half of the 14th century the Chancel was rebuilt, the North and South Transepts were added, and a small West Tower was erected over the western extension of the nave. The South Porch was added in the 15th century; the N. vestry is modern.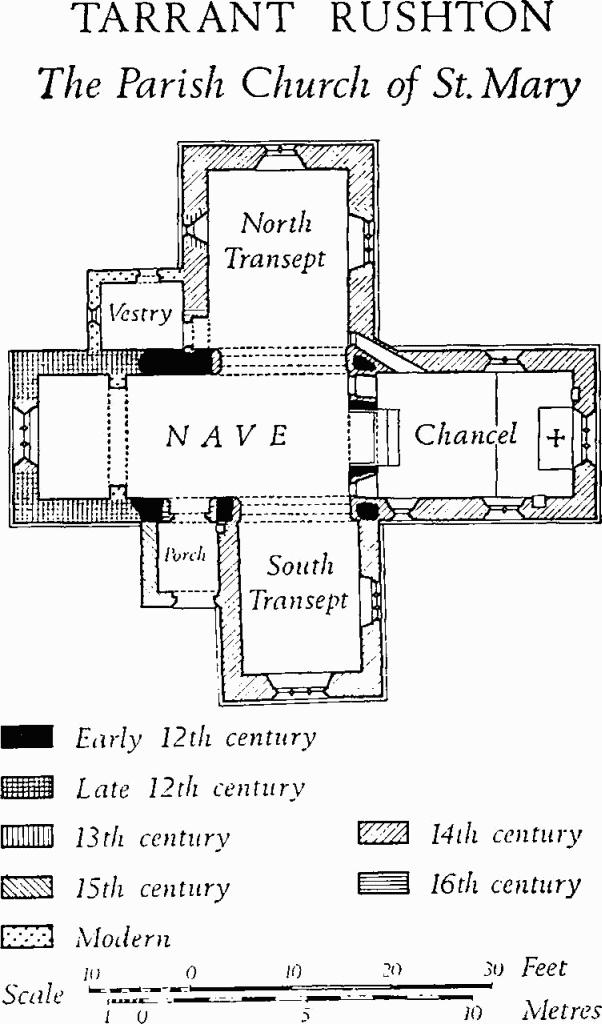 Architectural Description—The Chancel has a chamfered plinth in which is incorporated some reused 12th-century ashlar. The restored 14th-century E. window is of three trefoil ogee-headed lights with curvilinear tracery in a two-centred head; the N. and S. walls have similar two-light windows, that on the S. extensively restored. Further W. in the S. wall is a 14th-century window of one trefoil-headed light. The restored 12th-century chancel arch is round-headed and of one plain order with continuous jambs and chamfered plinths; it is flanked by small openings, probably of the 14th century, that on the N. with circular tracery with sexfoil cusping (Plate 10), that on the S. with a stone slab with a sexfoil perforation.
In the Nave, the 14th-century archway to the N. transept has a two-centred head of two chamfered orders, the inner order dying into the responds; the E. respond has been cut back. The archway to the S. transept is similar. The S. doorway, rebuilt in the 16th century, has its head formed from a 12th-century sculptured lintel, with the lower edge reshaped to give it a triangular 'Tudor' form. On the N. side the lintel retains original carving representing a large Agnus Dei flanked by small seated figures (Plate 8); that on the E. faces the spectator with hands raised, one hand holding an open book; that on the W., seen in profile, has a curule chair and holds a bird in one hand and in the other a tablet inscribed Gregor. The rear-arch of the doorway is a reused 13th-century coffin-lid. Externally, the W. part of the S. wall has a chamfered plinth and a roll-moulded string-course, probably of the late 12th century. The W. wall has a chamfered plinth, but no string-course; the W. window, similar to the E. window of the chancel, is of the 14th century.
The North Transept has a square-headed 15th-century E. window of three trefoil-headed lights under a label with beast-head stops. Further S. in the E. wall is a square-headed 14th-century squint with a pierced closure slab (Plate 10) with three ogee-headed lights and curvilinear tracery; the N.E. side of the embrasure rests on a trefoil squinch. The 14th-century N. window is of two trefoil-headed lights with a quatrefoil spandrel light in a two-centred head. The W. wall has a reset 13th-century lancet window, and a 16th-century doorway with a chamfered segmental-pointed head and rear-arch.
The South Transept has an E. window similar to that of the N. transept; in the S. wall is a 14th-century window similar to the E. window in the chancel, but with the upper part cut down to the middle of the tracery and finished with a square head.
The West Tower has but one stage, and no buttresses. The tower arch is modern. The belfry has chamfered square-headed single-light N. and S. windows. The tiled roof is hipped and there is no parapet.
The South Porch has an archway with a moulded two-centred head and continuous jambs; the rear-arch, of depressed ogee form, is reused.
The early 17th-century Roof of the N. transept has three trusses, each with arched braces to the collar and a shaped pendant at the apex of the braces; the braces spring from moulded timber brackets. The S. transept roof has a chamfered tie beam.
Fittings—Bell: inscribed 'William Barns, Richard Arner Chvrchwardens, 1675, R.F.', with vine-scroll border, probably by Richard Hovey of Salisbury. Bracket: reset in S. transept, in E. wall, circular stone, 12th century. Chest: of oak, with panelled sides, early 18th century. Coffin-lids: Reused as rear-arch of S. doorway, slab with double hollow-chamfered edge, 13th century; reset in S. wall of tower, tapering fragment with crossstem, probably 13th century; loose in chancel, fragment with foliate cross-head, 13th century; reset in churchyard wall on S., tapering slab, mediaeval. Coffin Stools: of oak, pair, with turned legs, 17th century. Communion Rails: of oak, with turned balusters, early 18th century. Communion Table: of oak, with cabriole legs, mid 18th century.
Monument: in chancel, on E. wall, behind communion table; of Richard Lawrence, 1765, rector, and others of his family, slate slab with bold Roman lettering.
Niche: in chancel, in E. wall, recess with moulded jambs, trefoil two-centred head, and label with ball-flower stops, base with three-sided chamfered corbel; early 14th century. Piscina: in chancel, in S. wall, recess (Plate 12) with moulded jambs, cinquefoil ogee head, and label with returned stops, projecting bowl with moulded corbel and sexfoil outlet; early 14th century.
Plate: includes silver cup and paten, each inscribed 'Rushton Church Plate Dorset 1756'. Royal Arms: of George IV, on painted panel, with moulded border inscribed with churchwardens' names and date 1825 (Plate 27). Stoup: in porch, recess with round bowl, probably 15th century. Sundial: scratched on S. wall of transept, mediaeval. Tables of Decalogue: on painted panels, by G. Stevens of Blandford, 1825. Miscellanea: in recesses above chancel arch, earthenware vases of uncertain date, probably intended to increase resonance. Loose, volute capital, 12th century, recut to form basin; also Purbeck marble slab with hollow-chamfered under-edge and two square recesses filled in with marble, mediaeval. Built into S. face of tower, stone cross 2½ ft. high, mediaeval.
Secular
(2) Bridge (93670579), over the Tarrant, of ashlar and brickwork with one segmental arch, is of the late 18th or early 19th century.
(3) The Old Rectory (93770690), of two storeys with attics, has walls of banded rubble and flint, with ashlar and brick quoins; the roofs are tiled. The original range is of the 18th century, comprising a class-T house with an approximately symmetrical three-bay S. front, with a central doorway flanked by windows with horizontally sliding sashes, and with two-light casement windows in the upper storey. Early in the 19th century a service bay was added at the E. end of the range. In c. 1820 a lofty drawing-room was added at the W. end, and a study was added on the N. Further additions on the N.W. are of c. 1880.
(4) Rushton Mill (93710598), a water-driven corn mill of two storeys with an attic, has brick walls and a tiled roof; it dates probably from c. 1800 and was in use until 1920. Much of the machinery remains in good condition (drawings and photographs in R.C.H.M. files). Adjacent on the E. is a two-storeyed cottage of c. 1850, with banded brick and flint walls and with a slated roof.
(5) Cottages (93780594), range of three, of one storey with attics, have rendered walls and thatched roofs. The middle dwelling is probably of the early 18th century; those to E. and W. are somewhat later.
(6) Cottage (94990651), with cob walls and a tiled roof, is of the early 19th century. The plan is of class S.
(7) Cottage (93750534), of one storey with an attic, has cob walls and a thatched roof; it is of the early 18th century and has a class-S plan. The living room has a stop-chamfered beam.
(8) Cottage (93760528), of one storey with attics, has cob walls and a thatched roof; it is perhaps of the late 17th century and has a class-T plan. Inside, stop-chamfered beams are exposed.
(9) Preston Farm (93700500), house, of two storeys with brick walls and slate-covered roofs, has a class-U plan. The back rooms, now service rooms, are of the late 18th century; the front rooms were added early in the 19th century.
Mediaeval and Later Earthworks
(10) Moat (937061), about 50 yds. N.W. of (1), is of class AI (b), (see West Cambridgeshire, lxii). The site, in the floodplain of the Tarrant, was formerly thought to represent a mediaeval chapel of St. Leonard and is noted by this name on the Ordnance Survey, but this has been disproved; it more probably surrounded Tarrant Rushton manor house (Dorset Procs, 64 (1942), 34–42). An approximately rectangular island, 130 ft. by 160 ft., is bounded on the W. by the Tarrant and on the other sides by a ditch, up to 40 ft. wide and 4 ft. deep. On N. and S. are low external and internal banks; on the S. the ditch has partly gone. The island has a large depression 2½ ft. deep near the S.W. corner, and two platforms at right angles to one another on the internal bank at the N.E. corner.
Roman and Prehistoric Monuments
The alignment of the Roman Road from Badbury Rings to Bath crosses the parish (see Dorset V).
Monuments (11–15), Round Barrows
(11) Bowl (94110380), in the S.E. of the parish, lies on an E.-W. spur about 240 ft. above O.D.; diam. 45 ft., ht. 1 ft.
(12) Bowl (94220385), or possibly Bell, 130 yds. N.E. of (11), has been damaged by ploughing and by a modern structure placed on top of it; diam. 70 ft., ht. 5 ft.
(13) Barrow? (94300383), 100 yds. E.S.E. of (12), has been ploughed almost flat; diam. about 45 ft.
(14) Bowl (94620440), 700 yds. N.E. of (13), lies on a ridge top at 250 ft. above O.D. It was formerly a small mound with a pit dug in the centre, but has now been destroyed by cultivation.
(15) Bowl (95240477), over 200 ft. above O.D., occupies an eastward-facing spur on the edge of Tarrant Rushton Airfield. Now being reduced by cultivation, it was formerly 60 ft. in diameter and 5 ft. high, with distinct traces of a ditch and of a pit dug in the centre.
Undated
(16) Enclosure (939046), some 6 acres in extent and roughly oval in shape, lies 225 ft. above O.D., at the W. end of a spur overlooking the Tarrant. The site, seen only as a soil-mark on air photographs (C.U.A.P., AQY 92, 94), is defined by two ditches, 80 ft. apart or more on the S., but drawing closer together on the E. and W.; the N. side is concealed by a hedge. There are traces of a ditch which approached the enclosure on the S., but no entrance is visible.