Pages 110-112
An Inventory of the Historical Monuments in Dorset, Volume 4, North. Originally published by Her Majesty's Stationery Office, London, 1972.
This free content was digitised by double rekeying and sponsored by English Heritage. All rights reserved.
30 TARRANT RAWSTON (9306)
(O.S. 6 ins., ST 90 NW, ST 90 NE)
This small parish, covering less than 700 acres, is a narrow strip of ground extending from side to side of the Tarrant valley. The land is entirely Chalk, at altitudes between 150 ft. and 300 ft. The village comprises little more than the church and the manor-house, but earthworks indicate that it formerly was larger; doubtless it is one of the unidentified Tarrants of Domesday (V.C.H., Dorset, iii, 107). Eyton (p. 131) suggests correspondence with the two-hide manor of Radulfus, the recorded population of which was six. In 1327 nine taxpayers were listed, and in 1333 six. In 1435 the vill was granted tax relief on account of poverty (P.R.O., E. 179/103/79). In 1662 there were four households (Meekings, 67).
Ecclesiastical
(1) The Parish Church of St. Mary, near the middle of the parish, has walls of squared stone, rubble and flint, with ashlar dressings; the roofs are tiled, with stone-slate verges (Plate 5). The building was enlarged and restored towards the end of the 18th century and its original date is hard to determine; the list of rectors goes back to the early 14th century and the Nave probably is of that date. The South Chapel and South Porch were added in the 16th century; the Chancel and North Chapel are of the 18th century. A gallery was inserted at the W. end of the nave, probably early in the 19th century.
Architectural Description—The Chancel has a plain plinth and a square-headed E. window of three trefoil-headed lights. The chancel arch is semicircular, with moulded imposts.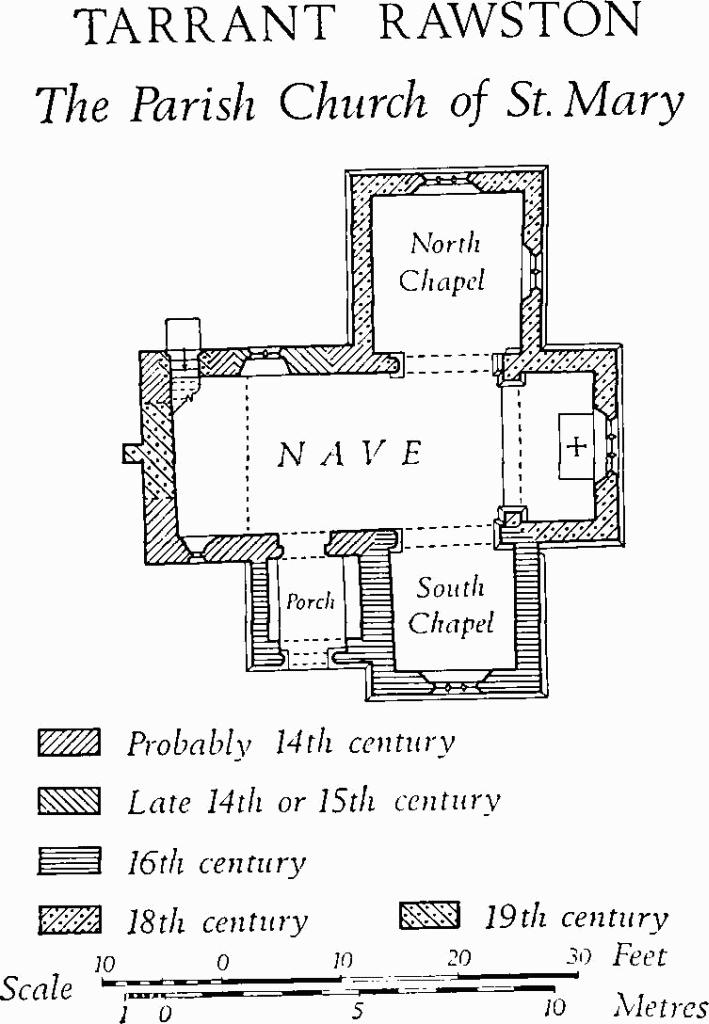 In the Nave, the 18th-century archway to the N. chapel is a copy of that on the S.; it has a chamfered semicircular head, hollow-chamfered imposts and chamfered jambs; the E. jamb has been cut back. To the W. of the chapel is a blocked doorway, with a square head and a mediaeval head-stop reset above the lintel; adjacent is a late 14th or early 15th-century window of two trefoil ogee-headed lights; near the N.W. corner is a 19th-century square-headed doorway to the W. gallery. The 16th-century archway of the S. chapel has a chamfered semicircular head, hollow-chamfered imposts and chamfered jambs. The S. doorway is of the 14th century, with a chamfered two-centred head and continuous jambs with broach stops; further W. is an original window of one trefoil-headed light. The W. wall of the nave has original masonry at the base and at the N.W. and S.W. corners, but the central part has been rebuilt in rough flint-work with an ashlar buttress; this work is probably associated with the construction of the W. gallery. The W. gable contains a small 19th-century trefoil-headed light.
The North Chapel has a plain plinth and an E. window similar to that of the chancel, but of two lights. Reset in the N. wall is a 14th-century window with three trefoil ogee-headed lights in a square-headed surround.
The South Chapel has a chamfered plinth and a S. window of three lights, with restored trefoil heads in a square-headed surround.
The South Porch has a plinth continuous with that of the S. chapel, and an archway with chamfered jambs and a chamfered semicircular head. Above the archway, a 14th-century window of one trefoil-headed light opens into a bell-chamber.
The Roofs are masked internally by plain plaster barrel vaults with moulded cornices, probably of the 18th century.
Fittings—Bell: inscribed '1588 GL' in reverse. Coffin Stools: pair, with beaded legs and stretchers; late 18th century. Communion Rails: of pine, with turned balusters, fluted columnshaped newels, moulded and enriched rail swept up at each end to continue as dado-capping on chancel walls, and hinged central part; late 18th century. Gallery: in W. part of nave, of pine, with panelled and moulded front; early 19th century. Graffiti: on stone in angle between nave and N. chapel, symbols arranged in vertical column.
Monument: In nave, on N. wall, of Radford Gundrey, 1788, and Thomas Gundrey, 1805, marble inscription tablet with stone surround having skull and crossbones on apron, side pieces with scroll-work and drapery, cornice and broken pediment; above, shield-of-arms of Gundrey.
Plate: includes silver cup, without assay marks, inscribed 'The gift of Ms. Katherine Radford Widdow to the Parrish of Rawston 1639', with lozenge-of-arms of Uvedale.
Pulpit: of oak, polygonal, with four sides panelled in three heights, top panels carved, lower panels moulded, with enriched cornice and carved brackets to desk; early 17th century (Plate 13). Seating: in nave includes six seats made out of late 17th-century oak panelling; others, of pine, early 19th century. Tables of Decalogue: flanking E. window of chancel, with rounded heads and painted lettering by G. Stevens, Blandford, 1836. Tiles: reset in nave, slip-tiles with beasts and other devices, 14th century.
Secular
(2) Rawston Farm (93860666), house, some 20 yds. S.W. of (1), is two-storeyed with attics, and has walls partly of rubble and flint with ashlar dressings, and partly of brick. In the H-shaped plan the centre range, extending E.-W., is of late 16th or early 17th-century date; the E. range is of the 18th century, and the W. range is of the 19th century.
The 18th-century brick E. front is symmetrical and of five bays, with uniform segmental-headed sashed windows, and a central doorway with a rusticated ashlar surround and a pedimented hood. The ends of the façade are marked by french quoins; the centre bay is defined by plain pilasters. The pilasters formerly supported a pediment-like gable and the central window in the upper storey had a round head (photograph in N.M.R.), but these features have recently been eliminated.
The S. elevation of the original range is of squared rubble and flint; in it each storey has a stone casement window of four square-headed lights under a moulded label. The N. elevation retains the lower part of a large chimneybreast with a chamfered ashlar plinth. The 19th-century W. range has brick walls and plain casement windows.
Inside, the ground-floor room in the original range has 17th-century panelling, perhaps reset. The fireplace surround is modern. The E. range has a class-T plan; the stairs in the central compartment have close strings and turned balusters.
Adjacent to the house on the S. is a large Barn, with walls of coursed rubble and brickwork, and with a thatched roof; it is probably of the late 18th or early 19th century.
Mediaeval and Later Earthworks
(3) Settlement Remains (937064), formerly part of Rawston village, lie S.W. of (2) on the W. bank of the Tarrant. They comprise at least eight closes, up to 60 yds. long and 30 yds. wide, bounded by low banks. Well-defined building platforms, up to 40 ft. by 25 ft., are cut back into the slope at the S.E. ends of the closes.
Prehistoric and Roman
The Roman Road to Bath from Badbury Rings crosses the E. end of the parish (see Dorset V).
'Celtic' Fields, see pp. 118–19. Groups (70, 71).
(4) Settlement Site (932066), of Iron Age or Romano-British date, lies at 275 ft. above O.D. on the crest, and on the E. slope at the S.E. end of a broad flat-topped Chalk spur which projects towards the Tarrant. Air photographs (N.M.R., ST 9306/1–5) show the soil-marks of a roughly circular enclosure some 700 ft. in diameter, bounded by a narrow ditch with traces of an inner bank; about two-thirds of the circle remain. Approaching the enclosure from the S.W. and traceable for 170 yds. are two parallel ditches, 20 ft. apart, perhaps representing a track; they appear, however, to butt against the ditch and there is no indication of an entrance. Soil-marks inside the enclosure indicate short lengths of narrow ditch, a ditched circular feature about 60 ft. in diameter, and a roughly triangular enclosure of just under ½ acre, bounded on the W. by the main ditch and on the N. and E. by lesser ditches. Immediately W. of the main enclosure are traces of a smaller, subrectangular ditched enclosure, about 120 ft. across.
(5) Linear Ditch (92920651–93250693), 150 yds. W. of (4), can be traced as a soilmark on air photographs (N.M.R., ST 9306/3, 4); it extends for some 600 yds. from S.W. to N.E. across a broad Chalk ridge. For other linear ditches, see Tarrant Keyneston (18), (19).
(6) Long Barrow (91560667), in the extreme W. of the parish, lies some 340 ft. above O.D. on the N.E. crest of a Chalk ridge, with which it is parallel in an orientation of 327°. The barrow is slightly wedge-shaped, 138 ft. long, 60 ft. wide at the S.E. end, 50 ft. wide at the N.W. end, and 6½ ft. high. Welldefined side ditches are 30 ft. to 35 ft. wide and up to 3 ft. deep. An inconclusive excavation in 1896 yielded only two sherds and three pieces of bone (Dorset Procs., XVIII (1897), pp. xxxiv and 1; O.S., Map of Neolithic Wessex, No. 156).
Monuments (7–13), Round Barrows
Of four barrows found on Rawston Down in the W. of the parish, either (7) or (8) was excavated by Cunnington, yielding three crouched inhumations in one grave, apparently primary, and three secondary inhumations (Dorset Procs., XXXVII (1916), 46; Cunnington MS., No. 42). An unidentified barrow, excavated 'on Keynston Down' in 1840, may have been in Rawston (see Tarrant Keyneston, pp. 104–5).
(7) Bowl (91590669), about 20 yds. N.E. of (6), has been much reduced by ploughing; former diam. 40 ft., ht. 2 ft.; hole dug in centre.
(8) Bowl (91560664), immediately S. of (6); diam. 28 ft., ht. 2 ft.; hole dug in centre.
(9) Bowl (92030634), on Rawston Down, 325 ft. above O.D., lies on the E. crest of a Chalk ridge extending N.W.-S.E.; diam. 74 ft., ht. 7 ft.; surrounding ditch 15 ft. wide and 1½ ft. deep.
(10) Bowl (91920612), 270 yds. S.W. of the foregoing and similarly situated; diam. 36 ft., ht. 2 ft.
Three barrows are found on The Cliff, in the E. of the parish, about 300 ft. above O.D.; they lie on the crest of a steep N.W. slope overlooking the Tarrant valley. All three have been much reduced by ploughing.
(11) Bowl (94900717); diam. formerly 60 ft., ht. 2 ft.
(12) Bowl (95140730), 300 yds. N.E. of (11); diam. formerly 68 ft., ht. 2½ ft.
(13) Bowl (95270745), 220 yds. N.E. of (12); diam. formerly 55 ft., ht. 2 ft.