Pages 16-17
An Inventory of the Historical Monuments in Dorset, Volume 4, North. Originally published by Her Majesty's Stationery Office, London, 1972.
This free content was digitised by double rekeying and sponsored by English Heritage. All rights reserved.
8 EAST STOUR (7922)
(O.S. 6 ins., ST 82 SW, ST 72 SE, ST 82 NW)
East Stour, with an area of 1,786 acres, lies on the E. bank of the R. Stour. The western third of the area is on Corallian Limestone at an altitude of about 300 ft., sloping W. to the river; the other two-thirds are on Kimmeridge Clay, undulating between 300 ft. and 370 ft., except in the S.E. where the land rises steeply to 655 ft. on Duncliffe Hill, an outlying Greensand promontory surrounded by Gault Clay.
The history of settlement is ill-documented and largely unknown, but the pattern of field boundaries indicates slow expansion eastwards across the area of Kimmeridge Clay from a nucleus in the W. East Stour village, one of the Sture holdings of Domesday (V.C.H., Dorset iii, 82–3), was certainly the original settlement. Fields of irregular shape immediately E. of the village represent early encroachment on the waste. The larger and more rectilinear fields to N. and N.E. indicate post-mediaeval development; to judge by the date of the farmhouses at New House (14) and Cole Street (15) this development is of the late 18th century. The S.E. part of the parish with rigidly geometrical field boundaries was enclosed from the waste in 1804 (Enclosure Map, D.C.R.O.), and the buildings in this area are of the early 19th century.
Ecclesiastical
(1) The Parish Church, Christ Church, stands in the S. of the village. The walls are of local limestone ashlar with Greensand dressings and the roofs are slate-covered. The church was built in 1842 to the design of G. Alexander, in the Romanesque style on a cruciform plan with a central tower. The former church was demolished and some fittings from it were transferred to the new building.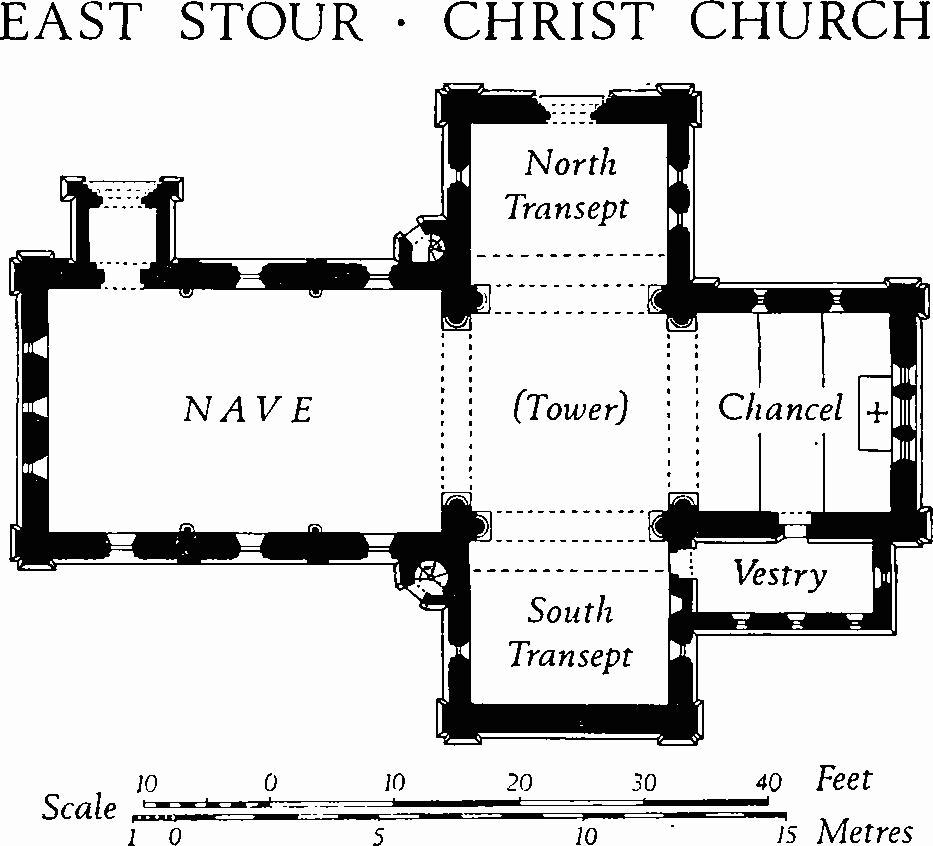 Fittings—Bible-box: of oak, with foliate carving on front panel, 17th century. Chests: two, of oak; one with fielded panels and ball feet, 18th century; another with moulded and fielded panels, beaded corners, and three locks, late 18th century, on modern legs. Font: with square Purbeck marble bowl with shallow round-headed arcading, on cylindrical stone centre shaft and four coarsely moulded corner shafts, with plain rectangular base, 12th century. Lectern: comprising carved and gilt pelican-in-piety (Plate 21), perhaps reused finial from former sounding-board or reredos; 18th century (cf. Dorset III, Plates 47, 98).
Cross Shaft, fragment, now in the British Museum (1969/4–1) was recovered during the demolition of a house in East Stour in 1939. The stone is 10 ins. to 11 ins. square and 2 ft. 4 ins. high (Plate 3). Each face is richly decorated with vine-scroll, interlace and palmette ornament, probably of the late 10th or early 11th century (Arch. J., CXVII (1960), 82–87).
Secular
(2) Church Farm (79832285), house, a few paces W. of the church, is of two storeys and has walls of rubble and ashlar, and tiled roofs; it is of the early 19th century. The N.E. front is symmetrical and of three bays, with a central doorway and with uniform sashed windows.
(3) Orchard House (80182327), of two storeys with rubble walls and thatched roofs, is of the early 17th century. A stone inscribed 1600 appears to be of the 19th century, but doubtless is a replica of an original date-stone. Inside the house, two large fireplaces have stone jambs and chamfered timber bressummers; the W. chimneybreast formerly had a stair beside it. Two stop-chamfered beams are exposed.
(4) Cottage (80232330), of one storey with attics, with rubble walls and a thatched roof, is of the 17th century. Inside, one room has an open fireplace with chamfered stone jambs and a chamfered oak bressummer; a plank-and-muntin partition and some chamfered beams are preserved.
(5) Cottage (80372347), of two storeys with rubble walls and a thatched roof, is of the late 17th or early 18th century; inside, three chamfered beams are exposed.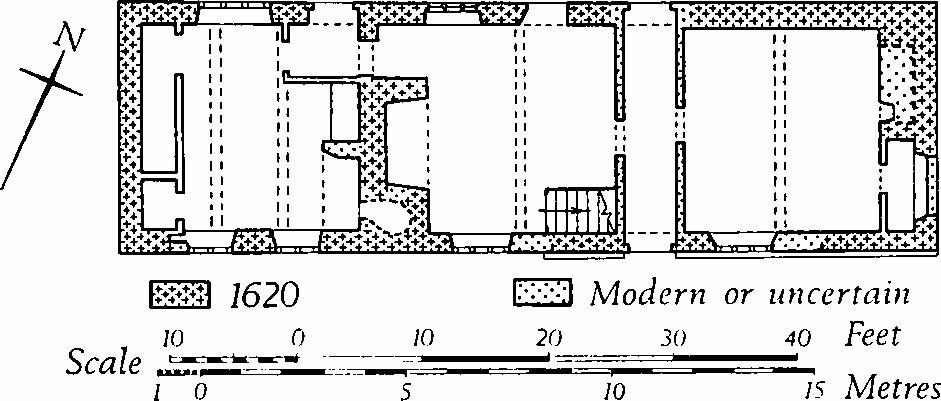 (6) High Grove Farm (81462397), house, of one storey with dormer-windowed attics, has rubble walls and tile-covered roofs. Above the S. doorway is a date-stone with T.S. 1620 in relief, probably the date of the house. Inside, the through passageisflanked by original timber partitions. The middleroom no doubt originally the main living-room of the farmhouse, has a large open fireplace; the oven now opens to a fireplace in the W. room, but this is probably a modification; the N. window in the middle room retains an original moulded timber surround. The stairs are modern.
(7) Cottages (80902305), range of three, with rubble walls and thatched roofs, are of the late 17th century.
Monuments (8–15)
Unless otherwise described the following houses and cottages are of the late 18th or of the first half of the 19th century; they are two-storeyed, with rubble walls and tiled or slate-covered roofs.
(8) Fir Tree Cottage (82242352), with a symmetrical S. front of three bays, dates from shortly after 1804 when the land on which it stands was enclosed.
(9) Cottages (82242348), pair, 30 yds. S. of the foregoing, similarly date from c. 1804.
(10) Manor Farm (80552303), house, is largely modern, but it incorporates an 18th-century cottage on the S.
(11) Cottages (79962295), range of three, comprise two late 18th-century dwellings; the S. dwelling is of the early 19th century.
(12) The Crown Inn (80422354), originally a late 18th-century range of three cottages, became an inn in the 19th century.
(13) Cottage (80502369), of late 18th-century origin, has a symmetrical S. front of two bays with a central doorway. Adjacent on the E. a 19th-century range, now ruinous, was used in the late 19th century as a Methodist Chapel; its original purpose is uncertain.
(14) New House Farm (80132499), house, dates probably from c. 1800 and has a symmetrical S. front of three bays with a central doorway.
(15) Cole Street Farm (81782502), house, is of the late 18th century. At the centre of the three-bay S. front is a 19th-century ashlar porch with a round-headed opening.