Pages 17-19
An Inventory of the Historical Monuments in Dorset, Volume 4, North. Originally published by Her Majesty's Stationery Office, London, 1972.
This free content was digitised by double rekeying and sponsored by English Heritage. All rights reserved.
9 FARNHAM (9515)
(O.S. 6 ins., ST 91 NE, ST 91 NW, ST 91 SE, ST 91 SW)
The parish has an area of 1,420 acres, wholly on Chalk, and occupies the head of the valley of the Gussage Brook at altitudes between 250 ft. and 500 ft. above sea-level. In some places deposits of Clay-with-flints overlie the Chalk. Woods in the W. and N. are part of Cranborne Chase. The history of settlement is obscure; Domesday has five entries for Fern(e)ham, not all relating to the present settlement (V.C.H., Dorset iii, 83, 100, 101, 102, 105); one entry almost certainly concerns Minchington in Sixpenny Handley (Dorset V), another probably relates to Tollard Farnham and a third may well refer to Hookswood Farm (4). The boundaries shown on O.S., 1811 and the blocks of land recorded in the Tithe Map of 1843 are comparable in complexity with the Domesday record.
Although not itself a Monument, mention must be made of the Pitt-Rivers Museum, 500 yds. S. of the parish church. At the time of the Commission's survey it contained an important archaeological and ethnographical collection, including material recovered by General Pitt-Rivers during his researches in the Cranborne Chase region.
Ecclesiastical
(1) The Parish Church of St. Lawrence, near the E. boundary of the parish, has walls of flint, of Greensand ashlar, of squared rubble, and of ashlar banded and chequered with knapped flint; the roof-coverings are of tile and slate. The Nave is of uncertain date, but probably of the 12th century. The South Tower, incorporating a Porch, is of the late 15th or early 16th century. The North Aisle was added in 1835, and the Chancel and North Vestry are of 1886.
Architectural Description—The E. wall of the Nave with the chancel arch is of 1886. The N. wall was removed when the N. aisle was built, in 1835, and two iron columns with moulded capitals were inserted. The S. wall appears to be largely original; it is rendered, but where the rendering has fallen away the structure is seen to be of flint. Internally a pronounced ledge some 2 ft. below the wall-plate indicates heightening, perhaps in the 18th century. At the S.E. corner is a weathered ashlar buttress of one stage. Adjacent is a window of uncertain date with a double-chamfered two-centred head and continuous jambs, partly of brickwork; it is probably of mediaeval origin with 19th-century alterations which involved the removal of a mullion and tracery. The S. doorway has a moulded four-centred head and continuous jambs with run-out stops. At the S.W. corner is a diagonal buttress of two weathered stages. The W. wall has a stout central buttress of ashlar, in one stage with a weathered head; it is of uncertain date, but perhaps original. Further N. is a low ashlar pilaster-buttress, also with a weathered head. Over the central buttress is a window with chamfered ashlar jambs and a four-centred head; the latter is of brickwork and probably of the 19th century, but it retains fragments of a late mediaeval label with square stops.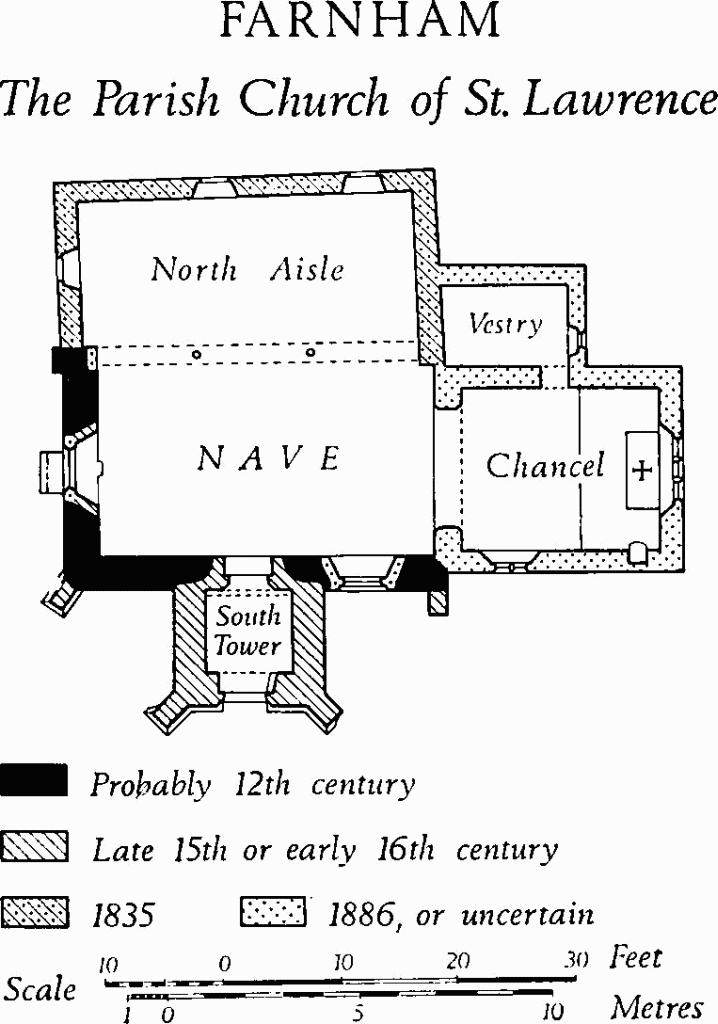 The North Aisle has rendered walls with ashlar quoins; the windows have plain two-centred heads.
The South Tower has two stages. The lower stage is of ashlar partly banded with flint; the upper stage is of chequered ashlar and flint. A chamfered plinth at the base of the tower occurs on the S., but not on the E. and W. sides. Each stage is capped by a weathered and hollow-chamfered string-course, and at the top is an embattled parapet with a moulded coping and with small 17th-century corner pinnacles. In the lower stage, diagonal buttresses of three weathered stages occur at the S.E. and S.W. corners. The S. doorway of the porch has a moulded four-centred head and continuous jambs with run-out stops. In the W. wall of the tower a square-headed loop gives light to a chamber over the porch. In the upper stage the N., E. and S. sides of the tower have each a two-light belfry window with a central mullion intersecting a four-centred head at the apex.
The Roofs of the nave and N. aisle are masked by plain plaster barrel vaults, probably of 1835.
Fittings—Bells: two; treble with 'Ora Mente Pia' in black-letter, c. 1450; tenor with 'Mr Clvtterbook Wm Tosier, 1732'. Door: in S. doorway of porch, with beaded vertical planks and wrought-iron studs and strap-hinges, 18th-century. Fonts: two, of stone; one with twelve plain sides continuing as chamfers on stem and dying into hollow-chamfered square base, late mediaeval; another of crude baluster form with gadrooned bowl and stem, moulded base, and gadrooned stone cover, late 17th century. Inscription: In N. aisle, on E. wall, marble tablet recording building of N. aisle, 1835.
Monuments and Floor-slabs. Monuments: In chancel, on S. wall, (1) of Alexander Bower, 1616, slate tablet with marble border. In N. aisle, near W. wall, (2) of Rev. Phillip Rideout, 1834, and others of his family, panelled stone pedestal with inscription on sides, and small shield-of-arms, by Simmonds of Blandford; reset on N. wall, (3) of Rev. Phillip Rideout, 1814, and others of his family, marble tablet. Floor-slabs: In nave, (1) of Thom[as Potticar]y, [1689]; (2) of Christophe. . . ., stone slab with foliate border, partly covered by font; adjacent, (3) of Christopher, 1708, John, 1711/2, and their mother Lucy Potticary, 1745, large slate slab with fine lettering and foliate border.
Plate: includes silver cup, without assay marks, probably early 18th century, and silver-plated paten and flagon, both unmarked, probably early 19th century. Pulpit: of oak, polygonal, with three sides with fielded panelling in two heights, with beaded stiles and rails, and moulded cornice, early 18th century. Wall-paintings: In nave, on W. wall, two roundels enclosing texts, one Ephesians IV, 31, the other indecipherable, probably 17th or early 18th century.
Secular
(2) Stocks (95881510), of oak, with chamfered posts and with an iron hasp, are of the 18th century. The monument is protected by a modern brick kerb and a lead-covered timber hood.
(3) Bussey Stool Lodge (93161629), cottage, of one storey with attics, has brick walls and tiled roofs. The central part of the range dates from early in the 18th century and comprises two rooms, one with an open fireplace and oven, the other unheated; it is built with unusually large bricks. Inside, the rooms have lightly chamfered beams with ogee stops. Later in the 18th century the range was extended to N.E. and S.W., the N.E. extension containing a larder with ceiling hooks, perhaps for venison, the S.E. extension containing a living room, a stable and a loft.
(4) Hookswood Farm (94781510), house, is partly of one storey with attics and partly two-storeyed. The single-storeyed part has walls of rubble and flint with squared rubble quoins and dates from the late 16th or early 17th century; the two-storeyed range is of the late 18th century. Inside, the older range contains two ground-floor rooms, each with an open fireplace; one room has a chamfered beam with splayed stops. In the 18th-century range several rooms have walls panelled in two heights, with beaded stiles and rails, and fielded panels.
(5) South Farm (96041501), cottage, of one storey with attics, has walls of rubble, flint and brickwork, and thatched roofs; it is probably of 16th-century origin. In the S.E. room the ceiling has four stop-chamfered beams resting on a central post; the fireplace has chamfered stone jambs and an elm bressummer. In the N.W. room the fireplace is similar to that described and the ceiling has two stop-chamfered beams. Part of a cruck truss remains in the N.E. wall.

(6) Cottage (95951507), of one storey with an attic, has flint and rubble walls, partly rendered, and a thatched roof; it was built probably in the late 17th or early 18th century. Inside, a stop-chamfered beam is exposed, and one room has an open fireplace with a chamfered bressummer.
Monuments (7–11)
Unless otherwise described the following cottages are two-storeyed, with walls of rubble, flint and cob, partly rendered, and with thatched roofs.
(7) Cottage (95981510), with a S. front of two bays with a central doorway, is probably of the early 18th century. The gabled W. wall is of banded brickwork and flint.
(8) Cottage (95961510), probably of the first half of the 18th century, has a later extension in brick and flint on the E.
(9) Cottage (95871504), containing an exposed chamfered beam and an open fireplace with a chamfered bressummer, probably is contemporary with the foregoing.
(10) Cottage (95661545), of one storey with an attic, is of the late 18th century.
(11) Cottage (95651547), is of the early 19th century.
Roman and Prehistoric
'Celtic' Fields, see p. 119, Group (75).