Pages 48-52
An Inventory of the Historical Monuments in Dorset, Volume 4, North. Originally published by Her Majesty's Stationery Office, London, 1972.
This free content was digitised by double rekeying and sponsored by English Heritage. All rights reserved.
18 MOTCOMBE (8425)
(O.S. 6 ins., ST 82, all parts).
The parish, with an area of 5,450 acres, comprises much of the former Royal Forest of Gillingham and was part of Gillingham parish until 1883. Near the E. border the Upper Greensand escarpment rises to more than 700 ft. above sea-level; the rest of the parish lies on Gault and Kimmeridge Clay at altitudes between 250 ft. and 500 ft. The land is drained by small streams flowing W. to the R. Lodden, on the N. and W. boundaries of the parish. The village stands at the confluence of four such streams. Although not named in Domesday the settlement may be one of the several Gillinghams there recorded (see p. 27). Many of the outlying hamlets and farms originated as secondary settlements within the Royal Forest; Fernbrook, Frog Lane, Kingsettle and Woodsend farms were all in existence by the end of the 13th century (Fägersten 29). On an early 17th-century map, now lost, but known through a 19th-century copy (Plate 56) in D.C.M., secondary settlements such as these are recognisable by their small fields and irregular boundaries; many of them still exist today. Larger fields with more nearly rectilinear boundaries in the N. and N.W. of the parish result from enclosure after the disafforestation of the Royal Forest in 1624; Wolfridge Farm (4) is of this period. In the 19th century under the ownership of the Marquess of Westminster the village was extensively rebuilt and few earlier dwellings survive. The most important Monument in the parish (18) is the earthwork remains of a Royal Hunting Lodge, now reduced to banks and ditches. North End Farm (3), 'Easthaies' on the 17th-century map, has an interesting early 17th-century farmhouse.
Ecclesiastical
(1) The Parish Church of St. Mary was wholly rebuilt in 1846, in the 'Perpendicular' style (Builder, IV (1846), 393) to designs by G. Alexander; it has ashlar walls and tile-covered roofs. Drawings by J. C. Buckler of the former church are in the B.M. (Add. MS., 36361, 152–5). Fittings from the former church are incorporated in the 19th-century building.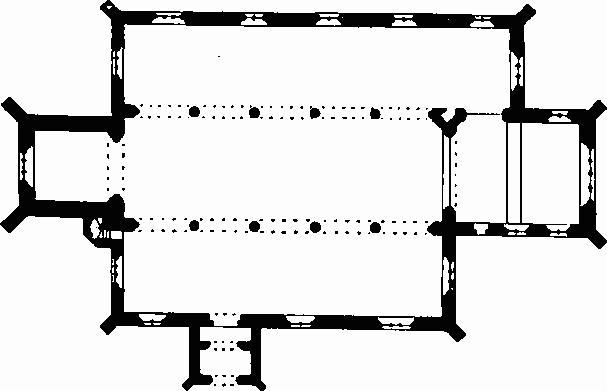 Fittings—Chest: of oak, with plank sides, top and bottom bound with four wrought-iron straps with hinges, staples and hasps for four padlocks, and with two horizontal straps forming end-handles, the latter also with hinged hasps attached (one broken); c. 1500. Churchyard Cross: S. of porch, with chamfered square base-block on two steps, and lower part of octagonal shaft with run-out stops, 15th century. Communion Table: of oak, with turned legs with leaf enrichment, and fluted rails, late 17th century; top and feet restored and legs lengthened. Font: with round bowl, moulded underneath, cylindrical stem, and round base with ovolo mouldings, 13th century; font-cover, of oak, with circular board, moulded radial battens and turned central finial, 17th century. Glass: in E. window of chancel, grisaille with coloured borders, 1846. Hatchment: with arms of Whitaker impaling White of Poole, 1816. Image: see Niche.
Monuments and Floor-slabs. Monuments: In N. aisle, reset on N. wall, (1) of Evelyn Grosvenor, 1839, marble tablet by Marshall of Blandford; (2) of Elizabeth (Branthwayte) Webbe, 1627, slate tablet in marble surround (Plate 16) with Corinthian columns, broken pediment and shields-of-arms: above, (i) Webbe quarterly of seven; (ii) Webbe impaling Branthwayte; (iii) Croke and Haynes quarterly impaling Webbe; below, (iv) Croke and Haynes quarterly with inescutcheon of Webbe. In churchyard, E. of chancel, (3) of Thomas Ta . . ., 160., headstone with wreath and scroll-work; S. of chancel, (4) of Richard Haimes, table-tomb, 1702; S. of S. aisle, (5) of William Broadway, 1763, and others of same family, table-tomb with panelled sides and moulded top. Floor-slabs: In S. porch, reset over doorway, (1) of William King, 1636. In N. aisle, (2) slab with scroll-work, inscription illegible; (3) of Henry Whitaker, 1695, and his daughter Jane, 1683; (4) of William Whitaker, [1809]; (5) of William Whitaker, 1726, and others of his family; (6) of William Whitaker, date illegible. In S. aisle, partly concealed by step, (7) of John Thaine, 1748, and his wife, 1793; adjacent on W., (8) of Richard Ewin, 1788, and James Grant, 1789; (9) of Arthur Saunders, 1691; (10) of Thomas Brick . . ., 1726. In S. aisle, reset on S. wall, (11) of Henry Whitaker, 1696, Purbeck marble slab with achievement-of-arms of Whitaker quartering Mapowder and Cruwys.
Niche: In S. aisle, reset over S. doorway, with cinquefoil ogee head and ribbed soffit, between pinnacles with crude child-head finials, and traceried spandrels, 15th century; reset in niche, fragment of sculpture (Plate 15), possibly representing St. Catherine, seated, with Emperor Maximian beneath her feet, upper part of main figure missing, 15th century. Piscina: In chancel, with chamfered, trefoiled two-centred head, probably mediaeval. Plate: includes silver cup with date-letter of 1631, restored, and stand-paten with date-letter of 1716.
Royal Arms: In S. aisle, on wood panel (Plate 27), Stuart arms with cypher CR, 17th century; in N. aisle, on canvas, arms and cypher of George III, with churchwardens' inscription, 'James Mayo and Henry Broadway, 1773'.
Secular
(2) School (84872524), a few paces W. of (1), is single storeyed and has ashlar walls and tiled roofs (Plate 28); a shield over the main doorway bears the date 1839. The windows, generally, are of stone with chamfered surrounds and mullions. A window in the form of a small oriel projects in the gable of the S. wing.
(3) North End Farm (84562751), house (Plate 53), of two storeys with attics, has walls of ashlar and of squared rubble, and stone-slated roofs; it is of early 17th-century origin and is shown on a map of 1624 (Plate 56) with the name 'Easthaies'. The windows, generally, have square-headed lights with recessed and hollow-chamfered surrounds and mullions; in the lower storey they are capped by weathered and ovolo-moulded string-courses; in the upper storey and in the attics they have weathered and hollow-chamfered labels. The chimneystacks are of ashlar, with moulded capping.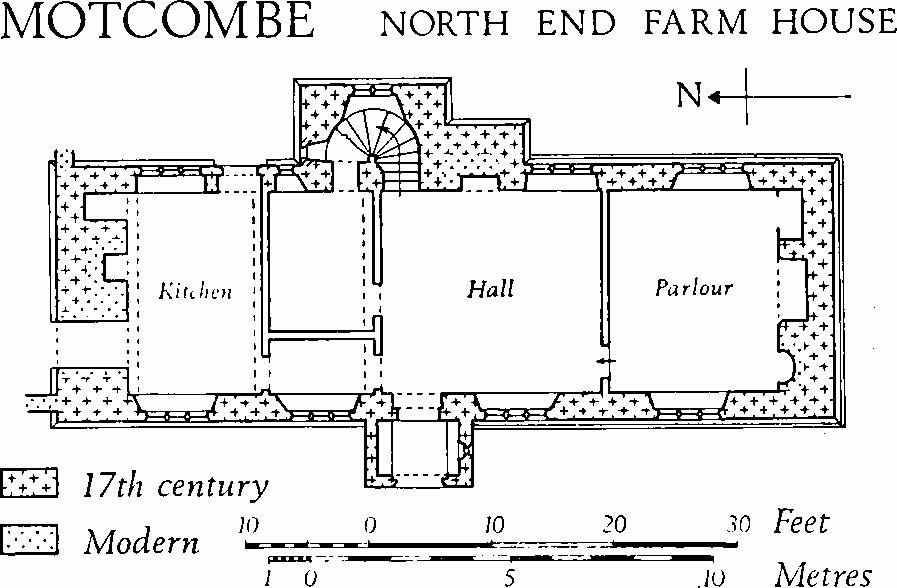 The W. front, of ashlar, is symmetrical and of four bays, with chamfered plinths and with a central doorway enclosed in a one-storeyed porch. The porch has an outer archway with a moulded four-centred head, a moulded square outer head, sunk spandrels, continuous jambs and shaped stops. Above the porch arch is an ovolo-moulded, hollow-chamfered and weathered string-course, and over this is a gable with a wavemoulded coping and a square finial. Within the porch, the main doorway is round-headed, with a moulded archivolt, square impost blocks, and moulded jambs; one impost bears a scratched inscription of 1644. On either side of the porch, the bays of three-light casement windows are paired beneath gables with single three-light attic windows, plain copings and square apex finials. The string-course of the porch continues at a slightly lower level throughout the W. front.
The S. end of the house is of ashlar; it has a gable similar to those of the W. front; the only window, in the gable, is of three lights as described. Symmetrically disposed above the gable are two ashlar chimneystacks. The moulded string-course of the W. front continues across the end wall, approximately at first-floor level. The E. front, of rubble, has three-light casement windows as described; the first-floor string-course lacks an ovolo moulding and has much the same profile as the labels of the upper windows. One bay of the E. front comprises a projecting stair tower with two-light windows at two mezzanine levels, and with a gable with a finial as before; adjacent on the S. is an ashlar chimney-stack, rebuilt near the top in brickwork. Reset in the N. side of the stair tower is a small quatrefoil loop, evidently part of the tracery of a 14th-century window. The N. end wall resembles that on the S., having a gable flanked by two chimneystacks, but the lower storeys are masked by an outbuilding, probably of the 19th century.
Inside, the parlour has an open fireplace with a moulded, square-headed surround; the walls have oak panelling with a moulded cornice. In the hall the fireplace has been blocked up and a small modern grate has been substituted. The former open fireplace in the kitchen has been partly blocked, and altered. The steps of the newel staircase are of elm.
(4) Wolfridge Farm (83372767), house, of two storeys, with walls of squared rubble and with tiled roofs, is of the 17th century, but later than the map of c. 1624 (Plate 56); the house has been much altered in recent times, and in part rebuilt. The E. and W. fronts retain stone windows of two and three lights with chamfered surrounds; the former stone mullions have been replaced by woodwork. Projecting from the W. front is a brick chimney-stack with weathered offsets, perhaps an 18th-century addition. The chimney-stack on the S. gable is of ashlar.
(5) Barn House (85022530), single-storeyed with attics, has rubble walls and thatched roofs; it is of the late 17th or early 18th century and has an L-shaped plan. Inside, there are deeply chamfered ceiling beams with splayed stops, and open fireplaces, now blocked. Adjacent on the S. is a small 18th-century Bakehouse, of two storeys, with rubble walls and tiled roofs.
(6) Cottage (83482332), on Sherborne Causeway near the S. boundary of the parish, is two-storeyed and has rubble walls and a thatched roof. It is of the late 17th century and has a class-S plan. The partition between the ground-floor rooms is of plank-and-muntin construction with roughly chamfered muntins. The date 1691 is incised in plaster over the large open fireplace of the E. room.
(7) Duncliffe Farm (83702317), house, 300 yds. E. of the foregoing, is of two storeys with attics and has walls of brick and rubble, in part rendered; the roofs are partly tiled and partly thatched. The house dates from c. 1700.
(8) House (84632644), originally single-storeyed but now heightened, has brick walls with stone quoins, and thatched roofs; it dates from c. 1700. The W. front is symmetrical and of three bays; reset in it at the level of the first floor is a fragment of 15th-century carved stonework representing an angel bearing a shield; it probably was a vaulting-boss. Inside, one room has a ceiling beam with deep chamfers.
(9) Thane's Farm (86432471), house, is two-storeyed and has walls of coursed rubble, and tiled roofs; it is of the late 18th century, with 19th-century additions on the N. and S. at the W. end of the original range. The S. front of the range has a central doorway flanked by plain casement windows; above the doorway is an elliptical window with a moulded architrave and keystones; in the upper storey are three casement windows. The N. front of the range has a stone window of four square-headed lights with moulded jambs and mullions. Inside, the original range has chamfered ceiling beams.
(10) Bridewell (84662804), house, single-storeyed with attics, with walls partly of rubble and partly timber-framed and with thatched roofs, is of the late 18th century.
(11) Manor Farm (84192468), house, is two-storeyed with ashlar walls and slated roofs and was built in 1836. The N. front is of three bays, that in the centre having a projecting two-storeyed porch, those on each side having in each storey sashed windows with moulded labels. The S. front has stonemullioned windows with wooden sashes.
(12) Fernbrook Farm (83672406), house, is two-storeyed and has walls of brickwork with ashlar dressings, and tiled roofs; it was rebuilt in the 'Tudor' style in 1848.
(13) Cottages (85152513), range of four, known as The Old Workhouse, have walls of ashlar and rubble, stonemullioned windows and stone-slated roofs; they are of the late 17th or early 18th century.
Monuments (14–19)
Unless otherwise described the following monuments are of the second half of the 18th century and of two storeys; the walls are of rubble and the roofs are thatched.
(14) Cottages (84982525–85002528), three, about 100 yds. E. of the church, are approximately uniform, although separated one from another (Plate 29). In each, the S.E. front is of two bays with a central doorway. The front walls are of red brickwork patterned with blue headers; the end walls are of rubble, the stonework extending into the front walls in the form of rough quoins.
(15) Red House Farm (84652620), house, has a symmetrical E. front of three bays, with sashed windows with segmental brick heads and rubble keystones. The roofs are tiled, with stone-slate verges. There are modern extensions on the N. and S. Inside, one room has an open fireplace and bread-oven, now blocked.
(16) White House Farm (84332409), house, has a symmetrical N. front of three bays with a central doorway, and casement windows in both storeys.
(17) Lower Duncliffe Farm (82782352), house, has a slated roof. The N. front is of rubble; the S. elevation is partly of brick, with a rubble plinth.
(18) Kingsettle Farm (86182569), house, with ashlar walls and a stone-slated roof, is now deserted and ruinous.
(19) Cottages, two adjacent (83332334), have been combined as one dwelling. That on the E. has a symmetrical three-bay N. front, with a central doorway, and casement windows with segmental brick heads and rubble keystones. That on the W. is of two bays and has a N. front of squared rubble.
The following small houses and cottages are of the late 18th or first half of the 19th century. Unless otherwise described they are two-storeyed, have rubble walls and are roofed with thatch or tiles: Cottage (84972526), with an ashlar-faced E. front; Post Office (85072523), comprising a range of three cottages, now combined; Cottages (85292508), pair, dated 1842, with two-light mullioned windows, and doorways with moulded four-centred heads and continuous jambs; Cottage (85462499); Cottages (85022544), range of three, of one storey with attics, restored and heightened in brickwork; Cottage (84812502), of one storey with attics, with a rendered N. front; Cottage (85042588); Cottage (85062595), with a S. front of two bays with a central doorway; Cottage (85152591); Cottage (84522740); Cottage (83222338); Cottage (83352333); Cottage (83772316); Bittles Green Farm (85672487), house; Larkinglass Farm (83762767), house, with a three-bay E. front incorporating a carved stone head, perhaps a mediaeval corbel; House (83962309), with a symmetrical ashlar front of three bays, probably advertised as new-built in Salisbury Journal, 26 Dec. 1814; Woodwater Farm (82152723), house, now derelict.
Mediaeval and Later Earthworks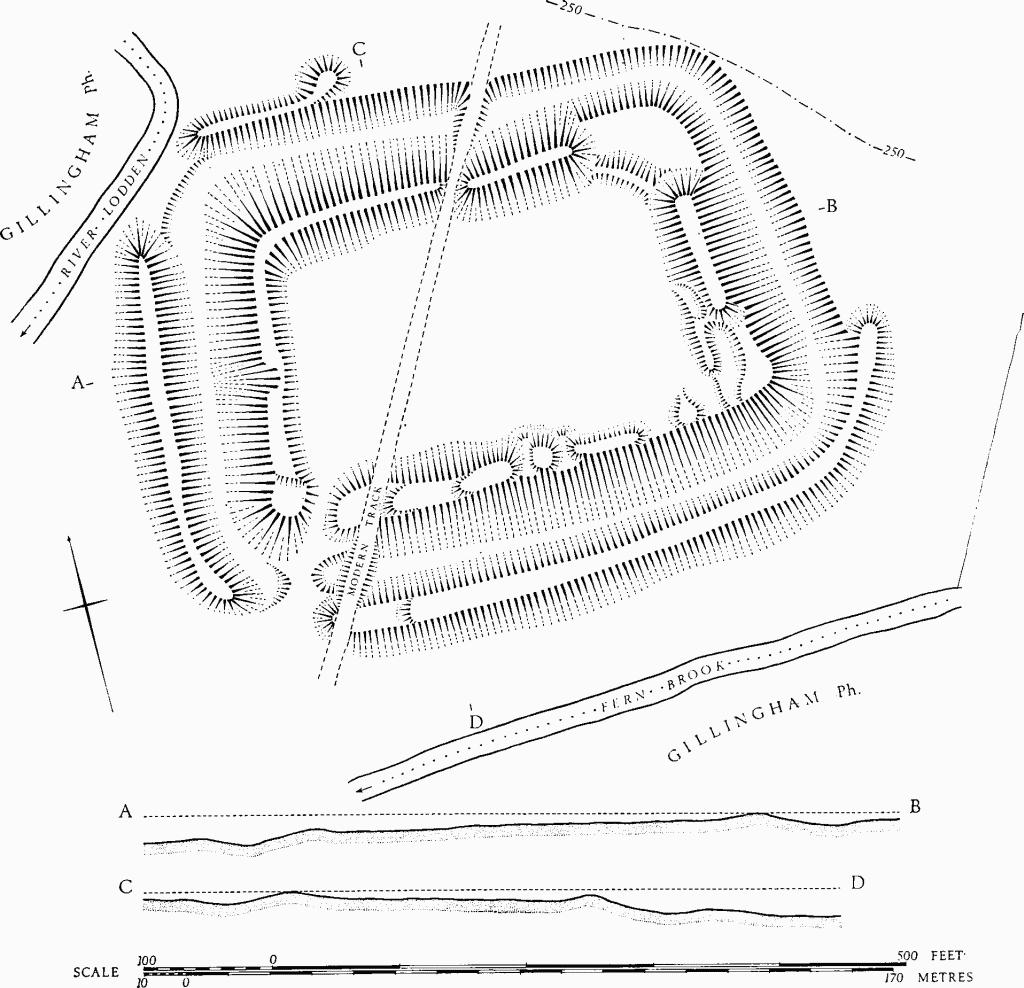 (20) Moat and Banks (818263), known as King's Court Palace, occupy low-lying ground on the western boundary of the parish, at the confluence of the R. Lodden and a small westward-flowing stream, the Fern. The earthworks are the remains of a fortified royal hunting lodge, begun in 1199 and occupied by King John in 1204; the ditch and bank probably date from c. 1209–11. Extensive alterations were made in 1249– 1250, when the original chapel was rebuilt, a second chapel was provided, and a new chamber measuring 40 ft. by 22 ft. was made. Buildings ordered by King Henry III in 1252 and finished in 1255 included a kitchen, an almonry and a chamber. Repairs were executed in 1260 and works of that date included a gateway and a hedge around the courtyard; in 1269–70 the hedge was replaced by oak palings. Further repairs are recorded up to 1354. In 1369 King Edward III ordered the demolition of buildings and the sale of the materials. (History of the King's Works, II, 944–6.)
The remains have been damaged by a modern track and by drainage ditches and small quarries, but otherwise they are well preserved; they comprise a rectangular area, 300 ft. by 170 ft., bounded by a bank some 50 ft. wide and 4 ft. high, with scarps and platforms cut into it on the S. and S.E. Outside the bank is a ditch, up to 60 ft. wide and 5 ft. deep, with an outer bank up to 3 ft. high on the S. and W. The original entrance was at the S.W. corner of the site, where two rectangular platforms suggest former gate towers. Inside the banks, the ground is featureless.
Deer Park. See Gillingham (99).