Pages 52-55
An Inventory of the Historical Monuments in Dorset, Volume 4, North. Originally published by Her Majesty's Stationery Office, London, 1972.
This free content was digitised by double rekeying and sponsored by English Heritage. All rights reserved.
19 PIMPERNE (9009)
(O.S. 6 ins. ST 90 NW, ST 91 SW, ST 80 NE, ST 81 SE)
The parish, covering some 3,430 acres, extends N.E. from the R. Stour and lies entirely on Chalk at altitudes between 170 ft. and 400 ft.; on the S. it adjoins the town of Blandford Forum (Dorset, III, 16). The north-eastern third of the parish is occupied by a broad dry valley which drains S. through Blandford to the Stour; the south-western third comprises several small dry combes. The area of the parish has been increased by boundary revisions: land in the S.W. comprising the Domesday settlement of Nutford (V.C.H., Dorset, iii, 70) was transferred from Blandford Forum to Pimperne in 1886; land in the S., comprising the manor of Damory Court, mentioned in 1363, was similarly transferred in 1894. In 1933 small parts of Tarrants Hinton, Launceston and Monkton were taken into Pimperne, thus moving the parish boundary away from the village, through which it formerly passed. The village stands in the dry valley mentioned above and retains its mediaeval compactness, largely because the open fields were not enclosed until 1814 (Award D.C.R.O.). Newfield Farm in the N. and some cottages in the S. of the village stand in the area of the former fields. Excavations in 1960–3 on Pimperne Down yielded important evidence of Iron Age occupation, including a circular house site.
Ecclesiastical
(1) The Parish Church of St. Peter, near the N.W. end of the village, was wholly rebuilt in 1870 (Dorset Procs., XXXIX (1918), 108), except for the West Tower which is of the mid 15th century. Reset in the present church are the 12th-century chancel arch and south doorway from the earlier church.
Architectural Description. The former Chancel Arch (Plate 51) stands on the N. of the present chancel. It is two-centred and on the S. side it is of two orders, the inner order plain, the outer order with roll-moulded chevron decoration on fascia and intrados; the N. side is plain. In the outer order the voussoirs are alternately of Greensand and white limestone, the latter probably from Todber. In the responds, the inner order has large half-shafts and the outer order has three-quarter shafts of smaller diameter; the shafts and their bases, with hold-water mouldings, are of the 19th century; the scalloped capitals (Plate 9) with scroll-work, leaf decoration and bands of pellets are original; the hollow-chamfered abaci are restored. The Doorway (Plate 51), now at the W. end of the S. aisle, was formerly in the S. wall of the nave (Hutchins I, 293). It has a semicircular outer head of one order with chevron mouldings similar to those of the chancel arch, and a hood-mould with lozenge decoration; below is a tympanum shaped to form a segmental arch and highly enriched with chevron ornament and leaf-work (cf. Dorset III, xlvii). The responds have three-quarter shafts with scalloped capitals with leaf enrichment; the capitals are original, but shafts, bases and abaci are of the 19th century. Hutchins's engraving (I, 294) shows bases different from those now seen.
The West Tower has a high chamfered and hollow-chamfered plinth and is in three stages defined by hollow-chamfered string-courses; the parapet, gargoyles and pinnacles are of 1870. The western corners have three-stage diagonal buttresses with weathered offsets; a similar diagonal buttress occurs on the N. side near the N.E. corner; in a corresponding position on the S. side is an octagonal vice turret of 1870. The tower arch is two-centred and of three hollow-chamfered orders; the outer order dies into chamfered responds and the inner orders spring from angel corbels. The west window has three trefoil-headed lights with vertical tracery in a two-centred head under a roll-moulded label with head-stops; the label is perhaps earlier than the 15th-century window, and reset. In the second stage, the S. side of the tower has a window of two trefoil-headed lights with a quatrefoil tracery light in a two-centred head under a hollow-chamfered label. In the third stage, each side of the tower has a belfry window of two lights with blind trefoil heads and blind vertical tracery in a two-centred outer head without a label.
Fittings—Bells: five; 4th inscribed 'William Pitt, George Selby, R.L. 1703'; tenor recast in 1846 with former inscription 'Glory be to God on high' in Lombardic letters; others 1891. Benefactor's Table: of wood, with gilt lettering recording Charity of George Ryves, 1685, below triangular finial with cartouche painted with arms of Ryves; 1846. Brass: In vestry, reset on W. wall, panel 1½ ft. square (Plate 14) with inscription commemorating Dorothy Williams, 1694, with representation of soul rising from death-bed, engraved by Edmund Culpeper. Chair: of oak, with fretted back and shaped top, 18th century. Chest: of oak, heavily bound with iron, with two hasps and staples for lock-bar, and central lock with scroll-sided escutcheon plate, 17th century. Door: in W. doorway, of oak, dated 1847. Font: of stone (Plate 11) with round bowl enriched with foliate scroll-work and pellet banding on tapering cylindrical stem with moulded base, with masks in spandrels; bowl 12th century, restored in 19th century; stem and base probably 19th century. Font-cover, of stone, tent-shaped, with pierced spandrels and pellet-enriched ribbing; 19th century (Hutchins I, 293).
Monument and Floor-slab. Monument: In vestry, of Dorothy Williams, 1694, see Brass. Floor-slab: reset at top of tower vice, Purbeck marble floor-slab of William M[artin, 1608 ?], (Hutchins I, 295). Niche: In S.E. side of lower stage of S.W. tower buttress, with chamfered four-centred head; mediaeval. Plate: includes Elizabethan silver cup by Lawrence Stratford of Dorchester, without inscription or date-letters; in 1849 it was recorded that the church 'possesses no sacramental plate whatever, except a chalice presented by the present curate' (Ecclesiologist, X (1849), 255).
(2) Cross (90420943), some 50 yds. E.N.E. of (1), of Greensand, comprises the lower part of an octagonal shaft set in a square pedestal on a plinth of three steps, square on plan. The lowest step retains traces of moulded nosing, much worn. The cross probably is of the late 15th century.
(3) Methodist Chapel (90450894), with cob walls and until recently with a thatched roof, consists of a simple hall orientated N.—S., with the doorway on the S.; it is of the first half of the 19th century.
Secular
(4) The Rectory (90440936), of two storeys with attics, with walls of brick banded with flint and with tile-covered roofs, is dated 1712. The N.E. front is symmetrical and of five bays. Reset in the centre bay is part of a 16th-century stone doorway with a moulded four-centred head, continuous jambs and plain stops; the head is original, the rest of the opening is restoration work, presumably of c. 1712. Above the head is a square label and on the margin below the label is a damaged black-letter inscription, recorded by Hutchins as '[T. . . . . well alias Weber hanc] porticu'. et capella xpi. superstruxit, anno d'ni MC [CCCCXXX] '; the letters enclosed in brackets have now perished, but the others remain legible. Thomas Weaver was rector of Tarrant Hinton (1514– 1536), and his initials are found in the decoration of the Easter Sepulchre in that church (see p. 98); it is possible that these reset fragments were brought from Hinton. Over the doorway and integral with the label is a niche with a canopied head and shafted jambs; carved under the bracket of the niche is a shield-of-arms of Henry VIII, with crown, garter, dragon and greyhound supporters, and a rose and portcullis on the apron (cf. Tarrant Gunville (1), Glass). Reset in the upper storey, centrally above the doorway, is a window of three ogee-headed lights with vertical tracery in a square-headed surround; a stone above the window is inscribed 'Nisi Dominus custoderit. . . . . . 'etc., and the date 1712. The two bays on either side of the central bay in the 18th-century N.E. front have false square-headed windows; first-floor level is marked by a plain plat-band. The other elevations of the 18th-century range have similar details. Inside, the main rooms have 19th-century plasterwork, joinery and chimneypieces. The walls flanking the central vestibule are, however, 3 ft. and 2½ ft. in thickness, suggesting that elements of an older building are incorporated in the 18th-century structure.
(5) Nutford Farm (87940799), house, 1¾ m. S.W. of the village, is of two storeys with attics and has brick walls and tile-covered roofs. The building is of the 18th century. In plan the house is L-shaped, with the main range facing E.S.E. and having a wing projecting eastwards from it at the N. end. The E. front of the range is symmetrical and of three bays, with a central doorway and with square-headed casement windows of three lights in both storeys; a plat-band occurs at first-floor level. The E. wing is of one bay. The S. end of the main range and the E. end of the wing are gabled and have rounded brick copings above corbelled brick kneelers; each apex has a brick chimney-stack.
Reset in a brick wall separating the garden from the farmyard is a late mediaeval doorway with a moulded four-centred stone head and continuous jambs. The 18th-century gateway into the garden from the road on the S.W. of the house has square brick piers with moulded ashlar caps and ball finials. Between the road and the farmhouse is a detached Cottage, perhaps a little later in date than the farmhouse, but with gabled end walls as described above.
(6) Manor Farm (90400945), house, of two storeys, with walls of banded flint and brickwork, with brick quoins and stone dressings, and with slate-covered roofs, dates from the first half of the 19th century. The S.E. front of the main range is symmetrical and of three bays, with a central doorway, in a projecting porch, with a chamfered and hollow-chamfered square head and continuous jambs. The windows flanking the doorway and in the upper storey are uniform, each having three transomed square-headed lights, with moulded surrounds as in the doorway; the casements have metal glazing-bars arranged to form marginal panes. Extending the main range on the S.W. is an additional bay with details similar to those of the main range. The N.E. and S.W. end walls are gabled, with ashlar copings; the windows, similar to those described, are of two lights and in some cases have no transoms. Extensive farm buildings on the N. and E. are constructed of similar materials and probably are of the same period as the farmhouse.
(7) Chestnut Farm (90400939), house, of two storeys with attics, with walls of ashlar and brickwork and with tile-covered roofs, is of late 18th-century origin, but recently has been extensively modernised. Near by, on the N. of the adjacent farmyard, is a late 18th-century Barn with walls partly of reused Greensand ashlar and partly of brickwork; the N. and S. walls are strengthened by two-stage brick buttresses with weathered offsets; the N. side has a transeptal exit bay. The barn roof has collared trusses supporting two purlins on each side; curved braces resting on ledges in the brick walls meet each principal at the level of the lower purlins. A range of Farm Buildings on the S. of the farmyard, constructed of materials similar to those of the barn, has a date-stone of 1790.
(8) House (90550918), about 300 yds. S.E. of the church, is of two storeys and has rendered walls and tile-covered roofs. Under the rendering, the S. range has walls of banded brickwork and flint of 18th-century origin. On the N., in continuation of the original range, is a mid 19th-century extension containing the principal rooms. Inside, the original range has some exposed beams, lightly chamfered.
(9) 'The Laurels' (90550916), house, a few yards S. of the foregoing, is two-storeyed and has walls of banded brickwork and flint, and a slate-covered roof; it was built in 1802. The E. front is symmetrical and of three bays, with the doorway under a wooden porch with Roman-Doric columns and entablature; the windows, all alike, are of three sashed lights with square heads. A date-stone inscribed C. H. 1802 is set in the S. gable.
(10) Cottage (90430947), about 70 yds. N.E. of (1), is two-storeyed and has brick walls and a tiled roof; it probably is of the early 19th century. The W. front is symmetrical and of three bays, with a brick plat-band and with two-light casement windows.
(11) Cottages (90640929), range of four, now combined, are single-storyed with dormer-windowed attics and have cob walls and thatched roofs; they are of 18th-century origin. Inside, some rooms have roughly hewn beams, and several open fireplaces with timber bressummers are preserved. (Partly demolished.)
(12) Cottages (90670930), two adjacent, now combined, are two-storeyed and have rendered walls and tiled roofs; they date probably from the first half of the 18th century. Inside, two open fireplaces are preserved, one blocked. Some 17th-century panelling has been brought from elsewhere.
(13) Cottages (90840933), two adjacent, two-storeyed and with brick walls and tiled roofs, are of the late 18th or early 19th century.
Other monuments of the first half of the 19th century are as follows: Newfield Farm (90771105), house, with outbuildings and barn; Cottages (90920936), pair, with rendered walls and thatched roofs; Cottages (90930937), two adjacent; Cottage (90910932). Four Cottages in Prior's Lane, with rendered walls and thatched roofs and with class-S plans, stand within the area of the former open fields and therefore date from after 1814.
Mediaeval and Later Earthworks
(14) Cultivation Remains. Nothing remains of the open fields of Pimperne, enclosed in 1814 (Award and map in D.C.R.O.). The open fields of Nutford were in existence in 1838 (Tithe Map of Blandford Forum) and the date of their enclosure is unknown; contour and up-and-down strip lynchets, now largely ploughed down, cover a large area around N.G. 880083; in 1838 they were in Nutford Field.
Roman and Prehistoric
The parish is notable for several Enclosures, all probably of Iron Age origin and comparable with those in the adjacent parishes of Tarrant Hinton (p. 100) and Stourpaine (Dorset III, 265). They have been destroyed almost entirely by cultivation and survive only as cropmarks or soil-marks.
(15) Iron Age Settlement (891097), on Pimperne Down, excavated in 1960–3 by I. M. Blake and D. W. Harding, lies about 350 ft. above O.D. on a gentle S.E. slope near the summit of a N.—S. Chalk ridge. (fn. 1) The settlement comprises an oval, univallate enclosure of 11½ acres, bisected by the PimperneStourpaine road and for the greater part visible only on air photographs. Until recently the N.E. sector survived unploughed and it was there that excavations were largely concentrated. 'Celtic' fields (Group (73)) adjoin the enclosure on the N.E. and a smaller enclosure (16) lies immediately S. of it. The excavations indicate early Iron Age occupation, with Second or late First 'A' culture. The bank survived to a height of 1 ft. to 1½ ft. in the N.E. sector. The ditch was initially of shallow 'V' profile, becoming steeper towards a narrow, flat bottom, and reaching a depth of 5 ft. to 6 ft. below present ground level.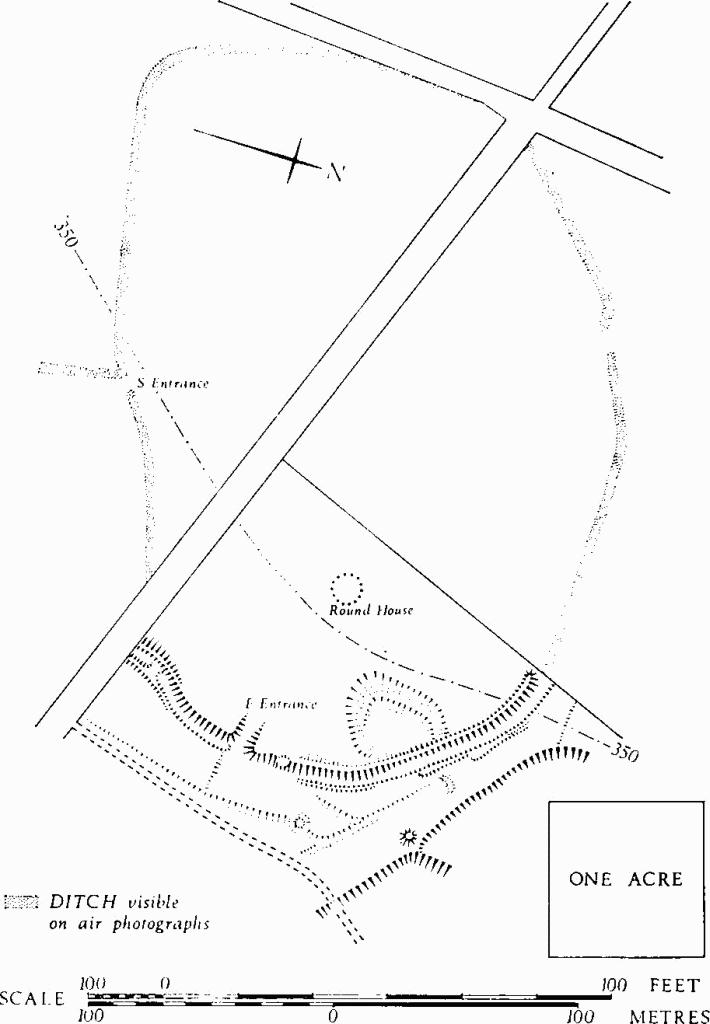 Two entrances to the enclosure were demonstrated. Excavation of the E. entrance revealed a parallel line of post-holes, 8 ft. apart, which extended a little over 20 ft. into the interior of the camp from the causeway between the ditch terminals. Recutting of the post-holes indicated that the entrance passageway had been reinforced or rebuilt in a second phase of construction. The ditch on both sides of the entrance was flat-bottomed, with nearly vertical sides, but on the southern side of the gateway a rubbish pit, into which quantities of animal bones had been thrown, had been cut into the ditch after its initial silting. N. of the entrance the ditch had been refilled shortly after construction, and it had been sealed by a closely-packed flint capping beneath which was found a human femur and the right half of a human skull.
Excavation of the S. entrance revealed three post-holes spanning the entrance causeway, one of them of adequate size for a post to sustain a gate. The ditch system of the S. entrance was more complex than that on the E. The main enclosure ditch on the S.W. side of the causeway was intersected by a shallower ditch which led outwards from the camp to a secondary enclosure (16) on the S.E. This 'antenna' ditch was not of defensive proportions and more probably served to guide cattle into the camp from the secondary enclosure. At least three major structural phases were represented. Within the butt end of the main enclosure ditch, adjacent to its intersection with the 'antenna' ditch, were found the semi-articulated remains of part of a horse and the skull of an ox, together with two small rectangular chalk lamps. Taken in conjunction with human remains at the E. entrance, there are grounds for supposing that these were deliberate deposits, chosen with regard to the respective functions of each entrance.
The existence of an entrance on the N. side of the camp was indicated in 1963 by magnetometer survey, but no excavations took place in this area.
Inside the settlement the principal discovery was the remains of a circular timber house (Plate 55). It consisted essentially of two concentric circles of post-holes. The inner circle, 32 ft. in diameter, must have been for the main supports of the roof since there was no central post-hole or group of holes. The outer circle, 42 ft. in diameter, was composed of smaller stakeholes cut not more than 9 ins. into the chalk; it probably retained a wall of woven saplings. A larger and less continuous circle of shallow scoops and irregular holes may have held external supports for the walls and roof rafters.
Occupation was clearly in two principal phases, in the second of which the house was completely rebuilt, although the same porched entrance served both phases. A baked clay hearth was located within the house, together with a number of shallow post-holes, the latter probably associated with domestic appliances such as looms or drying racks.
Small finds included a bronze finger-ring, two iron arrow-heads and several fragments of shale bracelets. Pottery included coarse-ware shouldered jars with finger-tip ornament and some haematite-coated bowls. The occupation of the site should most probably be assigned to the 5th century B.C., but insufficient stratified material was available to supply a satisfactory chronology of the structural phases represented.
(16) Enclosure (891095), visible only on air photographs (V 58/RAF/3250: 0137–8), lies 40 yds. S. of (15) and apparently is linked with it by a shallow ditch. It covers 4 acres and is pear-shaped in plan, measuring 400 ft. by 500 ft. across. There is no certain entrance, but it most probably was on the N.
(17) Enclosure (900094), probably Iron Age, now totally levelled by ploughing, comprises an irregular oval of 20 acres, formerly defined by a single bank and ditch. It lies at just over 250 ft. above O.D. at the S.E. end of a spur overlooking the village and encircles an angle of the Pimperne-Stourpaine road. The site was discovered from air photographs (V 58/RAF/3250: 0137–8).
(18) Enclosure (916105), probably Iron Age, lies in the extreme E. of the parish on a gentle S.W. slope, near the top of a ridge, about 375 ft. above O.D. It has been levelled by ploughing, but comprises a heart-shaped area of some 10 acres, formerly defined by a bank and ditch, with an inturned entrance on the S.W. side (Plate 54). Within, and concentric with it, lay a roughly oval enclosure of about 5 acres similarly defined and utilising the same entrance. The space between the two enclosures was divided into compartments by three short lengths of bank and ditch (C.U.A.P., WX 15–18). The enclosure appears to have been integrated with 'Celtic' fields (see Group (73)) and possibly with a Linear Dyke immediately on the S. (Tarrant Hinton (18)).
'Celtic' Fields, see p. 119, Group (73).
Monuments (19–35), Round Barrows
Remains of at least seventeen barrows are found in the parish, nearly all of them levelled by ploughing. There is no record that any have been excavated.
(19) Bowl (88280967), on the edge of France Firs, lies on the boundary with Stourpaine at about 350 ft. above O.D.; diam. 52 ft., ht. 3 ft.
The Chestnut Farm Group comprises at least nine barrows, all totally flattened by cultivation, but visible as soil-mark ringditches on air photographs (Allen 931, 933, Ashmolean), (Plate 55); they lie at about 225 ft. above O.D. on the N.E. slope of a spur immediately W. of the village. There are possibly traces of other barrows in the group. A linear ditch, seen on the photograph, which makes an angular detour around barrow (24) and cuts into barrow (25), appears to be of comparatively recent origin. References and dimensions are approximate.
(20) Barrow (90250930), possibly of two phases, with twin concentric ditches; diam. of mound about 65 ft.
(21) Barrow (90270929); diam. about 40 ft.
(22) Double Barrow (90290928), within a continuous ditch, measures about 60 ft. by 30 ft.
(23) Barrow (90270927), with possible pits inside the ditch;
(24) Barrow (90300926); diam. about 55 ft.
(25) Barrow (90290923); diam. about 65 ft.
(26) Barrow (90330924); diam. about 50 ft.
(27) Barrow (90360927); diam. about 65 ft.
(28) Barrow (90350917); diam. about 50 ft.
(29) Barrow (90450992), at 250 ft. above O.D. on a S.E. slope just N. of the village, is now levelled by ploughing, but is visible as a ring-ditch on air photographs (C.U.A.P., ABX 98); diam. about 45 ft.
(30) Barrow (91370870), at over 350 ft. above O.D. on the ridge-top immediately W. of Blandford Camp, is now levelled.
Pimperne East Group comprises five small bowl barrows situated near the E. boundary of the parish, some 250 yds. S.W. of Pimperne Long Barrow (Tarrant Hinton (24)). They lie on a gentle S. slope at 350 ft. above O.D. and are levelled by ploughing. They remain undated; because of their small size it has been suggested that they may be of the Iron Age or Saxon (Dorset Barrows, 125).
(31) Bowl (91521034).
(32) Bowl (91531036).
(33) Bowl (91551035).
(34) Bowl (91571035).
(35) Bowl (91561033).