Pages 328-329
An Inventory of the Historical Monuments in Essex, Volume 1, North West. Originally published by His Majesty's Stationery Office, London, 1916.
This free content was digitised by double rekeying and sponsored by English Heritage. All rights reserved.
79. WENDEN LOFTS. (A.b.)
(O.S. 6 in. (a)viii. N.W. (b)viii. S.W.)
Wenden Lofts is a small parish, with no village, about 5 m. W. of Saffron Walden. Lofts Hall is the principal monument.
Ecclesiastical
a (1). Parish Curch of St. Dunstan stands on the N. side of the parish. It was rebuilt in 1845–46, when a mid 12th-century doorway from the former church was re-set in the S. wall of the nave. The doorway has been much restored; it has a semi-circular arch of two orders, the outer with cheveron ornament, the inner chamfered and continued down the jambs; the outer order of the jambs has engaged circular shafts with crude voluted capitals.
Fittings—Bells: three; 1st old, without inscription. Brass: In nave—of William Lucas and Katherine, his wife, c. 1460, figures of man in furred cloak, and woman in high-waisted gown, scrolls, foot inscription, and figures of four sons, one being John, Abbot of Waltham, in mass vestments, and four daughters, indent of one shield. Glass: In nave—in S.W. window, sundial, early 18th-century. In N. aisle—in N.W. window, medallion of foreign glass with figure, probably of Charity, late 17th-century. Monuments and Floor-slabs. Floorslabs: in nave—(1) to Thomas, son of Sir John Meade, 1678; (2) to Thomas Windham, 1661. In N. aisle—(3) to Finch Harstong, 1666. Plate: includes cup with two shields of arms, and cover-paten, 17th-century.
Condition—Good.
Secular
b (2). Homestead Moat, at Duddenhoe Grange, about 1½ m. S.W. of the church.
Condition—Very incomplete.
a (3). Lofts Hall, N.W. of the church, is of three storeys with attics. The walls are partly of brick and partly of plastered timber-framing; the roofs are tiled. The house is of quadrangular plan and of late 16th-century date but has been so much altered that the original arrangement is quite uncertain. The central courtyard (see plan 1) has been roofed in at the level of the first floor to form a modern hall; the main S. front was re-faced and the porch added early in the 19th century.
Elevations—The S. Front has two original projecting chimney-stacks with restored remains of octagonal shafts; below the shafts are recesses with obtuse arched heads, much obscured by ivy. The E. Elevation is modern, except a chimney-stack at the S. end, which is similar to those on the S. front. The N. Elevation is also modern, except the slightly projecting end of the W. range, which has an original crow-stepped gable; in the gable is an original window of three transomed lights under a square head with a moulded label; the mullions and transom are moulded; above the window is a moulded panel with the date 1539, a modern error for 1579, the date formerly on the panel; the lower windows are of the 18th century, but the moulded labels of the original windows remain. The W. Elevation is apparently of original brickwork, and there are traces of the moulded labels of the original windows; the three projecting chimney-stacks are original, each with three octagonal shafts which have moulded bases, all much restored and rebuilt.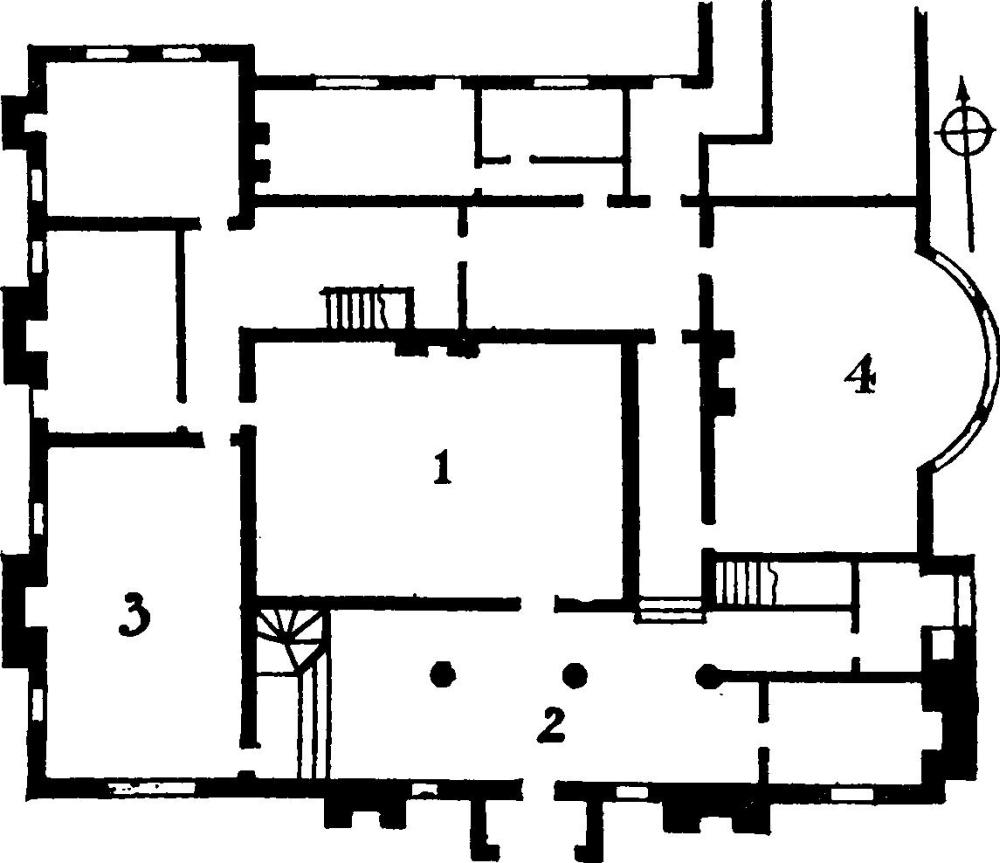 Interior—In the S. range (see plan 2) there are three original octagonal columns with moulded capitals and bases, apparently of stone, but now painted. The drawing-room (3) is lined with original panelling, now painted; it is divided into bays by fluted Ionic pilasters, and has an arcaded frieze, supported by Caryatides; the fireplace has panelled stone jambs and keyed head, probably of the 17th century; it is flanked by original fluted pilasters, and has a richly panelled overmantel of oak with carved terminal pilasters, a dentilled cornice and arcaded panels in the frieze. In the modern hall (1) is an original stone or stone and plaster fireplace, re-set; it is flanked by engaged columns supporting an enriched entablature; the overmantel has three female figures in high relief, one representing Justice, the others holding a column and a caduceus respectively. In the modern dining-room (4) is an original mantelpiece of wood, re-set; it is flanked by fluted Ionic pilasters, and has an overmantel enriched with arabesques, and with a quartered shield in the middle.
Condition—Good, much altered.
Lower Pond Street, S. side
(4–5). Cottages, about ¾ m. S.S.W. of the church, are both of two storeys, timber-framed and plastered; the roofs are thatched. They were probably built in the 17th century, and have half-hipped gables and plain original chimney-stacks.
Condition—Fairly good.