Pages 183-186
An Inventory of the Historical Monuments in Essex, Volume 2, Central and South west. Originally published by His Majesty's Stationery Office, London, 1921.
This free content was digitised by double rekeying and sponsored by English Heritage. All rights reserved.
66. MARGARETTING. (E.c.)
(O.S. 6 in. (a)lii. S.E. (b)lx. N.W. (c)lx. N.E.)
Margaretting is a parish and village 4 m. S.W. of Chelmsford. The Church and Killigrews are the principal monuments.
Ecclesiastical
b(1). Parish Church of St. Margaret stands about 1 m. S. of the village. The walls are mostly of flint-rubble roughly coursed and intermixed with Roman bricks and tiles in the lower parts of the nave, and with some Roman bricks in the S. wall of the S. aisle; the dressings are of limestone and, in the tower-arch, of Tudor brick; the roofs are tiled; the tower is of timber and boarded; the upper stage and spire are shingled. The lower part of the N. wall of the Nave is possibly of the 12th century, when the nave extended only as far W. as the wide pier of the S. arcade. An aisle was added probably early in the 14th century, and c. 1400 the nave was lengthened by one bay towards the W., the upper part of the N. wall re-built, and the S. arcade and South Aisle re-built. c. 1400 the North Porch was added, and in the same century the West Tower was built. Probably early in the 16th century the Chancel was re-built and widened. The church was restored in the 19th century, when the E. wall was entirely re-built, the N. and S. walls of the chancel largely refaced, a vestry S. of the chancel removed, and the South Porch added.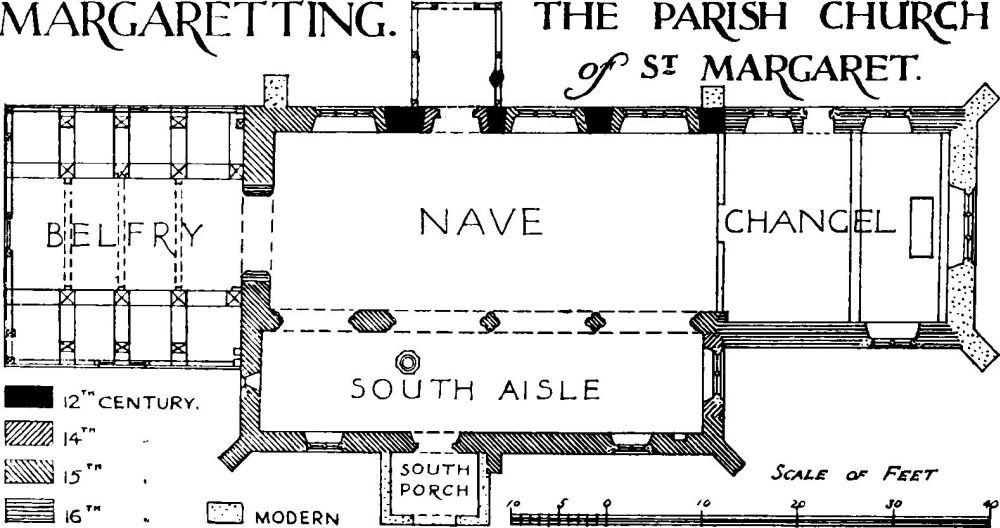 The timber W. tower may be compared with those of Blackmore and Navestock. The N. porch is of interest. Among the fittings the 15th-century glass in the E. window and the ring of four pre-Reformation bells are particularly noteworthy.
Architectural Description—The Chancel (22 ft. by 19½ ft.) has in the E. wall a modern window. In the N. wall are two early 16th-century windows, each of two four-centred lights under a square head with moulded jambs and label; between them is a doorway all modern except the splays and the chamfered internal oak lintel, which are probably of early 16th-century date. In the S. wall is a similar window, but all modern except the splays and chamfered four-centred rear-arch; further W. are slight traces externally of the abutment of the former vestry, but the doorway has been completely removed. There is no chancel-arch.
The Nave (47 ft. by 18 ft.) has in the N. wall three late 15th-century windows, each of three cinque-foiled lights under a four-centred head with moulded jambs and label; between the middle and westernmost windows is the late 14th-century N. doorway with moulded jambs, two-centred arch, and label with defaced head-stops of a man and woman; below the E. splay of the easternmost window are remains of the head, apparently two-centred, and possibly of a former rood-loft doorway. The S. arcade is of four bays with a solid piece of walling between the third and fourth bays; the arches are four-centred and of two hollow-chamfered orders; the columns are of quatrefoil plan with moulded capitals and bases, and the responds have attached half-columns; the S. shaft of the easternmost column has been cut back, the capital roughly cut and altered and the base restored; the arcade is of c. 1400, but the plan of the columns suggests an earlier origin. In the W. wall is an early 16th-century two-centred arch of brick with chamfered responds.
The South Aisle (10½ ft. wide) has in the E. wall a window all modern except the splays, rear-arch and the N. head-stop of the label, which are of the 14th century. In the S. wall are two windows all modern except for the splays and chamfered rear-arches, which are probably of c. 1400; between them is the 15th-century S. doorway with moulded jambs, two-centred arch, and quatre-foiled spandrels under a restored head with a moulded label and defaced head-stops. In the W. wall is a window all modern except the splays and chamfered two-centred rear-arch, which are probably of early 14th-century date.
The West Tower (25 ft. by 26½ ft.) is timber-framed and of two stages externally and of three stages internally, the lower stage boarded, the upper shingled; between the two is a pent-roof with wide eaves and curved brackets; on the E. side the tower finishes with a shingled gable, higher than that of the nave; the octagonal spirelet is splayed out to square at the base. The ground stage has six main posts supporting the upper stage, each pair surmounted by a transverse two-centred arch; from E. to W. between these posts are lower two-centred arches; above these arches are a tie and diagonal braces (Plate p. 186). The N. and S. walls each have two modern windows; in the W. wall is a 15th-century window of two trefoiled ogee lights with tracery in a square head; below is a doorway of the same date with chamfered jambs and a four-centred head. The bell-chamber has in the N., S. and W. walls a modern louvered opening.
The North Porch (Plate p. 187) is of c. 1400, timber-framed and of two bays. The outer archway has hollow-chamfered jambs and four-centred arch with traceried spandrels, and is flanked on each side by an open bay with modern tracery; above the archway is a moulded head and plain close panels in the gable, which has sex-foiled and sub-cusped barge-boards, ogee at the apex. The E. and W. sides are each of two bays; each bay has three cinque-foiled ogee openings with tracery above; the mullions are entirely and the tracery partly modern.
The Roof of the chancel has early 16th-century moulded and embattled wall-plates brought out to form corbels at the E. and W. ends and in the middle; the trussed rafters are hollow-chamfered. The 15th-century roof of the nave has moulded and embattled wall-plates partly restored; it is of four bays with arched and hollow-chamfered principals, chamfered wall-posts, collars, and short king-posts with four-way struts; the principals rest on stone corbels, moulded and carved with the symbols of the Evangelists, half-figures holding shields, and grotesque heads; at the E. end is a plain tie-beam. The N. aisle has a 17th or 18th-century gabled roof with plain trussed rafters. The early 15th-century roof of the N. porch has moulded wall-plates cambered and moulded tie-beams, and short king-posts with curved four-way struts.
Fittings—Bells: four; 1st by Thomas Lawrence, early 16th-century, inscribed "Sancte Johannes O. Nobis," with four figures of St. John Baptist; 2nd by William Culverden, early 16th-century, inscribed "Sancta Margareta Ora Pro Nobis"; 3rd by Robert Burford, late 14th-century, inscribed "Sit Nomen Domini Benedictum"; 4th by John Walgrave, 15th-century, inscribed "In Multis Annis Resonet Campana Johannis." Brasses: In chancel—on N. wall re-set in modern stone, (1) of man in armour, upper part of head lost, and lady in jewelled head-dress and fur collar, and with pomander-box hanging down from girdle, and groups of three sons and four daughters, shield of arms, c. 1450; the slab with indent of this brass is in S. aisle. In W. tower—(2) to Margaret (Dodington) wife of Peter Whetcombe, 1619, and Peter Whetcombe, 1640, inscription incised on slab, with three brass shields of arms. Coffin-lid: In S. aisle—tapering slab with traces of inscription in Lombardic capitals. Communion Table: In vestry—with turned legs, early 18th-century. Doors: In N. doorway—with strap-hinges and trellis-framing in squares and feathered battens, partly renewed, 15th-century. In S. doorway, similar door but unrestored and with globular iron scutcheon boss for drop handle. Font: Octagonal—sides of bowl and base moulded, panelled and carved; on the bowl various designs, including a Tudor rose, square and compasses and acorns, a crown, a mitre, etc.; panelled stem; late 15th-century. Glass: In E. window, formerly in middle window on N. side of nave, Jesse window with reclining figure of Jesse at foot of middle and S. lights; springing from figure, vine stem enclosing four panels in each light and above figure a small angel holding scroll inscribed "Ecce radix jesse," in each panel a pair of figures, each figure with a scroll bearing a name—in middle light David and Solomon (Plate p. xxxvi), Asa and Roboam, Ezekias and Osias, the Virgin and Child; in N. light, 'Obeln' and Naason, Achim and Eliud, Sadoch and Nathan, Jacob and Joseph, in S. light, Abraham and Methusalem, Isaac and Esrom, Salatiel and Phares Abiud and Zorobabel; in tracery, two wreaths, etc., late 15th-century figures, except Jesse all more or less restored, vine border and scrolls also restored. Monuments and Floor-slabs—Monuments: In nave—on N. wall, (1) of [William Tanfield and Elizabeth, his wife], c. 1600, small alabaster walltablet with painted kneeling figures of man and wife in civil costume, three sons and four daughters, and flanked by panelled pilasters, four shields of arms, main inscription missing. In churchyard, E. of chancel, (2) to Daniel Tanfield, 1695, headstone with skull and cross-bones, etc.; S. of chancel, headstones to (3) Elizabeth, daughter of John Cooke, 1713; (4) to John, son of John Cooke, 1708. Floor-slabs: In S. aisle—(1) to Dorothy, daughter of Sir Amos Merrydeth, Bart., 1680. In tower— (2) to Peter Whitcombe, 1666, and Marr.... his wife, 1667, with shield of arms; (3) to Elizabeth, wife of Henry Borrit, and their daughter Martha, wife of Edmund Tanfield, both died 1669; (4) to Mary, daughter of James Whitcombe, 1640. Painting: In nave—traces of diagonal stripes on wall-plates and posts of roof. Piscina: In S. aisle—in S. wall, with chamfered jambs and square head, no drain, date uncertain. Plate: includes large cup of 1563 (Plate p. xxxix) and cover-paten of same date. Screen: between chancel and nave, of eight bays divided by doors of two bays, close lower panels only remain, with moulded rail and buttressed posts, two panels to each bay, with cinque-foiled ogee heads and tracery under a four-centred arch, with spandrels carved with leopards' faces, roses, vine leaves, owl's face and foliage, 15th-century, two traceried heads and most of buttresses modern, rail restored. Miscellanea: In tower—built in W. wall of nave, two capitals of shafts carved, one with water-leaf ornament and one with conventional foliage and a human head, late 12th-century. In vicarage garden—two pieces of window tracery, 15th-century.
Condition—Good.
Secular
a(2). Killigrews, formerly Shenfield, house, moat walls and turrets, 2 m. N.E. of the church. The House was almost entirely re-built early in the 18th century. It is of two storeys with dormer windows on each side; the roof is tiled. One room on the ground floor is lined with early 17th-century panelling. The Moat is rectangular and is revetted on the inner face with walls of early 16th-century brick. At the N.W. and S.W. angles are early 16th-century octagonal brick turrets (Plate p. 270), with moulded plinths and elaborate cappings, forming a type of pinnacle. The outer faces of each turret have cruciform loops and the inner face has a doorway with a four-centred head.
Condition—Good.
b(3). Cottage, on S. side of main road, 1,100 yards N. of the church, is of two storeys, timber-framed, partly plastered and partly weather-boarded; the roofs are tiled. It was built probably in the 16th century as part of a larger house. The upper storey projects on the N.W. front.
Condition—Good.
c(4). Martin's Farm, house, at Margetting Tie 1¼ m. R.N.E. of the church, is of two storeys, timber-framed and plastered; the roofs are tiled. It was built in the 17th century and has a cross-wing at the E. end.
Condition—Good.