Pages 225-226
An Inventory of the Historical Monuments in Essex, Volume 2, Central and South west. Originally published by His Majesty's Stationery Office, London, 1921.
This free content was digitised by double rekeying and sponsored by English Heritage. All rights reserved.
89. STAPLEFORD TAWNEY. (C.d.)
(O.S. 6 in. (a)l. S.E. (b)lviii. N.E.)
Stapleford Tawney is a small parish 3½ m. S.E. of Epping.
Ecclesiastical
b(1). Parish Church of St. Mary stands near the middle of the parish. The walls are of flint-rubble with dressings of limestone; the roofs are tiled, the bell-turret boarded, and the spire shingled. The Chancel was built c. 1220, and the South Chapel and Nave were added probably at short intervals during the same century. In 1862 the North Vestry and South Porch were built and the church drastically restored, obscuring most of the evidence of its development.
The only feature of interest is the coffin-lid with its curious cross.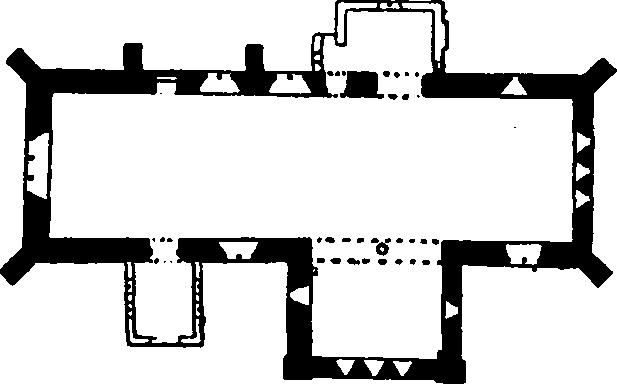 Architectural Description—The Chancel (24 ft. by 18½ ft.) has three modern lancets in the E. wall. In the N. wall is a lancet window, all modern except the re-cut splay stones; further W. is a modern arch to the organ chamber. In the S. wall is a 15th-century window of two cinque-foiled lights under a square head with a moulded label; further W. is a modern arcade of two bays extending into the nave. There is no chancel arch.
The South Chapel (16 ft. by 13 ft.) is of mid 13th-century date. In the E. wall is an original lancet window enclosed under a wide-pointed wall-arch, resting on the N. on a modern shaft with a re-cut moulded capital; stringing from this and from a similar column further N. is a small supplementary arch with two-centred moulded head under the E. arch of the arcade. In the S. wall are three lancets and in the W. wall one, all modern, except possibly re-cut stones in the splays.
The Nave (43 ft. by 19 ft.) has in the N. wall two modern windows; further E. is a modern doorway to the vestry; W. of the windows is the late 13th-century N. doorway, now blocked, with chamfered jambs and two-centred arch, partly restored. In the S. wall are a modern window and doorway. In the W. wall is a modern window.
The Roof of the S. chapel has moulded wall-plates, trussed rafters, and a heavy beam against the N. wall, with curved braces, all of the 16th century. The bell-turret at the W. end of the nave is probably of the 15th century and stands on four chamfered oak posts with tie-beams, curved braces and diagonal struts.
Fittings—Bells: two; said to be, 1st by Robert Oldfield, 1630; 2nd by William Carter, 1611. Brass: In chancel—to William (Scott), 1491, and Margery, his wife, 1505, slab with moulded edge and remains of inscription in chamfer; indent also of second marginal inscription and of cross with scroll and stepped calvary, above a fine achievement of arms—parted palewise indented a saltire counter-coloured, for crest a paling and from it a hand and sleeve, hand grasping a roll. Coffin and Coffin-lid: In churchyard—N. of nave, (1) stone coffin with shaped head; S. of nave, (2) coffin and lid; in relief on lid a slender stem with halves of two reeded crosses and a small formy one, 12th-century. In N. doorway, (3) used as threshold, tapered slab, probably coffin-lid. Communion Rails: square posts with moulded tops, flat, pierced, moulded, and diminishing balusters, 17th-century. Locker: In chancel—in N. wall, with rebated jambs and square head, 13th or 14th-century. Floor-slabs: In chancel—(1) to Anne, wife of Thomas Luther, 1682, Thomas Luther, 1694, and Jane, daughter of John Luther, 1710; (2) to Richard Luther, 1619, John Luther, 1700, and Thomas Luther, 1712; (3) to Thomas Luther, 1648, and Richard Luther, 1714, with shield of arms; (4) to Sir Edward Lowe, LL.D., one of the masters in Chancery, 1684, and Susanna Lowe, his sister, 1722, with shield of arms. In nave—(5) to Mary, daughter of Thomas Luther, 1656, Anne, daughter of John Luther, 1687, and Edward, son of same, 1696, all died in infancy. (6) to Bourne, Thomas, Robert and Thomas, 1682–3, sons of Thomas Luther, all died young; (7) to Chris . . . Ant . . . (16)64; (8) to Francis . . . early 18th-century; (9) to Martha (Bourne), wife of Thomas King, late 17th-century; (10) to John, 1699, Anthony, 1705, and Martin, 1709, sons of John Luther; (11) to John Nicolson, 1710. Plate: includes alms-dish of 1685, with Luther arms; paten with fluted rim, and large cup, both without date-mark but with inscription of donor, 1698.
Condition—Good, much restored.
Secular
Homestead Moats.
a(2). At Collier's Hatch, about 2 m. N. of the church.
b(3). S. of the church.
b(4). The Rectory, about ¼ m. N. of the church, is of two storeys; the walls have been refaced with brick; the roofs are of slate and tiles. It was built early in the 17th century and has a wing of c. 1800 on the E. side. The original central chimney-stack has attached diagonal pilasters.
Condition—Good, much altered.
b(5). Bell's Farm, house, 5/8 m. N.E. of the church, is of two storeys, timber-framed, and plastered; the roofs are tiled. It was built early in the 17th century. The upper storey projects on the W. front.
Condition—Fairly good.
a(6). Cottage, S.W. of Collier's Hatch and about 2 m. N. of the church, is of two storeys, timber-framed and plastered; the roofs are tiled. It was built probably in the 16th century and has a small gabled cross-wing at the S.W. end. Inside the building are original ceiling-beams.
Condition—Fairly good.