Pages 226-227
An Inventory of the Historical Monuments in Essex, Volume 2, Central and South west. Originally published by His Majesty's Stationery Office, London, 1921.
This free content was digitised by double rekeying and sponsored by English Heritage. All rights reserved.
90. STONDON MASSEY. (D.c.)
(O.S. 6 in. li. S.W.)
Stondon Massey is a small parish and village 2 m. S.E. of Chipping Ongar. The Church is interesting.
Ecclesiastical
(1). Parish Church of S.S. Peter and Paul stands N.W. of the village. The walls are of flint-rubble with some admixture of bricks, possibly Roman; it is rendered externally in Roman cement; the dressings are of Barnack and clunch; the roofs are tiled, the bell-turret weather-boarded and the spire shingled. The Chancel and Nave were built c. 1100; the chancel-arch was removed at some uncertain date and the E. wall re-built. Foundations of a former apse are said to exist at the E. end. In the 15th century the bell-turret was built and a S. porch added. The church was restored in the 19th century, when the North Vestry, Organ Chamber and Chapel were added and the South Porch re-built.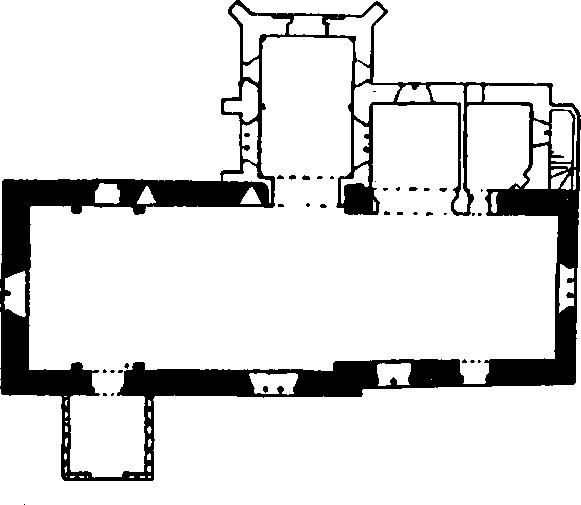 The church is of interest from its early date.
Architectural Description—The Chancel (25½ ft. by 18½ ft.) has a modern E. window. In the N. wall is a modern doorway and arch. In the S. wall are two windows, the eastern, of c. 1100 and set high in the wall, is a single round-headed light, plastered externally; the late 14th-century western window, partly restored, is of two cinque-foiled ogee lights with tracery in a square head with a moulded label and restored shield-stops, each charged with three bars; E. of the windows is a modern doorway.
The Nave (40½ ft. by 21 ft.) has in the N. wall a modern arch and two windows both of c. 1100 and similar to that in the S. wall of the chancel; the eastern window is blocked externally; W. of the windows is the N. doorway of c. 1100 and with a semi-circular arch and rear-arch; it is blocked externally. In the S. wall are two windows; the eastern is similar to the 14th-century window in the chancel, but of three lights and with a moulded label restored in plaster; the western window is uniform with those in the N. wall of the nave; further W. is the S. doorway of c. 1100, with plain jambs, semi-circular arch and chamfered imposts; there are some bricks in the splays and a large hole for a draw-bar. In the W. wall is a 15th-century window of two cinque-foiled lights in a four-centred head, with a moulded label; in the gable is a lancet-shaped opening probably modern and three circular holes, probably for ventilation.
The Roof of the chancel has 15th-century moulded wall-plates. The 15th-century roof of the nave has moulded wall-plates and two king-post trusses. The 15th-century bell-turret stands centrally with the N. and S. doorways and rests on four posts with tie-beams and curved braces and two cross-beams, forming a square in the middle to support the turret framing; the E. face of the E. tie-beam is moulded. The modern S. porch incorporates two posts, plates and a cambered tie-beam, with curved braces of the 15th century.
Fittings—Bells: three; said to be, 1st by Robert Mot, 1588; 2nd by John Bird, early 15th-century and inscribed, "Johannes Cristi Care Dignare Pro Nobis Orare." Brasses: In chancel —(1) of John Carre, 1570, with figures of man in civilian costume and two wives, three shields of arms and merchants' mark, indents of groups of children. In the nave—on N. wall, (2) of Rainold Holingworth, 1573, with figures of man in armour and wife and shield of arms; palimpsest on male figure, parts of "Flemish" canopy, and achievement of arms of Cleves quartering Mark with a quartered scutcheon of Burgundy, and with Flanders over all; palimpsest on lady, part of "Flemish" canopy with figures of Saints Bartholomew and Andrew. Font: octagonal, sides of bowl panelled with quatrefoils enclosing bosses of foliage, moulded base, 15th-century, restored in plaster. Floor-slabs: In chancel—(1) to John Leigh, 1650, and Thomas Leigh, 1685; (2) to James Crooke, rector of the parish, 1707. In nave—(3) to Prosper Nicholas, 1689, and Mary his wife, 1702, Plate: includes cup of 1564, with two bands of running ornament. Pulpit: octagonal; sides panelled with arabesque ornament and pendants below; cut inside pulpit "2 TIM. 4. 2"; reading-desk, formerly attached to pulpit, panelled and carved with jewel-ornament, pendants, sheaf of corn and grapes, dated 1630. Screen: between chancel and nave—of ten bays, middle doorway with four-centred arch, side lights with traceried heads, moulded muntins, early 16th-century, partly restored, and lower part modern.
Condition—Good.
Secular
(2). Stondon Hall, about 250 yards N.E. of the church, is of two storeys, partly timber-framed and plastered and partly faced with brick; the roofs are tiled. It was built probably late in the 16th century on a modified H-shaped plan with the cross-wings on the E. and W. On the S. front the E. cross-wing has a moulded string-course between the storeys and a bay-window with plastered mullions, and now blocked. The W. cross-wing has an original chimney-stack with two octagonal shafts. Inside the building on the first floor there is some 17th-century panelling, and a plaster overmantel with two round-headed arches, jewel ornaments, all now papered over.
Condition—Fairly good.