Page 13
An Inventory of the Historical Monuments in Essex, Volume 4, South east. Originally published by His Majesty's Stationery Office, London, 1923.
This free content was digitised by double rekeying and sponsored by English Heritage. All rights reserved.
7. BOWERS GIFFORD. (D.d.)
(O.S. 6 in. lxxvii. N.W.)
Bowers Gifford is a parish 8 m. W.N.W. of Southend-on-Sea.
Ecclesiastical
(1). Parish Church of St. Margaret (Plate, p. xxxii) stands near the middle of the parish. The walls are of ragstone-rubble with some flint and Roman brick; the dressings are of Reigate stone and the roofs are covered with slate. The whole church, including Chancel, Nave and West Tower, was re-built early in the 16th century except for the S. wall of the nave which is thicker than the other walls and is of uncertain date. The church has been restored in modern times when the chancel has been largely refaced and the South Porch added.
Among the fittings the 14th-century brass is noteworthy; this brass has been ascribed without sufficient evidence to Sir John Gifford, 1348.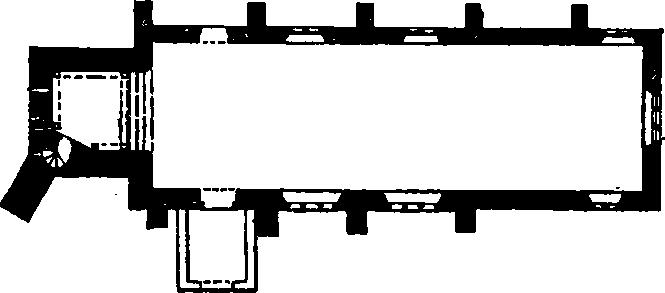 Architectural Description—The Chancel (21 ft. by 19 ft.) has no ancient features and is structurally undivided from the nave.
The Nave (40½ ft. by 18½ ft.) has in the N. wall two early 16th-century windows each of two trefoiled lights in a square head with a moulded label; further W. is the N. doorway, of the same date and with moulded jambs, two-centred arch and label. In the S. wall are two early 16th-century windows each of three cinque-foiled lights in a square head with a moulded label; the S. doorway is similar to the N. doorway in date and detail.
The West Tower (10 ft. square) is of early 16th-century date and of two stages surmounted by a boarded timber superstructure and a low octagonal spire also boarded. The two-centred tower-arch is of two orders the outer moulded and continuous and the inner hollow-chamfered and dying on to the responds. In the W. wall is part of the rear-arch and the external relieving-arch of a former W. doorway; above it is a window of one cinque-foiled light with a square moulded label. The N., S. and W. walls of the second stage have each a window of one trefoiled light with a square moulded label; the floor of the second stage has hollow-chamfered joists and is supported by braced posts.
Fittings—Bells: two; 1st by Robert Burford, c. 1400, inscribed "Sancta Katerina Ora Pro Nobis," and 2nd by William Burford, 14th-century, and inscribed "Sit Nomen Domini Benedictum." Brass: In chancel—c. 1340, figure (Plate, p. 56) of man wearing surcoat, and mail hauberk with skirts to knee and loose sleeves to mid forearm, gambeson with fluted sleeves, fluted breeches, shell shoulder pieces and elbow roundels fastened with points; no plate below knee cops, rowel spurs; heater-shaped shield with diapered field and six fleurs-de-lis, head and part of right leg missing. Door: In S. doorway—of two folds with overlapping nail-studded battens, early 16th-century. Font: octagonal bowl with moulded under-edge, plain stem and hollow-chamfered base, early 16th-century; font-cover: old finial with facets and lozenge-ornament painted gold, red and white, 16th or 17th-century. Piscina: In chancel — with moulded jambs and trefoiled head, 15th-century.
Condition—Good.
Secular
Homestead Moats.
(2). At Bowers Hall, 600 yards N. of the church.
(3). At the Rectory, about ½ m. N.N.W. of the church.