Pages 12-13
An Inventory of the Historical Monuments in Essex, Volume 4, South east. Originally published by His Majesty's Stationery Office, London, 1923.
This free content was digitised by double rekeying and sponsored by English Heritage. All rights reserved.
6. BASILDON. (D.c.)
(O.S. 6 in. (a)lxviii. S.E. (b)lxxvi. N.E.)
Basildon is a parish 4 m. S.E. of Billericay.
Ecclesiastical
a(1). Parish Church of Holy Cross (Plate, p. xxxii) stands near the middle of the parish. The walls are of ragstone-rubble and brick with dressings of Reigate and other limestone: the roofs are tiled. The Nave was built in the 14th century and about the middle of the 15th century the South Porch was added, followed by the West Tower c. 1500. The Chancel was re-built in brick in 1597. In 1702 the church was extensively repaired, most of the N. wall of the nave being re-built in brick. The church has been restored in modern times.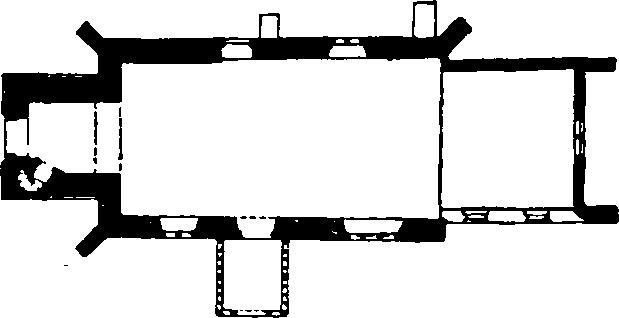 Architectural Description—The Chancel (17½ ft. by 18 ft.) is of red 16th-century brick and has a modern E. window. Above it is an inscription recording the building of the chancel by Arthur Den [ham 1597]. The S. wall has been re-built above the plinth and has two modern windows. There is no chancel-arch.
The Nave (41¼ ft. by 20½ ft.) has in the N. wall a re-set 15th-century window of two trefoiled lights in a square head with a moulded label; further W. is the 14th-century N. doorway with moulded jambs, two-centred arch and defaced label; it is now blocked; W. of the doorway the wall is probably of the 14th century but E. of it the wall, as indicated in a painted inscription on a framed board, is of 1702. In the S. wall are two windows, the eastern of the 15th century and of three cinque-foiled lights in a square head with a moulded label; the western window is similar but of two lights; between them is the 14th-century S. doorway with moulded jambs and two-centred head.
The West Tower (9 ft. by 9½ ft.) is of c. 1500 and of three stages, divided externally into two by a string-course. The two-centred tower-arch is of two orders, the outer moulded and continuous and the inner chamfered and dying on to the side walls. The W. window is of two cinque-foiled lights in a square head with a moulded label; the W. doorway has moulded jambs, two-centred arch and label. The N., S. and W. walls of the second stage have each a window of one trefoiled light with a square moulded label. The bell-chamber has in each wall a window of two trefoiled lights in a square head with a moulded label.
The South Porch is of mid 15th-century date and is timber-framed. The four-centred outer archway has spandrels carved with defaced foliage. The barge-boards of the S. gable have rather elaborate trefoiled cusping. The side walls have been much restored and have each two bays, each bay divided into four lights by moulded mullions. The roof has moulded wall-plates and a cambered tie-beam with curved braces; the spandrels are carved with a bear and ragged staff (Plate, p. 84) and a dragon.
The Roof of the chancel is of early 16th-century date and has moulded and embattled purlins, moulded ridge and rafters and principals with curved braces forming three-centred arches. The nave has five chamfered tie-beams probably of early 18th-century date.
Fittings—Bells: three, inaccessible but said to be, 2nd by William Land, 1634; 3rd by Henry Jordan, 15th-century and inscribed "Sancta Margareta Ora Pro Nobis." Brass Indents: In nave—partly under pulpit, (1) of figure with remains of marginal inscription in Lombardic letters, 14th-century; (2) of half figure of priest and inscription-plate. Communion Rails: with moulded and carved rail and turned and twisted balusters, c. 1700. Communion Table: In tower—with turned baluster legs, c. 1700. Door: In S. doorway— of moulded overlapping battens, 16th-century. Monument: In churchyard—S.E. of chancel, to Mary, daughter of John Betts, 1662, head-stone. Plate: includes cup of 1709 with the date 1710 and the arms of Queen Anne. Royal Arms: In nave—on N. wall, of Queen Anne before the union, painted on wood. Weather-vane: On tower —with initials and date F.A. 1702.
Condition—Good.
Secular
a(2). Homestead Moat and fish-ponds at Moat House on site of Botelers, 250 yards S.E. of the church.
b(3). Homestead Moat at Basildon Hall, nearly 1 m. S.S.W. of the church.
Benfleet, see North Benfleet and South Benfleet.