Pages 89-91
An Inventory of the Historical Monuments in Essex, Volume 4, South east. Originally published by His Majesty's Stationery Office, London, 1923.
This free content was digitised by double rekeying and sponsored by English Heritage. All rights reserved.
54. LITTLE WARLEY. (B.c.)
(O.S. 6 in. (a)lxvii. S.E. (b)lxxv. N.E.)
Little Warley is a parish 2 m. S. of Brentwood. The church and Little Warley Hall are the principal monuments.
Ecclesiastical
b(1). Parish Church of St. Peter stands near the middle of the parish. The walls are of ragstone-rubble and brick, with limestone dressings; the roofs are tiled. The Nave, judging by the thickness of the walls, is of early date, but the earliest remaining detail is of the 15th century. A W. tower was probably added in the 15th century. The Chancel was re-built in brick in the 16th century and the South Porch is perhaps of the same date. The West Tower was re-built in brick in 1718, possibly on the old foundations and with some re-used stonework. The church has been restored in modern times, when the E. wall was re-built.
Among the fittings the monuments are noteworthy.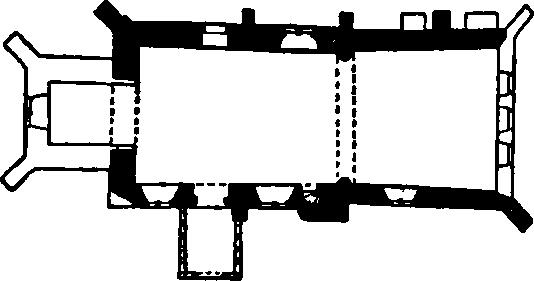 Architectural Description—The Chancel (18 ft. by 18 ft.) has a modern E. wall. In the S. wall is a window, all modern except the 16th-century splays and rear-arch. The early 16th-century chancel-arch is two-centred and of two chamfered orders dying on to splayed responds.
The Nave (26 ft. by 17 ft.) has in the N. wall an early 15th-century window of two cinque-foiled lights with vertical tracery in a two-centred head with a moulded label; further W. is the 15th-century N. doorway, now blocked; it has hollow-chamfered jambs and two-centred arch. The S. wall has at the E. end the projection enclosing the 15th-century rood-loft staircase; the upper and lower doorways have two-centred heads and the former is rebated for a door; further W. are two windows similar to that in the N. wall and between them is the 15th-century S. doorway, with double hollow-chamfered jambs, two-centred arch and moulded label.
The South Porch is of timber on modern dwarf walls. The early 16th-century outer archway has a four-centred arch in a square head with trefoiled spandrels. The side walls have moulded and embattled wall-plates.
The Roof of the nave is of late 15th-century date and of two bays with moulded wall-plates and king-post trusses; the rebated middle king-post has four-way struts.
Fittings—Bell: possibly by William Wodewarde, 15th-century and inscribed "Johannes Cristi Care Dignare Pro Nobis Orare." Brass and Indents. Brass: In chancel—on S. wall, of Anne (Wolley), wife successively of Davye Hanmer and John Terrell, 1592, half figure of a woman in ruff, etc. Indents: In nave—(1) of half figure and inscription-plate, 15th-century; (2) of brass in chancel. Door: In S. doorway—of overlapping nail-studded battens with strap-hinges and round engrailed scutcheon-plate, 15th-century. Glass: In nave—in N. window, border of crowned Ms and shield with device, in situ, also flowered quarries, 15th-century; in S.E. window, borders of crowned Ms and IHC, flowered quarries, etc., 15th-century, in situ. Monuments: In chancel— N. side (1) of Sir Denner Strutt, Bart., and Dorothye (Staresmore), his wife, 1641, alabaster and marble altar-tomb (Plate, p. 85) in two stages, upper with effigy of lady in costume of period, flanked by cherubs drawing back the draped canopy, two cartouches of arms; lower stage, probably added, with effigy of man in plate-armour; on S. side (2) to Mary (Chapman), wife of [Sir Denner Strutt, Bart.] 1658, alabaster and marble altar-tomb with reclining effigy (Plate, p. 105) of woman in shroud, back-piece against wall, with pediment and achievement-of-arms, and supported by large voluted trusses. In nave—in blocked N. doorway, alabaster figure of Time, 17th-century, found in churchyard and probably from former monument. Panelling: In gallery— late 16th or early 17th-century, re-set. Pavement: In chancel—black and white marble squares, late 17th-century, re-set. Plate: includes cup of 1564 with band of engraved ornament. Pulpit: incorporates three sides of a 17th-century pulpit; a fourth was probably the original door. Seating: In nave—three seats with moulded rails, early 16th-century, and one panelled back, late 16th or early 17th-century. In nave and chancel— eight box-pews of late 16th or early 17th-century panelling. Stoup: In nave—in S. wall, recess with two-centred head, 15th or early 16th-century, no basin. Miscellanea: Incorporated in communion table, carved cresting from 15th-century screen. Loose in tower—gate with turned balusters and jewel ornament, 17th-century, probably from former communion rails.
Condition—Fairly good.
Secular
b(2). Little Warley Hall, house and moat, S. of the church. The House is of two storeys with attics. The walls are of brick and the roofs are tiled. It was built probably early in the 16th century and formerly extended further towards the W. The plan consists of a main or Hall block, with 'screens' at the E. end entered by a N. porch. E. of the main block is a kitchen-wing. The N. front (Plate, p. 90) has diapering in black bricks and a two-storeyed porch with a crow-stepped gable; the outer archway has moulded jambs and two-centred arch with a square moulded label; the inner doorway has moulded jambs and a four-centred arch in a square head of brick, with spandrels carved with a Tudor rose and a molet; within the arch is a moulded oak frame; the upper storey of the porch has an original window with a square head and moulded label and now partly blocked. The main block has a large projecting chimney-stack, with stepped offsets and two shafts with spiral enrichment and moulded bases resting on trefoiled corbelling. The other windows on this front have been altered, but one in the kitchen-wing retains its original opening. The back elevation has an original square-headed doorway at the S. end of the 'screens,' and further W. is an original garde-robe projection.
Inside the building the original hall has moulded ceiling-beams, joists and wall-plates. In the N. wall is an original fireplace of stone with moulded jambs and four-centred arch and spandrels carved with foliage and blank shields. There are three original oak doorways with moulded frames and four-centred arches in square heads; the spandrels are carved, one having a Tudor rose and knot. The staircase (Plate, p. 75) is of c. 1600 and has flat balusters with raking mouldings, moulded rail and square moulded newels.
The Moat is fragmentary.
Condition—Of house, good, except the W. wall.
Monuments (3–5).
The following monuments, unless otherwise described, are of the 17th century and of two storeys, timber-framed and plastered or weather-boarded; the roofs are tiled.
Condition—Good.
b(3). Old England, house, nearly 1 m. S. of the church, is of L-shaped plan with the wings extending towards the E. and S. Inside the building are some exposed ceiling-beams and joists.
a(4). Farmhouse, in the village, about 1 m. N. of the church, has an original central chimney-stack with grouped diagonal shafts.
a(5). Clapgate, house, ¾ m. W. of (4), was built c. 1700 and has a modillioned eaves-cornice. Inside the building is an original staircase with turned balusters, close string and square newels.