Pages 78-79
An Inventory of the Historical Monuments in Herefordshire, Volume 2, East. Originally published by His Majesty's Stationery Office, London, 1932.
This free content was digitised by double rekeying and sponsored by English Heritage. All rights reserved.
35 EVESBATCH (D.c.)
(O.S. 6 in. (a)XXVIII, N.E., (b)XXVIII, S.E.)
Evesbatch is a small parish 5 m. S.E. of Bromyard. The church is the principal monument.
Ecclesiastical
b(1). Parish Church of St. Andrew stands in the W. part of the parish. The walls are of local sandstone rubble with dressings of the same material; the roofs are slate-covered. There is little indication of the date of the existing building, but some stonework of the S. doorway may indicate a 12th-century date for the Nave. The Chancel was probably re-built and widened at some later date and the nave extended to the W. perhaps when the bell-turret was added or re-built in modern times. The church was drastically restored in 1877 and the W. wall, South Porch and Vestry are modern.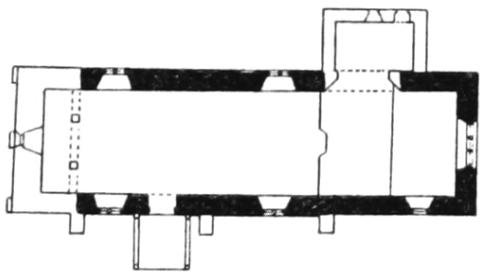 Architectural Description—The Chancel (17¼ ft. by 13¼ ft.) has no ancient features. There is no chancel-arch.
The Nave (35 ft. by 13 ft.) has two modern windows in the N. wall. In the S. wall are two windows, the eastern of early 14th-century date and of two trefoiled ogee lights with a quatrefoil in a rounded head with a moulded label; the western window is modern; the S. doorway has chamfered jambs partly perhaps of the 12th century; the two-centred arch, of 14th-century or later date, has, cut on the re-used W. stone of the arch, parts of a series of sunk quatre-foiled panels. In the W. wall is a modern window.
The Roof of the nave is of trussed-rafter and collar-beam type, perhaps of mediæval date with modern boarding. Between the chancel and the nave is a moulded late 16th or early 17th-century tie-beam.
Fittings—Chest: In vestry—with panelled top, front and sides, late 17th-century. Communion Table: In vestry—with chamfered legs, moulded top-rails and shaped brackets, 17th-century. Font: plain cylindrical bowl and built-up stem of same form, 12th-century. Cover of saucer-form, cut from the solid, with central carved knob and radiating leaves, early 17th-century. Monuments and Floor-slabs. Monuments: In nave—on W. wall, (1) to Catherine, daughter of Robert Dobyns, 1710, tablet (Plate 60) with enriched scrolls, apron and pediment with two reclining figures and cartouche-of-arms; (2) of Margaret (Vernon), wife of Robert Dobyns, 1658, wall-monument (Plate 62), with part-figure of woman holding infant, in recess flanked by standing figures, cornice, pediment and enriched apron. Floor-slab: In nave—to . . . Dobyns, 1713–4, with shield-of-arms. Panelling: Incorporated in modern chancel screen, one range of 17th-century panels. Plate: includes cup of 1662, given by Dobyns Wallwyn, cover-paten of same date and a pewter plate. Pulpit: semi-octagonal with four sides, each of two panels, early 17th-century, upper panels, cornice and base, modern. Seating: Benches incorporating several 15th-century bench-ends with pairs of trefoil-headed panels and one with a round design of cusped panels.
Condition—Good, but roof not watertight at W. end.
Secular
a(2). Cottage, now two tenements, 400 yards E.N.E. of the church, is of two storeys and timber-framed; the roof is tiled. It was built in the 17th century and has exposed framing and ceiling-beams. There are two original doors with ornamental strap-hinges.
Condition—Fairly good.
a(3). Woodend Farm, house, nearly 1¼ m. E. of the church, is of two storeys with attics; the walls are of timber-framing and brick and the roofs are tiled. The central part of the house was built late in the 16th or early in the 17th century and has some exposed timber-framing. Probably in the 18th century the rest of the house was re-built in brick. Inside the building some of the ceiling-beams are exposed.
Condition—Good.