Pages 182-184
An Inventory of the Historical Monuments in Huntingdonshire. Originally published by His Majesty's Stationery Office, London, 1926.
This free content was digitised by double rekeying and sponsored by English Heritage. All rights reserved.
56. MOLESWORTH (A.d.).
(O.S. 6 in. (a)XVI N.E., (b)XVI N.W.)
Molesworth is a parish and small village 5 m. N.N.W. of Kimbolton. The Church is the principal monument.
Ecclesiastical
b(1). Parish Church of St. Peter stands to the W. of the village. The walls are of coursed Weldon-rubble with some brown cobble and the dressings are of Weldon, Ketton and Barnack stone; the roofs are covered with tiles and lead. The Chancel was built c. 1270–80. The Nave was mostly re-built and the West Tower was added in the latter part of the 15th century. The church was restored in 1884–5, when the chancel is said to have been taken down and reconstructed, and the South Porch was added in 1890.
Among the fittings is an unusually well preserved painting of St. Christopher and another one, less complete, of St. Anthony.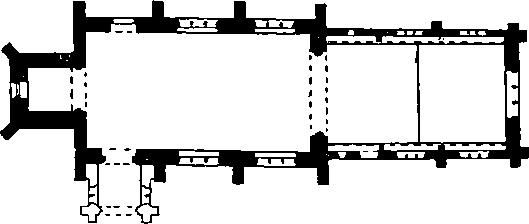 Architectural Description—The Chancel (28¾ ft. by 16½ ft.) has a moulded plinth and a moulded string-course at the level of the window-sills. The late 13th-century E. window is of three pointed lights with plate-tracery of a quatrefoil and two trefoils in a two-centred moulded head with a moulded label and carved head-stops, one crowned and the other defaced; both jambs and splays have angle-shafts with moulded capitals and the two-centred rear-arch is moulded. The N. wall (Plate 6) is arcaded in three bays with two-centred arches of one chamfered order with a moulded label; the arches spring at either end from the E. and W. walls of the chancel; the arches of the first two bays are carried on a moulded corbel and have a mask-stop to the label, and the arches of the second and third bays are carried down to a seat within the recess; in each of the first two bays is an original window of three grouped lancets with chamfered and rebated jambs and a moulded label and in the third bay is a single lancet. The S. wall is arcaded in a similar manner to the N. wall but the label has one carved head and one mask-stop; the windows in the first two bays are similar to those in the corresponding bays in the N. wall but the lights are graduated and the first window has been considerably repaired; the S. doorway is in the third bay and has a two-centred head of two hollow-chamfered orders with the moulded string continued round from the walls of the chancel as a moulded label; further W. is a 13th-century 'low-side' window of one square-headed light. The walls of the chancel have been considerably repaired, especially the exterior of the S. wall, and the N. wall has, on the inside, been partly re-built with old material and heightened. The late 13th-century chancel-arch is two-centred and of two chamfered orders, the outer continuous and the inner carried on semi-circular attached shafts with moulded capitals and bases, all partly restored; the arch has a moulded label on the W. side.
The Nave (36¼ ft. by 19¼ ft.) has a chamfered plinth and oversailing parapet with pilaster-strips carried up from the heads of the buttresses; on the E. end of the coping to the N. wall is a mutilated cross of doubtful antiquity. In the N. wall are two late 15th-century windows, each of three cinque-foiled lights in a four-centred head with a moulded label; the splays of the eastern window have been carried down to form a window-seat; further W. is a blocked 15th-century N. doorway; it has chamfered jambs and four-centred head with a moulded label continued along as a string-course, above which the wall is set back. In the S. wall are two late 15th-century windows similar to those in the N. wall; further W. is the late 13th-century S. doorway; it has a two-centred arch of one stop-chamfered order and shafted jambs, one with a moulded capital, the other with a carved capital with oak foliage, and both with moulded bases; the moulded label has one old mask-stop.
The West Tower (7¾ ft. by 7 ft.) is of late 15th-century date and in two stages with a chamfered plinth and an embattled parapet. The tower-arch is two-centred and of two orders, the outer hollow-chamfered and continuous and the inner wave-moulded and carried on semi-circular responds with semi-octagonal moulded capitals and moulded bases. The W. window is of a single cinque-foiled light with a moulded label. The second stage has in the E. wall a doorway into the roof with a two-centred arch in a square head and in each of the other walls a single-light window similar to that in the W. wall of the lower stage. The tower has been restored and re-pointed internally.
The Roof of the chancel is modern but has some re-used curved and moulded braces to the tie-beams, probably of the 14th century. The roof of the nave is in three bays and of early 16th-century date but with modern repairs, particularly to the third bay; it has moulded and cambered tie-beams; moulded purlins, ridges and short king-blocks, one of which with the adjoining spandrel-pieces is ornamented with crosses formy.
Fittings—Bells: three, inaccessible, 2nd by Thomas Norris, 1636; 3rd by Henry Penn, 1710. Brass Indent: In nave—towards E. end, on much worn, cracked and tapering slab with marginal inscription in Lombardic capitals, to the wife of . . . . . . de Molesworthe, early 14th-century. Bracket: In chancel—carved head, possibly label-stop from S. arcade, late 13th-century. Communion Table: of oak, with four turned legs, moulded rails and stretchers; top lengthened and with inserted marble slab in middle, early 18th-century. Font:octagonal, of baluster-form with shallow circular sunk bowl, early 18th-century. Locker: In chancel—in E. wall, square, with modern door. Paintings: (Plate 105) In nave—on N. wall, in red line, of St. Christopher and the Child Christ; St. Christopher in white tunic and red cloak, with halo and forked beard, standing in mid-stream, holding ragged staff in both hands and Child on left shoulder; numerous fishes in the water and on right side of main figures a gabled hut with exposed timber-framing, and, at door, the Hermit holding a staff with large lantern attached; background covered with brocade-design; in spandrels at top, two shields-of-arms, (a) a cheveron between three pheons a ring for difference; (b) quarterly 1 and 4 on a fesse three roundels, 2 and 3, as (a), late 15th- or early 16th-century. On S. wall, of St. Anthony, upper part in poor state of preservation, lower part showing staff and both hands of the Saint holding a bell; in foreground a pig with bell round neck standing on hind legs with fore-feet against the Saint; on either side, conventional cactus-trees, on left side of figure a timber-framed hut and background of brocade-design; part of border of running conventional foliage, late 15th- or early 16th-century. Piscinae: In chancel—in S.E. angle, square projecting slab with moulded front edge and circular drain. Plate: includes a cup (Plate 136) and cover-paten of 1569, both with bands of incised ornament, and a pewter alms-dish of early 18th-century date. Pulpit: of oak, hexagonal with moulded cornice and base and bolection-moulded panels, on modern stone base, early 18th-century. Sundial: On second buttress of S. wall of nave—large incised semi-circular dial. Miscellanea: In nave—in recess in N. wall, fragments of masonry including portion of jamb-shaft with spiral ornament, respond cap, and portion of cushion-capital, all 12th-century; portion of 13th-century jamb and of base to column, late 13th-century; portion of window-tracery, 14th-century.
Condition—Good.
Secular
Monuments (2–5).
The following monuments, unless otherwise described, are of two storeys, timber-framed and plastered; the roofs are covered with thatch. Inside, the buildings have chamfered or cased beams and some have exposed ceiling-joists.
Condition—Good, or fairly good unless otherwise stated.
a(2). Yew Tree Farm, house 200 yards N.E. of the church, was built c. 1700 on a rectangular plan and has later additions at either end. The central chimney-stack to the original building has a stone base.
a(3). House, on S.W. side of road, 120 yards N. of (2), was built c. 1700 on a rectangular plan with a central chimney. Various alterations have since been made and two small additions built on the S. side. It has a stone plinth and three dormer-windows in the roof to the N. front. On the W. front some of the timber-framing is exposed. The central chimney-stack is rectangular and has two attached square shafts. Inside the building some of the constructional timbers are exposed.
a(4). Spring Hill Farm, house 400 yards S.E. of (3), is of two storeys with attics. It was built early in the 17th century on a 'central-chimney type' of plan but has modern extensions at the E. end and along the N. side. The S. front has a stone plinth and some of the timber is exposed. On the N. side is an original nail-studded battened door in an original frame. The central chimney-stack has a rectangular stone base with a moulded capping, above which it has been re-built in brick. Inside the building are two moulded ceiling-beams.
a(5). House, 50 yards S. of (4) is of early 19th-century date but incorporates a wing of an early 17th-century building. This wing has a stone plinth and is gabled at the E. and W. ends. A chimney-stack to the later house is possibly of 17th-century date and may have been retained from the former building. Inside the 17th-century wing are some moulded beams and on the upper floor some of the timber-construction is exposed.
Condition—Poor.