Pages 186-193
An Inventory of the Historical Monuments in London, Volume 4, the City. Originally published by His Majesty's Stationery Office, London, 1929.
This free content was digitised by double rekeying and sponsored by English Heritage. All rights reserved.
25. VINTRY WARD.
Vintry Ward comprises the parishes of St. James Garlickhithe and St. Martin Vintry and parts of the parishes of St. Michael Paternoster Royal, St. Thomas the Apostle and St. John the Baptist on Walbrook. The principal monuments are the churches of St. Michael Paternoster Royal and St. James Garlickhithe and the Vintners' Hall.
Ecclesiastical
(1) Parish Church of St. Michael Paternoster Royal (Plate 222) stands on the E. side of College Hill at the northern angle of College Street. It is a Renaissance church of the simple apartment type. The W. and S. walls, together with the tower, are faced with Portland stone, but the E. and N. walls with the vestry and churchyard-walls are of red brick with Portland-stone dressings.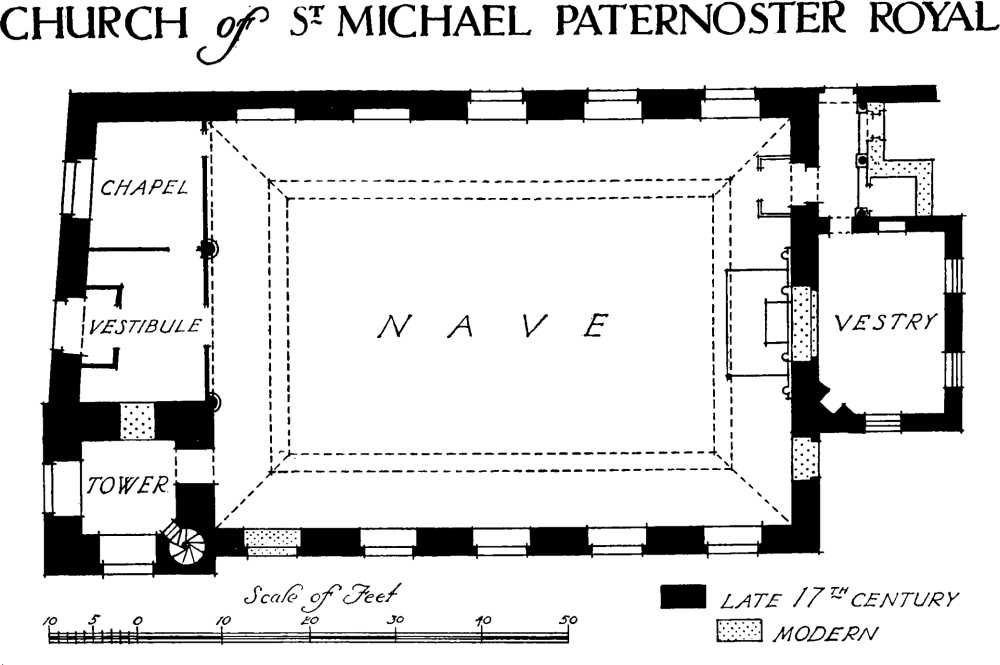 The old church was destroyed in the Great Fire, 1666, and re-built by Sir Christopher Wren in 1686–94 at the cost of £7,455 7s. 9d., the tower not being completed till 1713. The stone lantern is the most elaborate of the three designed by Wren.
Architectural Description—The church forms a slightly oblong apartment (54 ft. 3 in. by 45 ft. 6 in.), with a vestibule and tower at the W. end and a projecting vestry on the E.
The E. Elevation has three round-headed windows with moulded architraves, that in the centre being blocked and having a carved cartouchekeystone. The keystones to the side windows bear cherub-heads. The wall is finished with a stone cornice and a plain parapet of the same material panelled at the angles. The middle bay is carried up above the sides, with which it is connected by carved scrolls, and is pierced with a round window, opening into the roof and surmounted by a pediment. Below the S. window is a blocked doorway to the churchyard with architrave and cornice. The Vestry has a stone plinth and modern parapet. It is lit by windows with moulded architraves.
The N. Elevation has three round-headed windows and a doorway, the remainder of this front being concealed by houses. The S. Elevation is finished with a cornice and balustraded parapet and contains five windows uniform with the side windows in the E. wall. Below the last of these is a blocked segmental-headed doorway with cherub-head keystone and cornice resting on carved consoles. The W. Elevation of the Vestibule has two windows and a doorway below the southern, uniform with those in the S. wall, the doorway being the main entrance. This wall has a plinth, cornice and a modern parapet. The Tower stands within the S.W. angle and is three stages high, externally, with a stone lantern. In the E. and N. walls of the ground-stage are square-headed doorways with architraves and cornices on the inner side; that in the N. wall is now blocked. The other two sides are pierced by windows uniform with those in the S. wall. Above these, in the second stage, are circular windows with architraves and round-headed recesses in the E. and N. walls; the bell-chamber is lit by a square-headed louvred opening, with an architrave, in each face; the openings are of two lights surmounted by a cornice. The stages are marked externally by a cornice and string-course, and the tower is finished with a modillioned cornice supporting a pierced parapet with pedestals at the angles and square stone vases. The octagonal lantern is of three diminishing stages, the first having Ionic columns at the angles with projecting entablature above supporting eight stone vases. Each face is pierced by two super-imposed square-headed openings. The second stage is sub-divided, the upper part with pilasters at the angles. Each face has two super-imposed openings, the upper being round-headed; above each angle is a vase. The top stage is circular on plan with eight sinkings and is finished with a moulded terminal, ball and vane.
Interior—In the E. wall below the N. window is a doorway with architrave and cornice, to the vestry. The vestry has an enriched plaster cornice with the City-arms, those of the three kingdoms, the cypher of William and Mary, etc. N. of the vestry is a colonnade of the Doric order and of two bays; it was formerly open, but is now masked externally by a modern wall; the columns support a cornice which is returned along the E. wall of the church and the N. wall of the vestry. In the two western bays of the N. wall of the church are blocked windows corresponding with those in the other bays. The vestibule is separated from the church by a wood screen, the cornice of which rests on a bracket against the N. wall and on two Doric columns, one standing free and one attached to the N.E. angle of the tower. The main ceiling is flat and coved at the sides, springing from an enriched cornice with a second cornice or enriched band round the flat centre. The vestibule has a flat panelled ceiling with an oval domed panel in the middle.
Fittings—All of late 17th-century date, unless otherwise described. Benefactors' tablets: On E. face of tower, two round-headed panels in square frames, with enriched borders and moulded cornices. On N. face of tower, with round-headed panel in square moulded frame eared at top and bottom and moulded cornice. In chapel—on N. wall, with enriched frame shouldered at angles supporting scrolls and surmounted by segmental pediment; repainted and inscribed with the text Rev. xii. 7–9. Bread-shelves: In vestry—on E. wall, enclosed in casing with ornamental edges and surmounted by carved cornice, from All Hallows the Great. Candelabrum: hung from middle of ceiling, of brass with three brass spheres with mouldings between supporting three rows of scrollbranches, from All Hallows the Great. Chairs (Plate 5): within enclosure by font, two, of oak with carved backs and arms, turned and twisted posts and rails and carved front stretcher, from All Hallows the Great. Chest: made up of plain panelling from All Hallows the Great. Communion Rails: with enriched rail, moulded plinth, twisted balusters and plain standards, except two inner which have applied carving of flowers and fruit. Communion Table: of oak, with moulded top carried on carved scroll-shaped supports, carved plinth rails and ball-feet. Cupboards: two, made up of old panelling from All Hallows the Great. In tower, tall cupboard with two four-panelled doors. Doorcases and Doors: To doorway at N. end of E. wall, door-case with fluted Corinthian pilasters at either side with enriched entablature projected round top of raised tablet, with double four-panelled inner and twopanelled outer doors. Door between lobby and vestry, two-panelled. In W. doorway, door in two leaves each of four panels. Doorcase in W. lobby modern except, on E. face, two fluted Corinthian pilasters with enriched entablature, carved cornice and raised tablet, all late 17th-century. To blocked doorway from vestibule to S.W. tower, door in two leaves, each of two panels, with moulded architrave and cornice. To doorway between vestibule and N. chapel, door in three panels with upper panel filled with wrought-iron scroll-work. To doorway between vestibule and body of church, door in two leaves, each of four panels with two upper panels glazed. To two doorways between N. chapel and body of church, doors each in three panels with pierced carvings in uppermost panel. To doorway between S.W. tower and church, door in two leaves each of three panels. To S.W. tower-staircase, three doors each of two panels. Font-cover: to modern font, of oak, octagonal, lower part of ovolo-section with enriched base and upper part of eight carved and vertical panels surmounted by top of concave section finished with moulded terminal and wrought-iron finial. Lectern: made up of old materials and of oak, with square base with enriched mouldings, sloped back in four panelled sides to square panelled post supporting desk with enriched base and panelled sides; against front of post, carved figure of Charity (Plate 47) suckling an infant with two others at her feet, all standing on back of crouching and grotesque figure of Envy, group formerly on front of W. gallery of All Hallows the Great. Monuments and Floor-slabs: Monuments: On N. wall—(1) to Thomas Coulson, 1713, marble monument of segmental projection with scalloped shelf supported on scrolled brackets and, above, flanking fluted Corinthian pilasters supporting entablature and broken segmental pediment enclosing achievement-of-arms and, below apron, cartouche-of-arms. On W. wall, (2) to Jacob Jacobson, 1680, marble tablet with drapery and cherub-head at sides, winged skull at foot and cartouche-of-arms at top, removed from All Hallows the Great. Floor-slabs: (1) belonging to vault of William Fellowes of Lincoln's Inn and John Fellowes, 1712, with achievement-of-arms. In vestibule, (2) to William White, 1682, plaisterer, and John Edmondson, 1715–6, with obliterated shield-of-arms; (3) to Elizabeth Whit(e), 1681. Panelling: round walls of body of church—with panels in two heights with moulded cornice. In vestry—in two heights, with bolection-moulded panels and moulded dado-rail. On W. wall of tower, in three heights. Paving: black marble steps to altar, probably original though re-arranged. At W. end and under tower, paving of old flagstones. Plate (Plate 31): includes a beaker inscribed "S. Martin Vintry, 1689"; two flagons of 1681, inscribed and dated 1682; two inscribed and dated cups of 1712; one large and two small patens and one large dish, all of same date and with inscriptions as on cup, and two small inscribed and dated dishes of 1713; stand-paten of 1675, inscribed 1676; dish of 1608 and with the same date, inscribed. Also from All Hallows the Great— a cup of 1595 (Plate 29) and cover-paten of 1608; stand-patens of 1608 and one flagon of 1608, both inscribed and dated 1608; an alms-dish (Plate 33) of 1608, with repoussé ornament, inscribed and dated 1631, and an inscribed and dated alms-dish, similarly ornamented, of 1708. Pulpit: of oak hexagonal with enriched base and capping, raised panels on sides inlaid with geometrical patterns surrounded by enriched borders with swags over and at angles, cherub-heads with festoons; under-side of cavetto-section with ogee below supported on plain hexagonal stem with cap, probably later work; rectangular desk with pierced and carved sides placed above one of the angles of the pulpit; sounding-board hexagonal, modern, with re-used upper part of cornice and supported on massive square column with three sides panelled and, on face next to pulpit, fluted Corinthian pilaster. Rainwater-heads: three, of lead, on S. side of church, two dated 1690. Reredos: of oak, divided into three bays by attached and fluted Corinthian columns standing on panelled pedestals with mouldings of capping and bases continued across bays to form panelled dado; entablature projected over end columns and middle bay with cartouche carved with I.H.S. on latter and former surmounted by flaming vases; in middle bay, two round-headed panels with carved borders and spandrels carved with cherub-heads and acanthus and, below, long panel carved with two cherub-heads, fruit and flowers; side bays with enriched square-headed panels with carved panels below and cherub-heads and swags above; the upper panels are inscribed respectively with the Lord's Prayer, the Decalogue and the Creed. On either side of reredos, two stone figures of Moses and Aaron, standing upon modern stone corbels, from the reredos of All Hallows the Great. Royal Arms: over W. door, carved, coloured and gilded, William and Mary, from All Hallows the Great. Screens: on N. and S. sides of sanctuary, three panels high, uppermost carved and pierced, raised panels on inner sides and W. ends, modern except for re-used scalloped and moulded vases with flower-terminals. At W. end of church, enclosing vestibule and chapel, in two bays between columns, N. bay with raised panels in three heights, the topmost with attached carving; modern glazed panels above. The door in the S. bay is flanked by fluted Corinthian pilasters with enriched entablature. Screen-partition between chapel and vestibule panelled in two heights and reaching to ceiling of vestibule. Seating: pews formed out of old seating cut down and re-arranged with raised and moulded panelling at ends. Churchwardens' pew, towards W. end, with panelled back in three heights with enriched capping, carved and pierced frieze-panelling and carved scrolls at ends. Stalls: inner stalls on both sides of chancel, made up of old work with fronts two panels high with upper pierced and carved (Plate 37) and surmounted by enriched capping; outer stalls have benches and reading-pews with carved upper panels and, at ends of backs, carved vases. Tables: in vestry—(1) with turned legs, shaped brackets and plain foot-rail; (2) in tower— square similar table from All Hallows the Great. Miscellanea: In various parts of church, long forms with turned legs with rails at lower ends, three large and three rather shorter. Against E. wall of vestry, narrow seating with turned legs. Against S. wall of vestry, seating, panelled to form lockers. Ironwork: at backs of stalls, two iron crestings with scroll-work at top. Hat-stand on S. stalls of wrought-ironwork with two rows of pegs, scroll-work, etc. Faldstool: in chapel, made up of old work with twisted balusters and moulded top and base-framing. Enclosure to font: made up of turned balusters with carved rails. In second stage of tower—balustrading with turned balusters.
Condition—Good.
(2) Parish Church of St. James Garlickhithe stands on the E. side of Garlick Hill, between Maiden Lane and Upper Thames Street. It is a Renaissance building, following the mediæval plan, and is built of brick rendered in cement with stone dressings. The tower is of coursed ragstone with Portland-stone dressings, and the roof is lead-covered. The church was destroyed in the Great Fire of 1666, and re-built by Sir Christopher Wren in 1674–87 at a cost of £5,357 12s. 10d.
Architectural Description—The church is rectangular on plan (73¼ ft. by 51½ ft.) with a projecting, square-ended Sanctuary and a tower, also projecting at the W. end.
The E. Elevation of the sanctuary stands on a low plinth and is finished with a modillioned cornice of wood, which is continued along the clearstorey-walls on both sides of the church. The blocked E. window is round-headed and has an eared architrave and plain keystone. At the springing-level on each side is a stone cornice continued along the side walls of the church and broken only for the central window on each side. To the N. and S. of the sanctuary are smaller round-headed windows with simple architraves. The sanctuary is flanked by a pair of windows, similar in form, on either side, and below the northernmost is a square-headed doorway to the churchyard. The N. Elevation has five bays with windows in the first two and last two, uniform with those last described. The centre bay, which is wider than the others forming a pseudo-transept, contains a large round-headed window, formerly of three lights, with eared architrave and plain key, now partly blocked and altered to a circular window: below, is a blocked square-headed doorway surmounted by a frieze and cornice and having a panel carved with a cherub-head in the centre of the lintel. The transept, like the sanctuary, is finished with a wooden cornice. The clearstorey has a segmental-headed window in each bay. The S. Elevation is hidden by buildings except at the W. end. The W. Elevation has the tower in the centre and flanking it are two windows, on each side, similar to those on the N., but with cherub-head keystones. Below the outer pair are square-headed doorways. The W. wall of the clearstorey is finished with a stone cornice, curved upwards and scrolled, against the sides of the tower. The Tower is three stages high, surmounted by a stone lantern. In the W. wall of the ground-stage is a round-headed doorway, with moulded imposts and a cherub-head keystone. On either side is an engaged Corinthian column, with a half-pilaster against it, supporting an entablature and pediment with a carved scallop in the tympanum. In the W. wall of the second stage is a segmental-headed window with eared architrave and surmounted by a cornice and pediment. Immediately above it is a raised circular panel. The bell-chamber has a round-headed, louvred opening in each face, with eared architraves and shaped keystones. The stages are divided by stone bands and the tower is finished with a cornice and pierced stone parapet, with pedestals at the angles, supporting square vases. The stone lantern forms three diminishing stages, the lowest being square with diagonal projections at the angles, formed of coupled Ionic columns supporting an entablature, continued round the lantern. Above each column is a stone vase, and each face of this stage has a square-headed louvred opening. The second stage, with similar openings, is much smaller in scale and has plain pilasters, set diagonally, at the angles and resting on scrolled bases. Above each is a stone vase, with acanthus-enrichment. The top stage forms a square pinnacle with chamfered angles and concave sides, each with a small opening set in a sunk panel. It is finished with a gilt ball and vane.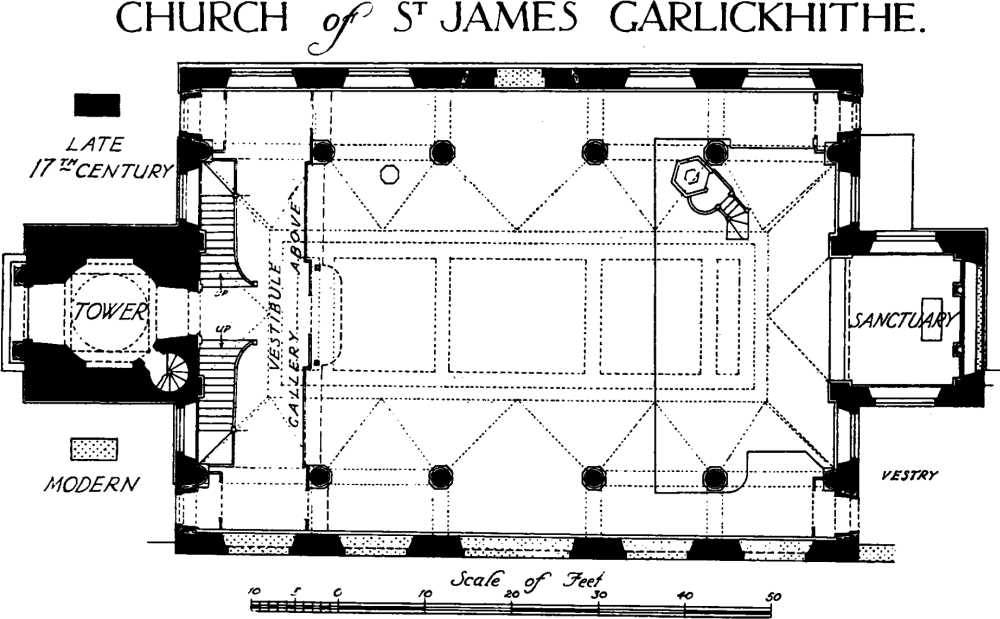 Interior (Plate 162). On each side of the body of the church is a colonnade of five bays, the columns being of the Ionic order with half-columns as responds, and all standing on high octagonal, wainscoted bases. They support an entablature consisting of architrave and cornice, the latter with egg and dart enrichment. The middle bay on each side is wider than the others, and here the entablature is returned back to the outer walls, forming pseudo-transepts. It is carried also round the sanctuary walls, where it rests on Ionic square pilasters at the four angles. The W. wall is similarly treated, but here the recess is quite shallow. The main ceiling is flat in the centre and coved at the sides, the coves springing from the entablature. The central portion is surrounded by an enriched cornice and cut up into five rectangular panels, the end ones being narrow and filled with modelled foliage and the rest having foliated borders. The ceilings of the sanctuary and pseudo-transepts are round plaster vaults groined into the cove, which is also groined back over each clearstorey-window. The aisle-ceilings are flat with transverse trabeations opposite each column.
The ground-stage of the tower has a round-headed doorway in the E. wall and a recess of similar form on the N. and S. It is roofed with a dome pierced by a round bell-way and springing from a circular cornice resting on plain pendentives. The circular stairway is in the S.E. angle.
Fittings—The fittings, unless otherwise stated, are of late 17th or early 18th-century date. Bells: two, 1st by James Bartlett, 1682; 2nd by Philip Wightman, 1700, from St. Michael Queenhithe. Clock: projecting from W. face of tower, round dial in square framing with scrolled key-block carved with cherubs, cornice, pediment and modern figure of St. James; apron below with date 1682; clock supported on beam with shaped and carved bracket; in vestry, upper part of original painted figure of St. James. Communion Table and Rails. Table: with carved edge and cherub-heads at angles, end-standards with carved scrolls and doves and middle rail also with carved scrolls against standards. Rails: with two ranges of twisted balusters, modern capping and base. Doors: At E. end of N. and S. aisles—each of two panelled leaves and flanked by fluted Corinthian pilasters supporting an entablature. At W. end of church—three doors and screen, each door panelled and with moulded architrave; above middle door, a carved cherub-head on E. face and over each side door a carved scallop-shell on W. face. In W. wall—three, each of two leaves and flanked internally by fluted Corinthian pilasters supporting an entablature, over middle door a shaped key-block. In W. wall of tower—of two panelled leaves. Font (Plate 10): of white marble, octagonal moulded bowl with four cherub-heads and gadrooned under-side, baluster-stem with moulded cap and base and fluted sides. Cover, of oak, ogee-shaped, with enriched angles and carved pineapple as finial, moulded and carved base. Gallery: At W. end of church—panelled front with panelled pilasters, moulded capping and moulded entablature on bressummer, front supported on two square piers of wrought open ironwork, the lower parts fluted and the upper with scroll-work finished with wooden Corinthian capitals. Staircase to gallery, branching two ways, with twisted balusters, cut strings with carved brackets, upper newels as fluted Doric columns, panelled dado, possibly early 18th-century. Monuments and Floor-slabs. Monuments: In N. aisle—on N. wall, (1) to Peter Jones, 1694, marble tablet with moulded frame, rounded head and pediment, drapery and cherubs, urn and achievement-of-arms above; (2) to Seagrave Chamberlain, 1675, marble tablet, flanked by scrolls and finished with a cornice, broken curved pediment and cartouche-of-arms, apron with cherub-head and swags. Floor-slabs: In middle aisle—(1) to Thomas Nixon, 1712, with shield-of-arms. In N. aisle—(2) to Peter Jones, 1694. Organ: built by Bernard Schmidt in 1697; the case has a panelled base with carved scrolls and an entablature; the cornice has half-round projections supporting four 'towers' of pipes with carved cresting and individual entablatures running from front to back; the bays between the towers are each of two tiers with carved heads to the lower panels; in upper part of middle bay is a round panel, the side bays are capped by scrolls, the middle towers are bridged by an entablature which is finished with a segmental pediment enclosing a scallop-shell and surmounted by a crown and two mitres; the side-towers are finished with panelled pedestals on which are cherubs holding palms and trumpets. Panelling: N. and S. walls of church, panelled in three tiers with moulded cornice; similar panelling under gallery, forming screen between lobby and church, and on pedestals to columns. Plate: includes cup and paten of 1549; cup of 1552; cover-paten of 1574; cover paten of 1605; two flagons of 1636; cup of 1638, given by Leonard Hamond; cover-paten of 1702; cup of 1641 and cover-paten of 1648, both with shield-of-arms; flagon of 1661; a wooden cup with deep bowl and silver rim, date 1670 and names of Queenhithe Ward inquest, balusterstem; paten of 1680, given by John Oliver; spoon of 1683. Pulpit (Plate 221): from St. Michael Queenhithe, hexagonal, panelled faces with enriched mouldings, festoons at sides, cherub-heads and swags above, carved cornice, ogee-shaped basemould with modern stem; stairs with twisted balusters, straight string and carved rail; sounding-board with carved cornice and pendants at angles, inlaid soffit and carved frame; panelled support with carved scrolls and festoons and a peg between the panels. Reredos: mostly modern, of three bays incorporating fluted Corinthian columns, three carved frieze-panels, two cherubs-heads and two urns. Royal Arms: On S. wall—Stuart arms in carved and painted wood, said to have been formerly on the reredos. Surmounting fronts of pews, carved figures (Plate 16) of lions and unicorns holding cartouches with painted devices. Screens: At backs of N. and S. quire-stalls, two incorporating five pilasters carved with festoons and brackets carrying entablatures with pulvinated friezes; from St. Michael's Queenhithe: panels modern. Seating: panelled pews, cut down and re-arranged; at W. end of church—churchwardens' pews, with carved and pierced upper panels to fronts; on churchwarden's pew a wrought-iron standard with gilt cartouche and figure of St. James, two others on chancel-stalls, probably later copies. Stalls: backs with upper range of carved and pierced panels; front enclosures with twisted balusters and heavy moulded capping, all re-arranged. Miscellanea: On back of westernmost pews— wrought-iron hat-stands (Plate 18) with pegs; on W. wall, shelves, probably bread-shelves, rearranged and with two pieces of enriched moulding at base. On N. wall of lobby a tablet recording rebuilding of church, begun 1676, finished 1683.
Condition—Good.
(3) Churchyard of St. Thomas Apostle, at the N. angle of Queen Street and Great St. Thomas Apostle, has set in the boundary-wall, at the S.E. angle, a stone recording the extent of the parish in this direction with the names of the churchwardens, John Cockrill and George Cock, and the date 1714.
Secular
(4) Vintners' Hall, standing on the S. side of Upper Thames Street, is of one storey with a basement to the hall, and of two storeys with attics to the court-room block. The walls are built of brick with some Portland-stone dressings, and the roofs are covered with slates and lead. The hall was destroyed in the Great Fire of 1666 and re-built in 1671. It was remodelled externally in the 18th-century, and in 1909–10 the court-room block was refaced, the N.E. wing taken down and its side with the courtyard built over.
The staircase is an ornate example of the period, and the woodwork of the court-room is also noteworthy.
The buildings originally formed three sides of a courtyard, open on the N. to the street. Only the S. and W. sides now remain, the Hall being on the S. with the Kitchen under, and the Court Room on the W. with the drawing-room above it and the staircase interposed between it and the hall.
The N. Elevation of the hall and all the elevations of the court-room block have been refaced. The S. Elevation of the hall is rendered in cement and has a modern parapet; in it are five round-headed windows, of which the middle three are larger than the others; all have Portlandstone architraves with plain key and impost blocks. The W. Elevation of the hall retains its original brick facing and is finished with a low modern gable. In the centre is a blocked window of two round-headed lights with Portland-stone reveals, beaded on the edge. In the W. wall of the staircase is an original round-headed window.
Interior:—The Hall (622/3 ft. by 29¾ ft.) has a flat ceiling coved at the sides; the trabeation is probably original, but the decoration is modern. The doorway in the N. wall has a moulded and enriched architrave; above it is a panel surrounded by carved festoons and having a female face at the top. The walls (Plate 225) are panelled to the level of the window-sills and finished with a moulded and carved capping; much of the work is apparently modern, but below the windows are fixed five original panels each carved with a female face, ribands and festoons of fruit and foliage. On the W. wall the panelling is carried up higher and finished with an enriched entablature with a carved and pulvinated frieze; in the middle is a large recess or buffet (for the display of plate), flanked by coupled and fluted Corinthian pilasters and surmounted by a broken pediment; the back of the recess has carved festoons of foliage, fruit, etc., and a cartouche of the Company's arms; the side bays at this end have each a smaller recess, square-headed, with carved panels and broken pediments above and scrolls with carved foliage and fruit at the sides; on these pediments are cartouches of the City and Company. The screen has apparently been moved back against the E. wall; it is of three bays, with fluted Corinthian columns on either side the centre bay, and pilasters of the same order against the side walls, supporting an enriched entablature with pulvinated and carved frieze extending over the side bays; the doorway in the middle has a round head with scrolled key-block and carved spandrels, and the side bays have each a round-headed mirror frame, flanked by carved and panelled pilasters and carved scrolls and surmounted by segmental pediments. Against the N. wall at the dais end is a wooden sword-rest, carved with vine-ornament and bearing the arms of the City, the Company and Sir Thomas Rawlinson (Lord Mayor in 1687 and 1696). The Court Room has a flat ceiling with panelled trabeations of wood. The doorway at the S. end has externally an eared architrave, cornice and broken pediment in which is set a carved fruit-basket; internally it is flanked by Ionic half-pilasters and surmounted by a broken curved pediment on carved brackets with a carved cartouche repainted with the arms of the Clothworkers' Company; the door is of eight panels. The fireplace, at the N. end, has a broad architrave, with carved bay and oak-leaf ornament and overmantel of five narrow panels with frames carved with vine-ornament and surrounding a plain middle panel all flanked by carved festoons. The walls are panelled to the ceiling, the panels at the N. and S. ends having carved bolectionmouldings, and are finished with an enriched cornice. In the E. wall are four windows, and opposite are four blocked windows forming recesses, three of them lined with the original shutters; the windows are flanked by narrow carved festoons, and round the room at the cornice-level are fixed carved cartouches with swags and festoons attached; they are repainted with the arms of the twelve great companies (that over the doorway being one of these), the royal arms and those of the City. A small Vestibule adjoins the stair-hall on the E., separated by a modern archway; on the N. wall of this room is a sham doorway and door refixed here and uniform with the exterior of the court-room door. On the S. wall is a fireplace, with moulded and enriched architrave and overmantel with a bolection-moulded middle panel surrounded by narrow panels and, below, a frieze-panel carved with cross-palms and vineornament and flanked by cornucopiæ. The Staircase (Plate 228), which rises to the second floor, has a square well with moulded and enriched string, heavy hand-rail, turned and carved balusters and square newels, with half-balusters against them; the newels are surmounted by carved baskets of fruit except the lowest and that at the first-floor landing, which have taller vases of fruit, etc., and carvings of a lion and unicorn probably added later. The walls are panelled and have a dado with half-newels and fruit-baskets corresponding to the staircase. At the first-floor level are two doorways with enriched eared architraves. In the modern corridor to the S. of the hall is preserved a funeral-pall of c. 1520, with brocaded centre and embroidered flaps; each of the long flaps bear a shield of the company and another— barry ermine and gules a crescent or for difference, two figures of Death with a spade and coffin, above them scrolls with inscriptions, a Pieta and vineornament; the end flaps have St. Martin dividing his cloak with a beggar and an archbishop and beggar. Here is also a piece of 15th-century tapestry in two divisions, representing St. Martin as above and St. Dunstan saying mass, and below an inscription requesting prayers for the souls of John Bate, Joan his wife and Walter Hertford, monk of this church (Christ Church, Canterbury), with the date 1466. By the Kitchen door in the basement is a lead tank with the arms of the Company and the date 1704. The brick-vaulted wine-cellar is perhaps of early 17th-century date, and under the Smoking Room is a second vaulted cellar.
Re-set in the modern Committee Room are fragments of glass brought from a farmhouse near Maidstone:—a shield with a hand pointing to a skull and inscription "knowe thy selfe," all with the rays in a circular wreath—four quarries with hand and skull and inscription "Nosce te ipsum," the arms of the Company and a shipping mark— large quarry with shield of the arms of the Company, and a quarry with letters S. and M. (reversed), for Stephen Mason, joined with a true lover's knot, 17th-century.
Condition—Good.
(5) No. 3 Joiners' Hall Buildings is a modern building on the site of Joiners' Hall. In the wall of a small forecourt is a late 17th-century round-headed doorway of wood with carved spandrels and a large grotesque head as key; carved consoles at the sides formerly supported a hood or cornice, now destroyed; on the side piers are carved wooden figures of mermen.
Condition—Good.
(6) House, etc., Nos. 21, 22 and 22a, on the E. side of College Hill. The House, standing back from the road, is of three storeys with cellars and attics. The walls are of brick and the roofs are tiled. It was built probably late in the 17th century. The W. front has a plastered and rusticated lower storey and moulded brick bands between the upper storeys. The doorway has a wooden case with columns and pediment, probably of early 18th-century date. Inside the building there are two original staircases (Plate 39) with twisted balusters, panelled newels and straight strings; the front staircase has a modern handrail.
The "Gatehouse" (Plate 159) fronting the street is, perhaps, of rather earlier date and is faced with Portland stone. At each end is an archway with a round head, moulded architrave and keystone carved with a grotesque head; flanking the head are brackets with fruit and flower-pendants; they support a cornice from which springs a moulded segmental hood; below the hood is carved enrichment of swags and a grotesque head; above the hood is a round window with an enriched architrave; between the archways is a modern shop-front with a round-headed window above. On the E. side of the building the S. archway is flanked by panelled pilasters and has a panelled archivolt; the N. archway has been re-built. The elevation is finished with a wooden modillioned cornice.
Condition—Good.
(7) Houses, Nos. 24 and 26, on the S. side of College Street, S. of St. Michael's Church, are of three storeys with attics and cellars; the walls are of brick. They were built probably late in the 17th century, but have been considerably altered. There are brick bands between the storeys. Inside No. 26 is an original staircase with twisted balusters, square newels with moulded pendants and straight strings. Some of the rooms have original bolection-moulded panelling. The staircase of No. 24 is original above the first floor and is uniform with that in No. 26.
Condition—Good.